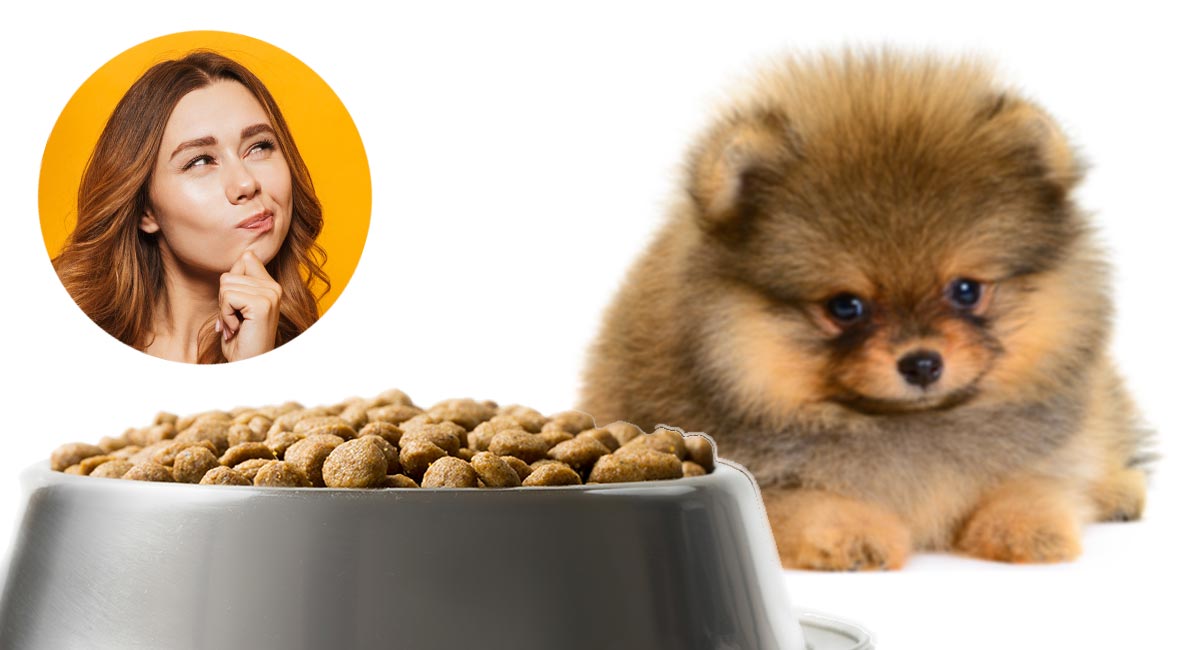 The best food for Pomeranian puppy health is one that gives them everything they need nutritionally, in portions that are easy to chew. These little puff balls need a slightly more specialized diet than some breeds. Because of their small size and poor dental health, aim for a high-quality, high-protein diet.
Contents
Fats and fillers may bulk up dog foods cheaply, but they also bulk up your puppy in a not-so-healthy way! Since small dogs are typically very energetic, their food should also be composed of mostly lean proteins. You should also look for nutrients like omega fatty acids and DHA. These aid in coat and skin health as well as brain development. Pomeranians develop dermatitis, so it's especially important that you promote their outer health from within!
How Much Should A Pomeranian Puppy Eat?
The amount of food that your Pomeranian puppy will need to eat each day may vary based on the following:
Age
Type of food
And how hungry they are!
Some puppies just eat more than others. But regardless of your puppy's appetite, it's vitally important that you avoid underfeeding or overfeeding.
Start out by giving your puppy the minimum recommended amount of food based on their age and current weight. You can typically see this listed on the food package.
Then, you can see if they gulp it all down and look for more or if they leave any. If they don't seem to be holding their weight well at the minimum amount, give them a bit more. Just be sure you don't give them too much.
Don't overfeed your puppy. Feeding a growing puppy too much can cause unnatural growth spurts that may offset their bone to muscle ratio. And it may also contribute to obesity. An overweight puppy will not be healthy, and their joints will be stressed.
A dog at the correct weight will have a well-defined waistline when you look at them from above. And you will be able to feel their ribs when you run your hands over their sides. However, you should not be able to see their ribs.
Pomeranian Puppy Feeding Guidelines
Puppies need to eat more frequently than adult dogs. And small breeds like Pomeranians are also more prone to hypoglycemia, so they tend to need to eat more often. Young pups tend to need 3 to 4 small meals a day. Once they get to about 3 months old they can usually taper down to 2 or 3 meals per day.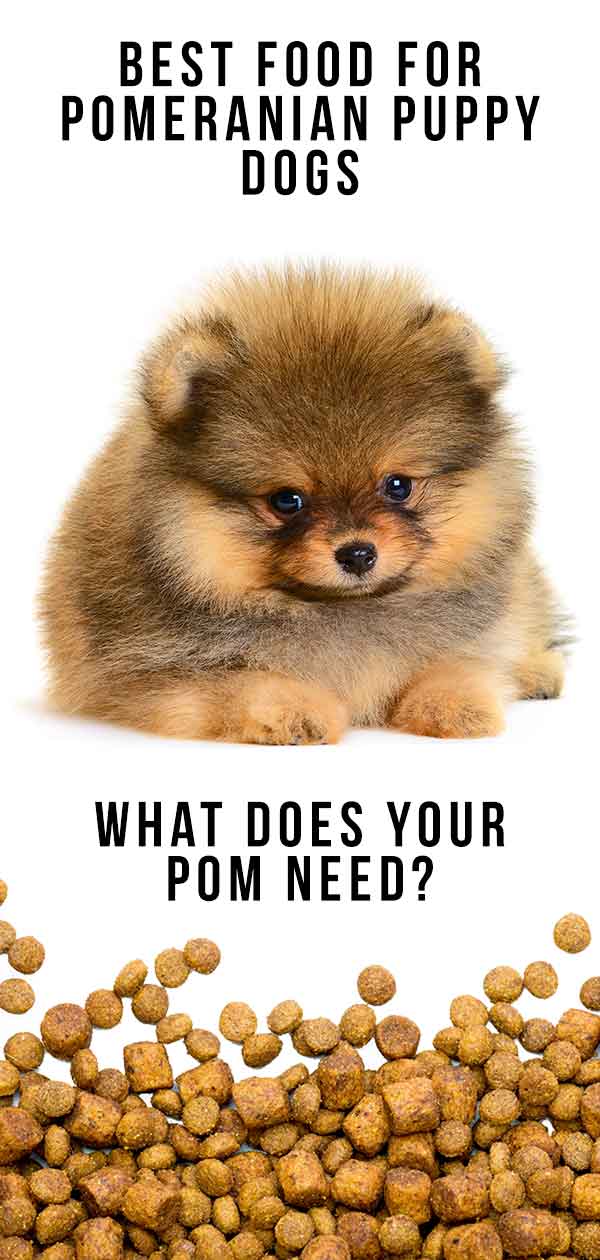 Dietary Requirements
Puppies have specific nutritional needs and nutrient ratios that differ from adult dogs. There are a couple of important ones that you'll want to be sure are included in your Pomeranian puppy food. Calcium and phosphorus are very important for your dog's bone health and growth.
Like adult dogs, puppies need protein and fat in their diet. The dry food you feed your pup should have between 22% to 32% of protein. And there should be 10% to 25% of fat.
Protein helps them build tissues like muscles in the body. And fat is a source of energy. Essential fatty acids are also important for healthy skin and coats.
What Do Pomeranian Puppies Eat?
Many small breeds and puppies are also known for their overabundance of energy and fast metabolisms. Therefore, they both require more calories than larger breeds. And oftentimes, more protein in order to maintain muscle mass.
So, small-breed dog food is typically formulated with a smaller dog's high demand for quality, energy-producing ingredients in mind.
Small breed puppies may also benefit from breed-specific food simply because their mouths are smaller. Little bites are easier for them to eat than the larger kibble that's found in mass-produced puppy food.
Finally, there are a couple of special considerations when it comes to dog food for Pomeranian puppies. A diet specific to Pomeranians may help to prevent certain health conditions that are common to this breed.
Best Dog Food For Pomeranian Puppy Dental Problems
This breed is particularly prone to overcrowding of teeth due to their tiny jaws and toothy grins. And overcrowding can quickly lead to rotting teeth and gum disease. Though this condition may be an inherited physical flaw.
You can start your Pomeranian puppy on a high-protein diet that can help to stave off eventual tooth loss and gum disease. Of course, you should couple this with brushing their teeth and having your vet check their teeth during annual wellness visits.
Dermatitis
Another health condition that is common in Poms is dermatitis (itchy and dry skin) that may or may not be accompanied by hair loss. This seems to be due to their very thick fur coats that don't allow for a lot of air to circulate underneath.
Regular grooming and bathing your Pom in medicated shampoo every so often can help to calm the skin.
A diet rich in essential fatty acids (such as omega-3 and omega-6) may also help to promote your puppy's healthy skin from within by preventing skin lesions from forming.

Best Wet Pomeranian Puppy Food
Wet food has a few potential advantages for small dogs and growing puppies. Firstly, it is easier to chew and this may be helpful for tiny Pom pup mouths. Wet food also tends to have a higher protein content than dry food and may help meet the needs of a growing, active puppy.
Hill's Science Diet
Hill's Science Diet Wet Dog Food* has bites of chicken and rice, potatoes, peas, spinach, and other nutritious ingredients that are smothered in a tasty gravy. The nutrient profile makes this food the perfect option for small breeds who are less than one year of age. Plus, you can buy it in conveniently packaged, ready-to-serve 3.5-ounce packets.
Blue Buffalo Wilderness Puppy Wet Food
Blue Buffalo Wilderness Puppy Food* uses real meat as its number one ingredient. And they don't use artificial flavors, preservatives, corn, wheat, or soy in their product. In addition to being high in quality protein, this wet puppy food also contains omega-3 and omega-6 fatty acids.
Complete Health Natural Wet Dog Food
Complete Health Natural Wet Dog Food* provides balanced nutrition for puppies. It uses natural preservatives and has added vitamins and minerals specific to growing puppy needs. This formula also includes sweet potatoes for easy digestions and carrots for a good dose of antioxidants.
Best Dry Food for Pomeranian Puppies
Dry food is easier to portion out and feed to your dog. If you are feeding your hungry puppy 3 or 4 times a day, dry food might be a more convenient choice. It's good for canine dental health as chewing on kibble can help reduce plaque and tartar build-up. Besides, it works better in doggie puzzle toys.
BLUE Life Dry Puppy Food
BLUE Life Protection Formula Dry Puppy Food* is an all-natural dry kibble option. This puppy food is packed with only the best and natural ingredients. Including deboned chicken, oatmeal, whole grains, fruit, and vegetables. Glucosamine and chondroitin from these wholesome ingredients provide extra joint support that is beneficial for Pomeranian puppies since they're prone to hip dysplasia later in life.
Diamond Naturals Small Breed Puppy Food
Diamond Naturals Small Breed Puppy Food* is yet another all-natural small-breed puppy food! This formulation is chock-full of lean proteins too. It includes cage-free raised chicken, to help your Pom puppy grow muscle without gaining excess weight.
Fruits, vegetables, probiotics, and essential fatty acids aid with proper digestion. And also help to promote nutritional development as well as healthy skin and coats.
Tuffy's NutriSource Puppy Formula
Tuffy's NutriSource Small Puppy Food* is a dry kibble made with only natural ingredients. It has chicken as the first ingredient, as well as rice and oatmeal for added protein and fiber. And it comes without fillers like corn and wheat.
Prebiotics, probiotics, and essential fatty acids are also packed into the small bites of kibble, making this brand another excellent choice for your Pom-Pom.
Best Grain-Free Pomeranian Puppy Food
Grain-free dog food doesn't contain products like wheat, corn, barley, oats, or sorghum. Instead, carbohydrates like potato, sweet potato, or lentils are used. Though grain allergies are not common in dogs, these are some good options if your pup does happen to have a grain allergy.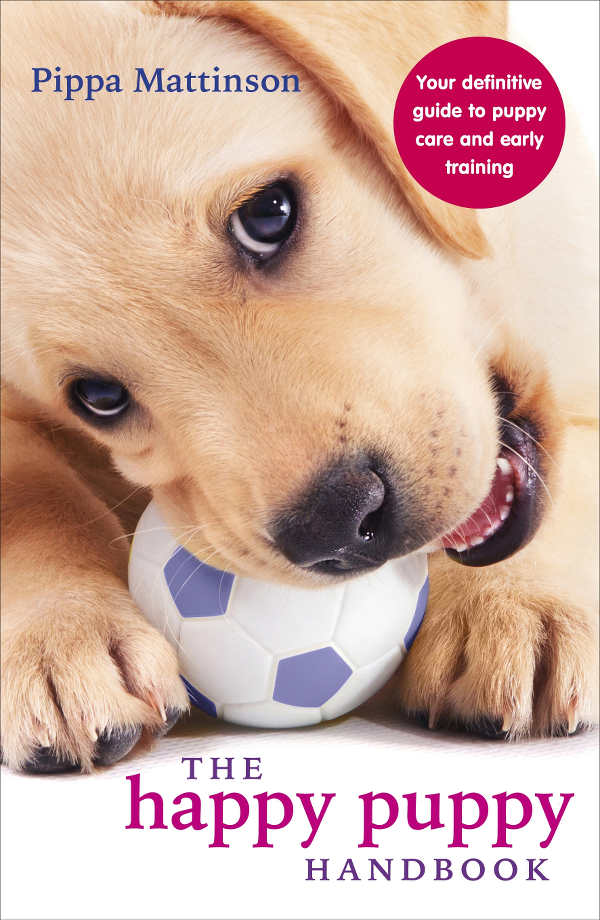 BLUE Buffalo Freedom Puppy Food
BLUE Buffalo Freedom Dog Food* is made with real chicken, flaxseeds, sweet potato, carrots, blueberries, and cranberries. This blend provides antioxidants and quality protein for muscle development. DHA and ARA (important fatty acids found in mother's milk) are added to aid in healthy brain and eye development.
Solid Gold Mighty Mini Food
Solid Gold Small Mighty Dog Food*, as its name suggests, may be worth its weight in gold! It's chicken, chickpeas, and pumpkin provide lots of protein and fiber. Other goodies like superfoods, egg proteins, ocean fish meal, fruits, and more vegetables ensure that your Pom only gets the best!
The tiniest of tiny kibble bites make this food a great option for super small Pomeranians. You can even keep your puppy on the food even after she's grown up because this food is made for dogs of all ages.
Merrick Lil Plates Grain-Free Puppy Food
Merrick Lil Plates puppy food* is a grain-free kibble with real deboned chicken and sweet potato as the stars of the show! This variety is also high in protein, with a whopping 55% protein to 45% "everything else" ratio. The other 45% is composed of only natural ingredients. Added antioxidants and DHA will help to promote your Pomeranian's brain and immune health.
Best Food For Pomeranian Puppies with Sensitive Stomachs
Some dogs do have sensitive tummies or have food allergies. If your dog is showing signs of gastrointestinal trouble, check with your veterinarian to rule out any serious health issues before addressing your dog's diet. For dogs that do need to avoid certain foods, limited-ingredient dog foods may be a good choice or dog foods designed with easy digestion in mind.
Natural Balance L.I.D. Dog Food
Natural Balance limited ingredient food* is ideal if your Pomeranian doesn't do well on a chicken or beef-based diet you can give this lamb-based dry kibble a try. Brown rice, rice bran, and canola oil add to the complex carbohydrate content and provide a source of healthy fat.
Nulo Small Breed Food
Nulo puppy food* is a limited-ingredient and grain-free dry dog food. It is designed for small breed dogs, including both puppies and adults! This tasy food has turkey and turkey meal as the main sources of protein that make up 30% of the formula. Chickpeas, sweet potato, and lima beans are the only veggies.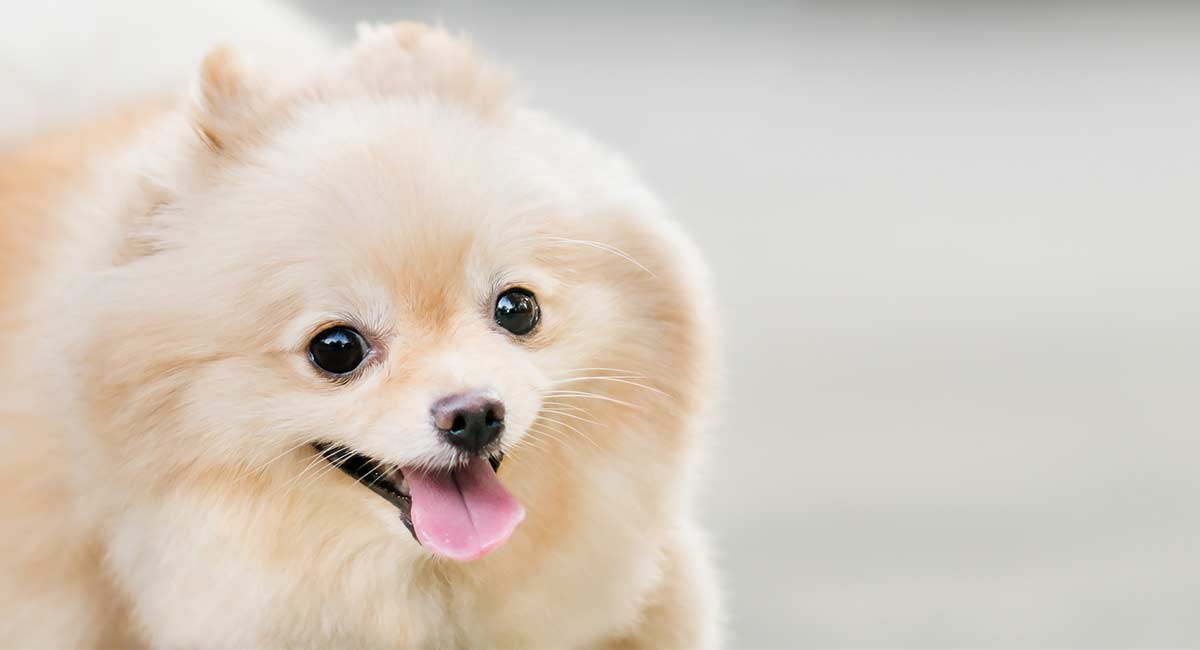 Affiliate link disclosure: Links in this article marked with an * are affiliate links, and we may receive a small commission if you purchase these products. However, we selected them for inclusion independently, and all of the views expressed in this article are our own.