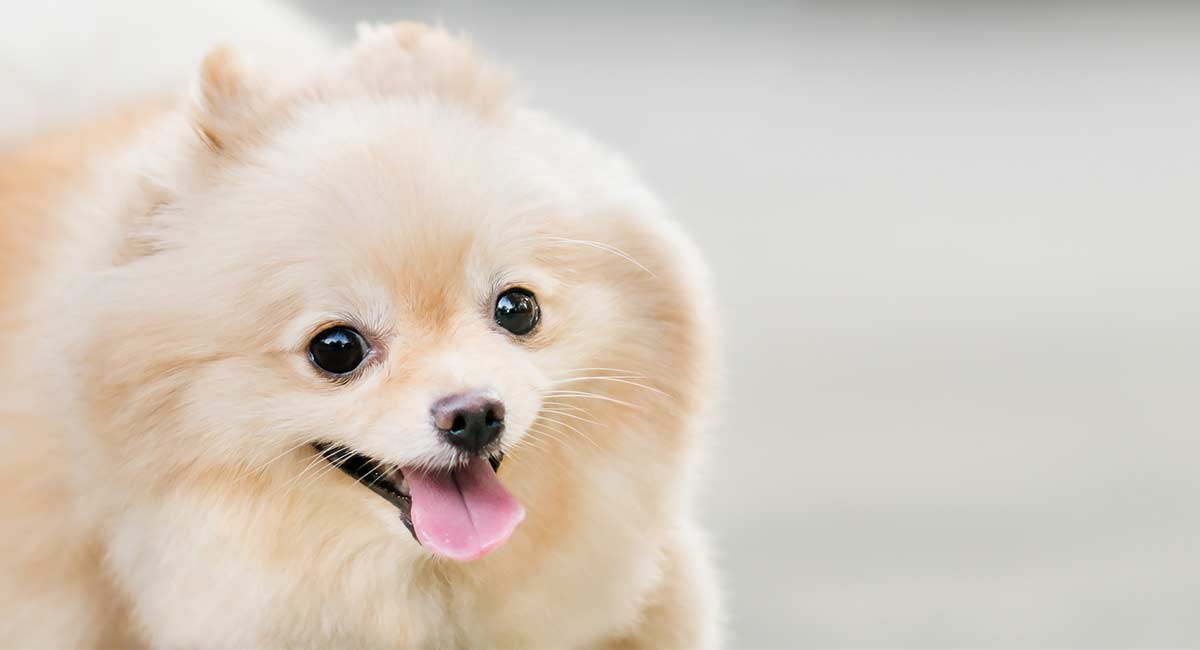 What is the best food for Pomeranian puppy dogs?
Do certain dog breeds require specific types of puppy food?
Or does "generic" puppy food work for all puppies, regardless of their breed and size?
All puppies require nutritious dog food to help them reach their full growth potential.
A diet that is geared toward your puppy's specific breed or size may also help to prevent future health problems, such as obesity, allergies, and nutritional deficiencies.
When it comes to Pomeranian puppies, these little puff balls may need a slightly more specialized diet.
Because of their small size and propensity toward poor dental health, Pomeranian puppies may benefit from a high-quality, high-protein diet.
In this article, you'll learn about the best dog food for Pomeranian puppy.
We give you advice on what kind of food to give your pooch for his or her optimal health.
What is the best food for Pomeranian puppy?
There are some criteria that your puppy's food should meet, regardless of his breed.
The food should be easily digested and should not irritate your puppy's stomach.
If your puppy experiences indigestion or stomach irritation after you've fed him a certain type of food, then he may be allergic to one or more ingredients.
The food should also be high in the nutrients that your puppy needs to meet his current state of growth, and it should be low in fillers, which are typically poorly digested and low-nutrient ingredients like corn.
Perhaps most importantly, your puppy should look forward to his meals!
He should welcome his bowl of food with all of that familiar puppy gusto.
A puppy who picks at even the smallest amount of food given to him won't ingest all of the vitamins and minerals that he needs for his developing bones and muscles.
Nutrients to improve breed-specific health issues
Speaking of nutrients, there a couple of important ones that you'll want to be sure are included in a Pomeranian puppy's diet.
Best food for Pomeranian puppy dental problems
This breed is particularly prone to overcrowding of teeth due to their tiny jaws and toothy grins.
Overcrowding can quickly lead to rotting teeth and gum disease.
Though this condition may be an inherited physical flaw, starting a Pomeranian puppy on a high-protein diet (along with brushing his teeth and having your vet check them out during annual wellness visits) can help to stave off eventual tooth loss and gum disease.
Best food for Pomeranian puppy dermatitis
Another health condition that is common in Poms is dermatitis, or itchy and dry skin, which may or may not be accompanied by hair loss.
This seems to be due to their very thick fur coats which do not allow for a lot of air to circulate underneath.
Regular grooming and bathing your Pom in medicated shampoo every so often can help to calm the skin.
According to veterinarian John Bauer, a diet rich in essential fatty acids (such as omega-3 and omega-6) may also help to promote your puppy's healthy skin from within by preventing skin lesions from forming.
Best food for Pomeranian puppy appetites
Finally, it's important to note that some small breed puppies who are being weaned may need an appetite-stimulating food if they do not have much interest in kibble or wet food.
This could be an issue with some Pomeranian pups, which means finding a palatable food for your pup is extra important for Poms.
How much food does a Pomeranian pup need?
The amount of food that your Pomeranian puppy will need to eat each day may vary based on the following:
age
type of food
how hungry she is!
Some puppies just eat more than others.
But regardless of your puppy's appetite, it's vitally important that you avoid underfeeding or overfeeding.
To ensure that you're not feeding too much or too little, start out by giving your puppy the minimum recommended amount of food based on his age and current weight.
(This is typically listed on the food package.)
Then, see if he gulps it all down and looks for more, or if he leaves any.
If he still acts hungry and/or doesn't seem to be holding his weight well at the minimum amount, give him a bit more…just not too much.
(You may also wish to consult with your veterinarian before doing anything else.)
Increase appetite
If he is leaving food even when you're feeding him the minimum recommended amount, then you may have an issue with your puppy's appetite being less than voracious.
Appetite-stimulating food may help with this.
Or it's certainly possible that your puppy just doesn't care for that type of food!
When it comes to finding what your puppy likes while keeping him properly conditioned, there may be a lot of trial and error.
But not too much
Now, if you've been increasing your Pom-Pom's food and/or your vet instructs you not to give her more than you're currently feeding, but she still acts hungry, don't be tempted to give into her whims!
Feeding a growing puppy too much can cause unnatural growth spurts, which may offset his bone to muscle ratio, as well as obesity.
An overweight puppy will not be a healthy puppy, and her joints will be stressed.
For more information about how to feed your puppy based on her age and growth timeline, check out our article on Puppy Development Stages.
Finally, you should also spread out a Pomeranian puppy's meals throughout the day, as their stomachs are especially small.
Aim for four to six small meals per day, if possible.
Is specialist (breed-specific) dog food necessary?
Small breed puppies may benefit from breed-specific food simply because their mouths are smaller.
Smaller bites are easier for them to eat than the larger kibble that's found in mass-produced puppy food.
Many small breeds are also known for their overabundance of energy and fast metabolisms.
Both of these require additional calories and oftentimes more protein in order to be maintained.
Small breed dog food is typically formulated with a smaller dog's high demand for quality, energy-producing ingredients in mind.
(The American Kennel Club has a great article about why small dogs need different food from larger dogs here.)
Furthermore, a diet specific to Pomeranians may help to prevent certain health conditions which are common in the breed.
There's some helpful information about breed-specific dog food formulations in this patent.
Best food for Pomeranian puppy
So what is the best dog food for Pomeranian puppy?
As we've mentioned a few times so far, the best puppy food is that which your pooch will readily eat, meets all of his nutritional needs, and he can digest without having any subsequent issues.
The best quality foods for Pom-Poms are composed of mostly lean protein, a lower amount of fat, and complex carbohydrates (like whole grains), with minimal or no fillers.
Pomeranian-specific foods should also include all essential vitamins and minerals which are necessary for the breed's growth and development rate.
After all, you want your best four-legged friend to put his best foot – er, paw – forward, right?
Here are a few of our top picks for the best Pomeranian puppy food:
Wellness Complete Health Small Breed Puppy. This all-natural dry puppy food is specially formulated for small dog breeds!
It comes in small kibble, and is full of good sources of protein (deboned turkey and salmon), flax seed, and other healthy fats for skin and brain health.
It also includes all of the essential vitamins and minerals that small breed puppies need.
You won't find any corn, wheat, or other fillers in this kibble!
BLUE Life Protection Formula Puppy Small Breed Chicken and Oatmeal Dry Dog Food. Another all-natural dry kibble option, this puppy food is packed with only the best and natural ingredients, including deboned chicken, oatmeal, whole grains, fruit, and vegetables.
Glucosamine and chondroitin from these wholesome ingredients provide extra joint support, which is beneficial for Pomeranian puppies, since they're prone to hip dysplasia later in life.
Diamond Naturals Small Breed Puppy Real Meat Recipe Natural Dry Dog Food. Here is yet another all-natural small breed puppy food!
This formulation, too, is chock-full of lean proteins, including cage-free chicken, to help your Pom puppy grow muscle without gaining excess weight.
Fruits, vegetables, probiotics, and essential fatty acids aid with proper digestion and also help to promote development as well as healthy skin and coat.
Tuffy's NutriSource Chicken and Rice Formula Breed Dry Puppy Food. This dry kibble is made with only natural ingredients (are you sensing a trend?) , with chicken as the first ingredient, as well as rice and oatmeal for added protein and fiber, and sans fillers like corn and wheat.
Prebiotics, probiotics, and essential fatty acids are also packed into the small bites of kibble, making this brand another excellent choice for your Pom-Pom.
Bil Jac Small Breed Puppy Dry Dog Food. Real chicken and chicken organs are the primary ingredients in this dry puppy food, with no rendered or added fat to keep the kibble lean and high in protein for a small breed puppy's optimum health.
Other key ingredients include corn meal (to aid in digestion), dried beet pulp, oatmeal, yams, yeast, and flaxseed, giving your puppy plenty of essential fats and fiber and less of a chance of having allergies to any of the ingredients.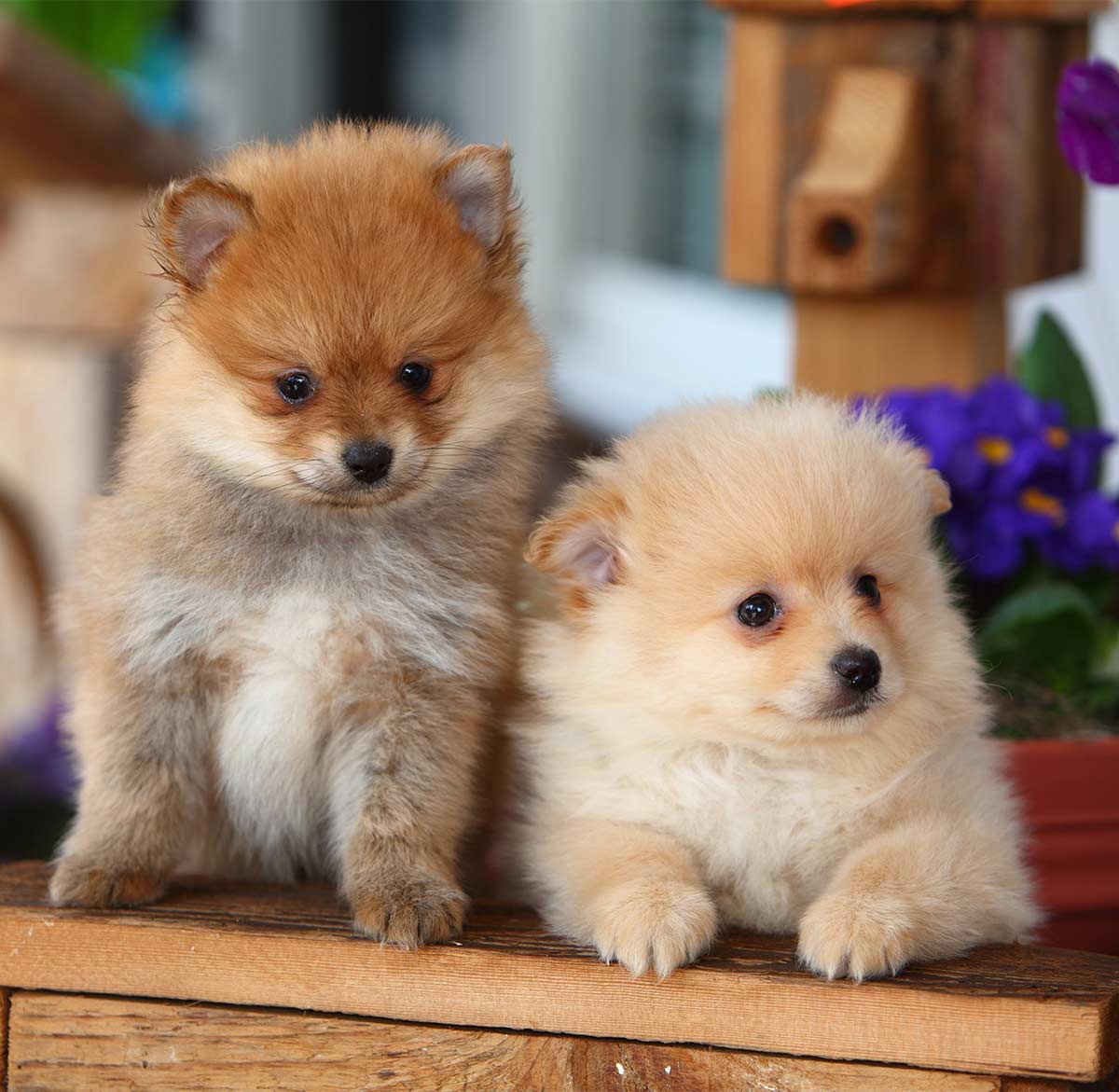 High-quality Pomeranian puppy food
When it comes to puppy food, not all brands are created equal.
Depending on the brand and formulation, the nutrition content across even similar types of food can vary drastically.
This is especially true when you compare generic puppy food to premium puppy food.
Some generic (i.e., cheaper) brands have a lot of corn, wheat, and other fillers.
These are, well, cheaper to use in place of higher-quality main ingredients like real meat and whole grains.
For Pomeranians, high-quality food includes the following:
lean protein as the primary ingredient
little to no fillers (which increase the fat and starch content)
little to no added fat to keep your tiny dog from gaining too much weight
plenty of omega fatty acids to help promote skin health and cognitive functions
Here are some premium dog foods that are geared toward small breed puppies and which would be good choices for Pomeranian puppy food:
Eukanuba Puppy Dry Dog Food – Small Breed. As it turns out, Eukanuba does more than sponsor world-class dog shows.
The company also produces first-rate dog food!
This dry kibble is specifically formulated for small breeds, with plenty of DHA derived from fish oil to enhance your Pomeranian puppy's brain development and, as some would say, trainability.
Multiple reviewers also observed that this particular food helped to ease digestive discomfort in their small dogs (decreased gassiness and firmed up stool).
Hill's Science Diet Small & Toy Breed Dry Dog Food. A popular brand which is commonly recommended by veterinarians (including mine), Hill's Science Diet has a small- and toy-breed-specific puppy food made with chicken, chicken meal, barley, and other natural ingredients.
Antioxidants like vitamins C and E, essential fatty acids, and minerals are also added to the dry kibble for a nutritious boost.
Plus, for every bag of this food purchased, Hill's donates a bag to an animal shelter – talk about responsible shopping!
Purina Pro Plan FOCUS Puppy Small Breed Chicken & Rice Formula Dry Dog Food. Another vet-recommended brand, Purina Pro Plan also has a dry kibble tailored specifically to the needs of small breed puppies.
But it is at a much lower cost than the Hill's Science Diet food.
Chicken is the first ingredient in this high-protein, low-fat formula.
Added to whole grains, rice, fish oils, and other good things to help a Pomeranian or other small puppy feel and look their best.
IAMS ProActive Health Smart Puppy Dog Food. Real chicken, 22 ingredients that are also found in your puppy's mother's milk, whole grains, vegetables, fruits, and beet pulp make up the bulk of this kibble.
With healthy ingredients like these, your puppy will get a head start on his bone and muscle growth as well as his digestive health.
This food is not 100% all-natural, though.
So if you're looking for only natural ingredients, then you may want to pass on this option.
But on a positive note, many reviewers stated that their puppies love the taste of this food.
So it may be a good option for pickier eaters!
Best food for Pomeranian puppy with food allergies
Some puppies are prone to digestive upset, thanks to inherited or developed food allergies, and Pomeranians are no different.
Foodstuffs with gluten or grain, like wheat and soy, are commonly found as fillers in dog foods.
Unfortunately, ingredients which are used as fillers are also commonly the culprits of food allergies.
Fortunately, grain-free dog foods exclude ingredients like these.
They are also typically higher in protein than other commercially produced dog foods.
This makes a grain-free diet possibly beneficial for any Pomeranian who has demonstrated food allergies.
(However, always check with your vet before you drastically change your dog's diet.)
Here are some grain-free puppy foods that are meant for small dog breeds:
BLUE Freedom Grain Free Puppy Dry Dog Food.
This dog food is very similar to the BLUE Life Protection Formula Puppy Small Breed Chicken and Oatmeal Dry Dog Food, but in a grain-free formulation.
Merrick Lil' Plates Grain Free Real Chicken + Sweet Potato Small Breed Dry Puppy Food. Here is a grain-free kibble with real deboned chicken and sweet potato as the stars of the show!
This variety is also high in protein, with a whopping 55% protein to 45% "everything else" ratio.
The "everything else" in that ratio is composed of only natural ingredients including:
blueberries
apples
peas
vitamins
minerals
lots of fiber for easy digestion
Added antioxidants and DHA will help to promote your Pomeranian's brain and immune health.
Solid Gold Small & Toy Breed Wet & Dry Dog Food. As its name suggests, this dog food may be worth its weight in gold!
Chicken, chickpeas, and pumpkin provide lots of protein and fiber.
Other goodies like superfoods egg proteins, ocean fish meal, fruits, and more vegetables ensure that your Pom only gets the best!
The tiniest of tiny kibble bites make this food a great option for super small Pomeranians.
Plus, because this food is made for dogs of all ages, you might even keep your puppy on the food even after she's grown up!
Wellness Core® Natural Grain Free Dry Dog Food. If your pooch isn't too fond of chicken or has an allergy to chicken, then this dry puppy food by Wellness Core may be right up your Pomeranian's alley!
Turkey, turkey meal, and salmon meal are the primary components.
Fish oils provide fatty acids for extra DHA to go with the boost of protein from the turkey and salmon.
Probiotics, prebiotics, vitamins, minerals, and lots of fiber round off this lean and nutritious kibble!
Wet dog food for Pomeranian puppy
Some puppies may not find dry kibble to be very appetizing initially, if at all.
Other puppies need more moisture in their diet (in addition to fiber) to keep their bowel movements regular.
Wet food can be used to top dry kibble making it more enticing or aiding in digestive regularity.
You can also choose to feed wet food exclusively…contrary to what some dog owners may think.
A complete wet food can give your Pom-Pom puppy all the nutrients that he needs to grow up nice and strong!
Here are some wet foods which may be suitable for Pomeranian puppies:
Hill's Science Diet Small & Toy Breed Wet Dog Food. Bites of chicken and rice, potatoes, peas, spinach, and other nutritious ingredients are smothered in tasty gravy.
The nutrient profile makes this food the perfect option for small breeds who are less than one year of age.
Plus, you can buy it in conveniently packaged, ready-to-serve 3.5-ounce containers, with 12 to a box.
Royal Canin Health Nutrition Puppy Dog Food. If your four-legged baby is being a picky eater, isn't showing much interest in food post-weaning, or needs something to help the transition to dry food, then this wet food may be to your puppy's liking!
The protein-rich formula is meant to stimulate the appetite and provide complete nutrition.
This variation does contain meat byproducts and gluten.
So it may not fit your bill if you're looking for an all-natural and/or grain-free wet food.
Nutro PUPPY Tender Chicken & Rice Recipe Cuts in Gravy Trays Wet Puppy Food. Whole and natural ingredients make up this wet food.
Chicken, beef and chicken livers, oatmeal, brown rice, carrots, and a host of other good-for-your-dog foods are topped with a chicken broth-based gravy.
The oatmeal will also help with digestion for pooches with sensitive tummies.
Omega-6 fatty acids and added zinc help to promote coat and skin health.
Nutro guarantees that your dog will like this food, so why not try it?
Best food for Pomeranian puppy with limited ingredients
Some doggies are sensitive to more than just grains and glutens.
Some have an intolerance to several things commonly found in high-protein dog foods, like eggs, corn, and chicken or beef.
Maybe a grain-free diet won't work for your Pomeranian dog with allergies.
Then you might try a limited-ingredient food.
It is exactly what it sounds like – a food with just a few ingredients.
Dogs with multiple food allergies may benefit from a limited-ingredient diet.
As always, check with your veterinarian before making the switch to ensure that you puppy will get all that he needs with such a diet.
Here are some limited-ingredient puppy foods that are suitable for small-breed dogs:
Natural Balance Limited Ingredient Diets Dry Dog Food. If your Pomeranian doesn't do well on a chicken- or beef-based diet for some reason, then give this lamb meal-based dry kibble a try.
Brown rice, rice bran, and canola oil add to the complex carbohydrate content and provide a source of healthy fat.
With over 700 4.5-star customer reviews, it seems that this food is very helpful for pooches with multiple food sensitivities and allergies.
Nulo Freestyle Limited Plus Grain Free Puppy and Adult Dog Food. This limited-ingredient and grain-free dry dog food is meant for small breed dogs, including both puppies AND adults!
It has turkey and turkey meal as the main sources of protein (which make up 30% of the formula).
Chickpeas, sweet potato, and lima beans are the only veggies.
This low-carb food contains no chicken, corn, wheat, soy, eggs, peas, white potato, or tapioca, which are major offenders when it comes to food allergies in some dogs.
Best food for Pomeranian puppy – a summary
The best food for small breed puppies, like Pomeranians, should be easy for tiny teeth and tiny mouths to consume.
It should also be nutrient-rich, but not rich in added fats or fillers.
Fats and fillers may bulk up dog foods cheaply, but they also bulk up your puppy in a not-so-healthy way!
Since small dogs are typically very energetic, their food should also be composed of mostly lean proteins.
You should also look for nutrients like omega fatty acids and DHA.
These aid in coat and skin health as well as brain development.
Pomeranians are known to develop dermatitis, so it's especially important that you promote their "outer" health from within!
In doubt about what food or how much food to feed your Pomeranian puppy?
It's always a good idea to check with your vet!
References
Bauer, J. "Essential fatty acid metabolism in dogs and cats," R. Bras. Zootec., 2008.