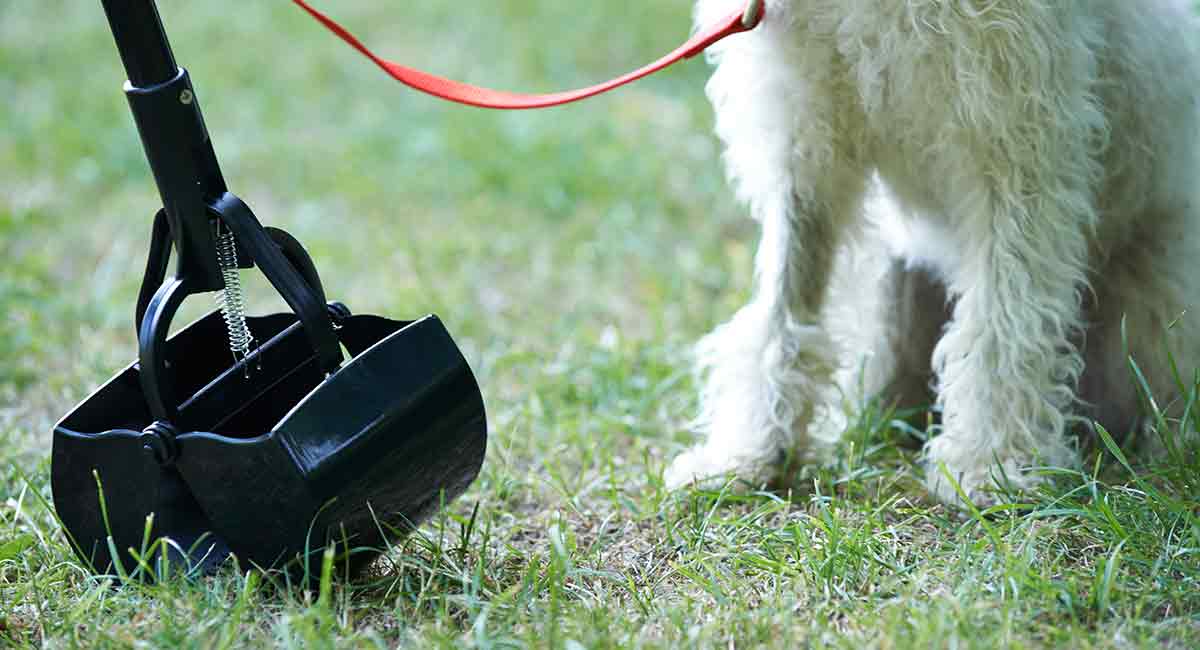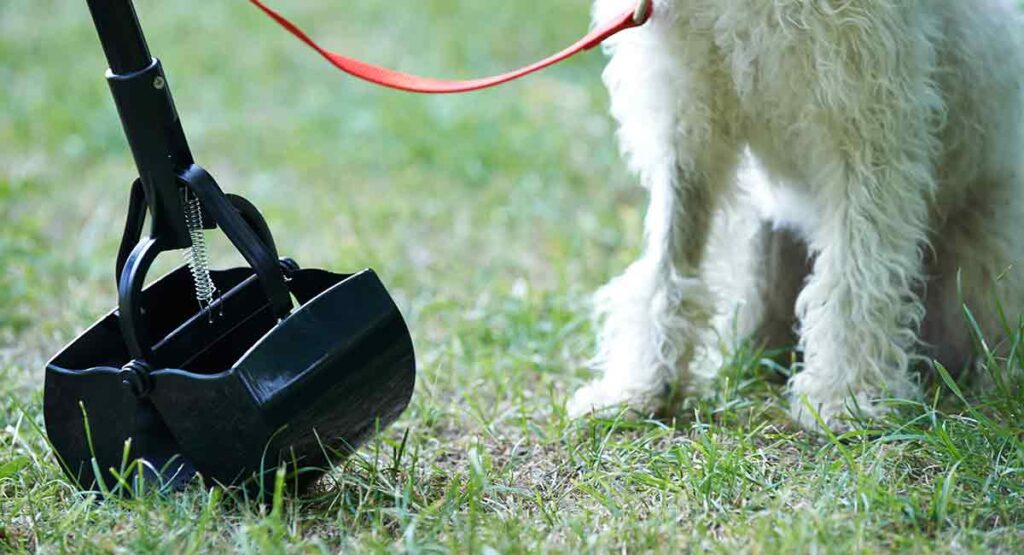 The best pooper scooper can help people with bad backs, be easy to use, or be portable for long walks.
It isn't always a case of choosing the best manufacturing quality or value for money. The best pooper scooper for you will depend on the problem it needs to overcome.
Luckily, we've compiled this list of products to make your search easier. Let's get started!
All of these products were carefully and independently selected by the Happy Puppy Site team. If you decide to make a purchase from one of the links marked by an asterisk, we may earn a small commission on that sale. This is at no extra cost to you.
Choosing The Best Dog Pooper Scooper
With such an unexpected range of products to choose from, these tips will help you recognize which poop scoop will most benefit you:
If you've got a bad back, look for a scooper with an extendable handle that you can set at a length which is perfectly comfortable for your height. If someone else will be using the same scooper, look at how easy it is to adjust between different lengths.
The best pooper scooper for grass has tines that rake through the blades of grass to get under the poop and lift it up.
But a scooper with flat edges is easier to use on hard, flat surfaces like concrete.
The best pooper scooper for large dogs has plenty of internal volume. It's also designed to ensure none of its cargo drops back on your feet before you dispose of it!
For smaller breeds you have more liberty to consider details like color, and built-in poop bag holders.
And now let's take a look at our favorite products!
Dogit Jawz Dog Waste Scooper
There are dozens of jawed dog pooper scoopers on the market which follow this basic design. But we think this one from Dogit* stands out for being robustly made and durable.
Choose whether you'd like a model best suited to grass (the jaws have tines) or hard surfaces (the jaws have flat edges).
Best features: It's lightweight and spring loaded so that you can operate it with just one hand.
Biggest drawbacks: The length of the handle is fixed at 25 inches. And squeeze-mechanism might be uncomfortable for people with arthritis in their hands.
ibestbuy Long Handle Scooper
If you're blessed with great height, and you're looking for a jawed pooper scooper, then this one from ibestbuy* is a great alternative to the one above.
The handle is a generous 32 inches long, with an ergonomic grip at one end for you, and a capacious set of jaws at the other end for your dog's mess.
Best feature: Extra long handle, which folds in the middle when not in use.
Biggest drawback: Serrated jaws should perform well on hard surfaces and gravel, but might let you down on grass.
Arm & Hammer Swivel Bin & Rake
This classic swivel bin product* combines compact design and enough internal space to scoop even the biggest of poops.
It's not complicated, but there's not much that can go wrong with it either. Which is probably why it has received over 20,000 5* reviews on Amazon so far.
Best feature: Tried and tested way of picking stuff up off the ground, without bending over – why fix something that isn't broken?
Biggest drawback: The rake has a rounded end, which makes it difficult to rest against a wall without it falling sideways.
Pawler Bigger Dog Pooper Scooper
This is an ideal rake-and-tray type solution* for owners of large dog breeds. Or people who go more than a day or two without picking up the fragrant gifts left in their yard.
It has a wide, deep tray, which by my crude estimate can hold nearly a gallon of dog poop.
Best feature: Powder coated metal construction should outlive your dog, and possibly even you. And it's got an adjustable length handle.
Biggest drawback: Wash the tray carefully if you don't want mucky water ricocheting back at you from the sides.
MOICO 3-Part Dog Pooper Scooper
The MOICO tray and rake combo* is a smaller, lighter version of the Pawler design above.
It also comes with a spade as well as a rake. The spade might be a better tool for parents of raw fed dogs, since raw fed dog poop tends to crumble away very easily.
Best feature: Easy to assemble, durable, extendable to 42 inches, and it even comes with a pair of gloves.
Biggest drawback: Not as easy to disassemble if you get the pieces in the wrong order, or someone shorter wants to use it.
SKYFIELD 3-Stage Extendable Metal Rake
This is a rake-only product*, which you can flip over and also use to scoop.
It's a good solution for people with a submerged dog waste remover*, who just need a way of getting the mess from where it lands into the digester.
Best feature: Adjustable handle can easily be switched between 20, 29 and 35 inches long.
Biggest drawback: The head of the rake isn't all that wide – about 4.5 inches.
GoGo Stik
The Gogo Stik* touts itself as a totally clean way to pick up your dogs poops, because they only ever touch the inside of the poop bag. (By the way, we've got a whole article on choosing the best poop bags right here).
It comes in two different lengths (both of which also have a range of adjustment).
Best feature: You can use it with any size of bag, and if you get there in time you can even use it as a dog poop catcher before those feces hit the ground.
Biggest drawback: The manufacturer also sells a wedge for helping to nudge difficult poops into the bag. Which rather suggests that the whole premise of the GoGo Stik doesn't always work.
Activedogs Best Ever Dog Poop Scooper
If you've been let down in the past by pooper scoopers which stopped working too soon, then Activedogs promise this scissor-style scooper* will restore your faith in American manufacturing.
It's made of robust aluminium, and you can also buy a range of matching products to go with it.
Best feature: The manufacturers guarantee it will not break – or your money back!
Biggest drawback: Scissor action requires two hands to pick up the goods, and to carry them to your receptacle of choice.
PickMe Pets Portable Handheld Pooper Scooper
Next here's a small scooper*, which doesn't take the back work out of picking up after your dog, but at least stops you having to feel how warm and smushy it is.
This is a great dog scooper for taking on walks with small dog breeds, and the design has a cute novelty factor.
Best feature: Built in place to store your roll of poop bags. Comes with a free grooming paddle.
Biggest drawback: Tiny capacity, only up to holding toy dog-sized poops.
DogBuddy Pooper Scooper
The DogBuddy Pooper Scooper* is a larger, and perhaps more practical take on the portable pooper scooper idea.
It has a pop-out silicon jaw, big enough to hold even super-sized stools. A smaller model is suitable for more dainty doo-doos.
Satisfied buyer say it's easier than using the old-fashioned bag-over-the-hand method when you're wearing gloves in winter.
Best feature: Clever silicon teeth hold the poop bag in place while you work, and a money back guarantee if you don't like it.
Biggest drawback: Stooping is necessary.
The Best Pooper Scooper – Summary
So there you have it.
Dog pooper scoopers are far from a one size fits all toilet tidying solution.
The best pooper scooper depends upon what problem you're trying to overcome.
But whatever it is, you can guarantee a product does exist to solve it!
Affiliate link disclosure: Links in this article marked with an * are affiliate links, and we may receive a small commission if you purchase these products. However, we selected them for inclusion independently, and all of the views expressed in this article are our own.
Readers Also Liked