Are you wondering what the best dog activity monitors would be for you and your dog?
It is true that pet activity monitors are becoming more popular every day.
But many pet parents still find themselves wondering if a dog activity monitor is right for them.
If you are a dog owner who is on the fence, or if you already know that you would like to get a dog activity monitor but are unsure of where to find the best dog activity monitors, we are here to help.
But first, let's begin by going over what a dog activity monitor is.
What Is a Dog Activity Monitor?
A dog activity monitor tracks your dog's activity level almost the same way a Fitbit would track your own activity level.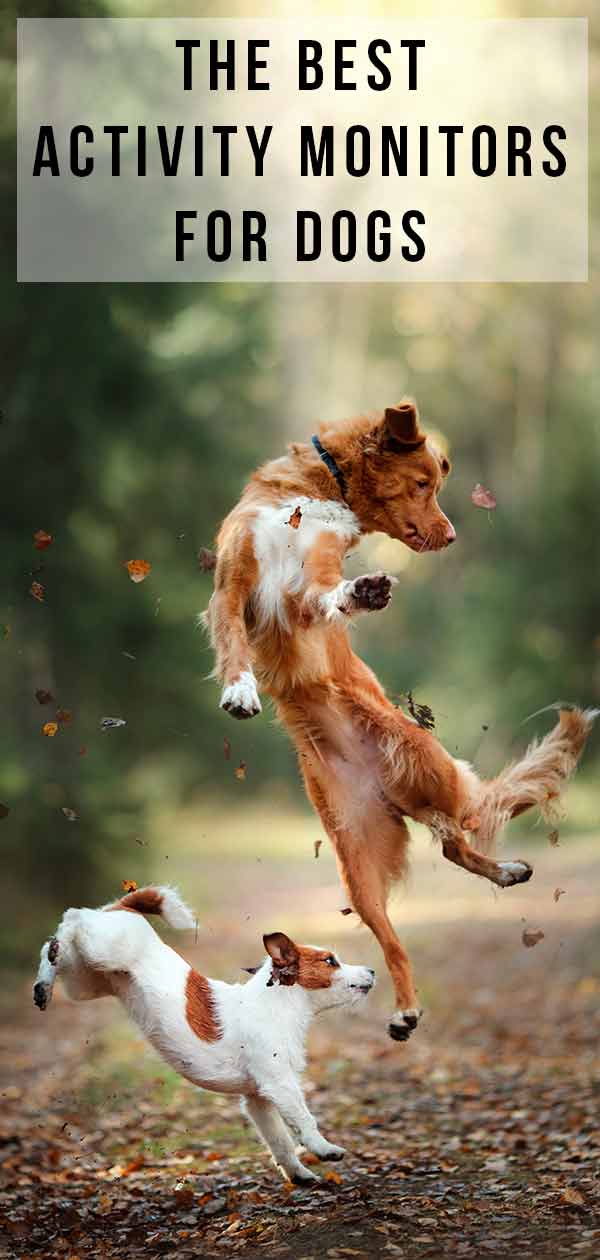 There are a number of different companies that offer dog activity monitors, and we want to help you find the best product for your needs.
But do you need a dog activity monitor?
Let's see.
Why Do Some Dog Owners Get a Dog Activity Monitor?
Over the centuries, dogs and humans have learned to communicate with each other quite well.
Still, there are a number of things we humans simply can't find out from our canine counterparts.
We cannot go to our dog and ask him point-blank why he does some of the things he does.
That is where the dog activity monitor comes in.
For example, say you have two dogs of the same breed and of the same sex. One is in perfect shape while the other is obese.
Both of your dogs are on the same diet, have the same number of daily walks and live under the same roof.
Shouldn't they be the same weight?
An activity monitor can keep track of your pet's individual activity level while you are present and while you are away.
It also may be able to offer information that simple observation wouldn't offer you.
Maybe you didn't know that the thinner dog liked to run the stairs and play with his toys while you were at work.
You missed out on why your plump pooch preferred laying in his bed by the window all day in the sun.
Or what if your usually active pup has had a sudden drop in energy?
An activity monitor can help you gauge what a normal and healthy activity is for your pet.
This way you'll know when it's time to change a routine or seek out professional care.
Pros of a Dog Activity Monitor
When looking for the best dog activity monitors for your dog, it's always a good idea to look at the pros and cons.
We love that the best dog activity monitors do more than monitor the activity of your pet on a physical level.
There are also dog barking monitor products, which can help you determine how often Fido is using his voice while you're away.
These monitors can also help with training. And give insight into whether your dog is suffering from separation anxiety once you leave him.
With an activity monitor, you can brainstorm ways to improve your dog's health. Does he need more exercise? A trip to the vet? Or a healthier diet?
One of the most beneficial features on a dog activity monitor is the GPS tracker.
A GPS monitor can help you find your pet if he ever escapes the backyard or gets free from the house or his leash.
This gives peace of mind to countless pet owners.
Cons of a Dog Activity Monitor
Some of the best dog activity monitors are expensive, while cheaper devices can be unreliable.
Additionally, some of the best dog activity monitors are large and cumbersome.
Your dog may not tolerate wearing one.
Skittish dogs may not be comfortable with a foreign device hooked to their collars.
It may take some conditioning to get them used to wearing a dog monitor.
What are some of the best dog activity monitor products out there to make it worthwhile?
Let's start by listing some of the best dog home monitor products when you are away.
Best Dog Home Monitor Products
Leaving your pup at home alone is never easy.
There is guilt, worry and curiosity about what Fido does all day when you're gone.
If you are looking for the best dog monitor that will help you keep an eye on your dog from anywhere, take a look at the following dog monitor products below.
If you're an avid "Ellen" watcher, then you may have seen the Furbo Dog Camera.
While this is not necessarily a dog activity monitor, it is an in-home monitor that can help you keep an eye on your pet's daily activities from anywhere.
This dog video monitor is also compatible with Alexa and offers livestreaming of your pooch's life when he's on his own.
Best of all, this product throws treats to your pet. All you have to do is download the IOS/Android app and fill the product with treats.
Then you control when he gets to indulge.A similar product is the TOOGE Pet Camera, which offers two-way audio and is motion sensitive, meaning it will turn on when Fido walks by.
For the very affordable price of approximately $40 and a Wi-Fi connection, you can watch your pup from anywhere in the world.
Just download the app to your smartphone and get the popcorn.
Best Wireless Dog Monitor Products
These monitors are designed to be worn by your dog, and send information about their activity to your phone or computer.
The Poof Bean Pet Activity Tracker monitors your dog's activity while feeding you all the information through an easy to use free iPhone app.
And while there are a lot of dog monitor apps for iPhones, this one is tiny. It looks and feels like an ID tag.
Fido hopefully won't be bothered by wearing it in the slightest. The app also has a lost pet alert feature.
We also adore this DOTT the Smart Dog Tag, which is affordable and won "Best Infection" by MSN Money, as well as "Best 5 Pet Gadgets You Should Buy" By TechnoNerd.
With a battery that promises to make it at least six months and a Lost Pet Recovery system, the DOTT is an excellent choice for families who want to keep a close eye on their pooch without spending a fortune.
Then there's the Pitpat dog activity monitor, which easily hooks to any collar and is reasonably priced.
The Pitpat measures exercise, rest, and calories burned.
You can track progress and goals alongside breed specific targets for a personalized experience.
Also, the Fitbark dog activity monitor is another dog activity monitor that attaches to your dog's collar.
In addition to being easy to use, it's hard wearing and waterproof.
The software allows you to compare your dog's activity with other dogs, and even yourself!
Best Dog Activity Monitors with GPS
These dog activity monitors include GPS – perfect for tracking how much distance your pup covers during that game of fetch, or tracking him down if he bolts during a walk.
The Whistle 3 GPS Pet Tracker and Activity Monitor is a two-in-one gadget that can help you monitor your dog's activity while keeping an eye on him in the backyard.
And should Fido get curious and venture out the open door while you're not looking, you'll be able to find him in a snap.
Check out the Findster Duo Pet Tracker plus Pet Activity Monitor.
Unlike the Whistle, which uses AT&T's cellular network to track your dog, the Findster offers up to twelve hours of live tracking without connecting to a cellular network.
Keeping up with your dog's activities while verifying his locations have never been easier or more fun.
Are you looking for the best dog activity monitors that are also collars?
The Link AKC Smart Dog Collar with GPS Tracker and Activity Monitor is the best of both worlds.
With a GPS, activity monitor and stylish collar, this product is one of our faves.
Resonably priced, it offers an extended warranty, free battery charging by the AKC and 24/7 access to the Pet Poison Control Helpline.
Best Dog Monitor Apps
Are you looking for a good dog monitor app to connect to your device?
Most products come with their own app, which is included in the price at the point of purchase.
Is a Dog Activity Monitor Right for Me and My Dog?
The best dog activity monitors aren't just fun.
They can also help us keep a better eye on our pets and their overall health and safety.
If you are unable to be home as much as you would like, and you want to get a better idea of what Fido does while you are away, then a pet activity monitor may be right for you.
Furthermore, if you have canine mysteries you are dying to solve, like how your pooch got so big, these options may help.
Last but not least, a canine activity monitor might be right for you if you are interested in ways to better communicate with your pet's vet about his health.
We think there are always benefits to getting better insight into your dog's health and energy level.
It never hurts to stay one step ahead.
References and Further Reading
Bland, I.M., et al., "Dog Obesity: Owner Attitudes and Behaviour," Preventive Veterinary Medicine
Sloth, C., "Practical Management of Obesity in Dogs and Cats," Journal of Small Animal Practice
Brown, D.C., et al., "Use of an Activity Monitor to Detect Response to Treatment in Dogs with Osteoarthritis," Journal of the American Veterinary Medical Association