The best raincoats for dogs are comfy, sturdy, and impervious to wet weather.
Optional extras included in the best of the best raincoats for dogs are technical fabrics, reversible linings, and reflective or illuminated panels for visibility in poor weather conditions.
That's why our top five favorite raincoats for dogs are:
Read on to find out why, and which other coats deserve an honorable mention!
Best Raincoats for Dogs – Cheap and Cheerful or Big Investment?
Sometimes you get what you pay for. And other times you know that no amount of money will stop your active dog wearing their clothes out in one season.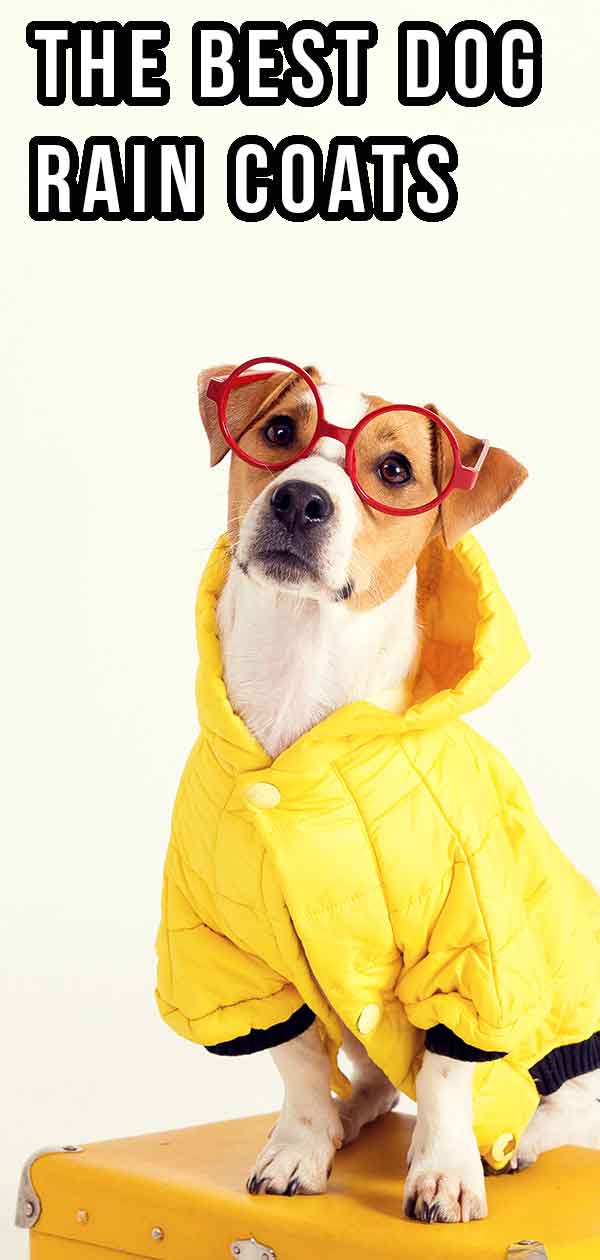 Finding the best waterproof dog coat doesn't mean you have to spend a bundle, and we've got recommendations for every budget.
Let's start with these affordable, adorable and popular options.
Packable Rain Poncho
This poncho raincoat by RC Pet Products is water repellant, lightweight, and folds down small for travel.
It's also machine washable after muddy walks. But if you prefer to walk your dog on a harness, take note that this raincoat only has leash access.
It comes in sizes XXS to XXXL for Chihuahuas to Rottweilers, and a whopping 17 different fun designs.
Hi-Vis Yellow Slicker
This classic yellow hooded rain slicker by ethical combines protection from the elements, visibility, and eye-catching style.
It is designed to be easy to put on and take off.
Generally, this is one of the best raincoats for dogs in terms of being a real all-rounder at a great price.
Fleece-Lined Waterproof Winter Raincoat
This warm and cozy fleece-lined waterproof winter raincoat by Petcee is sized from XS to 5XL and comes in black, orange and red.
It's waterproof and windproof, and the wide elasticated belly strap means it can accommodate a wide range of doggy body shapes.
There's a narrow reflective strip for visibility, and if your pooch doesn't mind it, a small tail band to anchor the end of the coat and stop it siding around.
Best Raincoats for Dogs – Luxury Choices
Sometimes those little extra details make designer dog coats for winter and wet weather the right choice!
Kurgo Loft Coat
This coat by Kurgo Loft has it all: it is reversible, reflective and adjustable.
The coat is sized from XS to XL and comes in nine different eye-catching colorways.
The cut and adjustable velcro fastening have won happy reviews from many owners of deep-chested dogs too – traditionally the hardest shape to buy well-fitting coats for.
There is a small zipper opening on the back to let the leash through without exposing your dog to the elements.
This coat is also machine-washable.
Derby Originals Polyfill Coat
This coat by Derby is in fact a scaled down version of a coat designed for race horses!
And the canine version is now gathering a cult following of its own.
Sizing is based on chest girth and ranges from 8" to 28.5", with seven colors to choose from.
These coats are built to last, with a sturdy construction and ripstop fabric.
The exterior is robustly waterproof against even the most inclement weather, and beneath it lies a layer of snug polyfill insulation.
Nor'easter Blanket Coat
If you live in an area where winter weather patterns tend to be more severe, this hugely popular, snuggly, fleece-lined coat by Zack and Zoey is the perfect choice for your pup.
This coat is water-resistant and insulating and it reverses for indoor use to a soft, warm plaid.
The sizing ranges from XXS to XXL and it comes in 8 colors.
In size XXL, this is one of the biggest raincoats for dogs you can find – easily large enough to accommodate most giant breeds.
Best Raincoats for Dogs With Umbrellas
A dog umbrella coat can evoke giggles when you see one for the first time.
But if it gets your pup out the door to potty in inclement weather and brings smiles to passersby faces, even better!
Here are two creative takes on the classic dog umbrella coat to consider.
Push Pushi Raincoat with Umbrella Hood
This raincoat by Push Pushi is sized from XXS to XXL.
Instead of a full umbrella, the umbrella is a roomy hood that fits over your dog's neck and head.
Choose from five colors or a camouflage pattern.
LesyPet Dog Umbrella
This unique umbrella by LesyPet shields your dog from the rain with a transparent canopy suspended part way up their leash.
The umbrella is 28 inches in diameter, which might be a little awkward on a busy sidewalk, but who else is going to be out in the rain anyway?
Best Dog Raincoats for Large Dogs
Large dogs can be among the hardest to find good raincoats for.
This is partly because so many of the giant breeds are designed to live and work outdoors in extreme climates.
Nobody needs coats for them, which means the less robust large breeds are left under-catered for too.
Luckily these coats come big enough to accommodate even shiveriest of Wolfhounds and Great Danes.
Mikayoo Large Dog Raincoat
Elasticated, adjustable, and with fabric to spare, this stylish dog coat by Miyako comes up to size XXL.
Choose from two camouflage patterns and three solid colors with reflective safety strips.
Owners say the material is durable and thick.
You put it on with an adjustable belly strap and the optional rear leg straps.
Ruffwear Easy On Jacket
Big dogs love big adventures!
And this popular and highly rated jacket by Ruffwear is one of the best raincoats for dogs because it is built for outdoor adventures like hiking and camping.
It comes in six bright colors, and size XXL fits a strapping 42 inch chest!
Kuoser Reversible Winter Weather Vest
This lovely, cozy, reversible winter weather vest by Kuoser is also rain-proof and insulating.
It is a great pick for a large dog jacket with underbelly protection, because its stretchy ribbed belly panel is wider than most straps..
This coat is sized from XS to 3XL and comes in two color/pattern combinations.
Best Raincoats for Dogs with Lights
When the nights draw in over winter, our thoughts often turn to safety whilst walking our dogs.
Being safe and seen is hard enough, but on a dark and rainy night it's even harder to make your dog visible.
Even reflective strips only shine when light is shined on them.
So it makes sense that a dog coat with lights is the ultimate in canine safety during walks after dark and in stormy weather.
But raincoats for dogs with lights are few and far between as of yet.
So enjoy our take on some options to ensure your dog is highly visible while you are outside.
Illumiseen LED Dog Vest
This unique jacket by Illumiseen has all the safety bells and whistles, including a set of LED lights connected to a USB-rechargeable battery.
To get the best fit, use the adjustable buckles.
Standalone LED Dog Collar
If you already have a dog coat or raincoat, Illumiseen also makes a standalone LED dog collar that adds some extra safety.
It is sized from XXS to XL.
The light up functions is USB Rechargeable and water resistant.
Blazin' Bisons LED Safety Collar
Blazin' Bison's USB-rechargeable LED safety collar is another great option to add extra visibility to your dog's coat during night walks and during inclement weather.
It is sized S, M, L and comes in 10 colors.
Why use coats for dogs for cold weather and wet weather?
The question of whether dog wet weather coats or cold weather coats are needed is a topic of intense debate!
Some canine biologists believe pet dogs do not need dog coats, and the whole process of wearing a raincoat is stressful for dogs.
Yet many breeders, veterinarians and pet owners argue that there are dog breeds today which were specifically bred to live indoors.
They don't cope well with the elements like their wolf ancestors did.
Which type of dog is yours?
The choice is really yours. And you can listen to your dog for cues.
If your pooch whines at the door to play in the rain, or if you have a working dog bred for outdoor life in cold climates, perhaps even the best raincoats for dogs might be optional.
But if your pup is young, elderly, hairless, single-coated, tiny or shivers then he might need a little more insulation when the weather drops below 80 degrees Fahrenheit.
One of these best raincoats for dogs may be in order for health and comfort reasons!
All-weather dog coats: Fit and safety tips
Choosing the best raincoats for dogs begins with some basic fitting and safety tips.
Here are some suggestions from canine veterinarians you may find helpful:
The fit should be close and comfy – neither too loose nor too tight.
Choose the material with care – wool blends in particular can cause skin itching.
Pick dog coats that are easy-on, easy-off to avoid unnecessary stress.
Avoid dog coats with small parts (drawstrings, buttons, bling) your dog could swallow.
Steer clear of zippers – it's too easy to cause abrasion to your dog's skin and coat.
Avoid too-thick materials that may cause overheating in double-coated dog breeds.
For dog breeds with short legs, look for a dog coat that covers belly regions.
Senior dogs can sometimes benefit from a dog coat as their fur thins with age.
Training your dog to wear a dog raincoat or dog snow coat
The best raincoats for dogs offer the most protection for the least work.
In other words, you don't want to have a spontaneous game of hide-n-seek and then a tussle every time your pooch sees their dog raincoat come out of the closet!
Training your dog to wear the best dog coats is just like training your dog to wear a collar and walk on a leash.
You want to start slowly.
Offer lots of praise and treats, and do short practice runs until it is clear your dog is comfortable with the whole experience.
Best raincoats for dogs
We hope this article has helped you find the right dog coats for your precious pup!
Have you bought a raincoat for your dog recently or perhaps one of the products we've listed above?
We'd love to hear how it's working out in the comments below!
References & Resources
Firth, P., DVM, 2016, "Tips on Choosing Doggy Clothes," Firth Veterinary Hospital.
Popova, M., 2015, "Why Not to Put a Raincoat on Your Dog," Brain Pickings.
Green, M., 2018, "Hiking or Backpacking with Your Dog," REI.
De Jong, J., DVM, 2018, "Cold Weather Pet Safety," American Veterinary Medical Association.
Kaminski LeDuc, J., 2013, "Standards of Care for Dog and Cat Breeders," USDA/OLR Research Report.