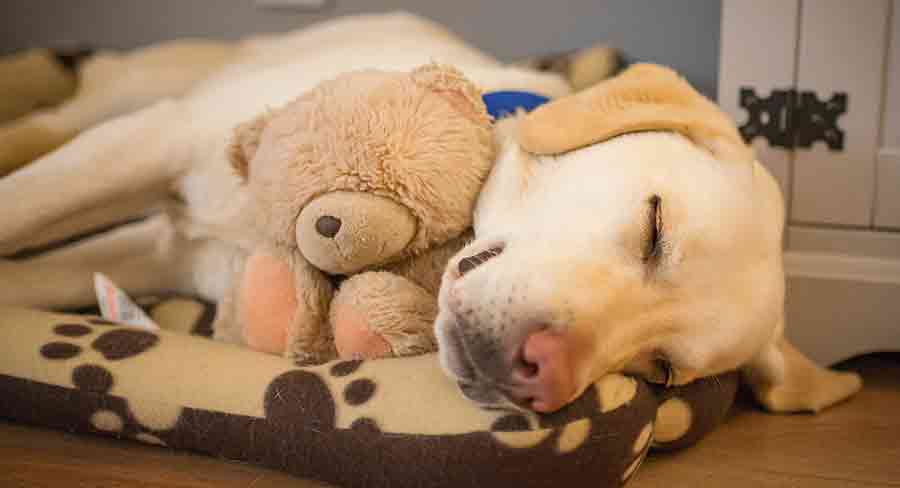 If your dog has difficulty settling down, then we're here to help you with our selection of the best calming dog toys.
A variety of calming dog toys are avialable. Different styles are designed to work in different ways, to alleviate or manage agitated or over-excited behavior. Choosing the best calming dog toys for your pooch depends upon exactly what behavior problem you're up against, and what you want to achieve.
So let's start by matching up the types of calming dog toys on the market, with the kinds of dog who get the most out of them. And then we'll show you some of our favorite examples.
Products included in this article were carefully and independently selected by the Happy Puppy Site team. If you decide to make a purchase from one of the links marked by an asterisk, we may earn a small commission on that sale – at no extra cost to you.
How Calming Dog Toys Work
There are several reasons why dogs don't behave calmly.
Boredom
Dogs who haven't had enough exercise and mental stimulation can get bored and frustrated. To express those feelings and try to release some energy, they might chew, bark, dig, pace about, and try to get the attention of their owner.
No amount of toys can replace having sufficient opportunities for exercise, interaction with their human family, and mental stimulation from training and playing games with people or other dogs. But they can be one source of mental enrichment, among many. Relaxing dog toys can also be useful for dogs who are used to having lots to do, but need to take it easy for a fixed period. Such as on a long car journey, or whilst recovering from surgery.
Over-stimulation
When dogs are over-stimulated they can get very excited, and their behavior can deteriorate rapidly. Lots of things can over stimulate dogs, including the arrival of visitors, or rough play. Once a dog has toppled over their stimulation threshold and their behavior has gotten out of control, calming toys are a helpful way of focusing their mind again, and helping them 'come back down'.
Anxiety
A popular reason dog owners look for calming dog toys is to relieve symptoms of anxiety. Toys can help with the behavioral problems associated with separation anxiety in two ways. Firstly, they distract a dog from their feelings of worry. And secondly they can change the way dogs feel about separation in the first place, by creating positive associations with being left alone. However, calming toys can't work miracles on their own. They should always be used as part of a broader counter-conditioning programme.
Choosing The Best Calming Dogs Toys
Now we've looked at the times your dog might benefit from a calming toy, let's look at how to choose the right one.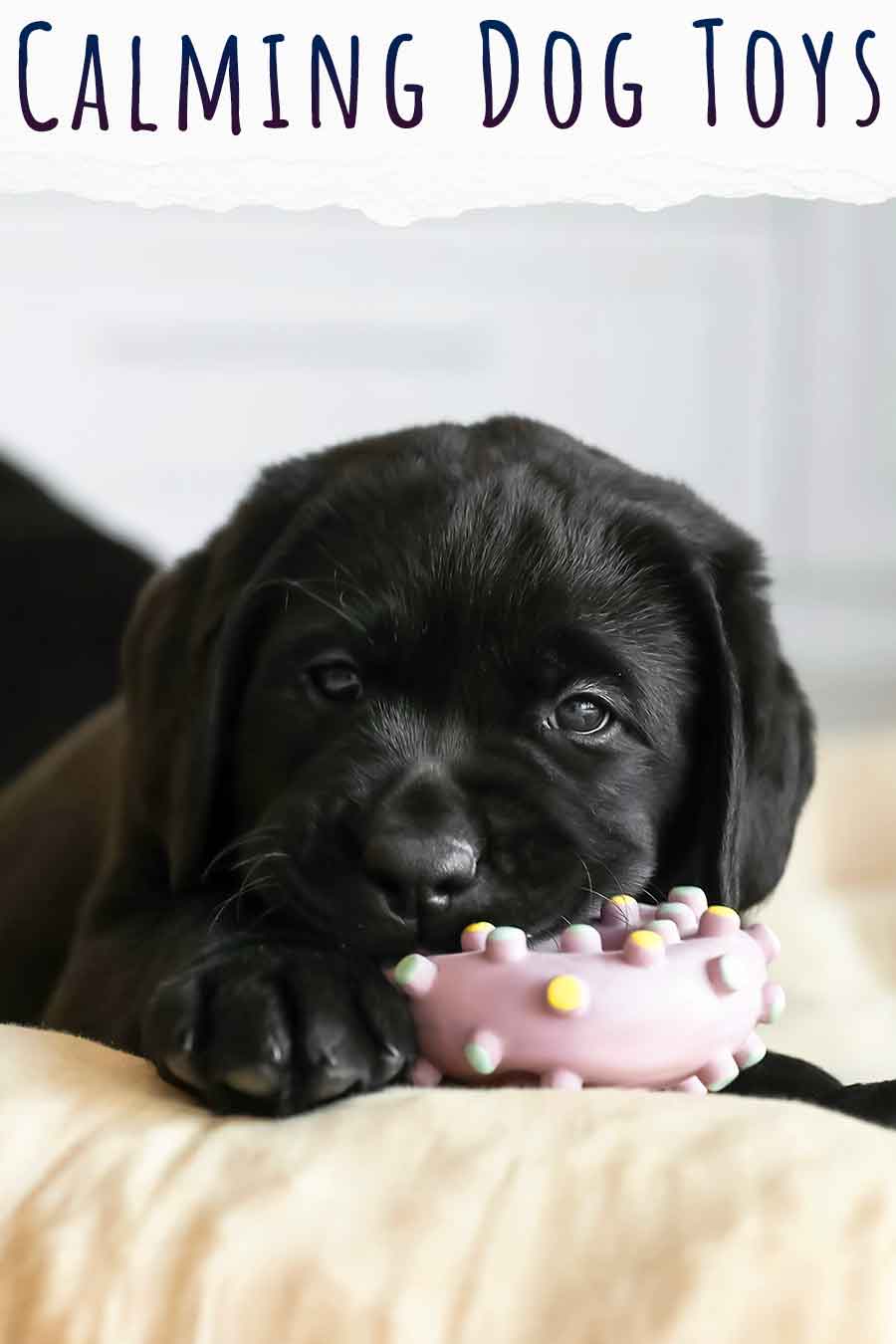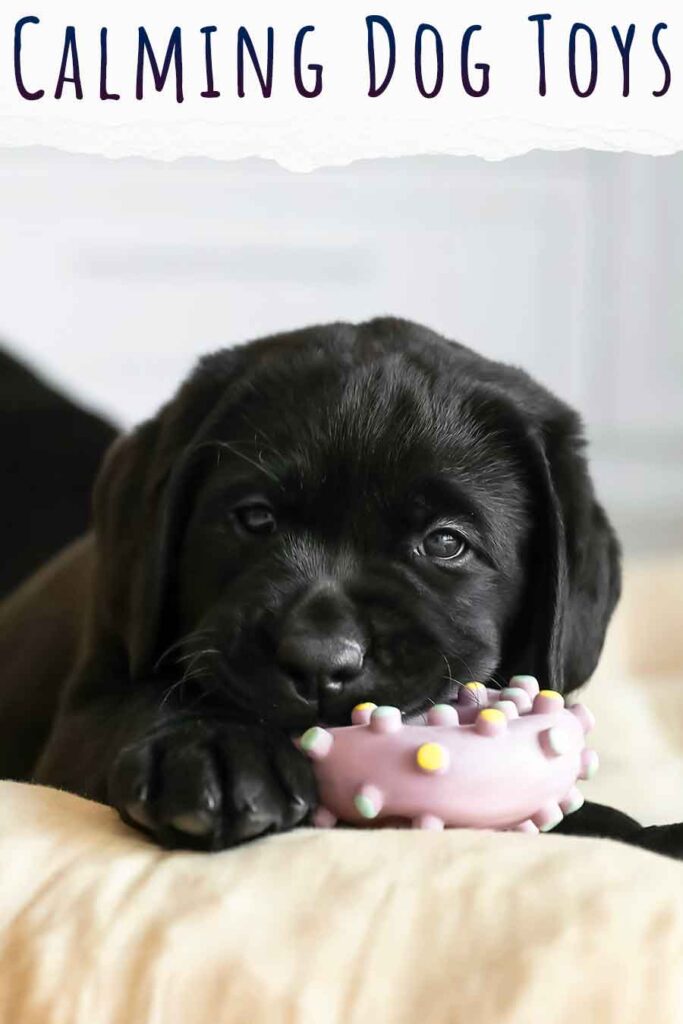 Some soothing dog toys are fragranced with lavender or chamomile. Studies have shown that the smell of lavender reduces travel-induced excitement in dogs – so they spend more time resting and less time moving about and vocalizing. And in a shelter environment, dogs spent more time resting and less time moving upon exposure to lavender and chamomile. So these toys are great options to help a dog overcome temporary boredom or impatience.
However, the evidence that they help with anxiety isn't as strong. One study found that in a trial of chamomile drops vs a placebo during fireworks, dogs receiving both treatments made improvements. It seems the benefit of scented calming toys may be due to the owner thinking they are going to work, and behaving more calmly themselves. So for anxious dogs, scented toys or interactive toys which distract a dog from their worries can both help.
Chew toys and interactive toys which dispense food have also been tested and observed to be effective for dogs confined in a hospital or shelter environment. Since they provide mental stimulation they are good for engaging a bored dog. Toys that require concentration and focus are also good for calming down a hyperactive or over-stimulated dog.
So now you know what to look for, get ready to see some of our favorites!
Best Calming Dog Doys For Anxious Dogs
Let's start with the toys most likely to soothe a nervous puppy or dog.
PetSafe Chamomile Scented Treat Dispensing Toys
Busy Buddy Barnacle and Squirrel Dude*(paid link) by PetSafe are made from chamomiles scented rubber. Chamomile is one of the scents which had a measurable effect on dogs' behavior in controlled tests.
The toys can be bought separately or as a pair. They can both be stuffed with treats or food, to add an extra layer of distraction and engagement. They have received lots of positive reviews from previous buyers, but a common criticism is that they're not as durable as hoped, and powerful chewers make quick work of destroying them.
Aromadog Calming Dog Toys
Aromadog toys are impregnated with lavender essential oil to produce a calming effect. Popular products in the range include the original 6" fleece plushies*(paid link):
But you can also choose the 19" flattie*(paid link):
Previous purchasers have been impressed by the initial calming effect of these toys. But they do say the lavender scent doesn't last long. They're also strictly for cuddling – they're not safe for dogs who might tear them apart and ingest the lavender essential oils.
SmartPetLove Snuggle Puppy Toy
Snuggle Puppies*(paid link) are plush toys designed to recreate the comforting sensation of having a real life sleeping companion.
They come in four colors, so you can pick one which most resembles your dog, their mom, or which will be easiest to keep clean. The Snuggle Puppy has an internal 'heartbeat' – a heart shaped unit powered by AAA batteries, which makes a heart beat sound either continuously, or for 8 hours at a time. The manufacturer also sells disposable heat packs to give the toy a life-like body heat for up to 24 hours.
This toy is a great option for very young puppies who are struggling to relax at nap times and night time without the company of their mom and siblings.
Moropaky Heartbeat Toy
The Moropaky heart beat toy*(paid link) works on the same principle as the Snuggle Puppy, but with some interesting alternative features. Firstly, it's bigger. And it's C-shaped, so that small dogs and puppies can snuggle up in it, and larger dogs can use it as a pillow.
The Moropaky toy comes with heartbeat simulator which runs on AAA batteries. Unlike the SnugglePuppy, it isn't supplied with a heat pack.
Bonus product – Z-vine Puppy Heartbeat Mat
Here's another take on the heartbeat toy which isn't actually a toy, but we love it anyway. In fact, the 18 inch by 18 inch Z-vine mat*(paid link) is big enough for lots of puppies and several small dog breeds to sleep on top of. This bed-with-a-heartbeat is a soothing location for excitable puppies and anxious dogs to relax in, perhaps with another calming toy like the PetSafe treat dispensers above.
The Best Calming Dog Toys For Over Excited Dogs
Let's move onto the best toys for calming down over excited dogs. Dogs of all breeds and ages can sometimes get over excited, but some are more prone to it than others – especially young puppies! These calming toys can help bridge the difference between a state of intense emotional arousal, and something altogether more placid.
Lickimats
Licking is a very soothing activity for dogs. You might already have noticed your dog or puppy licking a favorite plush toy in bed before falling asleep. And a very old fashioned way of encouraging puppies to settle down (which we don't recommend today!) was to rub a little butter on their paws, so they would self-soothe by licking it off.
Lickimats are a great way to stimulate licking behavior with something more appropriate than butter. Since they're made from durable silicon, your dog or puppy won't get sore skin from licking too vigorously either. But they're not indestructible, so if your dog is a chewer you'll need to supervise them with the Lickimat and take it away when they're finished.
Popular toppings for Lickimats include natural yoghurt, mashed sweet potato, or pureed baby food. They come in several sizes and textures, and even a wobbling bowl for the expert licker! This is one of their standard mats*(paid link):
And here's the bowl*(paid link):
Snufflemats
Sniffing and rooting about for food is another way of calming down an overactive mind. And snuffle mats are a great way of recreating that activity with dinner. Unlike the Lickimat, which works with wet foods, snufflemats are used with dry food. This snuffle mat from AWOOF*(paid link) folds up small, and could even be pre-filled and put in the back of the car to occupy your dog at a friend's house. The underside has a non-slip coating to stop it sliding around on hard floors.
Feeding toys
The best known feeding toy is easily the iconic Kong. And this Kong Extreme*(paid link) is one calming toy on our list that we're confident can withstand even the most aggressive chewing. You can buy Kong-brand paste to stuff it, or get inventive with your own fillings.
Calming dogs toys only work when the dog succeeds in playing with them. And some dogs do find Kongs a bit difficult to empty, then get demoralised and abandon them. Slightly more open toys like this Trixie snack snake*(paid link) are an easier alternative, which dogs of all abilities can enjoy.
Calming Dog Toys – Summary
Calming dog toys are a useful tool for changing dogs' behavior. There are some excellent tried and tested options available. However, they are not the complete picture – training and exercise are vital to meet your dog's need for mental and physical stimulation. And for anxious dogs, behavioral techniques including counterconditioning are important to change the underlying emotional responses.
Does your dog have a favorite calming toy?
Leave us a recommendation in the comments box down below!
Affiliate link disclosure: Links in this article marked with an * are affiliate links. We may receive a small commission if you purchase these products. However, we selected them for inclusion independently, and all of the views expressed in this article are our own.
References
Andrade. Canine distress during hospitalisation: how can we help them? Veterinary Nursing Journal. 2021.
Cracknell and Mills. A double-blind placebo-controlled study into the efficacy of a homeopathic remedy for fear of firework noises in the dog. The Veterinary Journal. 2008.
Graham et al. The influence of olfactory stimulation on the behavior of dogs housed in a rescue shelter. Applied Animal Behavior Science. 2005.
Wells. Aromatherapy for travel-induced excitement in dogs. Journal of the American Veterinary Medical Association. 2006.