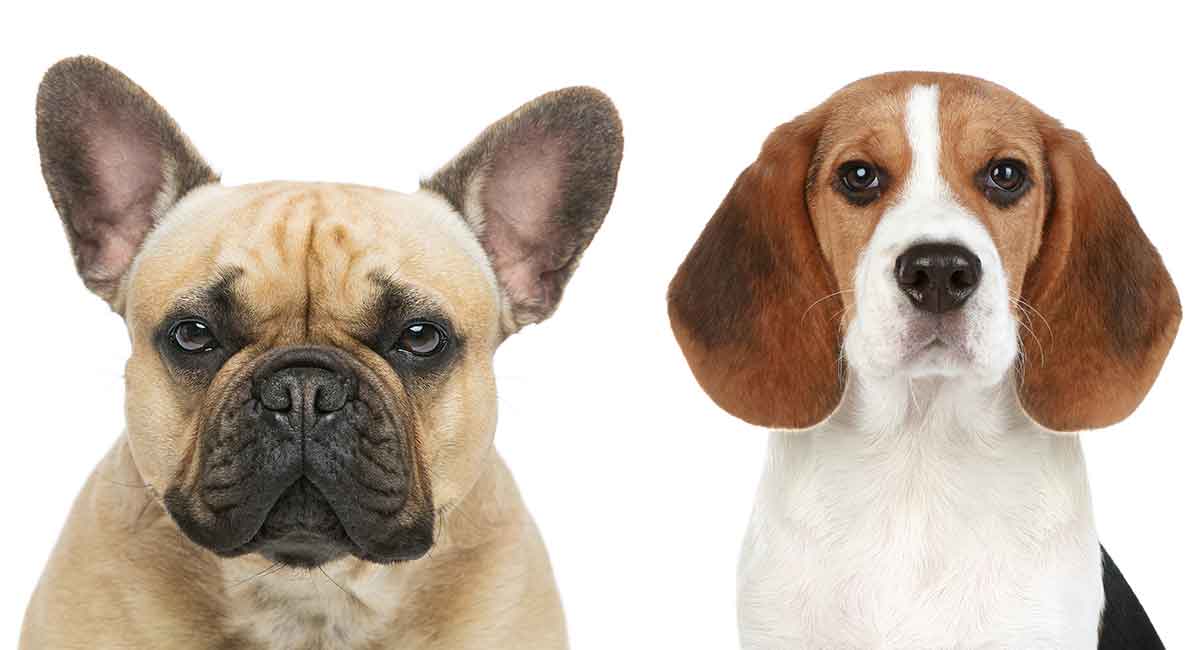 Welcome to your complete guide to the Frengle, an interesting combination of a French bulldog beagle mix.
But what can you expect from a Frengle puppy?
And is combining a French bulldog with a beagle really a good idea?
The Frengle and the Controversy Surrounding Designed Dogs
You may think that crossbreeds, mutts, designed and hybrid dogs all amount to the same thing: The result of mixing breeds.
Not quite so.
A designer dog or first-generation mix is slightly different.
This type of cross comes from mixing two specifically chosen purebred pooches.
This, however, is a cause of contention for many.
A purebred or pedigree dog has, until fairly recently, been the most desirable to own.
They were bred with pure bloodlines and thought of as top-notch dogs.
These days it is argued that pedigrees, with such small gene pools, are sometimes more prone to health issues inherent in the breed.
Purebred vs Mutt
Crossbreeding supporters believe that mixing genetics will lead to a healthier pup than the pedigree.
You may have heard of the term "hybrid vigor."
One issue though is that you have no way of telling how a crossbred puppy will turn out.
Purebreds are more predictable than crosses because you will know, to some extent, what to expect.
Whatever your view, there is no getting away from it. Crossbreeding is certainly here to stay.
So, to get an idea of what the future Frengle dog is like, let's look at each of the parent breeds.
Start with their origins.
The History of the French Bulldog
Perhaps surprisingly, the French bulldog is thought to have originated in England.
During the mid-19th century, a few breeders in the Midlands created a mini bulldog to act as a companion dog.
These little bulldogs became popular, notably in the lace-making factories of Nottingham.
When the Industrial Revolution struck, these same lace makers fled to France, taking their little lapdogs with them.
The French took a liking to these toy bulldogs but sought to make them useful workers.
To this end, the toy bulldogs were crossed with terrier type breeds to establish a ratting instinct.
They became known as the Bouledogues Franҫais and were fashionable in Parisian Café culture.
Toward the end of the 19th century, the Frenchie was admired across Europe and even in America.
Arguably, the Americans were responsible for the final notable characteristic of the breed.
American fanciers stipulated that the "bat ear" was the only acceptable option for the French bulldog and so the previously recognized "rose ear" was excluded.
The History of the Beagle
Although undoubtedly an ancient breed, the exact origins of the beagle are unknown and a subject of great speculation.
The earliest reference appears to have been in Greece at around 400 B.C.
A common theory is that packs of beagle-type dogs were used for hunting small game.
Their small stature meant that their masters were able to pursue them on foot.
Following the pack on foot eliminated the requirement for horseback riders and associated costs.
Ending up in England during Roman times, these hounds probably bred with their native British counterparts.
By the 15th century, the beagle was well known and given its name.
The Size and Weight of the Frengle
To get an idea of the expected size, we again need to look at the parent breeds.
The French bulldog is a solid little chap but usually weighs under 28 pounds.
A Frenchie will ideally be 11 to 13 inches at the withers.
The largest beagle is likely to weigh 20 to 30 pounds.
At the shoulder, he should stand at 13 to 15 inches.
The Appearance of the Frengle Full Grown
Like all crossbreeds, adult Frengles could look like either of their parents or a mix between both.
The Frenchie resembles an English bulldog except for his ears.
Their raised ears, together with dark, round eyes, have to be their most defining features.
The muzzle is broad, and the nose short and flat.
He is compact and muscular in build with a short, neat coat.
Colors may be fawn, brindle, pied, cream or white.
The beagle definitely has the look of a hound dog.
He is robust and solid with an air of confidence without aggression.
Floppy-eared and dark-eyed, the beagle boasts a straight, square-cut muzzle.
His coat is hard, short and waterproof.
It is said that any true hound color is acceptable for the beagle.
These dogs are usually white, tan and black. Mostly in tricolor, or two colors, as it is known.
The tan shade can range from a light lemon to dark brown and even deep red.
Whatever happens, a Frengle is bound to be a pleasantly colored and particularly sturdy dog.
How Will a Frengle Behave?
Moving on to temperament and behavior of a French bulldog x beagle, this too could vary between breeds.
The French bulldog is a fun-loving and loyal companion who likes to please his humans.
He tends to be quiet and rarely barks.
Sociable and affectionate, the Frenchie makes friends with everybody.
The beagle too is a friendly fellow and is usually good with children, making an excellent family pet.
Bred to live in a pack, he will not be happy if left alone for hours at a time.
So long as you raise this pup well, barking and digging (common traits of the beagle) should not be a problem.
Caring for a Frengle
The Frenchie and the beagle require little grooming. And a Frengle should be no different.
Occasional brushing will do well to keep his coat shiny and neat.
If inheriting the Frenchie face folds, these must be monitored and kept clean and dry to avoid irritation.
The same is true for his ears.
Nails should be trimmed regularly to avoid painful overgrowth.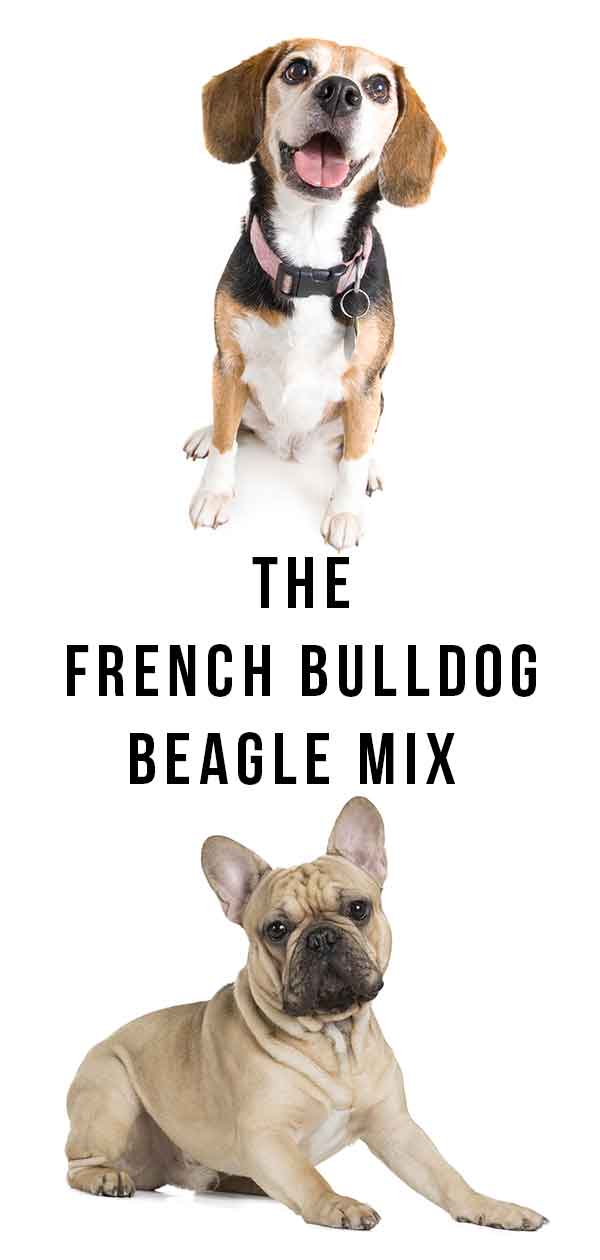 Are There Any Health Issues That I Should Be Aware Of?
Sadly, yes.
Most notably, the Frenchie is a Brachycephalic breed, which isn't a good thing.
Brachycephalic Airway Syndrome may combine a long soft palate, everted laryngeal saccules, narrow nostrils, and underdeveloped and/or narrowing of the trachea.
The syndrome causes respiratory distress which, if left untreated, can even lead to death.
Extreme caution must be observed with anesthesia of Brachycephalic breeds.
Another condition, hemivertebrae, refers to abnormalities in the vertebrae that are common in the French bulldog.
Other issues to be aware of include:
In contrast, the beagle is a healthy sporting breed.
Even so, responsible breeders should still have their dogs health screened.
The National Beagle Club of America recommends a hip dysplasia evaluation, an eye certification exam and a DNA test for Musladin-Lueke Syndrome (MLS).
What About Dog Exercise and Training?
The French bulldog requires minimal exercise although a daily short walk is good for both.
Take care in extreme weather though because his flat face makes him disposed to difficulty breathing.
The beagle, on the other hand, is lively, energetic, and loves to run around for an hour or more every day.
A fenced backyard is essential to keep this scent hound safely secure.
As we've discussed, the Frenchie is devoted to his humans and eager to please. Training him should be a cinch.
Beagles are intelligent souls and should respond well to positive reinforcement training.
Of course, puppy and training classes from an early age are advisable for all dogs.
This and positive reinforcement training will help mold your pet into a happy and well-behaved dog.
Frengle Puppy Talk
You may well find that Frengle breeders are few and far between.
If you do find one, make sure that you visit the breeder with no obligation and with the understanding that you are just looking.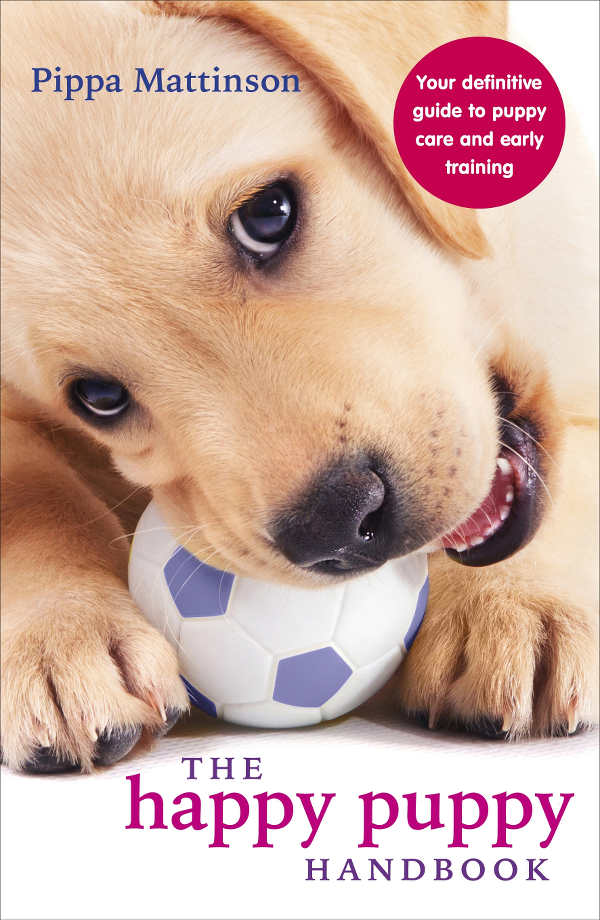 Insist on seeing the mother with the puppies.
Frengle puppies are bound to be particularly cute so you really need to keep your cool.
It's vitally important to ensure that each of the parents has undergone health screening to reduce the risks associated with the breeds.
Failing to do so may cost you dearly.
Do not, under any circumstances, take a puppy because you feel sorry for it.
Puppy mills are common. By buying one of their puppies, you are actually funding these unscrupulous people.
Above all, be ready to walk away.
Should I Choose a Frengle?
As we have discovered, there are several serious health issues associated with the French bulldog.
Therefore, you must be absolutely committed to caring for such a crossbreed.
It's your decision, but perhaps you should ask yourself whether breeding dogs with health problems is the right thing to do.
There are so many breeds to choose from. Perhaps a cockapoo or a Havachon would be a good alternative.
If you do have your heart set on this crossbreed, why not consider a Frengle rescue?
There are always plenty of dogs in shelters looking for homes.
Have you befriended a Frengle? Let us know all about it in the comment section below.
References and Further Reading
Barnett, K.C., 1978, "Hereditary Cataract in the Dog," Journal of Small Animal Practice.
"Brachycephalic Syndrome," American College of Veterinary Surgeons.
Coates, J.R. and Wininger, F.A., 2010, "Canine Degenerative Myelopathy," Veterinary Clinics: Small Animal Practice.
Major, S., Pettigrew, R.W. and Fyfe, J.C., 2015, "Molecular Genetic Characterization of Thyroid Dyshormonogenesis in a French Bulldog," Journal of Veterinary Internal Medicine.
Packer, R., et al., 2017, "Clinical Phenotype of Musladin-Lueke Syndrome in 2 Beagles," Journal of Veterinary Internal Medicine.
Pocta, S. and Svoboda, M., 2007, "Approach to the Diagnostics of Atopic Dermatitis in Dogs in Conditions of Clinical Practice," Acta Veterinaria Brno.
Premont, J., et al., 2012, "Perilimbal Pocket Technique for Surgical Repositioning of Prolapsed Nictitans Gland in Dogs," The Veterinary Record.
Schlensker, E. and Distl, O., et al, 2016, "Heritability of Hemivertebrae in the French Bulldog Using an Animal Threshold Model," The Veterinary Journal.