The Pug might be the most utterly recognizable dog breed around right now. They are adored by celebrities and pet owners, and the darlings of the show ring. But behind that cute flat face lies a whole host of issues. Pugs have trouble breathing, regulating their temperature, eating, digesting their dinner, and just generally doing stuff dogs should be built to do. Funny Pug noises like snoring and snorting aren't so amusing when you know why they are making them, and how the dog feels about their causes.
The emphasis on features over function by big animal clubs and societies has given the adorable Pug a really raw deal. Today we take an honest look at what Pugs are like as pets, what problems you'll encounter as an owner and how your pet Pug will feel going about their day. We'll also delve into the phrase 'normal for the breed' and whether that argument is justification for what these lovable pups live through.
Contents
The Pug has a big personality in a small, sturdy body. They are a cheeky, funny, charming breed. Pug puppies are sociable, loyal, friendly and affectionate. Today we'll share Pug traits and facts. We'll learn all about this cute apartment pet and lapdog. We'll give a guide to finding, raising and training a Pug puppy. As well as adopting and caring for an adult Pug.
We'll meet the Chinese Pug's ancestors, and find out what Pugs should look like. From their big head, bug eyes and flat faces, to small drooped ears and curly tail. Pugs have a wrinkled expression, underbite and swaying walk. They have a short, high shedding coat in fawn or black colors. Pugs can suit new owners with an active lifestyle. But you must be aware of their health needs to keep them safe.
Happy Pugs?
A happy Pug is one that is as healthy as possible, slim and has lots of attention from their owner. Stubborn and sensitive, they really benefit from positive training. Pugs need careful potty training as babies too. They make great apartment pets and loving lapdogs. These little dogs are often good with kids, dogs and other pets. Although that short, shiny coat still sheds and needs grooming! Pugs are low energy and don't do well in hot weather.
Today we'll look at how to spot a fit Pug, and if it's a good idea to search for a more unusual companion like a Teacup Pug. We'll look at how Pug smarts stack up to other dogs. We'll also share some breeds similar to Pugs that might scratch that puppy itch perfectly. Including the adorable retro Pug.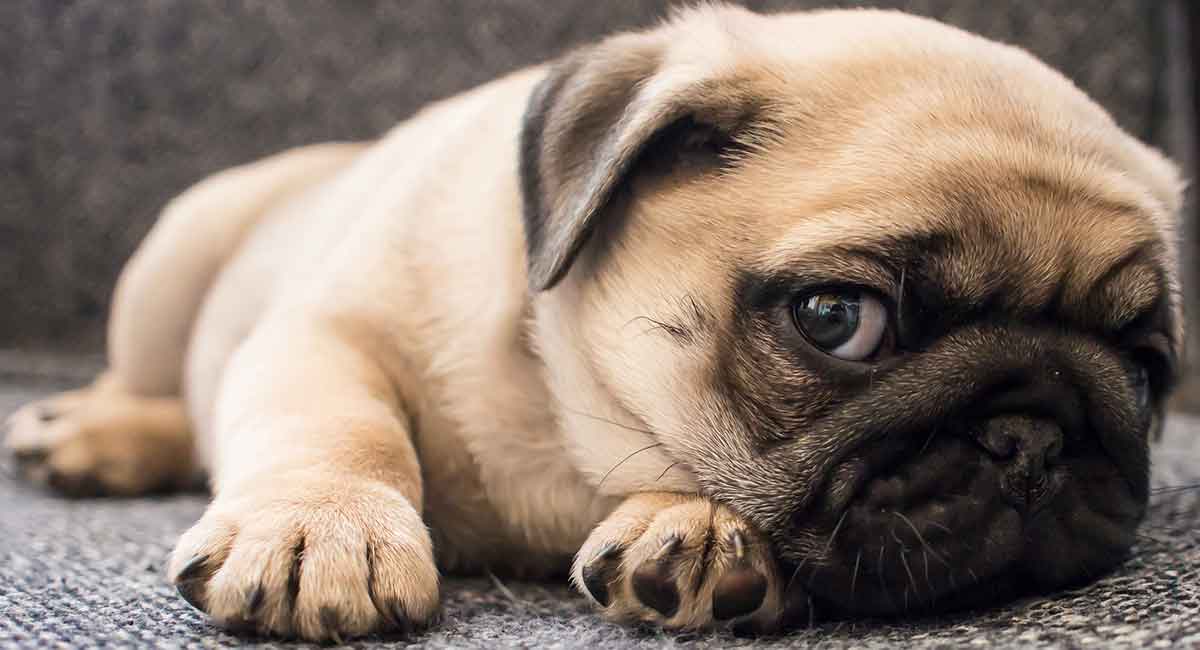 What are Pugs?
The Pug is a toy dog breed. They have a cute compact body, happy grin and calm personality. This breed is adored by celebrities. It is these characteristics, together with their striking, flattened, almost human-like face, and huge eyes, which have contributed to the breed's rapidly growing popularity.
Why Do People Like Pugs?
We love Pugs because they are wonderful little characters. They are loving, sweet and caring. They are also loyal to one person, as well as their families. A great pet in terms of temperament.
They are also small, so easy to take places with you. And lower energy than other dogs, so make for pretty relaxing company. But the problem with Pugs is that some of these things, that seem like pros, are actually not a great thing when it comes to choosing a pet.
Pros And Cons of Getting A Baby Pug
You're probably here because you love Pugs. (Because, well, who wouldn't!) So some of these cons might surprise you. Don't worry, we'll explain them in more detail as we go.
Pros
Good tempered
Cuteness factor
Suited to smaller homes
Cons
Health problems
Low energy
High veterinarian bills and insurance costs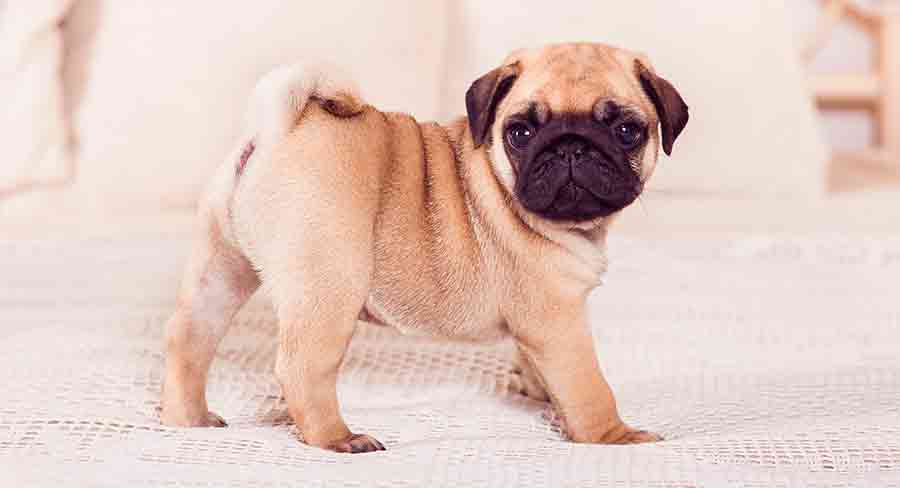 Pug Dog Breed History
The Pug is a fairly ancient breed thought to be of oriental origin. They were first recognized by the American Kennel Club in 1865 but were being imported from China as early as the 16th century.
Were Pugs Bred to Fight Lions?
Sadly, the adorable image of Pugs hunting lions is just not real. Pugs have always been bred as companion dogs. They don't have any history as working or service dogs. This myth probably came about because many people believe the Bulldog's face was flat to allow them to wrestle big beasts. But that's not the case for the Pug.
Famous Pug owners
The passion for Pugs in celebrity circles is nothing new. Pugs were specifically bred to be companions rather than for any practical purpose. And were popular with royalty and other historical celebrities.
Where Pugs of the past graced the courts of royal families, modern versions seem to be quite popular among the celebrity set. Here are just some of the celebs with their own Pug.
Jessica Alba
Hugh Laurie
Robin Williams
Amber Rose
Paris Hilton
Billy Joel
Hugh Laurie
Kelly Osbourne
Andy Warhol
George Clooney
Prince William of Orange credited his Pug Pompey with saving his life after the dog alerted him to the approach of the Spaniards. And Josephine Bonaparte reputedly owned a Pug named Fortune.
Queen Victoria owned several Pugs, as did famous English Painter William Hogarth. Early Pugs were rather different in appearance than today's, though. Have a look at the ancient pug pictures of William Hogarth and his Pug below.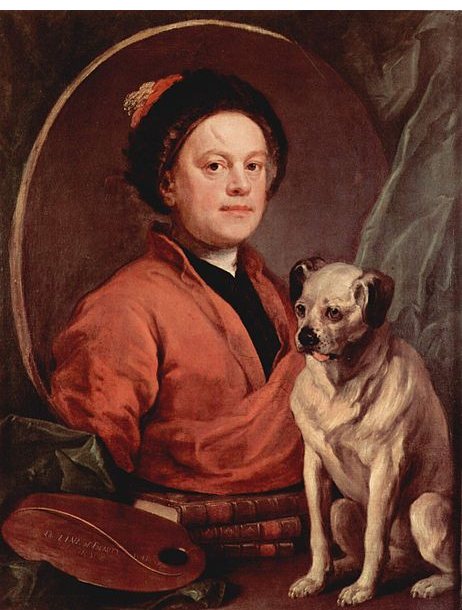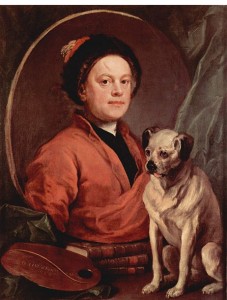 What Did Pugs Originally Look Like?
Here is a photo of a painting of a Pug in 1745. You can see clearly in art how Pugs used to look. This dog has quite a substantial muzzle.
The extreme facial shortening we see today has been achieved by selective breeding over the last hundred years or so. And the modern pug looks rather different, as you can see from the profile of the puppy at the top of the page.
Why do Pugs Have Short Snouts?
These dogs have been selectively breeding for flatter and flatter faces. Not to mention for the characteristic 'screw' tail that the Pug shares with several other flat faced (brachycephalic) breeds.
How were Pugs made the way they are today was by repeatedly breeding back the flattest faced dogs to each other. This has had serious consequences for these lovely little dogs, which we will discuss in the health section of this article.
What Should a Pug Look Like?
In an ideal world, a Pug should look like their ancient ancestors. A slightly shorter snout than the average dog, and a little bit of a squatter body, but nothing to write home about. A healthy pup, who can function just as well as their longer nosed cousins. And feels well enough to express that natural Pug personality!
These little dogs come in fawn and black. In the case of fawn Pugs, there should be a strong contrast between the fawn sections of its coat and the black of its muzzle. Any other color disqualifies a dog from being considered purebred. However, there are variations in color accepted by other kennel clubs. For example, the Canadian Kennel Club accepts apricot and silver colored Pugs.
The black Pug and the white Pug are two variations. Although the black Pug is much more common. The black Pug has all of the same characteristics as fawn Pugs. On the other hand, the white Pug is extremely rare. White Pug health problems include their being prone to deafness.
Pug Fur Shedding
A Pug's coat should be short and glossy, made up of fine hairs. It shouldn't be coarse or woolly. Although they have an easy to keep coat, they do shed.
Do Pugs have a Double Coat?
Most Pugs do have a double coat, which means that although it's fine furred there are two separate layers. This coat type is prone to shedding, and means that they are not classed as hypoallergenic or good for allergy sufferers.
There isn't currently a long haired Pug breed. A Pug with long fur is not technically a Pug, but one that is mixed with another longer haired dog.
Are Pugs Sensitive to Cold Weather?
Despite their thick double coat, Pugs do feel the cold. That's why it isn't unusual for you to see Pug in a coat wandering around the dog park on freezing days. Just be sure not to use it when it's warm out, due to the risk of overheating.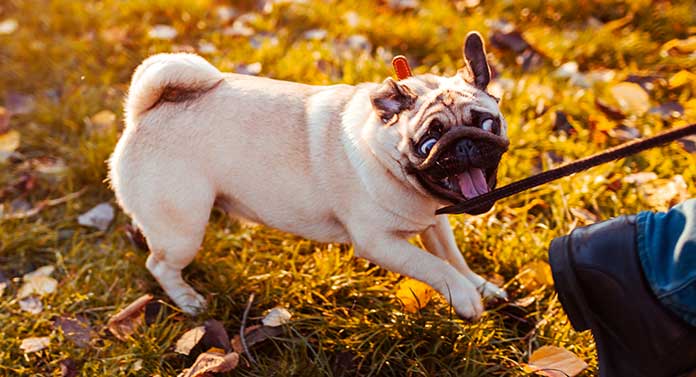 Pug Size
The full grown Pug is a small breed, growing up to 30 cm at the shoulder. A male should stand 30cms on average, where a female stands 25cms. Both males and females of this breed should weigh between 14-18 pounds. Normal Pug weight is actually higher than it should be. That's because we all have a mental image of a fat Pug being the norm.
These dogs are compact and sturdy. Their bodies are quite hard. A Pug's head should be large but not apple-shaped. The breed standard describes their structure as 'multum in parvo' which means 'a great deal in a small space'!
When Do Pugs Stop Growing?
A Pug puppy becomes an adult at around 18 months of age. They will reach their final height at this point, although they'll probably fill out a little as they go. Their final adult Pug weight will settle around 2 years old.
A 3 year old, 4 year old or 5 year old full grown Pug should not gain any weight from their second birthday onwards. Unless they were underweight at that point. A giant Pug is rarely a healthy or happy one.
Teacup Pugs
You will find some breeders advertising their puppies as Teacup, Mini or even Micro Pugs. These pups are best avoided. They can have a higher risk of health issues as a result of being bred from unwell dogs or runts.
Pug vs Mini Pug
When a miniature Pug is full grown they will be smaller than a standard Pug, both in terms of height and weight. They weigh a tiny 3-10 pounds. Mini Pugs might look adorable but we can't recommend them as a breed.
The problem is that when you shrink down any dog you encourage health problems. Because shrinking often requires breeding runts of the litter, who aren't the healthiest of the bunch anyway.
When you couple the health problems from shrinking a dog with the health problems pugs have anyway, this is a bit of a recipe for disaster. If your choice is between a Pug and a Mini Pug, choose the Pug every time!
Pug Personality
Generally charming and affectionate, Pugs are loyal to their owners and have a kind and docile temperament. Pugs are well known for their charm and personality. In fact, they are hard to fault in terms of temperament. They have delightful natures.
Are Pugs Good with Kids?
This breed are friendly little dogs, good with children and adults alike. The breed is known for being deeply affectionate and loyal. This is a dog that loves spending time with his family. This makes him a great indoor companion.
Pug Temperament
Pug body language is incredibly chilled out and relaxed. They sleep in unusual positions, but this is because it makes it easier for them to breathe, rather than being a sign of their easygoing disposition.
Do Pugs Like to be Held?
Like many small breeds, Pugs will usually accept being held, but most don't actively want to be held. They will tolerate it because they love you, but unless your dog is trying to climb into your arms assuming he's happier with four paws on the floor.
Yours hugs are also warm and constricting, which isn't ideal for a dog that gets too hot quickly and has obstructions in their airways.
Pug Behavior
Pug personality is fairly consistent among the breed. Female vs Male personalities are incredibly similar. The only difference you'll find really there is that an unneutered male might be more likely to stray from the backyard given the opportunity. And unspayed female Pugs will have seasons once or twice a year.
Are Pugs Energetic?
In general the Pug activity level is very low when compared with other breeds of dog.
They make a lively addition to a household, but only as long as they are kept cool and not over exercised.
Are Pugs Playful Dogs?
Pugs are playful when they have the energy to be. They love games, especially training games and tug of war. Unfortunately, because these dogs suffer quite badly from breathing problems, there are some things you need to consider when it comes to exercise.
Their face shape restricts a dog's flow of oxygen. Therefore, exercising is very difficult for them. As well as extreme intolerance to exercise, they are also prone to overheating, which limits the amount of exercise they can do. Typical Pug dog activities include following you around, chewing their favorite toys and sleeping in odd positions.
Is a Pug Easy to Train?
Pugs might be small but their brains are mighty! They are clever little dogs that are quick to learn as long as you use positive methods. Although Pugs cannot exert much energy, they are usually responsive to training. They can be a little stubborn, so make sure your training is interesting for them!
Pugs are fairly easy to train with basic household manners. They are intelligent dogs who are interested in interacting with people. And usually happy to accept treats and affection in equal measure!
Are Pugs the Dumbest Dogs?
Pugs are not dumb. In fact, we don't believe any dog is stupid. These dogs are just as trainable as your average pet pooch, and very willing to learn when you use positive reinforcement methods.
Health Problems as a Result of the Pug's Evolution
The Pug's background means they are unfortunately not healthy dogs. In fact, some of the very aspects of the Pug which people find so appealing are actually indicators of serious underlying issues.
It's important to learn about Pug dogs' health problems if you are considering one, or have one already, so that you can take proper care of them.
Overheating in the Pug Dog Breed
Overheating is the first of several problems that many Pugs and their owners have to face. And it's a serious concern, which you will need to consider if you decide to buy a Pug puppy. The muzzle of a healthy dog is long in proportion to it's skull for a reason. It has two very important roles.
The muzzle houses the complex system of 'turbinates' which bestow upon dogs the amazing ability to smell tiny traces of substances completely undetectable to man. More importantly, this muzzle provides a dog with an extremely efficient cooling system.
Removing the muzzle from a dog seriously impairs that dog's ability to regulate his own body temperature. Which means that Pugs can rapidly overheat in warm conditions. That classic happy Pug face is actually a result of them gasping for air.
Practical Steps to Deal with Overheating
If you have a Pug puppy, you can help by ensuring that he or she is never over exercised, or allowed to become too hot. Avoid going for walks in the hot weather, and make sure that you bring some water and have access to shade whenever you take him out.
Never leave your Pug alone in the car on a warm day, the usual risk of overheating in cars which normal dog owners work to avoid is increased considerably with your Pug.
Be constantly aware of the risks of your Pug puppy overheating and you should be able to counter its potentially life threatening effects. However, the problems don't end there. The shortening of the Pug's muzzle has an even more serious impact on his airways.
Breathing Problems in Pugs
One of the things people find charming about these dogs is the endearing noises that they make, including a propensity to snore like a train! However, the cause of this noise is sadly anything but adorable.
When we were busy breeding Pugs with shorter facial bones, we sadly failed to reduce the soft tissues of the Pug's face in proportion to his new smaller muzzle. This left the breed with a lot of spare flesh. Both inside and outside of his mouth.
On the outside this tissue forms deep skin folds, which can cause problems too, but it is the inside of the breed's mouth we are concerned with here. Inside the pug's mouth, his soft palate has nowhere to go except into his airway. And this breed often have severely compromised respiratory systems. In more ways than one.
These problems together are termed brachycephalic airway syndrome.
There are surgical options which can help some Pugs to breathe more easily in the long term, but considering whether to bring a puppy home who you know will be constantly short of breath is a decision only you can make.
It's important that you read this information if you are considering buying a Pug puppy as brachycephalic airway syndrome is a significant risk and it will affect your wallet as much as it affects your heart.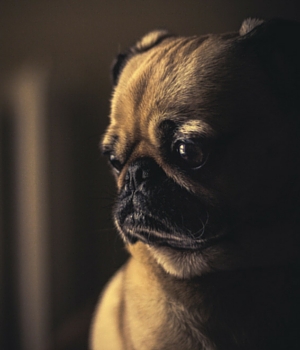 Pug Eye Problems
Being a Pug does not just mean coping without a muzzle. It also means coping with abnormally shallow eye sockets. This is related to the shape of the breed's skull, and happens in other brachycephalic breeds too.
Shallow sockets means protruding eyes. And protruding eyes get scraped and scratched a lot more than they should. They are also prone to ulcers and infections because the dog's eyelids struggle to close properly over an eye that is sticking out further than it should.
You can help your puppy to reduce these risks by being vigilant with their eye health. Inspect them every day for signs of discomfort, including rubbing, redness and discharge. Take your dog to the vet immediately if you have any concerns.
Pugs Screw Tails
You probably know that this dog has a cute little corkscrew tail that curls over his bottom. It looks very sweet, but the screw tail can be trouble for these dogs and their owners. The feature that makes the tail lie in a spiral, instead of hanging down behind the dog, is a result of a deformity of the tail bones.
A corkscrew tail is caused by an unusual bone shape which forces the spine to form a spiral. If the deformity affects more than just the tail, and occurs higher up the spine, it can cause very painful and severe neurological problems.
Screw tails can also be hard for your pup to keep clean. If you bring a Pug puppy home you will need to inspect and clean his tail daily, wiping off any grime that may have got caught up there. This will reduce the risk of him picking up an infection or getting too grubby.
Dental Problems in Pugs
The pug has just as many teeth as nature intended. Unfortunately he has nowhere to put them. This is a common problem to several Toy dog breeds and by no means exclusive to this dog. And it is something you need to be aware of as an owner.
The number of teeth in a Pug's mouth can cause overcrowding. The close proximity of the teeth means that food is more likely to get caught between them, leading to gum disease and tooth decay. Which in turn can cause problems eating. If you own one of these breeds, you need to take extra care of his teeth.
Brush them daily, try out dental dog chews too. Frequent checks will allow you to see whether you are helping to keep them clean. You will also need to make sure he has regular check ups with your Veterinarian, who will be able to let you know how you are getting along.
Other Health Problems in Pugs
The main health problems we have discussed so far are those related to conformation. How the breed has been bred to be shaped. These problems are not exclusive to Pugs, but they are more severe in this breed than most. And they do not just lead to health problems, they can cause these adorable pups to be in constant discomfort.
It is worth bearing in mind that although all dogs have health problems of some kind or another, these structural ones are pretty serious and must be taken into account when you are deciding which breed to adopt into your family. They also suffer from other diseases, just like any other pedigree dog. These include
Pug dog encephalitis
Hip dysplasia
Aortic Stenosis – a heart problem
Leg-Perthes disease – a painful leg bone disease
Atrial septal defect – a heart problem
Alopecia (hair loss)
What is important, is that these conditions, some of which occur in other breeds too, are in addition to the 5 structural problems listed above. Those problems are specifically associated with the structure of the dog. A structure that is deliberately selected for and built into the breed standard.
Are Pugs in Pain?
It is likely that most Pugs experience discomfort in their lives more than the average dog. Their issues with temperature control and breathing are very common and make doing normal doggy things more of a challenge. Their eye and dental problems can often be painful too.
If you are worried your Pug is in pain, please don't hesitate to go and visit your veterinarian.
Pug Lifespan and Life Expectancy
Despite the wide range of issues that they're faced with, their life span is fairly average. This study of the mortality rates of purebred dogs found that Pugs, on average, live until they are 11 years old.
How Smart are Pugs compared to other dogs
Another benefit of other breeds is that those bred for work rather than as companions can be smarter, and therefore easier to train. Like the lovely Labrador! Pugs aren't stupid by any means, but they haven't been selectively bred for generations to cooperate with their owners in the same way.
Pug vs Labrador – which is better?
Let's see how the adorable little Pug stacks up against the big, clumsy Lab? On paper you'd think that the Pug would win out for most homes. They are small, unlikely to knock you over or damage your home. But their lack of bounce is let down by their lack of health.
Low energy dogs like Pugs are, as we've seen, low in energy because of their trouble breathing. And surely that's too high a price for your dog to pay in order for you to have a bit of an easier time settling them in the living room?
Are Pugs a Good Pet?
There are lots of great things about Pugs. They are loving, sweet and funny. Their coats are easy to care for, they take up very little space and are welcomed pretty much anywhere you might want to go.
But I cannot in good conscience say that a Pug is a good pet. Because some of their qualities, like being low energy and calm indoors, come from some really horrible health issues. Ultimately, I'd take a little inconvenience over that any day. Fortunately, there are some great Pug-like breeds that you might like to choose instead.
Pug Like Breeds
If you are looking for dogs like Pugs, you are probably hoping for a pup that's small, portable and relatively easy company. So a more realistic alternative could include:
Cairn Terrier (14 years)
Toy poodle (14.6 years)
Border Terrier (14 years)
Miniature poodle (13.9 years)
Provided that they come from health tested parents, these breeds all have the benefits of the pet Pug without such worrying health issues.
What do Pugs Need?
You'll have guessed by now that this breed are limited in the activities that they can participate in, due to their compromised physiology. But bear in mind that inside every Pug lies the soul of a healthy dog. Your Pug doesn't know he is disabled.
Many dogs will limit themselves with regard to exercise due to quickly tiring, but some do not pace themselves sufficiently and cause themselves problems.
Your Pug may not be willing to restrict his own exercise enough to prevent fainting or collapse, nor be able to judge when he is running short of oxygen, or becoming overheated. So you need to make sure that he doesn't over-reach himself and to make these decisions for him.
Avoiding too much exertion especially in warm weather is essential. This breed is not a suitable companion for those that love long hikes or marathon running, and want to take their dog along.
A Healthy Pug?
There is a way to get a Pug that is healthier than the average member of the breed. And that's to go to a breeder specializing in retro Pugs! They are more like the old Pug breed.
Breeders prioritize snout length and slim build over anything else. Hopefully helping to bring this breed one day back to the condition we'd all love to see them in.
We believe that if you want to get a Pug puppy, that the only truly ethical way to do so is to go to a breeder that prioritises their health, or to adopt an adult Pug from a rescue center.
Where to get a Pug Puppy?
There are a few things to keep in mind when you're looking for your new furry friend. Firstly, it's important to avoid pet stores and puppy mills. Puppy mills are places where people breed dogs en masse to sell them for profit. The dogs in these farms are usually not treated well. This goes for the mothers as well as the pups. The reason pet stores should be avoided is that they tend to source their dogs from puppy mills.
The right place to get a baby Pug dog is from a retro Pug breeder. Or possibly one that breeds Pug mixes. Although cross breeds are less predictable, as long as the breed it's mixed with has a full snout the puppy is likely to be healthier than the Pug parent.
It is possible, with a careful breeding program, using only dogs with straighter tails, longer muzzles and better set eyes, that over generations you could potentially claw back a healthy structure for this popular breed of dog. But this is probably not a reality. Particularly as some breeders do not recognize that they created a problem.
There are two realistic ways to help these dogs become healthier. The first is to outcross them with a more structurally sound breed or breeds. Allowing them to have a healthier structure but retain some of their charm and delightful character.
The other option is for people to stop buying them altogether. Which is a sad thought, because of course some of those that love Pugs would hate to see a world without them. And owning one may indeed be rewarding in a number of ways for the owner.
How Much Do Pugs Cost?
A Pug puppy will cost anywhere from $2,000 to $5,000, depending on where you look and what you are searching for in your puppy. Retro Pugs can be cheaper, but you'll still be likely to be looking into the thousands.
Why Are Pugs So Expensive?
There are a lot of factors that effect Pug puppy price. Popular dogs tend to cost more than unpopular dogs, and those that might have problems giving birth can have an even higher price because things like c-sections need to be factored in.
Caring for a Pug Puppy
You can find the best equipment for caring for your baby Pug here:
One way to help ease your dog's breathing is to use a harness. Harnesses don't restrict oxygen like a regular collared lead would. This may be one of the most important purchases you can make as a Pug owner. We could go as far as to say a harness is a neccessity!
Looking after a Pug puppy is an important job. Be aware that the noises some Pugs make whilst they are breathing are not 'normal'. They are a sign of respiratory distress and a sign that your dog needs veterinary attention. Don't wait until your dog starts fainting or collapsing to get help. Early treatment saves lives and is more likely to be effective.
Keep your dog out of the hot sun. Never over-exercise him. Check his eyes, teeth, face folds and tail at least once thoroughly every day for signs of ill health. Book regular checkups with your Veterinarian to make sure that he is not suffering in silence.
But the question remains whether or not we should be continuing to breed at all from animals condemned to live a life of discomfort and ill health?
Rescuing a Pug
If you cannot bear the thought of life without a purebred Pug, perhaps you would consider rescuing one? Either from a breed-specific rescue or from a general dogs home. Register your interest with local rescues and be prepared to wait for the right dog to come along.
USA
Canada
UK
Australia
Find Out More About Pugs!
Alternative dog breeds