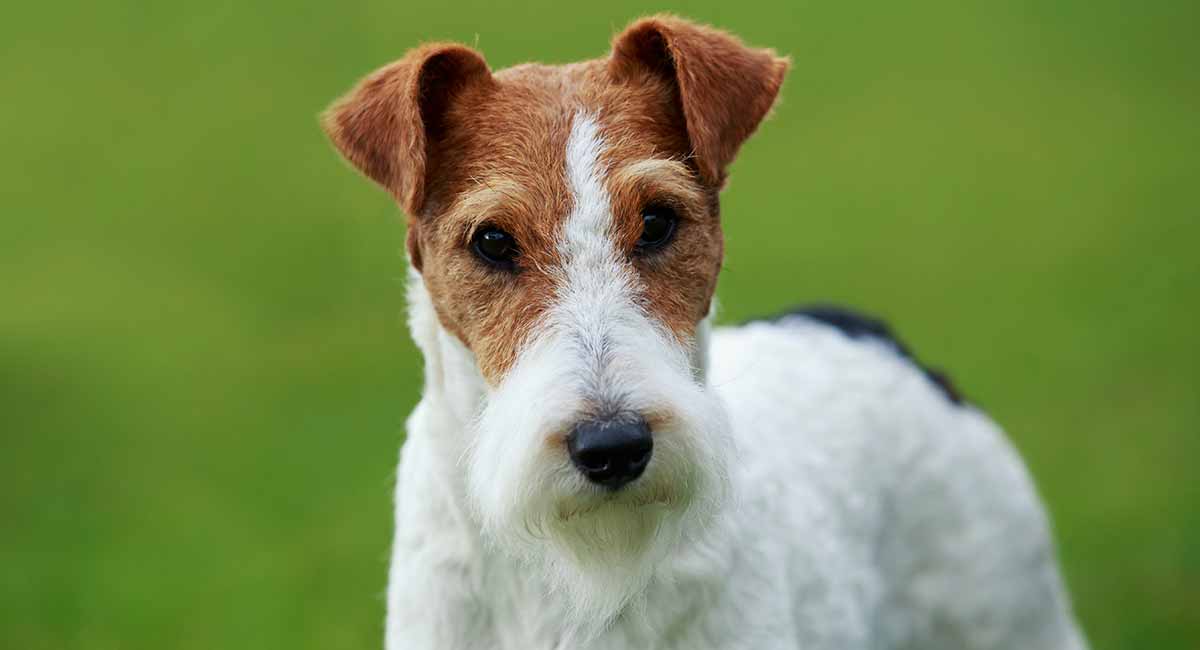 Welcome to your complete Fox Terrier guide!
There are actually two different breeds of the Fox Terrier: the Wire Fox Terrier and the Smooth Fox Terrier.
Feisty, friendly, and fearless, the Fox Terrier dog packs a lot of personality into a sturdy little body.
This guide will uncover the breed's history, appearance, temperament, exercise requirements, and health issues.
We hope this helpss you decide if a this cute pup is a good match for your family and lifestyle.
Popularity of Fox Terriers
During the end of the 19th century, these pups were one of the most popular terrier breeds in the UK.
The Smooth Fox Terrier became one of the most recognizable purebred dog breeds in the 1920s after a dog named Nipper was shown in the iconic RCA Victor Records advertisement.
When a Wire Fox Terrier named Asta appeared in The Thin Man film series in the 1930s, popularity of the breed surged.
Over the years, the prevalence of both breeds has been in decline.
There were only 82 registrations for the Smooth and 668 for the Wire in the UK in 2017.
In the US, 2017 statistics show the Wire Head ranking 99th and the Smooth 122nd in breed popularity.
Origins of the Fox Terrier Dog
Fox hunting became popular in England in the late 18th century.
Fox Terriers were developed to enter fox dens to flush them out.
Not many records were kept, so there are conflicting theories about the development of the breed.
In spite of many similarities, it's believed Smooth Haired Fox Terrier puppies have a different ancestor from Wire Haired Fox Terrier puppies.
The Smooth Fox Terrier probably descended from black-and-tan terriers with smooth coats, the Bull Terrier, the Beagle, and the Greyhound.
The Wire Fox Terrier was believed to have originated from the rough-coated black-and-tan working terriers of Wales, Durham, and Derbyshire.
For over a century they were deemed one breed of two varieties.
It wasn't until 1985, when the American Kennel Club approved separate standards, that they were recognized as two distinctive breeds.
Defining Fox Terrier Characteristics
Although they are two separate breeds, the Smooth Fox Terrier and Wire Fox Terrier have most of the same physical characteristics.
The main difference is their coat type.
The coat of the Wire Fox Terrier is wiry and dense with a crispy texture.
While the Smooth Fox Terrier has a smooth, short, dense coat that lies flat against the body.
Both breeds are predominantly white, with black, and/or tan markings.
There is also a slight difference in the head, as a Smooth's head is more V-shaped than the Wire's.
Other defining physical traits of the Fox Terrier include a flat, tapering skull and ears that neatly fold forward.
What Size Is a Fox Terrier?
Adult Fox Terrier males will stand 15 inches, and the female will be slightly smaller at 12 to 14 inches.
Weight will be 17 to 19 pounds for the male and 15 to 17 pounds for the female.
Strong, sturdy, short-backed, and symmetrical, they are small but powerful with well-defined muscles.
Fox Terrier Temperament and Behavior
Intelligent, independent, stubborn, scrappy, brave, devoted, and loyal, they make good watchdogs.
However, they have a tendency to be overly vocal, and their high-pitched barking can become a problem.
Fox Terriers are nimble escape artists known for running away if left off leash.
They'll even climb over or dig under fences to make a getaway.
Both breeds are similar in temperament, but the Wire Fox Terrier temperament can be a bit more forceful and intense.
How Much Exercise Does My Fox Terrier Need?
Exercise, exercise, and more exercise is essential for keeping this active and easily bored breed from misbehaving.
At least 30 to 45 minutes of vigorous one-on-one exercise is required for burning off their abundance of natural energy.
They love being outdoors, and this highly intelligent breed never tires of chasing balls and playing all types of games.
Friendly, lively, and athletic—the more exercise they get, the happier and less destructive they'll be.
Ideal Home for a Fox Terrier
Pups should have a big yard so they can run around.
But their tendency to dig and bark means they shouldn't be left alone outside for long.
Although this breed loves playing with older kids, they are too actively aggressive for young children.
Little ones running around can incite their tendency to give chase.
Also, these dogs will not take kindly to being teased or having their ears pulled.
They may be fine with other dogs or cats if they've been around them from the time they're puppies.
However, they should not be in a home where there are small pets like hamsters, guinea pigs, or rabbits.
These energetic and outgoing breeds are best suited for active families with children over the age of 8.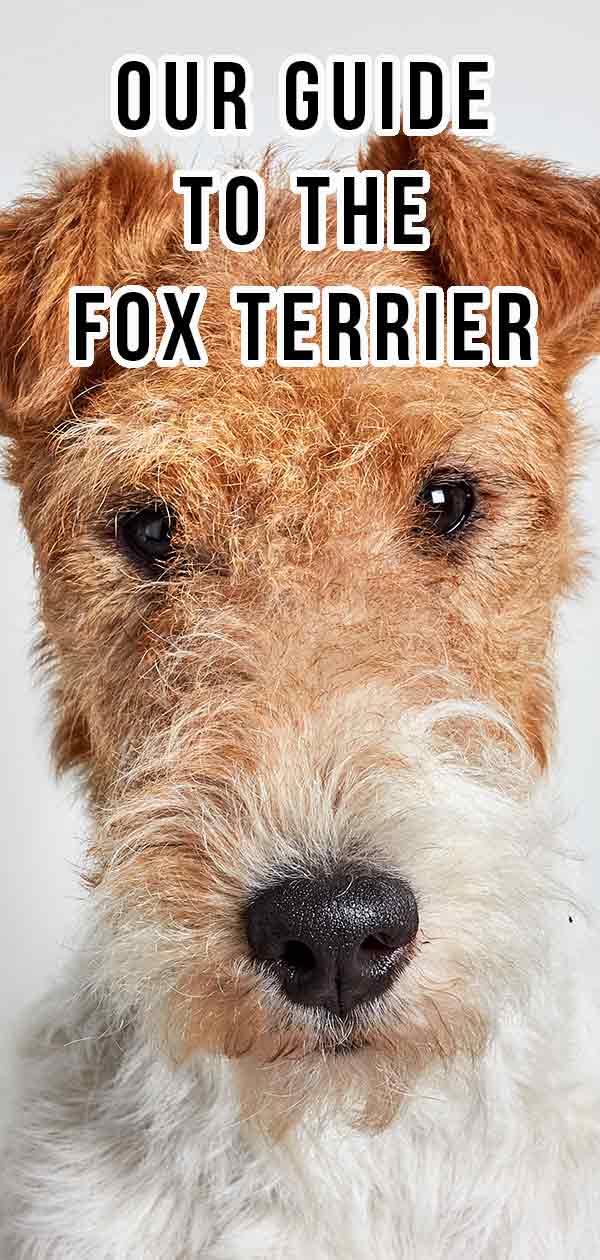 Training a Fox Terrier
A tendency to be wilful can make them difficult to train for first time dog owners.
They will respond well to consistency and routine.
Clear rules need to be imposed in a positive way.
They are highly intelligent, and once properly motivated, they are extremely quick learners.
Their strong hunting instinct and stubborn tendencies mean early socialization and training is vital to control behavior problems.
Grooming and Care of Your Fox Terrier
The short hair of the Smooth Coat Fox Terrier needs only to be brushed occasionally with a firm bristle brush to keep him looking neat and trim.
Wire Fox Terrier grooming is considerably more complicated.
To get the coat texture the breed is known for requires something called hand-stripping.
This process of removing dead hair should be done by a groomer once or twice a year.
There is some debate about hand-stripping, and you can choose to have them clipped and trimmed every few months if this is not a show dog.
Breed purists say that clipping loses the wiry appearance and makes the coat softer and less waterproof.
Neither of the breeds shed very much.
Is the Toy Fox Terrier Right for You?
The miniature Fox Terrier is an American breed.
They are the result of crossing a Fox Terrier with toy breeds like the Miniature Pinscher, Italian Greyhound, and Chihuahua.
Although still spunky, well-built, and energetic for their size, the Toy has a quieter demeanor, is easier to train, and loves to cuddle.
If you're interested in the breed but feel they might be too much of a handful, the mini is more kid-friendly and suitable for apartment living.
They stand 8.5 to 11.5 inches and weigh from 4 to 7 pounds.
Characteristic physical traits include a short, satiny, predominantly white coat; triangular ears that point straight up; and a short, high-set tail
Health Problems
Like all of the terrier breeds, chronic allergies, which cause itching and can lead to infection, are common.
Congenital deafness is a common disorder found in Fox Terriers, as is patellar luxation, which occurs when the kneecap is dislocated.
Degenerative Myelopathy
Degenerative myelopathy is a devastating inherited neurologic disease of dogs, similar to ALS or Lou Gehrig's disease in people.
It causes poor nerve function, and the dog will become increasingly weak in the hind legs, eventually leading to paralysis.
Degenerative myelopathy affects the Wire Fox Terrier more often than other breeds.
Lens Luxation
Lens luxation is an inherited eye condition found in terrier breeds.
Characterized by the dislocation of the lens in the eye, caused by the breakage of the ligaments that hold the lens in place, it is painful and leads to blindness.
Glaucoma and cataracts are other eye diseases found in Fox Terriers.
Cataracts can cause blindness and may appear in dogs younger than 3 years old.
How Long Do Fox Terriers Live?
The Fox Terrier lifespan is 10 to 13 years.
Should I Get a Fox Terrier Puppy?
Since they are one of the rarer breeds, it may take some time to track down a good breeder.
A reputable breeder will have health clearances for both of the Fox Terrier puppies' parents.
Showing they've been tested for known issues that impact the breed.
In particular, Fox Terrier pups should have health clearances certifying that the eyes are normal.
Look for a breeder who doesn't breed dogs until they're two or three years old.
Some health problems don't appear until the dog has reached full maturity.
Fox Terriers
It's easy to be enticed by the charming antics of the Fox Terrier, but this breed is not right for every family.
If you have small children and other pets or want a dog who will enjoy being a couch potato with you, you're looking at the wrong breed.
If you have an active lifestyle and are looking for a breed that can keep up with you—and then some—the Fox Terrier dog will be a good fit.
Let us know in the comments below what you enjoy about the feisty Fox Terrier!
References and Further Reading