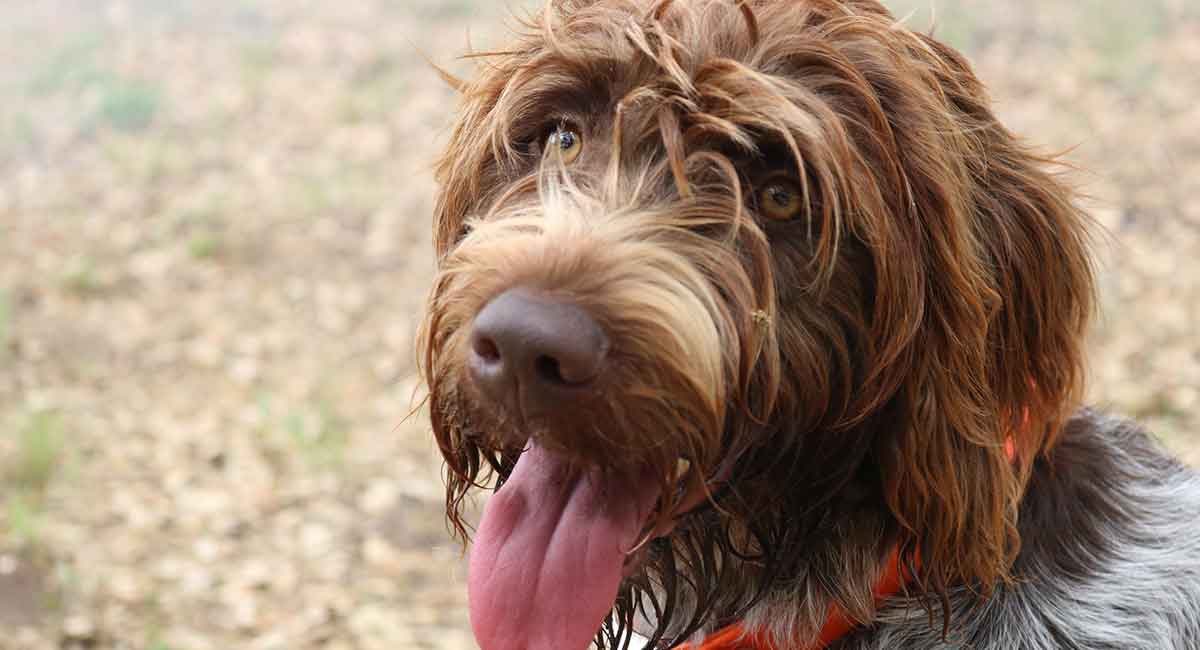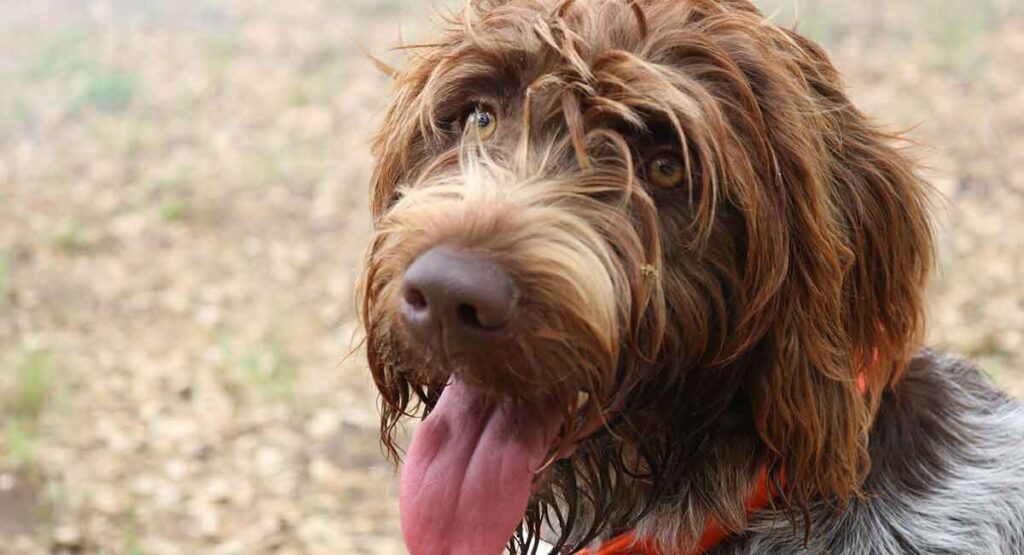 Wire haired dogs have short fur that has a coarse texture to it. More bristled than soft, as you run your hand down their back it will move stiffly rather than flow under your hand. Today we'll take a look at the pros and cons of life with a wirehaired dog. And help you to pick the perfect wirehaired puppy breed.
Contents
Wire Haired Dog Breeds
Wire haired dogs come in a variety of shapes, sizes and temperaments. Which is great, because if you are a fan of wire haired dog breeds then you've got a good chance of getting the type pup you want.
These breeds all have wire haired varieties. But not all of them will have wire hair. All Wire Fox Terriers have wire coats, but only some Jack Russell Terriers will.
If you choose a particular breed of puppy, make sure that they have a wire coat before you commit to buying them if that's what matters to you.
Affenpinscher
Airedale Terrier
Border Terrier
Brussels Griffon
German Wirehaired Pointer
Irish Wolfhound
Jack Russell Terrier
Miniature Schnauzer
Wire Fox Terrier
Wirehaired Dachshund
The Wirehaired Pointing Griffon
Wirehaired Vizsla
Not all of the above breeds all have wire-like hair. The Jack Russell Terrier for example comes in both a smooth and wire coat. The dog underneath the fur jacket is the same, but the texture of their fur is really different. Let's get to know these gorgeous dogs a bit better, to help you decide which might be a good fit for you, your lifestyle and your family.
Affenpinscher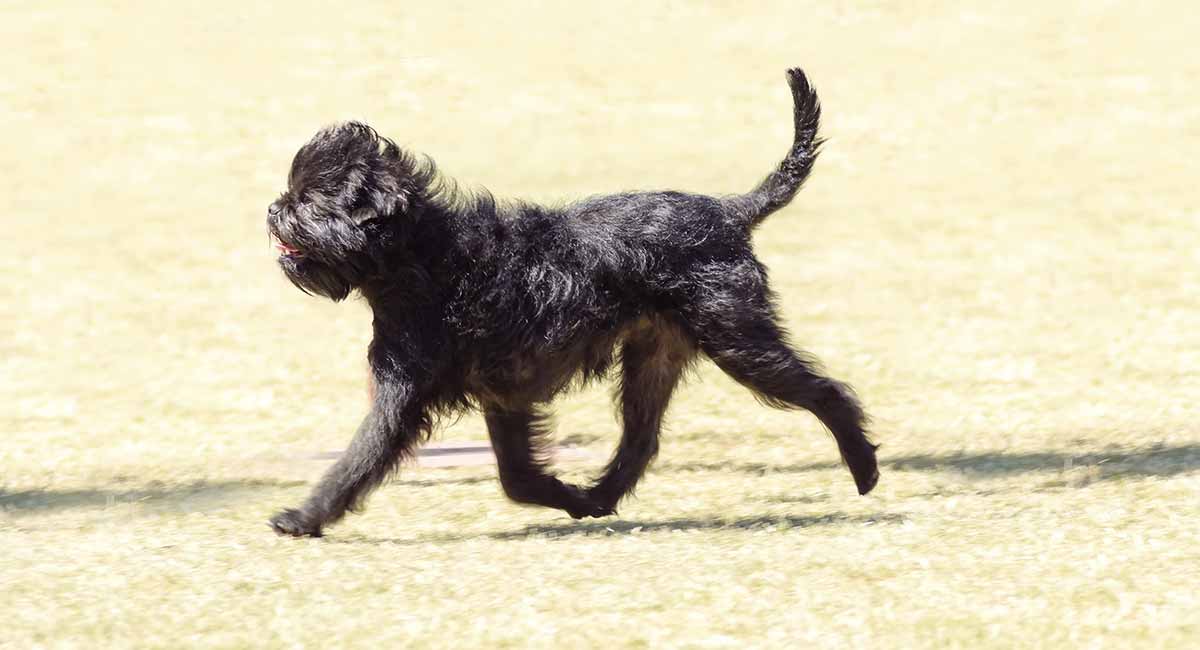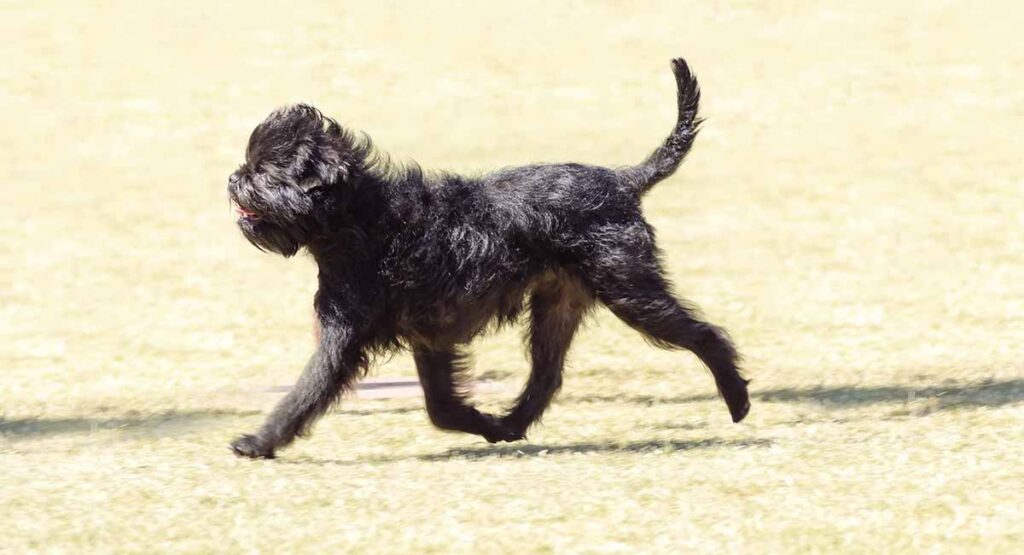 The Affenpinscher is a very unusual looking little dog, with a face that's often compared with a monkey. They are very small and weigh only up to around 13lbs.
All Affenpinschers have wire haired coats, and they are almost all black. Although you do occasionally get gray, silver, red or black and tan puppies.
This fun pup is clever, loyal and devoted to their family. But they have a lot of that famous terrier attitude. So be ready for a high prey drive, and a strong watchdog instinct.
Airedale Terrier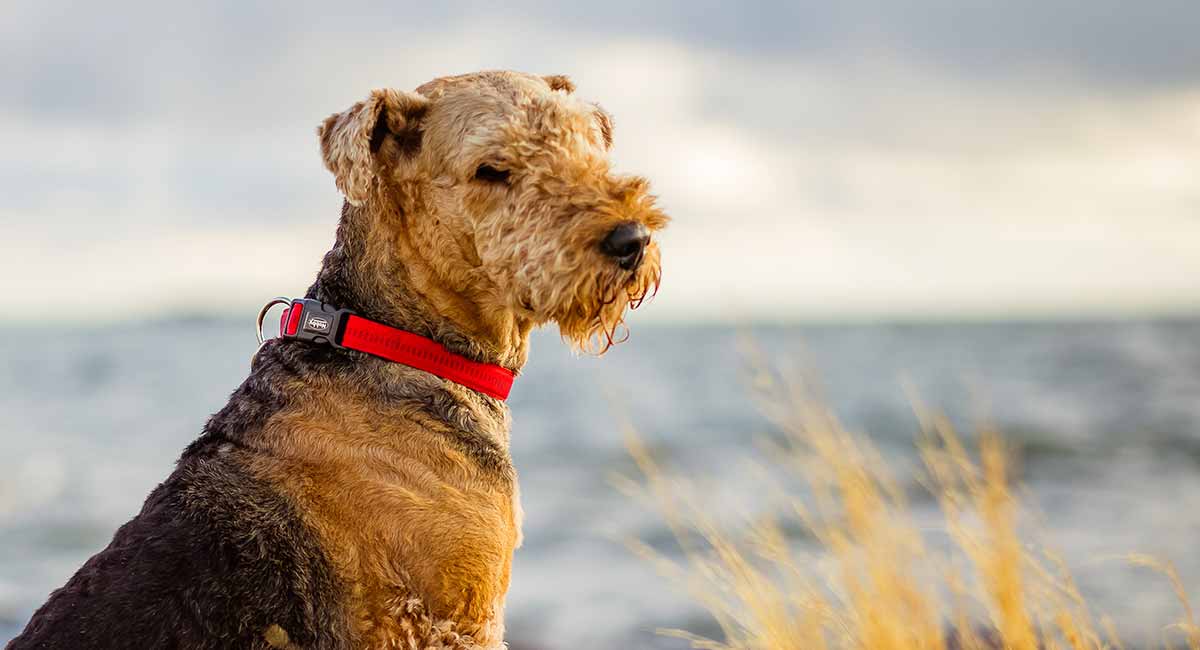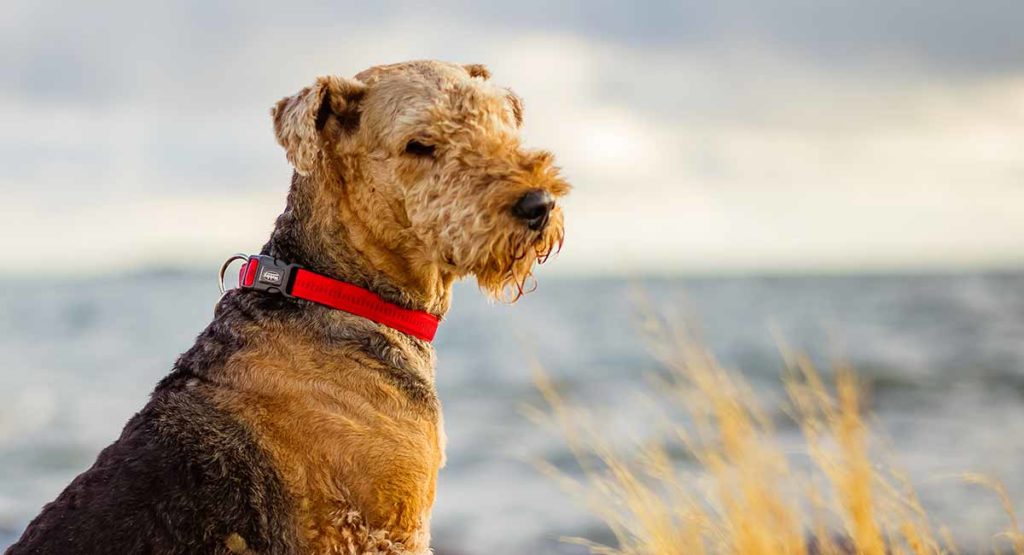 Strong but loving, the Airedale Terrier is a distinct dog. One of the larger wire haired dogs, they are around 23 inches tall in adulthood. They are natural athletes, and have a lot of energy.
Airedale Terriers are all black and tan. They have a dense wire haired top coat, with an undercoat that is soft.
These independent puppies are strong willed, but intelligent. Their Terrier instincts mean that digging, chasing and lots of noise are to be expected. Despite being stubborn, as a clever breed they are trainable and can make very loving companions in the right homes.
Border Terrier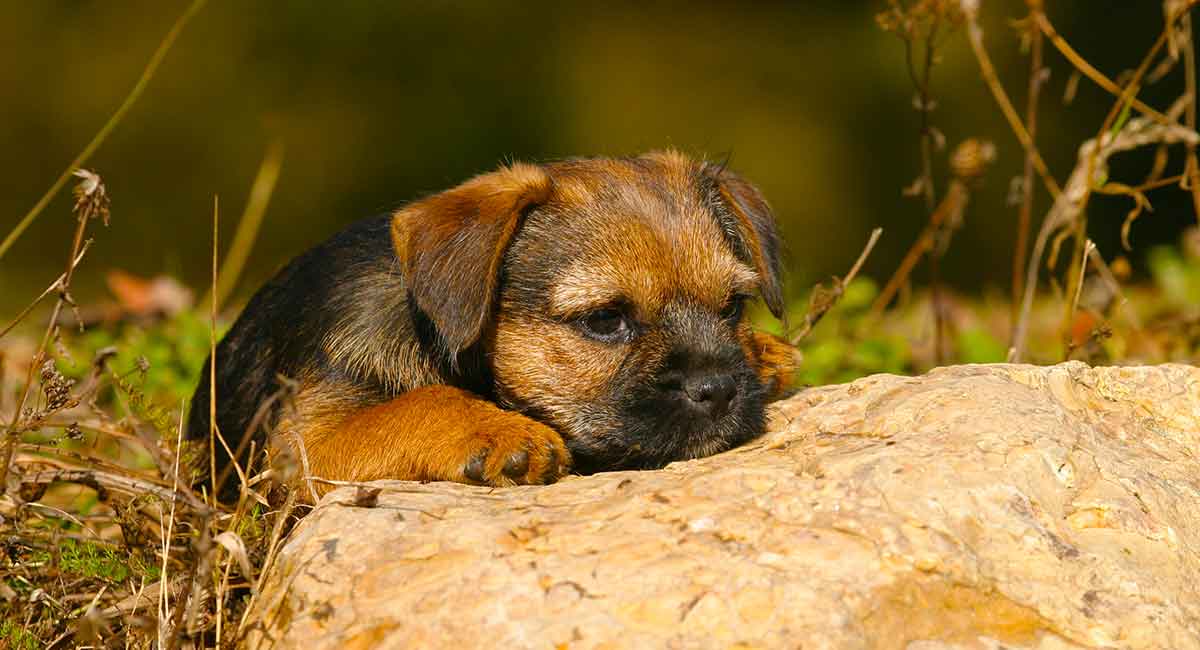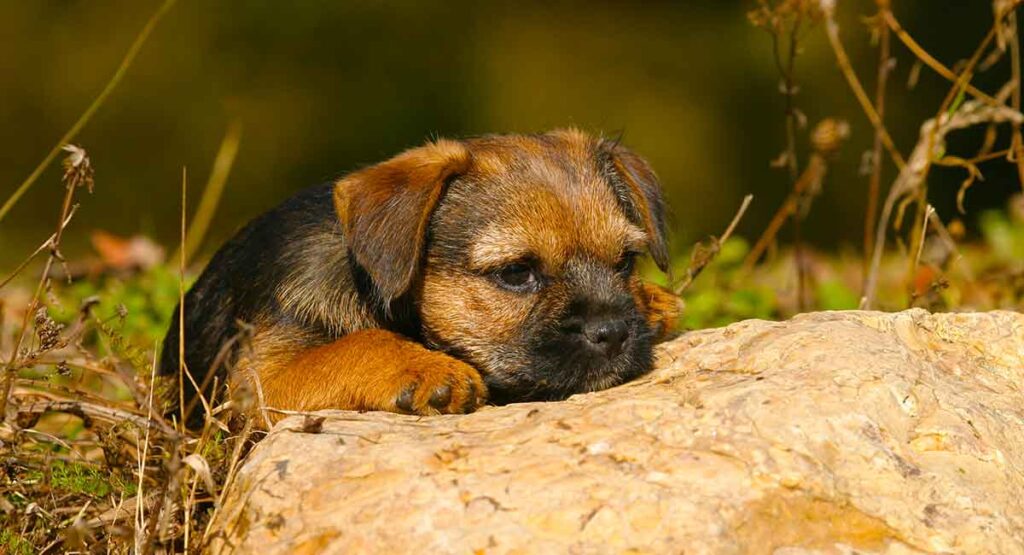 The adorable Border Terrier is a small, fit, active dog. They have fairly long legs in proportion to their bodies, and sturdy heads. Often compared with the otter!
All Border Terriers are wire coated, but they come in a range of colors. These include grizzle and tan, blue and tan, grey and wheaten. Most Border Terrier puppies look black for the first few weeks of their lives, so you won't see their true coat color until adulthood.
This is a friendly but confident breed, that despite their rich working history also often makes a lovely lapdog. It's important not to encourage noise from puppyhood, and to make sure that you are careful when around wildlife.
Brussels Griffon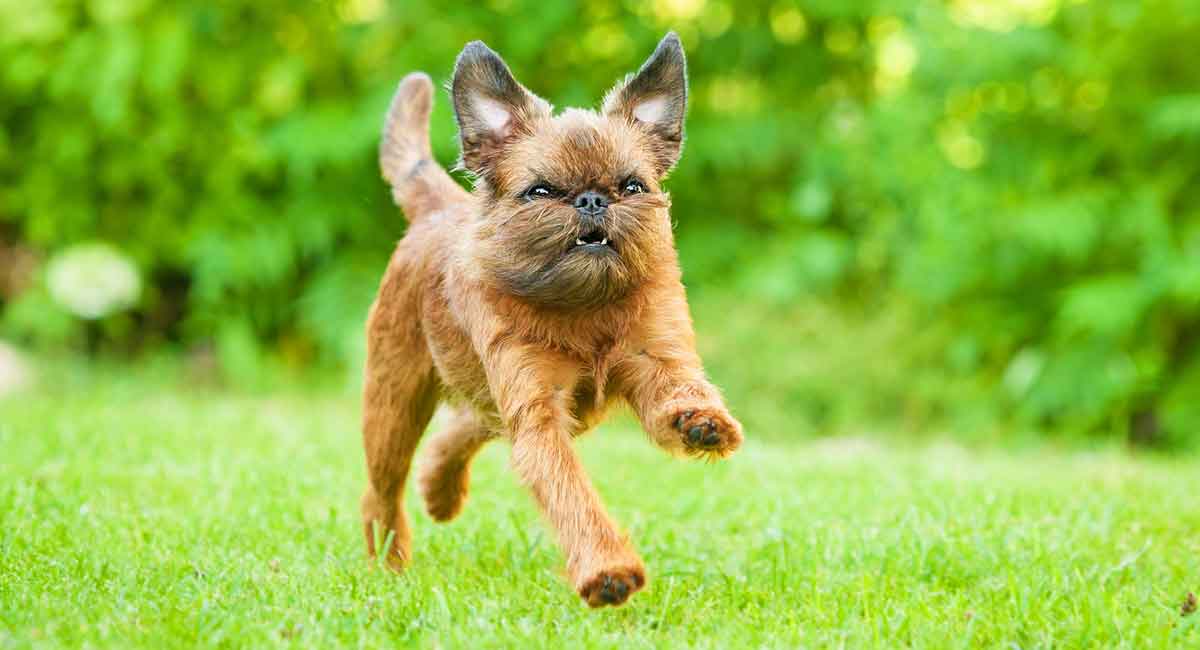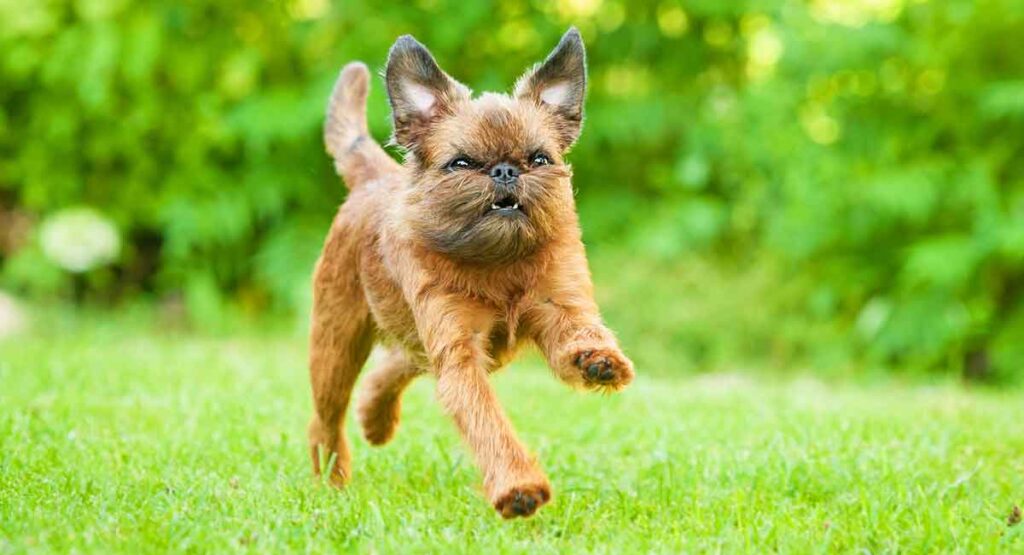 The unusual Brussels Griffon is a small dog with a long beard on its face. They are short, sturdy and stocky, with wide black eyes.
Brussels Griffon puppies can be rough coated with wire hair, or have a smooth, short coat. Their fur is red, black, black and tan or black and red.
Although protective and good watchdogs, the Brussels Griffon's strongest urge is probably to spend time with their family. They are very bonded to their owners, and as a result can be prone to separation anxiety.
German Wirehaired Pointer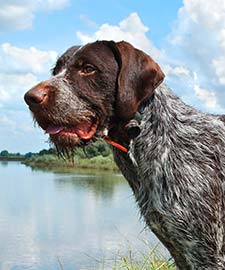 The German Wirehaired Pointer is a rough coated version of the more common German Shorthaired Pointer.
They are tall dogs, with slim athletic bodies that are slightly disguised by their wiry fur. Their coats come in a range of colors and patterns including roan, liver, black and white.
This sporting dog breed is very intelligent, and benefits from living in an active home. They form a strong bond with their handler, and are happiest when hard at work outdoors hunting through the undergrowth.
Irish Wolfhound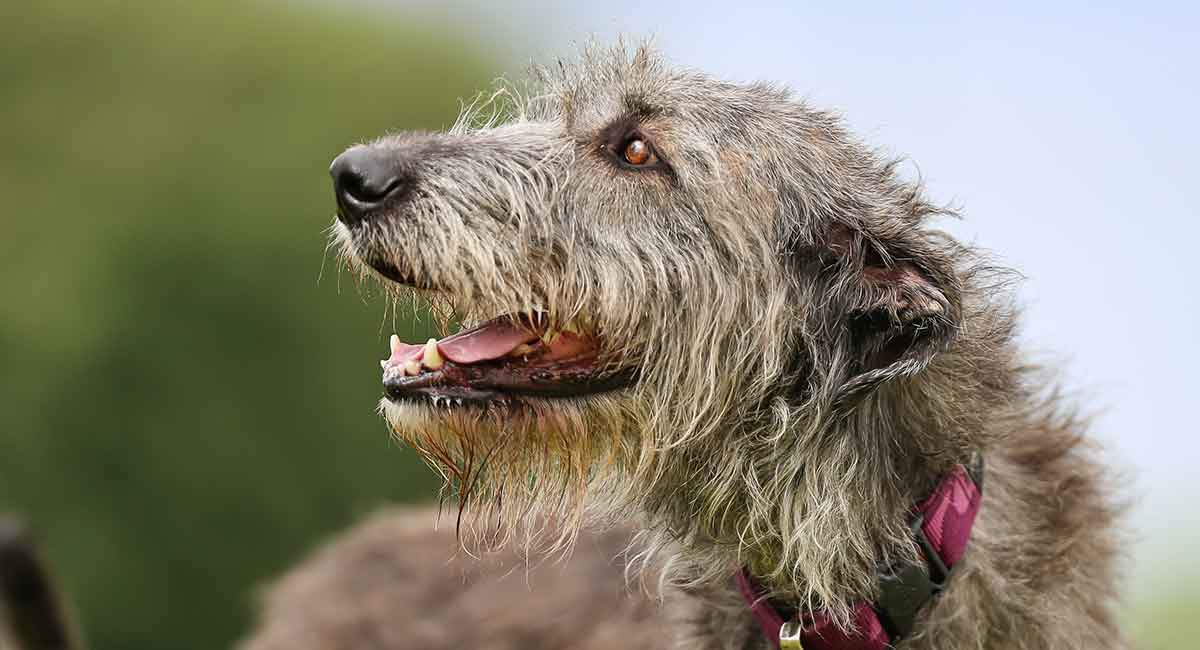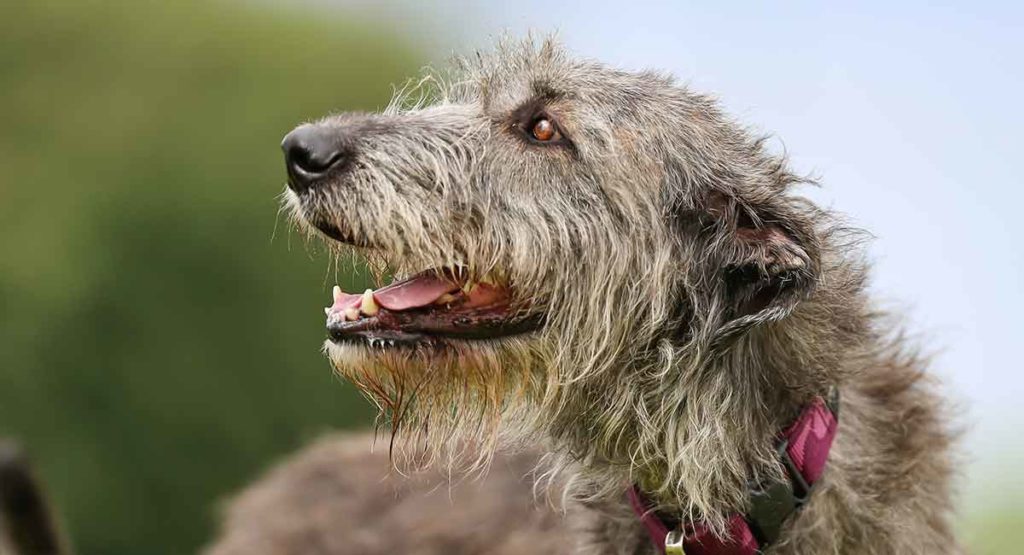 The giant Irish Wolfhound is a tall, strong and shaggy dog. Best known for their awesome size and gentle personality. Although a powerful dog, they move with a surprising amount of grace.
This big dog is mostly rough coated, but has wire hair around their face. Their fur can be grey, red, brindle, fawn or black. You'll get admiring glances everywhere you go with this pup.
Although a naturally kind dog, they do still have a high prey drive and are likely to chase other smaller animals. They also shed a lot and have a sadly very short lifespan on average.
Jack Russell Terrier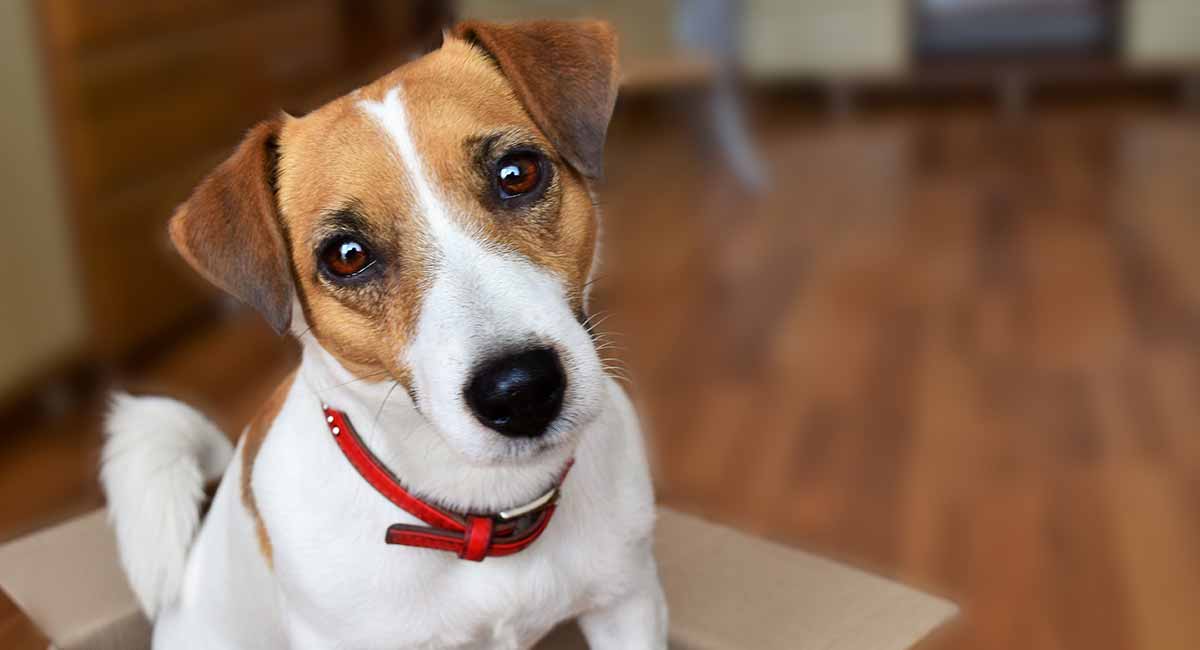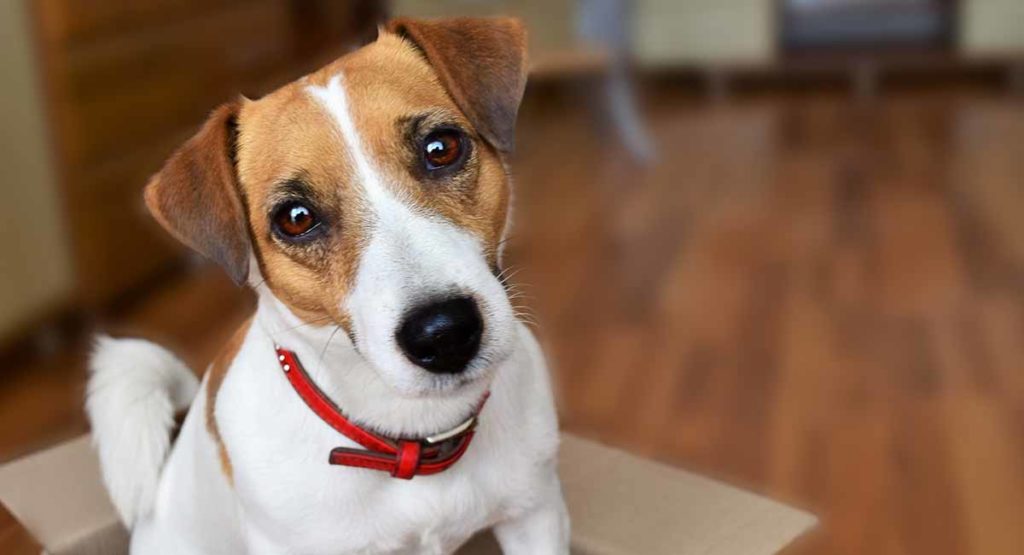 The fun and feisty Jack Russell Terrier was traditionally long legged, but in recent years has been bred to have short legs. They are fit, strong dogs that love chasing, running and digging.
Jack Russell puppies are mostly white with black or brown patches across their head and body. Wire haired Jack Russells are less common than their short, smooth haired brothers and sisters.
These busy little pups are friendly, but often on their own terms. Loyal and loving to their families, but naturally a little distrustful of strangers. Lots of socialization will help them to feel more at ease with new people and situations.
Miniature Schnauzer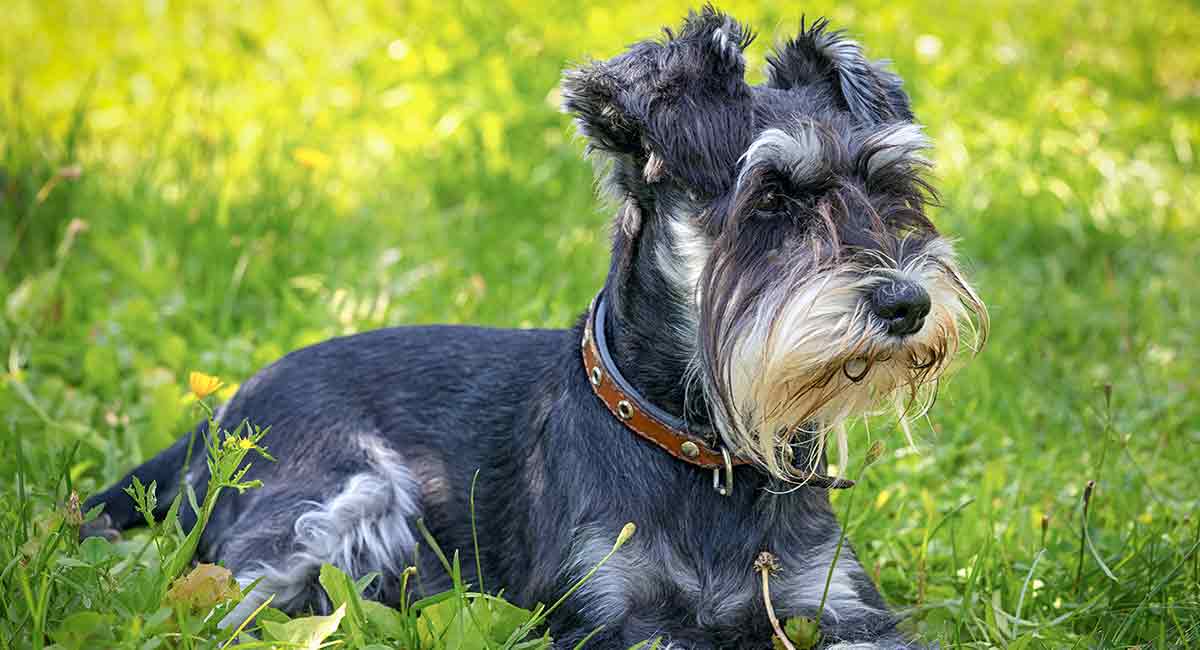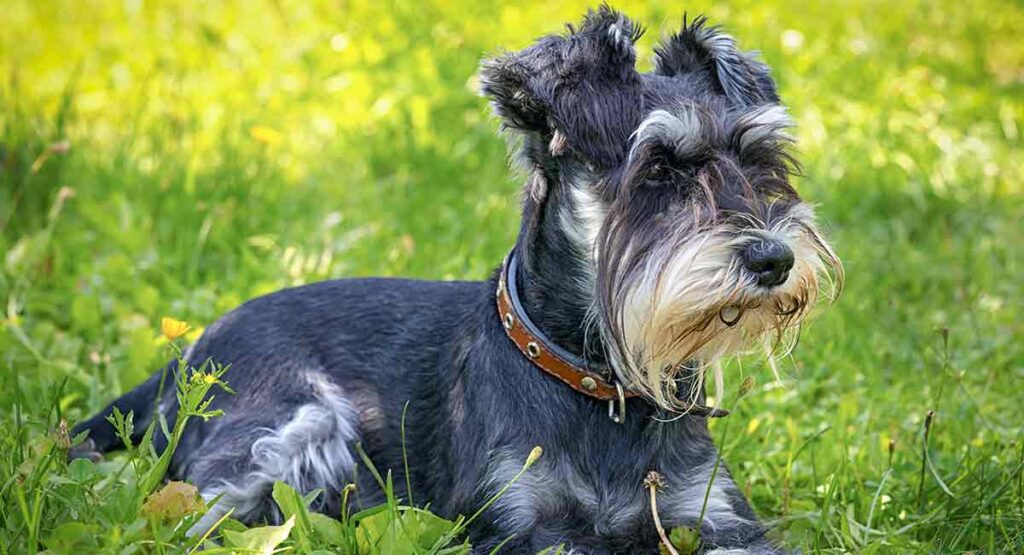 The Miniature Schnauzer is a distinctive small dog, with a thick coat and long whiskers on their face. Their eyes are dark brown and small.
All Miniature Schnauzers are wire coated and have a soft undercoat. They are either black, black and silver or salt and pepper in color.
They are an energetic, friendly breed with plenty of personality. Active and inquisitive, they make great pets for a lot of different families.
Wire Fox Terrier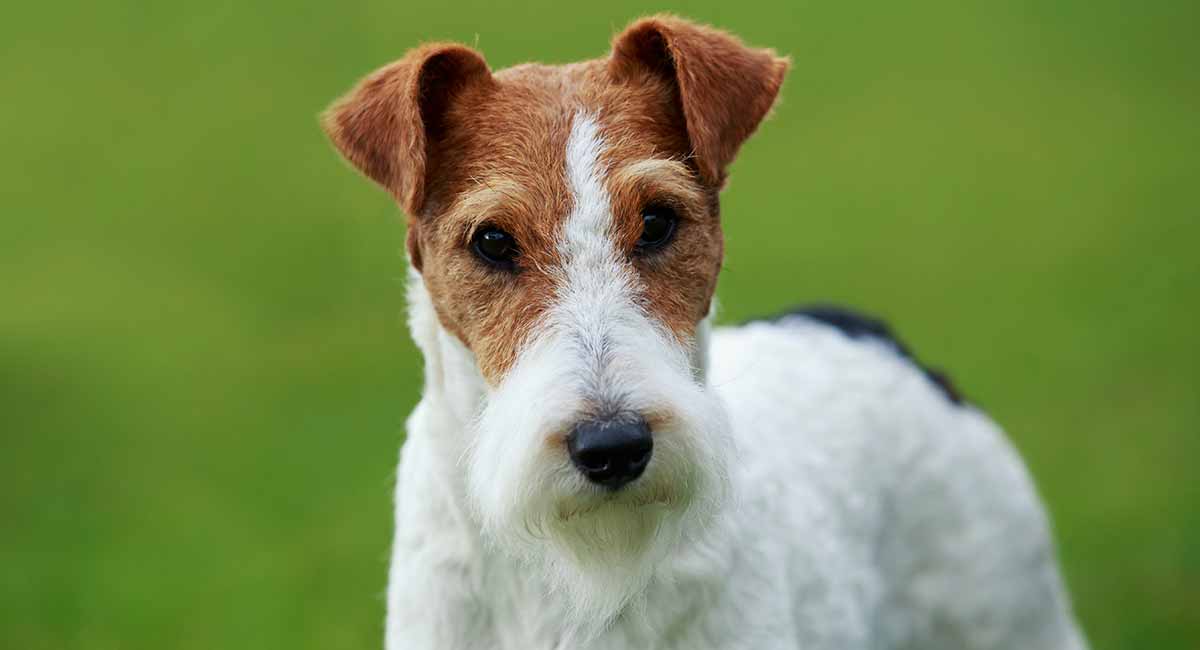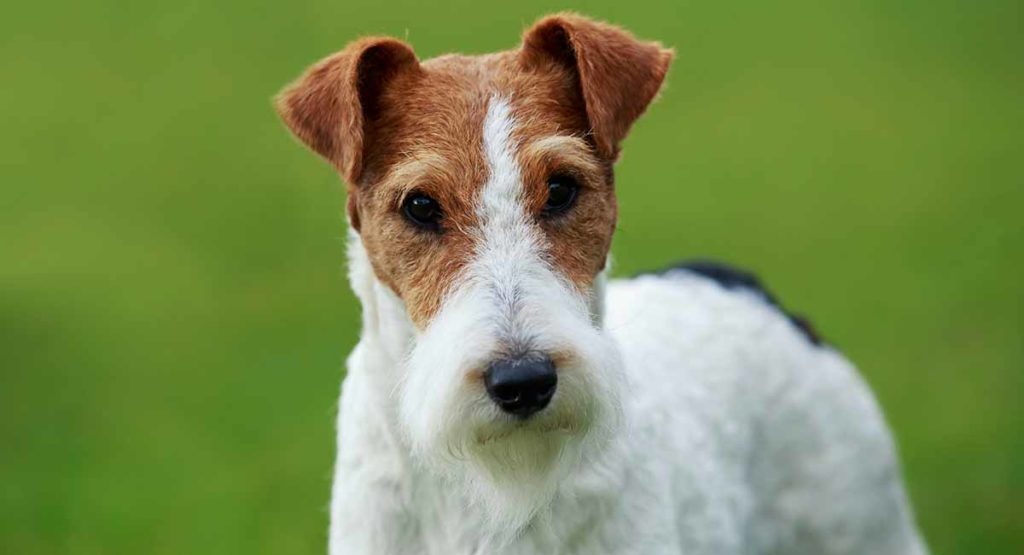 The Fox Terrier comes in a smooth and a wire coated variety, and they are both fun and independent dogs. This medium sized breed has a long nose and cute folded ears that give them a curious expression.
Wire Fox Terriers have a thick, harsh coat that feels crisp to the touch. They are white dogs with tan, black or black and tan markings. A larger terrier breed, they are strong dogs with a powerful personality to match.
Clever and confident, they are bold dogs that know their own minds. And aren't afraid to let you know their feelings through their barks and yaps. They are also well known for being escape artists, climbing over or digging under fences when your back is turned!
Wirehaired Dachshund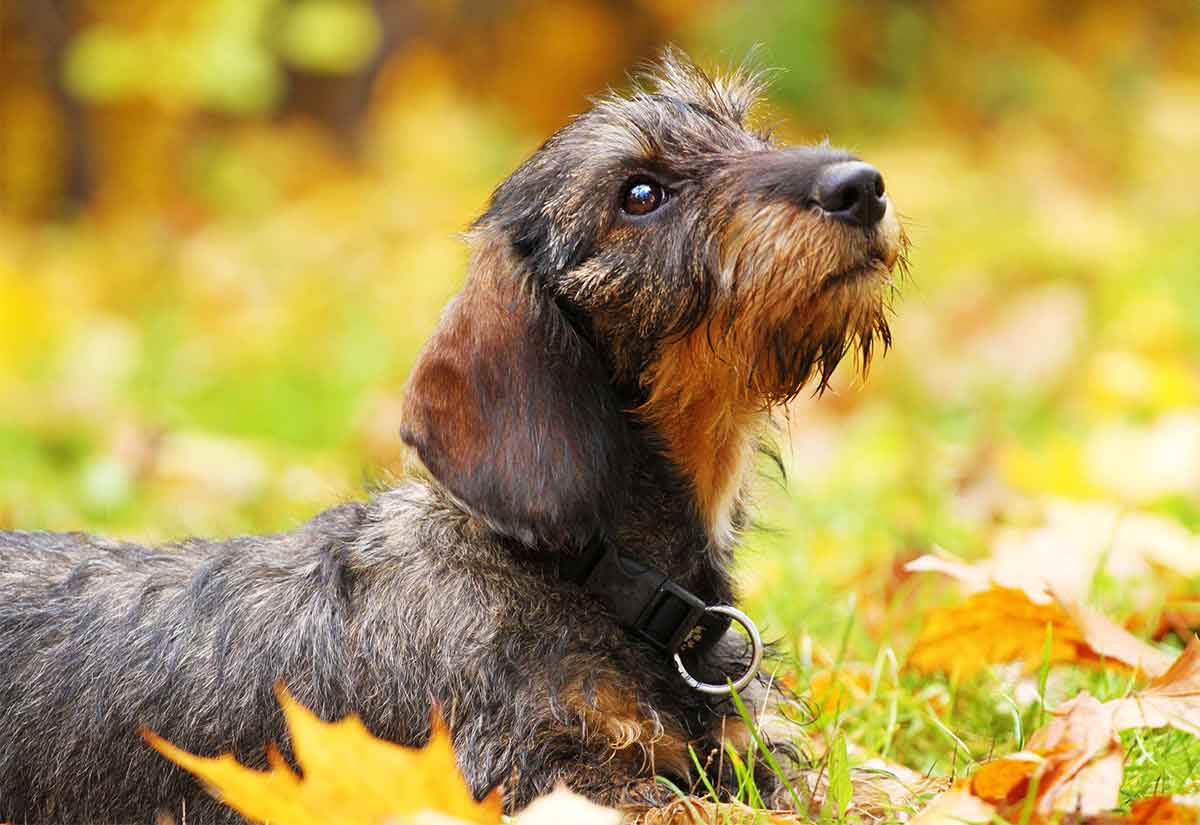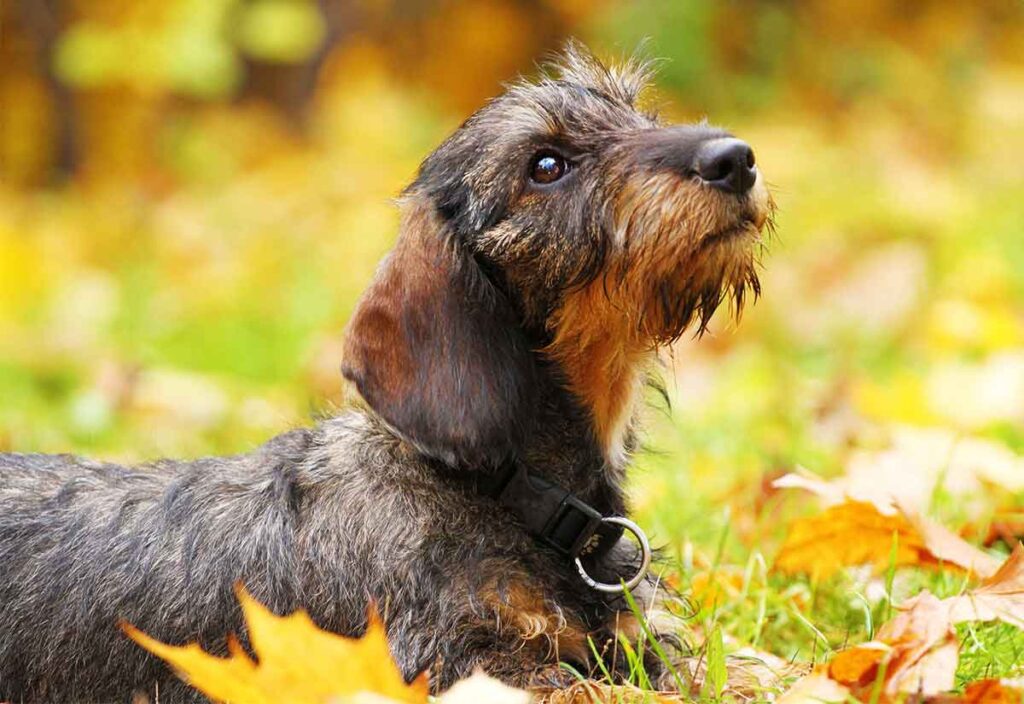 The tiny legged, long bodied Dachshund is one of the shortest pet dogs you can find. But they make up for it with their huge personalities. Wire haired Dachshunds have a rough, short coat that is easy to groom and simple to care for.
Loyal, bold and outgoing they don't have any reservations with letting you know what's on their mind.
Sadly the Dachshunds short legs and long backs come with some potential health problems. It's important to discourage jumping, and to lift your dog gently and carefully.
The Wirehaired Pointing Griffon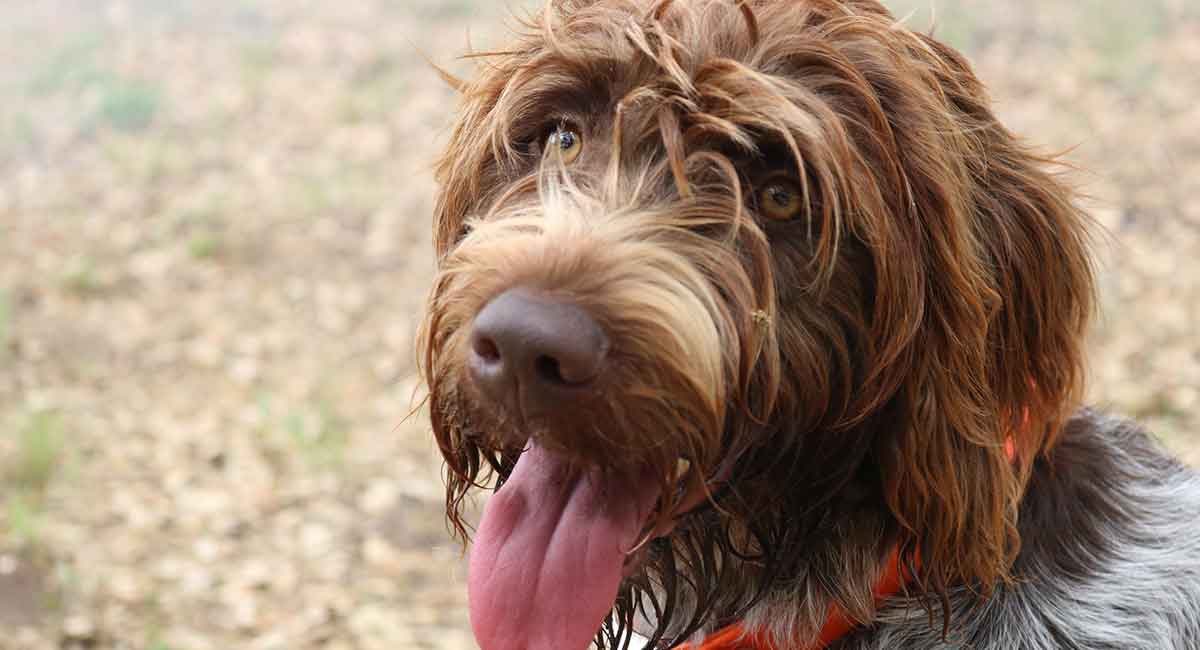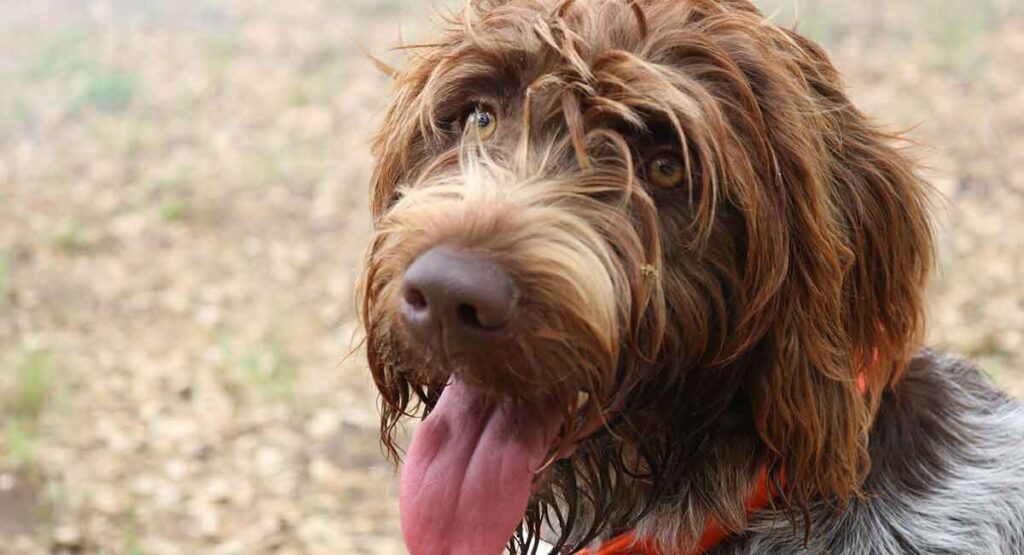 Wirehaired Pointing Griffons are sporting dogs that are medium sized. They are clever, quick and eager to please their owners.
These hard working pups have a thick, coarse, wirehaired coat. And an impressive moustache and beard too! They come in a lot of different colors, including various shades of brown, along with white and orange hues.
Although generally friendly dogs, they can be a little reserved around people and pets that they aren't familiar with. Good socialization is key for this active pup.
Wirehaired Vizsla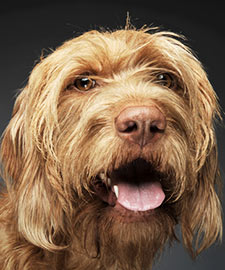 The Wirehaired Vizsla is a very similar dog to their smooth haired cousins, but they tend to be a little taller and heavier set.
This beautiful dog has short but coarse fur, in the classic pale brown color. Along with a notable set of eyebrows, and a big bushy beard!
These gentle, loyal dogs do have a high prey drive around wildlife, so it's important to teach a great recall from an early age. Lots of practice and proofing will keep your dog, and the local fauna, safe!
Wire Haired Mixed Breeds
When you mix a wire haired dog with another dog, the resulting puppies may or may not be wire haired. These mixes might be wire haired dogs, but it's only a certainty if both parents are from an exclusively wire haired breed.
Border Terrier mixes
Fox Terrier mixes
Jack Russell mixes
Wire hair is a dominant trait. This means that if you have the gene for wire hair, then your hair will be wiry. However, just because your parent has wire hair, doesn't mean they will necessarily give the wire haired gene!
Wire Haired Dog Genetics
Genes come in pairs. We call the gene for wire hair W. It has two variations: big 'W', which causes wirehair, and little 'w', which doesn't.
The 'W' gene always causes wire hair, even if only one copy is present. A dog can have three different combinations of the W/w gene.
WW – two wirehaired genes – a wirehaired dog
or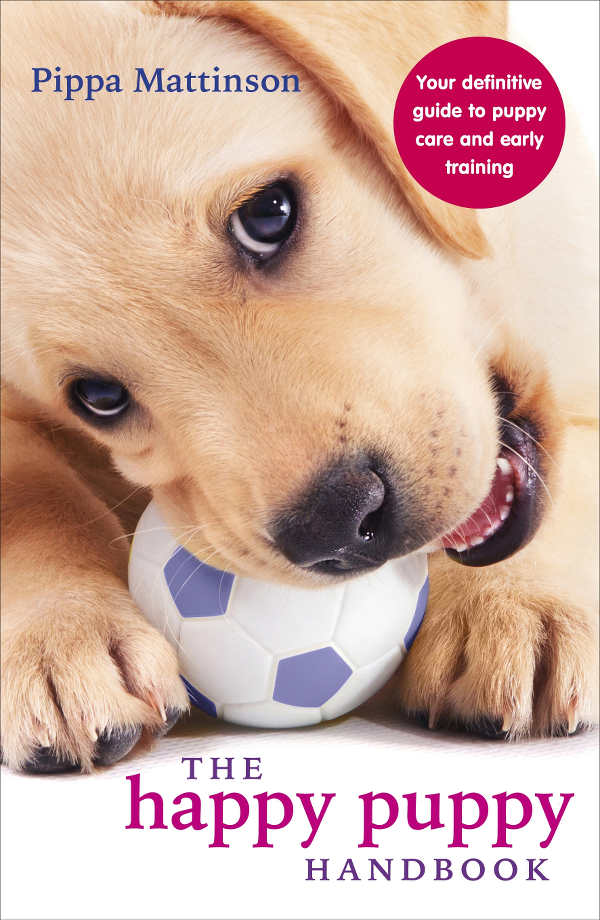 Ww – one wirehaired gene – a wirehaired dog
or
ww – no wirehaired gene – smooth hair
Each parent will then pass one of their W/w genes on to each of their pups. A WW dog will always pass on a W gene – so all their pups will have wirehair.
But a Ww dog can have either smooth or wirehaired pups. Depending on which gene they pass on AND on the genes carried by the other parent. Let's have a look at some examples:
Two wirehaired parents: (WW or Ww)
WW x WW = all wirehaired puppies
or
WW x Ww = all wirehaired puppies
or
Ww x Ww = 75% wirehaired puppies
One wirehaired parent and one smooth haired (Ww/WW and ww)
WW x ww = all wirehaired puppies
or
Ww x ww = 50% wirehaired puppies*
*the wirehaired parent passes the W gene to half their pups and the w gene to the other half
Two smooth haired parents (ww)
Two smooth haired parents:
ww x ww = no wire haired puppies
Grooming Wire Haired Dogs
Wire haired dogs are fairly low maintenance when it comes to grooming. They have short coats, which don't get tangled up when mucky. A quick groom once a week with a comb will do most dogs fine.
During shedding season a deshedding tool will keep the loose fur from falling around your home too much. No wire haired dogs fall into the hypoallergenic or low shedding categories, and they will all have periods where they shed quite a lot.
On the bright side, they don't need bathing often, unless they get mucky or smelly! Most owners of wire haired dog breeds only need to bathe them once every few months at most.