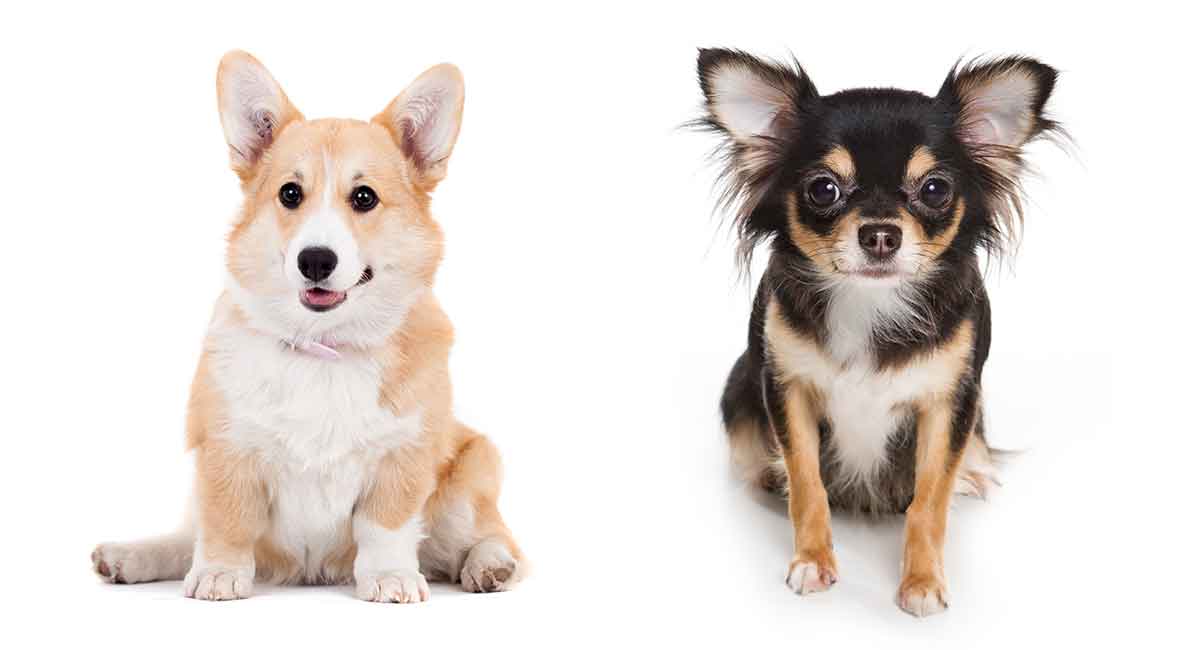 The Corgi Chihuahua mix is a playful and affectionate dog, small enough for an apartment lifestyle. Also known as the Cohuahua, Chorgi, or Chigi, the Chihuahua and Corgi mix is an intelligent cross breed with a mixture of behavior traits and characteristics from both parent breeds. Today we'll look at the personality of the loyal Corgi Chihuahua mix and their suitability as a lap dog or family pet. We'll share some tips on care, and exercise needs and on adoption. And you'll learn how to raise a happy, healthy puppy to be confident, friendly adult. We'll also help you to decide whether a Corgi Chihuahua mix is the right new pet for your lifestyle, kids and activity level.
Contents
The Corgi Chihuahua mix combine two very cute little dog breeds. It's worth noting that small dogs are vulnerable to injury. This hybrid is unlikely to reach more than 20 pounds in weight, or to exceed 10 inches in height. In terms of personality, we'll look at what you can expect from a pup with two rather different parents. This cute little Corgi Chihuahua mix puppy is about seven months old. You can see she is full of energy!
What is a Corgi Chihuahua Mix?
Also known as the Chigi, or Chorgi, the Corgi Chihuahua mix is a cross between Corgi and the Chihuahua. They combine one Chihuahua parent and one Pembroke Welsh Corgi parent. Or they combine two first or second generation Corgi Chihuahua mixes!
Where Do Corgi Chihuahua Mixes Come From?
Mixed breed puppies are often 'accidents' but deliberate mixing is becoming more popular. Such puppies are often referred to as designer dogs. To find out more about a first generation cross we need to look at the history of each parent breed
Corgis and Chihuahuas
The Corgi dates back to medieval times. These sturdy little dogs came to Britain from northern Belgium.
Corgis were originally herding dogs, built for both work and companionship. And were highly regarded for their temperament and distinctive appearances.
The Chihuahua, is Mexico's national dog. Though their true connection with the country is still uncertain, their ancestors were Techichi dogs. An ancient breed from which the smaller Chihuahua probably descended.
Nowadays the Chihuahua and the Corgi are both popular pets. And their offspring, the Corgi Chihuahua mix, is rising in popularity to join them.
Fun Facts About Corgi Chihuahua Mix
Did you know that the Corgi Chihuahua mix is the offspring of two pretty famous parent breeds?
In fact, one of his parent breeds could even be considered royalty.
That's right, we are talking about the Pembroke Welsh Corgi, who has been a favorite of Queen Elizabeth for decades now.
And while the Chihuahua may not have royal blood running through it's veins, the breed could still be considered the prince of Hollywood. Countless movies, such as "Legally Blonde" and Beverly Hills Chihuahua feature the breed. And many celebrities own one
The Chihuahua was also Taco Bell's leading mascot from 1993 to 2004!
What Does a Corgi Chihuahua Mix Look Like?
Corgi Chihuahua mix dogs are short, long bodied and have a variety of coat types, colors and patterns. They have pointed ears and fairly long noses.
The Chorgi's look will vary depending on chance and genetics. Let's take a look at his parent breeds to get a better idea of what the mix might look like, starting with the Corgi.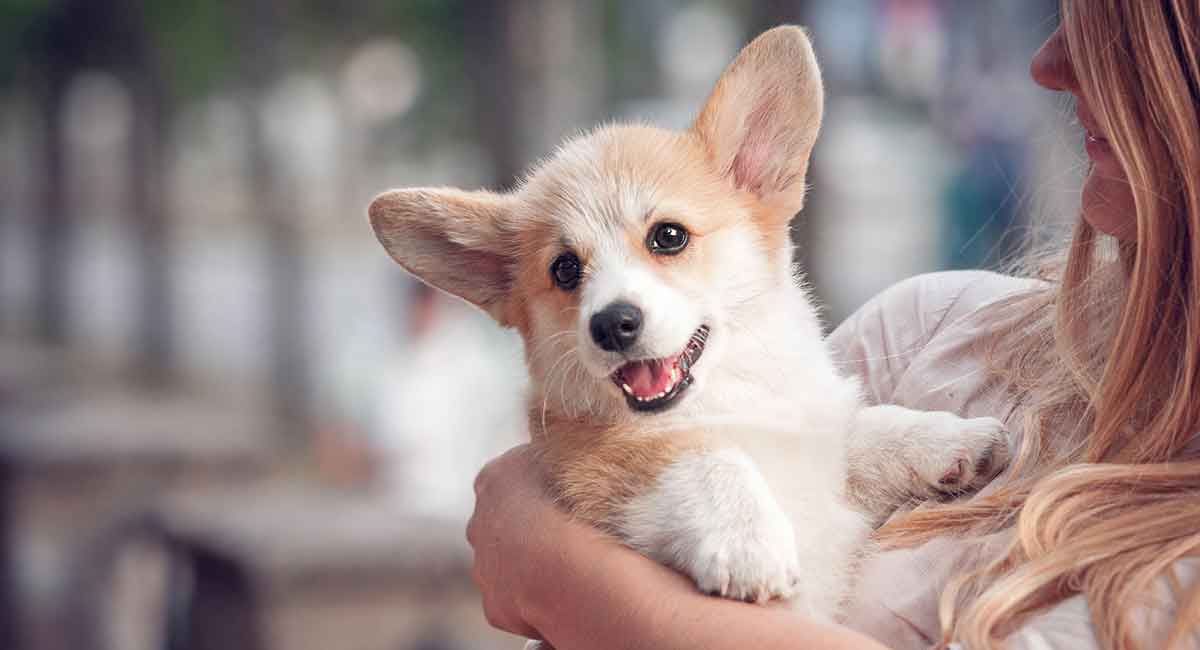 Corgi Appearance
Known for his compact, long body and short little legs, the Pembroke Welsh Corgi stands a mere 10–12 inches tall and weighs 30 pounds or under.
He has a happy, expressive face, bright eyes, erect ears, and he can sometimes be born without a tail while other times breeders will have his tail docked. However, we should note that tail docking dogs has become illegal in some countries. The Pembroke Welsh Corgi has a dense coat that comes in several colors:
Black and Tan
Blue
Black and White
Red
Fawn
Sable
Chihuahua Appearance
The Chihuahua is one of the tiniest tots in the dog world, standing just 5–8 inches tall and hardly ever weighing over 6 pounds.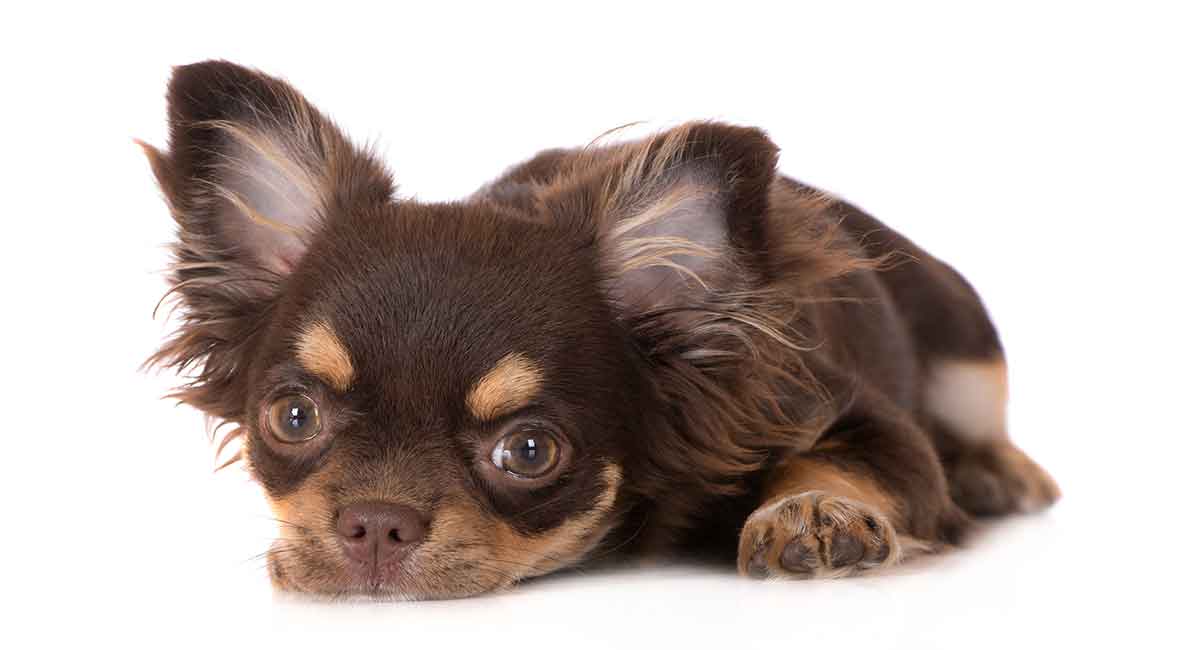 He can have a short, smooth coat or a long coat, and it can come in a number of different colors like:
Black and Tan
Blue
Black and White
Red
Fawn
Sable
Chihuahua Types
There are actually two unofficial types of Chihuahuas, including the Apple Head Chihuahua and the Deer Head Chihuahua. While not recognized officially by any major breed club or organization, the apple head Chihuahua is the type most approved for show.
The appearance of the Chigi depends partly on which type of Chihuahua is involved. A Corgi Chihuahua with an apple head parent may have a shorter muzzle. And a more bulging forehead, with protruding eyes.
Corgi Chihuahua Mix Temperament
The temperament and personality of a Chigi will depend on a number of things, including responsible breeding practices, early socialization, training, and of course, genetics.
If the Corgi Chihuahua mix favors his Corgi parent, we can expect him to be quite friendly, outgoing, and very affectionate. Corgis do well with children and other pets so long as they are properly trained and socialized. While they can sometimes be independent thinkers, they are, for the most part, eager to please their humans and enjoy learning new tricks.
Chihuahuas, on the other hand, are small and feisty little breeds who become very bonded with their people. They may not be the best dogs suited for small children, and they may not do well in homes with other household pets. That is because a Chihuahua would prefer to be the center of your world and not share your affections.
Are Corgi Chihuahua mix dogs aggressive?
There is the potential for a Corgi Chihuahua mix to be aggressive. Typically, Chihuahuas can also have somewhat of a bossy attitude and may think they are the boss if their human lets them get away with too much.
We should also note that Chihuahuas have also been known to show aggressive behaviors towards other animals and people, so early socialization and obedience training are a must for this breed and his crossbreed offspring.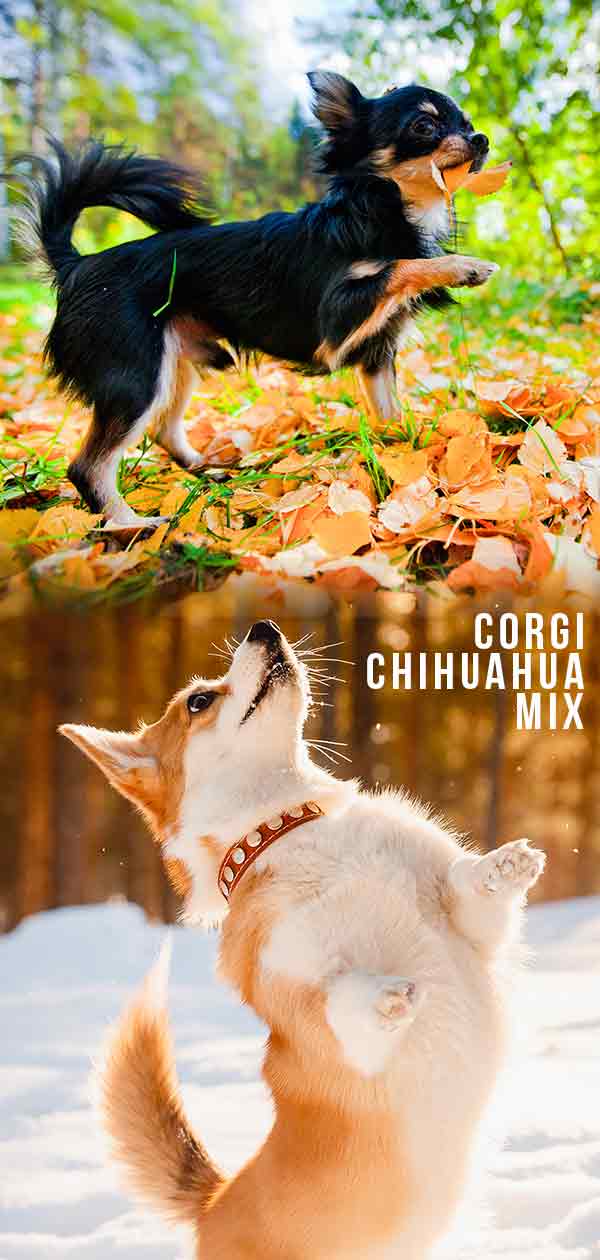 Training Your Corgi Chihuahua Mix
Luckily, both the Corgi and the Chihuahua are intelligent breeds who are eager to please their people and will enjoy learning and making you proud. This means that their crossbred pup will likely be similar when it comes to training.
Keep in mind that the Corgi and the Chihuahua are sensitive breeds, and the mix will, therefore, need a firm but loving hand when it comes to training. Remember, positive reinforcement training methods always work best, so use treats and praise over punishments or scolding.
Potty training puppies can be difficult, but potty training puppies who are also very small dogs can be even harder. This is because tiny dogs have tiny bladders, and need to empty them very frequently. Patience and regular visits to your outdoor potty area are the key
Corgi Chihuahua Mix Health
Due to the life expectancies of the Corgi Chihuahua's purebred parents, this mix may live between 12 and 16 years. However, these are two breeds with a range of significant health problems.
Pembroke Welsh Corgi Health
With a lifespan of 12–13 years, the Corgi can be predisposed to issues like:
hip and elbow dysplasia
eye issues
cardiac issues
von Willebrand disease
degenerative myelopathy
Chihuahua Health
The Chihuahua has a longer lifespan of 14–16 years, but can also be prone to a number of health problems, such as:
patent ductus arteriosus
mitral valve disease
patellar luxation
eye disease
idiopathic epilepsy
tracheal collapse
Raising Healthy Corgi Chihuahua Mix Dogs
While early health screening and genetics can certainly play a role in the Corgi Chihuahua mix dog's overall health, so will a healthy diet and lifestyle. Getting the right amount of exercise and eating a high-quality dog food formulated for the Chigi's body weight and activity level will help to keep him at his best.
Your dog will need about a half-hour to an hour of exercise a day, depending on what parent breed he takes after most. Practicing proper grooming habits will also be key.
Your Corgi Chihuahua mix will likely need to be brushed about two or three times a week. He will also need an occasional bath. He will also need his nails trimmed on a regular basis and his ears checked and cleaned consistently.
Do Corgi Chihuahua Mixes Make Good Family Dogs?
As long as they are properly socialized and trained, a Chigi can make a good family dog. Though most experts recommend this mixed breed for families with older children.
Since the Chihuahua can be prone to aggressive behaviors towards strangers and dogs, the Corgi Chihuahua mix may be best suited for homes without other dogs present.
Pros and Cons of Getting a Corgi Chihuahua Mix
Cons
Unpredictable health issues
May show aggressive tendencies
Could have a bossy disposition
May not get along with other dogs
Pros
Very intelligent
Full of personality
Easy to train
Affectionate towards family
Rescuing a Chihuahua Corgi Mix
A rescue dog is a great option. As an adult you'll have a better idea of how their health is affected. There are many benefits to rescuing, including price, which is usually $50–$100, as well as a free vet trip!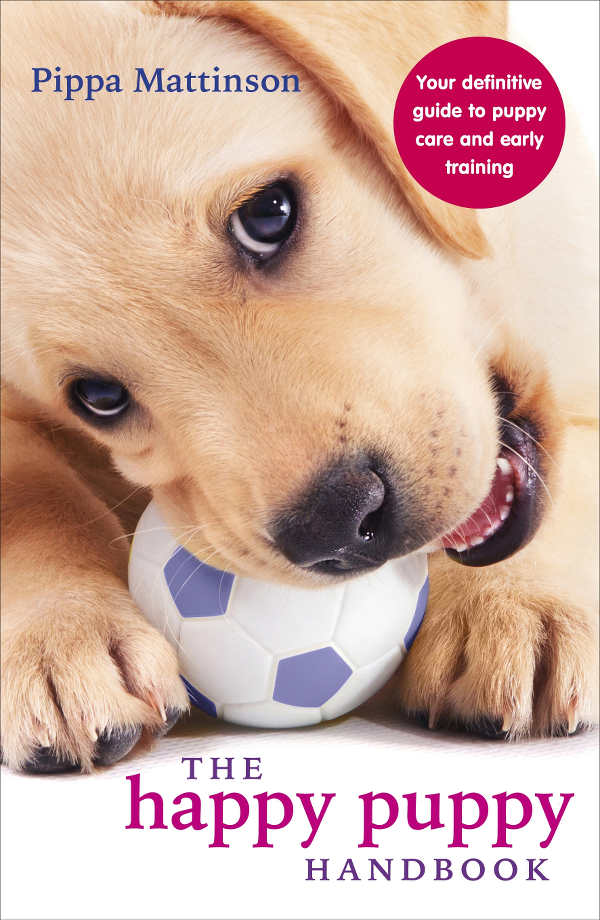 Corgi Chihuahua Mix Products and Accessories
Since the Corgi Chihuahua mix is a playful and energetic dog, your pet will need plenty of exercise.
We love this No Pull Dog Harness by Kurgo that protects the Corgi Chihuahua's fragile trachea while offering him the support he needs while on walks.
And for those who want to avoid going to the groomer as often, we recommend this Dog Nail Clipper and Trimmer by Boshel.
It has a safeguard to ensure you never cut to the quick.
Similar Mixes and Breeds
There are lots of other Corgi mixes out there. And plenty of Chihuahua mixes! But we suggest you look at the following dogs too:
Just remember, health tests are still essential!
Corgi Chihuahua Mix Rescues
As previously mentioned, there are tons of benefits to rescuing. To find some rescues in your area, see below.
Let us know about your favorite local rescue in the comments below.
Is a Chigi Right for Me?
The Corgi Chihuahua mix is certainly cute.
Due to the structural issues with both breeds, it's not an ideal mix to be deliberately created by a breeder. You may find a Corgi Chihuahua mix in a Corgi or Chihuahua rescue center. If not, there are many other adorable mixes just waiting for the right home to come along.
Related Articles
References and Resources