The Pomsky is a mix between a Pomeranian and a Siberian Husky. These two breeds are quite different, so predicting a Pomsky's appearance and personality can be tough.
But generally this hybrid is intelligent, loyal, and active. It could be anywhere from 15 to 25 pounds as an adult.
Read on to find out if this is the best breed for you.
What's In This Guide
Pomsky FAQs
Our readers' most popular and frequently asked questions about the Pomsky.
If your question isn't answered, be sure to leave it in the comments!
Pomsky: Breed At A Glance
Popularity: Popular, On the rise
Purpose: Companion, Outdoor Activities
Weight: 15 to 25 lbs
Temperament: Friendly, Independent
The Pomsky is on the rise. But what is this cute puppy really like?
Pomsky Breed Review: Contents
So how did this little hybrid come about? Let's find out!
History of the Pomsky
A Pomsky is a first generation cross-breed. A mix between a purebred Siberian Husky and a purebred Pomeranian.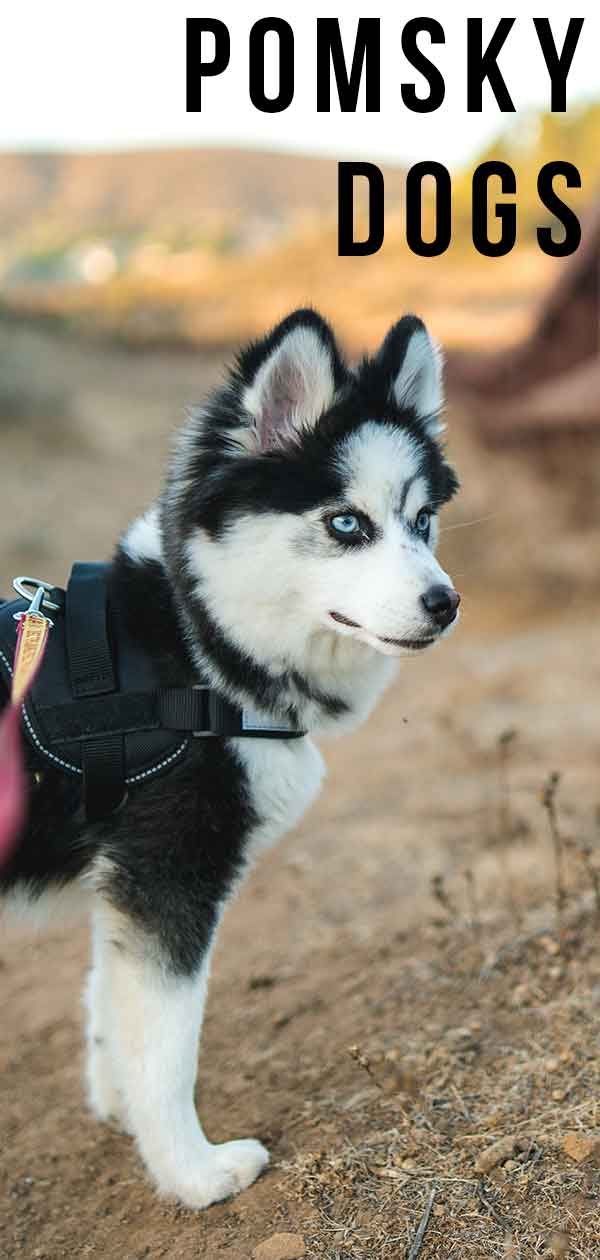 So, finding out more about it's history is tricky – no one knows a lot about it!
Looking at the parent breeds is a great way to learn where the Pomsky comes from.
Pomeranian and Husky Histories
These are two very different dogs with very different origins and characteristics.
The Siberian Husky was originally a sled dog; born to haul heavy sleds over icy terrain for hours on end and to survive on frozen meat and sleep out in the snow!
This is a moderately large and powerful breed, known for having a friendly but independent nature.
The modern Pomeranian is quite different, despite having sled dog origins way back!
It is a tiny toy breed with a thick coat, but one that was not built for warmth. The Pom's history is that of a lap dog.
Fun Facts About the Pomsky
Pomskies regularly feature in the news. They're also really popular on social media!
A Pomsky called Norman managed to gain 11,000 Instagram followers over just 6 weeks! 
And he collected those in just six weeks!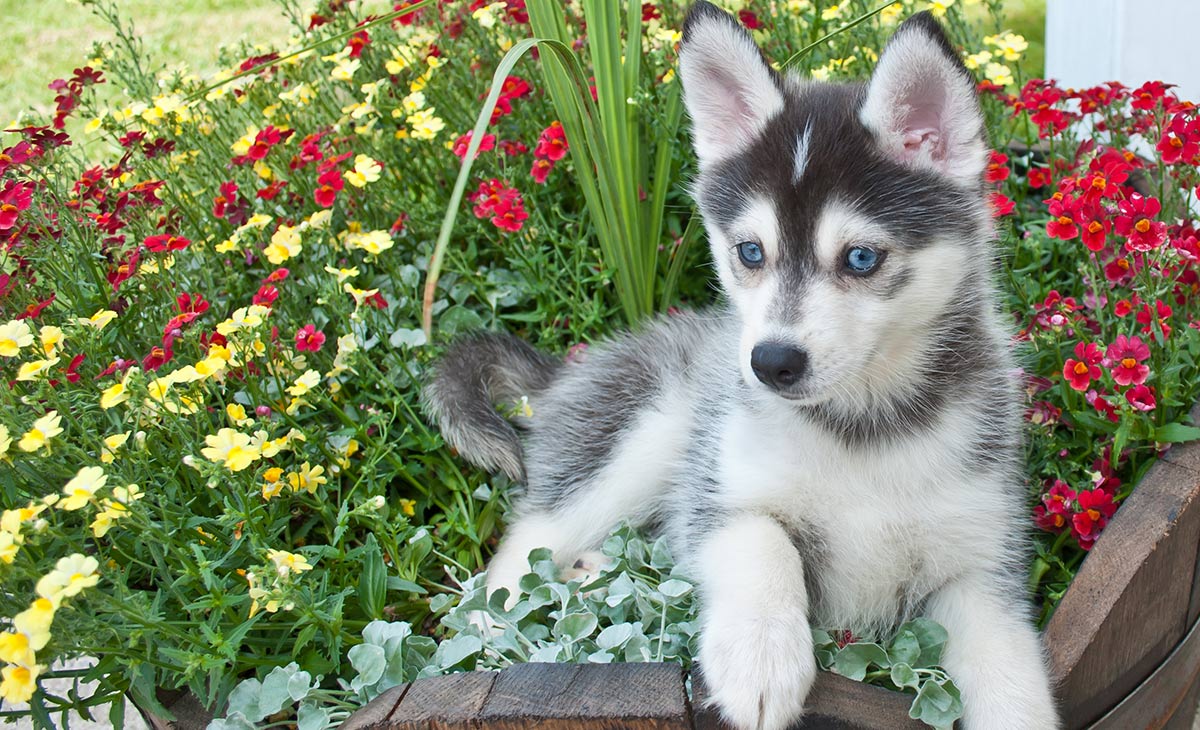 Another Pomsky called Mya has over 25,000 Instagram fans! 
Mya and her friend Dave are well travelled. They spend a lot of time hiking.
Pomsky Appearance
It's always difficult to say what makes a particular dog "take off."
Why they become popular or fashionable.
But there is no doubt that the Pomsky's pretty face helps.
Like all cross breed puppies, the Pomeranian Husky mix appearance varies from pup to pup.
Mya is quite fox-like, but Norman looks more Husky than anything else.
Size and Weight
The Pomsky may vary quite widely in size and weight.
The Pomsky Club of America predicts a weight of 15 to 25 lbs for Pomskies that are half husky, half Pomeranian.
And a weight of 10 to 15 lbs for a dog that is one quarter Husky and three quarters Pomeranian.
First generation (F1) crosses vary.
Appearance Isn't Guaranteed
Some puppies look more like one parent than another.
You might get a dog that is mid-way in size. Half way between a Husky and a Pomeranian.
And with the best aspects of the temperaments of both dogs.
Or you could get a pretty large dog. A pup with the independence of the Husky.
If two of the same F1 cross breeds are bred to one another, the outcome can be even more varied.
This is why so-called designer dog breeders usually stick to creating a fresh F1 cross with each mating.
Pomsky Temperament
Those opposed to the Pomeranian Husky mix would argue that it does nothing to enhance either breed.
The point of breeding Pomskies is to produce a pretty fluffy dog. One that looks like a husky but is smaller.
The idea being this makes it more manageable.
The Husky is a wonderfully friendly dog.
But, his size and exuberance can be an issue in some homes.
Remember that first generation crosses can be unpredictable.
They don't usually turn out to be mid-way between the two breeds in every (or even any) respect.
Training and Exercising your Pomsky
Being adorable is not an excuse for bad behavior!
Pomskies need proper training and plenty of exercise to be happy and healthy.
These active dogs require daily exercise. A small yard is sufficient, but be sure that it is secure, as Huskies and Pomeranians are prone to wander.
Pomskies are intelligent, but tend to be independent. Training an independent dog, like a Pomsky, can be challenging even for the most experienced owner.
Positive reinforcement, rather than punishment, is the best approach.
Socializing and Obedience Classes
Despite their small stature, it is important to socialize your Pomeranian Husky mix. Dogs of all sizes that are not socialized properly can be a burden, or even a danger, in public.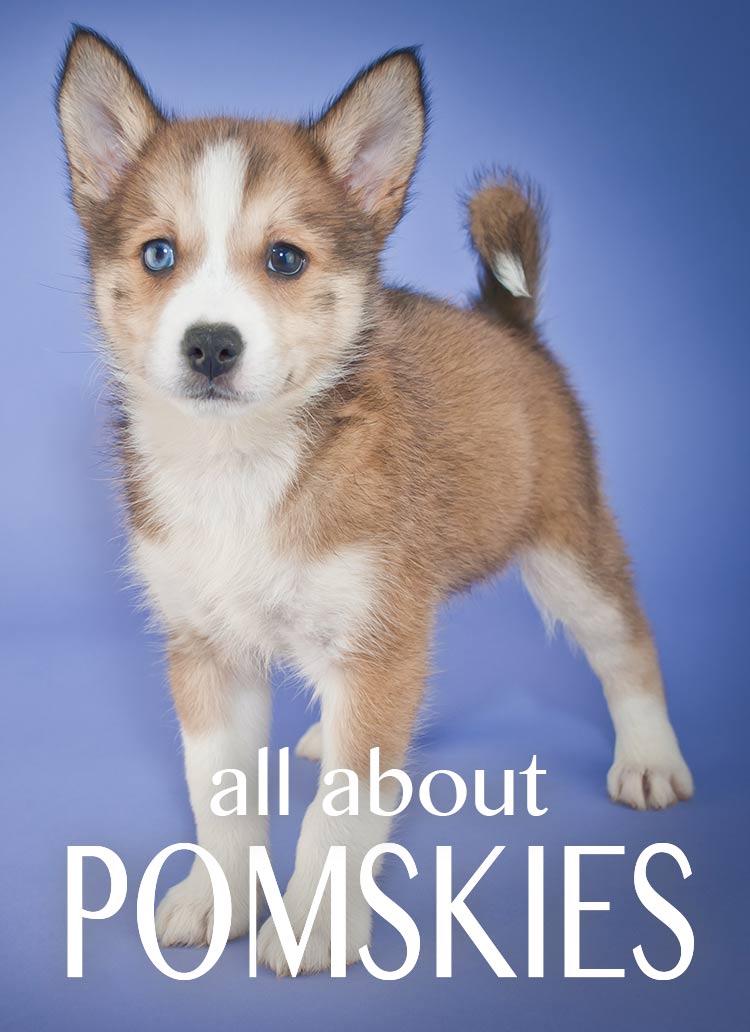 Training classes are beneficial to the dog and to the owner. Check with your breeder or local animal rescue for a list of classes near you.
Here are some other great resources to help you train your Pomsky:
Pomsky Health and Care
Mixed breeds, like the Pomsky, often suffer fewer health problems than their pure bred counterparts. It is difficult to predict which genes a Pomeranian Husky mix may inherit. Because they are a newer breed, it is especially hard to predict what health problems are most likely to occur.
Huskies are a generally healthy breed. They most commonly suffer from juvenile cataracts and hip problems.
The AKC recommends that opthamologist screenings begin at 12 months of age, in addition to regular veterinary care.
Pomeranians are prone to seizures, congestive heart failure, hypothyroidism, luxating patellas (kneecaps moving out of place), collapsing tracheas, and alopecia.
The AKC recommends cardiac and opthamologist screenings, as well as patella evaluations.
Expected lifespan
The expected lifespan of a Pomeranian Husky mix is 12 – 15 years.
But, if you choose a healthy puppy and make sure he's happy and healthy throughout life, yours could live longer!
Grooming & Feeding
The Pomsky's coat comes in a wide array of colors and textures. It may be fluffier, like a Pomeranian. It may be thicker, like a Husky. Or it may be somewhere in the middle.
Either way, a Pomsky will need regular brushing to maintain a healthy coat.
Regular brushing will also reduce shedding. Be sure to give him some extra attention during the warmer months, when shedding is at its peak.
Do Pomskys Make Good Family Pets?
It can be hard to predict what personality characteristics a Pomeranian Husky mix will inherit. Because of their independent nature, Pomskies are best suited for households made up of adults and older children.
If you choose this breed, remember they will need a lot of time dedicated to their general care, such as grooming.
Due to their high energy level, Pomskies will be happiest with an active family who enjoy being outdoors and who have lots of time for play and training.
Unpredictable Traits
Plus, it is difficult to determine what a Pomsky puppy may be like as he grows into an adult.
Some Pomskies grow larger than intended. They might need more exercise and training than expected.
Some Pomskies are fluffier than expected. They might shed more and need more grooming.
If you are prepared to take a gamble on how your puppy turns out, and don't have an ethical objection to dogs being bred for sale, then a Pomsky puppy might be a great match for you.
Otherwise, finding a full grown Pomeranian Husky mix or looking for an alternative breed might suit you better.
Rescuing a Pomsky
There's a lot of guess work involved when you get a Pomsky puppy. Will he be playful, like his Husky parent? Or a lapdog, like his Pomeranian parent?

Will he grow to be 30 pounds or 15 pounds?
Choosing a slightly older rescue can be a great way to know a little more about your dog before you bring him home.
Plus, it gives an abandoned pup a second chance at finding a home.
If you're keen to find a Pomsky puppy, we've got a great list of rescue organisations here.
Finding a Pomsky puppy
There are quite a few breeders producing Pomsky puppies.
Some of those breeding Pomeranian Husky mixes are doing it purely for profit.
Others are excited at the idea of being part of a movement to create a brand new breed of dog. They hope that the Pomsky will one day be a recognised breed in its own right.
Choosing a Breeder
You need to find a breeder who has only used healthy parents for your puppy.
A breeder who has raised the litter well. Giving them the best chance at good health and great temperament.

The puppies should be raised with love, care, and exposure to everyday family life.
This will help to make sure they are comfortable with lots of sights and sounds.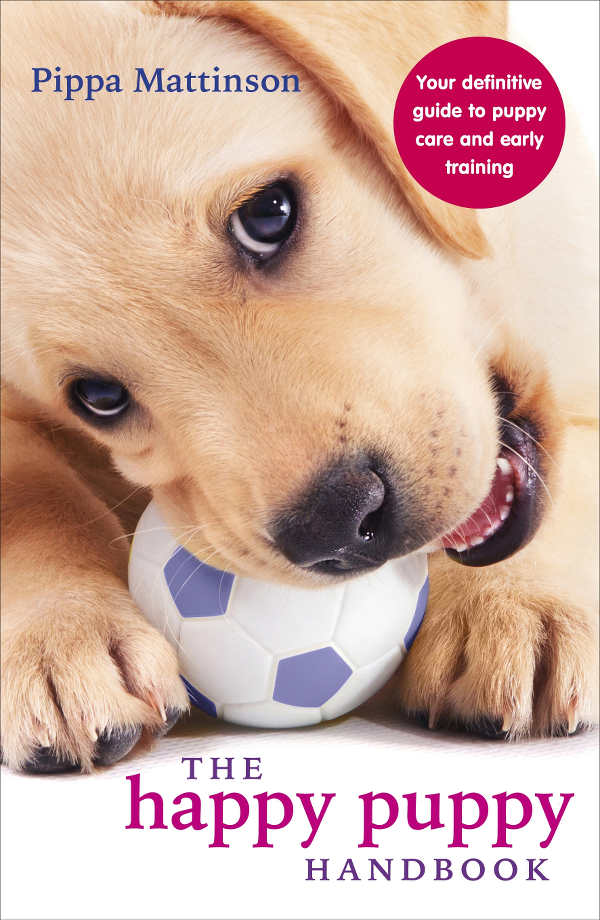 If you want more help, check out our puppy search guide.
Raising a Pomsky puppy
Caring for a vulnerable Pomsky puppy is a big responsibility. There are some great guides to help you with all aspects of puppy care and training. You'll find them listed on our puppy page.
Pomsky products and accessories
Check out some of our favorite products for Pomskys:
Pros And Cons of Getting A Pomsky
If you're still not sure whether this breed is the best fit for you, let's take a look at the main pros and cons.
Cons
May be expensive or hard to find
Can be challenging to train
Require a lot of exercise
Pros
Very intelligent
Friendly and playful disposition
Small size (but big personality!)
Breed Comparisons
You might be wondering how this hybrid compares to other breeds.
We have guides about lots of Pomeranian mixes and Husky mixes that allow you to compare and see which is right for you!
Take a look:
Similar Breeds
If you've decided this little hybrid isn't for you, you'll want to find something a little different.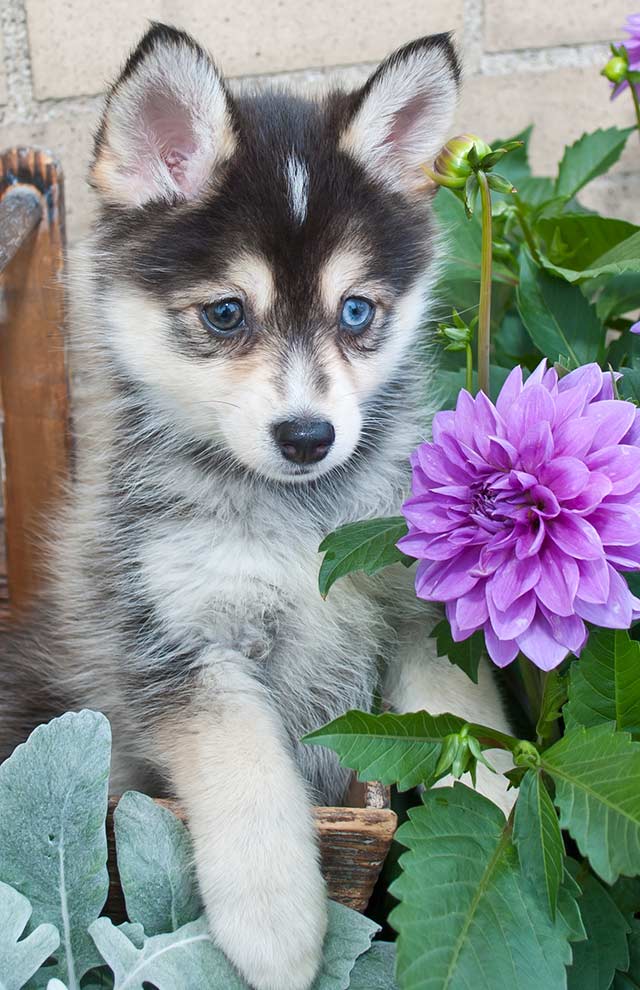 Take a look at these similar breeds to see if one of these is a better fit for your home.
Pomsky Breed Rescues
If you've decided rescue dogs are the way to go, take a look at some rescues below. You might find your perfect pup here.
USA Rescues
UK Rescues
Australian Rescues
Canadian Rescues
Know of a great rescue organization? Please share it in the comments section!
References And Resources
Gough A, Thomas A, O'Neill D. 2018 Breed Predispositions to Disease In Dogs and Cats. Wiley Blackwell
O'Neill et al. 2013. Longevity and Mortality of Dogs Owned In England. The Veterinary Journal
Schalamon et al. 2006. Analysis of Dog Bites In Children Who Are Younger Than 17 Years. Pediatrics
Duffy D et al. Breed differences in canine aggression. Applied Animal Behaviour Science 2008
Strain G. Deafness prevalence and pigmentation and gender associations in dog breeds at risk. The Veterinary Journal 2004
Packer et al. 2015. Impact of Facial Conformation On Canine Health. PlosOne
"This article has been extensively revised and updated for 2019"