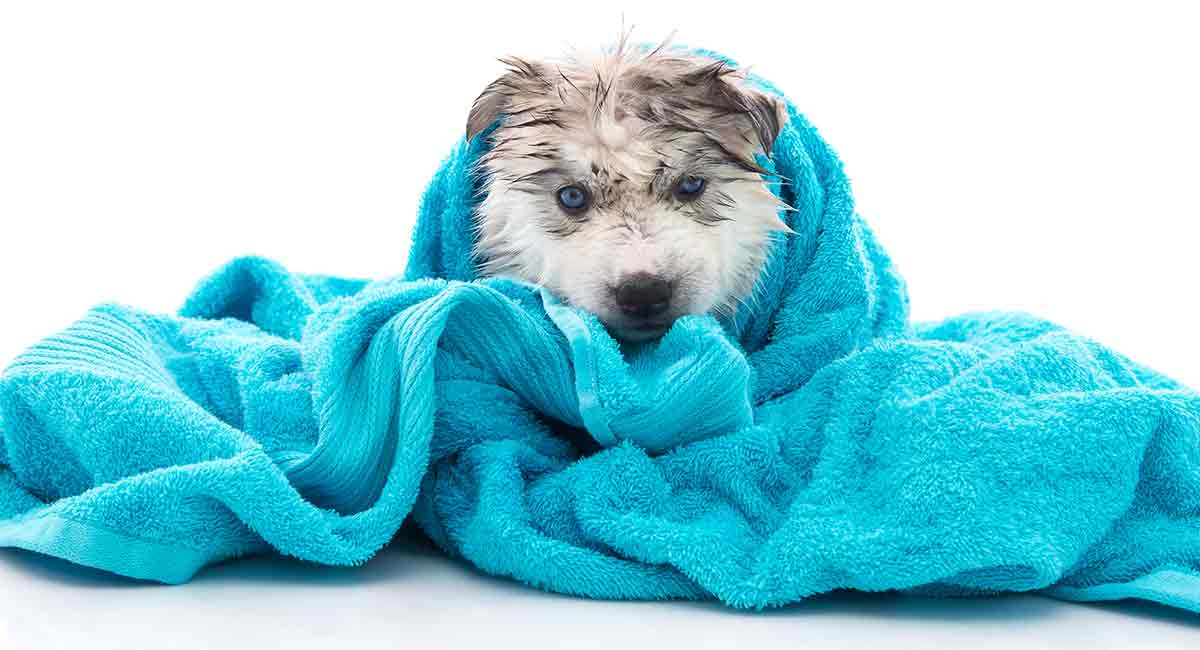 Looking for the best shampoo for Huskies? The good news is you've chosen a cost-effective pup!
Unlike some other breeds, Huskies are naturally clean dogs.
This is why many groomers and Husky enthusiasts recommend only bathing a Husky if he gets particularly dirty.
In addition to being high energy, intelligent and famous for their wolf-like fur, they only need to be bathed a few times a year.
And it's important to understand which products to use on your Husky's distinctive coat.
So, if you're here in search of the best shampoo products for your Husky dog, keep reading.
All of these products were carefully and independently selected by the Happy Puppy Site team. If you decide to make a purchase from one of the links marked by an asterisk, we may earn a small commission on that sale. This is at no extra cost to you.
Do Huskies Need Shampooing?
For anyone who has ever owned a Husky, you know that muddy mischief is a real possibility.
Siberian Huskies are active dogs bred to run and work.
They are curious about the world around them and are incredibly playful. Plus, they aren't afraid of getting dirty.
Digging through the mud, jumping in the lake and rolling in a field are just a few of a Husky dog's favorite activities.
With that said, your Husky will need a good shampooing every now and then.
But before you fill the bathtub and grab your favorite dog shampoo, there are a few things you should know about your Husky's coat.
What Type of Fur Do Huskies Have?
All it really takes is a quick glance at a Husky to see he has an incredibly profuse coat.
Born to withstand the extreme cold, the Husky's incredible fur is double layered and made specifically to protect him from the elements.
A thick, downy undercoat keeps him cool in the summer and warm in the winter, while a long outer layer protects him from cold weather, water and even the sun.
This is why it is very important never to shave a Husky.
Why You Shouldn't Shave Your Husky's Fur
While some well-meaning owners may think that shaving their Husky in the summer will help him to stay cool, the opposite is true and can even be dangerous for the dog.
This is for two reasons.
One
The first reason is that Huskies do not have pigmented skin to protect them from the sun.
Shaving their fur essentially removes their built-in sun protection and can lead to serious sunburns.
Two
And the second reason you don't need to shave a Husky, especially in an attempt to help him stay cool in the warmer months, is because your Husky's thick coat actually helps to keep him nice and cool naturally.
Furthermore, his temperature is also regulated through shedding.
In fact, Huskies shed profusely twice a year in seasonal climates.
In climates that are warmer year around, a Husky may shed year around as well.
So, unless otherwise specified by a professional you trust or your veterinarian, we recommend letting your Husky's coat be.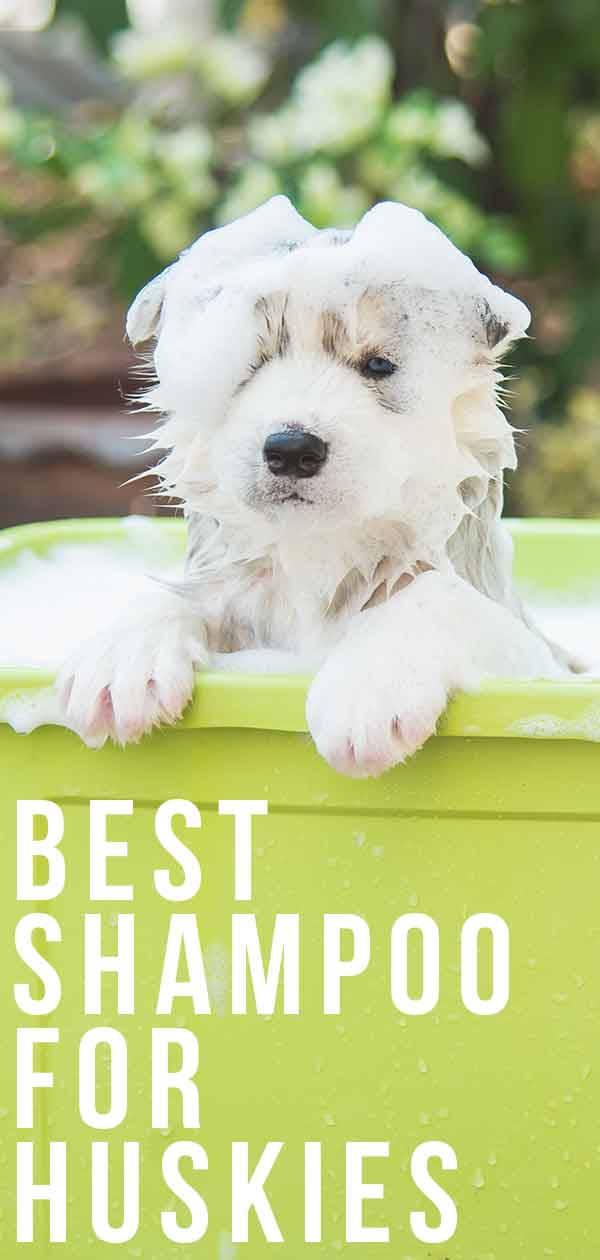 How Often Should You Shampoo a Husky?
Siberian Huskies produce natural oils that help condition their skin and coat.
And while they are naturally curious, athletic and playful dogs, Huskies are also naturally clean.
They preen themselves in what many groomers say is a cat-like manner. This means that bathing will really only be necessary once every few months. That is unless your Husky finds himself in a very mucky situation.
In fact, some Husky owners only bathe their Huskies once a year while others opt for once a month.
However, keep in mind that to over-bathe a Husky can strip him of the natural oils his body produces, which help to keep his skin and coat nice and healthy.
Furthermore, the best shampoo for Huskies will be a high-quality dog shampoo with ingredients that will work with the natural oils he produces, not against them.
But which shampoos are best for your Husky? Let's take a look at some of our favorites.
Best Shampoo for Huskies
Like we mentioned above, your Husky's coat is naturally amazing, and he deserves some amazing shampoos to keep it beautiful.
One of our favorite shampoos for the Siberian Husky's unique coat is the Friends Forever Natural Dog Shampoo*.
This shampoo is made with natural ingredients, including oatmeal and aloe to help nourish your Husky's skin and fur.
Flaxseed, tea tree oil and Lavender oils also work with the Husky's own oil production to keep his coat shiny and in shipshape.
This shampoo will also help to deodorize your Husky, which is great news if he just got loose from you and dove into the pond out back or if he had a particularly fun day rolling in the mud.
This is also an excellent product choice if your Husky has sensitive skin or allergies.
Oatmeal Shampoos for Huskies
And for the Husky who is especially stinky due to all his Husky adventures, there is the Honeydew Oatmeal Pet Shampoo for Dogs and Puppies*.
Made by Pet Pleasant, this product promises a medicated strength deodorizer while utilizing natural ingredients like oatmeal and jojoba oils, as well as provitamin B5 to help keep the skin and coat itch-free, healthy and smelling delightful.
We also love the Natural Hypoallergenic Oatmeal Dog Shampoo* for Huskies with itchy skin or allergies.
Perfect for dogs with sensitive skin, this grooming formula is made with colloidal oatmeal, helping to soothe irritation caused by allergies or dry skin.
It is also free of any harmful additives such as sulfates, phosphates and allergens.
Argan Oil Shampoo for Huskies
The last brand on our list is Rocco & Roxie Dog Shampoos for All Dogs*.
Again, this is a perfect shampoo choice for Huskies. It is made with oatmeal and Moroccan argan oil.
This shampoo is also hypoallergenic. A great choice for Siberian Huskies with sensitive skin or allergies.
When to Shampoo a Husky
We've shown you some suggestions of the best shampoo for Huskies. Now, let's go over how to properly shampoo this thick-coated breed.
As we have covered, Huskies have an incredibly profuse, double layer coat.
They shed profusely twice a year, and sometimes more in warmer climates.
Still, the amount of shedding your Husky does should not impact the amount you bathe him.
Again, your Husky really only needs to be bathed if he is particularly dirty.
How to Shampoo a Husky
If you opt to shampoo your Husky at home, you will either want to do it when it is warm enough outside to use a hose or do it in a bathtub where you can utilize lukewarm water.
Before the Bath
Expert groomers recommend having lots of treats on hand to make sure the bathing experience is pleasurable or at least tolerated by your Husky, who can be difficult to bathe if he is trying to escape the whole time.
Brush your Husky out carefully to ensure any loose hairs, dirt and debris are taken care of before soaking him completely.
Getting Wet and Lathering
Take care not to get water in his ears because excess moisture buildup can cause ear infections.
Once your Husky is nice and wet, lather him up with a generous amount of high-quality dog shampoo.
You will want to make sure you scrub down to penetrate both layers of his fur and get to the skin.
Rinsing Off
Once you feel your Husky has been adequately shampooed, you must rinse him thoroughly.
Rinsing the shampoo from your Husky's fir is just as important as choosing the right kind of shampoo to apply to it.
This is because if you leave excess shampoo to dry on your Husky's coat, it can cause skin irritation, itchiness and dryness.
Husky Shampooing Video
If you would like to see a visual representation of a groomer washing a Husky, you're in luck.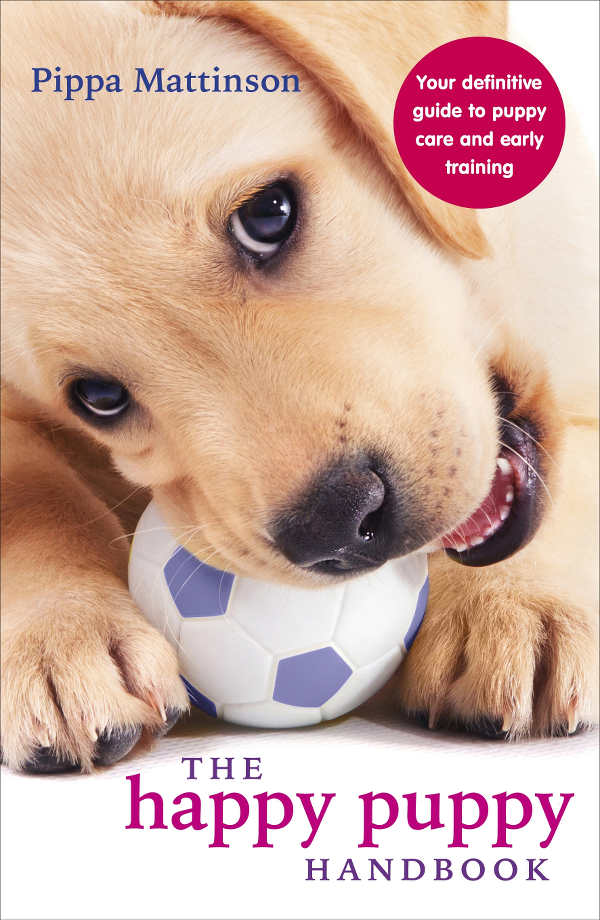 We have the perfect video of a professional Husky mom taking care to ensure her Husky is nice and clean.
Keep note of how she offers lots of praise and treats during the process. Click here to watch.
Best Shampoo for Huskies
As we've covered, the best shampoo for Huskies will be made with high-quality, natural ingredients, including oatmeal and natural oils that work with your Husky's unique coat, not against it.
Remember, Huskies have naturally clean coats and only need occasional bathing.
Luckily, the right kind of shampoo along with a proper bathing schedule will help you to keep your Husky's beautiful fur healthy and vibrant for years to come.
Which shampoos do you like best for your Husky dog? Let us know in the comments below.
Affiliate link disclosure: Links in this article marked with an * are affiliate links, and we may receive a small commission if you purchase these products. However, we selected them for inclusion independently, and all of the views expressed in this article are our own.
References and Further Reading:
Dallas, S., et al., 2013, "Grooming Manual for the Dog and Cat"
"Groom Me, Please," Forever Husky
Housley, D.J.E. and Venta, P.J., 2006, "The Long and the Short of It: Evidence that FGF5 is a Major Determinant of Canine 'Hair'-Itability," Animal Genetics
"Official Standard of the Siberian Husky," The American Kennel Club
Reme, C.A., et al., 2005, "Efficacy of an Ammonium Lactate-Piroctone Olamine Shampoo for the Management of Dry Scaly Seborrheic Disorders in Dogs," Virbac Animal Health
Schilling, J. and Mueller, R.S., 2013, "Double-Blinded, Placebo-Controlled Study to Evaluate An Antipruritic Shampoo for Dogs with Allergic Pruritus," BMJ Journals, Vet Record
Schuele, G., et al., 2008, "The Effect of Water and Shampooing on the Efficacy of a Pyriprole 12.5% Topical Solution Against Brown Dog Tick (Ctenocephalides Felis) Infestations on Dogs," Veterinary Parasitology, Vol. 151, Issues 2–4, pgs. 300-311
"The Siberian Husky," The Siberian Husky Club of America, Inc.