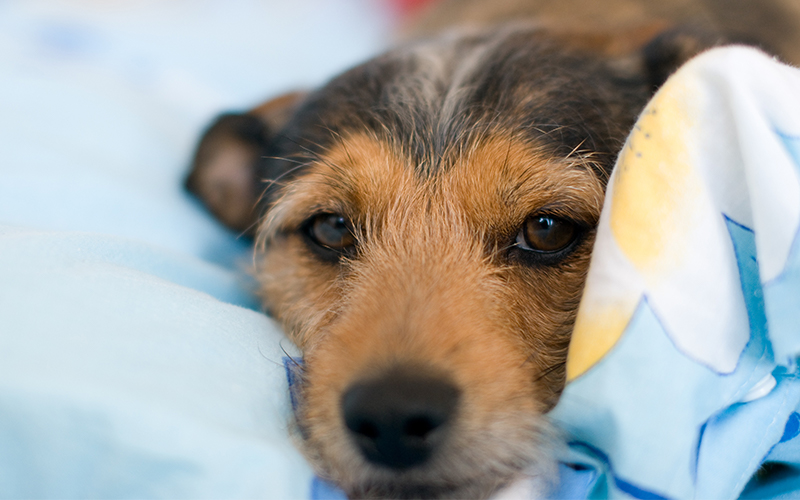 Welcome to our great small dog beds guide! Whether you are looking for a tiny bed for your pup to cosy down into, or a place to sleep for your small breed dog. We have reviews of the best small dog beds around.
Not only are small dog beds perfect for puppies, they also work well for small breeds like Chihuahuas, Toy Poodles, Pomeranians, Shih Tzus and many more besides.
If your dog is on the small side, we recommend dog beds for small dogs.
Your dog or puppy will feel more comfortable and safe having her own personal doggy bed rather than rolling around in one that's much too large.
There are a lot of different little dog beds out there, so let's begin!
All of these products were carefully and independently selected by the Happy Puppy Site team. If you decide to make a purchase from one of the links marked by an asterisk, we may earn a small commission on that sale. This is at no extra cost to you.
Cute small dog beds
Looking for an adorable little dog bed? HotelPaw Shark Pet House with Removal Bed Cushion Mat* is one such cute dog bed for small dogs.
This doggy bed looks like an open shark's mouth, where your pup ironically crawls into it for comfort and safety.
It's a fun themed little dog bed that comes in sizes small and medium.
Do you think of your dog as a little princess? Well then Pet Bed makes a Small Coral Fleece Lace Heart-shapes Princess Pet Bed* that would be perfect for your little dog.
It comes in eight different colors and looks absolutely adorable.
Another cute dog bed we recommend is also a shark themed dog bed. It is very cozy and made for dogs 8 pounds or less. So puppies would absolutely love it!
Extra small dog bed
Is your little dog extra small, say 6 pounds or under?
Well then we have a pet bed that features ultra soft fleece cover and comfortable polyester padding in the cushion.
It is called the MidWest Deluxe Bolster Pet Bed for Dogs and Cats*.
This tiny dog bed is perfect for keeping your miniature breed's crate nice and snug. Or for just using it around the house.
Another highly rated toy dog bed is the TrustyPup Luxury Liner Pet Bed Deluxe Crate Liner*.
It is also designed for use in crates, kennels, or as a deluxe bed. It features a cushioned padded perimeter for added comfort and support.
If you are looking for a cute and round small puppy bed, then the Aspen Pet Round Bed with Animal Print* is for you.
It has raised sides to reduce exposure to drafts.
Composed of recycled polyester fiber fill that will make your pet feel like she's floating on a cloud.
It is also conveniently machine washable.
Pink dog beds for small dogs
Do you have a pup that you want to get a pink dog bed for?
Best Friends by Sheri makes a very popular one called the OrthoComfort Deep Dish Cuddler*.
It looks like your little girl could just plop into it and fall asleep straightaway.
Furhaven Pet NAP Oval Lounger Bed* is also a highly rated pink doggy bed. It has a luxurious faux fur cover which is soft on your doggy's nose and paws.
The fiber-filled insert pillow easily removes for more frequent cleaning. The front is cut-out for easy access for your pup.
It also comes with a removable zippered cover so you can frequently wash it to keep it looking good and smelling fresh.
Want a cute pink strawberry shaped dog bed*? Spring Fever makes one for small dogs.
It comes in multiple sizes and colors to help you pick out the right one for your little dog.
Luxury small dog beds
Pet Trendy makes small beds for dogs* that looks very trendy and comes in a modern designer inspired pattern.
It is thick and ultra-soft with a reinforced center that holds up against sharp teeth and nails. It is easy to clean and comes in multiple sizes and colors.
Unique dog beds for small dogs
Want a unique dog bed for your beloved doggy? YML makes one that certainly stands out.
It is a Pineapple Pet Bed House* and looks super adorable.
Imagine a brightly yellow, cushioned pineapple with an entrance for your pup to enter. How cute is that?
Or do you want a small dog bed that is shaped like a sofa? Furhaven Pet makes an Orthopedic Dog Sofa Bed* that is highly rated for comfort and stylishness.
It boasts an orthopedic foam base, which supports joints and soothes pressure points for a deep restful sleep.
It comes in eight different colors and four different sizes so you can pick the best small dog bed for your pup.
Armakat Burrow Pet Cat Beds for Small Dogs* makes a neat looking dog bed. It looks like a giant sleeve with one end closed off.
The faux suede and faux fur with 100% poly fill makes this bed very comfortable to nest in.
Covered dog beds small dogs
Does your doggy want a feeling of extra protection?
Well Ethical Pets Sleep Zone Cuddle Cave* is perfect for a small dog to feel safe in. It looks like a cave with a plush interior fill.
Best Pet Supplies Home Sweet Home Bed* looks like a small padded doghouse and makes for a perfect dog bed with a cover.
It is made from ultra soft polyfoam and is covered with a high quality poly fabric, providing a secure and cozy environment for your pup.
Do you want dog beds for small breeds? PLS makes a cutesy covered pet bed* that looks like a pouch. This bed comes in small and extra small.
Cool dog beds for small dogs
Does your little dog get overheated easily?
If you want a pet bed that is elevated off the ground, then the Gale Pacific Coolaroo Elevated Pet Bed* might be just the right dog bed for you.
It is designed to increase airflow on all sides of the bed, keeping your pet cool. The suspended platform is wonderful on reducing impact on pressure points and joints.
It is also mite, flea, mold and mildew resistant. It is highly rated and has over 10,000 reviews!
Another option for a cool dog bed would be the K & H Cool Bed III Cooling Dog Bed*.
This bed wicks heat away from your pet and the cooling mat absorbs the heat produced by your pet and converts it to room temperature.
This bed happens to be comfortable for pets with arthritis, skin disorders, and hip pain.
It can be used both indoors and outdoors.
Round dog beds for small dogs
Looking for a round dog bed for your pooch?
The American Kennel Club makes one called the AKC Casablanca Round Solid Pet Bed*, which is 100% polyester, machine washable and dryable, and very soft and cozy for your little pup.
Precision Pet also makes one that is a round shaped dog bed*. It has a cool zig-zaggy striped pattern to it.
It is ideal for small breeds or puppies that just like to curl up when they sleep. The texture is soft and the cover is made of a rich velour fabric.
Looking for a puffed up round dog bed? Happy Hounds Scout Deluxe Round Dog Bed* is very popular and is filled with 100% polyfiber fill.
It is water resistant and heavy-duty microfiber fabric. The cover is also removable and machine washable to keep your dog bed fresh and clean.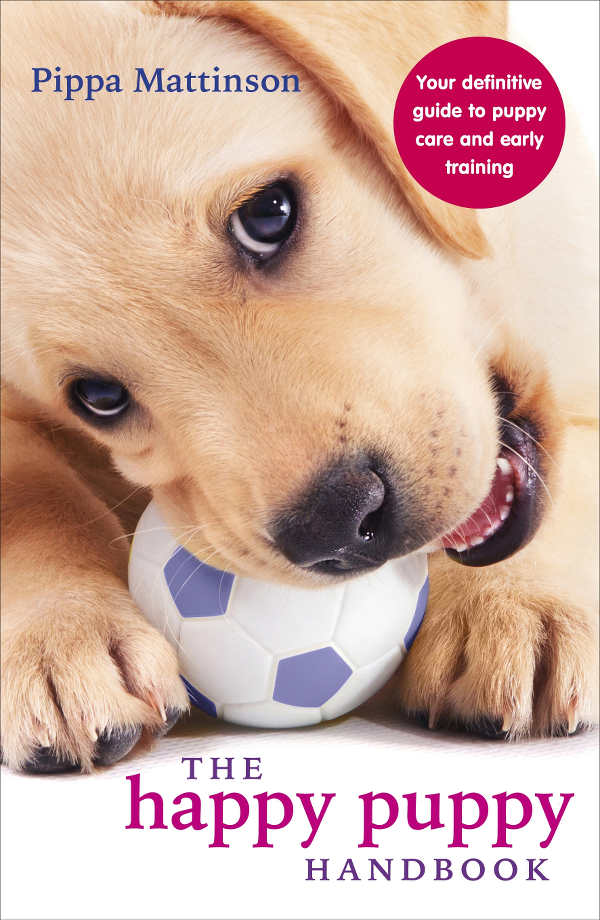 Igloo dog beds for small dogs
Do you want your dog to feel safe sleeping in an enclosed space? Why not choose an igloo dog bed*?
They not only look adorable, your dog can crawl into them and really feel at home in one of these.
Best Pet Supplies makes one that is highly rated for plushness and durability*. It is lined with soft polyfoam-lining and a plush pillow for extra comfort.
The cushion also comes out for easy cleaning.
Best Friends by Sheri Pet Igloo* is an excellent choice, not just because it provides privacy and warmth, but also because it comes in 12 different colors!
Why not choose one that fits your décor?
If your doggy is less than 15 pounds, we can also recommend getting the PAWZ Road Pet Igloo Cat Bed for Cats and Small Dogs.
Some of the advantages include the ability to machine wash and dry, durable and flexible and lightweight foam construction, and a removal insert for easy maintenance.
Best dog beds for small dogs
The best dog beds for small dogs should take into account multiple factors: size, cost, padding, coverage, and warming or cooling capabilities.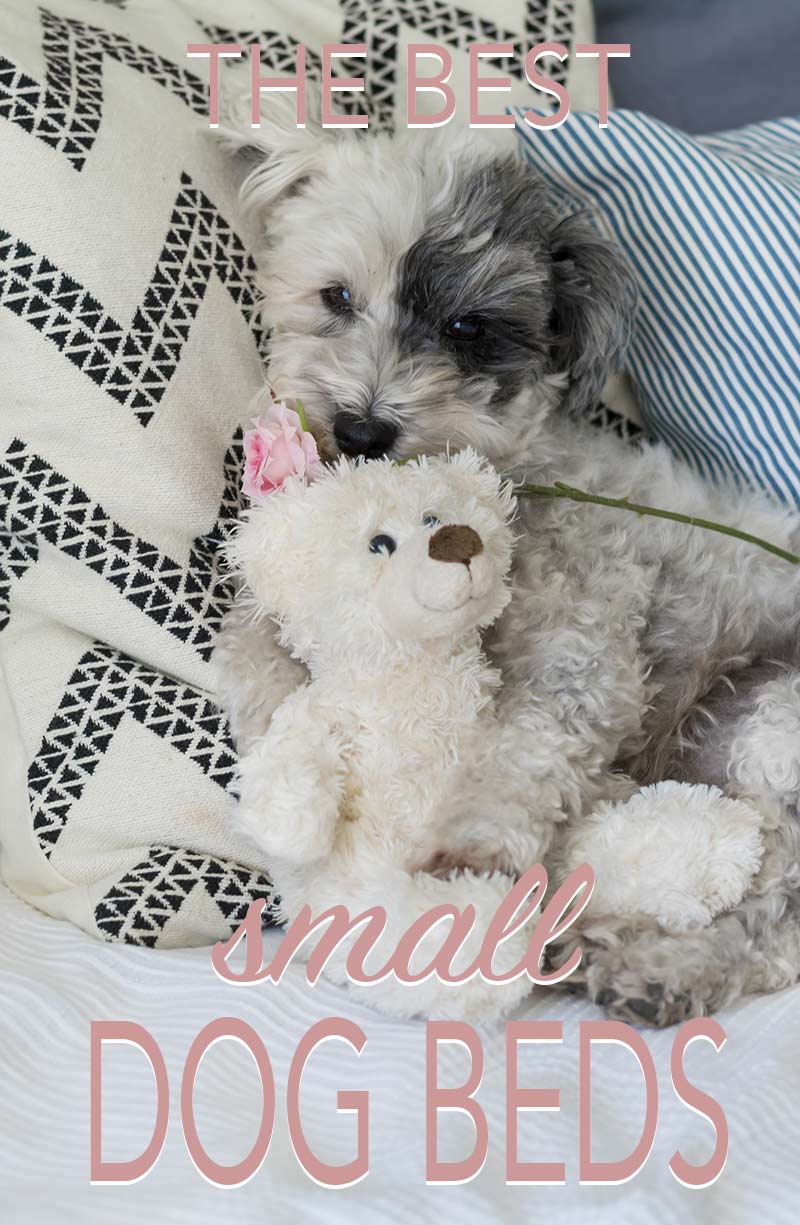 We have covered many different styles you can choose from.
Hopefully you have found them helpful in finding the right dog bed for your pooch.
How about you?
Do you have a dog bed for small breeds that you would highly recommend? If so, why not share it with us? We would love to hear from you!
Plus, if you're looking for more small dog articles, check out our favorite names for small dogs! 
Affiliate link disclosure: Links in this article marked with an * are affiliate links, and we may receive a small commission if you purchase these products. However, we selected them for inclusion independently, and all of the views expressed in this article are our own.