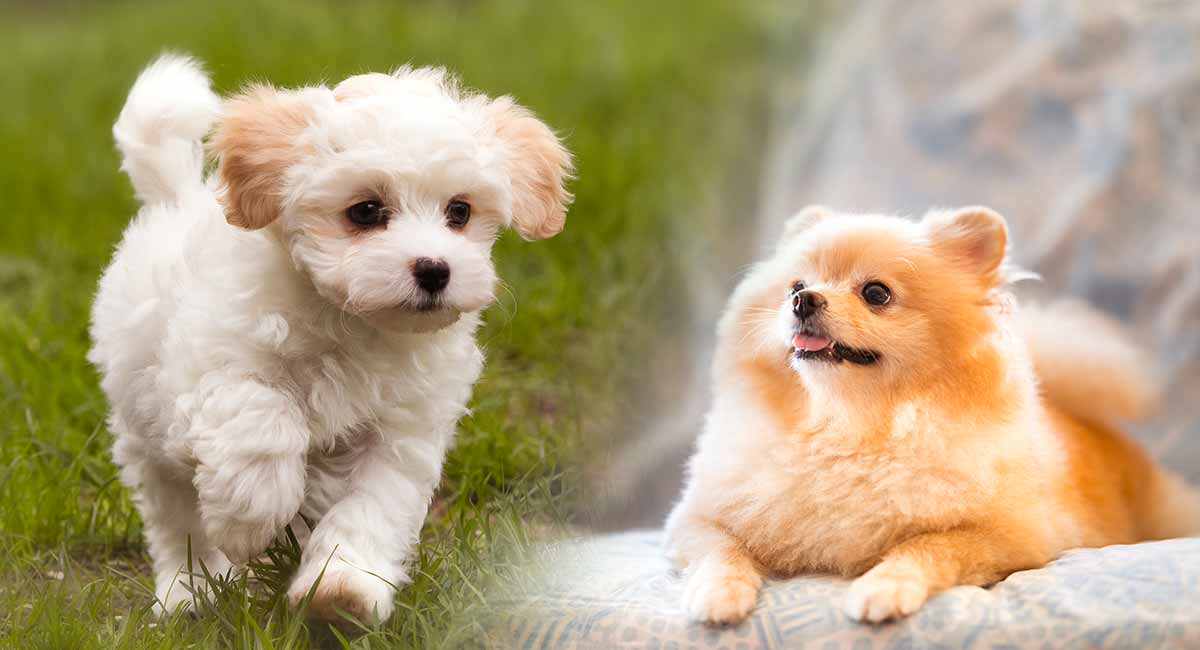 Toy dog breeds are the smallest group of dogs. Popular toy dogs include the Chihuahua, Chinese Crested, Havanese, Italian Greyhound, Maltese, Papillon, Pomeranian, and Yorkshire Terrier.
Unfortunately, their small stature can come with some big health problems.
And while Toy breeds all share their petite size in common, they also have their own individual strengths and challenges.
Toy Dog Breeds
Toy dog breeds are so easy to love!
Some of the tiny Toy dog breeds are so teensy in puppyhood you almost can't believe they are real! And despite the extensive health problems that some of them face, it's difficult to turn down something so adorable.
As you read through this list of the most popular small Toy dog breeds, you may find one breed sounds like a better fit for your lifestyle than another.
And that is exactly what we hope this article will assist you with. We aim to help you to learn more about the top toy dog breeds so you can select the best toy dog breeds for you and your circumstances.
What Is A Toy Dog?
When we think of toy dog breeds, many of us think immediately of super-tiny dogs, weighing less than ten pounds. These are included in the AKC's list of the Toy group breeds.
But, as a matter of fact, small dog breeds include any dogs that are under 21 pounds. And when you have a breed that tends toward this smallness, it's entirely possible that you'll come across a "toy" dog that isn't necessarily listed under the Toy group.
Toy dogs are a lot like their larger counterparts, however. Breeds are often originally bred for specific purposes, such as hunting, and only later are the dogs gradually bred down into a Toy size.
This is important to remember, as adopting a Toy dog doesn't necessarily mean that you'll get a lap dog or one that is content to be carried around in your handbag.
Another vital consideration is the issue of health among Toy breeds. So let's start off with the major concerns that may be faced within this group.
Health Issues In Toy Breeds
Even the healthiest, hardiest, and best Toy dog breeds will require special attention and care in certain key areas due to their extremely small size.
This is due at times to the extensive inbreeding that occurs in order to get very tiny dogs.
And Toy dogs also have the natural handicap of being quite small and delicate.
But there are other issues at hand as well.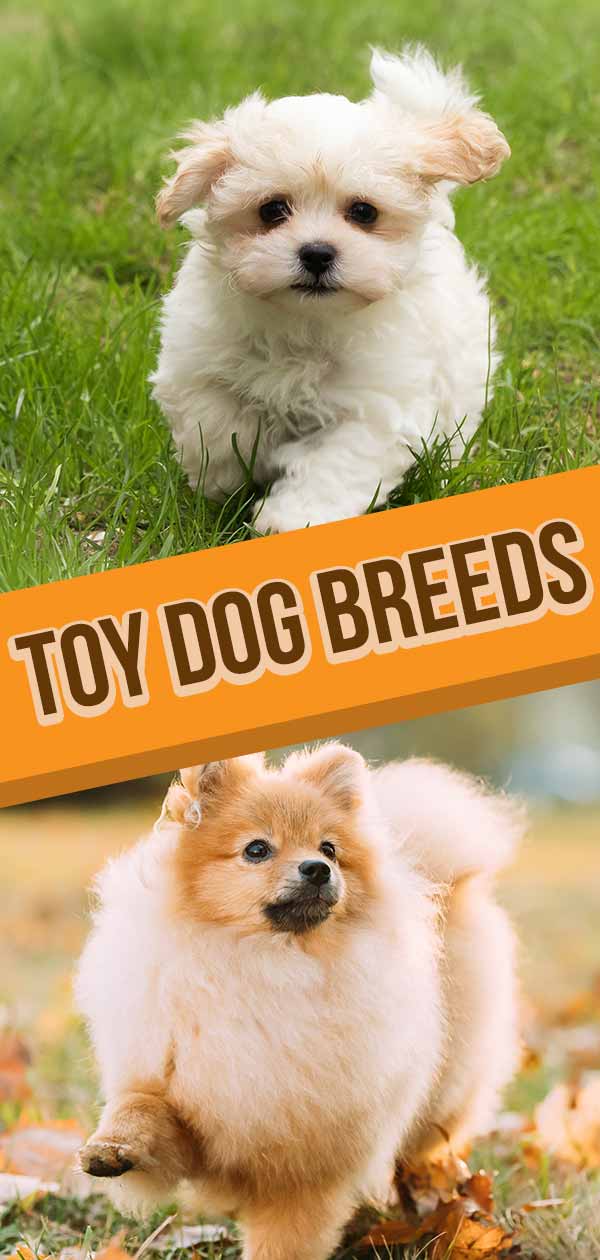 Collapsed Trachea
One common issue that Toy dog breed owners must always be aware of is the fragility of these dogs' necks.
Tracheal collapse and damaged cartilage can quickly occur just by using the wrong type of leash and collar system!
This is one of the reasons why many vets recommend a halter and leash rather than a collar for small dogs.
Dental Issues
Toy dog breeds can also struggle with dental issues, since often the baby teeth do not fall out like they are supposed to as the adult teeth grow in.
This is a situation your veterinarian can help with by manually extracting the baby teeth to make room for the adult teeth.
Hypoglycemia
Hypoglycemia (low blood sugar) is another common issue among Toy dog breeds.
Because these dogs are so small, they need to eat quite frequently (often 4 to 6 times daily even in adulthood) to maintain their blood sugar.
For this reason, it is always wise to keep some nutritional supplement to give to your tiny pup right away if she starts showing signs of low blood sugar, such as listlessness, lack of coordination, shivering, seizures, or loss of consciousness.
Consult with your veterinarian as to what they recommend. You may be able to use something like sugar syrup for the supplement.
Body Temperature
Yet another potentially serious health issue in Toy dog breeds is low body temperature.
Here again, it is the dog's small size that causes the severity of the issues – these dogs can really struggle to stay warm enough on their own, especially in colder climates.
When you see a Toy dog wearing a little outfit, it certainly does look really cute. But often that adorable outfit has a much more functional purpose – keeping that tiny Toy dog warm!
Some people love to dress their pets up and other people do not. However, if you choose to care for a Toy dog breed, you may need to be willing to buy your pup some warm clothing.
Accidents
Finally, a Toy dog's tiny size can create a situation ripe for a heartbreaking and ultimately preventable accident.
Stepping on, tripping over, or falling onto a Toy dog can be instantly fatal to your tiny pet. Rough handling or play, even if it wouldn't be rough for a larger dog, can have the same deadly effect.
Being aware of these types of special size-related health issues can help you decide if owning one of the cutest Toy dog breeds on the planet is worth the potential health risks you and your new pup will face.
If you do decide to proceed, careful pre-planning, lots of research, and attentive preventative veterinary care can go a long way towards minimizing the known risks of caring for a Toy dog!
So which one will be best for you? Let's check out some of these Toy breeds.
Chihuahua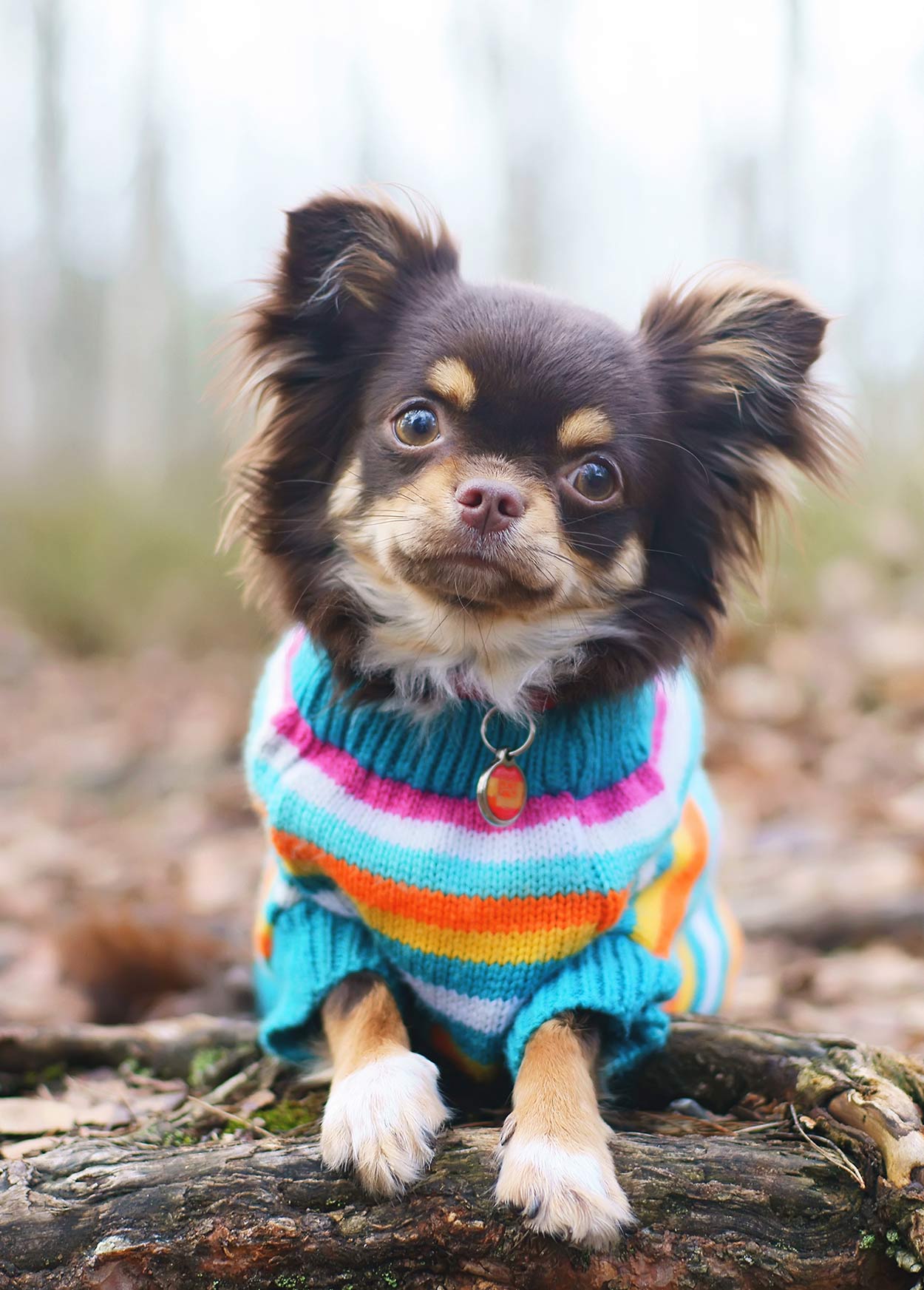 Who doesn't know the Chihuahua? This petite powerhouse is perhaps one of the most popular Toy dog breeds of all time!
And in fact, the Chihuahua currently holds the number 30 spot out of the American Kennel Club's (AKC) 192 most popular purebred dog breeds list!
These teensy dogs seldom weigh more than six or seven pounds yet offer a robust lifespan of 14 to 16 years – which is music to a dog lover's ears!
Today, the Chihuahua has become known as a "purse dog" in certain (celebrity) circles, but truly, this is a dog whose personality is far bigger than any purse could hold.
In Mexico, the Chihuahua is a national symbol and treasure! Elsewhere in the world, the Chihuahua is also known as a loyal, loving, and great family dog.
Chihuahua Health Issues
The Chihuahua does have some known genetic health issues.
The Canine Health Information Center (CHIC) recommends that breeders test parent dogs for heart and eye issues and patellar luxation (trick knee).
Another health issue to be aware of among Chihuahuas is hydrocephalus, also known as "water on the brain."
There is disagreement among breeders about whether a hereditary soft spot near the crown of the head called a "molera" may make hydrocephalus more prevalent in Chihuahuas.
Chinese Crested
The Chinese Crested is one of those singular Toy dog breeds that, once seen, is never forgotten.
Unusual for their spotted and mostly hairless skin, broken only by wild tufts of hair on the forehead, ears, and lower hocks, these small dogs weigh just 8 to 12 pounds. They currently rank 77th out of 192 purebred dogs on the AKC list.
What many people don't know is that there actually is a Chinese Crested breed that has hair – this breed is called the Powderpuff. The coat is very fine and silky soft.
The Chinese Crested (of either line) is very playful and loving. They are smart and attentive, generally wanting to be with their people as much as possible. These pups make great family dogs! Both lines can live 13 to 18 years.
Chinese Crested Health
The Chinese Crested doesn't tend to do well in cold weather – this includes the Powderpuff line, as the coat is very thin. It will be important to make sure your Chinese Crested has warm winter clothes and warm bedding!
The Chinese Crested, like most purebred dog breeds, has some known genetic health issues.
The CHIC recommends that breeders test parent dogs for eye and heart issues, congenital deafness, Legg-Calve-Perthes disease, and patellar luxation.
Havanese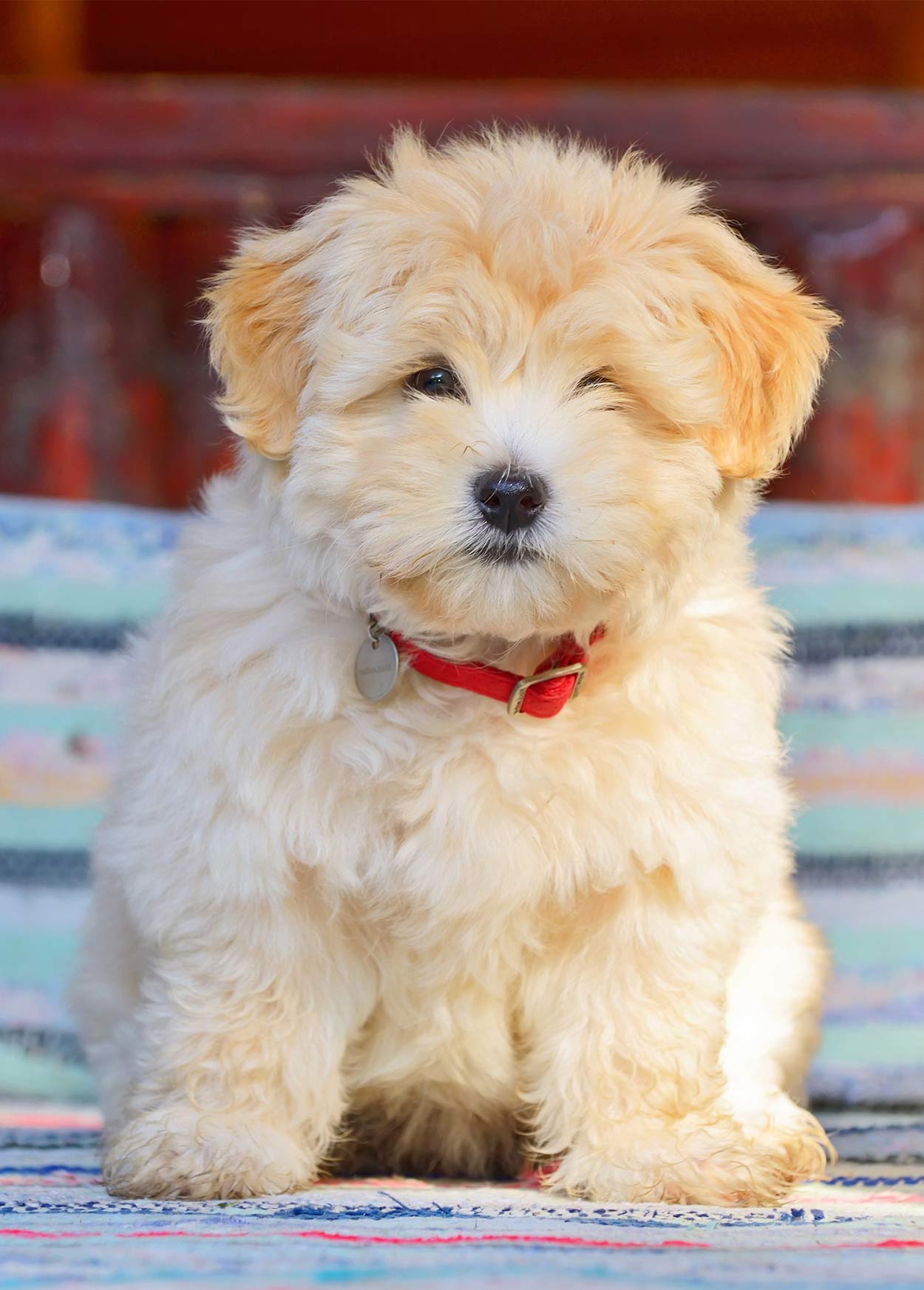 The Havanese is unique on the toy dog breeds list in that it is the sole representative that hails from Cuba! These spunky, lively, smart little dogs are absolutely adorable, with their plush long coats and big brown eyes!
The Havanese can range in size from 7 to 13 pounds. Happily, these dogs are quite long-lived, with an average lifespan ranging from 13 to 18 years.
One thing you will want to know in advance about the Havanese dog is that their lovely, silky coat needs daily brushing and grooming.
You can opt for a short haircut to reduce this maintenance, but you will still need to make sure you have time daily for at least a quick brushing session!
Havanese Health
Like the other purebred toy dog breeds listed here, the Havanese does have some known heritable health conditions.
The CHIC recommends testing parent dogs for hip dysplasia, patellar luxation, congenital deafness, and eye issues.
One other health issue to watch for is chondrodysplasia – canine dwarfism, or CD.
When a Havanese has CD, the legs are shorter than they should be. This is not a breed standard (unlike with Dachshunds, a breed that has naturally short legs). Dogs with CD should not be used to breed!
Italian Greyhound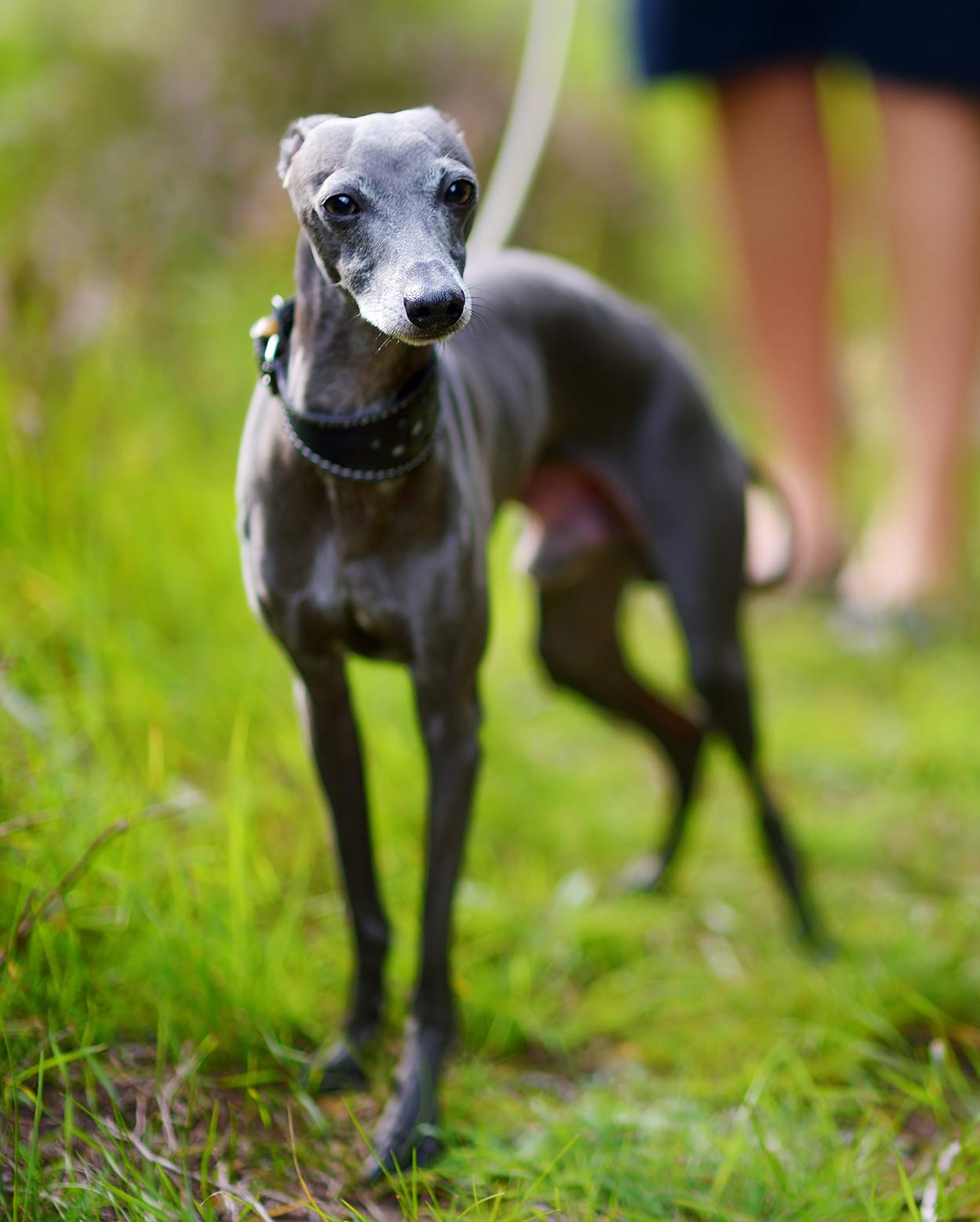 If you have ever watched a lean, lithe, and graceful Greyhound run and wished you could get up close and personal with such an amazing animal, the Italian Greyhound might be your perfect choice out of these small Toy breeds!
The Italian Greyhound is quite literally a mini Greyhound – a lovely little lap hound who also loves to race and run!
The Italian Greyhound is quite tall among the Toy puppy breeds, standing up to 15 inches high in adulthood, but weighs between 7 and 14 pounds like many adult Toy dogs.
These dogs can live, on average, 14 or 15 years.
Italian Greyhound Health
The Italian Greyhound can have some genetic health issues.
The CHIC recommends that breeders have parent dogs tested for Legg-Calve-Perthes disease, hip dysplasia, eye issues, autoimmune thyroid dysfunction, and patellar luxation.
Of special note: It is vital to make time daily to care for the Italian Greyhound's teeth.
Maltese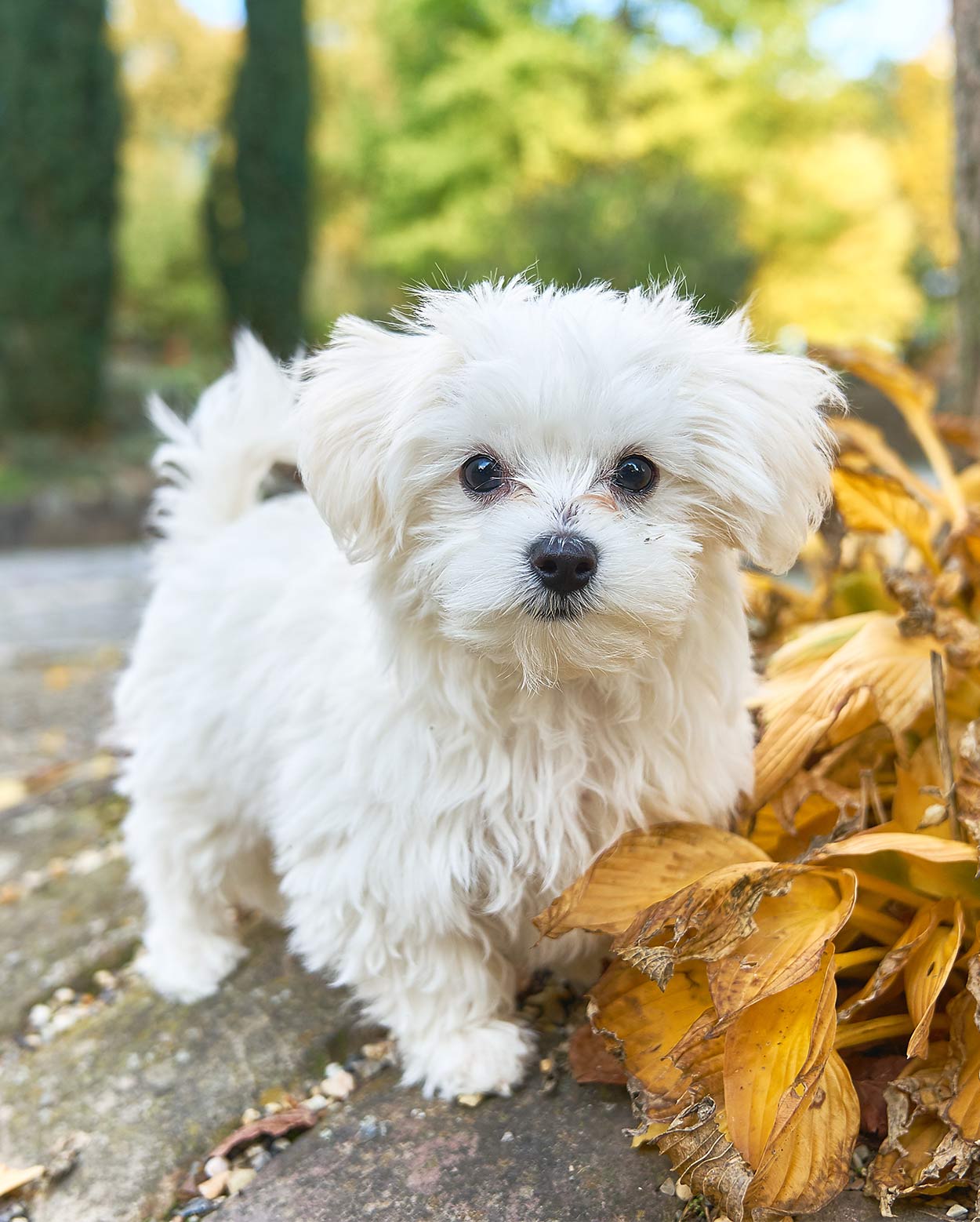 The Maltese stands apart even among white Toy dog breeds, with its pure, lush, jaw-droppingly silky white coat!
These dogs can literally look like a moving carpet to the uninitiated, gliding along with every appearance of not even having paws under all that hair!
The Maltese calls the tiny island country of Malta home, although at this point it has lived all over the world for many millennia.
These dogs weigh less than 7 pounds in nearly every case. Yet what they lack in size, they more than make up for in presence and personality!
Maltese Health
The Maltese can live anywhere from 12 to 15 years.
The CHIC recommends that breeders test parent dogs for heart issues and patellar luxation.
The American Maltese Association points out that other health issues affecting this breed can include deafness, puppy strangles (a skin condition), thyroid dysfunction, liver shunt, gastrointestinal issues, eye issues, and collapsed trachea (always a hazard in very tiny dog breeds with slim, fragile necks).
Papillon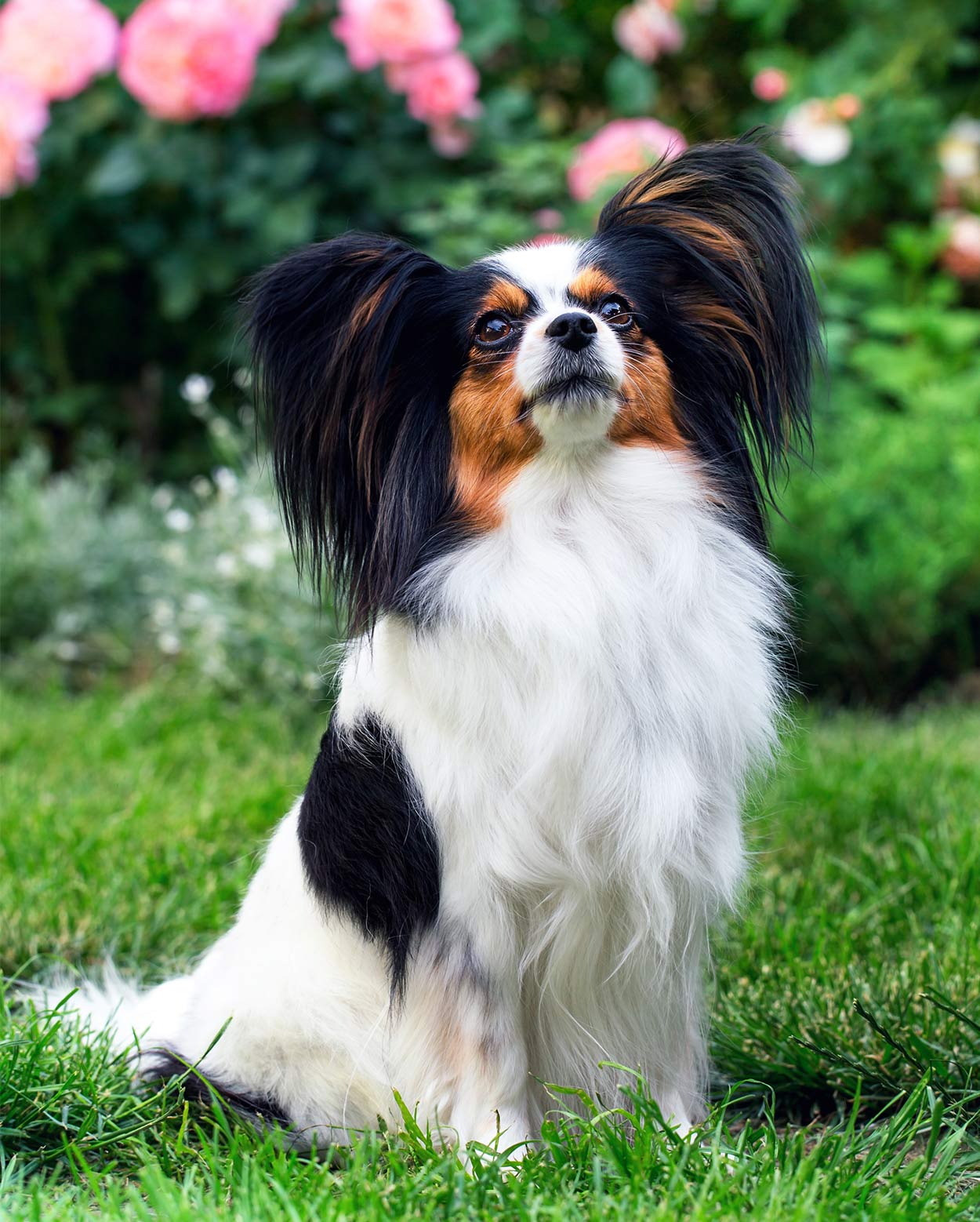 The Papillon may be tiny, but he is a mighty athlete!
These dogs seemingly have it all – the body of a canine supermodel and the heart of an Olympian! Currently the Papillon is ranked 53rd out of the AKC's 192 most popular purebred dog breeds. This tiny dog weighs just 5 to 10 pounds but can live from 14 to 16 years!
There are two lines for the Papillon dog breed: the Papillon has the characteristic upright "butterfly" ears, and the Phalene has ears that droop downwards. Both have delicate arced tails and silky soft long-haired coats.
However, neither the Papillon nor the Phalene needs a lot of brushing and grooming because their coat is a single layer.
The Papillon is very smart and loves to run and play with people as well as with other pets. These dogs can be great family dogs – they like other family pets, kids, and adults equally!
Papillon Health
The Papillon really needs the companionship of their human family and won't do well when left alone for long periods of time.
Healthwise, the Papillon does have some known heritable health issues you should watch for.
The CHIC recommends that breeders have their parent dogs tested for patellar luxation, heart issues, and eye issues.
The Papillon Club of America is also very active in genetic research and has even launched its own genetics website to keep breeders and owners apprised of ongoing genetic studies and new research.
This is a great place to learn about new genetic issues and do your research before choosing a puppy from a breeder.
Pomeranian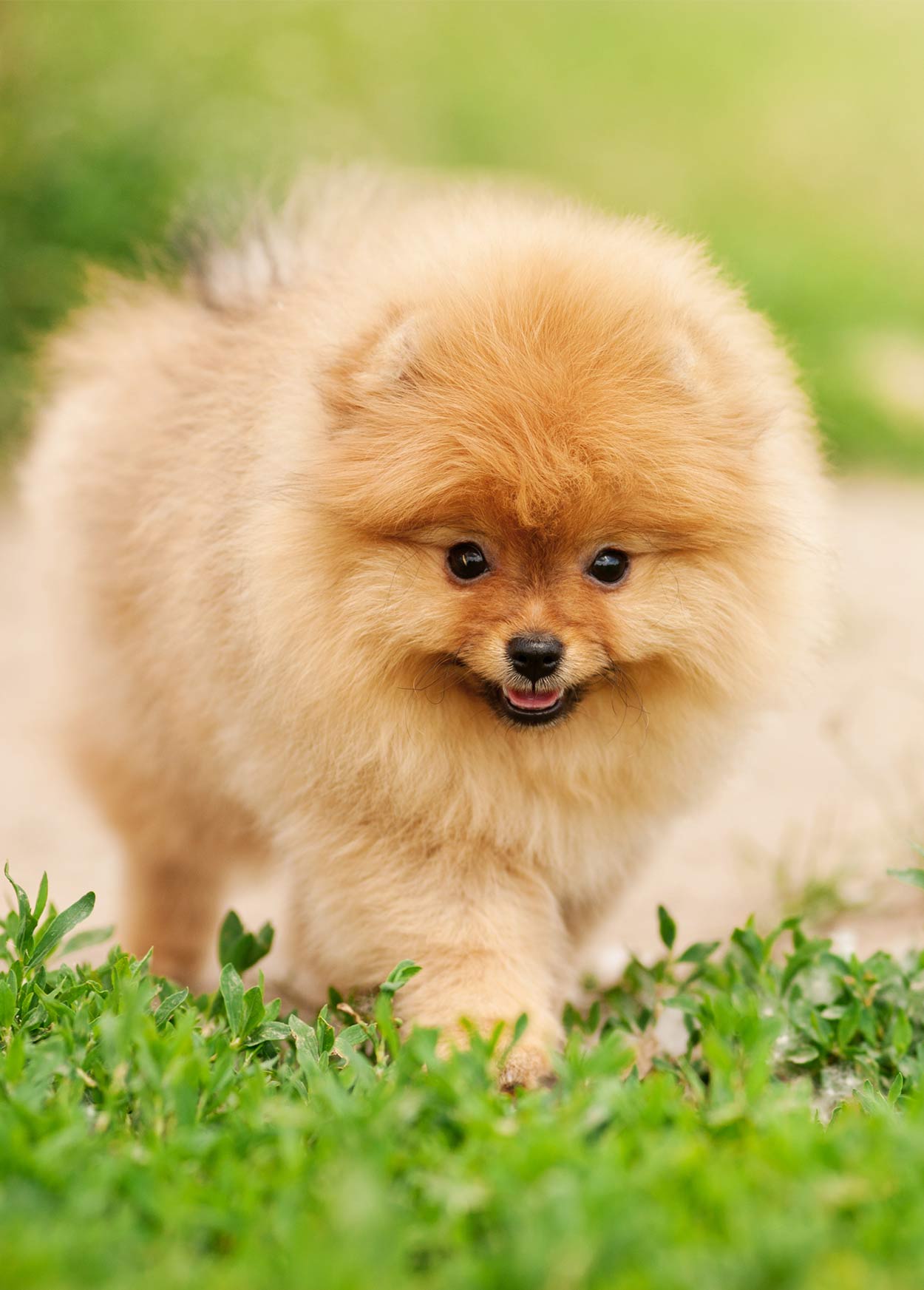 The fluffy Pomeranian is one of the smallest of all the Toy dog breeds, weighing just 3 to 7 pounds as an adult.
However, the "Pom," as fans often call this dog, can live as long as 16 years!
The Pomeranian is 22nd on the AKC's list of the 192 most popular purebred dog breeds. Like many teensy dogs, the Pomeranian doesn't seem aware of her size, and certainly doesn't let it stop her from taking charge of family life!
Because of their size and smarts, these dogs are also well-known escape artists, so be sure your yard is secure before letting your Pom outside! You should also never leave your Pom outside unattended, as they are small enough to make easy pickings for a passing hawk.
Pomeranian Health Issues
The Pomeranian does have certain known heritable health issues.
The CHIC recommends that breeders have parent dogs tested for heart and eye issues, patellar luxation, hip dysplasia, Legg-Calve-Perthes disease, and autoimmune thyroid dysfunction.
The American Pomeranian Club also mentions a condition that affects mostly male Pomeranians called "black skin disease" (also known as Severe Hair Loss Syndrome or SHLS).
Some Pomeranians can also develop seizures, although at this time researchers have not identified a single genetic marker to test for in advance.
Toy Fox Terrier
The American Toy Fox Terrier is perhaps the best known and most popular of the Toy terrier breeds, with the possible exception of the Yorkshire Terrier (see the next section below).
The American Toy Fox Terrier currently ranks 112th out of the AKC's 192 most popular purebred dog breeds.
This tiny terrier typically weighs only 3.5 to 7 pounds fully grown but can live as long as 15 years.
These dogs got their start as talented ratters aboard ships and in barns, but today they have mostly graduated to a luxurious life as indoor lap dogs who love to entertain "their" people.
Toy Fox Terrier Health
The Toy Fox Terrier does have some known genetic health issues.
The CHIC recommends that breeders test parent dogs for patellar luxation, primary lens luxation, congenital hypothyroidism with goiter, Legg-Calve-Perthes disease, and von Willebrand's disease (a blood disease).
Yorkshire Terrier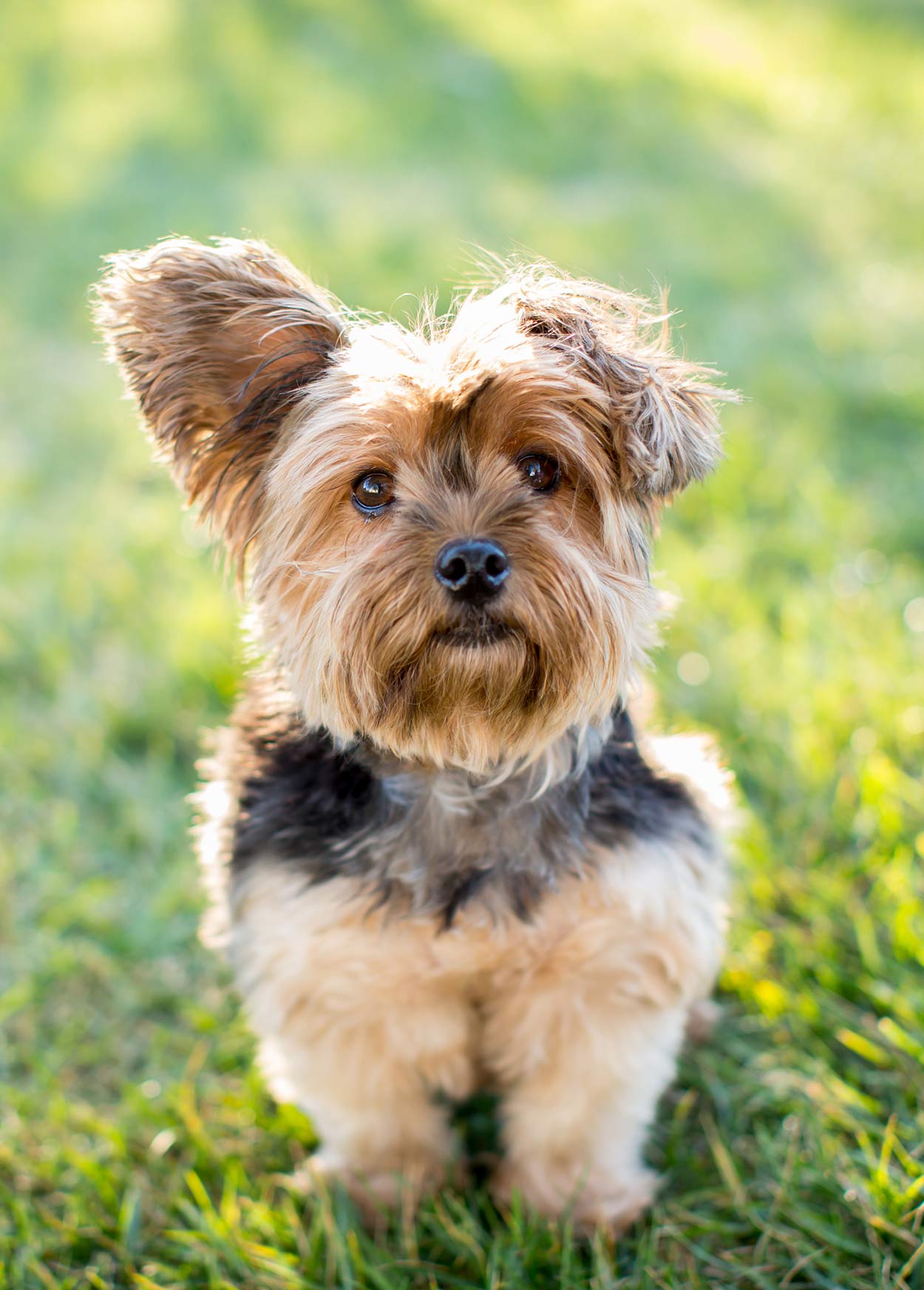 The diminutive Yorkshire Terrier is considered by many to be one of the hands-down best Toy breeds – as proof, the "Yorkie," as fans call this pooch, currently ranks as the 9th most popular dog out of the AKC's 192 most popular purebred dog breeds!
The Yorkie weighs just 7 pounds but can live up to 15 years.
This dog's signature trademark is his long, luxurious mane – one that makes many modern Yorkie owners think this dog's illustrious history as a ratter must be a myth!
Actually, the Yorkie's long coat is considered as close to hypoallergenic as a dog's coat can be – it is more like human hair than dog hair.
However, this also means the Yorkie's coat needs the same level of care you would give to your own hair, which can be a big commitment for some time-crunched dog owners.
Yorkshire Terrier Health
The Yorkshire Terrier does have some known health issues, and the CHIC recommends testing parent dogs for patellar luxation, hip dysplasia, eye issues, autoimmune thyroiditis, and Legg-Calve-Perthes disease.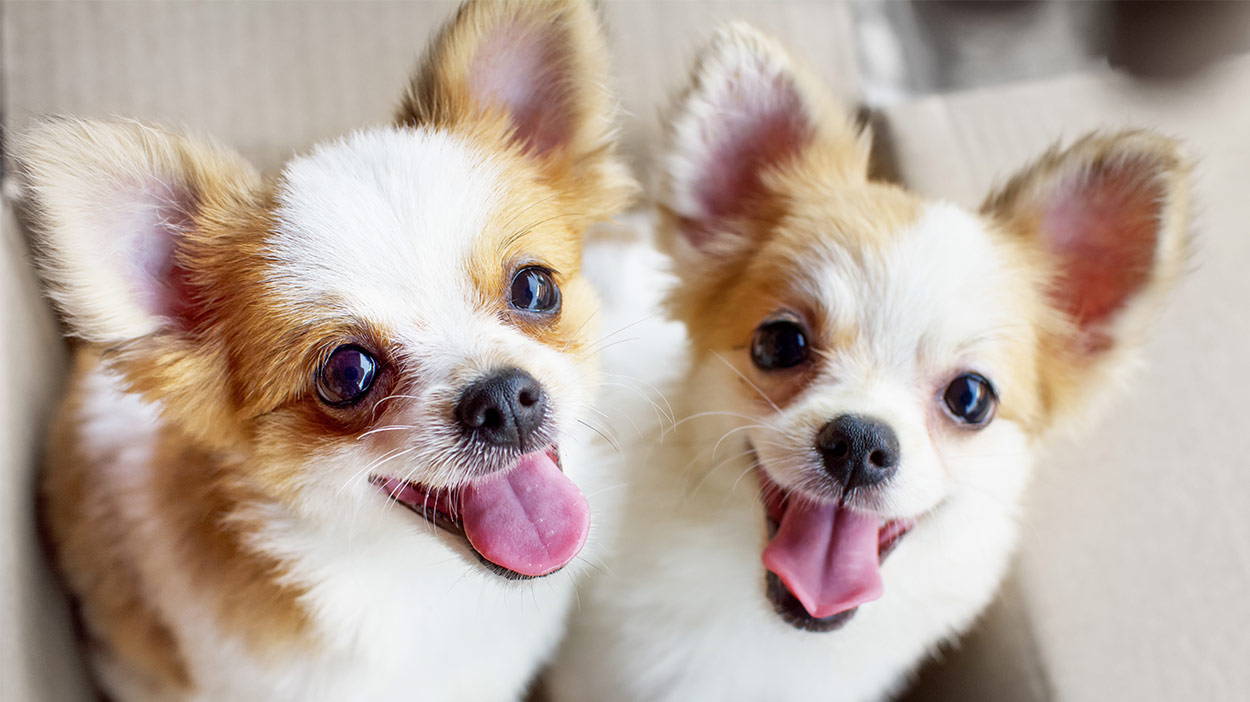 Toy Dog Breeds
We hope you have enjoyed browsing through this list of Toy breeds and trying each one on for size, so to speak!
Have you found that one special dog out of this list of Toy group dog breeds to be your next canine counterpart?
Please drop us a comment and share your story!
Resources and Further Reading
Green, K., et al, "Chihuahua CHIC & Health Testing," Chihuahua Club of America, 2018.
Cooper, K., et al, "Illustrated Guide to the Chinese Crested," American Chinese Crested Club, 2014.
Schindler, R., et al, "A Layman's Guide to Havanese Health," Havanese Club of America, 2018.
Harvey, C., DVM, "Gum Disease," Italian Greyhound Club of America, 2018.
Brewster Tietjen, S., "History of the Japanese Chin," Japanese Chin Club of America, 2018.
Fierheller, V., et al, "AMA Health Articles," American Maltese Association of America, 2013.
Meloon, A., RN, et al, "As Far as the Eyes Can See: Health and Genetics," Papillon Club of America, 2016.o9
Oelerich, V., et al, "Pomeranian Health Concerns," American Pomeranian Club, 2013.
Lawsom, G., DVM, "Toy Fox Terrier Health," American Toy Fox Terrier Club, 2012.
Gordon, J., "History of the Yorkshire Terrier," Yorkshire Terrier Club of America, 2006.
Tracheal Collapse, ACVS
Chondrodystrophy, UC Davis Veterinary Genetics Laboratory
This article has been extensively revised and updated for 2019.