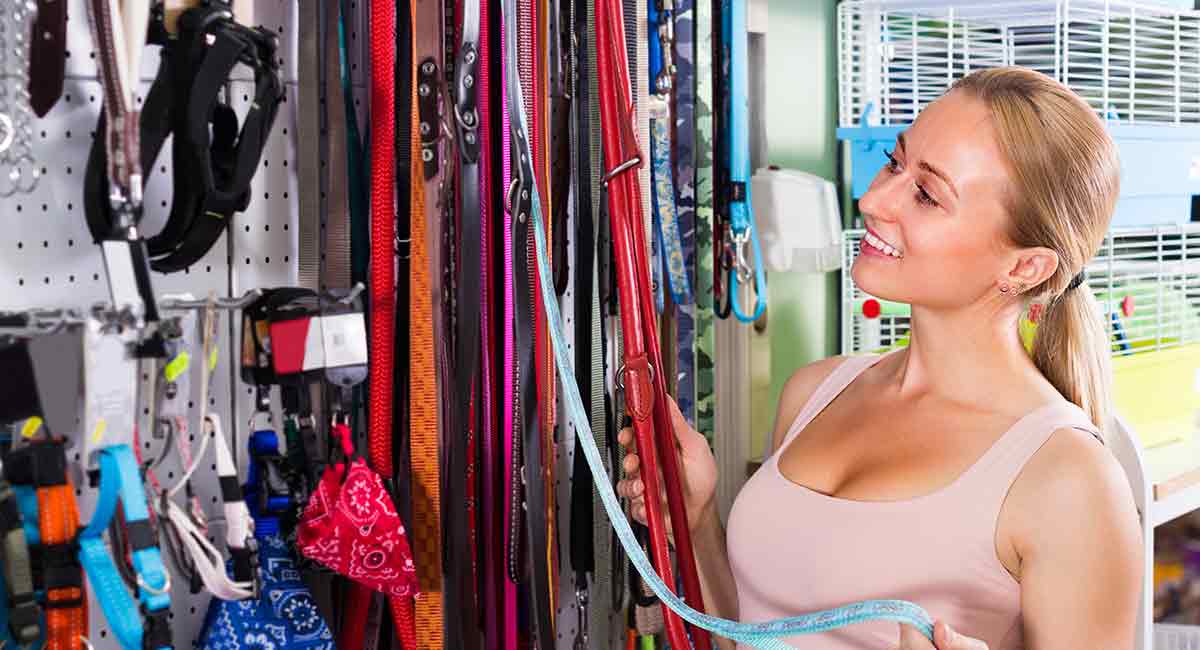 Making the decision about the best dog leashes for your pup isn't easy.
The sheer number of dog leash choices on the market today speaks to the demand for specialized dog leashes.
But this also makes doing a side-by-side comparison incredibly time-consuming.
In this article, we take a look at some of the best dog leashes in a wide variety of categories.
From long dog leads to flexi dog leads, and dog show leads to double dog lead options.
You're sure to find the perfect leash for your pet amongst our top choices!
Products included in this article were carefully and independently selected by the Happy Puppy Site team. If you decide to make a purchase from one of the links marked by an asterisk, we may earn a small commission on that sale. This is at no extra cost to you.
Choosing the Best Dog Leash – What to Think About
The right dog leash for you and your canine pal is suitable fore his size, and keeps him safe.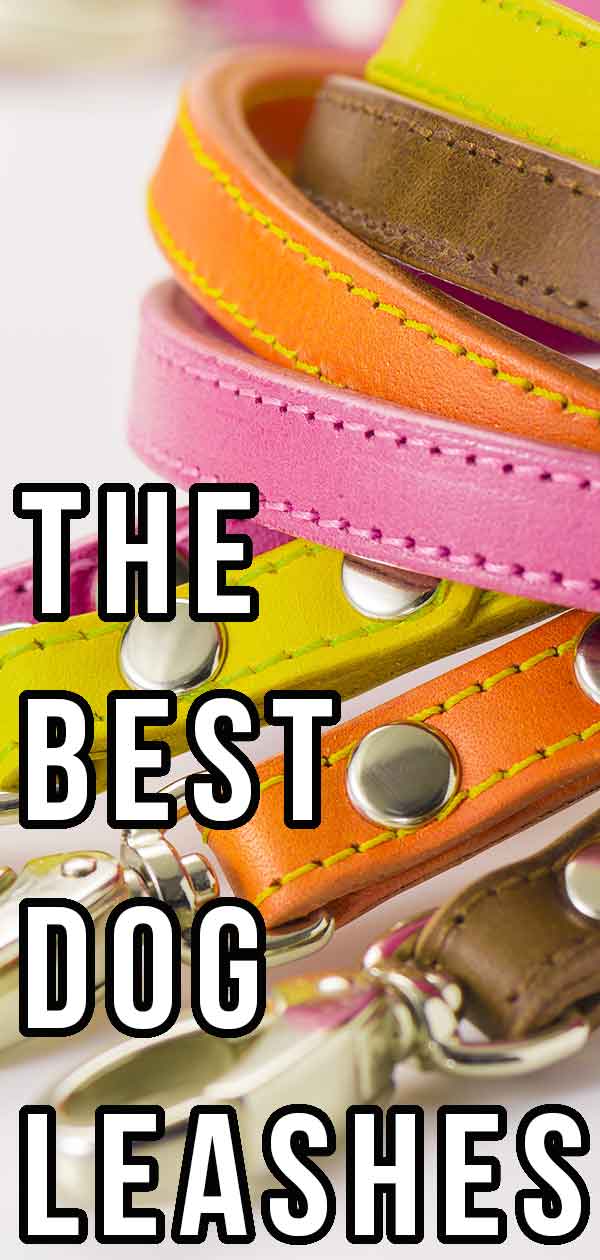 It might also reflect the things you do together.
If you like to go for a jog in the evening after work, it might have reflective tapes to help you both be seen.
Or you simply want something comfortable for your dog to wear and you to hold, while you master loose leash walking.
Whatever size or breed of dog your have, or your hobbies together, our guide to choosing the right dog leash will get you thinking about the features to look for.
Best Extra Strong Dog Leashes
Some dog breeds are so naturally strong and powerful that they simply require strong dog leads for their own safety and yours.
As this super strong leash by Paw Lifestyles* illustrates, rope dog leads can be a great choice if your dog loves to pull, jump or run.
This rope leash is also chew-proof.
The handle is padded for your comfort and reflective for walking safety in low light.
This leash comes in three colors.
This double-handled, heavy-duty, 6-foot long leash by Primal Pet Gear* comes in nine color combinations.
It features a full one-year replacement warranty.
This extra-durable and strong dog leash by Pet Lovers* features a padded handle, reflective safety stitching and chew-resistant technology.
It comes in two sizes—small/medium or medium/large—and five color combinations.
Best Retractable Dog Leashes
A retractable dog leash can be a great option for controlling your dog's range of movement in various situations.
This retractable, 16-foot nylon dog leash by TUG* wins major points in a several areas.
Besides length, the nylon tape/ribbon leash is tangle-resistant.
You can operate the controls one-handed.
And it comes in three sizes (S, M, L) and three colors.
Hertzko Heavy Duty Retractable Dog Leash.* This 16-foot, retractable, extendable dog leash by Hertz features heavy-duty nylon ribbon.
It has an ergonomic anti-slip handle with single-hand locking control.
It can handle a dog up to 110 lbs.
This double bungee handled cord by TaoTronics* can also be used hands free.
The waist belt gives you extra freedom without any loss of control during walks, runs, climbs and outdoor activities.
It can handle a dog up to 150 lbs.
Best Slip Lead Dog Leashes
Slip leads for dogs can be used without a separate collar, making them perfect for crated travel and transfers, training sessions and hiking, and climbing in the back country.
This attractive and durable mountain climbing-quality slip rope leash by friends forever* comes in six colors.
It's designed as a one-size-fits-all leash.
The 6-foot long tape is surprisingly lightweight.
This slip lead leash by Mendota* is designed to serve as both a collar and a leash in one.
Choose from several colors.
Coastal Pet Products Nylon Remington Rope Slip Dog Leash/Collar Combo.* This six-foot soft braided nylon rope is a great choice for field trials.
It features a durable, soft leather slide.
Best Extra Long Dog Leashes
Using an extra long dog leash gives you more freedom to practice training for special skills.
It also gives your dog an experience similar to running off-leash without any of the safety issues.
This extra long dog leash by Leashboss* puts safety and visibility front and center.
It has an extra-durable, heavy-duty nylon tape, and bright orange color.
It comes in three sizes and has an extra backpack for storage.
Hi Kiss Extra Long Line Training Dog Leash.* These leashes are sized for small, medium and large dogs.
They range from 20 feet to more than 200 feet in length.
The nylon-corded leash is very durable.
The clip is anti-swivel for safety.
There is also a puppy version* of this leash that comes in three colors and ranges from 15 feet to 100 feet.
Flexi Explore Retractable Belt Leash*. This leash comes in three sizes (S, M, L) and can support dogs up to 110 pounds.
It comes in three colors, and includes a special safety leash and limited manufacturer's warranty.
Best Leather Dog Harness
Some dogs just do better with a dog harness and leash set rather than the traditional collar and leash.
The best dog leashes and harnesses can also offer more full body control without putting dangerous pressure on the neck.
You can use these harnesses with any of the traditional leashes featured here.
This leather dog harness by Didog* has four adjustment points for a customized fit.
It comes in 10 different colors.
This natural brown leather dog harness by beirui* comes in three sizes.
It features two adjustment buckles for a customized fit.
This sturdy and durable leather dog harness* features a trio of adjustable straps and heavy D-rings for safety.
It comes in large and XL sizes.
Best Dog Leashes for Training
Finding the right dog training leash is one part discovering the best dog training lead for your pup and one part about finding the best leash style for you.
These carefully designed leashes each feature thoughtful extras that make them some of the best dog leashes for training.
Fairwin Braided Leather Dog Leash 6 ft K9 Walking Training Lead.* Durable and sturdy, leather dog leads can sometimes be the best leads for training your dog.
This leather dog training lead comes in three sizes (S, M, L) with real metal clips, a 60-day return policy and a two-year warranty.
This dog training lead by Downtown pet supply* comes in five lengths and five fun colors
It sports a twist-resistant swivel snap connector.
This dog training lead by tobeDRI* is created for medium to large dog breeds.
The 6-foot lead features two padded handles to prevent "leash burn" and has reflective stitching throughout for safety during walks and training sessions.
Choose from four fun colors.
Best Dog Leashes for 2 Dogs
If you are walking two dogs daily, a double dog lead like one of these might just be your new favorite walking accessory.
This double dog, extra long bungee lead by pet dreamland* comes in a single dog model.
The double dog model is tangle-proof. Both versions come with a waist belt and an extra padded handle for extra control during walks and runs.
This double dog leash* comes in small/medium or medium/large size in several color choices.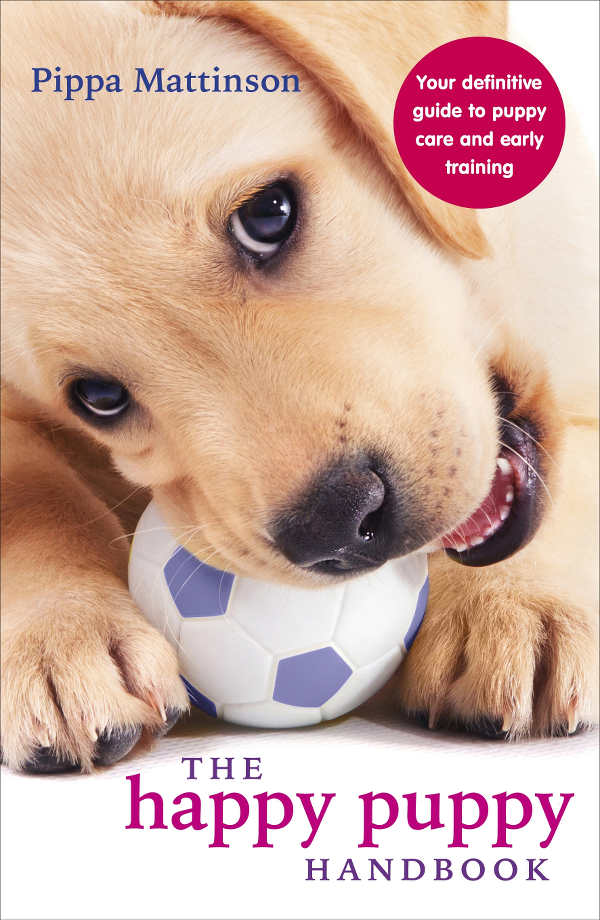 Along with a shock-absorbing, reflective bungee cord, it also comes with an extra clicker for training and a waste bag dispenser shaped like a dog bone.
The leash has reflective safety stitching and a comfy padded handle to avoid leash burn.
This uniquely designed double dog lead system by WIGZI* is color coded so you can instantly keep track of who is wearing which leash.
Each lead can handle dogs up to 50 pounds and gives your dog 10 feet of retractable leash.
The leads are also reflective for safety.
Best Dog Leashes for the Show Ring
Finding attractive yet durable and comfortable dog show leads like these can give you and your dog more confidence during training and while in the show ring.
This show dog leash by Resco* comes in two widths (3/8" and 3/16") and five colors (white, mahogany, tan, black, wheat).
The wax-coated cotton material gives the visual appearance of leather.
It is hand-sewn and comes with a lifetime manufacturer's warranty.
This show quality slip lead by Mendota* is diamond-braided and soft so it won't abrade or mat your dog's coat.
Choose from several colors and styles.
This lovely professional training and handling lead by Wellbro* is made from soft real leather and comes with a full manufacturer money-back guarantee.
Best Dog Leashes for Your Dog
We hope this article featuring some of the best dog leashes in several different categories has helped you quickly choose the best dog leash for your precious pup.
Affiliate link disclosure: Links in this article marked with an * are affiliate links, and we may receive a small commission if you purchase these products. However, we selected them for inclusion independently, and all of the views expressed in this article are our own.
Resources and Further Reading
Block, K., et al., "How to Give Your Dog a Good Leash on Life," The Humane Society of the United States," 2018
De John, J., et al., "Walking With Your Pet," American Veterinary Medical Association, 2018
Earley, J., et al., "Why Retractable Leashes Are Dangerous at a Veterinary Hospital," Animal Hospital of North Asheville, 2017
Topp, E., "Showmanship Manual," Iowa State 4-H, 2017
Windsor, K.B., "Walking Your Dog Off Leash: Is It Really Safe?" Beverly Hills Veterinary Associates, 2016