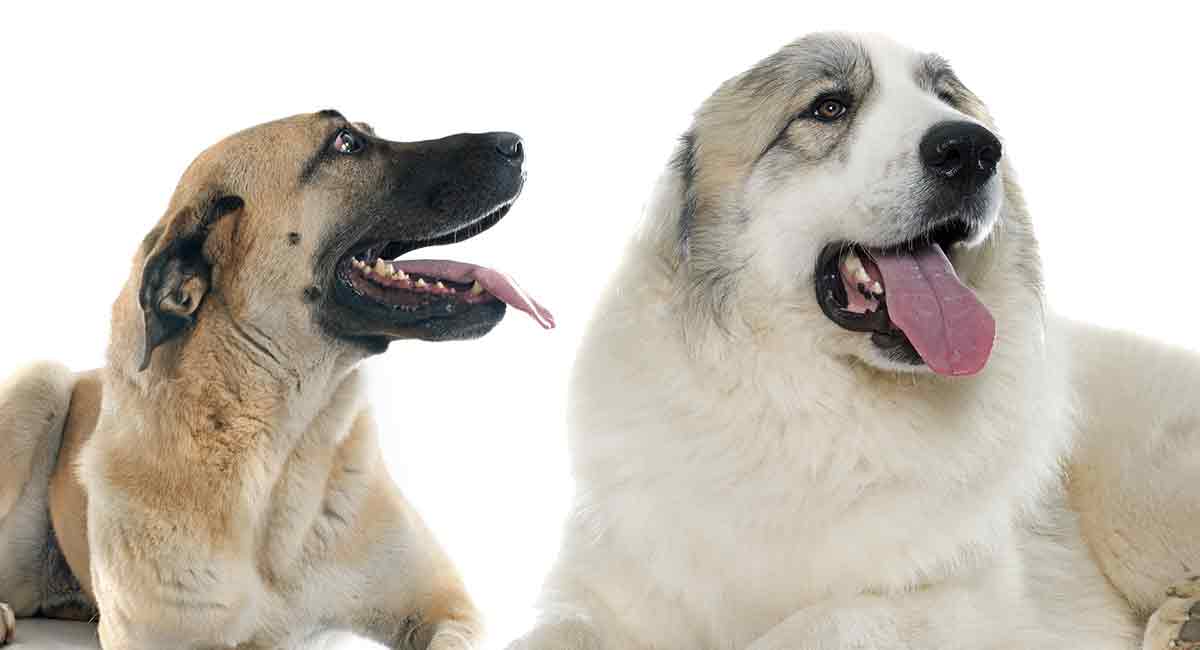 Anatolian Shepherd Great Pyrenees mixes are likely to be independent, strong-willed guard dogs. Also known as the Anatolian Pyrenees, this hybrid dog combines two large, working breeds whose primary purposes have been to guard flocks of sheep. If you have a smallholding and are looking for a versatile, pup that can both protect your livestock and enjoy time with an adult family, the Anatolian Shepherd Great Pyrenees could be just right for you. These confident dogs are gentle giants in the right hands, but need an experienced owner and lots of socialization.
Contents
Where Do They Come From?
The Anatolian Shepherd comes from Turkey and is a great example of one of the original domestic canine breeds. In fact, it's believed that this ancient breed has been around since 2000 B.C.
Their original purpose was to guard flocks of sheep and goats. Herders needed a dog with a strong protective instinct. But also one that was both independent enough to think for itself and dependable enough to do its job.
The Great Pyrenees shares a similar heritage in that it was also a flock guardian. This breed hails from the Pyrenees Mountains on the border of France and Spain, but it's thought that they descend from Central Asian, or Siberian breeds.
What Do They Look Like?
Anatolian Pyrenees are big dogs. They measure between 25–32 inches high and weigh 80–150 pounds. They have a muscular, strong and powerful appearance.
Their coats vary a lot depending on which parent they take after. Your puppy will have a dense double coat, but it could be short or long.
Great Pyrenees dogs are always white but may have markings in badger, gray, red brown or tan. When combined with an Anatolian Shepherd they come in a wider range of colors. If they take after this parent the most common combination is a biscuit-colored coat, with a black mask over the face.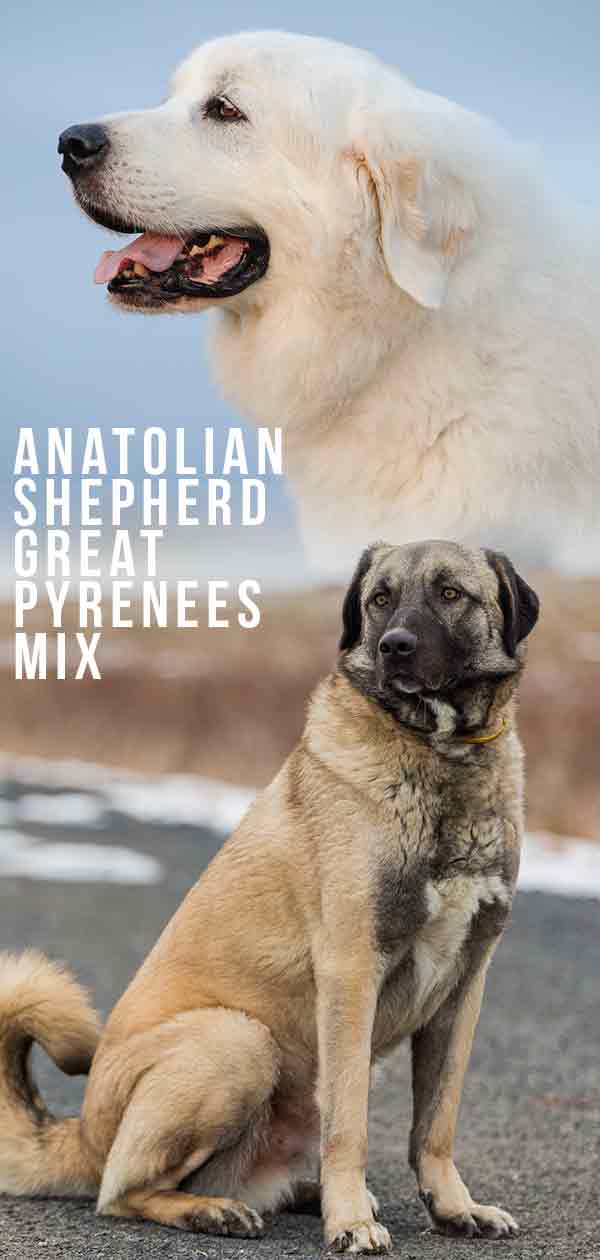 Anatolian Shepherd Great Pyrenees Mix Temperament
Anatolian Shepherds are independent, intelligent and protective. They're also incredibly loyal to their families and won't hesitate to defend them if they think it necessary.
Great Pyrenees are calm dogs who may seem uninterested but will be watching everything carefully. They can be stubborn and won't always respond quickly to instructions.
It's always difficult to predict with any certainty which of these characteristics your mixed breed pup will inherit. But they're likely to have a strong instinct to protect their family.
Training A Large Confident Dog
This mix has an extremely independent spirit. While this can certainly be a good thing, it also means training will be more of a challenge than for some other breeds that love to please their owners.
They may ignore your commands if they don't deem them important enough. While this is true for both breeds, the Anatolian Shepherd in particular requires careful training.
If your puppy inherits these traits, you will need to pay very close attention to how you train your puppy. Likewise, they should not ever be trained as a guard dog if you want them to be a family pet.
Anatolian Shepherd Great Pyrenees Mix Health
Your mixed breed puppy may inherit any disorders that their parents could have. So even though they are a cross, both parents should still be health tested. Hip scores and an eye test are essential, as both breeds are prone to problems in these areas.
Anatolian Shepherds are tough and healthly dogs, a testament to their background. These dogs should be screened for hip and elbow dysplasia. Many breeders will screen for entropion and ectropion, where the eyelids roll inward or droop outward too.
Anatolian Shepherds are very sensitive to anaesthetic, and can have a severe reaction if a normal dose for a dog of their size is administered. Be aware that this sensitivity may also be present in mixed breed puppies.
Breeders of Great Pyrenees have been focused on testing dogs for a range of conditions. They should be tested for hip dysplasia and patella luxation. Other optional tests include those for elbow dysplasia, eye examinations and hearing tests. They also suggest testing for Neuronal Degeneration (NDG).
Unfortunately, cancer is the most common health problem in Great Pyrenees, and they are pretty prone to bloat too.
Do They Make Good Family Dogs?
Both Anatolian Shepherds and Great Pyrenees are happiest as working dogs. If you live in an apartment or have limited outdoor space, a mixed breed puppy may quickly become frustrated.
Both these breeds are instinctively protective of their family and may make their own decisions as to when to protect you. This, combined with their stubborn nature, means this mix may be best suited to families with experience of owning large dogs.
Anatolian Shepherd Great Pyrenees Mix Puppies
This mix is becoming more common, so you may find a breeder near you who specializes in Anatolian Pyrenees mixes. Make sure to do your research before bringing home your new puppy. Any reputable breeder will be happy to talk you through health tests and let you meet both parent dogs. They should also be keen to provide ongoing support as you integrate your new puppy into your family.
All puppies are hard work, so make sure you have the time and dedication to help them grow into the best dog they can be. With an Anatolian Shepherd Great Pyrenees mix, this is likely going to involve an above-average amount of obedience training and socialization.