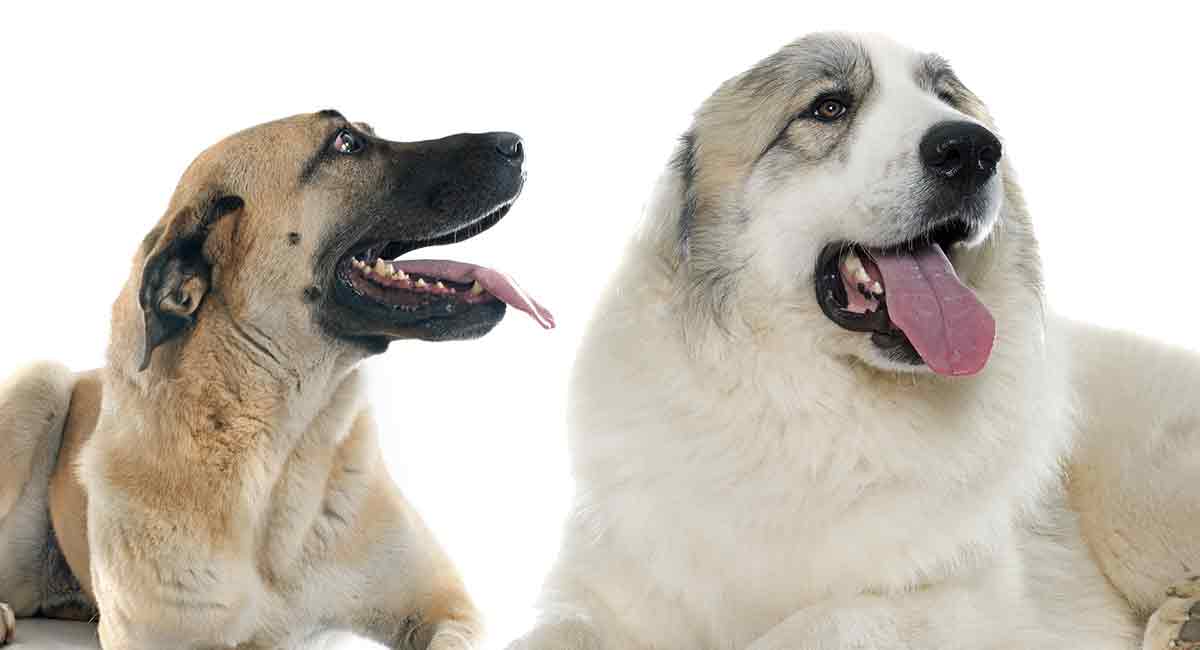 Welcome to our introduction to the Anatolian Shepherd Great Pyrenees mix. Also known as the Anatolian Pyrenees, this mix combines two large, working breeds whose primary purposes have been to guard flocks of sheep. Let's find out a bit more about Anatolian Shepherd mixes and Great Pyrenees to see if she has the characteristics you're looking for in your next dog.
Where Does the Anatolian Shepherd Great Pyrenees Mix Come From?
This mix is becoming more popular, as both a working farm dog and an active family pet.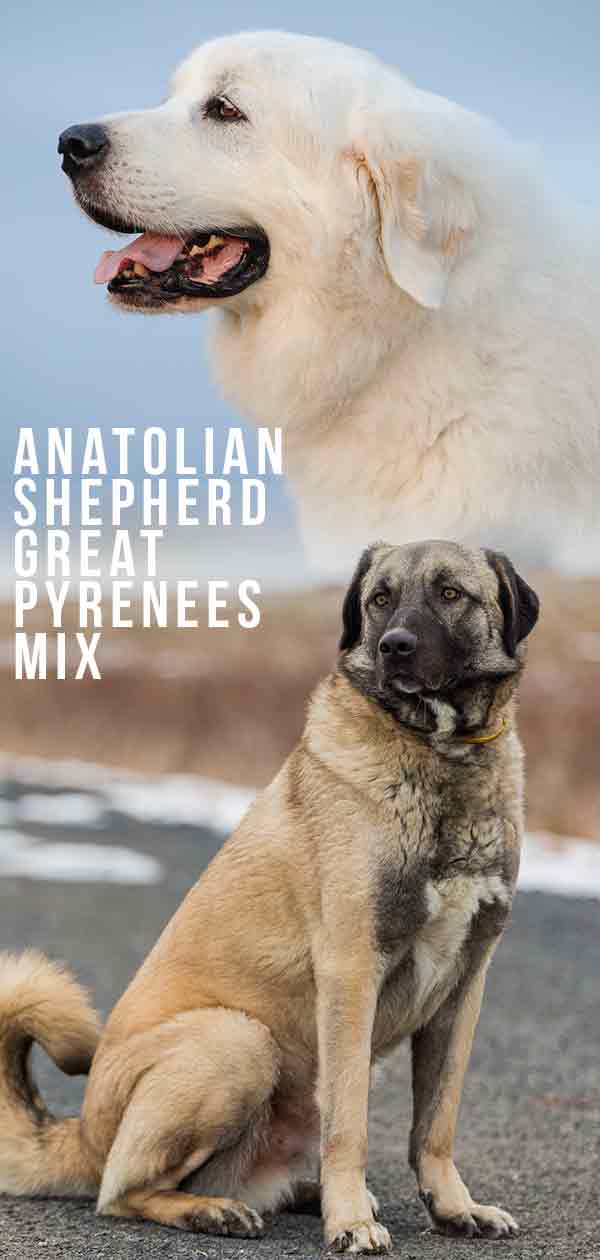 The origins of the mix aren't that well-documented though.
Find out a little more about this mix by taking a closer look at the two parent breeds.
Anatolian Shepherd history
The Anatolian Shepherd comes from Turkey and is a great example of one of the original domestic canine breeds.
In fact, it's believed that this ancient breed has been around since 2000 B.C.
Their original purpose was to guard flocks of sheep and goats.
Herders needed a dog with a strong protective instinct.
But also one that was both independent enough to think for itself and dependable enough to do its job.
The characteristics of the Anatolian Shepherd have not changed much since those early days.
The breed first came to America just before World War II, when these two dogs were imported.
With the intention of seeing if they were suited to working on U.S. ranches.
Due to the war, this project didn't really get off the ground.
In the 1970s though, the breed became popular after a breeding pair were brought back from Turkey by a Naval Lieutenant.
The Anatolian Shepherd then became a popular option to defend flocks of sheep from wolves and other predators.
Great Pyrenees history
The Great Pyrenees shares a similar heritage in that it was also a flock guardian.
This breed hails from the Pyrenees Mountains on the border of France and Spain.
It's thought that they descend from Central Asian, or Siberian breeds.
Remains of Great Pyrenees dogs have been found in fossils from the Bronze Age, around 1800–1000 B.C.
Despite their heritage as working dogs, in the 17th century, the Great Pyrenees also became popular in the French Courts.
With royals and nobility keen to own this breed.
Enter, the mix!
If you like the sound of a mix between these two ancient breeds, we recommend a little background reading.
Have a look into the pros and cons of mixed breeds versus purebred dogs.
Fans of mixed breeds suggest that by crossing two purebred dogs, it helps to improve the health of dogs by increasing the gene pool.
But the other side of the argument is that we should retain the characteristics of purebred dogs rather than cross them with other breeds.
Anatolian Shepherd Great Pyrenees Mix Appearance
With mixed breeds, it can be difficult to predict with certainty the appearance of puppies as they grow up.
We can look at the parent breeds again for some clues, though.
Anatolian Shepherds are big dogs
They usually measure between 27–29 inches high and weigh 80–150 pounds.
Their life expectancy is around 11–13 years.
They belong to the Working Group, evidenced by their muscular and powerful appearance.
Anatolian Shepherds have a short but dense double coat.
Weekly brushing is all they require, but they do shed their coat twice a year.
They come in a wide range of colors, but the most common combination is a biscuit-colored coat, with a black mask over the face.
So are Great Pyrenees!
Great Pyrenees also belong to the Working Group, and are both majestic and incredibly strong.
Measuring 25–32 inches high and weighing 85–100 pounds, they are also massive dogs.
Their life expectancy is similar, at 10–12 years.
They have a thick, double coat that sheds seasonally.
Weekly grooming is required to keep this neat, although their fur is naturally resistant to tangles.
Great Pyrenees dogs are always white but may have markings in badger, gray, red brown or tan.
Mix Appearances combine the two
But you never know exactly what you'll get!
Where the characteristics of the parent breeds coincide, you can be fairly sure any mixed breed puppies will share the same trait.
So the large size of both Anatolian Shepherds and Great Pyrenees means your pup will be big.
Anatolian Shepherd Great Pyrenees Mix Temperament
Anatolian Shepherds are independent, intelligent and protective.
They're also incredibly loyal to their families and won't hesitate to defend them if they think it necessary.
Great Pyrenees are calm dogs who may seem uninterested but will be watching everything carefully.
They can be stubborn and won't always respond quickly to instructions.
It's always difficult to predict with any certainty which of these characteristics your mixed breed pup will inherit.
But they're likely to have a strong instinct to protect their family.
This may be coupled with an independent spirit that can make training a challenge.
Training Your Anatolian Shepherd Great Pyrenees Mix
If we consider the heritage of both these breeds, their primary role has been to protect their flock, whatever the weather and whatever the threat.
This has led to both breeds developing an extremely independent spirit.
While this can certainly be a good thing, it also means training will be more of a challenge than for some other breeds that love to please their owners.
Your Anatolian Shepherd Great Pyrenees mix puppy will definitely need early socialization.
Puppy training classes are highly recommended
They may ignore your commands if they don't deem them important enough.
While this is true for both breeds, the Anatolian Shepherd in particular requires careful training.
If your puppy inherits these traits, you will need to pay very close attention to how you train your puppy.
Likewise, they should not ever be trained as a guard dog.
Anatolian Shepherd Great Pyrenees Mix Health
In order to understand what health issues may affect a mixed breed pup, we need to take a look at the health issues of both parent breeds.
Anatolian Shepherd health
Anatolian Shepherds are tough and healthly dogs, a testament to their background.
These dogs should be screened for hip and elbow dysplasia.
Many breeders will screen for entropion and ectropion, where the eyelids roll inward or droop outward.
This is common in this breed and can be surgically corrected.
Anatolian Shepherds are very sensitive to anaesthetic, and can have a severe reaction if a normal dose for a dog of their size is administered.
Be aware that this sensitivity may also be present in mixed breed puppies.
Great Pyrenees health
Breeders of Great Pyrenees have been focused on testing dogs for a range of conditions.
They should be tested for hip dysplasia and patella luxation.
Other optional tests include those for elbow dysplasia, eye examinations and hearing tests.
They also suggest testing for Neuronal Degeneration (NDG). 
This is a genetic condition that affects the central nervous system and has become more common in Great Pyrenees dogs.
Unfortunately, cancer is the most common health problem in Great Pyrenees.
Great Pyrenees dogs can be prone to bloat, which involves the dog's stomach filling with gas.
This is more common in deep-chested dogs and required emergency veterinary treatment.
Your mix's health
Your mixed breed puppy may inherit any disorders that their parents could have.
So even though they are a cross, both parents should still be health tested.
Hip scores and an eye test are essential, as both breeds are prone to problems in these areas.
Do Anatolian Shepherd Great Pyrenees Mixes Make Good Family Dogs?
They can, but you'll need to make sure you're the right family for them.
Both Anatolian Shepherds and Great Pyrenees are happiest as working dogs.
If you live in an apartment or have limited outdoor space, a mixed breed puppy may quickly become frustrated.
Neither breed requires a huge amount of exercise, but they will enjoy regular, daily walks.
Proceed with caution with your mixed breed puppy to determine the level of recall you have.
Both these breeds are instinctively protective of their family and may make their own decisions as to when to protect you.
This, combined with their stubborn nature, means this mix may be best suited to families with experience of owning large dogs.
Rescuing an Anatolian Shepherd Great Pyrenees Mix
If you're an experienced dog owner and have space in your home for a rescue dog, this is a great option.
Due to their independent nature, quite a few Anatolian Shepherd mixes do find themselves needing new homes.
In particular, the Anatolian Shepherd bonds strongly with her owner while young.
So an Anatolian Pyrenees may need time to adjust to a new home if she's a little bit older.
Most rescue centers will carry out a full home check, and an adoption fee will apply.
Finding an Anatolian Shepherd Great Pyrenees Mix Puppy
This mix is becoming more common, so you may find a breeder near you who specializes in Anatolian Pyrenees mixes.
Make sure to do your research before bringing home your new puppy.
Any reputable breeder will be happy to talk you through health tests and let you meet both parent dogs.
They should also be keen to provide ongoing support as you integrate your new puppy into your family.
We recommend avoiding puppy mills or pet stores.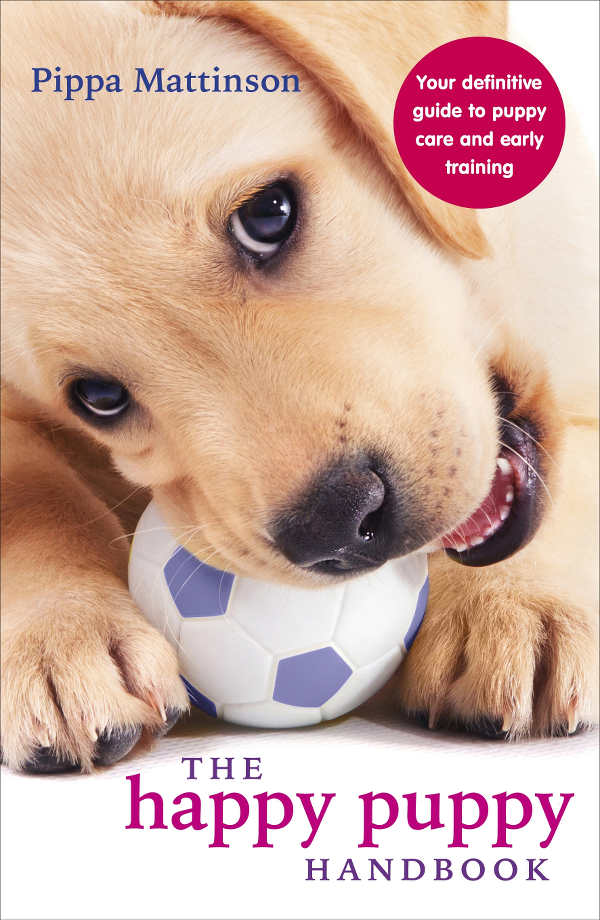 The health and welfare of puppies is unfortunately not always the first priority.
Use our Puppy Search Guide to help find the perfect puppy for you.
Raising an Anatolian Shepherd Great Pyrenees Mix Puppy
All puppies are hard work, so make sure you have the time and dedication to help them grow into the best dog they can be.
With an Anatolian Shepherd Great Pyrenees mix, this is likely going to involve an above-average amount of obedience training and socialization.
As they're both independent breeds, they may challenge your training skills and completely ignore some commands.
Both Anatolian Shepherds and Great Pyrenees are generally known to be good with children.
Our puppy training and puppy care guides will help you prepare for your new arrival.
Pros and Cons of Getting an Anatolian Shepherd Great Pyrenees Mix
Before making a decision about whether a certain mixed breed is right for you, it's best to take a look at some of the pros and cons.
As with any puppy, there's no way to be sure how your Anatolian Shepherd Great Pyrenees pup will grow up.
The similarities between the parent breeds can help give us some clues.
Anatolian Shepherds are likely to be independent and strong-willed, which could be a challenge for some owners.
Of course, if you have livestock and want a dog to watch over them, this can also be a plus.
This mixed breed is likely to bark at night, a throwback to their guarding instinct. Bear this in mind if you live in a built-up area.
Similar Anatolian Shepherd Great Pyrenees Mixes and Breeds
Similar mixed breeds include the Akita Labrador mix and the Great Pyrenees Labrador mix.
Purebred dogs that are comparable include the Siberian Husky and English Mastiff.
Anatolian Shepherd Great Pyrenees Mix Rescues
The National Anatolian Shepherd Rescue Network in the U.S. and Canada finds new homes for both purebred and mixes of Anatolian Shepherds.
Blue Bonnet Animal Rescue Network focuses on rescuing and finding homes for farm-friendly dogs, including livestock guardian breeds such as the Anatolian Shepherd and Great Pyrenees.
While the Anatolian Shepherd Dog Rescue League is dedicated to finding homes for purebred dogs, they may be worth contacting to see if they have any mixed breed dogs available as well.
The Great Pyrenees Rescue Society finds homes for mixed breed crosses of the Great Pyrenees.
Is an Anatolian Shepherd Great Pyrenees Mix Right for Me?
If you have a smallholding and are looking for a versatile, mixed-breed dog that can both protect your livestock and enjoy time with your family, the Anatolian Pyrenees could be just right for you.
These large dogs are gentle giants but do require an experienced owner who can provide firm yet loving boundaries.
It's impossible to guess the character of your Anatolian Pyrenees rescue dog or puppy.
But this mix certainly has its fair share of fans who love the combination of a strong work ethic and the independent spirit that these dogs tend to offer.
Related Articles
References and Further Reading