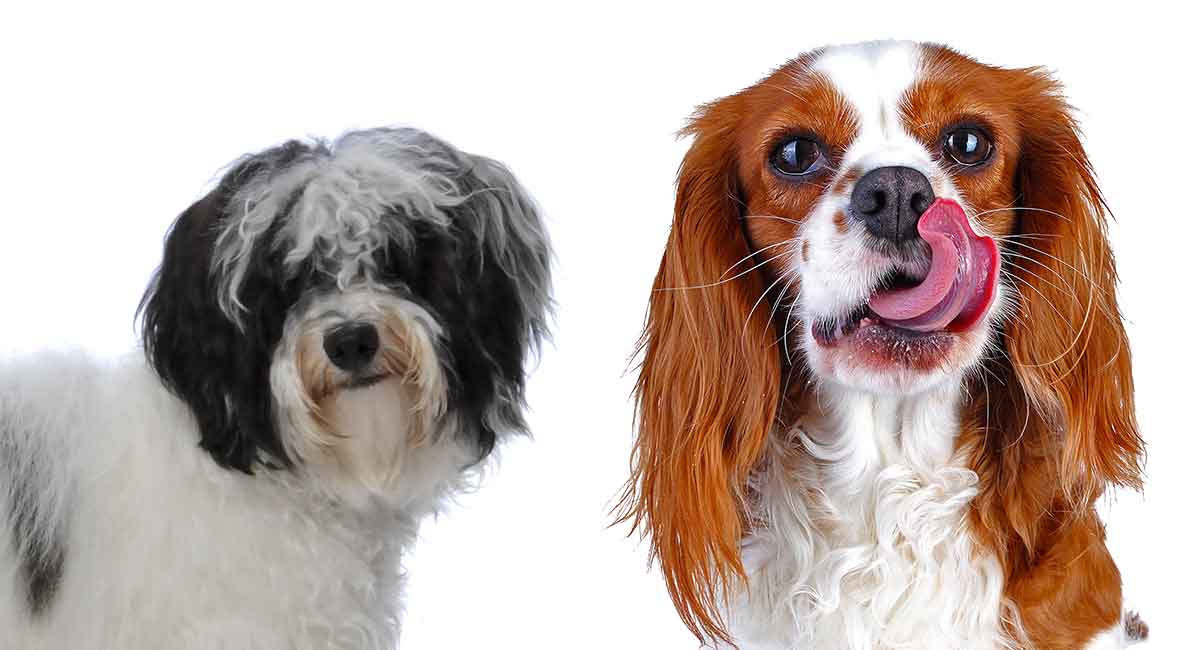 A Cavanese is a mixed breed dog with one Cavalier King Charles Spaniel parent and one Havanese parent.
Cavanese dogs are also known as Havaliers.
They are invariably sweet and friendly dogs, but their heritage puts them at risk of skeletal disorders, heart disease, and problems with their airways too.
Introducing the Cavanese
Do you want to know about the cute designer breed called the Cavanese?
These small, social, smart dogs are sweet and loving.
If you're looking to add one of these pretty pooches to your family, what do you need to know?
Let's look at their history, their personalities, their needs, their health, and more!
Where Does the Cavanese Come From?
The origins of this designer dog breed aren't clear.
Some say they started being bred in the 1980s, when such mixes were becoming more popular.
But if you're interested in a designer dog breed, you should know a few things.
First, the Cavanese is a first generation mix, which means that it is half one breed, half the other.
Its parents are purebred.
So let's take a quick look at both breeds that make up your Cavanese sweetheart!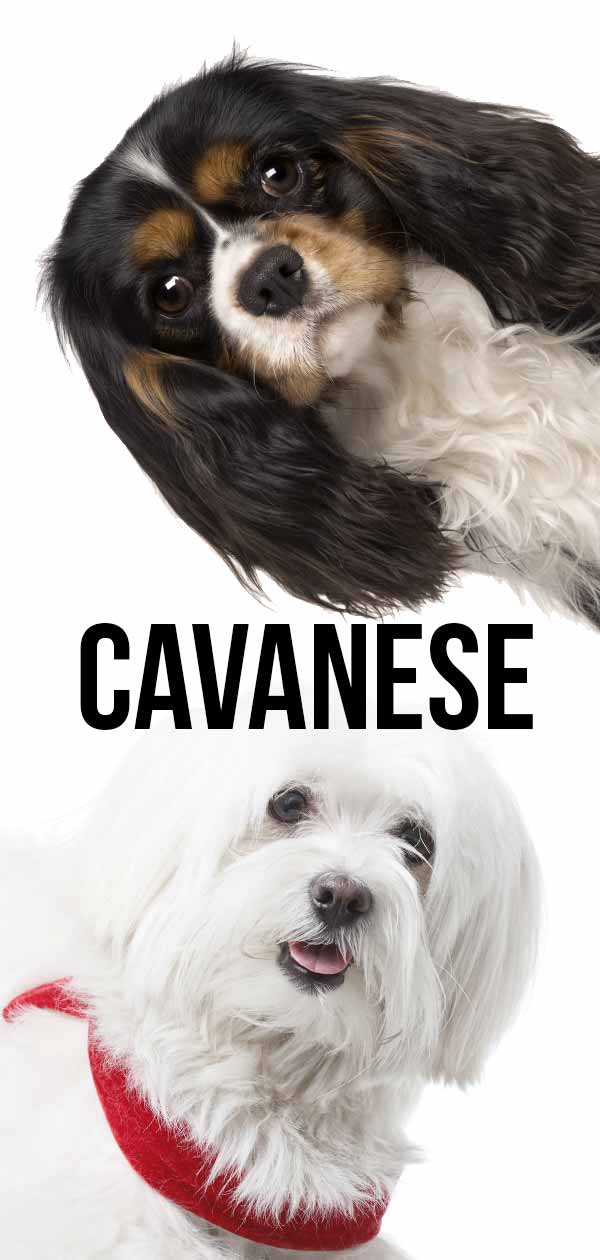 The Cavalier King Charles Spaniel
The Cavalier King Charles Spaniel descends from the Toy Spaniels that King Charles II of England favored.
They appear in many old paintings from the 16th century on.
Charles II loved them so much that he decreed specimens of the breed should be accepted in any public place in England – a rule still in existence!
Over time, though, Toy Spaniels went out of fashion.
And breeding was a bit haphazard, but led to a different kind of spaniel with a shorter face and domed skull.
We know these dogs in the U.S. as the English Toy Spaniel.
They are also called the King Charles Spaniel.
American Bringing British Tradition Back
But an American named Roswell Eldridge went to England to look for the original Toy Spaniel stock.
Only he couldn't find the type of dog he was looking for.
He wanted a dog with a long face, flat skull, and a spot in the center of the forehead.
He offered prizes at dog shows for the old style, but it took a long time before that type of dog returned and a breed club was founded for the newly named (but old-school) Cavalier King Charles Spaniel.
The breed standard was created in 1928, and the breed received recognition from the U.K.'s Kennel Club in 1945.
Havanese
Like the Cavalier King Charles Spaniel, this is an old breed.
It is the only native dog breed of Cuba and, therefore, Cuba's national dog.
Spanish settlers going to Cuba in the 1600s brought the lap dogs with them.
They probably originate from the Tenerife dog, which is the common ancestor of all Bichon family breeds.
They adapted to the climate of Cuba and are very heat-tolerant, thanks to their unique silky coat.
Havana to Europe
Then, by the 18th century, European visitors to Cuba started bringing the dogs back to European courts.
They became trendy.
It is said that Queen Victoria and Charles Dickens both owned Havanese.
Meanwhile in Cuba, Havanese were becoming family dogs and have been companions for humans ever since.
About 11 dogs were brought to the U.S. when communists took over Cuba, causing Cubans to flee.
All the U.S. dogs are descended from these 11 dogs.
They were accepted into the American Kennel Club starting in 1996.
Designer Dogs
Designer dog breeds like the Cavanese have stirred up some controversy over the years.
Purebred pups have a pedigree that tells you exactly who their parents are and what traits they are likely to inherit based on breed and parentage.
Breeding such known quantities together can help increase the health of a breed and instill desirable traits.
But breeding dogs that are too genetically alike can cause problems from inbreeding.
So people who like designer dog breeds say it's better to introduce genetic diversity by crossbreeding them.
But for some purebred breeders, designer dogs are just mutts, even if carefully bred for certain traits.
Learn More
If you'd like to know more about this topic, click here.
You can also learn more about genetics and how crossing populations can affect the health of dog breeds here.
Ultimately, though, crossbreeding has a long history.
Many pure breeds wouldn't exist if not for the tradition of interbreeding to save breeds that encountered genetic bottlenecks.
And the important thing is, of course, that we take good care of our dogs, no matter their pedigree or lack of one.
Fun Facts About the Cavanese
Cavanese are social, fun, and cheerful little pups, which is why people like them so much.
They do not make good watchdogs because they are so outgoing!
They are small dogs, and probably won't be above 17 pounds as an adult.
Both breeds are in the AKC's toy group and are similar in size.
They make great companion dogs for city dwellers because they are small, but they are active and don't like to be alone.
Cavanese Appearance
Cavanese dogs are small toy dogs, ranging from 7–17 pounds as adults.
Their grown height is about 9–13 inches at the withers (shoulder blades).
They're likely to have long, silky, curly hair and come in many colors, including white.
They will probably look more like Havanese than Cavalier King Charles Spaniels, but that's not guaranteed.
A hybrid dog can take on any of its parents' traits in any amount.
It can be hard to predict how much they'll get from either side.
Remember, too, that puppies will not be the same as adults.
Cavanese Temperament
One reason people like to put these two breeds together is that they are both friendly, happy, eager-to-please breeds with plenty of affection to give.
Cavalier King Charles dogs have a moderate activity level, but love exercise because they are descended from sporting dogs.
Havanese dogs love playtime and have an energy level that borders on high.
However, Havanese should not be overexercised if they begin to pant and become exhausted.
Havanese experience some separation anxiety.
If you're going to get a Cavanese, make sure to spend lots of time with it.
Training Your Cavanese
Both of the breeds involved are trainable and intelligent.
Cavalier King Charles Spaniels excel in canine sports with their sporting backgrounds.
As with all dogs, socialization and basic obedience are key.
These dogs need to learn to be comfortable with other people and situations.
Havanese especially can be nervous and develop undesirable habits if not socialized properly.
Again, your Cavanese dog can show traits of both breeds, so keep that in mind as you embark upon a training regimen.
Cavanese Health
Cavalier King Charles Spaniel Health
The Cavalier King Charles Spaniel has a 12–15 year lifespan.
But you should know it's one breed that's vulnerable to brachycephalic airway obstruction syndrome, as a result of breeding for that cute head size and shape.
Cavaliers may experience breathing problems and laryngeal issues.
They have also been shown to be at risk of abnormal bone development because of their short stature and size.
Additionally, a large number of Cavalier King Charles Spaniels suffer from a couple of frightening inherited health issues.
Inherited Issues
Heart mitral valve disease is the leading cause of death in these dogs.
The condition is considered both more frequent and more intense in Cavalier King Charles Spaniels than in other dogs.
Research shows that over half of these spaniels get mitral valve disease by age 5, and 90 percent by age 10.
For that reason, breeding Cavaliers under 5 years is not recommended so that affected dogs can be excluded from breeding programs.
The other condition of concern is syringomyelia.
This affects the brain and spinal cord, causing pain and paralysis.
Some research shows that up to 70 percent of Cavalier King Charles Spaniels over age 6 get it.
Cavalier King Charles Spaniels are also prone to:
ear and eye problems (including hearing loss)
patellar luxation (joint dislocation)
degenerative disc disease
epilepsy
immune disorders
hip dysplasia (affects about 1 in 4 of these dogs)
Havanese Health
Havanese dogs can be healthy, with a 14–16 year lifespan, but suffer from certain genetic conditions too.
For one thing, they are also prone to bone disorders because of breeding for their small stature and short legs.
Studies show that Havanese experience multiple developmental abnormalities, with up to 44 percent of the population having bowed, shortened, or asymmetric forelegs.
They also get:
eye and ear problems such as deafness and cataracts
hip dysplasia
Legg-Calve-Perthes disease
liver shunt
patellar luxation
cryptorchidism (undescended testes)
cancer
heart murmur
mitral valve insufficiency
As you can see, some conditions are similar to that of the Cavalier King Charles.
Thus, mixing the two may not necessarily get you a healthier hybrid, depending on the bloodlines.
Do Cavanese Make Good Family Dogs?
Yes! Both breeds are outgoing and adaptable.
They do well with families with children and other animals, even living in apartments.
Both breeds also require a lot of play time and social interaction.
If you can meet those needs, a Cavanese could fit your family, as long as you are taking their potential health problems into account.
Rescuing a Cavanese
Because these dogs are rare, you may have a difficult time locating this precise mix at a shelter.
We recommend trying breed specific rescues, which often take in purebreds and mixes that have a particular breed in them.
Considering the health issues involved, rescuing may be a good option because you know more about the health of a dog as an adult.
Finding a Cavanese Puppy
You can look for Cavanese breeders online, or tap into your local network to find a Havanese/Cavalier King Charles mix.
Avoid puppy mills and pet stores, because you can't know the pup's breeding history or the conditions where these dogs were brought up.
Once you find a breeder, you'll need to follow all the guidelines for vetting a purebred breeder.
Visit, if possible, so you can see the dog's conditions.
Ask questions, meet your potential puppy's parents, and get physical proof of health screening before committing to a purchase.
With these dogs, heart testing is especially important.
Note that buying a Cavanese won't necessarily cost you less than buying a purebred dog.
It might even cost you more.
Start your search with our puppy search guide here.
Raising a Cavanese Puppy
If you need help getting started in raising a Cavalier-Havanese mix puppy, visit our puppy care category for all the information you need.
Don't forget the training!
Pros and Cons of Getting a Cavanese
The main downside of this mixed breed dog is health.
To avoid heartbreak further down the line, you'll need to invest a lot of time in finding a good breeder who prioritizes puppy health and welfare.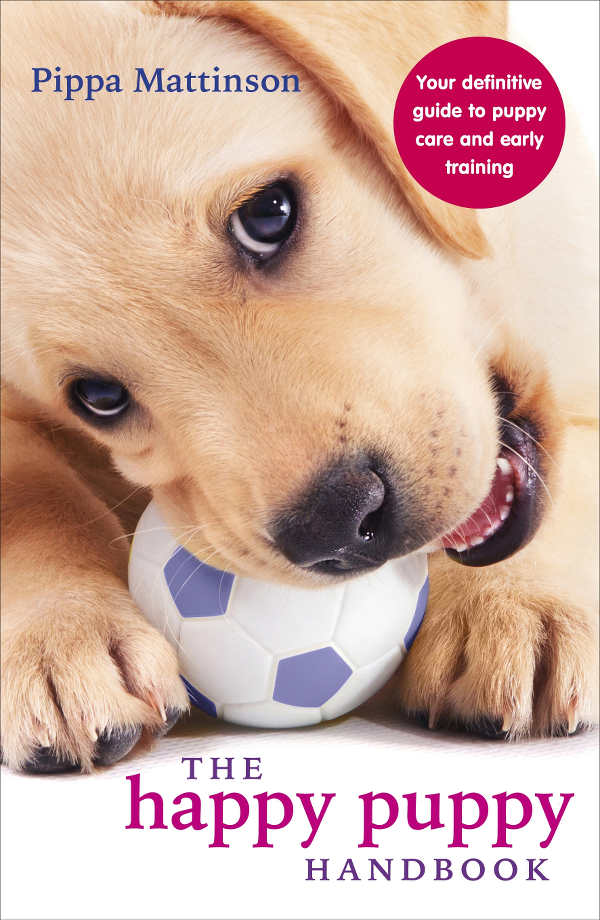 Your Cavanese will need lot of attention, too, and mental and physical exercise.
Overall, though, these dogs are sweet, family-oriented, smart, and outgoing.
They make good pets.
Similar Cavanese Breeds
If the health of these dogs worries you, there are many other similar breeds.
Cocker Spaniels, English Toy Spaniels, and members of the Bichon family such as the Bichon Frise and the Maltese are all sweet and cute candidates.
You might even want a mix like the Maltipoo! 
However, all small dogs, especially toy dogs, will suffer from similar health ailments related to bone structure.
Make sure to do your research before you choose one.
If you want a sweet-tempered dog of this type with fewer health problems, you might wish to size up a bit.
Cavanese Rescues
If you're looking for a Cavanese to rescue, your first stop should be breed-specific shelters.
They are more likely to have mixes with the breed you desire.
Here are some Havanese rescues you can check with first:
And if you have your heart set on a mix with a Cavalier King Charles Spaniel, try these first:
Is a Cavanese Right for Me?
That all depends on your needs and your lifestyle.
Fortunately, the Cavanese is adaptable and adorable.
But keep those potential health issues in mind, and decide how you wish to move forward.
If you think you are ready to handle a Cavanese, let's hear about it!
References and Resources
Cavalier King Charles Spaniel Club, History of the Cavalier King Charles Spaniel.
The Havanese Club of America, Havanese History.
The Havanese Club of America, Havanese Health Issues.
CavalierHealth.org, Mitral Valve Diseas and the Cavalier King Charles Spaniel.
CavalierHealth.org, Syringomyelia (SM) and Chiari-like Malformation in the Cavalier King Charles Spaniel.
UC Davis Veterinary Genetics Laboratory, Havanese Health Panel: Chondrodystrophy (CDDY and IVDD Risk) and Chondrodysplasia (CDPA).
Parker, J. E. et al (2000). Prevalence of asympomatic syringomyelia in Cavalier King Charles spaniels. Veterinary Record, 168.
Pedersen, H.D. et al (1995). Mitral valve prolapse in 3-year-old healthy Cavalier King Charles Spaniels. An echocardiographic study. Canadian Journal of Veterinary Research, 59(4).
Oberbauer, A. M. et al (2015). Ten inherited disorders in purebred dogs by functional breed groupings. Canine Genetics and Epidemiology, 2(9).
Pederson, D. et al (1999). Echocardiographic mitral valve prolapse in cavalier King Charles spaniels: epidemiology and prognostic significance for regurgitation. Veterinary Record, 144.
Starr, A. N. Hereditary evaluation of multiple developmental abnormalities in the Havanese dog breed. Journal of Heredity, 98(5).