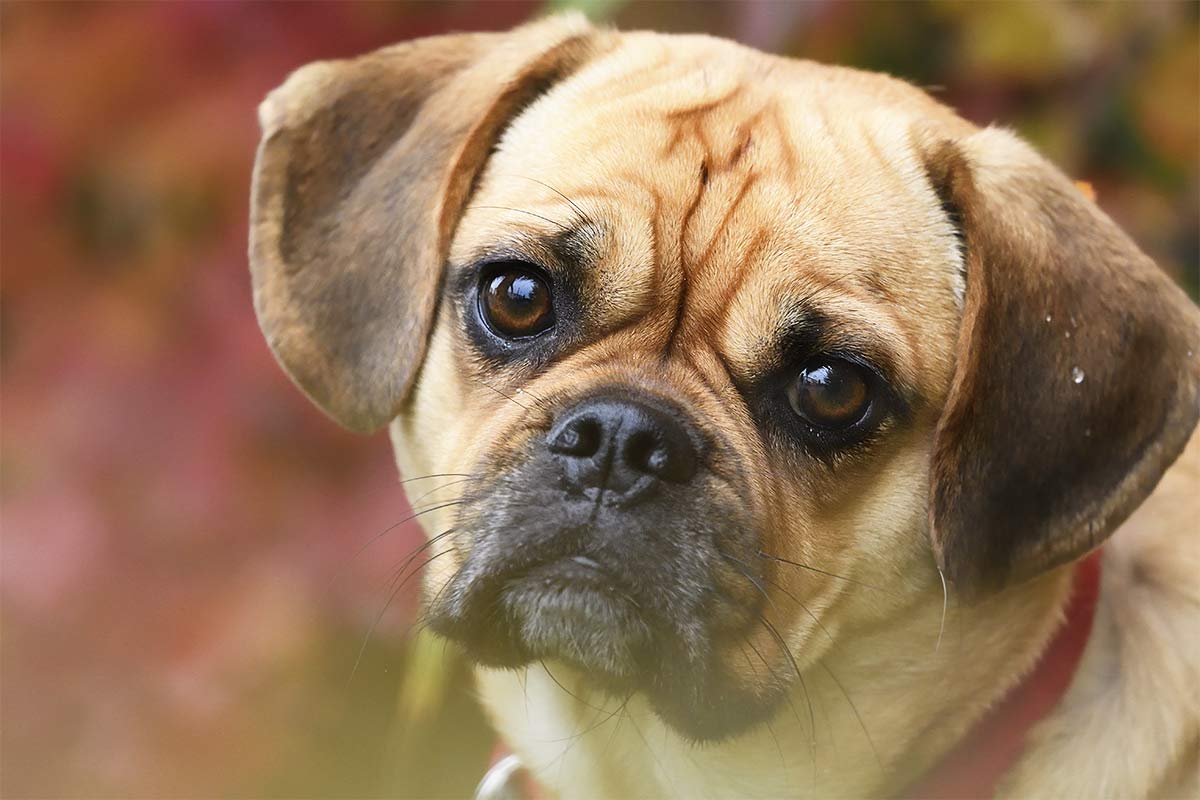 The Puggle is a hybrid designer dog. Puggles are a cross between a purebred Pug and a purebred Beagle. They are friendly, affectionate lapdogs with a lively nature. Pug Beagle mix characteristics vary a lot. Puggles can weigh anywhere from 14 – 35lbs and be between 10-15 inches tall! Although Puggles have a decent lifespan of around 13 years, their health varies a lot from dog to dog. Today we'll look at how to spot a healthy Puggle puppy, and let you know what breed traits to expect from this cute cross.
Contents
Settle in for a great read on every aspect of life with a Puggle. From what Puggles look like to which parent they most take after. And how to find one to buy or adopt. We'll also take a good look at Puggle lifespan and health. And give you an honest review of the pros and cons of the Puggle breed.
What is a Puggle?
Until not long ago, Puggle was the cute name that scientist gave to a baby echidna. That's a spiny anteater, in case you wanted to know. Then in the 1980s, the hybrid offspring of Pugs and Beagles started to gain popularity as pets.
After a bit of to-ing and fro-ing over names (Buggle? Peagle?) they eventually became known as Puggles. Cute name in place, the Puggle's fan base soared.
Puggles have inspired countless grumpy Puggle memes. They have sent millions of us to our phones to Google "Puggle pictures". And they have even mingled with the rich and famous.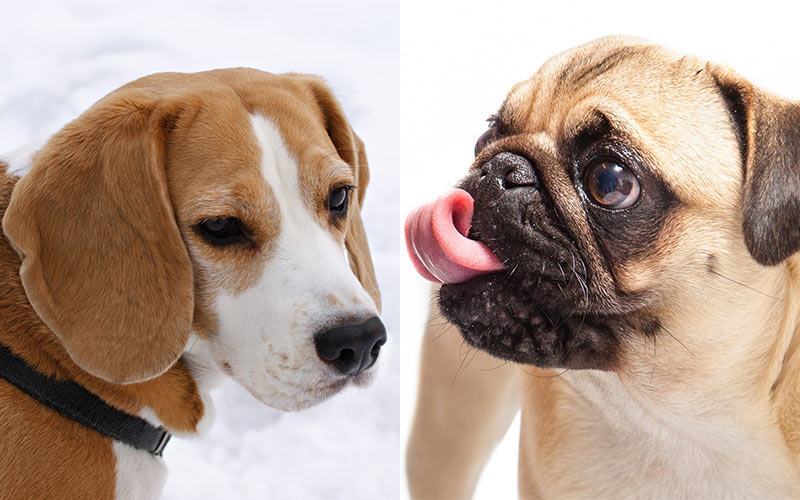 Celebrity Puggles!
Famous Puggle owners include Kelly Osborne, Uma Thurman, Jake Gyllenhaal and even Sylvester Stallone.
They could hardly be more fashionable! And these days the first answer to "what is a Puggle?" is undoubtedly "a mix between a Pug and Beagle". (If baby echidnas get upset by the Puggle stealing their name, they're not letting on.)
Where do Puggles come from?
Pugs are pretty much the first and last word in canine cuteness. In China they have been keeping dog lovers company since 400BC. Although those early Pugs didn't look quite the same as our modern day Pugs. By the 16th century Pugs had settled in Europe. They migrated to America with the earliest European settlers.
Beagles have a noble history which easily rivals that of the Pug. But Beagle enthusiasts bred their dogs for a very different purpose. In ancient Greece, men trained hound-type dogs to hunt together in packs. These were the likely forefathers of the modern Beagle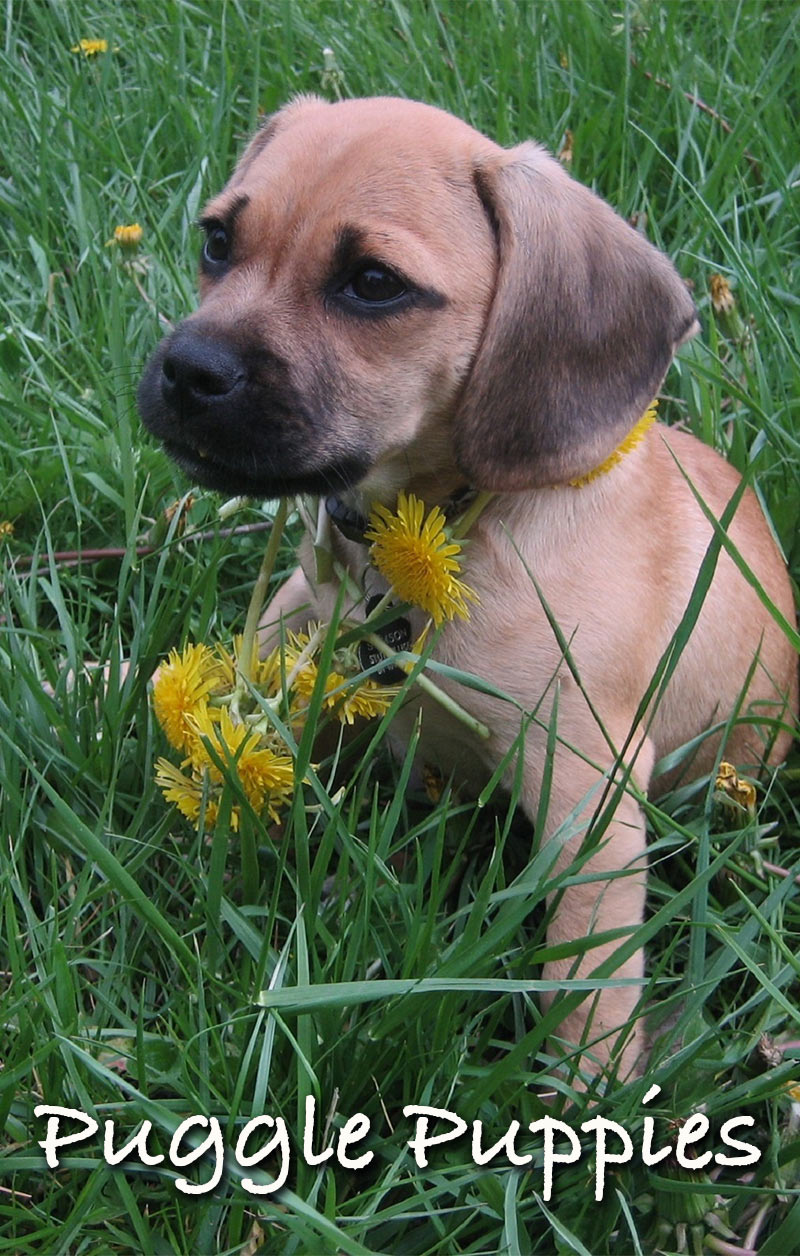 A Pet with Powerful Instincts
Beagles today still have their great sense of smell and endless reserves of stamina. And were widely used for pack hunting until quite recently Most of us no longer use Beagles for hunting.
But the Beagle's happy go lucky temperament and affection for its human family means they have become popular pets.
Early Puggle Breeders
Many sources credit a man called Wallace Havens, with "creating" the Puggle in the 1980s. He was a Puggle breeder from Wisconsin.
In fact, Pug and Beagle mix dogs had probably existed before that. But Havens was the first to realize their potential as part of the new trend for designer cross-breeds.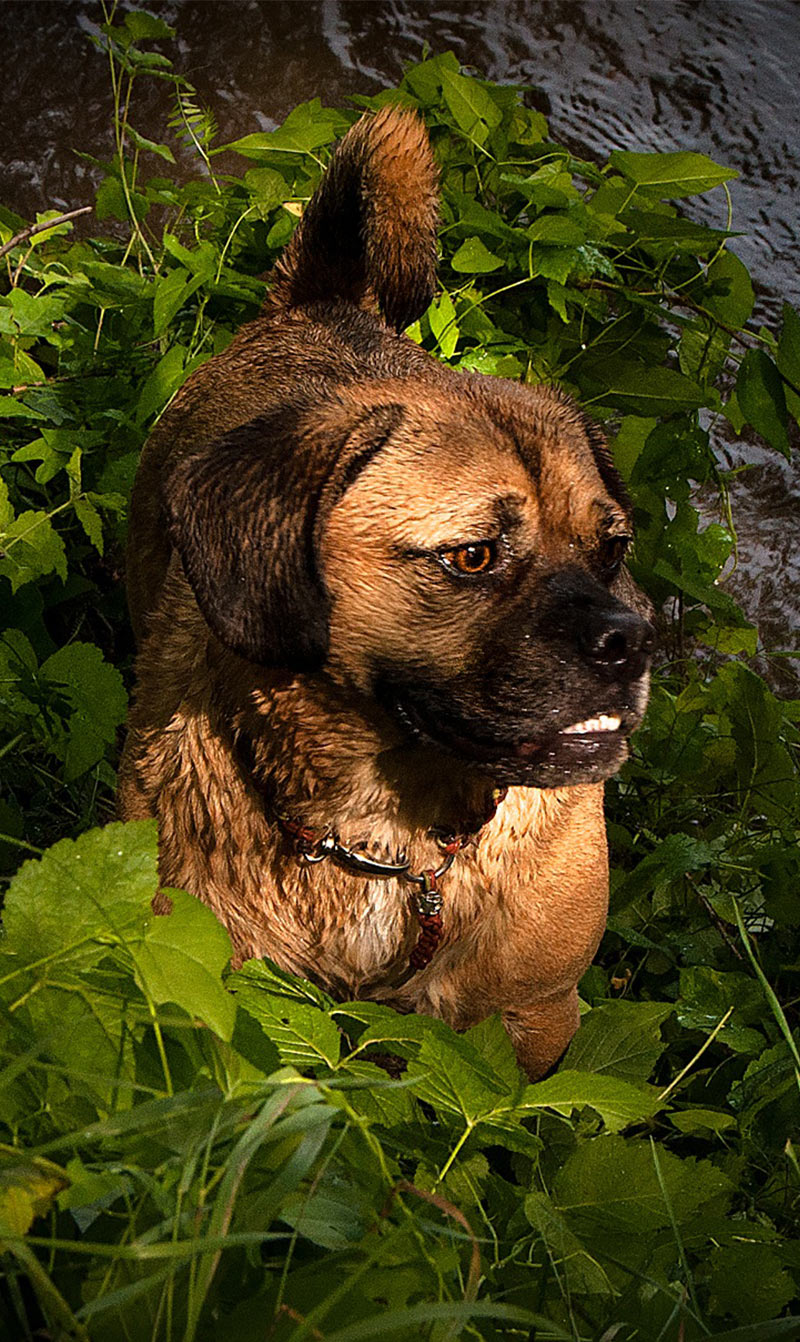 Puggle Popularity!
In 2007 the New York Times reported that one in every four litters the American Canine Hybrid Club registered that year was a litter of Puggles. So Puggles are popular and they're here to stay.
Maybe you're here because you're already thinking of bringing one home. What else do you need to know before you take the plunge?
Puggle Profile
When dogs of two different pedigrees breed, their puppies can take after strongly after one parent. Or they can inherit a mix of traits from each parent.
They can even get a little bit of everything. What's more, each puppy in a litter can inherit a different blend of features.
An Unpredictable Mix
Puggle puppies can vary widely from one puppy to another. Even puppies from the same litter may be very different from one another
If you're thinking of taking on a Puggle puppy, do consider all the features of both the Pug and the Beagle. It's important to make sure you'd be happy with any cocktail of the two. Let's see how that could look.
Puggle Size
Pugs are toy dogs, weighing a petite 14-18lb (6-8kg). Beagles are still compact, but tip the scales a little higher, between 22lb and 35lb (9-16kg). A Puggle can be very small like their Pug parent, or keep growing to 30lb or more.
Pugs and Beagles are both popular for being small-scale dogs, who do well in small-scale homes. Pugs stand a mighty 10-13 inches (25-33cm) tall at the shoulder, and Beagles rarely exceed 15 inches (38cm). A Puggle's full grown size is therefore likely to fall between 10 and 15 inches (25-38cm).
Pocket Puggle, Miniature Puggle and Teacup Puggle
The trend for smaller and smaller dogs has caused a surge in demand for Pocket Puggles. Also known as Miniature Puggles and Teacup Puggles.
This demand has led to breeders scaling-down the Puggle breed by breeding very small dogs together. Even sickly or malnourished pups are sometimes advertised as special varieties.
Tiny Puggles For Sale
Some Puggles will fall outside the normal size range and be healthy. Sadly, very many others have been the victim of greedy, unethical breeders. Miniaturization of toy breeds can be really bad for their health. Think carefully before seeking out a Pocket Puggle.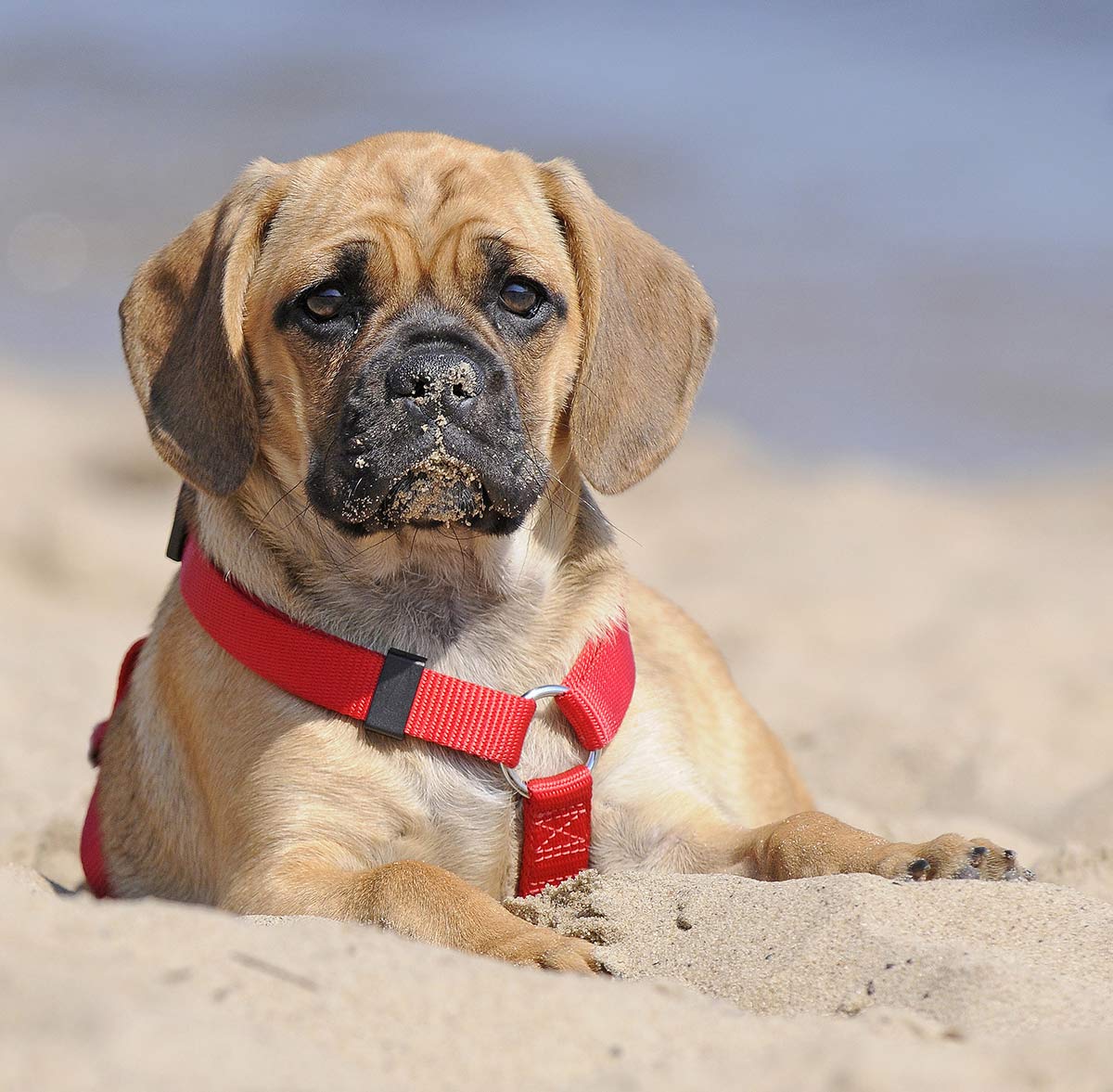 Characteristics
Pugs are famous for their baby-like faces, large eyes and deep set wrinkles. How deep your Puggle's wrinkles will be depends largely on luck of the draw.
If your Puggle inherits a Pug's furrowed brow, you'll need to keep those wrinkles clean. It's a good idea to read up on what this means for them, and how to clean wrinkled fur.
Puggle Colors
Pugs and Beagles are very smart little dogs, with short tidy coats and handsome markings.
Puggles can inherit the classic black and tan colors of the Pug. Or they may inherit one of the rich brown colors associated with Beagles. You can also find a black Puggle, or a Puggle with a Beagle's dapper white markings.
Puggle Shedding
Pugs and Beagles both molt, so with Puggles, shedding is pretty much a given. Interestingly, owners of all three breeds vary in their opinion of how badly they shed.
This is partly because some dogs from the same breed shed more than others. I suspect it is also because we are more forgiving of annoying habits in small dogs!
Are Puggles Hypoallergenic?
Both Pugs and Beagles are shedding breeds, that don't do well with dog allergy sufferers. Unfortunately, your Puggle puppy will not be hypoallergenic.
Puggle Mix Features
It's highly likely that your Puggle will be a vocal member of your household. Beagles are pack animals. Their loud howl belies their small size when they want to talk to their family. Pugs are known for barking, so Puggles might bark AND howl.
Puggle Personality
Let's move on to Puggle personality. Pugs are affectionately called "little shadows" because of how much they love their owners. But this sometimes turns to jealousy if they think they have to compete for your attention.
Their charm and mischief is so legendary they've even adopted the motto "multum in parvo". This means "a lot of dog in a small space".
Many Beagle owners describe their pets as happy dogs. They are easy going and smart, but their curiosity can get the better of them when they get carried away by an exciting new scent.
Puggle Temperament
A Puggle's temperament will include some common traits of Beagles and Pugs, and some unknowns. Puggles tend to be curious little explorers, and very devoted and affectionate to their human family.
Fans of Puggles describe them as playful, determined and happy. Their detractors say that where their Pug and Beagle sides clash, they can become confused and naughty.
Puggle Training
All dogs benefit from good training from an early age. If your Puggle has the Beagle's love of following its nose – wherever that may lead – then a good recall will be particularly important.
Pugs have a reputation for being difficult to toilet train. So you'll need to come armed with lots of strategies and patience if your Puggle is the same.
Luckily, both breeds are quite greedy. Which is great news as modern training methods all use food to motivate dogs.
Health
Pugs' winning personalities have made them a popular breed. But the pursuit of a that cute appearance has left them fighting a worrying number of health problems.
In particular, Pugs' squashed faces have harmed their ability to breath and to keep cool by panting. This means that Pugs are prone to respiratory problems and to overheating during exercise.
Eye Problems
Some Pugs' faces have become so flat that their eyes protrude from overly-shallow sockets. These Pugs are more likely to scratch and damage the surface of their eyes, and to pick up eye infections.
Puggle Tails
Breeding for the Pug's jaunty screw-tail has sadly lead to deformed spinal bones which can cause painful back problems.
Don't forget our complete guide to Pugs has a more detail on all these problems. You'll also find information on the other health concerns affecting Pugs. A Puggle can inherit any of them.
Joint Problems
Beagles seem blessed with robust good health in comparison. However, they can suffer hip dysplasia – a joint problem common in many pedigree dog breeds – and canine epilepsy.
There are some other more uncommon disorders Beagles are prone to. We cover them in more detail in our Beagle breed review.
Puggle Mix Health
The good news for a Puggle is that some of the Pug features that can lead to health problems are likely to be less severe than purebred Pugs. Those Beagle genes are helping them out here . So their muzzle is likely to be less short, and their eyes might not stick out of their skulls so much.
That means the Puggle is less likely to scratch their eyes than a Pug. And their spine may not twist so severely at the end as to cause pain. You might have a better chance of a puppy that has no breathing problems if you buy a Puggle, than you would if you were to buy a pug.
Healthier than a Pug but less healthy than a Beagle?
This is great in the sense that it avoids some of the health problems of the Pug. But on the other hand, you may wonder if it causes problems for the Beagle, who could otherwise have expected better health?
It's a tricky ethical question to deal with.
Puggle Lifespan
Puggle life span is between 10 and 15 years, in line with their parents. However, when choosing your Puggle puppy, it's important to consider the health of both parents. And the effects of health problems on quality of life A long life does not necessarily mean a happy one.
Puggle health and temperament
A Puggle puppy could inherit the energy of its Beagle parent, but the breathing and over-heating problems of it's Pug parent.
They might inherit a Beagle's sense of adventure, but not their ability to find their way back to you again.
Meaning they really want you to let them off the leash during walks, but it's not safe to allow it.
Either of these combinations can be distressing and frustrating for a Puggle, as they try to make sense of two conflicting instincts.
Could It's important to consider whether these are features you could live with
Are Puggles Good Family Dogs?
Pugs and Beagles are both notable for getting on with all kinds of people.
Puggles in turn are now popular family pets, and they're often described as being good with children.
Their small size means Puggles don't mind small homes, but they are likely to be noisy. This could be a problem in an apartment or a crowded neighborhood.
Remember that every Puggle is an unknown quantity.
Ask yourself if you and your family are ready for the uncertainty.
And if you have the time to figure out a Puggle and provide the right games and training to suit their needs.
Puggle Puppies
Whenever a new type dog becomes fashionable, some breeders will rush to produce puppies as quickly and cheaply as possible.
On the other hand, many owners of pedigree dogs would never cross-breed because they believe it "cheapens" the breeding line.
But somewhere in the middle, there are loving dog owners who commit to rearing a litter of puppies and do so as responsibly as possible.
The Puggle market is crowded, but we have some tips for finding those good breeders.
Puggle Price
So, how much does it cost to buy a Puggle? The answer is not as much as some other designer dogs. The internet is awash with Puggles for sale at around the $400-$600 mark.
A black Puggle or black and white Puggle is more unusual, but they cost the same, so presumably their scarcity isn't making them more sought after.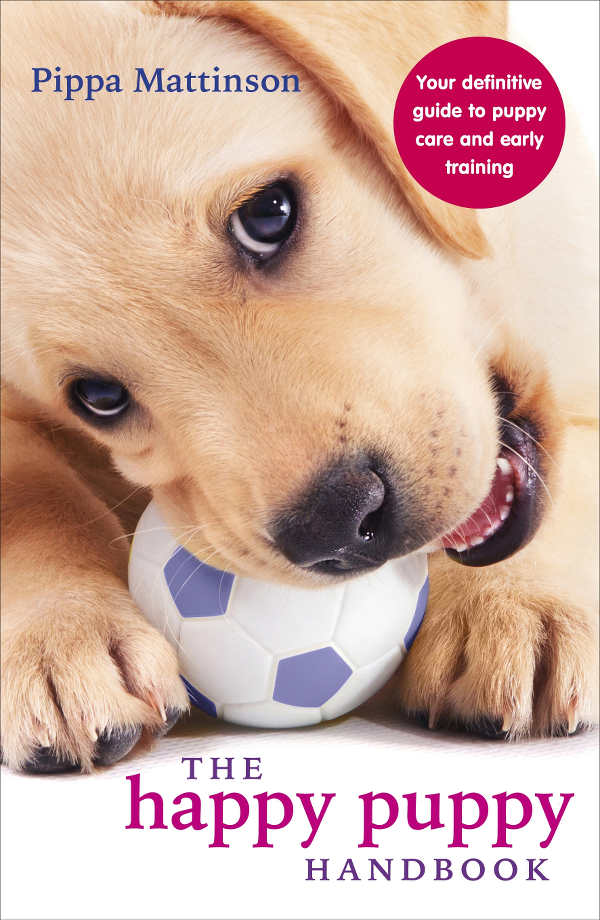 Beware of Puppy Mill Puggles
Sadly, many of these puppies are born on puppy farms. So only a small fraction of that cost represents investment in the puppies' welfare.
A puppy from a responsible breeder could cost more. However, a good breeder will introduce you to the puppies' parents, and show you the results of health screening for both of them. They will also have raised their puppies with love and care.
Knowing that your puppy has had the best start in life is very important. Far more valuable than the saving you could make on the purchase price of a puppy from a puppy mill. A well cared for puppy should provide you with years of good company
Puggle Rescue
Sadly some Puggle owners abandon their pets or relinquish them to animal shelters. On the bright side this means that there may be a Puggle waiting for you in a shelter nearby.
Finding Puggles for adoption is a great way to meet the newest member of your family. There are advantages of adopting a Puggle from a shelter
They are likely to be a bit older, so the shelter will be able to give you an indication of which features they have inherited from each parent. You'll also be reducing further demand for Puggles from low-quality breeders. And you'll be doing your bit to close puppy farms.
Are Puggles Good Family Pets?
They pack a lot of appeal into a small package. But cute Puggles are right in the thick of the controversy over designer dogs.
Puggles can have wonderful personalities.
If your first choice of dog was Pug, then choosing a Pug crossbreed is a great alternative.
One which side steps unhealthy breeding practices within the Pug pedigree.
Puggle Breeders
The key to finding a healthy, happy Puggle is finding a caring breeder. One who plans their matings responsibly. And who is happy to discuss all the potential issues of the Puggle breed with you.
They will choose a Pug parent with a longer than average muzzle, and no history of respiratory problems. The Beagle parent will be friendly and affectionate, as well as health tested.
The most important thing is that you take on your baby Puggle (or Puggle adult!) fully informed about the kind of dog you are bringing home. And understanding the care and training that they will need.
And now you've read this article to the end you have all the Puggle information you need to make your decision.
Do you have a Puggle?
What has your experience been of this unique hybrid? Did your Puggle's personality turn out as you expected?
Tell us and our readers about them in the comments section below!
References and further reading
You can learn all about the problems with flat faces in this article on brachycephaly.