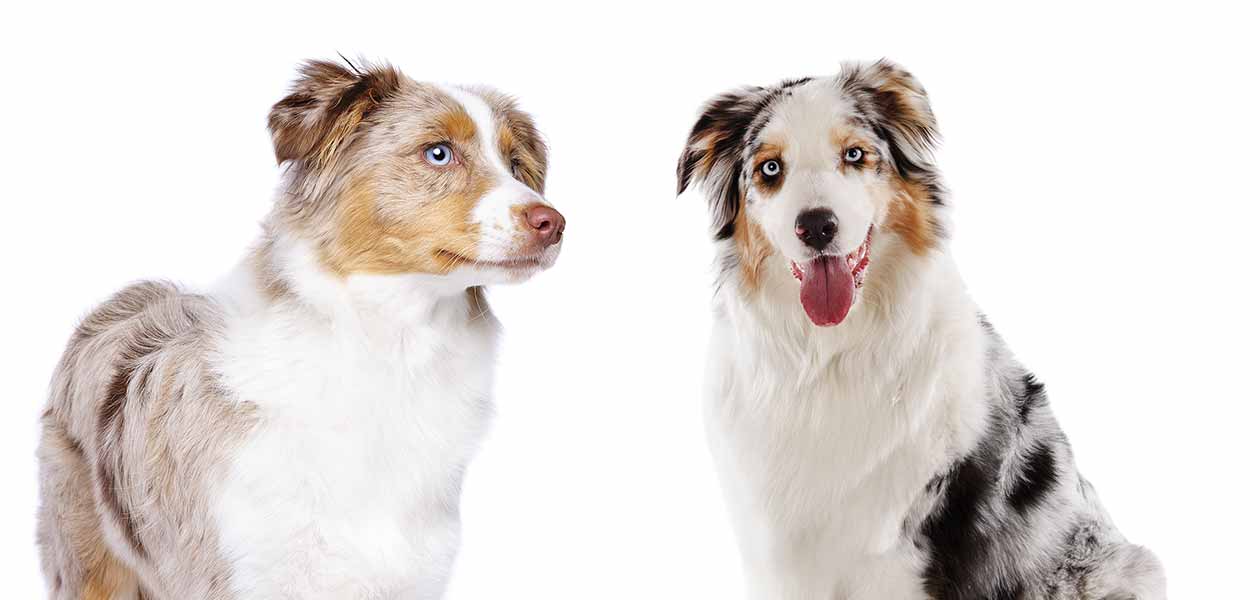 In many ways, the Miniature American Shepherd and the Australian Shepherd are the same dog, just in differently sized packages. Both are suited to people with active, outdoor lifestyles, and a lot of time to devote to training and providing mental stimulation. They're an ideal breed for people who enjoy dog sports, such as agility, flyball, herding, and scentwork. The American Shepherd may be a more practical choice if you only have a small vehicle, or a small home to return to at the end of the day though!
Contents
Miniature American Shepherds and Australian Shepherds are both herding breeds with big fanbases, and it's likely that they share a common ancestry. But for prospective puppy parents who have to decide upon just one, there are some key variations which can help make that choice a little clearer.
American Shepherd vs Australian Shepherd History
Often the history of a breed can shed some light on whether they would be a good present-day fit for you.
Australian Shepherds, affectionately known as simply "Aussies", are probably one of the greatest misnomers in dogdom. In fact, their ancestors started out in the Pyrenees mountains between France and Spain, and stopped off only briefly in Australia, before moving to California.
They made these intercontinental hops with sheep herders in pursuit of stable livelihoods, but the dog we know today is just as much the result of breeding and refinement by cattle ranchers in the American West.
Lots of Aussies are still true working dogs. If not herding cattle or sheep, they can also be found working as search-and-rescue dogs, service dogs, emotional support dogs, therapy dogs, and drug detectors. Their versatility makes them popular performance dogs too – from rodeo shows to film and television.
American Shepherd History
The proper name for the American Shepherd is the Miniature American Shepherd. But they actually started out in life known as Miniature Australian Shepherds. That's because when they first appeared on the Californian rodeo circuit in the 1960s, they were attributed as small Australian Shepherds.
Whether that was actually true or not, nobody seems to know. But their popularity grew quickly, and by the time they joined the American Kennel Club Foundation Stock Service in 2011 it had been agreed to call them Miniature American Shepherds.
They are popular herding dogs for small animal flocks, like sheep and goats. And their breed club particularly notes their popularity with equestrians travelling to horse shows, due to their easily transportable size.
American Shepherd Vs Australian Shepherd Appearance
Given the history of the Mini American Shepherd, it's hardly surprising that they look very similar to an Aussie. But of course, smaller!
Female Aussies weigh 40 to 55lbs. And males weigh 50 to 60lbs. Meanwhile, Mini American Shepherds weigh 20 to 40lbs. Their typical weight range isn't categorized by sex, but you could expect girls to more usually be near the bottom of the range, and boys to be nearer the top.
Aussies stand 18 to 23 inches tall at the shoulder. Males occupy the top of the range, and females occupy the bottom. Mini American Shepherds are 13 to 18 inches tall. Altogether, they are a much more compact dog!
Comparing Coat Types and Colors
Both breeds have coats which are medium in length and coarseness, and can be straight or wavy. The recognized colors for both dogs are
black
blue merle
red
and red merle.
Any of these colors can be coupled with tan or white markings, but not overly large white splashes.
Both breeds also carry a rogue coat color mutation in their DNA which throws brown puppies. These puppies don't qualify for the show ring, but they're just like the rest of their breed in every other way. In fact, the presence of this specific mutation only in Aussies and American Shepherds lends weight to the story that American Shepherds were descended from small Aussies.
Eyes
And lastly, both breeds are famous for having exceptionally pretty eyes, which can be blue or brown, and often display heterochromia. Heterochromia is when the eyes are different colors, or when two different colors appear in the same eye.
American Shepherd Vs Australian Shepherd Temperament
Both of these dogs are fantastically smart. As herding dogs, they need to learn complex cues, and work confidently at a distance from their handler.
Like most herding breeds, they might attempt to herd smaller pets and even children. This instinct can become a problem if they're met with resistance, because they may start nipping to try and get the job done. Since part of protecting a flock is seeing off would-be predators, most herding breeds also have strong guarding instincts.
As pets, either of these breeds may display guarding behaviors with respect to food, toys, or even people they regard as especially valuable. They might also be suspicious or stand-offish around strangers. However, they do usually form exceptionally loyal and devoted relationships with their human family.
And finally, like all clever, athletic dogs, these breeds are at risk of resorting to unwanted or destructive behaviors if they don't get enough exercise or mental stimulation.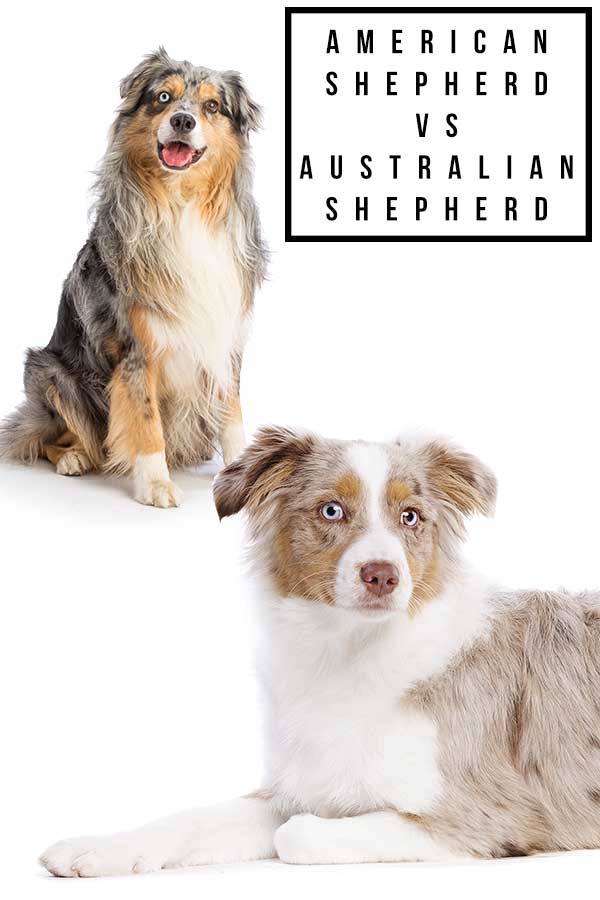 Is One Easier To Train?
The American Miniature and Australian Shepherds' working past makes them exceptionally responsive to training today. They have an enormous capacity for learning new commands, which makes them a joy to work with for training enthusiasts. But their intelligence can be a double edged sword. Both breeds crave mental stimulation, and if you don't want to spend lots of time channeling that into activities like training, then another breed might be better for you.
American Shepherd vs Australian Shepherd Exercise
Mini American Shepherds and Aussie Shepherds are both very active, energetic dogs. They were bred to spend long days working over large areas, so they needed to be athletic and possess lots of stamina. Their modern descendents still need lots of exercise too.
The Aussie needs at least two hours of outdoor activity a day. And despite being half the size, the Mini American Shepherd is unlikely to be content half the amount of exercise. They also need around two hours of exercise a day.
Are They Both Healthy Breeds?
One way to choose between two dog breeds is to consider the overall health of their pedigree. Dog breeds with a high frequency of heritable disease may cost more if vet fees over their lifetime, cost more to insure, and of course, bring more heartbreak with them.
American Shepherd health
Around 1 in 15 Mini American Shepherds suffer from hip dysplasia, whilst 1 in 40 experience elbow dysplasia. These painful conditions are caused by a combination of genetic factors (which breeding dogs can be screened for) and environmental factors (which can be mitigated or avoided).
About 1 in 50 have inherited multiple drug resistance. This a genetic condition common to several herding breeds, which causes dogs to react badly to a range of common medicines.
They're also somewhat prone to dental problems. This is probably due to having an Aussie's worth of teeth packed into a smaller pair of jaws.
Australian Shepherd health
Around 1 in 15 Aussies have some hearing loss, and just less than 1 in 30 suffer from inherited cataracts. 1 in 5 are carriers for the neurological disorder degenerative myelopathy, and approximately 1 in 12 are sufferers.
A further 1 in 16 Aussies have hip dysplasia, and 1 in 25 have elbow dysplasia. And 1 in 16 also have the inherited form of multi-drug resistance.
Which Breed Lives Longer?
There is very little published data about how long either of these breeds lives for on average. A small sample of 22 Aussies included in this study lived for 9 years on average, with the most long-lived dog reaching 15 years. This is slightly less than the all-breed average of 11.3 years.
In dogs, life expectancy is inversely correlated to body weight – that is, the smaller they are, the longer they live, on average. Aussies are medium-large dogs, which might account for them not quite reaching the all-dog average. Another reason might be the frequency of life limiting hereditary disorders like degenerative myelopathy.
Since American Shepherds are much smaller than Aussies, it's plausible that they should live longer on average as well. English Cocker Spaniels, Staffordshire Bull Terriers and Whippets all occupy a similar weight bracket to the Mini American Shepherd, and live 11-13 years on average. But at the time of writing, there isn't enough information specifically about the American Shepherd to say if they're the same.
American Shepherds vs Australian Shepherd Puppies
Whichever breed you go for in the end, the best way to secure a long, happy life with your dog is to find a puppy from a responsible breeder. American Shepherd puppies should come from parents who were screened for:
Hip dysplasia
Eye disease by eye exam, and specifically Progressive Retinal Atrophy by DNA test
Hereditary cataracts
Multiple drug sensitivity
Collie eye anomaly
Elbow dysplasia
Degenerative myelopathy
Good breeders will be able to show you the paperwork supporting each of these tests. They will have as many questions for you as you have for them. And they will welcome you into their home to see where their puppies are being raised with their mom, in the heart of the family.