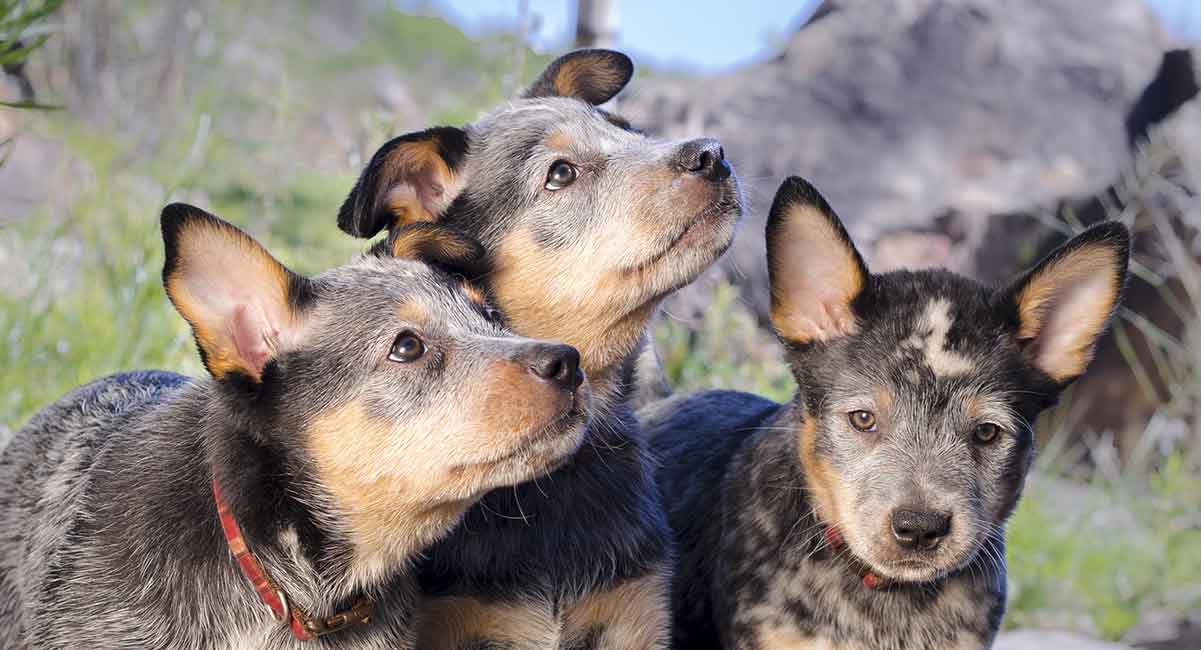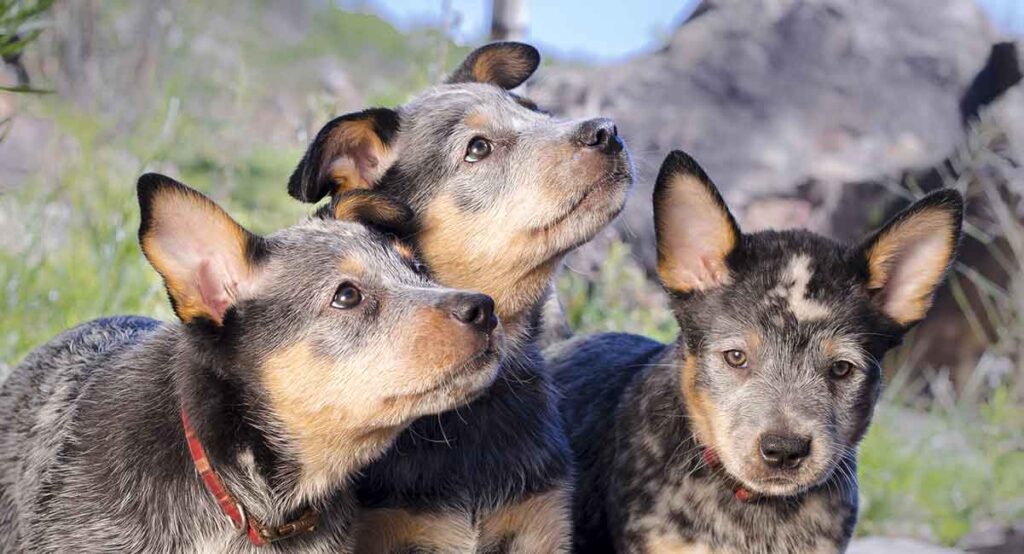 The best Blue Heeler names reflect their spirit, as well as the gorgeous good looks of the Australian Cattle Dog. Finding the right name isn't always easy but we have a great system, for finding and choosing awesome Blue Heeler girl and boy names, that we are going to share with you!
Contents
You have picked one of the most amazing dog breeds! Now you need an amazing name to suit your new friend perfectly. There are three important steps to getting the right cattle dog names.
Collecting ideas
Shortlisting the best
Making the final choice
I'll show you how to work through each step in turn and we'll give you over two hundred great male and female blue heeler names to get you started! Brainstorming is a great way to gather those initial ideas. So instead of writing long lists that just make your brain melt, try jotting names down randomly on a large sheet of paper. This helps the right names to leap off the page instead of getting lost. It's how our brains work best!
The Best Blue Heeler Names
The Blue Heeler is no lap dog. This lively pup is going to keep you and your family on your toes, and she'll need a name to match. Because these clever dogs do best when there's fun to be had, they benefit hugely from training. So you'll want to pick something that is distinctive and fairly short. Girl Blue Heeler names should be easy to call out, and to train her to come back to. Given that your dog is probably going to learn several commands in her life, it's best to make sure that her new name doesn't sound too much like any of them. You don't want to make things confusing later on!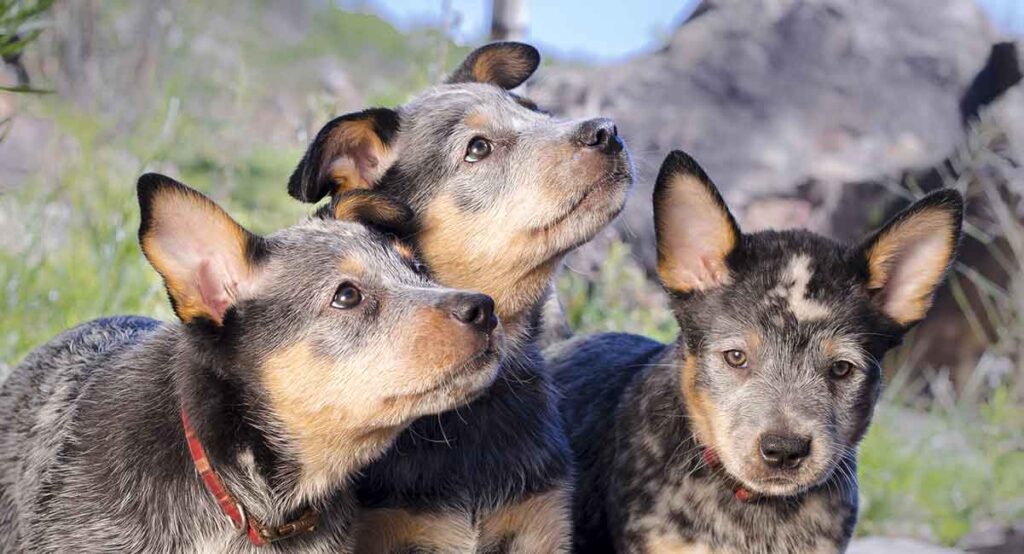 Collecting Ideas
Get your pen and paper ready, it's time to start collecting those ideas. You can use lists of names for inspiration – you'll find plenty of those below. But you can also create collections of names around a theme. It could be a theme to do with your dog's heritage, cow dog names, for example. Or a physical attribute such as your dog's coat color, or whether they are male or female. There are some links right here, if you want to skip straight to our own inspirational collections.
Unique Blue Heeler Names
If you are looking for a name is truly original, it's a great idea to come up with your own themes and build collections of names around those. Here's how it goes. In the center of your sheet of paper, write the name of something that interests you. It could be historic buildings, butterflies, or a sport or activity that you are crazy about, motor cycle racing perhaps, or horses. Now jot down words on the paper that you associate with that interest. Here's an example using the theme 'Wilderness'.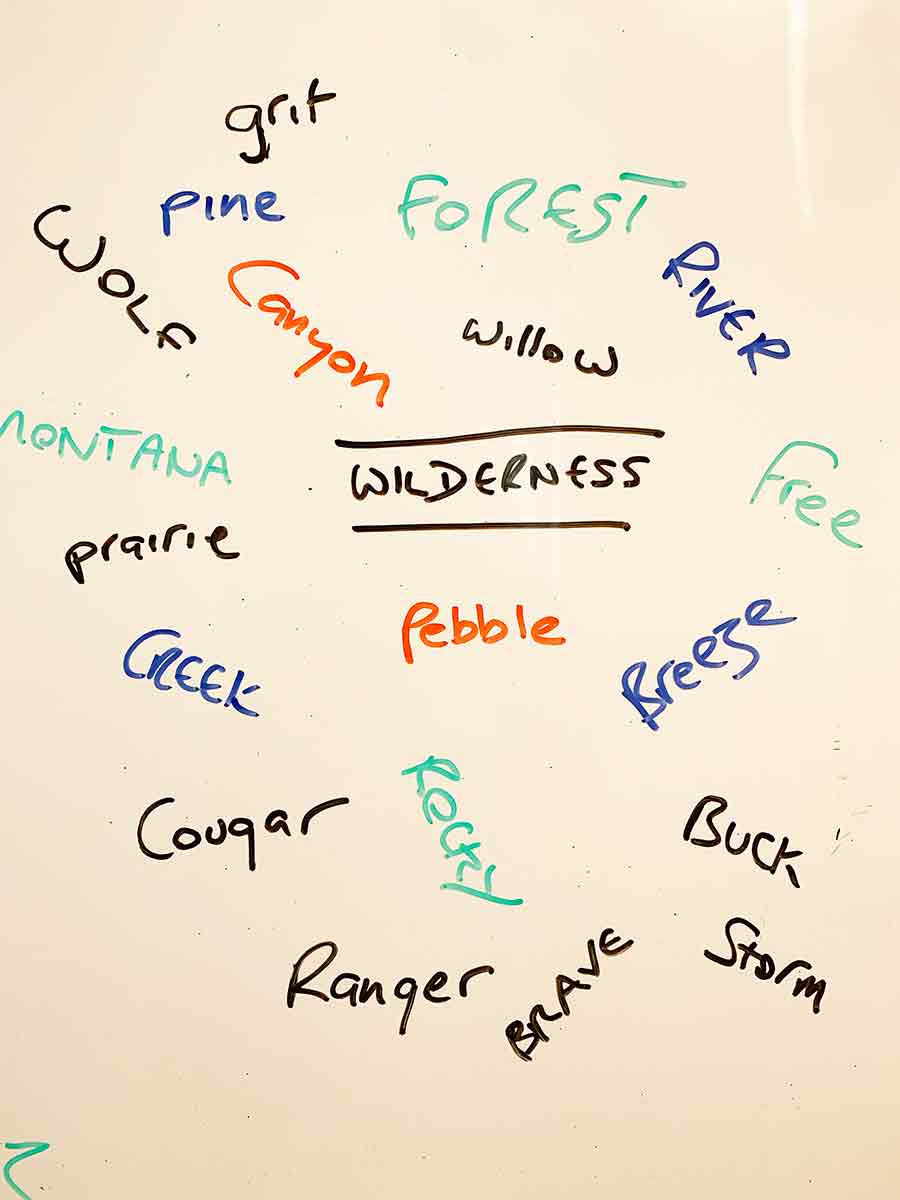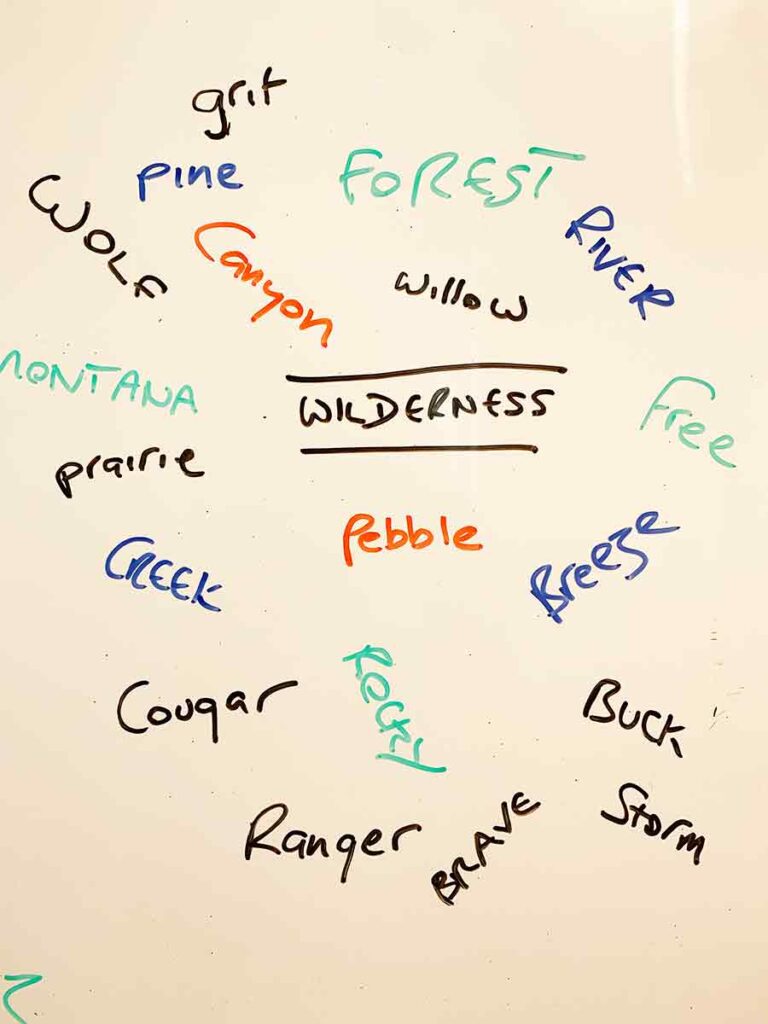 Spread the words out, don't evaluate them or try to choose one. Just let the words flow onto the paper for a while. You can discard the silly ones and the rubbish later, but if you try too hard to get perfect names at the start, you'll just dry up. Make several collections on different sheets of paper. We've made some collections here too. Here are some names for Blue Heeler boys and girls to get the show on the road!
Australian Blue Heeler Names
Another name for the Blue Heeler is of course the Australian Cattle dog. And so a theme idea that suits the Blue Heeler very well, is Australian town or city names. Place names can be very evocative and beautiful, they make great Australian dog names. Choose one of these and you could have a very unusual Blue Heeler name
Adelaide
Sydney
Darwin
Narooma
Omeo
Pinjarra
Seymour
Temora
Hobart
Bendigo
Albany
Whyalla
Augusta
Wagga Wagga
Freemantle
Katherine
Avoca
Terowie
Bethany
Berrima
Beulah
Franklin
Foster
Greta
Kiandra
Koonya
Licola
Moama
Warwick
Blue Heeler Girl Names
Heeler dog names female puppies would love can be inspired by the kind you find in baby naming books. Although there are some gorgeous long, flowing names that are popular for girls, these can be a little inappropriate to use on a working breed as we've just seen. The Australian Cattle Dog names female pups do well with are usually short, sweet and easy to pronounce. Here are some great ideas for female Blue Heeler names:
Amy
Annie
Ash
Bella
Brooke
Carla
Chloe
Clare
Demi
Edie
Ellie
Emma
Faith
Frankie
Grace
Gwen
Hadley
Harley
Hope
Jade
Jess
Jo
Lexi
Liv
Lola
Meg
Mia
Millie
Paige
Peg
Quinn
Reese
Rose
Sage
Sky
Tess
Tilly
Wren
Zara
Zoe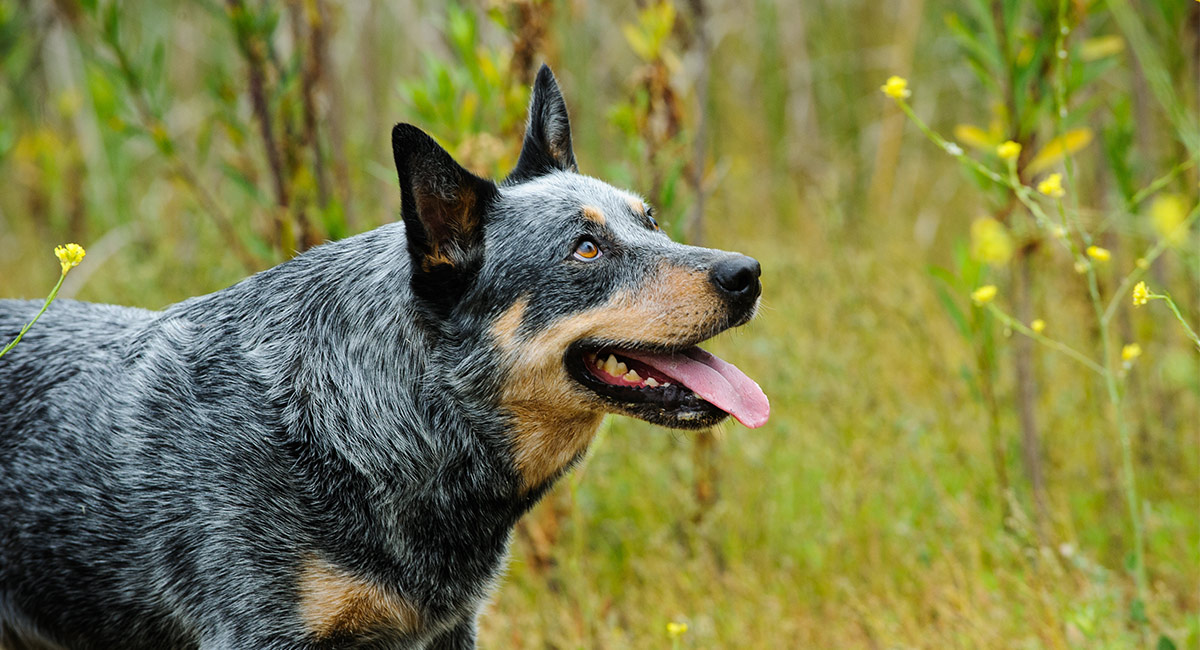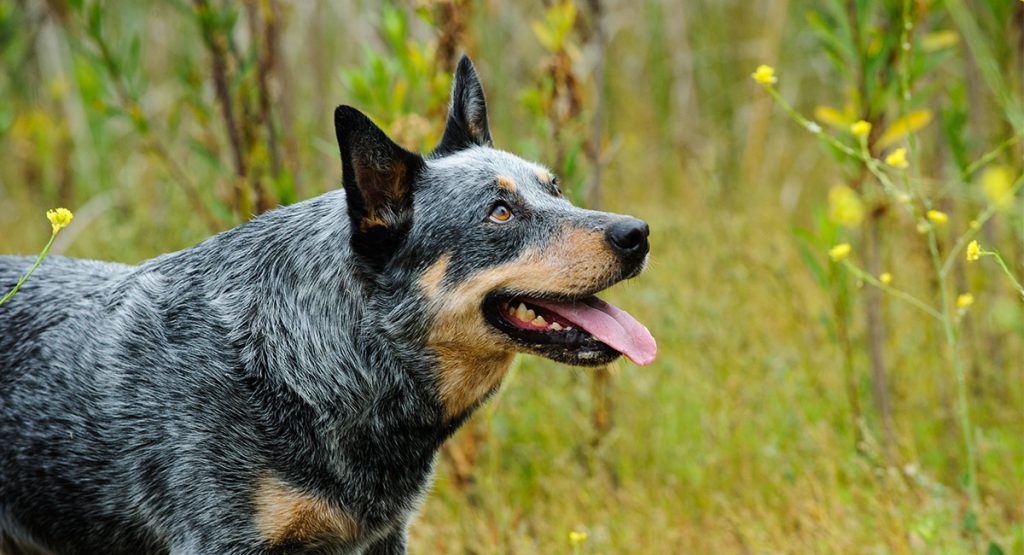 But of course, your new pup might not be a little lady! So let's now move from Blue Heeler dog names girl puppies will suit, to boy dog ones for Heelers!
Blue Heeler Boy Names
Heeler male dog names just like female ones can be more traditionally human in style. We have selected some great male Blue Heeler names that are short, sweet and should suit your clever pup well.
Archie
Arlo
Arnie
Ben
Blake
Brock
Bryn
Clark
Cole
Dale
Dan
Drake
Eddie
Finn
Flynn
Freddie
Harry
Holt
Jack
Jake
Kane
Len
Manny
Max
Milo
Noah
Oli
Otto
Robby
Ron
Sam
Seth
Tate
Ted
Troy
Vince
Wade
Wilf
Zach
Zane
More Name Collections
Of course we don't need to separate them into male and female categories. You can name your pup based on their traits, appearance or even the things that you like the most.
Cute Blue Heeler Names
When it comes to puppy names, you can't really go wrong with 'cute'. After all, what puppy isn't adorable? These insanely sweet Australian Cattle Dog names will have you grinning from ear to ear whenever you hear them. If you love a bit of a charm, then see if any of these cute Blue Heeler names inspire you:
Angel
Aster
Baby
Bean
Boo
Boots
Blossom
Bluebell
Buttons
Buzz
Cherry
Chip
Clover
Coco
Cookie
Custard
Daisy
Disco
Ditto
Dolly
Doodle
Echo
Elmo
Genoa
Ginger
Honey
Lolly
Mango
Mouse
Muffin
Noodle
Princess
Sorbet
Sparky
Stitch
Sunny
Tansy
Waffles
Whirl
Ziggy
These cute ideas don't need to just be Blue Heeler female dog names, they can suit the boys just as well.
Blue Dog Names
It's not that often that you get to see a blue puppy, is it? What better way of celebrating your unique new dog than with Blue Heeler puppy names which are quite literally the same color. All of these Blue Heeler names are inspired by things associated with the color, or beautiful shades and tones.
Arctic
Azul
Azure
Berry
Bird
Bleu
Bluford
Cadet
Celeste
Cobalt
Cyan
Denim
Flax
Georgia
Grape
Iris
Jey
Lupine
Lynae
Marine
Maya
Midnight
Navy
Ocean
Oxford
Plum
Powder
Raisin
Royal
Salvia
Sapphire
Space
Steel
Teal
Thistle
Yale
Zaffre
But their blue coloring isn't the only distinctive thing about the Australian Cattle dog that can be used to inspire Blue Heeler names.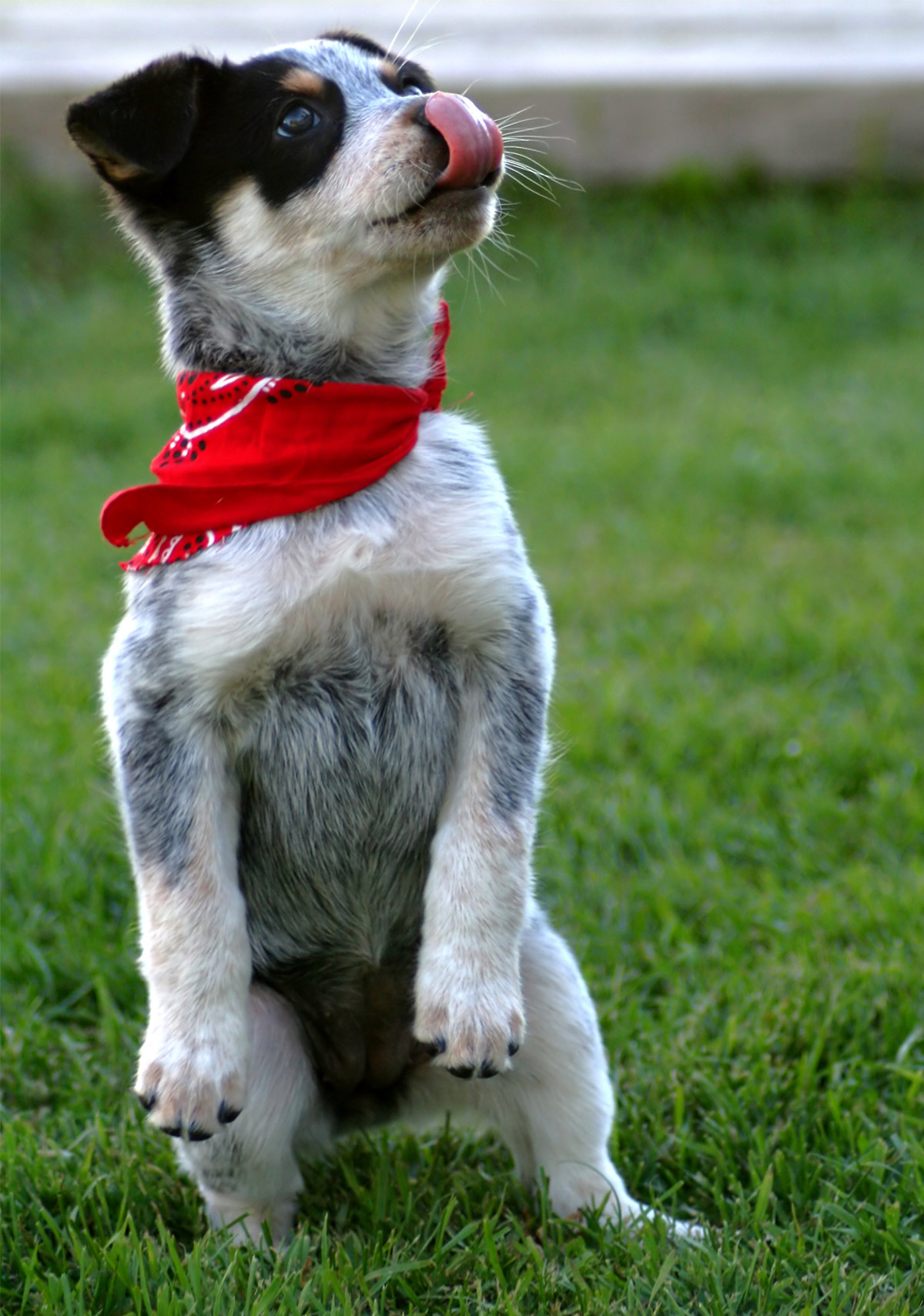 Cattle Dog Names
Good names for Blue Heelers can of course come from their original role. As an Australian Cattle dog! We've included some herding dog names, old-fashioned working dog names and different breeds of cattle too! Although you might want to shorten a few of those down, to make them a bit more doggy!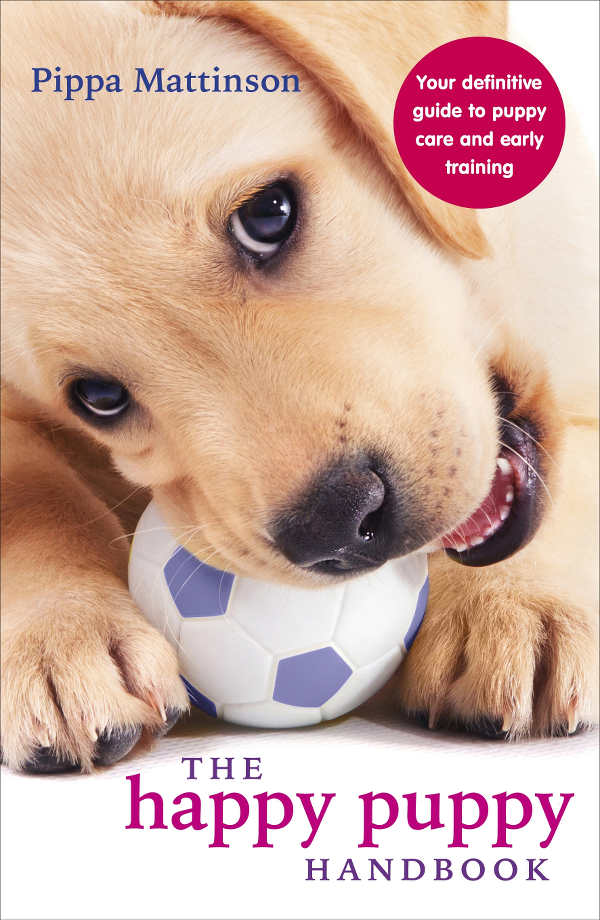 Angus
Aryshire
Bandit
Brangus
Charolais
Chase
Chianina
Dairy
Dexter
Drive
Fetch
Fly
Galloway
Gelbvieh
Hemp
Hereford
Holstein
Hunter
Jersey
Lassie
Limousin
Longhorn
Lucky
Moss
Oreo
Poll
Rally
Rex
Scout
Shadow
Shep
Shorthorn
Simmental
Slick
Sly
Swiss
Texas
Tweed
Watusi
Winston
Red Heeler Names
Although Blue Heeler is the common nickname for the Australian Cattle dog, these brilliant pups also come in red! These names can be inspired by that distinctive and gorgeous color. Here are some Red Heeler names directly related to that cute coat.
Scarlet
Rusty
Apricot
Apple
Cherry
Berry
Rose
Tulip
Sienna
Burgundy
Clay
Rooster
Crimson
Claret
Flame
Flare
Brick
How To Make A Shortlist
Making a shortlist of the names you like best is the second step in the process! And it's important to involve all the family so that when it comes to making the final choice they feel invested and involved in the decision. You can either get family members to each choose three or four names from your collections. Or you can reverse the process and let everyone take it in turns at removing their least favorite name until there are just ten or twelve names left.
Picking Your Top Blue Heeler Name!
Choosing is hard! Especially if there are several of you involved in the decision. Pin your shortlist up on the refrigerator or kitchen noticeboard. Use post it notes or scraps of paper. You can do this over a period of days to give everyone a chance to think this over. Even if your puppy has already arrived you don't need to rush. Puppies don't need to be taught their name right away. They can just be called Pup for the first few days. It may be that one name will stand out from the crowd.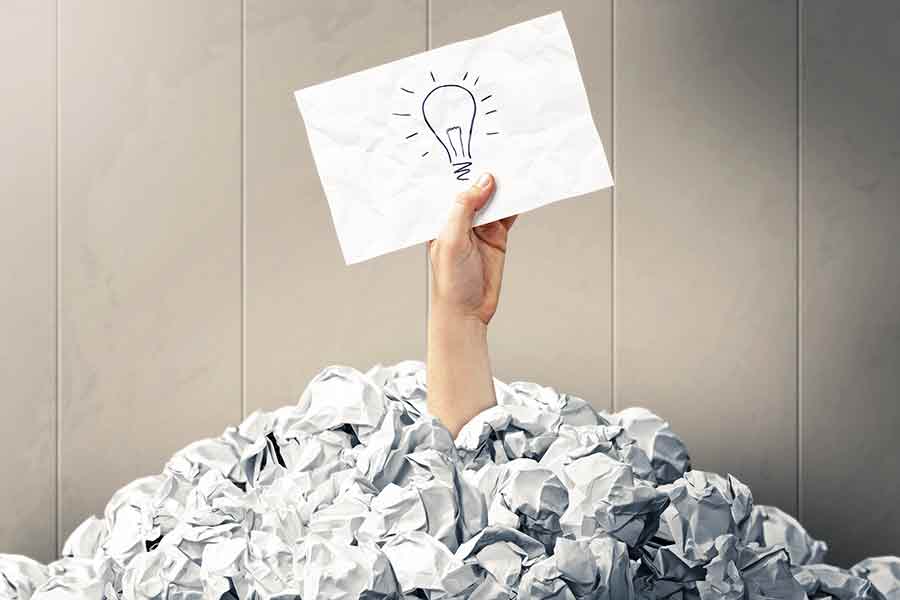 But sometimes there isn't a clear winner, and eventually it's time to make that final pick. If you haven't agreed after a few days of looking at that shortlist, it's time to play the picking game or lucky dip. Fold up your notes with the names on and put them all in a box or tin and get a friend or neighbor to pick one out. Don't panic if you don't love the final choice, it's pretty easy to change your dog's name in the future if you want to.