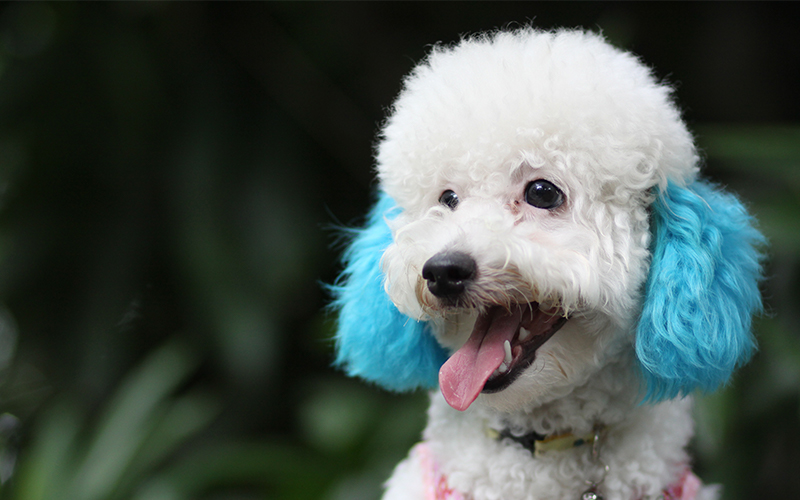 Poodle names can come in many forms. From serious to funny, cute to unique. We have put the best names into categories, to help you make the right choice for your new pup or rescue dog.
So whether you are looking for Toy Poodle options, Standard Poodle choices or just general Poodle puppy names – we have some great options for you.
Our Favorite Poodle Names
Let's get started with the top 100 Poodle names!
| | |
| --- | --- |
| Blake | Pip |
| Kingsley | Gigi |
| Asher | Darcy |
| Archie | Duchess |
| Gus | Queenie |
| Winston | Effie |
| Gatsby | Flora |
| Oliver | Lady |
| Duke | Darling |
| Max | Potts |
| Charlie | Gertie |
| Spud | JoJo |
| Chewie | Piper |
| Rascal | Mia |
| Barkley | Manon |
| Mickey | Katie |
| Hank | Heather |
| Scrappy | Nala |
| Xander | Minnie |
| Jett | Pebbles |
| Bandit | Olive |
| Clint | Silky |
| Dan | Curls |
| Wolfie | Valentine |
| Brodie | Merlot |
| Adam | Ariel |
| Banksy | Brooke |
| Barney | Crumpet |
| Desmond | Eliza |
| Daryll | Poppy |
| Felipe | Jenny |
| Jack | Devon |
| Frankie | Pesto |
| Jerome | Princess |
| Hugo | Angel |
| Ivan | Betty |
| Jester | Chanel |
| Mitch | Coco |
| Rufus | Alyssa |
| Squire | Dakota |
| Wilfred | Pixie |
| Koda | Fi |
| Riley | Izzy |
| Axel | Lola |
| Spinner | Ness |
| Rex | Pearl |
| Ducky | Berry |
| Simon | Ursula |
| Jack | Zelda |
| Monty | Noodles |
If none of these take your fancy, we can try some more traditional, human style names.
Quick Links
Jump straight to your preferred section with these quick links!
Male poodle names
Poodle names – male or female – can be really great in the form of human ones.
No matter what your pup's size, their title can all come from these same baby name routes.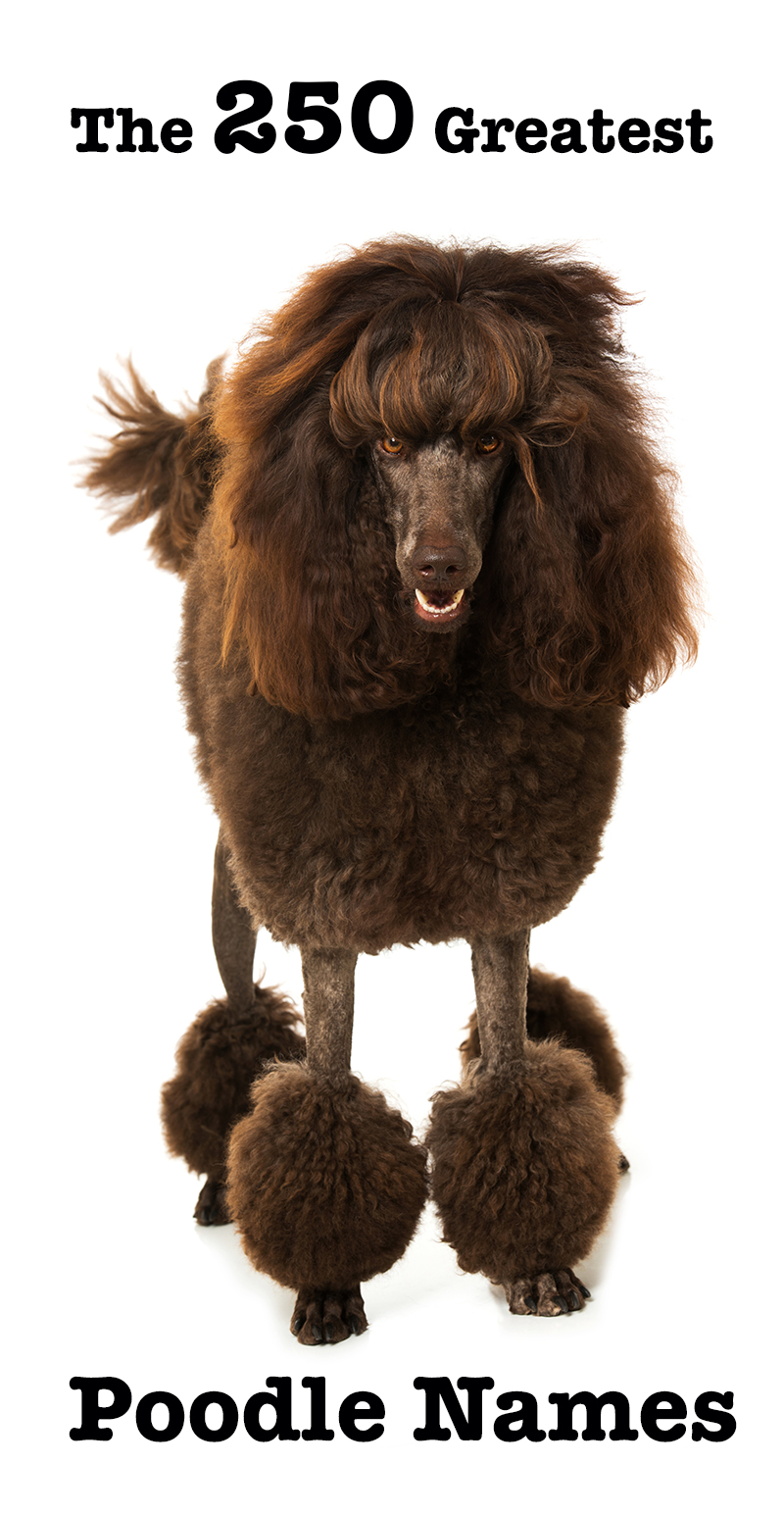 We've picked out a collection of great male Poodle names that would suit any variety of the breed down to the ground.
Alex
Benny
Carter
Charlie
Cooper
Danny
Drake
Dylan
Ethan
Freddie
George
Harry
Jackson
Jake
Jimmy
Josh
Kane
Luka
Marco
Mason
Noah
Oli
Oscar
Petey
Ryan
Sammy
Seb
Tanner
Tommy
Zack
Check out 200 more awesome boy dog names here.
But now let's head over to some more excellent Poodle name – female!
Female poodle names
These don't have to be traditionally girly.
Girl Poodle names can be anything from sensible to silly, fancy or even old fashioned.
If you like human names for dogs as much as we do, I bet there will be a few excellent options for you in the selection below.
Ali
Amy
Annie
Bella
Callie
Carla
Cassie
Chloe
Crystal
Dolly
Ellie
Elsa
Frannie
Georgie
Hannah
Judy
Katie
Lauren
Lola
Meg
Milly
Molly
Nora
Orla
Sarah
Sophie
Tess
Tilly
Zara
Zoe
Check out 150 more cool girl dog names here.
Love these, but want one that suits your French breed a little better?
Then how about a French Poodle names that are quite literally French!
French poodle names
Here are some lovely French options that would sound great when given to a French Poodle.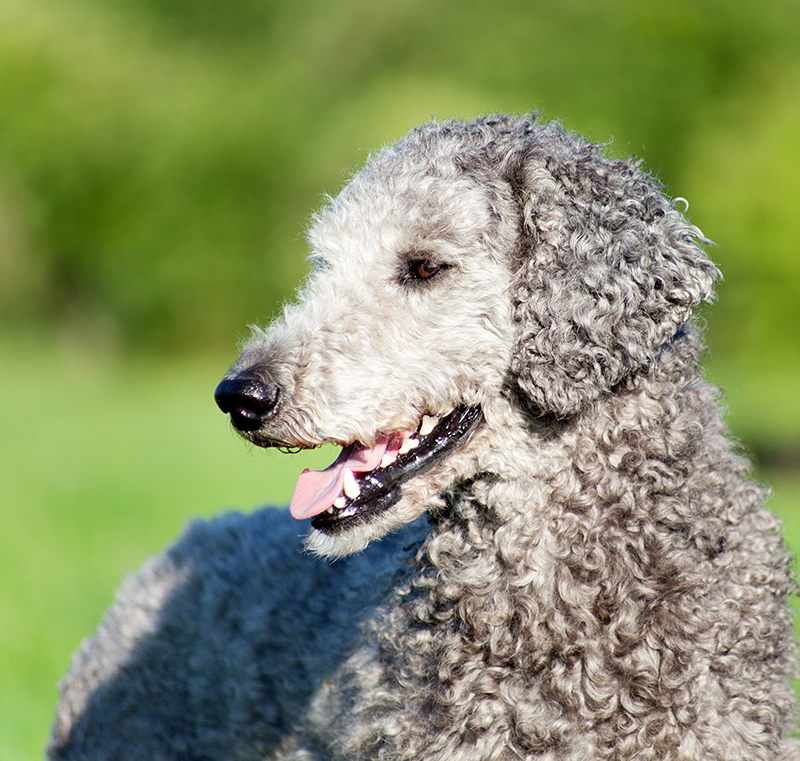 Alexis
Amelie
Camille
Cecile
Clara
Clem
Damien
Dominique
Emmanuelle
Estelle
Fabrice
Florence
Francois
Gaston
Giselle
Henri
Jacques
Jeanne
Juliette
Laurent
Marcel
Maxime
Madeleine
Marguerite
Noelle
Olivier
Orson
Philippe
Simone
Xavier
Yves
Poodles come in lots of different lovely varieties, and one of the most popular is the sweet little Toy Poodle.
Toy poodle names
Toy Poodle names – female or male – can be a reflection of their adorable stature.
Namine miniature pups in the same vein can show of their teeny size and gentle natures.
Here are our top choices for Toy Poodles and Miniature Poodles alike.
Atom
Beetle
Bitsy
Bonsai
Boo
Bug
Chico
Dinky
Dobby
Dot
Elf
Itsy
Mini
Mouse
Nibbler
Nugget
Peanut
Peewee
Piccolo
Pippin
Pixie
Raisin
Scraps
Shrimp
Tinker
Titch
But as every Poodle owner knows, you don't need to be a Toy Poodle to be seriously cute.
Cute poodle names
Cute dog names that are as sweet as your puppy are another fun way of naming your dog.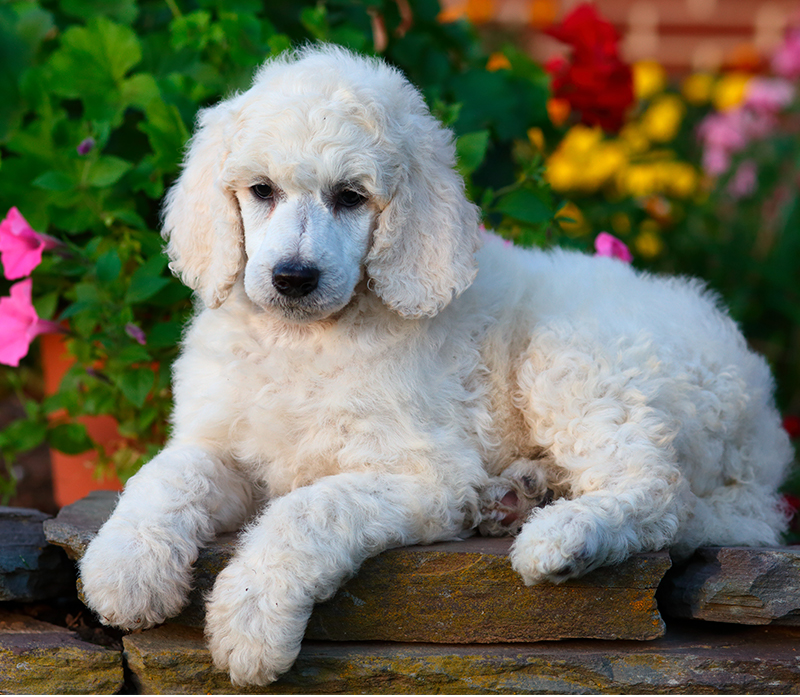 If you're a sucker for a cutie pie or sweetie belle, then check out these fabulously adorable choices.
Baby
Bonny
Boots
Buttons
Charm
Cuddles
Cutie
Darling
Dixie
Doodle
Fifi
Fluffy
Gidget
Magic
Mittens
Pickle
Pixie
Puddles
Nipper
Marshmallow
Skittles
Socks
Sparkle
Sweetie
Twinkle
Woolly
Poodles aren't just cute, they come in a wonderful range of colors too.
Black poodle names
Dog names for poodles with beautiful black fur can be just as unique and gorgeous as your dog is.
So whether you are wanting what your black dog's size, there are some awesome choices here.
Coal
Cosmos
Crow
Domino
Dusky
Ebony
Inky
Jet
Midnight
Moon
Ninja
Olive
Panther
Raven
Sable
Shade
Shadow
Sooty
Starling
Twilight
From deep and dusky to the bright flames of the Poodle world – next we'll check out some wonderful Red dog options.
Red poodle names
Good poodle names can show off their personality as well as their appearance. What's great about red dogs is that red is a color that's fully associated with feeling.
Red is often associated with passion and emotion, bravery and daring.
So you might like to pick one of these cute choices for your ruby pup.
Berry
Blaze
Blush
Brick
Cherry
Claret
Cranberry
Flame
Flare
Lory
Peony
Poppy
Raspberry
Rosie
Rouge
Ruby
Rusty
Scarlet
Strawberry
Zinnia
And from the brightest to the palest, next we'll check out some brilliant white Poodle options.
White poodle names
A name for a Poodle that shows off his stunning coat is always a good decision.
Here is some inspiration for white dogs that will pack your pup with personality, as well as a sense of his lovely shade.
Angel
Ash
Blanche
Blondie
Chilly
Dahlia
Daisy
Frosty
Ghost
Glossy
Lily
Luna
Pearl
Petunia
Polar
Silvy
Snowy
Spectre
Spirit
Apricot poodle names
Choices for apricot dogs are great fun to find. There are so many gorgeous apricot ideas around, which would suit any Poodle well.
Here are our top choices and the best picks of the apricot bunch.
Bay
Butternut
Chestnut
Citrus
Copper
Foxy
Ginger
Honey
Marigold
Nemo
Panda
Peaches
Pumpkin
Sunny
Tango
Moving away from color with our lists now, let's take a look at some options that will show your Poodles fancier side!
Fancy poodle names
Poodle names come in many forms, but it's clear why lots of people want fancy ones!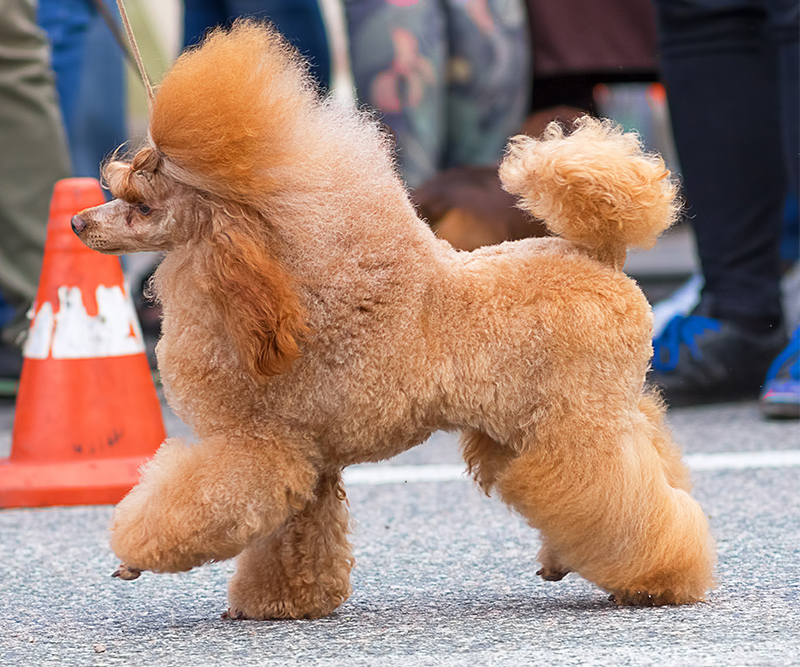 Due to their serene names and formal hair cuts, the breed has long been associated with the finer things in life.
If you want a fancy Poodle name for your precious pup, then take a look at the lovely choices here.
Alfred
Anastasia
Augustus
Barnabus
Beatrice
Charlotte
Cordelia
Edwin
Eleanora
Elizabeth
Errol
Evangeline
Fairfax
Frederick
Genevieve
Hamilton
Harrold
Helena
Isobel
Jacqueline
Josephine
Julius
Leopold
Maximus
Oberon
Prunella
Rafferty
Sandford
Sebastian
Theodore
Tobias
Victoria
Vincent
Violetta
Wilbur
Best poodle names
Poodle names can be inspired by anything and everything, From cute choices, to sensible ones for calm adult dogs.
We hope that the ideas here gave you some fun and inspiring ideas for naming Poodles.
When you've made your choice, why not let us know what you picked in the comments section below?!
Still not sure what to name your Poodle?
Check out these other great dog names lists: