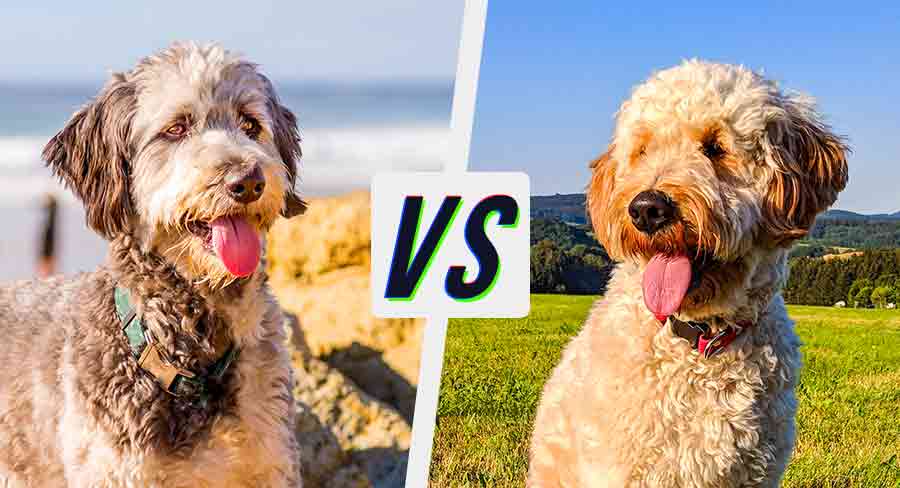 Aussiedoodle vs Goldendoodle – which mixed breed makes a better family pet? Both the Aussiedoodle and Goldendoodle mixes are increasingly popular picks for family homes. And, these two mixes share some important traits. They are both energetic, affectionate, and intelligent, which is great news when it comes to training! But, how do you pick between them? Which one is best?
Generally Goldendoodles are the larger of these two mixes – although only slightly. And, Aussiedoodles will often have more energy to burn each day, which means more exercise and mental stimulation. However, both of these mixes do best in homes with lots of space to run and play. And, neither will suit homes where they are left alone for long periods. Ready to find out more?
Aussiedoodle vs Goldendoodle
| | | |
| --- | --- | --- |
| | Aussiedoodle | Goldendoodle |
| Parent Breeds: | Australian Shepherd and Poodle | Golden Retriever and Poodle |
| Height: | 15 – 23 inches | 14 – 24 inches |
| Weight: | 40 – 70 lbs | 40 – 75 lbs |
| Temperament: | Hard-working, intelligent, energetic | Friendly, affectionate, active |
| Colors: | Wide variety, including merle | Wide variety, most often shades of gold or apricot |
| Lifespan: | 9 – 12 years on average | 12 years on average |
| Puppy Cost: | $800 – $2500 | $1500 – $3000 |
Aussiedoodle vs Goldendoodle Appearance
At a glance, Aussiedoodles and Goldendoodles can look quite similar, especially if they inherit Poodle coloring. Both are usually fluffy, happy dogs with a slight wave to their coat. But, since mixed breed dogs like this can inherit any characteristics from either parent, Aussiedoodles and Goldendoodles can grow up to look very different to one another.
Australian Shepherds and Goldendoodles both have thick, double layered coats to protect and insulate them in their working roles. The Poodle has a single layered coat, either with very tight curls or corded fur. So, Aussiedoodles and Goldendoodles can have either of these types of coat, or something that falls somewhere in between. It can even vary amongst a single litter.
The same applies with coat color. Golden Retrievers come in various shades of gold. But, the Poodle has a much wider variety – with 10 recognized standard colors. Goldendoodles can be any of those Poodle colors, but shades of gold are the most popular.
Similarly, the Aussiedoodle can be any of the Poodle's colors. But, they can also inherit the popular Australian Shepherd merle coloring.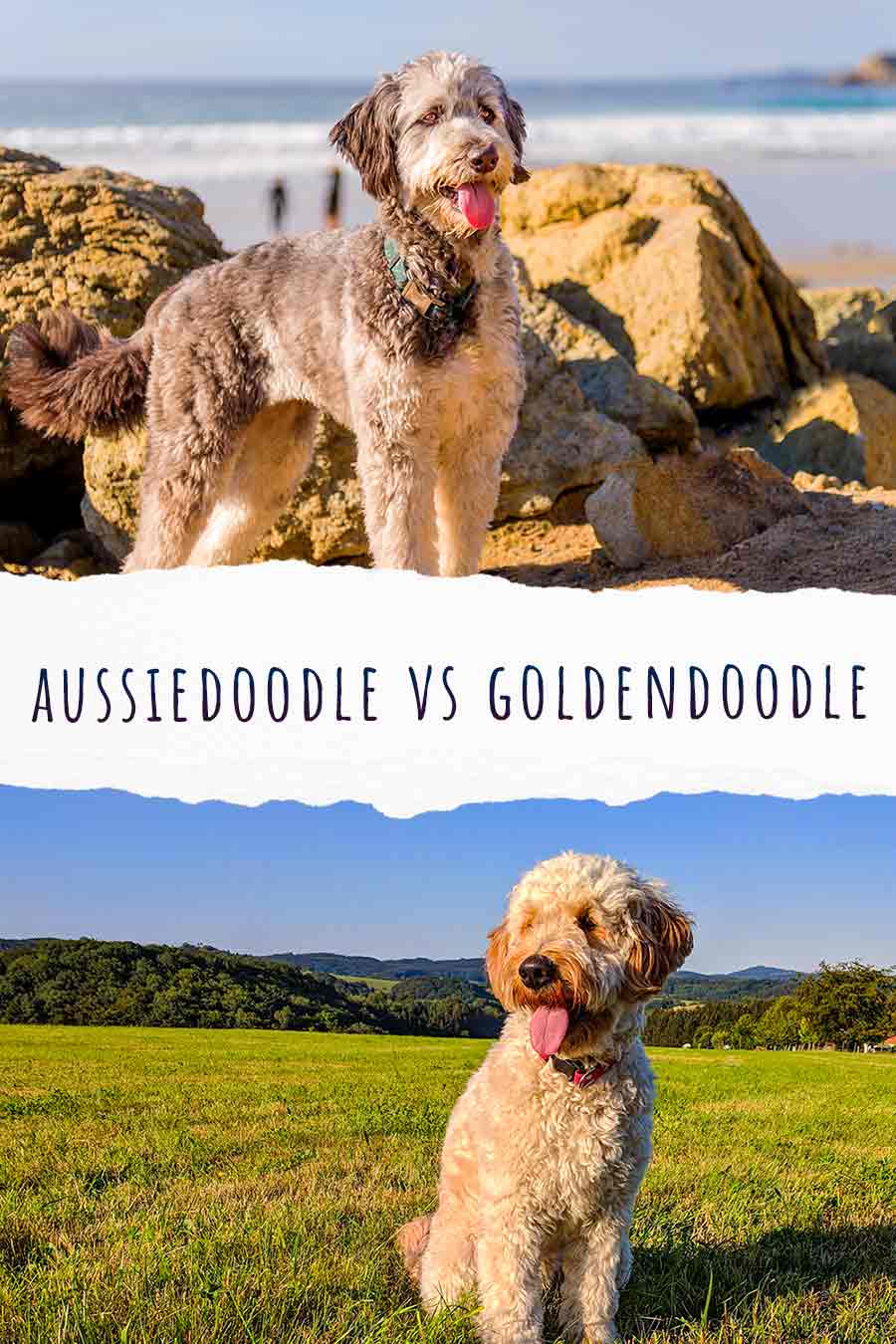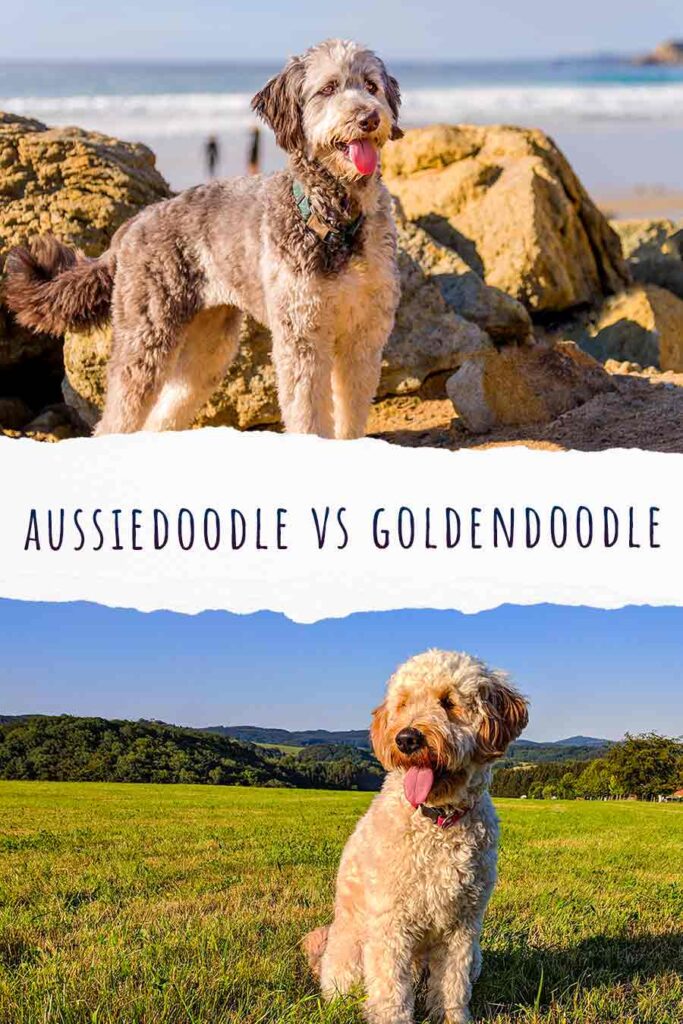 Aussiedoodle vs Goldendoodle Size
The Aussiedoodle and Goldendoodle mixes tend to be quite similar in size. But, the Goldendoodle can be a little larger, thanks to the size of the Golden Retriever parent. Like all other traits, size will depend on the parent dogs. Puppies often fall somewhere between the heights and weights of their parents when they grow to full size.
To give you a better idea, the Standard Poodle is the most common Poodle type used in both of these mixes. A Standard Poodle is technically any Poodle over 15 inches tall. But, more often they will be much closer to 20 inches tall, if not a little more. A Poodle's adult weight will usually be somewhere between 40 and 70 lbs.
The Golden Retriever parent will most often be somewhere between 21.5 and 24 inches tall, weighing from 55 to 75 lbs. So, a Goldendoodle can be anywhere from 15 to 24 inches tall, weighing anything from 40 – 75 lbs. To get a better idea of an individual puppy's adult weight, take a look at their parents.
The Australian Shepherd is slightly smaller than the Golden Retriever. Instead, it will grow to between 18 and 23 inches tall, weighing from 40 to 65 lbs. So, the Aussiedoodle can be anywhere from 15 to 23 inches tall, weighing from 40 – 70 lbs. But, as a general rule, the Aussiedoodle is smaller and lighter than the Goldendoodle.
Aussiedoodle vs Goldendoodle Temperament
Like appearance, temperament can depend on your mix's parents. So, it's important to be aware of any possible trait in your mixed breed. Often, both the Aussiedoodle and Goldendoodle are intelligent, active, and affectionate dogs that love spending time with their family, and need plenty of mental stimulation. However, socialization is important to encourage the best temperament in both mixed breeds.
Studies have found that, out of the three parent breeds, the Australian Shepherd has the highest potential for stranger-directed aggression and dog-directed aggression. However, they were far below average for owner-directed aggression – as were the Poodle and Golden Retriever breeds.
This doesn't mean that an Aussiedoodle dog will be aggressive. But, it does mean that owners will need to put extra effort into socializing an Aussiedoodle, particularly around other animals and strangers. This way, you can minimize any future fear and aggression.
Aussiedoodle vs Goldendoodle Training
Both the Aussiedoodle and Goldendoodle mixed breeds come from working parent dogs. Traditionally, both the Poodle and Golden Retriever were retrieving dogs, although modern varieties are often found in working roles such as service dogs and police dogs. Australian Shepherds are originally found as herding dogs, or all-round farm dogs. So, both Aussiedoodles and Goldendoodles will tend to be energetic and intelligent. This can be a great combination for training.
It's a great idea to get started on training from an early age, no matter which mix you choose. As both can grow into quite large dogs, obedience training is a must. But, you may also want to extend this further as a way to provide that much needed mental stimulation.
Positive reinforcement methods will work well for both mixes, as both can be very food motivated and both tend to form very strong bonds with their owners. Positive reinforcement methods will only increase that bond, building on the trust between you and your dog.
Aussiedoodle vs Goldendoodle Exercise Needs
Since both the Aussiedoodle and Goldendoodle dogs come from working parents, they will also both have a lot of energy to burn. Neither of these mixes are a great choice for someone living in a very small apartment, or someone who cannot dedicate a lot of time each day to exercising their dog. Although Aussiedoodles and Goldendoodles will enjoy curling up on the couch with you after a busy day, they need to be tired out first.
Training can offer some exercise. But, owners will also need to find time every day to take Aussiedoodles or Goldendoodles for some proper exercise. This could be in the form of running, hiking, swimming, or even a dog sport like agility, rally, or herding. Retrieving games are another great way to offer some exercise. Without enough physical exercise and mental stimulation, both of these mixes can show undesirable behaviors. This can include barking, digging, and more.
Aussiedoodle vs Goldendoodle Health
Mixed breed dogs like the Goldendoodle and Aussiedoodle can be at risk of the same health problems as their parents. So, it's important for new owners to be aware of the most common issues in those purebred dogs. Problems that are common in both parents, things like hip dysplasia, can be a higher risk for mixed breed puppies.
Choosing a reputable breeder that health tests dogs before breeding can be a very good way of lowering the risk. But, make sure you see health certificates before you commit to buying a puppy. If a breeder ever refuses to show you health checks, or is reluctant to do so, it is usually best to go elsewhere. Here are some of the most common health issues for all three purebred dogs used in these mixes:
Poodle Health Issues
Miniature and Toy Poodles are prone to some slightly different health issues. But, these are the most common health problems that plague the Standard Poodle breed:
Hip and elbow dysplasia
Sebaceous Adenitis
Addison's Disease
Autoimmune thyroiditis
Cataracts
Progressive Retinal Atrophy
Mammary tumors
Australian Shepherd Health Issues
Here are some of the most common problems that Australian Shepherds may face:
Collie eye anomaly
Hip and elbow dysplasia
Autoimmune thyroiditis
Multiple Drug Sensitivity
Epilepsy
Hearing and vision issues related to double merle genes
Golden Retriever Health Issues
These are some of the most common health problems to affect Golden Retrievers:
Cancer
Hip and elbow dysplasia
Muscular dystrophy
Gastric Dilatation Volvulus
Cataracts
Progressive Retinal Atrophy
Aortic Stenosis
Aussiedoodle vs Goldendoodle Lifespan
Another area that we can't truly accurately predict is the lifespan of these mixed breeds. We can get an idea of average lifespans by looking at the purebred parents of these mixes. But, it's also worth bearing in mind that studies suggest mixed breed dogs live longer on average than purebred dogs. So, take the lifespans of purebred parents with a pinch of salt.
One study found that Standard Poodles and Golden Retrievers both lived an average of 12 years old. So, it's likely a Goldendoodle will live into their teens with good care and a good breeder.
In contrast, the Australian Shepherd only had an average lifespan of 9 years in the same study. So, there's a chance that Aussiedoodles won't live as long as Goldendoodles. But, again with a good breeder and good daily care, you can increase the lifespan of your pup.
Aussiedoodle vs Goldendoodle Grooming and Shedding
One reason why Poodle mixes like the Aussiedoodle and Goldendoodle are so popular at the moment is their potentially low shedding coats. And, yes, it's true that both of these mixes can have the Poodle's low shedding coat. But, they can also inherit the other parent's high shedding coat. It really is luck of the genetic lottery. And, it's something you won't find out until your puppy is born. Potentially even until they have shed their puppy coat.
A high shedding coat in these mixes is more common in first generation dogs – those with two purebred parents. In later generations, or even those backcrossed to a Poodle, breeders can make matches based on traits they wish to see.
However, it's also worth noting that there is no such thing as a truly hypoallergenic dog. Even Poodles can carry the allergens responsible for allergy symptoms. Like all dog breeds, these allergens are found in their dander and saliva, but their curly fur can catch this as it sheds. This is what can cause tangles and knots that require more frequent grooming. Which means getting up close to those allergens more often.
Grooming and Choosing a Puppy
If you suffer from allergies, it's a good idea to spend some time with a puppy before bringing them home. This way, you can see if they trigger your allergy symptoms. You should also choose a second or third generation mix, if you are looking to get one that won't shed so much. Or one that has been backcrossed to a Poodle.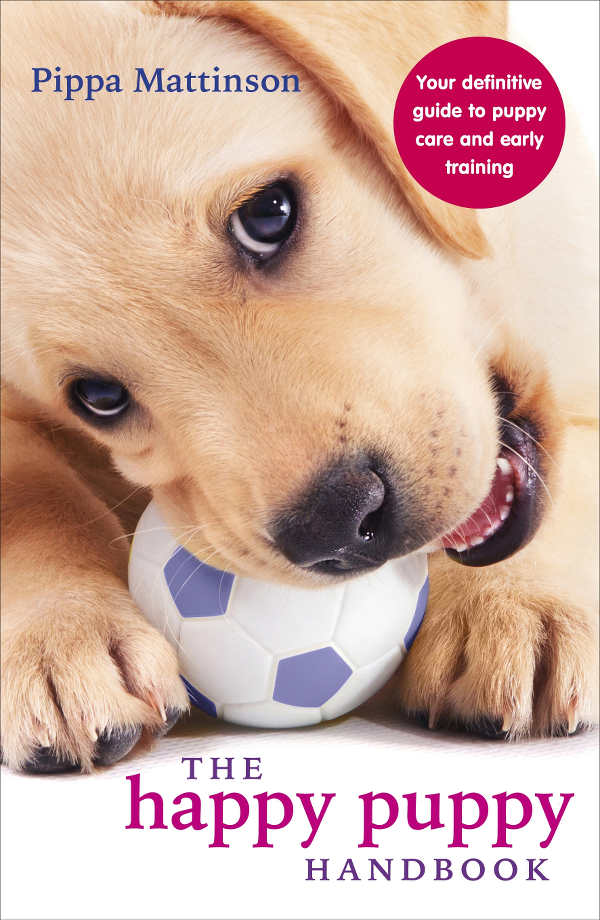 Aussiedoodles and Goldendoodles with Poodle-like coats will need much more grooming than those with double, straight coats. But, you may be able to get someone else in your family to do this in between trips to the groomers. Additionally, make sure to wash any soft toys or bedding that can soak up doggy saliva, to remove those allergens from your environment.
Aussiedoodle vs Goldendoodle Puppies
At a glance, the puppies of these two mixes can look pretty similar. Especially if they have Poodle coloring. But, they will usually grow to look quite different. Remember to see evidence of health testing when you visit a breeder. And, put lots of research into finding a reputable breeder. Avoid puppy mills, pet stores and backyard breeders, all of which are jumping on the trend of mixed breeds to make a profit. These dogs are often less healthy, with more behavioral issues.
On average, Goldendoodles tend to cost more than Aussiedoodles. But, prices of both will vary depending on the features they inherit, including coat color and fur type. If this isn't something you mind about, you can often find puppies under $1000. But, for some of the less common or more popular traits, puppies can cost well over $2000.
As these mixes increase in popularity, it's a great idea to consider rescue. Although you may not find mixed-breed specific rescue centers, you may be able to find them in general rescues, or those dedicated to any of the purebred parents.
Which is Best?
Both the Aussiedoodle and Goldendoodle can make a great family pet. But, the one that is best for you will depend on your circumstances and needs. Generally, the Goldendoodle is a larger breed, so obedience training is important. And, they can easily accidentally hurt small children with boisterous play, so bear this in mind if you have young kids at home.
However, the Aussiedoodle has extra needs too, such as a slightly higher need for good socialization as a puppy. This will minimise the risk of aggression and wariness in your mix as an adult. They, like the Goldendoodle, will also have very high exercise and mental stimulation needs.
Aussiedoodle vs Goldendoodle, Which is Your Favorite?
Can you choose a favorite between these two lovable mixed breeds? Have you owned either before, or are you just thinking about bringing one home? We would love to hear about your experiences and stories in the comments!
Readers Also Liked
References and Resources