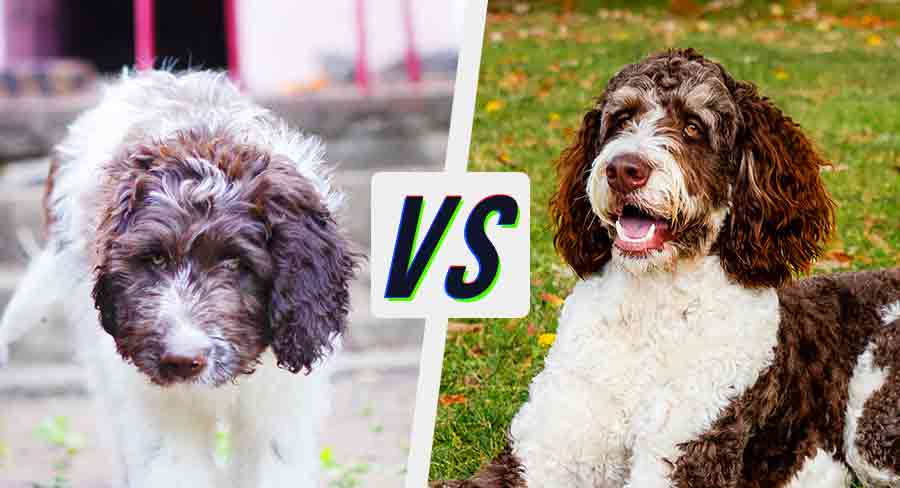 Choosing between a Newfypoo vs Bernedoodle pits two larger-than-life Poodle crosses against each other. In this guide we help you pick the right one for you.
Newfypoo Vs Bernedoodle – Which is Best?
A Newfypoo is a cross between a Standard Poodle and a Newfoundland dog, and a Bernedoodle is a cross between the Standard Poodle and a Bernese Mountain Dog. They have a lot in common, but not everyone would be equally happy owning either. We'll take a look at the things they have in common, the things that set them apart, and what sort of household each one is better suited to.
Contents
You can use these links to navigate the article, or dive right in from the start.
Newfypoo vs Bernedoodle History
Newfypoos and Bernedoodles are both part of the same trend for designer dogs. Designer dogs have two purebred parents from different breeds, so they don't qualify for pedigree status in their own right. Mixed breed dogs with known heritage (as opposed to mutts with unknown ancestry) started gaining popularity in the 1980s. Today, there are more planned crossbreeds being bred than ever, and there's no sign of demand for them slowing down.
Let's look at how the individual histories of Poodles, Newfoundlands and Bernese Mountain Dogs, for clues about what it's like to own one of their crosses.
Poodle history
Newfypoos and Bernedoodles are both half Poodle. Despite their long association with France, lots of people are surprised to discover that Poodles are actually originally from Germany! The first Poodles were duck hunters' dogs – they worked in partnership with a human hunter to retrieve shot waterfowl from land and water. Since then, the clever Poodle breed has enjoyed an illustrious career as a circus breed, as well as making the transition to popular companion dog.
Newfoundland history
Newfoundlands are affectionately known as Newfies, and it doesn't take a genius to work out where they originally come from! Early Newfies helped Canadian fishermen haul nets and drag carts of fish to market. They also worked – and still do work – as water rescue dogs, thanks to their strength and swimming ability. They started to gain popularity as pet dogs in the 19th century, and a Newfie was the inspiration for Nana in J. M. Barrie's Peter Pan.
Bernese Mountain Dog history
Bernese Mountain Dogs, or 'Berners' are another old working breed. They were originally bred in Switzerland to drive cattle, pull carts, and guard farm land. Despite coming close to extinction more than once, Berners now place regularly in United States' top 25 dog breeds, according to the AKC.
Newfypoo Vs Bernedoodle Appearance
Standard Poodles weigh 40 to 70 pounds, and under all that fur they have a lean, athletic, long-legged frame. Their coarse, curly, single coat can be registered on their pedigree in one of 10 standard colors or a further 18 non-standard colors. Let's see what happens to these features when they are crossed with either a Newfie or a Berner.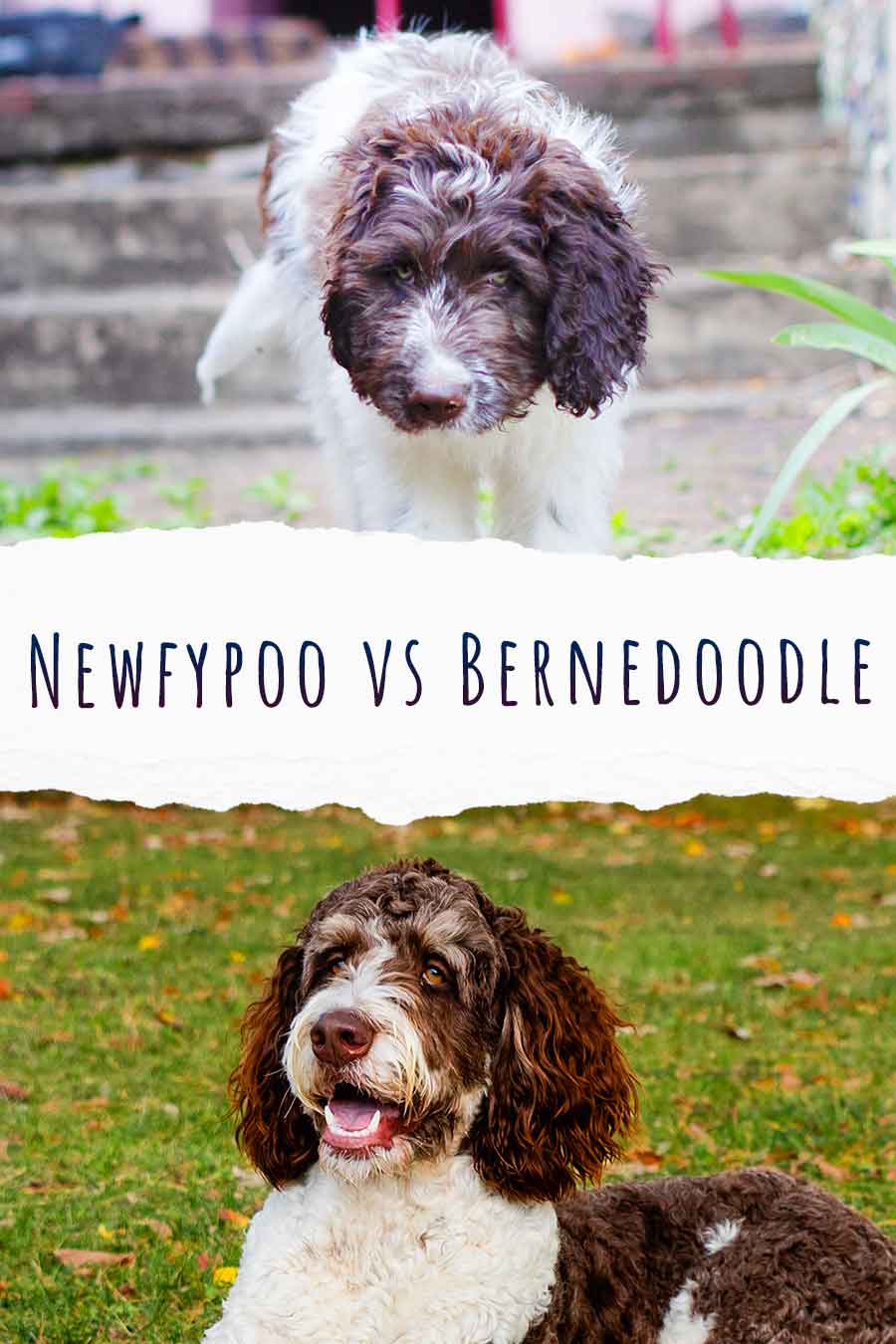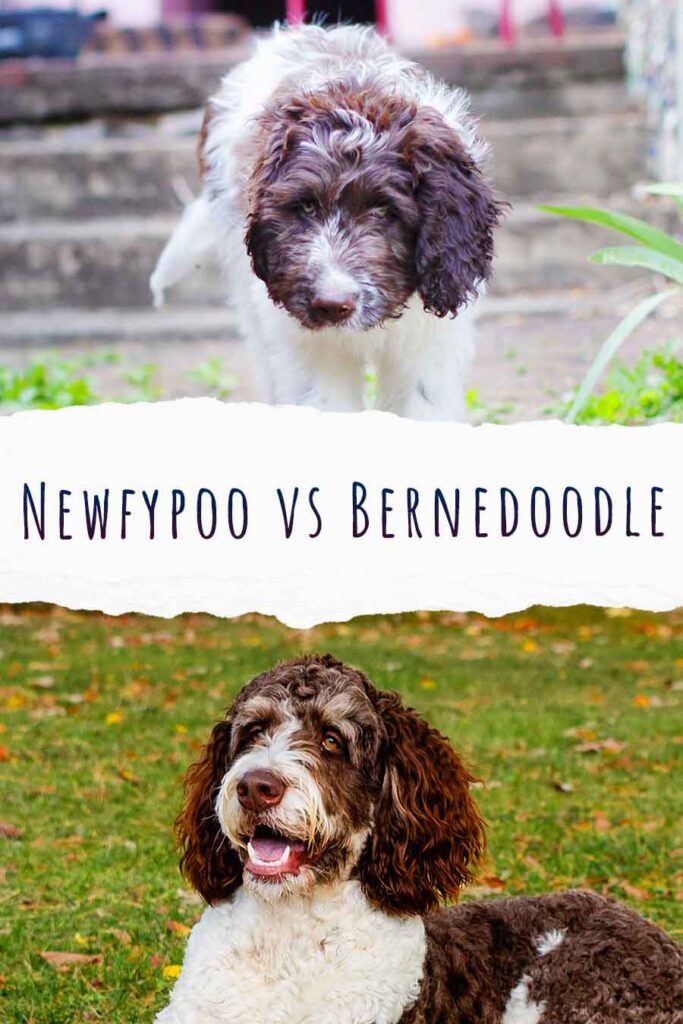 Newfypoo appearance
Newfs are a giant dog breed. Females weigh 100 to 120 pounds, and males at least 130 pounds. Newfypoos are likely to be smaller than this, but larger than a Standard Poodle. Males are likely to grow bigger than females from the same litter.
The most common Newfie colors are black, brown, gray, and white and black. Genetically, these colors all dominate over any of the alternative colors seen on Poodles. So whatever color the Poodle parent, a Newfypoo is likely to be black, brown or grey – but any of these could also have white markings.
The Newfie has a silky double coat which sheds prolifically. A Newfypoo can have either a Poodle-type coat, a Newfie-type coat, or something in between – for example a fleecy coat which sheds somewhat. The Newfie's frame is far bulkier than a Poodle's, so their puppies can be very variable with respect to how broad their face is, for example.
Bernedoodle appearance
Berners aren't quite as big as Newfies, but they're still large dogs! Females weigh 70 to 95 pounds, and males weigh 80 to 115 pounds. So a female Bernedoodle could be pretty close in size to a male Standard Poodle. But male Bernedoodles are likely to be noticeably bigger.
Berners come in any bicolor combination of black, white and rust. Or all three! And like the Newfypoo, first generation Bernedoodle puppies almost always inherit their colors and patterns from their Berner parent. Like the Newfypoo, the texture of their coat is variable, from long, wavy and non-shedding, through fleecy, to medium length and heavy shedding.
The Berner isn't quite as stocky as the Newfie, so Bernedoodles' stature won't vary as much as Newfypoos'. But you can still get puppies who look distinctly more like one parent than the other.
Newfypoo Vs Bernedoodle Temperament
Poodles' long history as working retrievers means they're fast learners, and easily motivated to work in a team with a human, following cues and taking direction. Compared to more famous retrieving breeds (like Labradors and Golden Retrievers), they're noted for being somewhat standoff-ish with people and dogs they don't know. But, they are loyal and devoted with their own family.
Newfypoo temperament
Despite their size and strength, Newfies are famous for being laid back and placid. They're also highly regarded for being devoted and patient with children, but of course they should always be supervised together. They also tend to be very friendly and relaxed around new people and unfamiliar dogs.
This is quite a contrast with the Poodle, and there's no guarantee that a Newfypoo will get only the traits you perceive as most desirable from each breed. Unfortunately, puppy temperament is also a very unreliable predictor of adult temperament. So if you're relying on having a dog with either Poodle or Newfie traits, then choosing a Newfypoo is a gamble that could have disappointing results.
Bernedoodle temperament
On the whole, Bernese Mountain Dogs are slightly more active than Newfies, and they also tend to share the Poodle's instinct to bond closely with their immediate family, and maintain an aloof distance from everyone else. So, a Bernedoodle's personality has fewer possible permutations, and is more likely to match expectations, compared to a Newfypoo.
Neither Newypoos or Bernedoodles are likely to be very vocal. But they are likely to be somewhat protective of their home and family, and may bark to alert you people approaching the house.
Newfypoo vs Bernedoodle Training
When it comes to overall trainability, the Bernedoodle vs Newfypoo are pretty closely matched. Both mixes are 50% Poodle – one of the smartest breeds there is. Poodles are motivated problem solvers, quick learners, and descended from working dogs which were selected for their ability to focus on a human handler.
Newfies and Berners are both moderately easy to train. Their old working roles required them to be versatile and adaptable – any dog that size was expensive to feed, and needed to earn their keep! So, both breeds are competent at following cues, but also working independently at a distance from their owners. This natural instinct to trust their own decision making can sometimes come across as stubbornness during training. But any Bernedoodle or Newfypoo will respond well to force free, positive reinforcement training.
As a puppy it's important to socialise a Newfypoo or Bernedoodle puppy very thoroughly and carefully, to form positive associations with lots of different people, sounds, vehicles and environments, etc. Their Poodle side might be naturally inclined to mistrust new experiences, but with the right socialisation, they will experience it as disinterest rather than fear.
With such big crosses, it's also important to teach them from an early age how to greet people politely with all four paws on the floor. They are very likely to knock people over if they jump up! This article has an easy how-to guide for training a dog not to jump up.
Newfypoo vs Bernedoodle Exercise
Poodles are very active dogs. They need a lot of mental and physical activity every day, or they are prone to getting bored and restless, which can result in unwanted behaviors such as chewing, digging and barking. On the other hand Newfies and Berners are modestly active breeds. They need around an hour of exercise a day. But, since their historical roles included guarding farmland and property, they're also quite adept at spending long periods resting patiently and observantly.
Some Newfypoos and Bernedoodles demand as much activity as their Poodle parent, whilst others are satisfied with rather less. You won't know which type you've got until they're fully mature though. So if the amount of time you have for exercise is restricted, and you can't afford a dog walker, then you might feel mismatched with either of these mixes.
Newypoos and Bernedoodles are both large dogs with a substantial risk of joint problems. So it's important to avoid high impact exercise, such as jumping or climbing, while they are still growing. Since Poodles and Newfies are both water dogs at heart, it's almost certain a Newfypoo will enjoy swimming as a way of getting exercise. For example, you could teach them to retrieve objects from water, or try out dock diving with them.
Newfypoo and Bernedoodle Health
Poodles are a very healthy breed overall. Their popularity means that the Poodle population is big enough to exclude unhealthy dogs and carriers of genetic diseases from breeding, in order to promote the health of the next generation. Owing to their size, they are somewhat at risk of hip dysplasia. They are also moderately at risk of gastric dilatation volvulus (also known as bloat), and Newfypoos and Bernedoodles will also be at risk if they inherit the Poodle's deep chest.
Newfypoo health
Approximately one quarter of Newfoundlands have either hip dysplasia, elbow dysplasia, or both. A further 1 in 10 Newfies have problems with their shoulder joints. Newfypoos' size and ancestry means they are also at high risk of painful joint disorders, but health screening potential parents before mating goes ahead, keeping Newfypoos at a healthy weight, and taking a responsible approach to high impact exercise can help protect them.
Bernedoodle health
Bernese Mountain Dogs are somewhat less healthy than Newfies. They are vulnerable to:
degenerative myelopathy (1 in 9 Berners are affected, and nearly half are estimated to carry the faulty gene which causes it)
hip and elbow dysplasia (1 in 4 and 1 in 6 Berners affected, respectively)
thyroid disease (1 in 50 Berners affected)
kidney disease
and cancer (see below).
Bernedoodle puppies are less exposed to these risks than purebred Berners, but it's vital to choose puppies from parents who have been health tested and certified disease free for degenerative myelopathy and joint diseases. Whether you see crossbreeding as boosting Bernese health, or dragging down Poodle health, is a matter of perspective.
Newfypoo vs Bernedoodle life expectancy
Standard Poodles live for 11 to 12 years on average, and healthy dogs regularly survive into their teens.
Despite being the larger of the two breeds (larger dogs generally have shorter lifespans) Newfies typically live longer than Berners. The average Newfie lives for 8 to 10 years. But Berners are one of the shortest lived dog breeds. Surveys record the average Bernese Mountain Dog living just 7 to 8 years, and one study revealed that less than a quarter of Berners live for more than 9 years. Over half of Bernese deaths are attributed to early-onset cancer.
So, a Newfypoo may live 8 to 12 years, and a Bernedoodle 7 to 12 years. In both cases, their life expectancy may receive a bit of a boost from being part-Poodle. But the Newfypoo still has a slight edge over the Bernedoodle.
Newfypoos vs Bernedoodle Grooming
Poodles are a non-shedding breed. They need regular brushing to prevent their hair getting tangled or matted, and to remove dirt and debris that has caught up in it on walks. In addition, most Poodle parents have their dog clipped every 6 to 8 weeks to keep their coat tidy and easy to brush. This could be an all over short clip (known as a puppy clip) or a show clip with shaved areas and pompons.
Newfies and Bernedoodles both shed heavily and need frequent brushing to remove dirt and dead hair, and remove knots. Newfypoos and Bernedoodles can both inherit either type of coat, but none of the possibilities are low maintenance!
Are Newfypoos and Bernedoodles hypoallergenic?
There is a pervasive myth that non-shedding dog coats are hypoallergenic. However, this is not the case. The proteins which trigger peoples' allergies are present in dogs' saliva, and to a lesser extent their sweat and urine. But not their hair. So all dogs, including non-shedding ones, can trigger allergies. Newfies and Berners are also quite notoriously slobbery, so a Newfy or Bernedoodle may not be the best choice for a family with allergies.
Newfypoos vs Bernedoodle Puppies
Newfypoos and Bernedoodles, like all designer dog mixes, are very vulnerable to exploitation by puppy farmers. Puppy farmers keep breeding dogs and their litters in terrible conditions, so that they can achieve the most possible profit on selling the puppies. Besides being an inhumane way to keep dogs, the puppies are more likely to grow up with lifelong health problems which require ongoing (expensive) treatment, and behavioral problems. And managing behavioral problems in dogs who weigh as much as you is not fun. Our Puppy Search Guide can help you navigate the risks, and find a healthy, happy puppy, from a good breeder.
Which Breed Makes A Better Pet?
Newfoundlands and Bernese Mountain Dogs are both old working breeds who traditionally performed similar roles. So there aren't many differences to call when each breed is crossed with a Poodle. However, the Berner disposition has more in common with Poodles, so Bernedoodles are more likely to have a similar temperament again. The Newfypoo, by contrast, might inherit the Newfie's people-loving sociable side. But it's not guaranteed.
If size is a concern, then the Bernedoodle is likely to be the smaller of the two dogs. But, Berners are at greater risk of hereditary diseases and early onset cancers than Newfs. And Bernedoodles are likely to have a shorter lifespan, on average, than Newfypoos.
Whichever mix you pick, it's important to consider whether you are equally able to provide the mental stimulation and exercise they need, whether they are highly active like a Poodle, or more laid back like a Newfie or Bernese.
Do you have a Newfypoo or Bernedoodle?
Tell us about your reasons for choosing them in the comments!
Find out more!
If this article helped you, you might also enjoy these:
Bernese Mountain Dog – The Gentle Giant of the Canine World
Bernese Mountain Dog Vs Newfoundland – Which Giant Breed Is Right For You?
Newfoundland Lab Mix
The Mini Bernedoodle – A Giant And Miniature Pup Combined!
Aussiedoodle vs Bernedoodle
References and Further Reading
Orthopedic Foundation for Animals
Adams. Methods and mortality results of a health survey of purebred dogs in the UK. Journal of Small Animal Practice. 2010.
Evans & Adams. Mortality and morbidity due to gastric dilatation-volvulus syndrome in pedigree dogs in the UK. Journal of Small Animal Practice. 2010.
Fleming et al. Mortality in North American Dogs from 1984 to 2004: An Investigation into Age-, Size-, and Breed-Related Causes of Death. Journal of Veterinary Internal Medicine. 2011.
Pelander et al. Incidence of and mortality from kidney disease in over 600,000 insured Swedish dogs. Vet Record. 2015.
Proschowsky. Mortality of purebred and mixed-breed dogs in Denmark. Preventative Veterinary Medicine. 2003.
Robinson et al. Puppy Temperament Assessments Predict Breed and American Kennel Club Group but Not Adult Temperament. Journal of Applied Animal Welfare Science. 2016.
Wauthier et al. Using the mini C-BARQ to investigate the effects of puppy farming on dog behaviour. Applied Animal Behaviour Science. 2018.