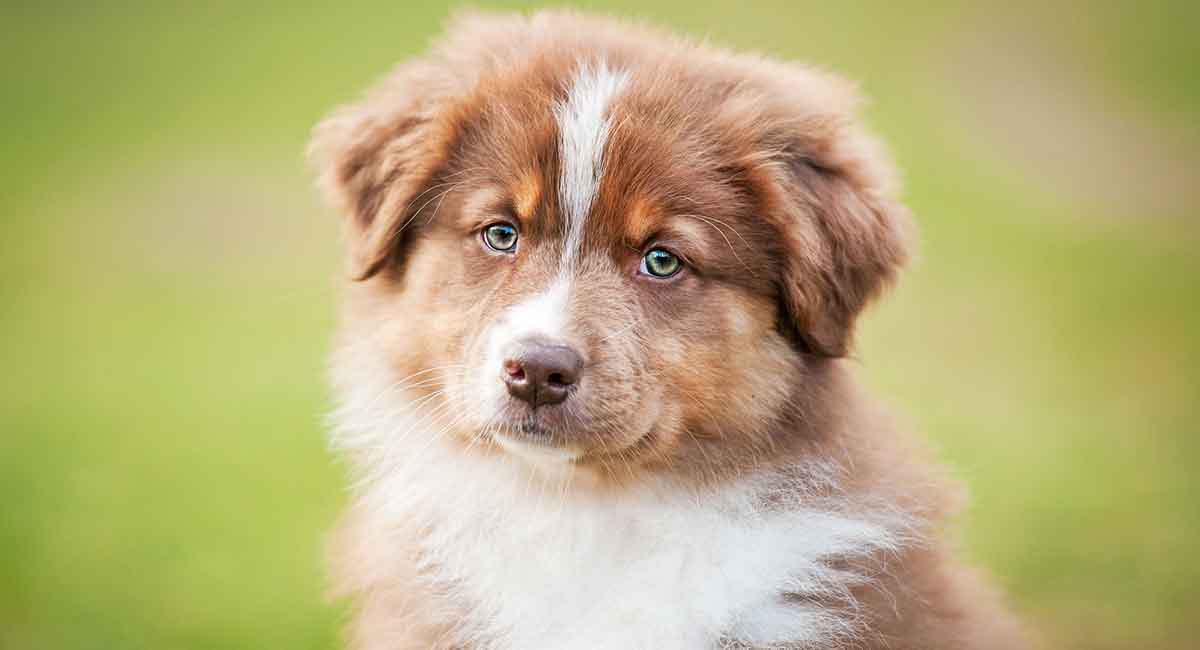 Australian Shepherd names can be inspired by so many awesome things. Their gorgeous red, blue or black patterned coats and long fur. The rich working history they have as intelligent herding dogs and amazing companions. Or the incredible Australian outback.
Contents
Naming Tips
If you don't find the perfect name for your dog right away, don't give up! Often you just need to take a break and go spend some time playing with your new pup. You may even sleep on it. Eventually, you'll have that "aha moment" you have been waiting for! These tips can also help you to find the best names for Australian Shepherds:
Pick a name that is easy and fun to say (or one that can be easily shortened).
Make sure the new name you choose doesn't sound too much like any of the commands you want your new puppy to learn.
Select a name that is sufficiently unique from family and friends so as not to cause confusion.
Let your puppy help you! Make a "short list" of names you like and see which name your dog shows the most response to, or that the family all love.
Female Australian Shepherd Names
These ideas capture the strength, uniqueness and beauty that make lady Aussie dogs such good mamas and mates!
Jenna
Maya
Sabi
Izzie
Sade
Liz
Tilda
Kira
Zula
Coral
Allor
Jarra
Isla
Kiwi
Gracie
Princess
Adalee
Minka
Dani
Adia
Bina
Cami
Dixie
Ella
Gala
Enya
Gypsy
Inez
Jewel
Lark
Male Australian Shepherd Names
These names give your little pup a proper manly name he can grow into!
Aric
Bascomb
Abe
Chief
Gander
Otto
Memphis
Elvis
Riff
Raff
Superdog
Davis
Spot
Frito
Tortie
Mario
Dorito
Barker
Moe
Dodger
Morley
Hoops
Lo-Fi
Minus
Vic
Graham
Tracker
Mate
Lewis
Coop
Australian Outback Names
What better way to name your Australian Shepherd than to look for inspiration in the amazing outback.
Dingo
Bilby
Wombat
Roo
Croc
Thorn
Lizard
Melrose
Winton
Cobber
Beardie
Koala
Gibson
Cork
Mallee
Tanami
Spider
Taipan
Arid
Platypus
Wallaby
Cute Australian Shepherd Names
Mel
Jelly
PB
Jolly
Jiffy
Yip
Kibble
Flip
Moof
Ani
Slinky
PingPong
Lego
Bonkers
Boom
Trip
Robin
Chick
Buffy
Rumi
Cat
PomPom
Marbles
Twinkie
Van
Theo
Dash
Duckie
Vroom
Mayo
Unique Australian Shepherd Names
The Australian shepherd dog may be named after the land down under. But this dog's real birthplace isn't just one country, but several! France, Spain, Australia, and the United States have all welcomed this dog with open arms. And today people all over the world are in love with the Aussie, as this breed is sometimes nicknamed. These authentic and unique Australian shepherd names may be a great match for your one-of-a-kind, world-traveling pup!
Murphy
Diamantina (Dia for short)
Banjo
Alice
Daly
Kylie
Clancy
Ada (short for Adelaide)
Sydney
Nellie
Victoria
Darwin
Ned
Acacia
Lachlan
Drover
Lawson
Roma
Bruce
Archer
Harrison
Malli
Flora
Bindi
Murry
Reef
River
Hunter
Tasman
Byron
Miniature Australian Shepherd Names
The miniature Australian shepherd, as this dog's common name suggests, is a smaller version of the standard Aussie. These dogs typically weigh between 20 and 40 pounds and stand 12 to 18 inches tall in adulthood. They're very cute little versions of their full-size cousins, who weigh 40 to 65 pounds and stand 18 to 23 inches tall. This list of mini Australian shepherd names might just yield the perfect new name for your pint-sized pup!
Flash
Half-Pint
Flutter
Tiny
Tinkerbell
Mini Me
Itsy
Bitsy
Trifle
Micro
Nano (as in "nano-particle")
Lili (for "Liliputian")
Hummer (for "hummingbird")
Napolean
Spike
Miss Kitty
Pocket
Perfect
Supersize
Antman
Little Bit
Haiku
Sushi
Bento
Big Boy
Sparrow
Chip
Sparkle
Firefly
Flicker

Red Names for Australian Shepherds
This is one of the four breed standard colors that are eligible for the show ring. "Red merle" actually describes both a color and a pattern. The red merle pattern typically appears as patches or spots against a lighter background that can range from very pale cream to a lovely silver. The spots can also range from quite a light cinnamon-red all the way to a dark red russet.
Aussies who display the red merle coat frequently have brown eyes flecked ("marbled") with blue or vice versa or two different-colored (parti-color) eyes.
Amber
Big Red
Copper
Rufous
Cherrie
Ginger
Mr. Fox
Bud
Rosebud
Rusty
Rosie
Scarlet
Cinny (short for Cinnamon)
Clove
Ruddy
Cherie
Honeybun
Crush
Apple (of my eye)
Ladybug
Solo (for red Solo cup)
Dorothy (with the red shoes)
Henna
Rudolph
Hot Stuff
Peppermint Patty
Tawny
Uluru (red rock formation in Australia)
Autumn
Chili
Blue Names for Australian Shepherds
The blue merle color pattern is another one of the four breed colors eligible for the show ring. Like red merle, blue merle is both a color and a pattern. The blue merle color spectrum starts at light silver and ends at dark smoky charcoal. The dominant coat color is lighter, ranging from light cream to a darker grey. There may also be some of the red, cream or white tones on the legs and face areas.
Aussies with the blue merle coat color often have blue/brown marbled or parti-colored eyes.
Skye
Silver
Ocean
Niagara
Dove
Dapple
Stormy
Indigo
Sapphire
Azure
Beryl
Navy
Smokey
Pearl
Dory (the blue fish in "Finding Nemo")
Iris
Glory
Bluebell
Rain
Periwinkle
Misty
Blueberry
Frostee
Celeste
Lapis
Blu (the parrot in "Rio")
Lava
Agate
Shadow
Nickel
Black Australian Shepherd Names
Black is another one of the show-ready coat colors in the Australian shepherd breed standard. The black coat color can be a solid color or may be broken up with white and/or copper markings.
Jet
Luna
Raven
Ebony
Beetle
Inky
Panther
Bear
Zebra
Domino
Adelie (a black and white penguin species)
Magpie (a black bird)
Chrome
Mamba (a black snake)
Jack Black
Ember
Magic
Midnight
Miracle
BlackOps
(Black) Coffee
Carbon
Solar
Nero (black in Italian)
Siyah (black in Turkish)
Pango (black in Maori)
Olive Oyl (Popeye's mate)
Blackout
8-Ball
(Night) Owl
Aussie Dog Names
These classic and modern Aussie names will make great ideas for puppies and dogs alike.
Sheila
Bruce
Ruby
Evan
Kimberley
Tucker
Ella
Logan
Dundee
Darwin
Harper
Tim
Atticas
Olivia
Mia
Ned
Silas
Milo
Kylie
Isla
Matilda
Banjo
Arya
Ava
Jasper
Wyatt
Cool, Hip and Totally Groovy Ideas
These cool and popular names take their inspiration from famous Aussies and their owners!
Chippewa
Mav
Cohen
Oli
Jack
Arya
Bryn
Justice
Alli.Gator
Joy
Alaska
Atlas
Hero
Happy
Maple
Cowboy
Faith
Lycka
Lucy
Bunk
Stub
Shortie
Queenie
Joker
Aussie
Finn
Tuffy
Lola
Holster
Secret