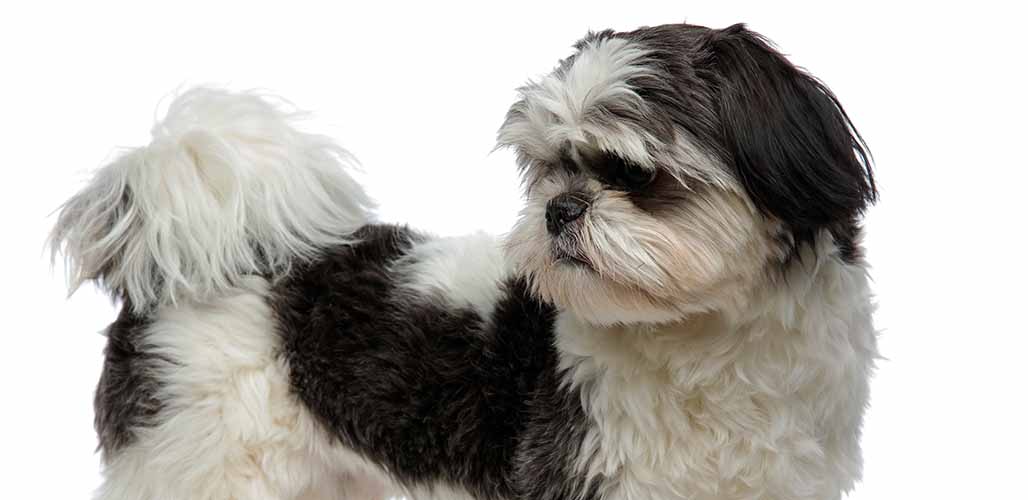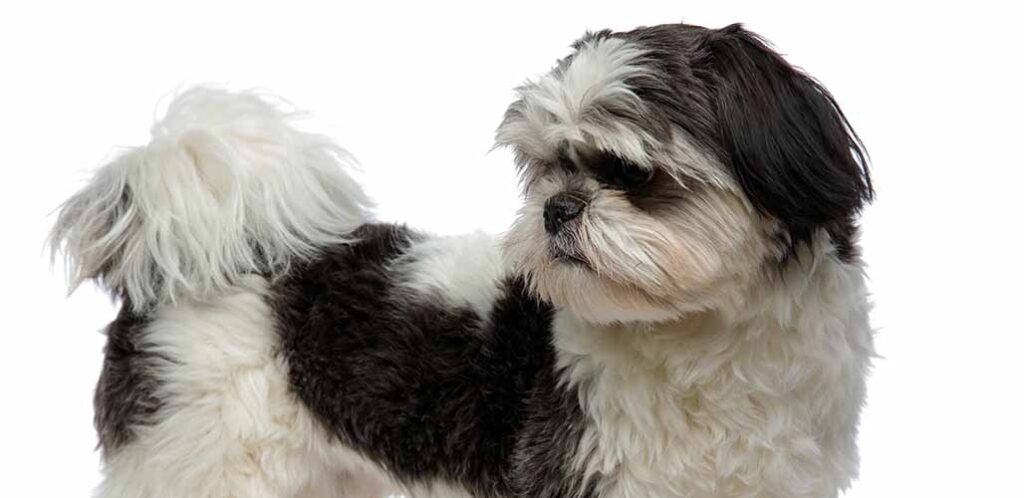 Black and white Shih Tzu dogs aren't as common as brown and white coated dogs, but this color combination is still one of the officially recognised patterns for the breed. And like the rare pure white Shih Tzu, these parti Shih Tzu have quite a distinctive look. However they can have some potential hearing problems, as dogs with large areas of white fur are more likely to be diagnosed with deafness.
Contents
Shih Tzu are enduringly popular toy dogs. They're famous for being small, just 9 – 16lbs, yet sturdy with an outsized personality. And their long silky coat is low shedding, which makes them popular living companions!
Black and white Shih Tzus can be mostly black with a small locket of white on their chest. Or they can be mostly white with just patches of black remaining on their ears, face, back, or at the base of their tail. Genetically though, both types are black with white spots, even if they look white with black spots.
Black and White Shih Tzu Genetics
Black is a genetically dominant coat color for dogs, meaning that most dogs who carry the gene for black pigment will express it and have black fur. White markings are caused by the white spotting gene, and they are slightly more complex.
Black dogs without the white spotting gene are black all over.
Black Shih Tzus who inherit one copy of the white spotting gene from one of their parents have some white patches. For example they could be a black dog with white chest or 'bib' markings.Or they could have whire socks.
Puppies who inherit two copies of the white spotting gene (one from each parent) have larger areas of white fur. In fact the white areas can spread so much that they look like a white dog with black markings instead.
Some breeders have and even speculated that there is an 'extreme white spotting gene' which works like the white spotting gene, but has a more pronounced effect. They think that this would better explain how the spread of white marking occurs on such a gradual scale. But the existence of this gene hasn't been confirmed yet.
Are They Rare?
No! In fact black and white Shih Tzus are among the most common. This is because both the black background color and white spotting are genetically dominant. Puppies only need to receive the gene for each from one parent, and they will be expressed and mask the presence of alternative genes. This means that black and white puppies are both statistically likely to occur from random matings, and also very easy to engineer on purpose.
Will My Puppy Change Color?
Did you know that Shih Tzus are famous among fans of the breed for their habit of changing color? In particular, dark colors often fade to lighter colors as they mature. This could be evidence that they carry the elusive greying gene. The greying gene hasn't been officially located yet, but geneticists believe it must exist because fur that fades from dark to light is a hereditary trait in several long haired dog breeds. A black and white puppy could fade to grey and white if they inherit the greying gene from one or both parents.
The shape and spread of black and white markings on Shih Tzu can also appear to shift and change as they grow up. For example small socks could appear slightly longer once a puppy has grown up, or a locket of white fur could turn out more like a bib. This is just a result of the skin expanding to fit the growing dog!
Black and White Shih Tzu Temperament
Shih Tzu are one of the ultimate people-loving dogs. They have been bred for companionship for hundreds of years, and they have a strong innate desire to seek out human company. Their breed club describes them as 'outgoing, happy, affectionate, friendly and trusting towards all'. This makes them successful pets for all kinds of households, and also well suited to training as therapy dogs. They are extremely playful too – no collection of toys is ever big enough for a Shih Tzu!
A flip side of being so people-centric is that they are more likely to suffer from separation anxiety. We have bred them for hundreds of years to crave human company, so it's not possible to simply withdraw that for eight hours a day to go to work. Experienced Shih Tzu owners described them as moderately easy dogs to train, but that Shih Tzu puppy owners are often guilty of undoing their own progress. Shih Tzus are intelligent and easily motivated to take part in reward-based force free training, but so cute that we tend to forgive them bad behaviors and set inconsistent standards.
There's no evidence that Shih Tzu temperament is directly linked to coat color. So a black and white Shih Tzu is likely to have the same character as their cousins in every other color. Besides their breed, factors which will shape their personality include:
age
sex
neuter status
early socialization
training
and how much exercise they get.
One indirect way a black and white coat may change a dog's personality is if they are deaf. Deaf dogs may be more easily startled, may be more anxious, and may take longer to train than hearing dogs. We'll cover why black and white coats are also linked to increased risk of deafness in the next section.
Health vs Color
The only health concern of black and white Shih Tzus that is known to be specifically linked to their color is the increased risk of hereditary deafness. Dogs with one or two copies of the white spotting gene are more likely to be diagnosed with congenital deafness. The exact reason why is still unknown, but researchers have speculated that the white spotting gene affects the function of melanocyte cells. Fully working melanocyte cells are essential for pigment production, and also for the creation of delicate hair cells in the inner ear which detect soundwaves.
Two black and white Shih Tzus with a lot of white in their coat and/or a diagnosis of hearing loss are more likely to have puppies that are diagnosed with hearing loss too. So always check with a breeder whether their black and white puppies' parents had their hearing tested before the decision to mate them was made.
Other Health Concerns
Not directly linked to their color, Shih Tzu are also prone to:
Hip dysplasia. A partly inherited and partly acquired condition of the hip joint which causes pain and lameness. Breeding Shih Tzu's should be tested for hip dysplasia and have certificates confirming that they are free from symptoms.
Degenerative myelopathy. A hereditary neurological condition which causes gradual paralysis of the hind legs in older dogs. Since symptoms don't usually occur until after dogs have passed breeding age, sires and dams should be DNA tested to make sure they aren't both carriers.
Brachycephalic obstructive airway syndrome (BOAS). BOAS is a collection of symptoms caused by having an extremely flat (brachycephalic) muzzle. They include snoring, difficulty breathing, laryngeal collapse and high susceptibility to heat stroke.
Dental problems. Problems with overcrowded teeth, excess tartar and gum infections are another common result of having an extremely flat face.
Eye injuries. Shih Tzus have large eyes but very little muzzle to prevent them being scratched or injured.
Alternative Breeds
Due to the lifelong complications and welfare implications of having a brachycephalic muzzle, unfortunately we do not recommend purchasing a Shih Tzu puppy as a pet. If your heart is set on this breed, it is better to adopt an older dog than to support further breeding of dogs with such knowingly built in health problems. Alternatively, you might want to consider one of these small dog breeds which come in black and white instead:
Chihuahua
Italian Greyhound