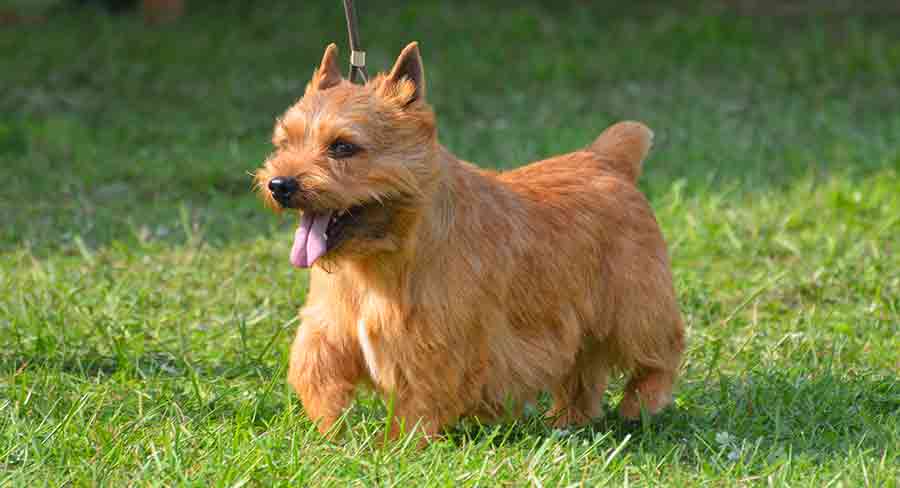 The Glen of Imaal Terrier is an old Irish breed. But, there are relatively few left.
They have disproportionately short legs. So they often weigh more than you would first expect.
As pets, they are quiet compared to most terriers, with easy going temperaments. But their small population size presents a risk to their genetic health.
Are you thinking about bringing this uncommon little dog into your home?
What's In This Guide
You can use these links to navigate to topics of interest. Or dive in at the beginning to find out everything.
Breed At A Glance
Popularity: Ranks 174th out of the 197 breeds recognized by the AKC
Purpose: Badger hunting and small vermin control
Weight: 32-40lbs
History and Original Purpose
The Glen of Imaal terrier harks from the Glen of Imaal in the east of Ireland.
The word Imaal derives from Uí Máil. This is the name of a prominent dynastic family from the region in the 7th century.
The Glen of Imaal terrier is often just called the Glen. Breeders first bred it to hunt badgers and kill small vermin like rats living in barns.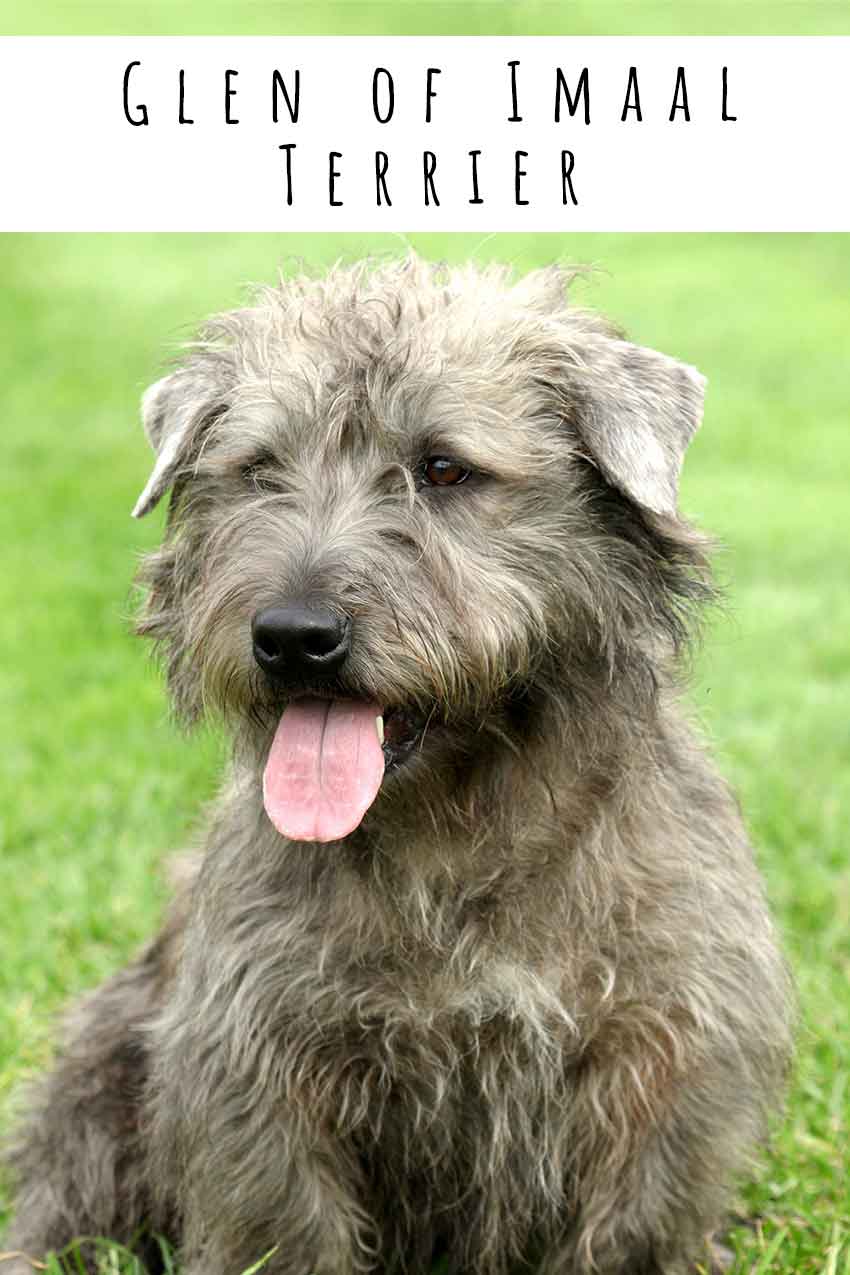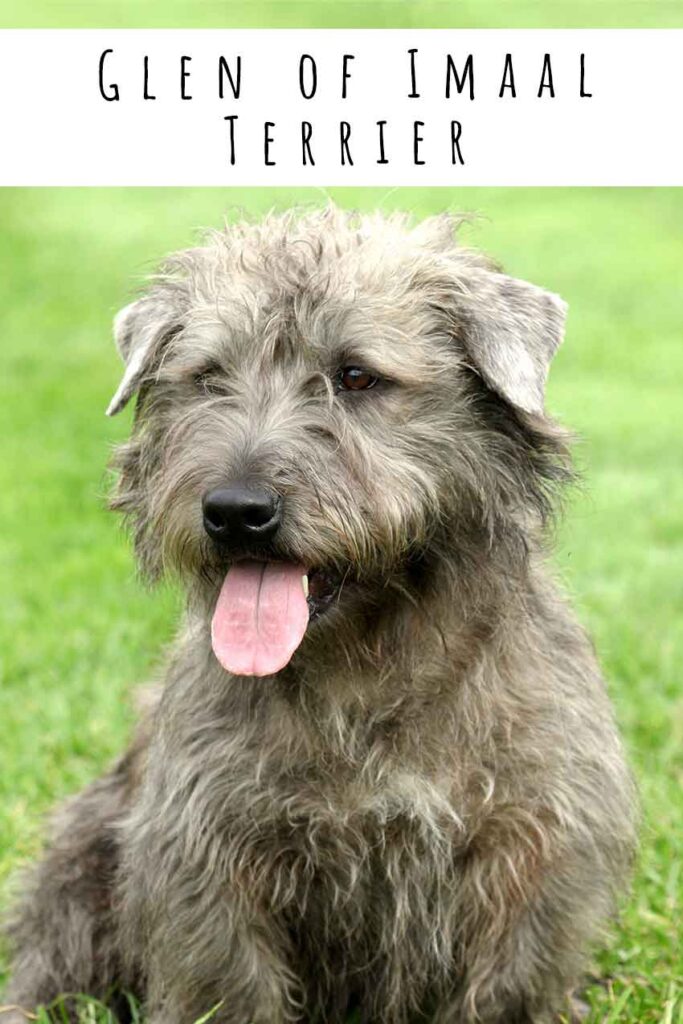 Some stories claim these dogs would also turn meat on a spit whilst it was cooking, by running in a hamster-wheel type contraption next to the fire.
Not everyone agrees that this really happened though!
Establishing the Breed
Glens came to America in fits and starts during the mid-20th century. But it was only a really determined effort by fans of the breed in the 1980s which finally got them established.
The American Kennel Club (AKC) recognized the breed in 2004.
And today most Glens are family pets, rather than working dogs.
Glen of Imaal Terrier Appearance
The Glen of Imaal Terrier might be the only dog in the world which is specifically described as looking "unrefined" in its breed standard.
Refining the perfect example of a breed is usually the whole point of writing a breed standard at all!
In fact, fans of Glens sometimes affectionately refer to them as "spare part dogs", because their appearance resembles such a mish mash of features from other breeds.
The cute and quirky Glen is 12.5-14 inches tall at the shoulders. It weighs 32-40 pounds.
All Glens have chrondrodysplastic dwarfism. This is a genetic condition which gives them disproportionately short legs relative to their body and head. It also makes their front legs bow outwards slightly.
In the past, this was perfect for enabling a dog which was otherwise large and strong to follow badgers and foxes down underground.
Coat Type and Colors
Their coat is medium length and coarse to touch. It comes in 3 colors:
But there is lots of subtle variation within these colors. So, every Glen is unique and charming to look at!
Glen of Imaal Terrier Temperament
It takes a brave dog to chase a fox or badger not much smaller than them down into a dark hole.
And the Glen is a brave dog indeed.
Like all terriers, it has a lively personality. It has a high chase drive around smaller animals.
But it also stands out from other terriers for being unusually quiet.
Traditionally, Glens competing in field trials had to work silently. And their modern descendants have kept that trait of being slightly less vocal than other terrier breeds.
Owners also say that the Glen spends less time pursuing excitement and stimulation than other terriers.
In fact, lots of Glen parents report that their dogs are couch potatoes once they've had their daily exercise.
Training and Exercising Your Glen of Imaal Terrier
All dog breeds need to be taught house manners, like toilet training. And basic obedience, like walking on a loose leash and coming back when called.
Glens, like other terrier breeds, can be quite hard to train.
Historically, they didn't work closely with a human handler. They had to be quite independent.
So they have less natural motivation to focus on people and look to humans for instructions, than say, a Labrador.
They also tend to be somewhat less food motivated than other breeds. So making desirable behavior more worthwhile than unwanted behavior isn't as simple as just dishing out kibble.
Nonetheless, Glens are clever little dogs. They are capable of learning a great deal.
Positive reinforcement training such as the course on our Dogsnet training site will get the best results.
Exercise
Glens were bred to tolerate being outdoors in all weathers.
They typically need an hour of exercise a day. But they're pretty flexible about what that involves.
They enjoy long walks, but their short legs mean that they may struggle to keep up on a jog or run.
Glens also love dog sports such as Earthdog – trials and challenges based on following a scent into an artificial network of underground tunnels.
At home, a Glen may makes their own entertainment by digging holes in your yard.
This is a natural instinct common to all terriers. The best way to channel it is by setting up a sand or dirt box where they can dig to their heart's content without destroying your landscaping.
They don't tend to be very strong swimmers. So always supervise them closely around water.
Glen of Imaal Terrier Health and Care
Most dog breeds, including the Glen, are fixed populations.
That means that new generations can only be created by mating two Glens together. No new genes can be introduced by mating to other breeds.
One result of this, for all pedigrees, is that genetic diseases which have become "trapped" in the population can quickly amplify to more and more members of the next generation.
Think of a dog which passes a condition to 2 puppies, who pass it to 4 grandpuppies, who pass it on to 8 great-grandpuppies, and so on.
This is a huge problem facing the Glen at the moment, because there are so few of them about.
Many people predict that the number of Glens in the United States is in the mid hundreds.
And breeders worry that breeding from an increasingly small gene pool may pose long term health risks for the breed. Because it makes it hard to find two unrelated individuals who are both free from genetic disease to mate together.
Common Health Issues in the Breed
Hereditary conditions currently reported in Glens include:
Hip dysplasia – approximately 1 in 4 Glens affected.
Elbow dysplasia – approximately 1 in 10 Glens affected.
Allergy-induced dermatitis – approximately 1 in 10 Glens affected.
Seasonal alopecia – approximately 1 in 16 Glens affected.
Eye diseases and progressive blindness – approximately 1 in 20 Glens affected.
Glens usually live for 10-12 years. But healthy dogs have been known to reach the mid-teens too.
Do Glen of Imaal Terriers Make Good Family Pets?
They may get teased for their looks, but that doesn't stop Glen fans praising how easy and gentle they are to live with.
Not all dog breeds are equally suitable for every home though. So let's take a look at some of the things to consider before bringing one into your home:
Glens generally get on well with children, but they're heavier than they look. So, a boisterous Glen may knock children over accidentally. Plus, a child couldn't typically control a Glen on the leash by themselves.
Glens have a high chase drive. Even with socialization from a young age they might pose a risk to smaller pets.
Rescuing a Glen of Imaal Terrier
Glens are rare, verging on endangered.
That's not to say they never need rehoming. In the UK, around 10% of Glens are rescued or rehomed from their original home.
But when a dog only exists in small numbers to begin with, the chance of finding an adult dog to rehome is slim.
Older dogs who are failed show prospects or retired breeding dogs are sometimes rehomed through the community of breed fans affiliated to their national breed club.
These are:
If you can't find an older dog to rehome, you might consider raising a Gen from puppyhood instead.
Finding a Glen of Imaal Terrier puppy
The Glenn of Imaal Terrier breeding community is small.
Both of the breed clubs keep a directory of active breeders. They can put you in touch with breeders expecting a litter near you.
Since there are so few of them, you might have to join a waiting list, and see if a puppy becomes available.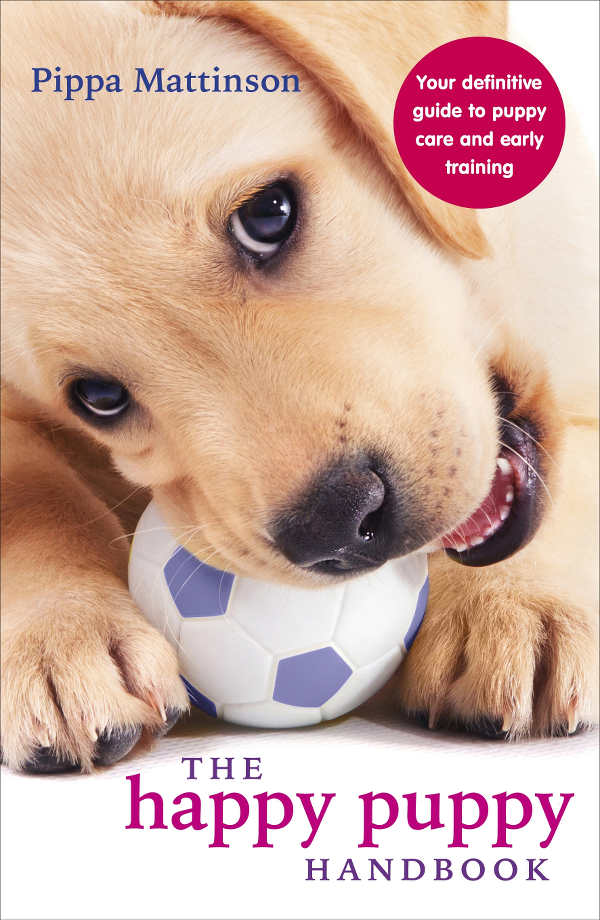 Since puppies are bred from a small population with a high frequency of some inherited diseases, it's especially important to make sure that a puppies parents have been health tested.
As a minimum, they should be screened for hip and elbow dysplasia, and be DNA tested for the eye disease rod cone dystrophy.
Our Puppy Search guide has lots more information about finding a healthy, happy puppy from a reputable breeder.
Raising a Glen of Imaal Terrier Puppy
Puppies of all types are a big commitment.
Our puppy articles will help you get started with confidence:
Over on our Dogsnet site we also have a detailed Puppy Parenting course for new puppy owners finding their feet and keen to establish good habits.
Since Glens have dwarf limbs, owners should stop them from jumping down from steps or furniture until their 1st birthday.
Similar Breeds
If it turns out that finding the unusual Glen terrier is simply impossible in your area, don't despair.
There are several similar breeds equally worthy of your attention.
For a start, the Glen is one of four native Irish terrier breeds. The other three are the Kerry Blue Terrier, the Soft Coated Wheaten Terrier, and the Irish Terrier.
And these better known medium-small dogs are also famous for packing a perfect blend of lively, gentle and affectionate:
Pros And Cons of Getting A Glen of Imaal Terrier
There's a lot to consider if you love the Glen of Imaal terrier.
Here's a quick run down of the pros and cons of this breed:
Cons
Rare and hard to come by.
High frequency of some inherited diseases.
May not be safe with smaller pets, or yards with fences which can be easily dug under.
Pros
Easy going and low maintenance in terms of exercise and temperament.
Often quieter than other terrier breeds.
Endearingly odd looking.
Do you already have a Glen of Imaal Terrier?
We'd love to hear about them in the comments box down below!
Readers Also Liked
References And Resources