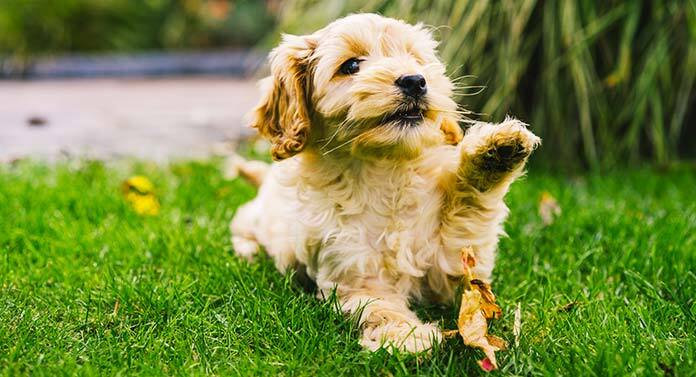 The Cockapoo is an active and lovable cross between the clever, low allergen, Poodle and the lovely long eared Cocker Spaniel. The two pure breeds, that make up the Cocker Spaniel Poodle mix, both have working origins and are easy to train. Cockapoos are soaring in popularity due to their affectionate, friendly nature, and fun attitude to life.
Cockapoo size depends on whether the Poodle parent is a Miniature or Toy, but most weigh less than 30 pounds. Small enough for apartment living yet  tough enough for family fun and adventures. Cocker Spaniel Poodles are ideal for a range of lifestyles, for dog sports such as agility, and will happily join you on your daily run. Most don't bark excessively, and get along well with children, and other dogs too.
Contents
We're going to look at the origins of this designer dog, explore their personality traits, health, lifespan, and care needs. We've a Cockapoo size comparison chart for you. And we'll give you some great tips to help you adopt an adult Cockapoo or bring home a lovely new Cockapoo puppy
It's hard to find a downside to this family friendly hybrid. Those awesome curls come in a wide range of colors, but do need to be kept short or thoroughly groomed on a daily basis. Of course you can always send your Cocker Poodle for a makeover like this one, every few weeks!
| | |
| --- | --- |
| Popularity: | Steady since the 1950s |
| Purpose: | Companion or assistance dogs |
| Weight: | 6–30 lbs, depending on the Poodle parent |
| Height: | 10-20 inches |
| Temperament: | Energetic, sociable, and happy. |
| Coat: | Varies from loose to tight curls |
What is a Cockapoo?
A Cockapoo is a Cocker Spaniel Poodle mix. A cross breed dog with one Cocker Spaniel parent and one Poodle parent. There are three types of Cocker Spaniel and Poodle mix, Toy, Mini and Standard. The only real difference is their size.
This will depend on whether the spaniel parent is an American or an English Cocker. And on whether the Poodle parent is a Standard, Miniature, or Toy Poodle. Most common is the Mini Cockapoo dog, bred from a Miniature Poodle.
History and Original Purpose
Both Poodles and Cocker Spaniels were originally bred as hunting dogs. Poodles were used to retrieve from water, and Cockers to hunt and flush game from undergrowth and then retrieve it. This means both dogs were bred to be intelligent, and highly trainable.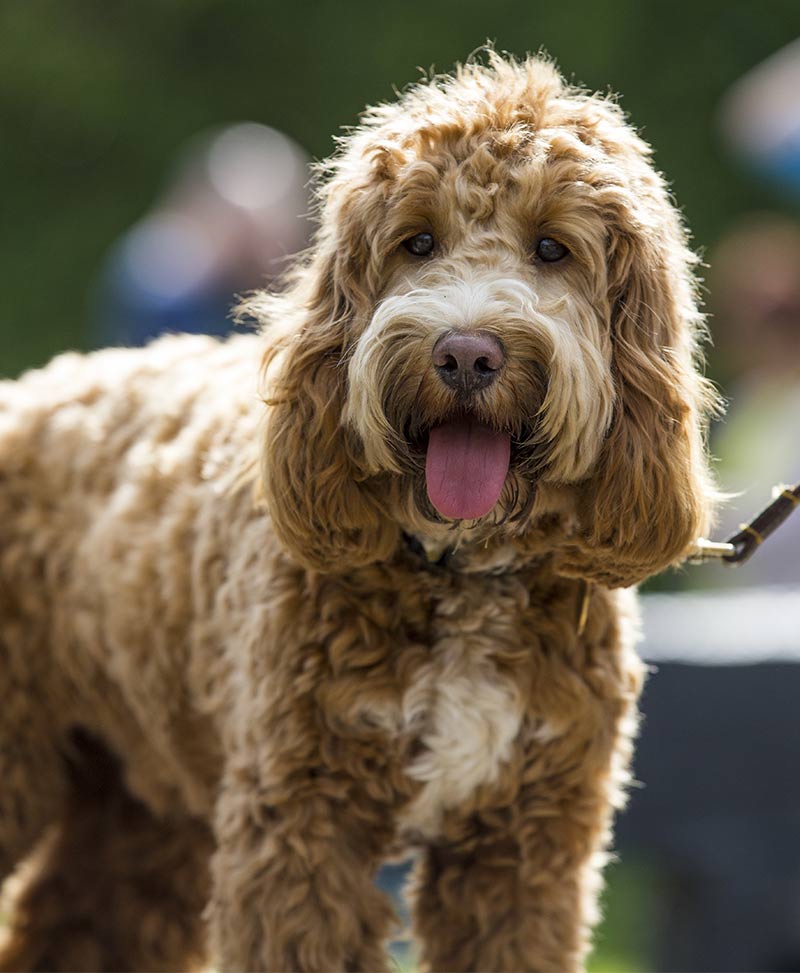 Poodles have a bit of a reputation for being aloof with strangers. And Cockers are known for their warmer, more overtly friendly nature. The two breeds were crossed in the 1950s, in an attempt to combine the Cocker's personality with the Poodle's tight, low shedding coat. The mix really took off in popularity in the 1960s. Making it one of the oldest 'designer mixes' around.
Pros And Cons of Getting A Cocker Spaniel Poodle hybrid
| | |
| --- | --- |
| Pros | Cons |
| Loyal and loving | High maintenance coat |
| May be low shedding | |
| Clever and easy to train | |
| | |
How Big Do Cockapoos Get?
Full grown Cockapoo size varies widely depending on the size of the parents, and on random chance.
Poodle
Cocker Spaniel
Cockapoo
Size:
Standard, mini or toy
Medium
Mini, small, or medium
Height:
Stnd: 15-24 inches
Mini: 10-15 inches
Toy: <10 inches
US: 13-16 inches
UK: 15-17 inches
10-20 inches
Weight:
Stnd: 40-70lbs
Mini: 10-15lbs
Toy: 4-6lbs
US: 20-30 lbs
UK: 26-34 lbs
6-30 lbs
cockapoo size comparison chart
Cockapoo weight could potentially vary from 4 to 70lbs! At the tiny end of the scale, the teacup Cockapoo will weigh less than 6 pounds. The toy Poodle Cocker Spaniel hybrid will weigh less than 12 pounds at adulthood, and a mini Cockapoo will weigh in at anywhere from 13 to 18 pounds. A full grown miniature Cockapoo is the medium size and the one you are most likely to see at the dog park.
At the other end of the scale, a maxi Poodle and Cocker Spaniel mix, with a standard Poodle parent, will weigh 19 pounds or greater. The vast majority of Cockapoos weigh a more moderate 15-30 lbs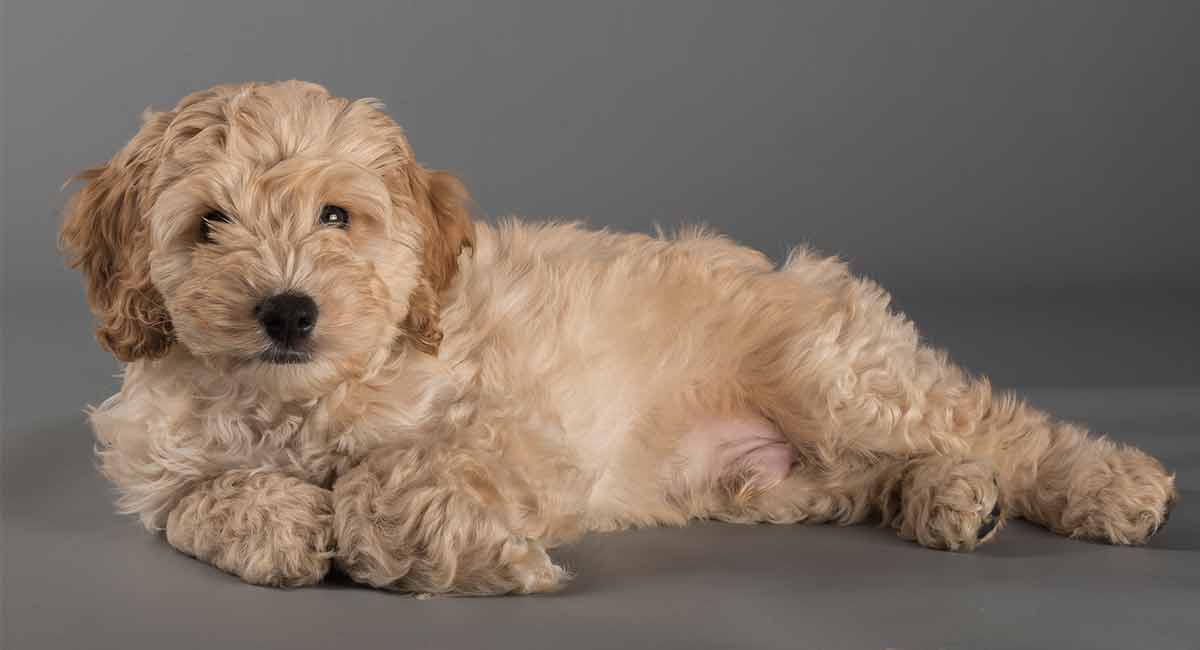 Appearance
Cocker Spaniel Poodle mixes tend to have a broader head the average Poodle. Their fur varies between loose and very tight curls.
Both Cocker Spaniels and Poodles come in a wide range of colors so there is plenty of choice for the would be cockerpoo owner.
Are Cockapoos Hypoallergenic?
The "designer dog" craze was started by a man named Wally Conron. He began crossing breeds in an effort to produce a hypoallergenic guide dog, for a blind woman whose husband was highly allergic to dogs. But Conlon couldn't find a single purebred dog that fit the bill. So, he crossed a Labrador Retriever with a Poodle.
This is where the "Labradoodle" was born. However, even this dog wasn't truly hypoallergenic. This is because allergies are caused by pet dander. And all pets, regardless of breed, produce some dander.
Certain dog breeds shed that dander less readily, however. This particularly applies to dogs with very curly coats. And this may be beneficial to owners with allergies to dander. Dogs that shed less fall into this category partly because loose hair remains trapped in the curls rather than floating around your home.
Do Cockapoos Shed?
All dogs shed to some degree. The Poodle's tight coat is low shedding. But the Cocker Spaniel's is not. A Poodle and Cocker Spaniel hybrid dog can have either coat type, or something in between. And unfortunately, you cannot predict which coat they will inherit. So they may be less likely to trigger allergies. But they might not.
Remember that the tighter the curl, the less the dog is likely to shed, and if you have allergies, do spend some time with Cockapoos to see how they affect you, before you bring one into your home.
Common Questions:
Follow the links to find out more! Let's take a look at what you can expect from a full grown Poodle Cocker Spaniel hybrid, and how well one might fit into your life.
Fun Facts About The Poodle and Cocker Spaniel Cross
Celebrities are clearly not immune to the Poodle and Cocker Spaniel hybrid's charms. For example, Lady Gaga, Ashley Judd, Minka Kelly and Harry Styles are all regularly spotted with the same sidekick: their beloved Cockapoo dogs.
This mix is popular partly because they look like big teddy bears! Whatever you choose to call your Cocker Spaniel Poodle mix, this is a cute dog. Cockapoos are sometimes called by other names, including:
Cockapoodle
Cockapoo
Cocker Spaniel Poodle mix
Spoodle
Cocker Spaniel Poodle
Cocker Poodle
Cock-a-poo
Cock-a-doodle
Cockapoo Temperament
The typical Cockapoo personality can be hard to predict. It can be any combination of the parent breeds' temperaments. It is important to make sure that both parents are friendly, when you buy a Cocker Spaniel Poodle mix.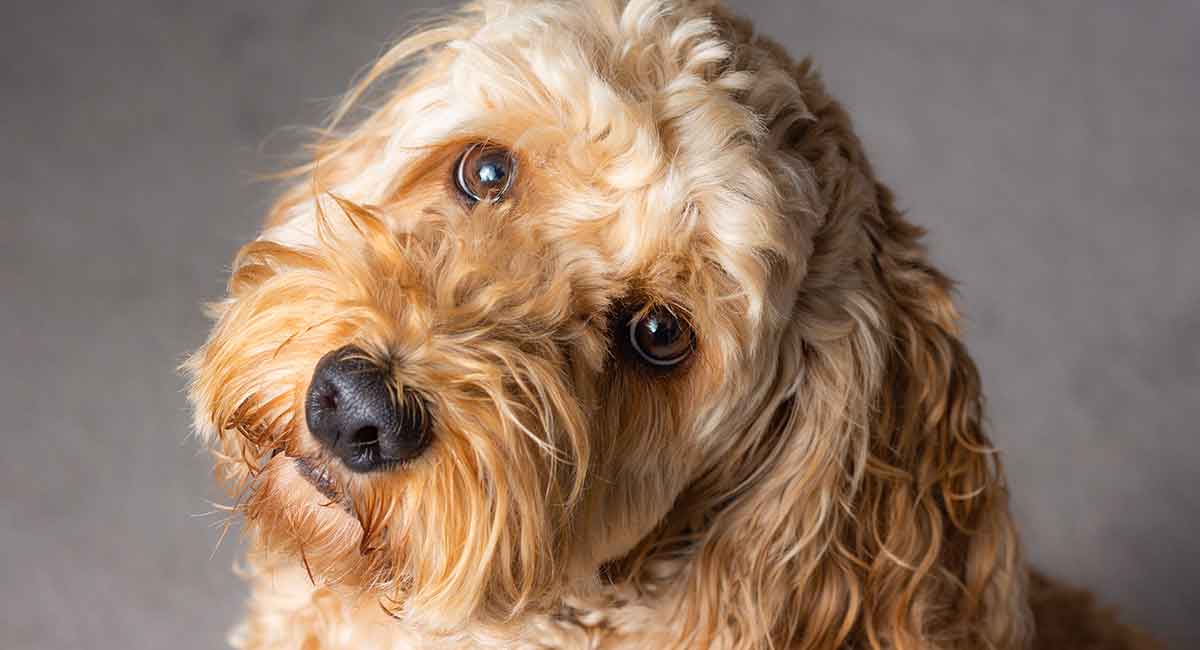 In general, Poodles are friendly, if a little 'standoffish' with strangers. And Cocker Spaniels are loving and very loyal. Both breeds are clever and active.
As a result, the Cockapoo's personality, is usually a happy, fun-loving, energetic, and sociable.
Cockapoo Barking
Any dog has the capacity to bark. And may bark more if they discover barking is in some way rewarding. But some individuals of this particular breed maybe a little more prone to barking than average. Like any dog prone to barking, it's important not to reward a Cocker Spaniel Poodle mix when they are making a noise. And to make use of resources like this one if you need to train your pup not to bark.
Training and Exercising your Cocker Spaniel and Poodle Cross
The good news here is that these dogs are as a whole are people-centric and eager to please. Your Poodle Cocker Spaniel mix will likely want to be where you are, doing whatever you are doing. These dogs are social and people-oriented. So, the closer your bond is, the easier Cockapoo training will become.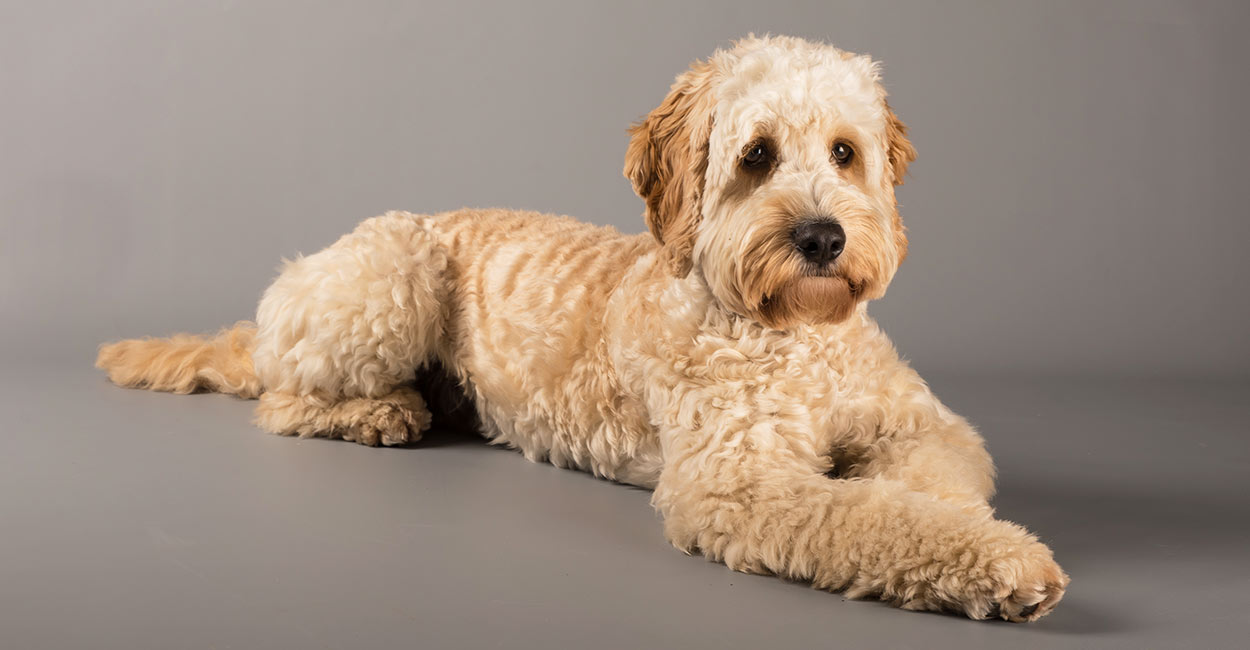 Throughout training, positive reinforcement will be your key to success. Poodle and Cocker Spaniel mix dogs are particularly sensitive to punishment, so avoid this at all costs.
Exercise Needs
The Cocker Spaniel Poodle cross is an active, intelligent dog. They need daily exercise, and regular training to stimulate their minds, too. Exercise doesn't have to mean a walk, it can be training or retrieving practice for example. The important thing is to keep your Poodle Spaniel mix busy.
Remember that young puppies have much lower exercise needs than adult dogs. A good rule of thumb is 5 minutes of structured exercise, such as walks, per month of their age, per day. At the end up the day they will still want to cuddle up on your lap, as long as they've spend enough energy!
Health and Care
The health problems your Poodle Cocker Spaniel mix may suffer will depend on whether their Poodle parent was a Toy, Mini, or Standard size. And on whether their spaniel parent was an American Cocker (known just as a Cocker in the USA) or an English Cocker (known just as a Cocker everywhere except the USA!).
Heath Risks To Be Aware Of
| | |
| --- | --- |
| Heart and blood: | Heart valve disease, von Willebrand's disease |
| Brain: | Epilepsy |
| Eyes: | PRA |
| Joints: | Hip dysplasia, patella luxation |
Heart Valve Disease
Cocker Spaniels are liable to develop leaky heart valves as they grown older. This allows blood to flow 'backwards' in the heart, which make the heart less efficient. In the early stages medications will help extend life. But in the later stages the dog develops heart failure, a leading cause of Cocker Spaniel death. Sadly operations to repair heart valves are not yet commonly performed on dogs.
Von Willebrand's disease>
All Poodles are at risk of von Willebrand's disease. A blood clotting disorder that causes excessive bleeding. There is a DNA test for von Willebrand's, which all breeding Poodles should have.
Epilepsy
Cocker spaniels are prone to epilepsy and seizures. These can often be treated with medication. It's possible that this risk is passed onto their Cockapoo puppies.
Progressive Retinal Atrophy
Progressive retinal atrophy, or PRA, is an inherited condition. Both Poodles and Cockers are prone to this disease, which causes blindness. There is a test readily available, that will show if your puppy's parents carry the PRA gene and can pass the disease on to their puppies.
Hip Dysplasia
Cocker spaniels and standard poodles are prone to hip dysplasia. A condition where the hip socket doesn't form properly, and the joint doesn't develop in the correct shape. Hip dysplasia causes pain. It affects the movement and function of the hip joint. Some cases are improved by surgery. Without surgery it can severely limit your pup's quality of life.
Your puppy's Cocker and standard Poodle parents should have their hips 'scored' by a veterinarian. Hip dysplasia is caused by multiple factors so it's worth reading up on how to exercise your young Cocker Spaniel Poodle mix safely, too.
Patella Luxation
Toy and Miniature Poodles are among a number of smaller breeds that can suffer from Patella Luxation. This is a kneecap that 'pops' out of joint easily. It may require surgery.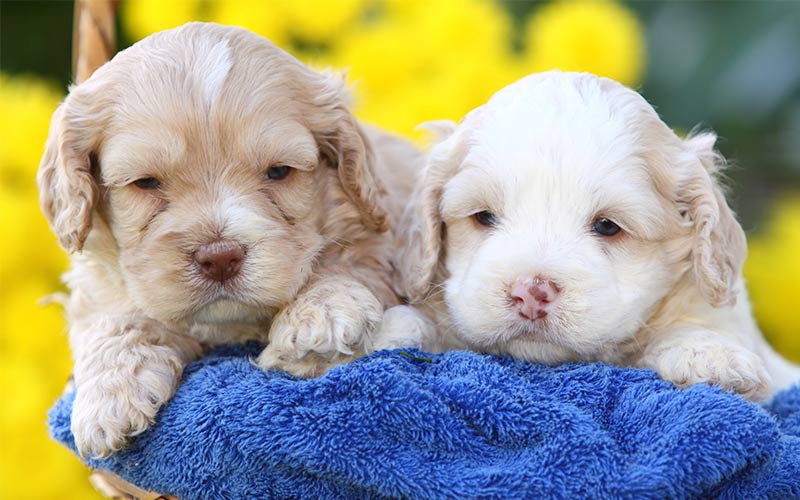 General Health of Cross Breeds
A Poodle Cocker Spaniel cross puppy can inherit heath conditions from either parent, or from both. Where a condition is only common in one of the parent breeds, the puppy's risk should be somewhere in between the two parents' risks.
So the problem will be less likely than it is for the 'at risk' breed, but still more common than average. Exactly how likely each problem is, depends on a number of unpredictable factors. You can follow these links to find out more about health risks for your puppy's parents:
Both parents should have all the usual health checks and tests before being bred. Even when breeding for cross breed puppies. Only use breeders who test both parents for all the diseases relevant to their respective breeds.
General Care
Cocker Spaniels have long ears, and need help keeping these clean to reduce ear infections. Most Poodle and Cocker Spaniel crosses will need similar maintenance to keep their ears in tip top health. You'll also need to trim your pup's nails on a regular basic, with clippers or a nail grinder.
Coat Care
Regular grooming is essential to keep the Cocker Spaniel Poodle coat in good condition. The best way to keep this simple is to establish a daily routine of brushing for five minutes. Remember to pay particular attention to the areas around the ears, anywhere their harness sits, and their 'trousers'.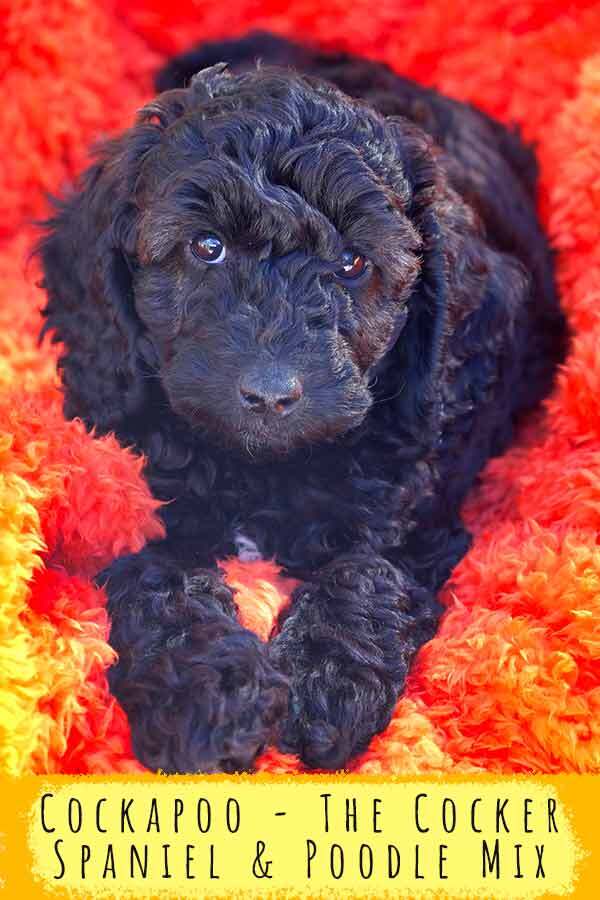 What is the Cockapoo Life Expectancy?
The life expectancy of a mixed breed dog is largely determined by the average lifespan of the parent breeds. The average lifespan of a Cocker Spaniel is 11.5 years, while the Miniature Poodle can live up to 14 years or more. The average life expectancy of a Cocker Spaniel Poodle mix is about 13 years. Mixes that include mini Poodles or English Cockers tend to live a little longer than those between American Cockers and Standard Poodles.
You can help your Cocker Spaniel and Poodle hybrid to have the best chance to a long healthy life, by making sure they eat a suitable diet, aren't overweight, and get plenty of regular exercise.
Do Cockapoos Make Good Family Pets?
A well-bred, well-raised Cocker Spaniel Poodle can make a wonderful addition to most families. It's important to meet the parents before choosing your puppy. This is because nice dogs generally produce nice puppies. Once your pup comes home, socialisation is key. Make sure you have lots of visitors, and introduce your puppy to lots of different sights and sounds. This will maximise your chance of having a friendly, confident, adult dog.
Cockapoos are intelligent dogs, and older children will love helping to train them.
They are social dogs, and will be happiest when there is lots of company. This means they aren't ideal for people who out of the home for a lot of the day.
Rescuing a Cocker Spaniel Poodle dog
Rescuing a dog can be tremendously satisfying. You are giving a relinquished dog a loving forever home – what could feel better? Plus, your costs will likely be quite a bit lower, even with adoption fees and possible spay/neuter fees. Of course, there are also some trade-offs in pursuing a rescue Cockapoo.
Firstly, there is no guarantee that you are getting a pure cross-bred Cockapoo. Even if the dog you are considering looks and acts like one, you can't be sure. Secondly, you won't likely know much if anything about your new companion's parents or background. Your new Cocker Spaniel Poodle mix dog may have bad habits that take a while to undo, or have been poorly socialized. It's important to understand these risks and to do your research before taking on a rescue dog.
Finding a Rescue Center
There are relatively few rescue centers that specialise in Cocker Spaniel Poodle hybrids. However, it's worth contacting your local rescues, to see if they have any Cockapoo dogs in. And specialist Cocker Spaniel and Poodle rescues will often take in mix breed pups too.
Breed Rescues
If you know of a rescue that's missing from our list, just let us know in the comments.
Finding a Poodle and Cocker Spaniel Mix Puppy
If you're buying a puppy it's always important to make sure you use a reputable breeder. The breeder should be happy for you to meet and spend time with both the parents, and be able to provide results for all the relevant health tests for both breeds. They may be able to provide references from previous customers.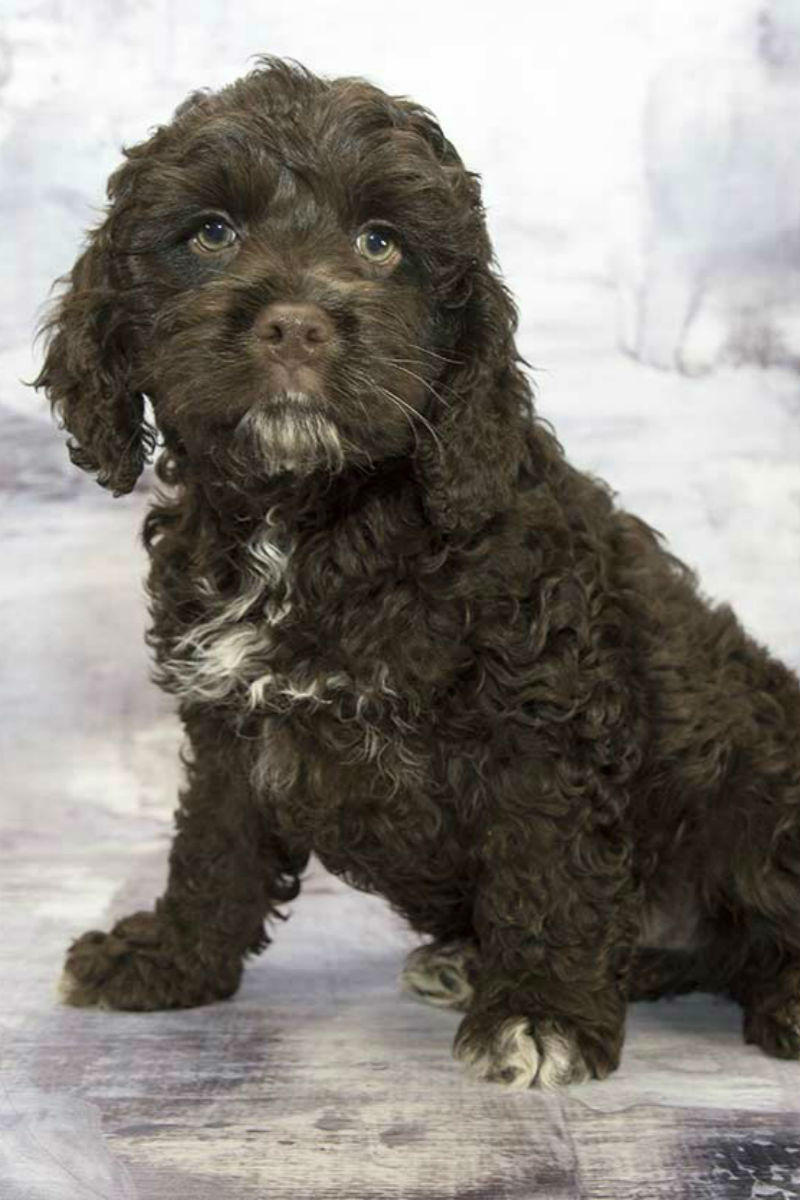 They should start your puppy's socialization, and be able to talk to you about how they are doing this. And be happy for you to see where the puppies are being kept. Look for clean puppies, and friendly parents!
Where to Avoid
Make every effort to avoid buying from puppy farms. Make sure to read our article on 'How To Spot A Puppy Farm'. Be wary of anyone who has several litters available at the same time, or who is keeping their puppies outside, away from the family house.
How Much Is A Cockapoo?
Cockapoo price varies between $1000 to $3000, depending on demand in your area. Cheaper puppies without the relevant health checks can seem very tempting, but will often end up costing more in the long run. Both in vets bills, and in heart ache.
Don't forget to factor in ongoing costs like kibble and good quality pet health insurance, when budgeting for your new friend.
Raising a Cocker Spaniel Poodle Cross Puppy
Raising a puppy in the right way is not a small job. It requires some knowledge, and a lot of time. Fortunately, we've got lots of free guides to help you along the way. You may find some of these articles helpful:
And if you'd like some more support in the early days, take a look at our Dogsnet Puppy Parenting course, created by Happy Puppy Site founder, Pippa.
Products and Accessories
Life with a dog is always easier when you've got the right kit:
Similar Breeds
Torn between two different cute mixes? We can help! Check out these direct comparisons between Cockapoos and similar breeds.
And you can find out more about some other similar breeds here:
You can also find lots more Poodle mixes in this complete guide to Poodle mix breeds. Or check out our small dog breeds page.
Summary
Cockapoos are clever, active, loyal little dogs, with a lot to offer a family. They do need regular grooming, and may object loudly to being left alone. They are best suited to home that can provide lots of physical activity and mental stimulation. If you've had a Cocker Spaniel Poodle dog in your life, we'd love to hear about your experience in the comments below!
References
Gough A, Thomas A, O'Neill D. 2018 Breed Predispositions to Disease In Dogs and Cats. Wiley Blackwell
O'Neill et al. 2013. Longevity and Mortality of Owned Dogs In England. The Veterinary Journal
Adams VJ, et al. Results of a Survey of UK Purebred Dogs. Journal of Small Animal Practice. 2010
Duffy D et al. Breed differences in canine aggression. Applied Animal Behavior Science 2008
Farrell, L.L., et al. "The Challenges of Pedigree Dog Health: Approaches to Combating Inherited Disease." Canine Genetics and Epidemiology, 2015.
Oberbauer, A.M., et al. "Ten Inherited Disorders in Purebred Dogs by Functional Breed Groupings." Canine Genetics and Epidemiology, 2015.
"English Cocker Spaniel." Animal Health Center for Dogs and Cats. 2019.
"Poodle (Miniature / Standard)." American Kennel Club. 2019.
Coren, S. "A Designer Dog-Maker Regrets His Creation." Psychology Today. 2014.
Collins, R., et al. "Allergy-Free Dogs." Healthline. 2016.
Kane, J. "10 Reasons You Need A Poodle Crossbreed In Your Life." The Huffington Post. 2015.
Lambrecht, K. "Your Cocker Spaniel." West Towne Veterinary Center. 2014.