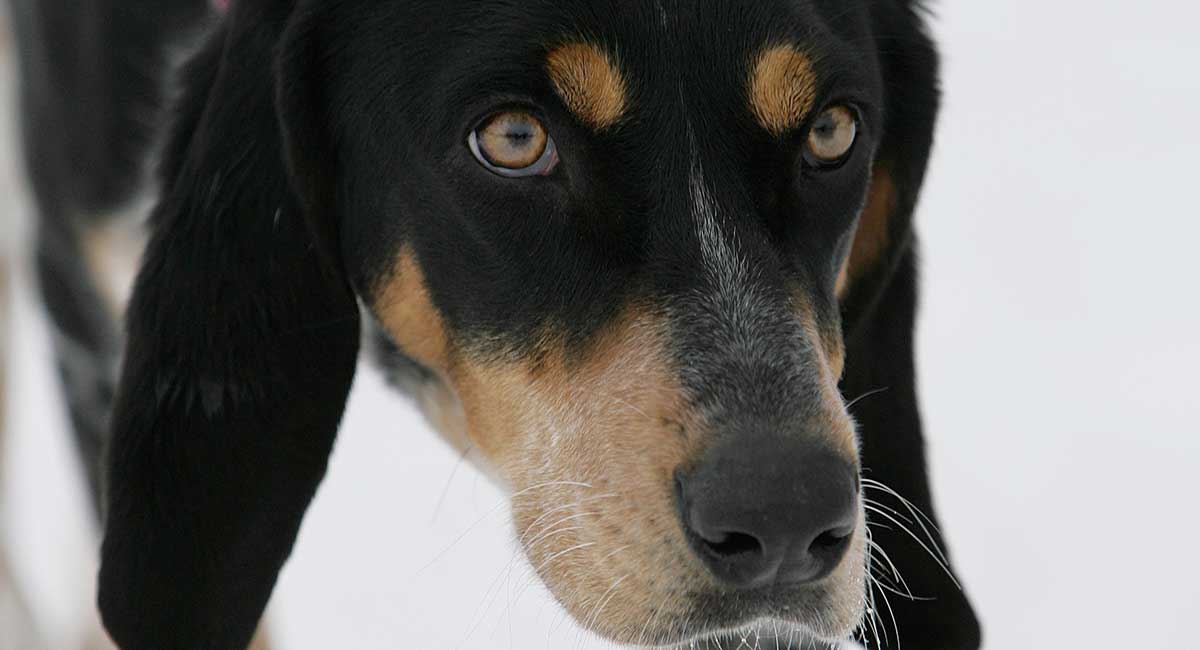 The Braque Francais Pyrenean is a French pointing dog.
There are actually two types: the Braque Francais Pyrenean and the Braque Francais Gascogne.
The former is the smaller and more popular of the two.
But, both of these dogs are still quite rare outside of their native France.
However, their friendly, gentle nature and eagerness to please means these pointing pups great family dogs.
Where Does the Braque Francais Come From?
The Braque Francais Pyrenean originated in the south of France.
The breed has a long history that dates back to the 15th century.
They are the descendants of an old type of gun dog used to point out the location of game birds to hunters.
The Old Spanish Pointer and the now-extinct Southern Hound were probably used to develop the breed.
There was only one type of Braque Francais until the late 1800s.
What Happened After This?
Then came the arrival of the industrial revolution and increasing urbanization.
The French then desired a smaller dog that was more suitable as a household pet.
The larger size, known as the Gascogne type, was crossed with smaller breeds by hunters in the Pyrenees Mountain region.
Today many consider these dogs the common ancestor to all of the shorthaired pointing breeds.
Fun Facts About the Braque Francais Pyrenean and Gascogne
The Braque Francais is also known as the French Pointing Dog.
They're a very amenable breeds and respond easily to training.
They're not recognized by the AKC. But, both varieties have been part of the UKC's Gun Dog Group since 2006.
The Braque Francais Pyrenean is also known as the Braque Francais de Petite Taille. While the Braque Francais Gascogne is also known as the Braque Francais de Grand Taille.
The Braque Francais Pyrenean was introduced in Canada in 1976.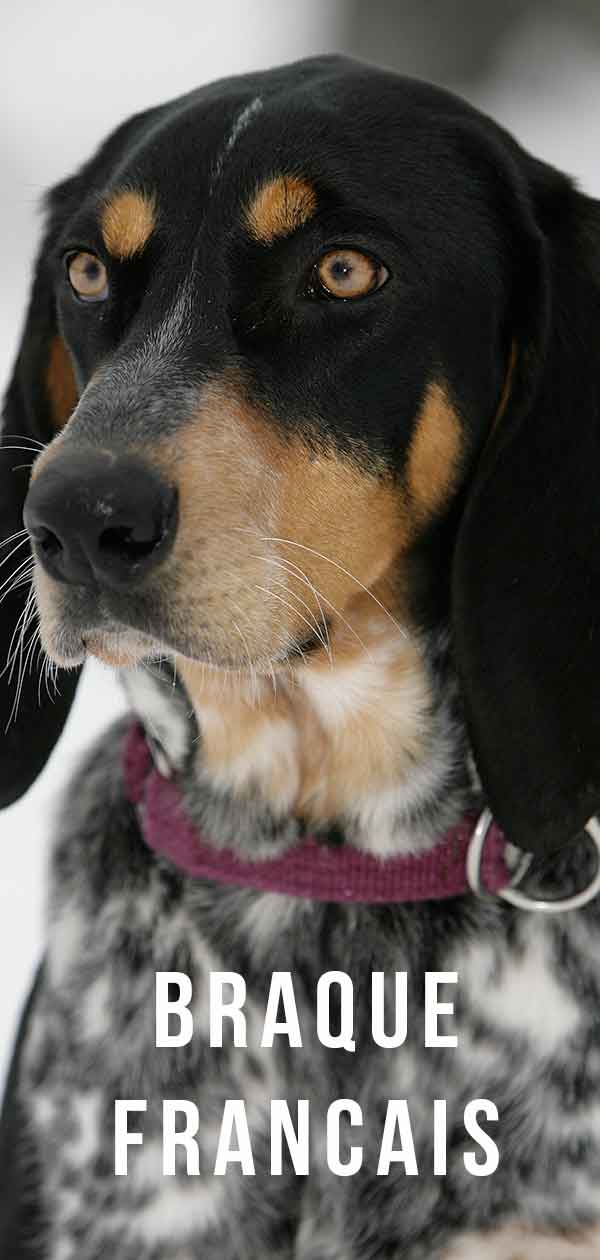 Braque Francais Appearance
Size is the main difference between the two types. But, there are other minor disparities in appearance.
Both dogs have a short, smooth coat. This coat comes in brown and white variations.
However, the Gascogne's coat is thicker, and their skin is looser.
The lips of the Pyrenean are less pendant than that of the Gascogne, and the head is broader.
General Appearance
The Braque Francais is a well-proportioned hunting dog of noble appearance.
These dogs are muscular but don't appear heavy.
The skull is almost flat or very slightly rounded, with a broad rectangular muzzle that's slightly shorter than the skull.
Deep-set eyes offer a guileless expression and are chestnut brown or dark yellow in color.
Size
Males of the Braque Francais Gascogne type typically stand between 23 and 27 inches.
The females range from 22 to 26.5 inches. Weight ranges from 45 to 80 pounds.
The male Braque Francais Pyrenean stands from 18.5 to 23 inches.
Females range from 18.5 to 22 inches. Weight is from 38 to 55 pounds.
Braque Francais Temperament
Both varieties of Braque Francais are smart, friendly, and affectionate.
They are extremely eager to please, which makes them a pleasure to work alongside.
The Braque Francais is devoted to their family and loves being around people.
In fact, these dogs make lousy watchdogs. They're simply too sociable.
They can suffer from separation anxiety if left alone for long periods.
Are They Friendly?
The Braque Francais Pyrenean generally gets along well with other dogs.
But due to their natural hunting instincts, the Braque may consider other small animals as prey.
These dogs also get along well with children if properly socialized and trained from a young age.
Although, they may be too rambunctious around toddlers.
The Braque Francais was bred to locate and retrieve prey rather than attack it.
For this reason, the breed is not prone to aggressive behavior.
Training Your Braque Francais
The Braque Francais enjoys a reputation for being very trainable.
As with all breeds, starting training and socialization as early as possible is key.
However, since these dogs can be particularly sensitive, harsh correction can make them very nervous.
Calm, consistent training methods that use rewards will get good results, even for inexperienced owners.
Exercising Your Braque Francais
As a hunting breed, the Braque Francais is an active dog.
They require a considerable amount of daily physical activity and mental stimulation.
Play time in the backyard, long walks, and retrieving toys are popular options.
These dogs make wonderful jogging companions and also like to swim.
Training for canine sports such as agility and obedience would also provide a suitable outlet for excess energy.
Without enough exercise, these dogs can develop behavioral problems. This includes excessive barking and destructiveness.
Braque Francais Health
Luckily, the Braque Francais is a generally healthy breed. It has a life expectancy of 12 to 15 years.
A lack of health studies on this breed means there's insufficient data on inherited health conditions.
However, their relative rarity works in their favor. They've been less exposed to the practices of unscrupulous breeders.
But this doesn't mean that the Braque Francais isn't at risk for certain inherited conditions.
Looking at health testing done on similar pointing breeds such as the German Shorthaired Pointer and English Setter provides information on possible health risks for this breed.
Common Issues
Skeletal problems like hip dysplasia, elbow dysplasia, and patellar luxation are quite common in many medium and large dog breeds.
Eye problems, such as entropion, ectropion, progressive retinal atrophy, and cataracts may also affect the Braque Francais.
Aortic stenosis is a common congenital heart defect in dogs.
It occurs when the aortic valve of the heart narrows.
That then obstructs the blood flow and puts excessive pressure on the heart.
Braque Francais Grooming and Feeding
The Braque Francais Pyrenean has minimal grooming requirements, requiring only weekly brushing and an occasional bath.
These dogs' nails will grow quite quickly, so you should trim them regularly.
Their long, folded ears need cleaning during grooming sessions to avoid a buildup of wax and debris.
Also brush their teeth regularly.
Look for a high-quality dog food, appropriate for their age and size.
It should contain a good quality source of animal protein and no fillers or additives.
Do Braques Francais Make Good Family Dogs?
These dogs originate as a hunting breed.
But they make excellent family pets when properly trained and socialized.
These affectionate animals are highly devoted to their family. So, they need to be around people as much as possible.
They get along well with children and other dogs. Although socialization from a young age is still important.
They're also an active breed that will require daily exercise to avoid disruptive behavior.
Rescuing a Braque Francais
Due to their relatively low numbers in North America, finding a Braque Francais of either type may be difficult.
However, rescuing a dog from a shelter has plenty of benefits.
You can see exactly what kind of dog you're getting in terms of appearance, temperament, and health.
There's also a possibility that the dog will be trained and vaccinated.
Shelter dogs will also cost considerably less than purchasing one from a breeder.
Best of all, adoption means giving an older dog a second chance for a long, happy life in a loving home.
Finding a Braque Francais Puppy
When purchasing a puppy, avoid establishments known as puppy mills.
These commercial breeding facilities churn out puppies strictly for profit, with little regard for the dogs' health or well-being.
Unfortunately, most pet stores get their puppies from such places and should also be bypassed.
Breeders who are recommended by reputable clubs and societies are a good place to start your puppy search.
How to Find Responsible Breeders
Responsible breeders will have certification to prove that their stock has been health tested for inherited conditions.
They'll also be happy to let you see their see facilities and answer all of your questions.
Finding a Braque Francais may be challenging, as these dogs are quite rare outside of France.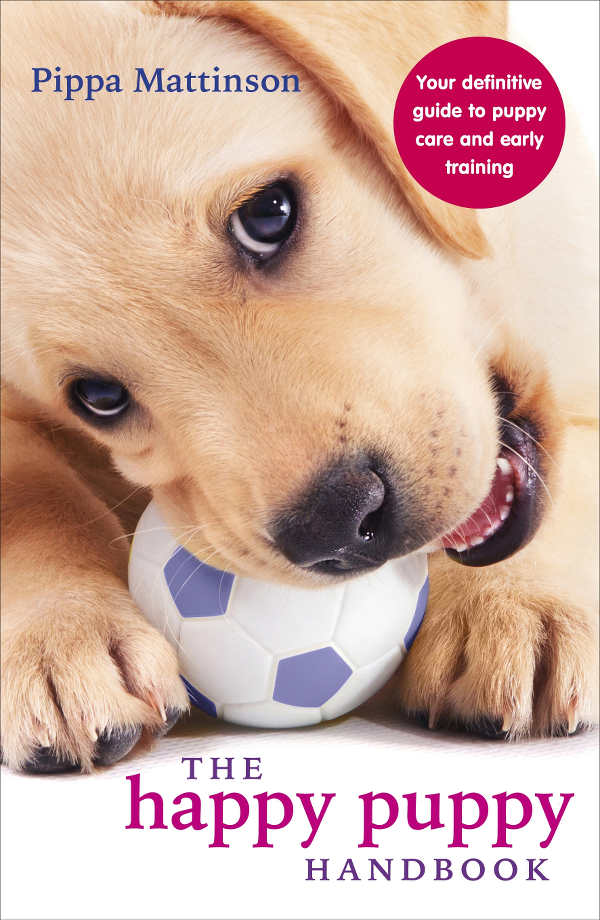 You'll have a better chance at locating a Braque Francais Pyrenean than the Gascogne type.
Our puppy search guide will give you more in-depth information about finding a puppy.
Raising a Braque Francais Puppy
Even a trainable breed like the Braque Francais can be a handful as a puppy.
These puppy care and puppy training guides will lead you through all of the stages of a puppy's development.
Braque Francais Products and Accessories
Products and accessories that are recommended for the Braque Francais Pyrenean include a nail grinder.
These dogs have strong, fast-growing nails.
Using a nail grinder rather than clippers allows for much more accuracy.
It will also put less pressure on the dog's nail.
A good ear cleaner for their floppy ears can reduce the chance of moisture buildup and bacteria growth.
Pros and Cons of Getting a Braque Francais
The Braque Francais has made the transition from hunting companion to family pet.
However, not all dogs are right for everyone.
Consider these pros and cons before bringing this breed into your life.
Cons
Prone to nervousness and separation anxiety, which can lead to unwanted behaviors
An active breed that requires dedication to daily exercise
Hunting instinct can make them unsuitable for homes with other small pets
Pros
Minimal grooming requirements
Friendly and affectionate
Highly intelligent and trainable
A good option for first-time owners
Good with children and other dogs
Not prone to aggressive behavior
Similar Breeds
If you're having a hard time locating the Braque Francais Pyrenean, here are some similar breeds that may interest you:
English Setter
Braque Bourbonnais
Brittany Spaniel
Gordon Setter
Braque Francais Rescues
Due to their scarcity outside of France, there are few rescue organizations devoted solely to the Braque Francais.
You may have some luck with those that deal with all pointer breeds.
If you know of other organizations, please add them in the comments below.
Is a Braque Francais Right for Me?
Active people and families who are looking for an athletic dog would be a good fit for the Braque Francais.
A home with a large yard would also be helpful.
These friendly, affectionate dogs want nothing more than to be around people. So, if you're unable to spend a lot of time with a pet, this is not a good choice for you.
However, this sweet-natured dog will make a wonderful addition to the right family.
Are you a lucky owner of the rare Braque Francais Pyrenean? Let us know in the comments below.
References and Resources