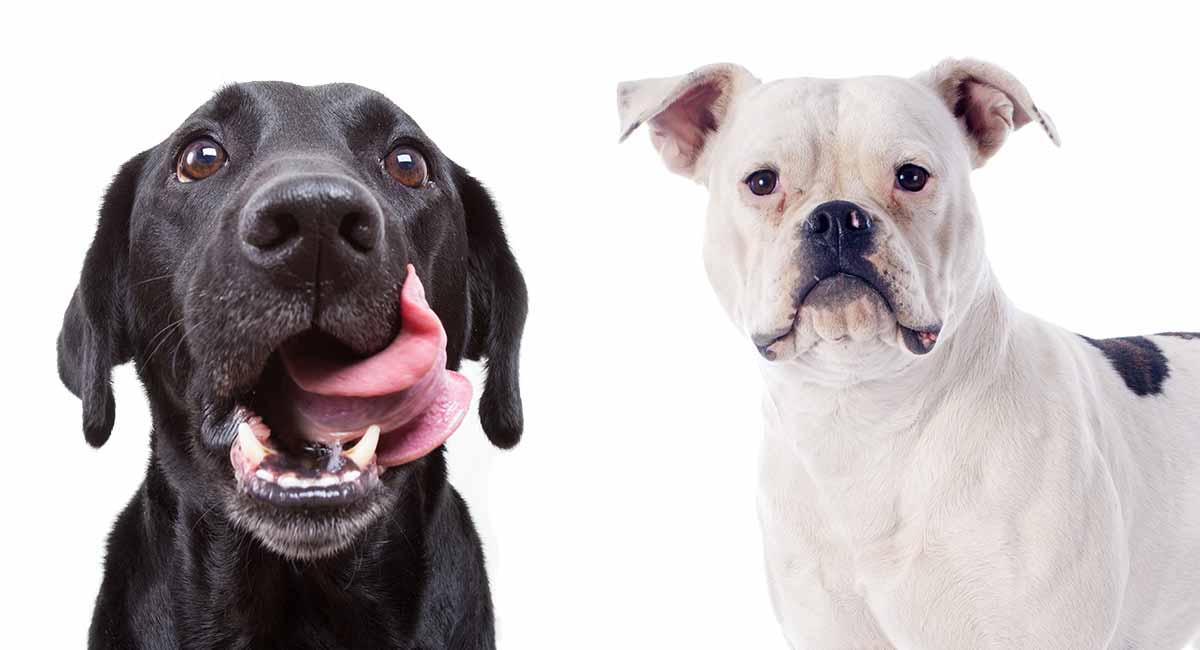 Wondering about the American Bulldog Lab Mix?
Then you've come to the right place!
In today's article, we're going to learn everything any prospective owner or inquisitive dog-lover should know about the energetic and intelligent American Bulldog Labrador mix.
Let's get started!
Meet the American Bulldog Lab Mix!
Also known as the American Bullador, the American Bulldog Lab mix is exactly as his name explains him—an American Bulldog mixed with a Labrador Retriever!
The offspring of two brainy and active breeds is certainly going to turn some heads and get people in the dog world talking.
But what is it about this designer dog that has experts in a debate?
Let's talk about the crossbreed controversy.
Hybrid Dog Hearsay – The Truth About the Crossbreed Controversy
Hybrid dogs, crossbreeds, and designer dogs.
Three names for one debate.
But what is it about crossbreeding that has so many people up in arms?
Although crossbreeding has been around since the beginning of the human and canine relationship, it seems that in the last two decades the trend has been on the rise.
Many breeders are selling mixed breed dogs for the price of a purebred.
Is that fair?
And what makes a mixed breed any different from a mutt?
Actually, as those who support crossbreeding will tell you, there is quite a big difference between designer dogs and mutts.
For example, a crossbreed is the designed offspring of two specifically chosen purebred parents. A mutt, on the other hand, is more of an accidental mixed breed with an unknown ancestry.
And Then There Is the Matter of Health
It is a widely known fact that purebred dogs are becoming more and more prone to genetic health issues as a result of generations of overbreeding in order to maintain breed standards.
Those who support crossbreeding hope that the practice will help to create healthier offspring by simply widening the gene pool and reducing the chances of inheritable illnesses being passed down to new litters.
However, there are skeptics who insist that purebred dogs and crossbreed dogs are equally as susceptible to inheriting certain health issues from their parent dogs.
Now, let's talk more about the designer dog in question—the American Bulldog Lab mix!
History of the American Bulldog Lab Mix
Where did the American Bulldog Lab Mix come from?
Well, because he is a newer generation crossbreed, the truth is that the exact story of his origin is still a bit of a mystery.
In order to learn more about him as a whole, let's go ahead and look into the histories of his purebred parents.
History of the American Bulldog
The American Bulldog, also known as the Bully, is the biggest of the three Bulldog types.
His smaller counterparts are the tiny French Bulldog and the squat, wide-headed English Bulldog.
Originally created to be a hog hunting dog as well as a farm dog in the southern United States, the American Bulldog is believed to be the closest descendant of the original Old English Bulldog.
Almost Lost
After near extinction in the 20th century, the American Bulldog resurfaced thanks to the careful breeding works of Dr. John D. Johnson and Alan Scott.
In fact, did you know that there are two lines of American Bulldog named after the breeders?
That's right, these American Bulldog types are known as the Scott-type and the Johnson-type.
Despite having yet to be officially recognized by the American Kennel Club, the American Bulldog continues to grow in popularity in the United States today.
However, due to what many consider an unfair reputation of being an "aggressive" dog, as well as being closely compared to and often mistaken for his canine look-alike (yet entirely different breed) the Pit Bull, the American Bulldog has found himself banned in certain regions.
History of the Labrador
According to the American Kennel Club, the Labrador Retriever is the number one most popular dog in the United States of America.
An ancient breed who has likely been around since the early 1500s, the Lab originally comes from Newfoundland, Canada.
Once upon a time, the Lab was primarily used as a working dog on fishing boats, seeing as he was a rather skilled water hunter and excellent duck retriever.
An ideal boater's companion, the Labrador was perfectly built for the harsh Canadian waters.
His weather-resistant coat, webbed paws, and "otter-tail" made him a natural born swimmer, while his loyal temperament and intelligent mind made him a fisherman's best furry friend.
Changed but Still the Same
Further refining of the Labrador Retriever by British breeders went on until about the 19th century, and fanciers of the Labrador say that the modern-day Lab upholds the same irreplaceable and sought-after traits that made him so desirable from the start!
So put the Lab and the American Bulldog together and you get a unique crossbreed with an equally unique heritage.
But what is the personality of the American Bulldog Lab like?
Let's find out!
American Bulldog Lab Mix Temperament
As is the case with all crossbreeds, the American Bulldog Lab mix temperament is going to depend on the behavioral traits the crossbreed inherits from his purebred parents.
Bulldog Temperament
For example, if the American Bulldog Lab mix inherits his American Bulldog parent's disposition, you can expect him to be a friendly, active breed who enjoys play and roughhousing.
And while enthusiasts say this breed makes an excellent family dog, a prospective owner of the American Bulldog, or any American Bulldog mix, should note that this is an incredibly powerful breed with a very high prey drive.
Due to his hunting and guarding instincts, the American Bulldog may not be suitable for homes with younger children.
This is also a dog who does not do well with strangers or other dogs he was not raised with.
On the other hand, with his family, the American Bulldog is said to make a gentle, loving pet who is very protective and loyal.
But what if your American Bulldog Mix takes after his Labrador parent?
Labrador Temperament
The Labrador Retriever is much less wary of strangers and other animals than his protective and assertive friend, the American Bulldog.
Unlike the American Bulldog, the Labrador will have no problem with people coming in and out of your home.
Whether they are friend or foe, the Labrador has no enemies!
This doesn't make him the best guard dog.
It does make him an excellent family pet for children of all ages and families with other household dogs.
Common Traits
Still, both the Labrador and the American Bulldog are very high-energy breeds, and the Lab especially can be slow to mature, meaning that a young Lab can be quite a handful.
Both the Labrador and the American Bulldog are eager to please and intelligent breeds.
While the Lab is ready and willing to learn everything you teach him, the American Bulldog can have a stubborn streak and may find your teachings uninteresting.
Keep in mind that your American Bulldog Lab crossbreed could inherit any number of the above-mentioned behavioral traits from his parents, so early socialization and obedience training beginning in puppyhood is going to be an absolute must.
But how do you train such an intelligent and energetic crossbreed?
Keep reading!
Training and Exercising an American Bulldog Labrador Mix
As we mentioned, the American Bulldog Labrador mix is a smart, energetic dog who could either be eager to please and ready to learn, like his Lab parent, or slightly stubborn and hard-headed, like his American Bulldog parent.
And while you never really know exactly what you'll be getting with any crossbreed, the basic rules of training tend to apply to all breeds.
Socialization
For example, the American Bulldog and Lab mix is going to require early socialization beginning in puppyhood and he will also need obedience training throughout his life.
This is not only because the American Bulldog Lab mix is a cross between two very energetic purebred dogs,
Also, one of those purebred parent breeds, the American Bulldog, can be wary of strangers and stubborn at times.
Early socialization will help reduce chances of anxiety and stress in your dog.
Additionally, it can help ensure your American Bulldog Lab mix grows up to be happy and well-rounded.
Furthermore, obedience training beginning in puppyhood will better assert that you are the boss and that your American Bulldog Lab mix is ready, willing, and happy to follow your lead!
Exercise
When it comes to exercising your American Bulldog Lab, experts suggest at least an hour or more a day.
This could include a nice walk, jog, or hike, and then some romping about in a securely fenced-in backyard.
Mental Stimulation
Since your American Bulldog Lab mix is the hybrid offspring of two rather smart breeds, you may also want to consider looking into training him to do doggy jobs, like bringing in the newspaper and groceries or helping with the laundry.
Doggy jobs like those listed above help to give intelligent dogs a positive outlet for their busy minds, which in turn keeps them from becoming bored and destructive.
And since the American Bulldog Lab mix is a larger crossbreed with a tendency to chew and jump, you'll certainly want to make sure he has enough chew toys and access to the backyard where he can burn off any extra energy.
Now, let's see what the American Bulldog Lab mix could look like!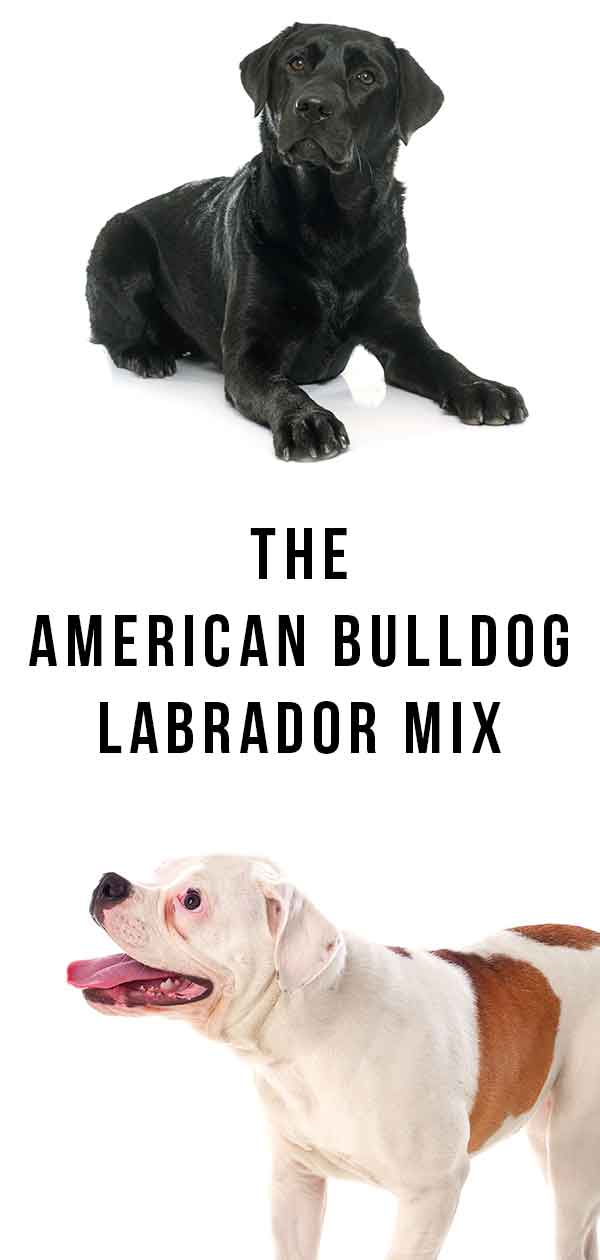 What Does the American Bulldog Lab Mix Look Like?
Again, since we are dealing with a crossbreed, the appearance of your American Bulldog Lab mix is going to be left up to chance and genetics.
Let's look at the defining characteristics of both of the American Bulldog Lab mix's parent breeds to get a better idea of our options.
Bulldog
For starters, the American Bulldog, who stands at 20–28 inches tall and weighs between 60–130 pounds, is a medium-sized dog with a muscular build, a short muzzle, broad chest, floppy ears, and a long tail.
The American Bulldog's coat is short and sleek and comes in four color combinations, including:
Lab
The Labrador is slightly smaller, standing 22–25 inches and weighing 55–80 pounds. He also has floppy ears, a long tail, and alert, intelligent eyes.
His coat is double-layered, weather resistant, and comes in three color varieties, including:
Keeping the above in mind, an American Bulldog Lab Mix could be anywhere from 20–28 inches tall and weigh anywhere from 55–130 pounds.
His coat type and color will be left up to chance and whichever parent breed he takes after most genetically.
American Bulldog Lab Mix Grooming and General Care
The American Bulldog Labrador is a crossbreed between two dogs who shed, but the Labrador certainly sheds more profusely than the American Bulldog, especially twice a year during shedding season.
A prospective owner should prepare for weekly brushing where the loose hair is raked free from the American Bulldog Lab mix's coat.
However, unless your American Bulldog Labrador mix gets especially dirty, he will only need an occasional bath.
He will also need his nails trimmed regularly to keep them from breaking and his ears checked and cleaned to keep moisture and waxy build-up from causing ear infections.
Life Expectancy and Health Concerns for an American Bulldog Lab Mix
All dogs come with the possibility of inheriting genetic diseases.
For this reason, whether you have a crossbreed or a purebred, we always recommend early health screening in your puppy.
Early health screening can help you get a better idea of what your puppy may or may not face in his future.
It will also better help you prepare or even prevent certain issues.
With that in mind, let's take a look at the possible genetic health concerns your American Bulldog Labrador mix could inherit from his purebred parents, beginning with the American Bulldog.
Bulldog Health
With a lifespan of 10–15 years, the American Bulldog is genetically predisposed to:
hip and elbow dysplasia
nerve disease
thyroid issues
ichthyosis
eye problems like entropion and cataracts
mange
bladder stones
kidney stones
Furthermore, the American Bulldog is also predisposed to something known as brachycephalic airway obstruction.
This is a breathing disorder caused by the skull development in dog breeds with shorter skulls and flatter noses.
Brachycephalic airway syndrome can cause a number of issues, including:
breathing difficulties
exercise intolerance
snoring
coughing
fainting
sleep apnea
overall discomfort
Early health screening and advice from your vet can help you to better understand and care for your dog should he show symptoms of this condition.
Now let's talk about the Lab.
Lab Health
With a lifespan of 10–12 years, the Lab is said to be an overall healthy purebred.
Still, he does have some issues a prospective Lab or Lab-cross owner should know about.
In your Labrador or Lab cross, keep an eye out for:
elbow and hip dysplasia
loose knee joints
ruptured ligaments in their hind legs
heart disease
eye disease
epilepsy
cancer
obesity
bloat
chronic allergies
Is the American Bulldog Labrador Mix Right for Me?
The Labrador Retriever American Bulldog mix is, by all accounts, an intelligent, loyal, and energetic crossbreed.
But how do you know if he is the right cross for you?
First and foremost, remember that the American Bulldog, in particular, is banned in certain regions.
This ban could also apply to any dog that is an American Bulldog mix.
While there is a lot of debate regarding breed discrimination, the reality is that right now, whether or not you agree with the bans, you should still make sure it is okay to have an American Bulldog crossbreed in your area.
Many people get banned dogs and end up being forced to release them to shelters once they are caught.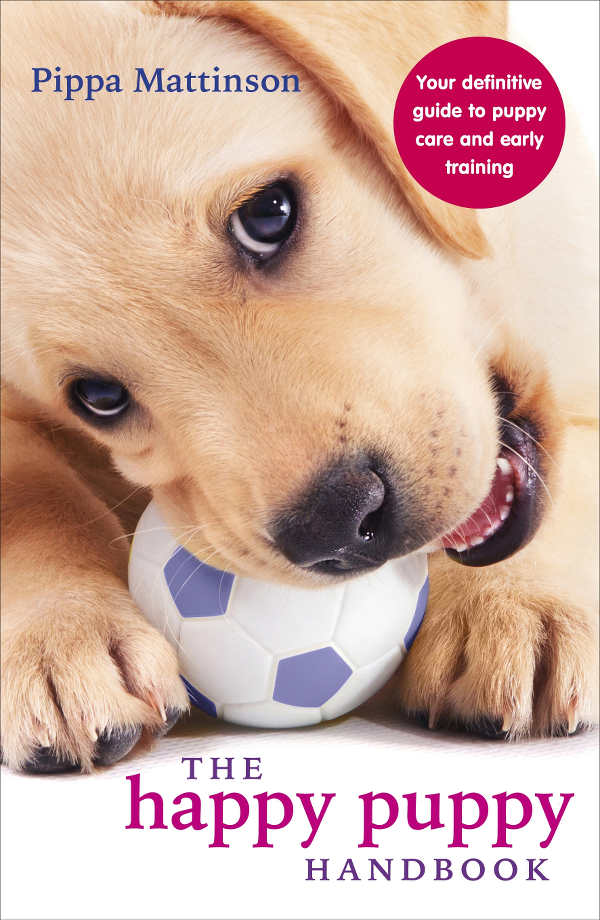 This is devastating not only for the owner but also for the dog.
I Can Have This Crossbreed
Even if this mix is welcome in your neck of the woods, there is still a lot to think about before getting one.
The American Bulldog Lab mix will thrive in homes with lots of room for them to grow, run, and play.
They will do best with large, fenced-in backyards.
They need an owner or family who is active and able to train, play, and exercise them as much as possible.
Remember, the American Bulldog Lab mix does well with children.
However, he could get easily excited around especially playful youngsters and accidentally hurt them by playing too roughly.
But the chances are the two of you would make a great pair if:
you have older children
OR you are able to properly socialize your dog from an early age
you have plenty of time to spend with him
they are not banned in your area
If it's not the breed for you, there are plenty of others to consider. Like the American Bully!
How Can I Find the Best American Bulldog Lab Mix Puppy?
When looking to get your hands on American Bulldog Lab puppies, we always suggest doing plenty of research.
Are you interested in getting your American Bulldog Lab mix puppies from a breeder, or would you rather go through a rescue?
There are pros and cons to both options, so take your time, make sure whichever source you go through is responsible and reliable, and make the decision that is right for you and your future dog.
Breeders
Breeder prices for an American Bulldog Lab mix puppy could be anywhere from $500 to over $1000.
We love that most responsible breeders will have health screened their puppies.
They should be able to offer you certificates proving their dogs are good to go home with you.
Rescue
On the other hand, if you would like to rescue an American Bulldog Lab mix, prepare for adoption fees to be around $50 to $100.
One great thing about going through a shelter to rescue your American Bulldog Lab crossbreed, aside from offering a home to a needy canine, is that shelters will usually cover the initial vet fee.
So are you the happy owner of an American Bulldog Lab mix?
Do you have any advice for potential American Bulldog Lab owners?
Drop us a note in the comments section!
References
Joan C. Hendricks VMD, PhD, Brachycephalic Airway Syndrome, Veterinary Clinics of North America: Small Animal Practice
Borbala Turcsan, Adam Miklosi, Eniko Kubinyi, Owner Perceived Differences Between Mixed-Breed and Purebred Dogs
Tiffani J Howell, Tammie King, Pauleen C Bennett, Puppy Parties and Beyond: the role of early age socialization practices on adult dog behavior, Volume 6, pages 143-153
Nathan B Sutter and Elaine A Ostrander, Dog Star Rising: The Canine Genetic System, Nature Reviews Genetics, Volume 5, pages 900-910
Lowell Acumen DVM, DACVD, MBA, MOA, The Genetic Connection; a Guide to Health Problems in Purebred Dogs, Second Edition, 2011
Purebred Vs Mutt-Common Objections to Mixed Breed Dogs
Carol Beuchat Ph.D., The Myth of Hybrid Vigor in Dogs…Is A Myth