The Whippet is a Sight Hound, originally bred to run fast and chase game. This small, light pup can be a relaxed and friendly companion indoors, and an active, lively playmate when you go outside. With an easy care coat and laid back demeanour, Whippets are an understandably popular choice with some families. But there is a big learning curve from choosing your Whippet puppy's name to bringing them home and raising them right.
Contents
Today we are going to explore the world of Whippets.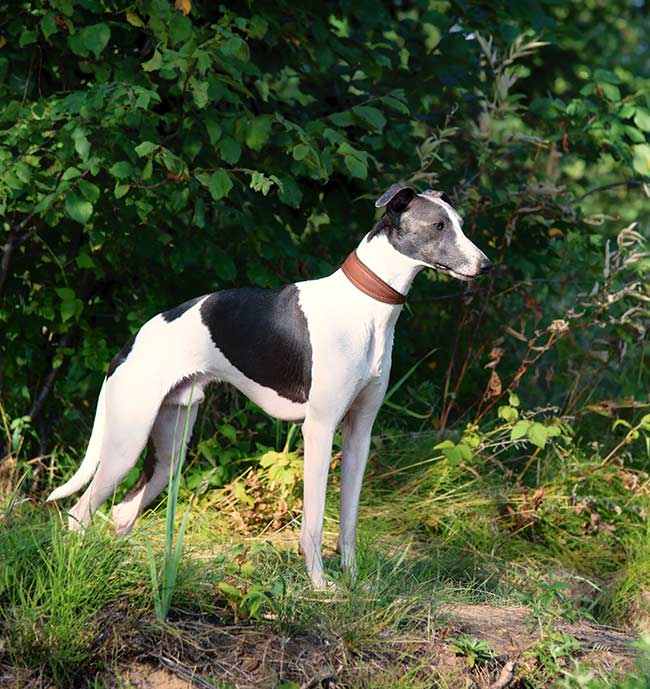 We'll be looking at Whippet temperament and health. And how to find and care for your first Whippet. We'll also look at Whippet breeders and rescue, colors, and much more.
Breed At A Glance
Popularity: 60th most popular dog in the USA
Purpose: Sight hound
Weight: 25-40lb
Temperament: Friendly, docile, fast!
Dog breeds that are built for speed all have some characteristics in common, but this smaller cousin of the Greyhound is not just a speed machine.
The breed has some features that make them great pets.
Whippet Breed Review: Contents
So what is a Whippet? And where do Whippets come from?
History and original purpose of the Whippet
Whippets are descended from the larger Greyhound breed.
Small varieties of greyhound have existed for hundreds of years.
But the Whippet was recognized as an independent breed by the Kennel Club in 1891.
Whippets were originally used to catch small game, such as rabbits and rats.
However, people quickly found a fun alternative to this line of work.
Whippet racing
They began to use Whippets for gambling as well.
They created rag races, where the dogs ran on straight tracks across fields, chasing a rag or piece of cloth.
Today's Whippets are still used for work by farmers and game keepers in England.
And they still occasionally race in areas where it racing is still popular.
The British Whippet Racing Association was formed in 1967, and is still active today.
But due to their small size and very affectionate character, most modern Whippets are now beloved and admired family pets in homes around the world.
Fun facts about Whippets
Whippets belong to the dog breed group known as sight hounds.
This group embraces dogs bred for racing and coursing.
These are the sprinters of the dog world, capable of great speed over short distances and with a passion for chasing moving objects.
Whippets are no exception and all members of the breed enjoy a good chase.
Have you got a Whippet fact which belongs on this list?
Share it with us in the comments box!
Whippet appearance
Whippets have a very distinctive look.
The Kennel Club describes them as a 'balance of muscularity with neatness, power with elegance'.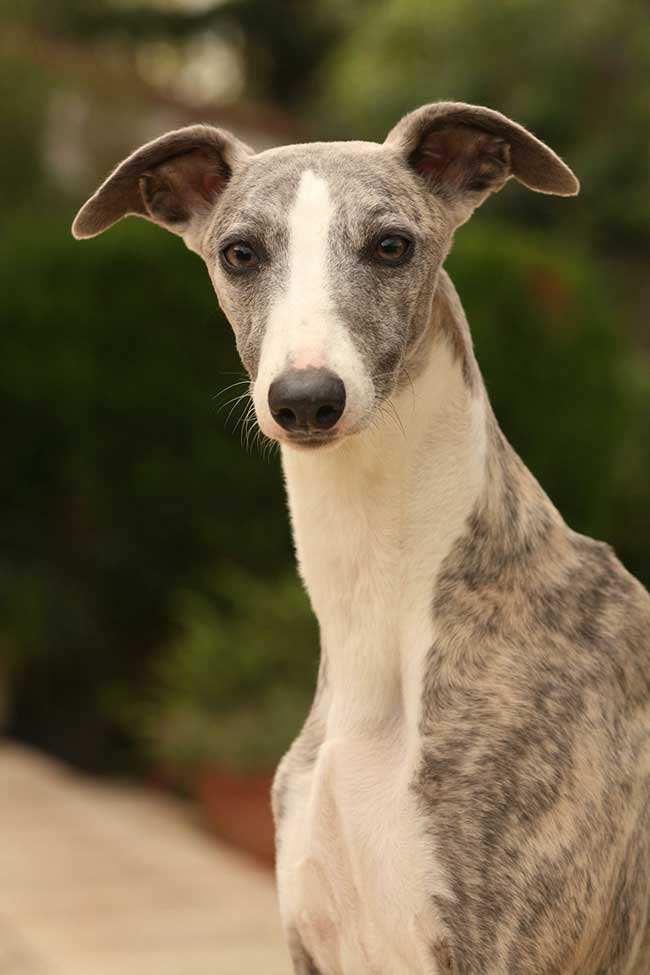 They are slender dogs with long legs, deep chests, and narrow streamlined bodies.
They have a short, smooth coat which comes in a range of colors including, black, white, fawn, brindle and more.
Sight hounds like the Whippet are all dolichocephalic, or long faced dogs.
Most have semi upright ears turned over at the tip.
Whippet size
Like most dog breeds, males are slightly larger than their sisters once fully grown.
The AKC states that the male should be between 19 and 22 inches tall at the shoulder with females reaching 18 to 21 inches.
There is quite a big range in body weight for an adult with anything between 25 and 40lbs being considered normal.
The average Whippet usually comes in at around 30-35lbs with males being slightly heavier than females
Whippet colors
The Whippet pictures on this page give you some idea of the different colors available in these dogs.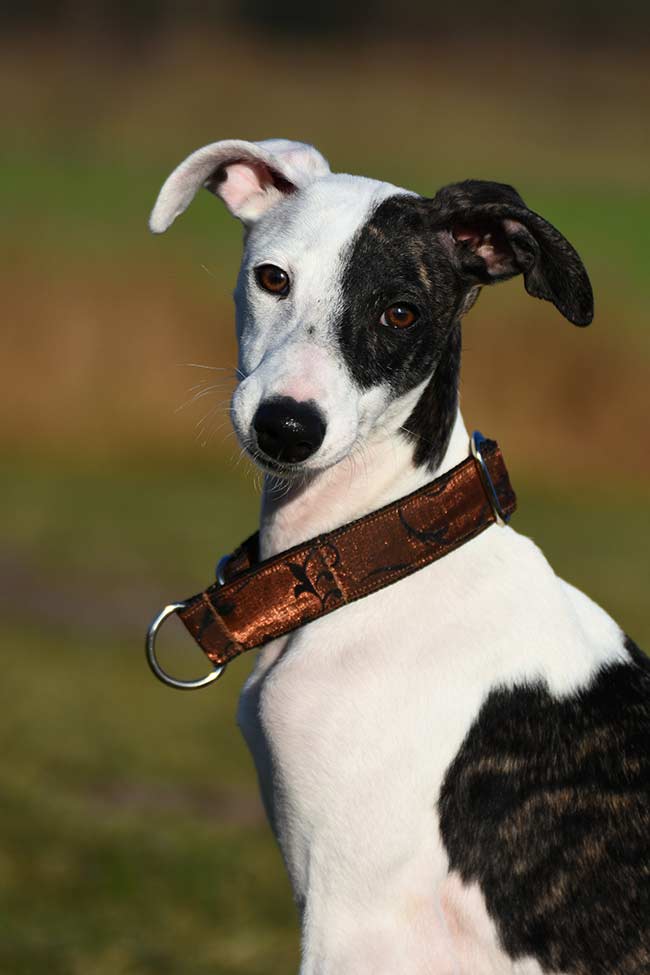 There are lots of color varieties including blue, black, grey and brindle.
And all of these colors can be solid or broken up with white patches.
Whippet temperament
Whippets make very good house pets and companions, as long as they have sufficient exercise each day.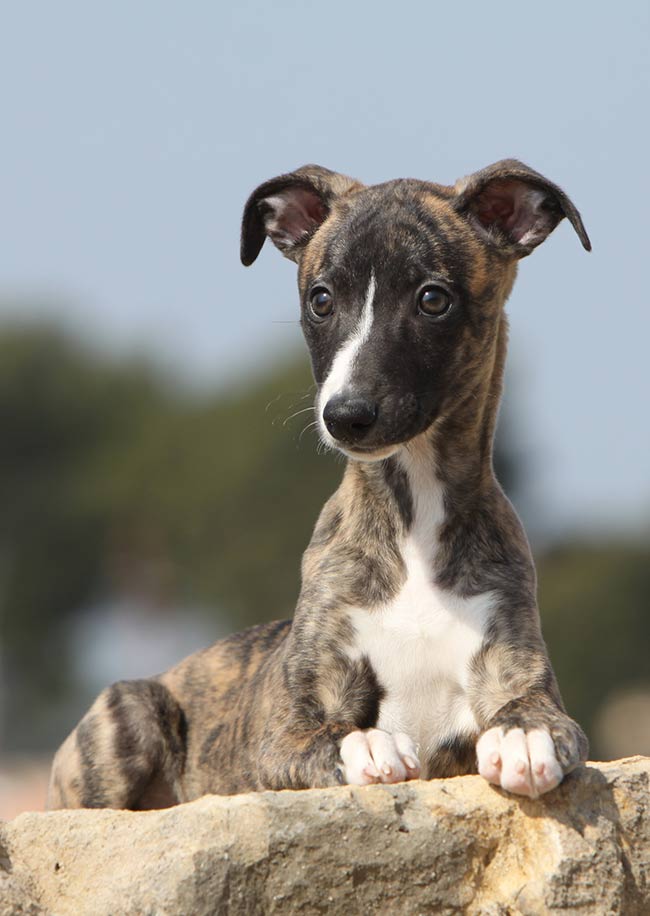 The Whippet at home is a very sweet natured little dog.
Gentle, and docile, with no trace of aggression.
He likes to snuggle up on a cozy chair or in your bed, and is calm and placid around children.
These are generally quiet dogs.
They are not prone to barking at neighbors, or getting overly excited and boisterous around visitors.
Read more about their laid back and lovable attitude in our in depth look at Whippet temperament.
Exercising your Whippet
Outdoors the Whippet comes to life and can seem a very different dog.
Not that his disposition towards people changes.
He is still as loving as ever.
But because of his instinctive drive to hunt by sight.
Whippets require daily exercise, including opportunities to sprints and to open up to their full speed.
So you will need somewhere safe to let your Whippet off leash.
You need to think about his speed (up to 35mph) and his fondness for pursuit!

You will also need to make sure that your yard or exercise area is secure.
A continuous fence of at least 5 foot should suffice to keep your dog from leaping into the neighbors garden and harassing their pet rabbits!
At home you'll also need to make your garden or yard safe for a dog traveling at speed.
A thin coat and skin makes these little dogs quite susceptible to bumps and scratches.
Training for a well-mannered Whippet
As with any breed, Whippets need socialization to a wide range of people and situations from a young age.
This really helps to raise your dog confident and unafraid.
It is especially important with breeds like Whippets, who may have a tendency to shyness.
Proper socialization and training are essential if you ever want to let a Whippet off-lead in an unfenced location.
And you will need to keep your dog well away from hazards.
Running dogs are vulnerable to injury if they hit barbed wire or other hidden obstacles.
Beaches and large meadows are often ideal for exercising sight hounds.
Essential training guides for Whippets
Keeping your flighty Whippet close and safe begins with a bomb-proof recall.
This can be achieved with dedication to training from an early age.
Using a light long line attached to a harness will help with the training process.
As can these training guides:
Whippet Life Span
Two pedigree health surveys in the UK which took place in 2004 and ten years later in 2014 found the Whippet to have a 13 year, and 10 year lifespan respectively.
The first survey was larger and probably more accurate.
It also found that this was on of the ten breeds most likely to die of old age
So the chances are good that you will have your companion for a good number of year.
Whippet health and care
Whippets have been bred for speed and hunting ability.
So they are thankfully fairly free from some of the nasty genetic diseases that are rife in other breeds.
In fact they are arguably one of the healthier pedigree dog breeds in existence today.
They do however have some conditions which occur more frequently than in the dog population at large.
They are:
retained testicles in non-neutered males
canine pattern baldness
demodicosis
deterioration of the vitreous gel and retina in the eye.
So if you are buying a puppy make sure the breeder has clear eye certificates for both of the parents, and ask about instances of the other conditions in their family tree.
We've written in more detail about Whippet health, lifespan, and quality of life here.
von Willebrands Disease in Whippets
Whippets also have some incidences of von Willebrand's Disease – a blood disorder which affects clotting.
Signs of this include nose bleeds, bleeding gums, and prolonged bleeding after surgery or female dogs being on heat.
Von Willebrand's Disease usually appears between 3 and 5 years of age, and sadly has no cures.
However it can be managed with treatments including cauterising, suturing, transfusions and some medication.
Do Whippets shed a lot?
Whippets have a short, fine coat is that sheds very little.
Their tidy fur requires very little grooming.
A quick once over with a bristle brush now and then will help to sweep away dust and debris.
And probably win you even more affection, since these pups love to be pampered!
Protecting your Whippet from the cold
This coat and build means that many Whippets require a jumper or coat in cold or wet weather when outdoors.
Choose one specifically for greyhounds and whippets, to accommodate their deep chest.
You can start your search with a pick of our own favorites.
Do Whippets make good family pets?
Whippets' docile, laid back approach to life makes them a great fit in all kinds of households.
Because they are rarely aggressive, they are safe companions for families with children.
However we always recommend supervising young children with dogs – no exceptions!
And whilst no pup should have to spend all day alone, the Whippet wasn't originally bred for companionship.
This means they're often happy to snooze on the sofa, rather than fight for your constant attention.
Can Whippets live with cats and other pets?
Bred for hunting, whippets are not just keen runners, but have a high prey drive.
This means that they are likely to obsessively try and get at any small furry hutch-pets, like guinea pigs and rabbits, that you might already have at home.
They have also been known to chase and even catch and kill cats.
This is something you need to consider carefully before bringing a sight hound into your life.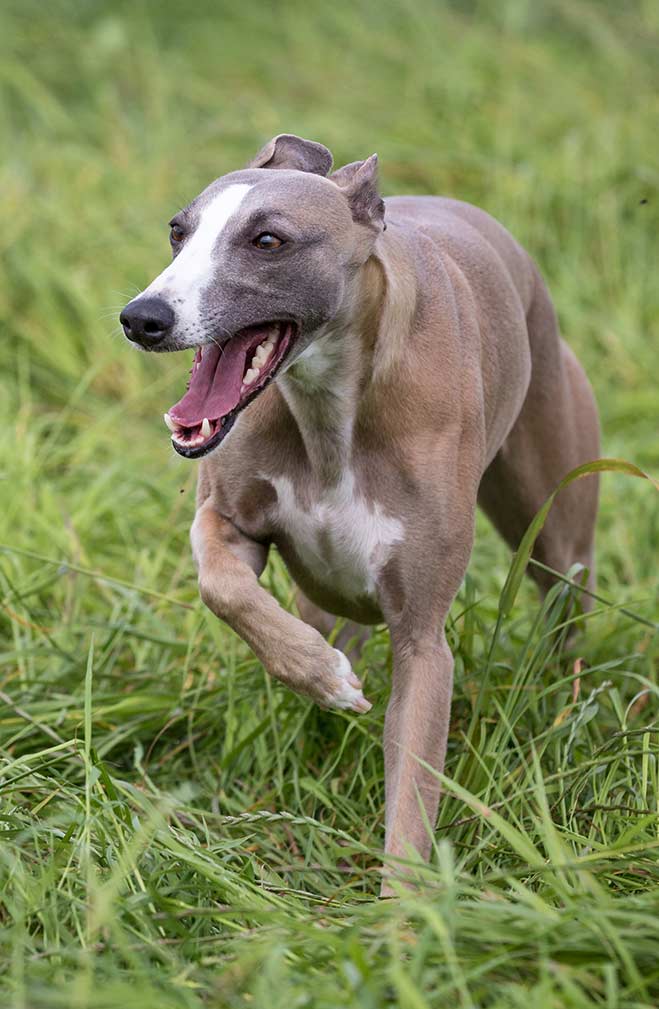 Just because a your dog has been safely introduced to a cat indoors does not mean that he is safe around that same cat outside in the yard.
Remember that moving objects trigger a sight hound's prey drive. Especially fast moving objects.
A Whippet is one of the few dog breeds quick and agile enough to out-manoevre a cat.
If you already have a cat and your heart is set on a sight hound, it might be best to get a puppy rather than an older dog.
A puppy who grows up with a cat may be far less interested in pursuing it than an adult who has seen the cat as prey for a while.
Rescuing a Whippet
There are lots of great reasons to adopt an older dog rather than purchase a puppy.
Many rescue dogs arrive at animal shelters through no fault of their own, but because their owners' circumstances have changed.
Some Whippets are also offered for adoption into new homes as a form of honorable retirement after their career in the show ring or racing circuit has ended.
If you'd like to find out more about adopting a Whippet a good place to start is with Whippet Rescue and Placement (WRAP).
WRAP are affiliated with The America Whippet Club and operate across the United States.
Do you have a devoted Whippet rescue organization near you?
Please tell us about them and sing their praises in the comments section!
Finding a Whippet puppy
If you'd prefer to join your Whippet's story at the very beginning then there are lots of fine resources to help you find a Whippet puppy.
The American Whippet Club maintain a central directory of Whippet breeders.
They can also put you in touch with smaller, regional Whippet clubs.
Whippets are a mid-priced breed.
Expect to pay between $800 and $1,500, depending on where you live, the puppy's sex, and whether their parents have had successful careers in the show ring or the race course.
Avoiding pet stores and puppy mills
When you start looking for a puppy, it's hard to avoid the litters advertised on Craigslist and other selling sites.
Whilst there are certainly some loving dog owners who advertise their litters on selling sites, there are sadly a lot of puppy mills who do so too.
The vast majority of pet stores which sell puppies also find their stock in puppy mills.
Our Puppy Search guide will help you with every step of your puppy-finding journey, including how to avoid puppy mills.
Raising a Whippet puppy
Raising a Whippet from puppyhood is a big commitment.
Doing lots of research and preparation in advance will give you the best possible start together.
Our Puppy Care page is a helpful hub of links to information about puppy development, feeding, grooming and socialising.
Popular Whippet breed mixes
In the UK, Whippet cross breeds are as beloved as Whippets themselves.
They even have their own name – Lurchers.
Lurchers are crossbreeds between a Whippet and any other breed.
Clever breeds like Border Collies are a popular choice, to try and create offspring which are fast and smart.
Many other Lurchers are half Whippet, half Terrier.
Yet other Whippet mixes are a bit more surprising. For example the lively Whippet Beagle mix.
Pros And Cons of Getting A Whippet
The Whippet is full of charm, and those doleful eyes are hard to resist.
But they might not be right for every home.
Here's a rundown of the pros and cons of Whippets that we've covered today.
Cons: Whippets have a high prey drive
Whippets are born to chase.
If you have cats or smaller pets at home, an unsecured yard, or a busy road by your house, a Whippet might not be a safe choice.
They are also sensitive to the cold – if your climate is very cold in winter, a Whippet might suffer.
Pros: They are happy and healthy
Whippets are bred for speed. Their streamlined good looks are a happy by-product of this.
But they haven't been deliberately bred for any physical features which could compromise their health (compared to the vast array of flat-faced dog breeds we see today).
Overall they enjoy a good, trouble free lifespan.
They're also very steady and even in terms of energy and temperament.
These considerate canines are quiet, and rarely aggressive.
Similar Breeds
If reading about Whippets has piqued your interest in sight hounds and you'd like to learn more, why not start with one of these stunning breeds:
Italian Greyhound
Saluki
Irish Wolfhound
Basenji
All four combine speed with sleek good looks (or perhaps not so sleek in the Irish Wolfhound's case!)
Whippet Dog Breed Summary
Few dogs are as distinctive as the humble whippet.
Though small in stature, this breed has a big personality and an iconic look with wide appeal.
Full of enthusiasm and charm, there are a lot of reasons to consider that the whippet might be the dog for you.
With their good health, great temperament and house-friendly size, they make wonderful companions.
Remember, before you purchase any puppy you must make sure you are prepared for the responsibilities of dog ownership.
Consider the chasing instincts of your chosen breed, research breeders thoroughly, visit the puppy with his mother, and even arrange to see the father if possible!
There is no such thing as being too prepared, and the better you are informed the easier the transition into dog ownership will be.
Do you have a Whippet?
How did you know they were the dog breed for you?
What words of wisdom would you offer to people just starting to think about Whippet ownership?
Introduce us to your pup and tell us all about them in the comments box!
References and Resources
Whippets – A Pet Owners Manual – Caroline Coile PhD(paid link)
O'Neill et al. "Longevity and mortality of owned dogs in England." Veterinary Journal 2013
Bell & Kavanagh, Veterinary Medical Guide to Dog and Cat Breeds, CRC Press, 2012