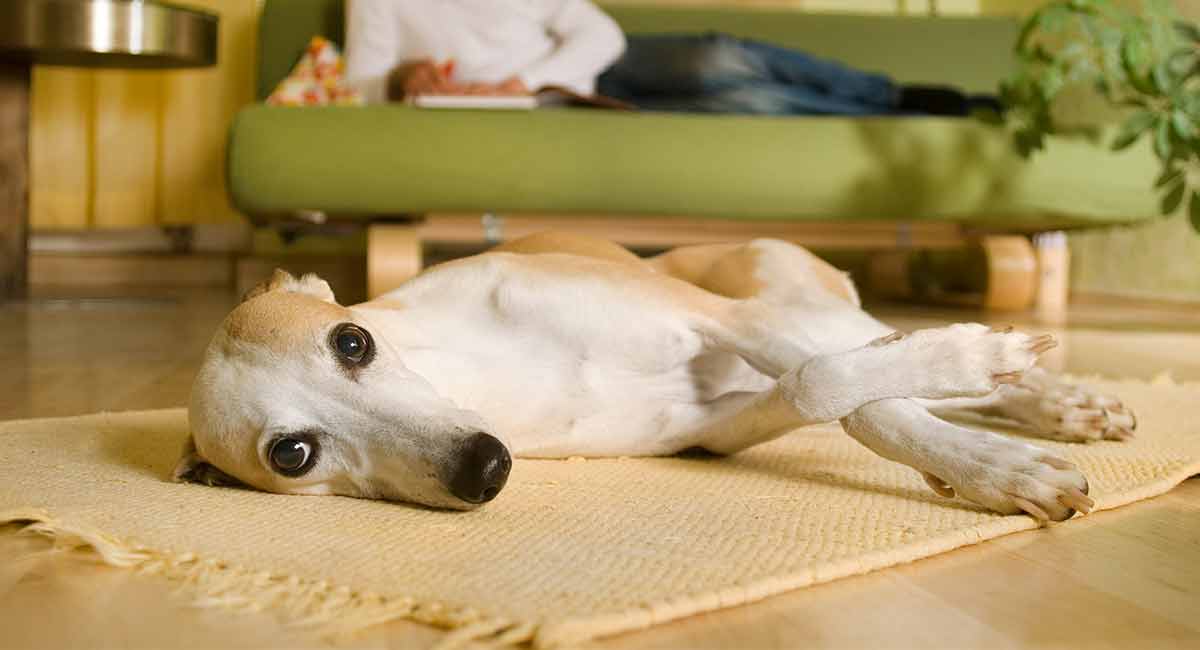 The whippet is pretty easy to identify, with his slender body and his reputation as an agile, swift-moving dog, but what is the whippet temperament like?
If you are looking at bringing a whippet home, then you'll likely be wondering about the whippet temperament.
This is important, especially if you have youngsters or other pets in the household.
The whippet is a fascinating breed with an interesting origin and very particular breeding methods.
However, if you are here to learn the ins and outs of the whippet temperament, read on.
A Brief History of Whippet
Also known as the English whippet or snap dog, the whippet comes in several colors and coats.
The blue whippet, for example, is a popular variation of the whippet, with a gorgeous blue coat.
The whippet's history and the reasons for which he was bred have had a strong impact on the modern-day whippet temperament.
The whippet is a medium-sized breed of dog who originally descended from the famous greyhound in England.
Much like the greyhound, the whippet is athletic, known for his agility and speed.
In fact, the word "whippet" comes from a now unused word from the 17th-century that once meant "to move briskly."
Sight Hounds and Hunting
Considered to be a sight hound, the whippet was primarily bred for hunting his prey by sight.
The whippet made a renowned rabbit, hare and rat hunter.
His loyalty made him an excellent racer, as his job was to run tracks as fast as his long legs would carry him to his owner, who was waving to him from the finish line.
Although the whippet was used for racing and hunting, he also spent much of his time indoors with his family.
He typically slept inside and was an adored family pet, enjoying all the comforts of home, just as most modern-day pet dogs do.
The modern-day whippet has very few health issues and a nice long life span of 12-15 years.
But does the whippet make a good family dog, and does he do well with other pets?
And how does the origin of the whippet impact his personality?
Let's find out.
The Whippet Temperament Through Time
History has a big impact on the typical whippet temperament.
Because of the whippet's hunting background, he has a high prey drive.
For this reason, he should not be left unsupervised around smaller household pets, such as guinea pigs, rats, hamsters and even cats.
It is not that the whippet is being mean or cruel by going after smaller animals; it is simply that he is following his natural instincts.
This is why, if you have smaller animals in the household, a whippet is probably not the best dog for you.
However, he is excellent with other household dogs, and prefers the "pack-dog" lifestyle, becoming fairly attached to his doggy siblings.
The loyalty factor in the whippet's characteristics that helped to make him such a fabulous racing dog has also led him to become very attached to his owners as well.
Whippets historically have been bred to be loyal, friendly and keen hunters.
Because of this, he does excellent with children, does not bark very often, and will help to keep your home pest-free as far as rodents are concerned.
What Is the Whippet Temperament?
Considering his history, we can label the whippet dog as loyal, fast, intelligent and mild-mannered.
He is not a vocal dog and therefore does not make the best guard dog.
He'll happily greet new friends and strangers as they enter your home, having no concept of mistrust.
Whippets, because they are so thin, should also be treated gently as they could be easily injured.
The whippet is meant to be an indoor dog as he does not like the cold, rain or snow.
Remember, he has a very short coat and gets cold easily.
Fairly intelligent, most whippets are very easy to train, and when kept on a strict schedule, house training should be a breeze.
These are also naturally very clean dogs with hardly any odor, who rarely need bathing and only occasional grooming.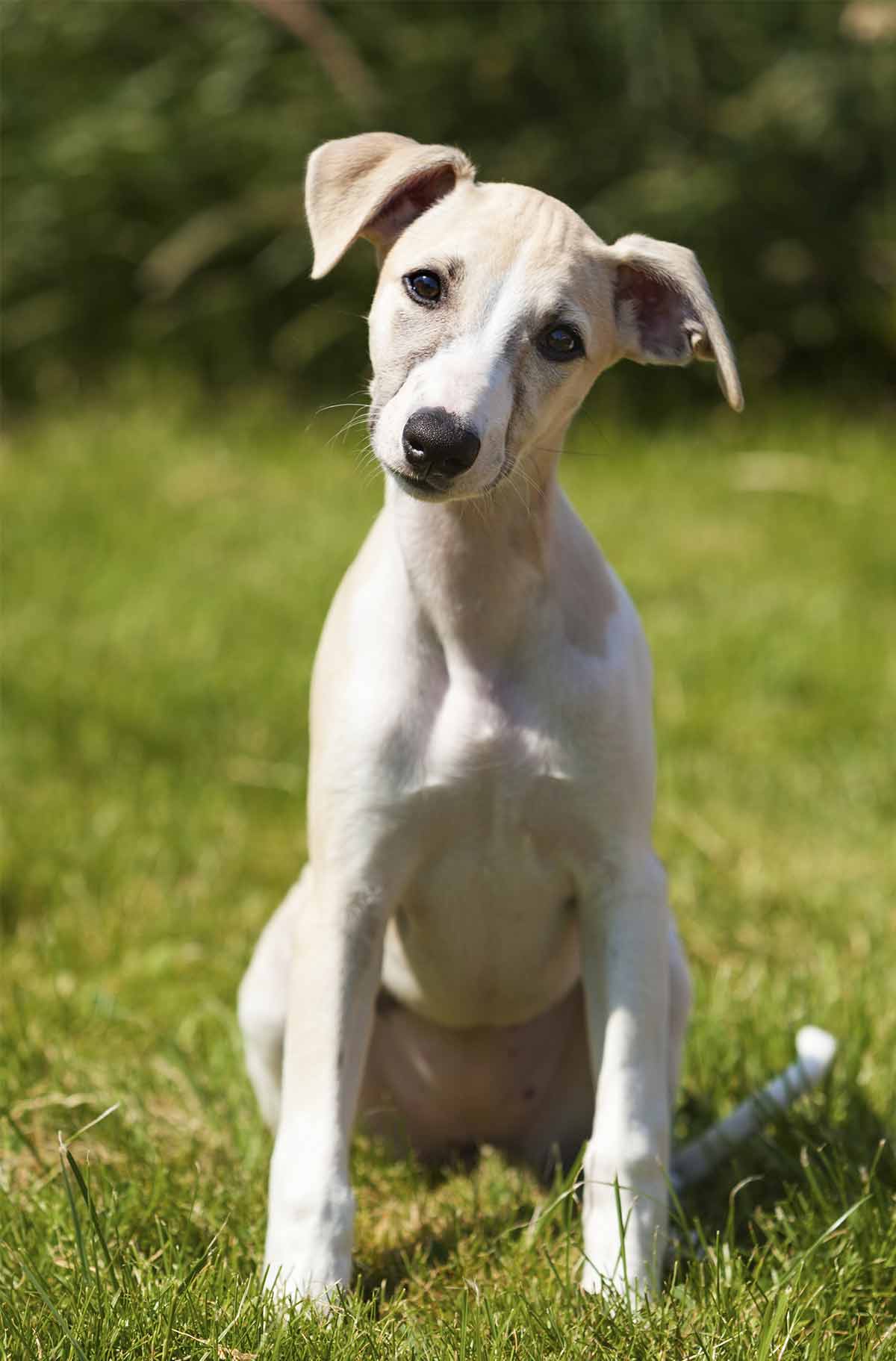 Is There a Downside to the Whippet Temperament?
The whippet is as fast as can be, and while this can be amazing and very entertaining to watch, it can also be dangerous.
The whippet is not the kind of dog breed one would want to let run free outside.
When walking your whippet, you will always want to keep him on a leash and only let him loose in secure areas.
This is due to the whippet's extremely keen hunting instincts.
For instance, if he sees a small rabbit or squirrel, or anything really that he deems as prey, he will take off after it in a flash and you will have no chance of catching him.
This can be especially dangerous in neighborhoods near busy roads.
You should also prepare to have a secured backyard with a fence that is at least five feet tall since the whippet can easily leap over anything shorter.
Whippets Live at Light Speed
A prospective owner should also keep in mind that although whippets are known to be primarily quiet and calm dogs by nature, they mature rather slowly.
For the first three years or so, your whippet pup will be a bit wild.
He does all things at warp speed, including digging, running, leaping, chewing and playing.
You'll have to have lots of energy in those first three years and a very secure space to keep him contained in the beginning.
The whippet does well with children. Even if agitated, he is more likely to go hide than to growl and snap at them.
However, the whippet will not tolerate being tugged on or rough-housed with.
Although he will likely hide before he bites, it is still best to supervise the whippet around younger, rougher children.
We recommend waiting until they are older to get a whippet.
Whippet Temperament in the Family Home
Still, remember he is a fragile dog who only weighs up to 20 pounds, and should be handled gently, especially by children.
Also keep in mind that the whippet personality usually results in him choosing one person in the family to be "his" person.
While he will be sweet and affectionate to most everyone, he will often pick one favorite family member.
The whippet is intelligent, yes, but not in the traditional way.
Sometimes he may choose to ignore certain commands.
He is also an excellent escape artist who can learn how to open doors, get into cabinets and sometimes even the fridge.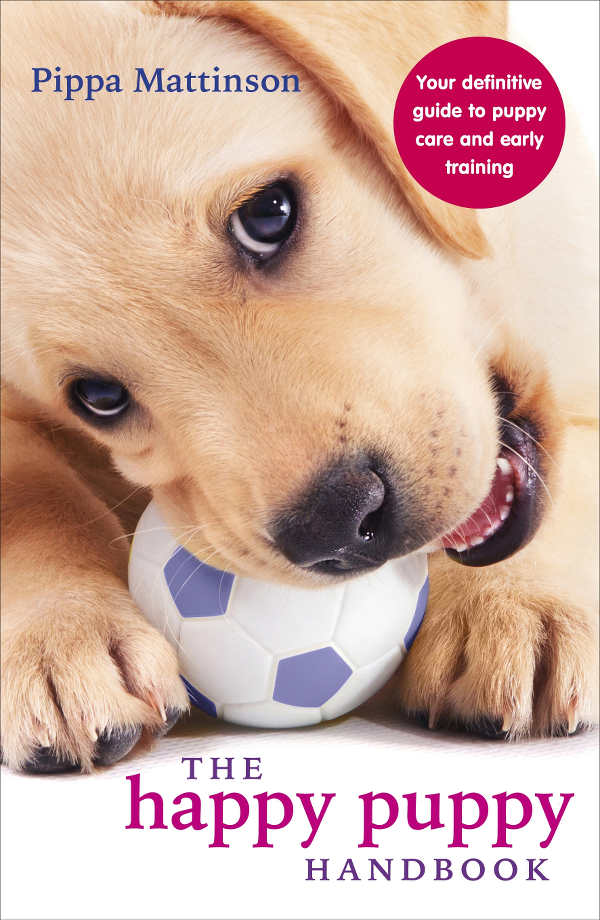 Prospective owners should prepare for an intelligent but sometimes stubborn dog.
Will the Whippet Make the Right Dog for Me?
The whippet is an adaptable dog who enjoys being outdoors as well as inside. He is easy to maintain as his coat is short and doesn't shed too often.
However, the whippet is an occasional shedder, so allergy sufferers should keep that in mind.
The whippet's medium size makes him an excellent candidate for smaller or larger homes.
If you have other household dogs, that's always a plus. As previously mentioned, the whippet gets along famously with other dogs and even prefers them.
If you are looking for a guard dog, the whippet is not the right choice.
He is friendly with strangers and isn't the most vocal of the dog breeds.
However, if you like nice, quiet dogs who are easy to maintain, do well with older children and other dogs, and will love lounging on your lap as much as romping in the yard, then the whippet is the perfect fit for you.
References and Further Reading:
Coile, D.C., Ph.D. "Whippets, A Complete Pet Owner's Manual"
Coren, S., "Why We Love the Dogs We Do: How to Find the Dog That Matches Your Personality"
Mosher, D.S., et al., "A Mutation in the Myostatin Gene Increases Muscle Mass and Enhances Racing Performance in Heterozygote Dogs," PLOS Genetics
Parker, H.G., "Genetic Structure of the Purebred Domestic Dog"
Stafford, K.J., "Opinions of Veterinarians Regarding Aggression in Different Breeds of Dogs," New Zealand Veterinary Journal, Volume 44, Issue 4, Pages 138 to 141
Walsh, E.G. and Lowe, M., "The English Whippet," Second Edition