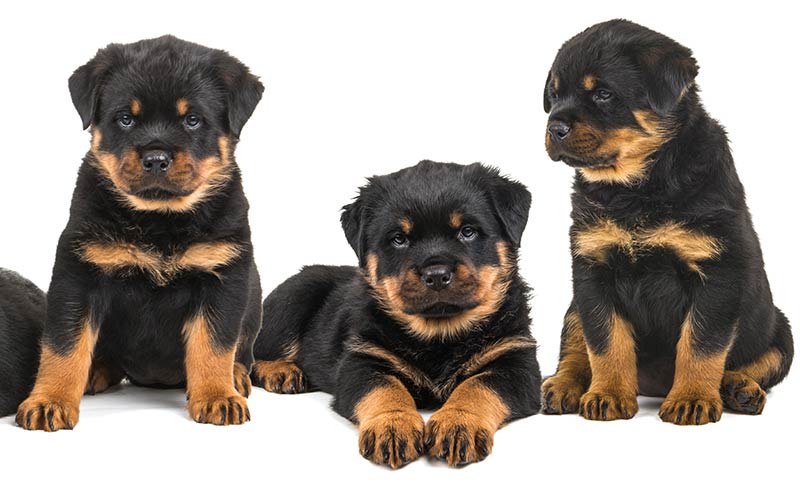 Rottweiler names can reflect their tough image, but they can also tell the world about the dog you know her to be.
Here are our top choices for 2019:
| | |
| --- | --- |
| Nitro | Boomer |
| Astra | Sheba |
| Jax | Lex |
| Bandit | Pyro |
| Pistol | Buck |
| Tizzy | Wags |
| Boss | Tug |
| Tank | Buck |
| Gizmo | Jock |
Rottweilers have managed to combine the best of two worlds.
They're incredibly cute and yet can still have a tough-as-nails look.
Thanks to their size, strong neck and beautiful barrel chest.
Rottweilers have loyal, loving natures, and a personality that has won over dog lovers around the world.
That means this breed is ripe for some truly epic names.
In this article we are going to share our selection of top Rottweiler dog names.
From generally awesome tough and strong dog names, to cool names and cute names.
To those inspired by more unique topics, like comic books and mythology.
Good dog names for Rottweilers are just a scroll away!
Rottweiler Names
If you're looking for some genuine ideas that would be great for any dog, then strong dog names are a great place to start.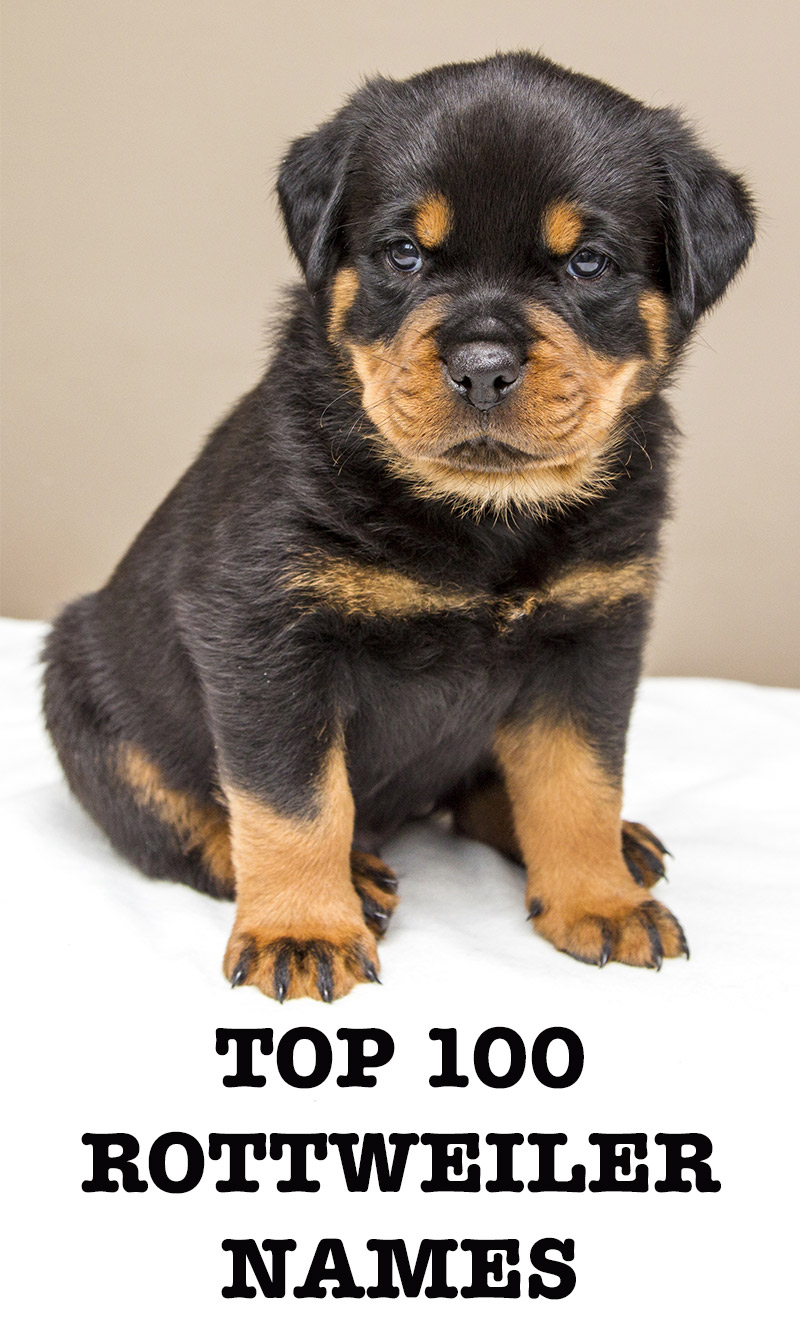 Below are some of our top dog names for Rottweilers with attitude.
Nitro
Kevlar
Reaper
Rhino
Crusher
Rogue
Boomer
Bronson
Drover
These Rottweiler names would sound great on just about any Rottie, but lots of people prefer a more gender specific approach to naming their Rottweiler.
Female Rottweiler names
Sometimes you want some more feminine ideas that fit into the Rottweiler female names category.
The selections below are strong girl Rottweiler names.
Ursa
Jojo
Indy
Astra
Sheba
Callista
Nikki
But what about those beautiful boy Rottweiler pups?
Male Rottweiler names
If you want some male Rottweiler names that sound distinctly masculine, below are some fun ideas.
Greek Mythology is just one creative place to pull strong-sounding Rottweiler male names from.
Gangsta
Lex (Superman villain)
Ares (Greek god of war)
Ajax (Greek mythology hero)
Hades (Greek god of the underworld)
Neptune (Greek god of the sea)
Jax
Good Rottweiler names
Outside of more specific Rottie names themes, below are some more general names for Rottweilers that may fit your dog.
The strong and cool-sounding Rottweiler puppy names below might just contain your new friend's name.
Levi
Brandy
Inky
Joey
Zeek
Humphrey
Bandit
Strong female Rottweiler names
If you're looking for some girl Rottweiler names that really pack a punch, below are some of the strongest female Rottweiler names around.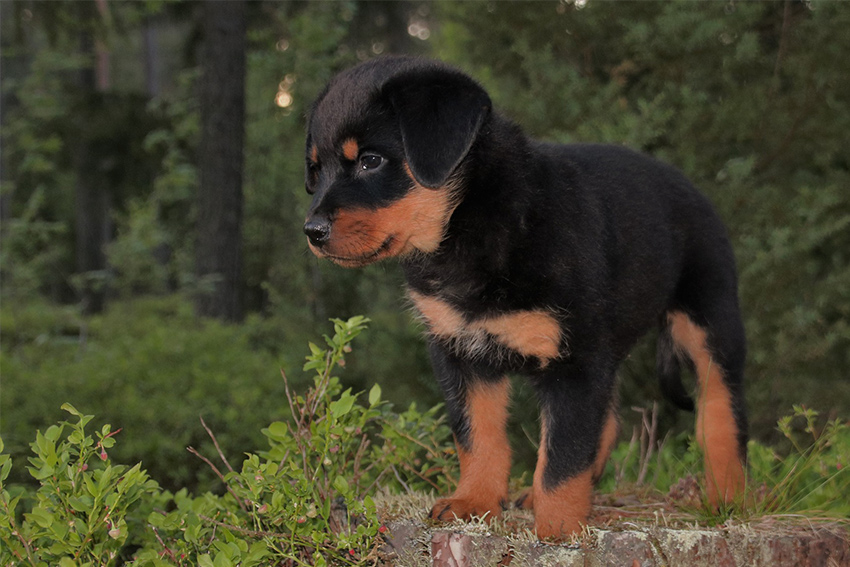 Enjoy this list of Rottweiler female names!
Akita
Acadia
Kitana
Punky
Avril
Elektra
Pyro
Mystique (X-Men)
Strong male Rottweiler names
Along the same lines, your male Rottweiler may go perfect with one of these tough male Rottweiler names.
Buck
Goliath (Biblical giant)
Samson
Taz (from Looney Tunes)
Tiberius (Roman emperor)
Riggs
Pistol
Joker (Batman villain)
Cute Rottweiler names
Let's not forget another defining trait of Rottweilers outside of their hefty size and tough look. They're also super cute.
The Rottweiler's wide, trusting and soulful face draws you right in.
So below are some cute Rottweiler puppy names.
Alex
Wags
Tizzy
Weeny
Queen
Queeny
Zoe
But not everyone wants cute from a name. What a lot of us want, is something that is just plain cool.
Cool Rottweiler names
Want to look at some names that sound cool, topical and maybe a little humorous?
Below are some dog names for Rottweilers chosen for their coolness factor.
Doom
Toxin
Gambit (from DC Comics)
Bucky (from Captain America)
Dredd (Judge Dredd)
Jett
Draco (Draco Malfoy from Harry Potter)
Dude
Bro
Popular names
When it comes to good names for Rottweilers, you can't discount the classics.
Classics are usually classics for a reason, after all.
These names strike the balance between sounding cool and tough.
Harley
Butch
Rex
Fang
Maximus
Outlaw
Tugger
German Rottweiler names
Another popular way of naming your Rottweiler is to give them a German name.
Although Rottweilers are descended from Roman drover dogs, strong German Rottweiler names might well suit your dog too.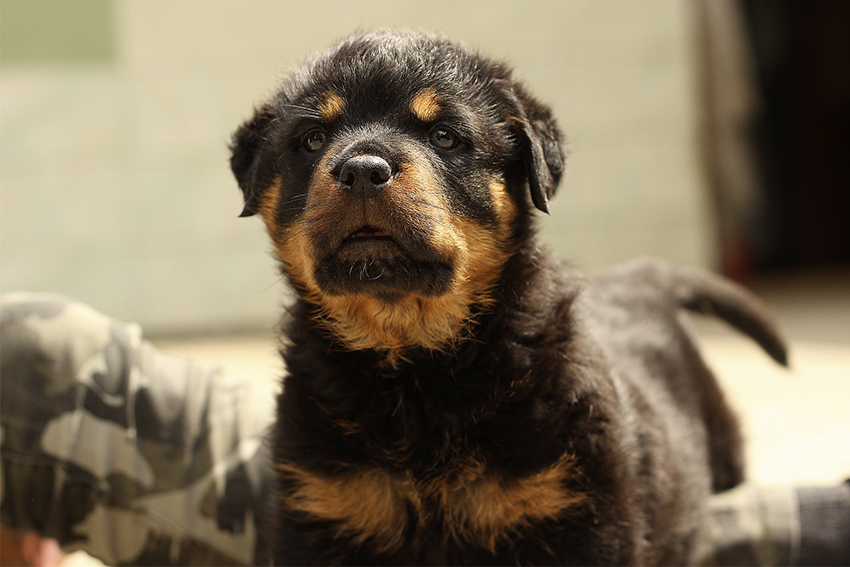 Your dog's size and the strength inherent in German names will go well together.
Henrik (ruler of the home)
Schatzi (German girlfriend)
Jaeger (hunter)
Bruno (from "brun," meaning brown)
Wilhelmina (protector)
Theobold (bold)
Sigrid (beautiful victory)
Unique Rottweiler names
Want a Rottweiler name that you won't hear called out in the dog park and seven dogs come running?
Then take a look at the Rottie names below, which were combed from comic books, mythology and sci fi.
Brainiac (DC Comics)
Eris (Greek goddess of chaos)
Eros (Greek god of love)
Moirai (another name for the Greek Fates)
Clio (Greek muse of history)
Thalia (Greek muse of comedy)
Nyx (Greek primordial goddess of night)
Doom-Nomitron (Rick & Morty)
Big dog names for a Rottweiler
When looking at good names for Rottweilers, you'll want something that sounds epic and mighty.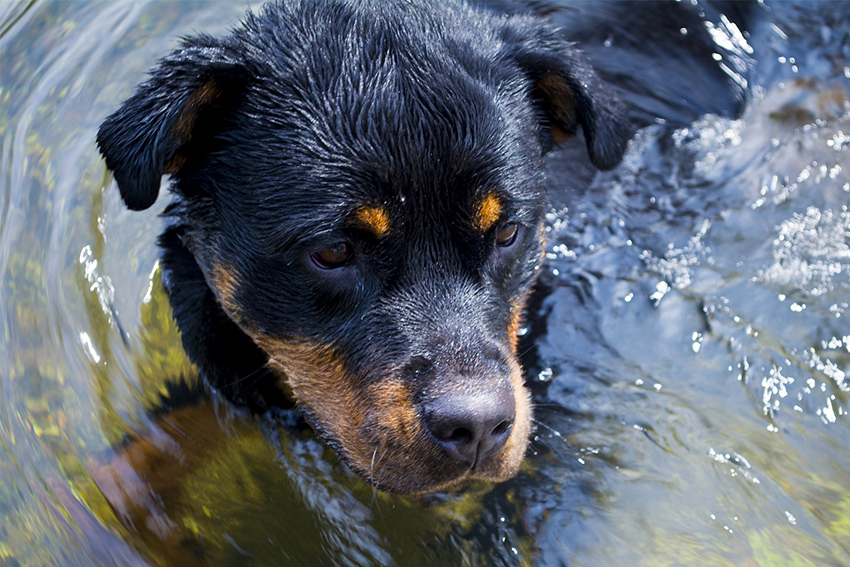 So comic books are a good place to turn to, along with a couple of other classic dog names.
Anarky (DC Comics)
Atrocitus (DC Comics)
Bizarro (DC Comics)
Telos (DC Comics)
Grundy (DC Comics)
Chaos
Boss
Best Rottweiler names
And finally, below is a list of some good names for Rottweilers.
These names range from classic favorites to cool-sounding unique names.
T-bone
Apollo
Axel
Jetta
Ace
Spade
Admiral
Erebus (Greek primordial deity of darkness)
Zatanna (DC Comics)
Black Jack
What's your favorite Rottweiler name?
Have some good names for Rottweilers, but they aren't on the list?
Feel free to share your favorite Rottie names in the comments section below.
Bringing Home A New Puppy?
Then you'll want to grab a copy of the amazing Happy Puppy Handbook.
It's a complete guide to caring for and raising your new furry friend.
Further Reading