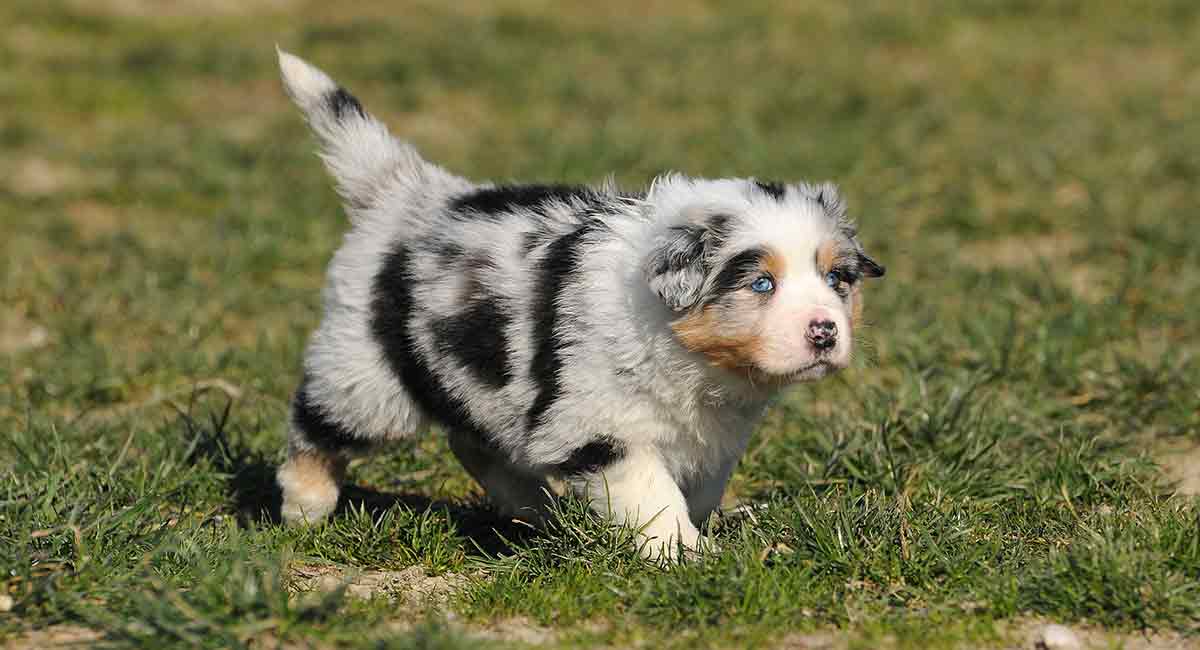 There is almost nothing more exciting than bringing home 8 week old Australian Shepherds. You think about the puppy, talk to everyone you know about the puppy and post numerous pictures of the new puppy on social media, each one getting a ton of likes. But before you think that's all there is to bringing home a puppy, let's take a minute to prepare you for some of the best – and more challenging – bits of adopting one from a litter of 8 week old Australian Shepherds.
Contents
What to Expect From a New Puppy
There are so many new things your puppy is exposed to when you adopt him. It's a big day – so many new sights, smells, people.
On the other hand, he's young and impressionable. He wants someone to show him what to expect, what the rules are, etc. He also wants to bond with people at this stage of his young life.
Australian Shepherds (Aussies) are very observant. He will be taking everything in and absorb it like a sponge.
First Things First
When you bring him home, have him sniff around outside. He will probably pee, because puppies don't have good bladder control yet.
Praise him as if he's just done the most wonderful thing a dog can do. He is amazing—give him a treat and then bring him in.
Introduce him to all members of your family: people, cats, other dogs, etc. Everyone's very excited, but try to remain calm and speak in quiet voices so you don't scare your new puppy. The first day will set the tone for what your puppy can expect from his new household.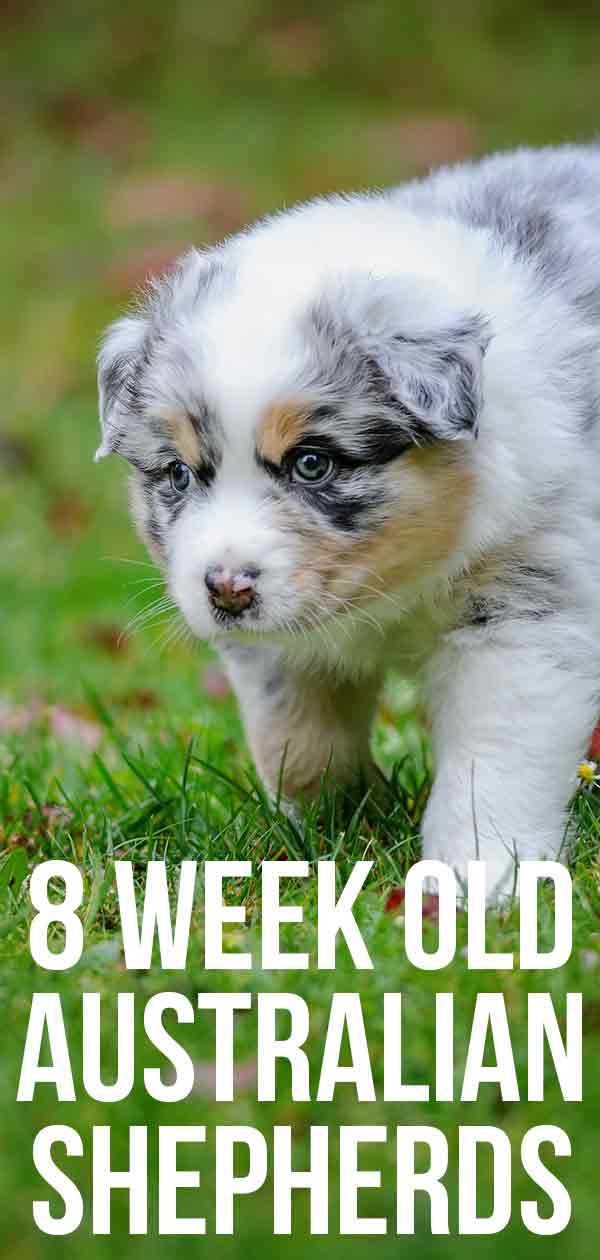 Introducing Their Puppy Crate
You will want to get a secure crate big enough for the puppy to turn around in but not so big he can pee in one area and lie down at the other end. You want your new puppy to see his crate as a positive place.
Leave the door open while he explores. Throw a few treats in.
Dogs feel secure in small spaces – a cave of sorts, hearkening back to their wolf roots. If you introduce the crate as a positive place, your dog may use it his entire life as his personal space when he wants some quiet time.
Here is our comprehensive guide to crate training.
8 Week Old Australian Shepherd Puppy Schedule
You're going to be busy. It's important to establish a routine right away so your Aussie knows what to expect. Obviously, as he grows, he won't need quite so many potty breaks, and then this can be adapted.
All times are estimates.
First Week Schedule
Wake up: Take puppy outside to potty.
Breakfast: Feed your puppy. Ignore his requests to share your breakfast.
7:30–8:00: Take puppy back outside. Let him sniff around, and if he pees or poops, praise him and tell him he's the best dog ever.
8:30: Nap time. Puppies sleep a lot. Let him sleep in his crate.
11:30: Potty break as soon as he wakes up.
12:00: Lunch time.
12:30: Potty break right after he finishes eating.
1:00: Nap. You might need one, too.
3:30–4:00: Potty break.
4:00: Play time! Let him run around, run after a ball, roll around, whatever. He's a puppy, so he needs to play! Aussies require at least 30–60 minutes of exercise a day.
5:00: Dinner time. If you have kids, discourage them from sliding parts of their dinner to the puppy. Don't you do it, either. Feed the puppy in the same spot every time. This way, he won't be tempted to beg, and the rest of the family can eat in peace.
5:45: Potty break.
6:00: Social time, more play time. You can start teaching basic commands as well. Make it fun!
6:30: Puppy nap.
8:00: Evening walk/potty break.
10:00: Potty break then bedtime.
1:00: Potty break.
4:00: Potty break.
Yes, there are a lot of potty breaks. There will still be accidents, though.
Your Australian Shepherd is still a baby, and even though he is trying his very best, he still gets excited and forgets. For more on potty training, see our guide.
First Night With Your Puppy
Neither of you are going to get a lot of sleep. You can try putting the crate in your bedroom. Your puppy will be reassured by your presence.
Some people have had success sleeping on the couch next to the puppy (in his crate) the first night.
As a breed, the Australian Shepherd is very sensitive. To encourage your new Aussie to stay quietly in his new crate, toss a chew toy or a Kong in there with him.
Ignore the Cries
He will cry. This is the first night he's not surrounded by the comfort of his puppy siblings, and he's wondering what he's gotten himself into.
Ignore him for the most part. Yes, it's heartbreaking—the poor little guy!—but if you let him learn that crying gets him attention, he's going to do it for the rest of his life.
When he gets quiet, give him a treat so that he learns quiet gets him rewards. If he starts to whine after being quiet for a while, take him outside—he might have to potty.
He's as overwhelmed and excited as you are. He will have to pee a lot, perhaps as much as every hour.
How Much Do 8 Week Old Australian Shepherd Puppies Sleep?
Lucky for you, 8 week old Australian Shepherds need a lot of sleep: somewhere between 16 and 20 hours. Which is great, because you might be able to squeeze in a nap.
Feeding an 8 Week Old Australian Shepherd Puppy
Your 8 week old Aussie should eat four times a day in small amounts because those are easiest to digest. Your veterinarian or the breeder can make recommendations on how much to feed your new puppy. However, puppies are individuals, so keep an eye on your puppy and how much he seems to eat.
If he's lunging for his food bowl every time you feed him, offer a little more. On the other hand, if he frequently seems like he couldn't care less, he's probably getting more than enough.
Here are our recommendations on the best puppy food for your new Aussie puppy.
8 Week Old Australian Shepherds Diarrhea
Diarrhea is one of the most common reasons for a quick trip to the vet, and puppies suffer from diarrhea more frequently than adult dogs.
Their sensitive stomachs combined with their curiosity to sample everything they find on the floor can lead to unfortunate issues.
Puppies get diarrhea for many reasons, some of which may be serious:
Viruses
Bacterial infections
Change in diet
Stress
Eating garbage, toxins, or things that are not really food
Parasites
8 Week Old Australian Shepherd Puppy Biting
All puppies bite – it's called mouthing. They're young, and they're still learning what's acceptable and what's not.
It doesn't hurt much, and you might even think it's cute. However, when he develops adult teeth and he's still biting, it's not cute anymore – it hurts!
Aussie puppies especially nip and bite, as their herding instincts dictate they bite to control livestock. When your puppy played with his siblings, if he bit too hard, his sibling would yelp and then stop playing with him. Now it's your job.
There are a few methods you can try to get your puppy to stop biting, which we describe here.
Your Growing Puppy
Puppies are adorable, but they're also a lot of work.
It's worth it, as a well-raised puppy will be a lifelong companion for you and a treasured member of the family.
Since the Australian Shepherd is now the 16th most popular dog breed, there are many resources about raising your Aussie puppy.
Which ones could you not have survived without?
Share your recommendations and tell us your top tips for surviving those early puppy days in the comments section below!
Make sure you also take a look at our puppy bath time guide!