The Bedlington Terrier looks like a fluffy lamb. This breed is best known for its unusually exaggerated show clip and funky ear tassels. It is usually calmer and quieter than other terrier breeds, but it is also a quick and ruthless hunter. At home, Bedlingtons are famously affectionate and cuddly, but it's still worth getting to know them properly before you commit to bringing one home.
Are you considering the Bedlington as your next family companion? Keep reading to find out whether they are right for your home and lifestyle!
Breed At A Glance
Popularity: 141st out of the 197 breeds registered by the AKC
Purpose: work, companionship and show
Weight: 17 to 23 pounds
Temperament: Lively, bold, and loving
Bedlington Terrier Breed Review: Contents
History and original purpose of the Bedlington Terrier
The first puppy to bear the name Bedlington Terrier was born in 1825. Other breeds likely to have contributed to the foundation of the Bedlington breed include:
The original Bedlingtons were used for rabbit coursing, to hunt rats and other vermin (even as big as badgers!) and in dog fights.
They were remarkable for their versatility and endurance as working dogs, and widely regarded as the smartest and quickest of the terrier breeds.
Today, Bedlingtons are far more likely to be kept as pets. But physically they have barely changed at all.
In fact the breed standard used at modern dog shows is still the same one agreed in 1967, making it one of the most oldest standards still referred to today!
It's a great testament to how remarkable they are, and always have been.
Fun facts about Bedlington Terrier
In the past, Bedlingtons have also been known as Rothbury terriers, Rothbury lambs, gypsy dogs, and linty dogs (for the texture of their coat). Today, they are sometimes also known as Beddies.
The Bedlington's name is sometimes misheard and repeated as 'bedlingham terrier'. But in fact they are named for the small town of Bedlington in England, where they were first bred.
The town is so proud of their namesake, that their soccer team is called The Terriers!
Bedlington Terriers make up one half of one of the most popular lurcher crosses – the Bedlington Whippet.
Bedlington Terrier appearance
The official breed standard for the Bedlignton describes them as 'graceful, lithe, well-balanced [and] with no sign of coarseness [or] weakness'.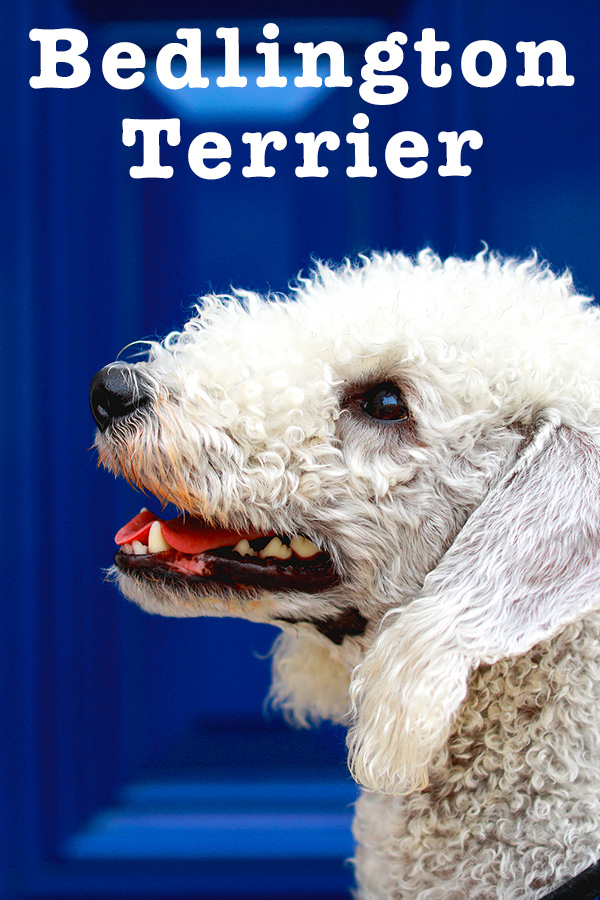 They are 15 to 17.5 inches tall at the the point between their shoulder blades, and weigh 17 to 23 pounds.
Their body shape is similar to that of a small sighthound, such as a Whippet.
But their coat is a mix of hard and soft hairs which stand out from their body and feel 'crisp' to the touch.
Colors and Clips
The accepted colors for a Bedlington Terrier are:
blue
blue with tan points
liver
liver with tan points
sandy
and sandy with tan points.
Of course, a blue Bedlington Terrier isn't literally blue! Blue Bedlington Terriers are a soft, ethereal gray.
The Bedlington Terrier is perhaps best known for its unusual show clip, which includes a prominent rounded topknot, and shaved ears with silky tassels at their tips.
The overall effect, combined with the texture of their coat and shape of their body, is to make them look like fluffy lambs!
Bedlington Terrier temperament
Bedlingtons are usually described by their fans as being somewhat calmer than the other terrier breeds. They are also less likely to bark or yap, unless they've spotted someone approaching their home.
This is likely to be due to their Whippet heritage.
They are loyal and affectionate, and their owners say they like to be at the center of attention.
Due to their hunting past, most Bedlingtons still have a strong prey drive. They can also chase their quarry at remarkable speeds. So, be prepared for their mild manners to vanish very suddenly, when they catch sight of a rabbit or squirrel!
As a result of being used as fighting dogs in the past, some Beddies may still react aggressively to unfamiliar dogs.
To avoid this, choose a Bedlington Terrier puppy from parents who are good with other dogs, and socialize them carefully with gentle older dogs while they are still a puppy.
Training and exercising your Bedlington Terrier
Getting training and exercise right is an important part of daily life with them.
Training
Although Bedlingtons were traditionally used as working dogs, ratting and vermin control weren't jobs that required a lot of close cooperation with humans.
So rather than learn a lot of actions and commands to get the job done, Beddies were trusted to just get on and do it.
This means they tend to be very intelligent and talented at problem solving. But, they may be difficult to engage in training, and to motivate to perform behaviors on command.
Their owners say they can also be sensitive souls, who quickly lose faith in people who punish or mistreat them.
Happily, it is possible to avoid both of these things becoming an issue, by using positive reinforcement training to teach basic obedience.
Frequent, short, fast paced training games will keep your Beddie engaged and provide mental stimulation.
Exercise
Bedlingtons are notable for their energy and endurance.
Despite being quite small by dog standards, they need at least an hour or two of exercise every day.
This could be a mix of walking on a leash, running off leash in a safe, enclosed environment, or playing games in the backyard.
Since they have strong working terrier instincts, and they are also quick learners, many Beddie owners like to take part in dog sports such as Earthdog or agility trials.
These provide both physical and mental stimulation, which can help prevent Bedlingtons performing unwanted or destructive behaviors around the home, out of boredom.
Bedlington Terrier health and care
Bedlington Terriers are a generally healthy breed.
But like all pedigree dogs, they have an increased frequency of some specific hereditary disorders:.
Copper toxicosis
Copper toxicosis, or copper storage disease, is an inherited disease where copper deposits build up in the liver.
The onset of copper toxicosis can be gradual, or very sudden.
At least two different genetic mutations have been identified which cause copper storage disease in Bedlingtons, one of which can be detected by a DNA test.
The condition itself is recessive, which means dogs with only one copy of either mutation don't develop the disease, but they can pass the faulty gene onto their offspring.
Nearly 1 in 5 Bedlingtons are thought to carry at least one copy of the faulty gene which can be tested for.
More may carry the other gene.
Puppies who inherit either faulty gene from both parents will store copper in their liver, and may go on to develop copper toxicosis.
If these puppies are detected early, the risks can be minimized by carefully controlling their diet.
Joint disease
Around 1 in 6 Bedlingtons are estimated to have some degree of hip dysplasia.
Hip dysplasia is a malformation of the hip joint, which causes painful arthritis and lameness.
A further 1 in 13 Beddies have luxating patellas – knee joints which slip loosely out of position, and need surgery to correct.
Eye disease
Bedlingtons are also somewhat prone to eye diseases, including cataracts.
Health testing for Bedlington Terriers
The Orthopedic Foundation for Animals recommends that Bedlingtons should be tested, and receive clear results for, copper toxicosis, patellar luxation and eye disease before they are used for breeding.
The Bedlington Terrier Club of America goes further, and says breeding dogs should also test clear of heart disease, in order to best protect the next generation of puppies.
How long do Bedlington Terriers live?
Bedlington Terriers live 13 to 14 years on average.
But Beddies reaching their 18th birthday have been recorded.
This compares very well with the average lifespan of dogs generally, which is just over 11 years.
Part of their longevity is likely to be down to their size. Smaller dogs live longer, on average, than larger ones.
It is also likely to be partly due to the relatively low frequency of inherited diseases in the Bedlington population.
Bedlington Terrier grooming
An ungroomed Bedlington Terrier is a scruffy prospect! Their coat is very low shedding, and forms loose ringlets or waves as it grows.
There's no rule which says you have to keep them in full show clip, but if you decide to keep your Bedlington Terrier unclipped, expect to spend a lot of time brushing them to remove dirt and tangles from their coat.
For most owners, a practical alternative to either scenario is a puppy clip – a short all over hair cut, which needs to be refreshed every 6 to 8 weeks.
Do Bedlington Terriers make good family pets?
Bedlingtons are noted for being sweet and affectionate with their family, and calmer than other terrier breeds.
This can make them a great fit for the right family, including families with children.
Young children could always be supervised around dogs at all times. Older children will need teaching that sometimes terriers can appear stubborn – for example ignoring cues – but that it isn't naughty or mean behavior.
You can even get older children involved in training games, to help them understand how your dog thinks and what motivates them to do the 'right thing'.
What About Homes with Other Pets?
Since most Bedlingtons have a high prey drive, keeping one with cats, rabbits, and other small pets is a risk.
Some Bedlingtons also struggle to get on with other dogs. Adding a Bedlington puppy to a home with other dogs already present is more likely to succeed than starting with a lone Bedlington, and adding other dogs later.
Finally, owing to their exercise needs, Bedlington Terriers do best in homes with large yards, or with households who have plenty of time to give them access to open spaces.
Rescuing a Bedlington Terrier
Rescuing a Bedlington Terrier is a great way to give an unlucky dog a second chance at love.
You can read more about the pros and cons of adopting an older dog vs buying a puppy in this article.
However, since they're a relatively unusual breed in the United States, they're also pretty under-represented in the shelter population.
The Bedlington Terrier Club of America does include an adoption arm for rehoming homeless dogs though.
Finding a Bedlington Terrier puppy
If you'd prefer to raise your Beddie from a pup, then you'll need to start by finding a breeder.
Our Puppy Search Guide has lots of resources to help you with this.
Look for a breeder who has screened both parent dogs for all the conditions recommended above. They should be prompt and co-operative about sharing the certificates of the test results.
Beware of breeders who make excuses for not doing tests, or keep promising to forward the results but never deliver. It's likely the tests weren't done.
When you find a breeder, ask how well the litter's parents get on with other dogs, and what their prey drive is like. Insist on meeting the mom, and if possible the dad too.
Also ask what steps the breeder will take to start socializing their puppies before it's time for them to come home.
Raising a Bedlington Terrier puppy
How Much To Feed A Puppy – Your Complete Puppy Feeding Guide
You might also be interested in the Puppy Parenting course on our Dogsnet Site.
Similar Breeds
If in the end you decide a Bedlington isn't for you, you might still fall in love with one of these similar breeds instead:
Whippet Dog Breed Information Center
Italian Greyhound – A Speedy Little Dog Breed
Pros And Cons of Getting A Bedlington Terrier
There's been a lot to digest in this article!
Here is a summary of the easy things and the hard thing about owning a Bedlington Terrier:
Cons
High prey drive
May not get on well with other dogs
High maintenance coat
May be hard to find, depending on your region
Pros
Sweet and affectionate.
Generally calmer and quieter than other terriers.
Good candidates for dog sports.
Sure fire conversation starter!
Do you already have a Bedlington?
Tell us about them in the comments box down below!
What kind of owner would you recommend them to?
References And Resources