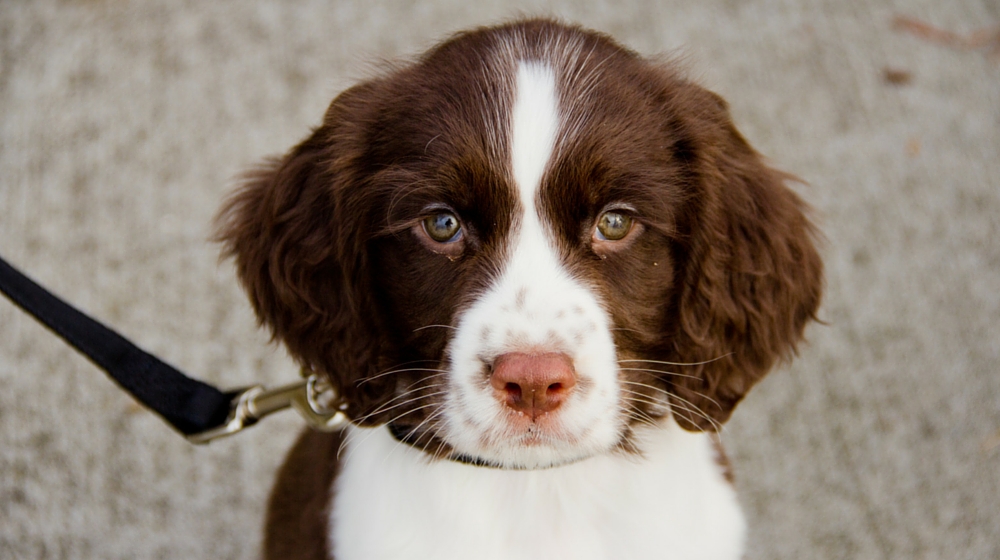 English Springer Spaniel dogs are medium sized, long haired in black or brown and white patterns. They are 40-50lbs in weight and 19-20 inches tall. These dogs are friendly, affectionate, energetic and active, and are widely used as hunting, tracking, show, police and military dogs due to their intelligence and cooperative nature. They are very obedient if well trained from an early age, but you must teach them self control around wildlife. High prey drive and chase instinct will get them into trouble if you don't! Today we'll look at English Springer Spaniel breed traits, characteristics and behaviors, and how they fit with the average home. They tend to be good with kids and other dogs, but are not a great mix with small pets of other species. We'll share how to raise an English Springer Spaniel puppy, train and care for them to become a great family pet.
Contents
Coming from the bird flushing Norfolk Spaniel, and similar in nature to the Welsh Springer Spaniel, these athletic working bred dogs are a great fit for people that have time to dedicate to intense obedience training. And who spend a lot of time at home and outdoors with their pets. However, the Springer is not just a pretty face. This lively and outgoing dog requires a lot of time, attention and commitment to become the perfect family pet. Springers need lots of grooming and care. If you're considering English Springer Spaniel puppies, we will help you decide.
What is an English Springer Spaniel?
Popularity: Consistently ranks in the top 15% of popular dog breeds in the US
Purpose: Hunting originally, currently hunting or show
Weight: 40-50 pounds
Temperament: Intelligent, energetic and eager to please
English Springer Spaniel History
The English Springer Spaniel was bred over generations to be an efficient hunting machine. He will boldly crash through thick undergrowth to flush out and retrieve game for his owner.
To do that, they must be intelligent, able to follow commands, brave, strong, tough and possess a high prey drive. The Springer can work for hours in rough conditions, happily beating thorns, bristles, hills and heavy rain.
The Kennel Club first recognized this lively breed as the English Springer Spaniel in 1902. It was previously known as the Norfolk Spaniel.
The iconic Springer dominated the spaniel presence in the shooting field until the recent resurrection of the working cocker. However, the Springer is still the most popular all-purpose working spaniel today. In recent decades, the breed has diverged between those bred for the shooting field and those bred for show.
Fun Facts about the English Springer Spaniel
Well-known English Springer Spaniel owners include Princess Grace, Oprah Winfrey and US Presidents George H.W. Bush and George W. Bush.
Millie was the 'first dog' during George H.W. Bush's presidency, and her puppy, Spot, was born in the White House. Spot was later 'first dog' during George W. Bush's presidency.
English Springer Spaniel Appearance
All English Springer Spaniels are traditionally either liver and white or black and white. Their fur is of medium length, close and normally straight.
As mentioned, the English Springer Spaniel has working and show lines. Although their basic appearances are very similar, there are a few key differences.
Show Springer Spaniels
Show-bred Springers have a more domed head and heavier, longer ears than their working cousins. They also have more extensively feathered coats and are more likely to have loose, drooping eyelids.
Because they are bred more for looks than function, they are similar in appearance to each other.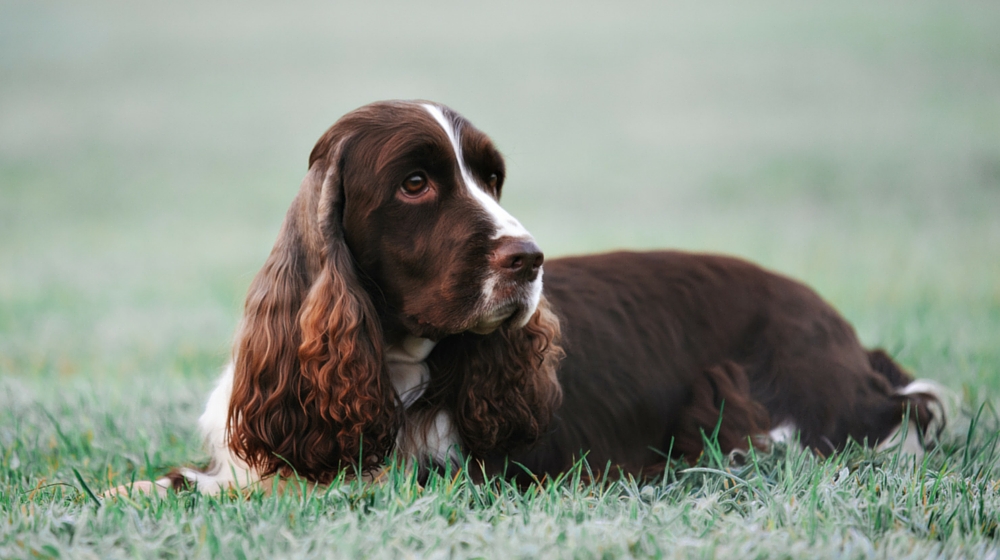 Working Springer Spaniels
The appearance of working Springers differs quite extensively. This is because they are chosen for their ability to hunt rather than for how they look. Working Springers have become faster and, in some cases, smaller than their show cousins. There is also a lot of variation in weight and size between the two lines.
Clean patches of color have given way to a speckled or roan appearance in some. Others have become almost entirely white. They also tend to have shorter ears and tighter eyelids, as these are more conducive to working in undergrowth.
In Britain, Springers bred for the shooting field are usually docked. It is unusual to see a working Springer with a full tail. However, it is not legal in the UK to dock a dog that is not intended for work. Therefore, show-bred English Springer Spaniels will always have full tails.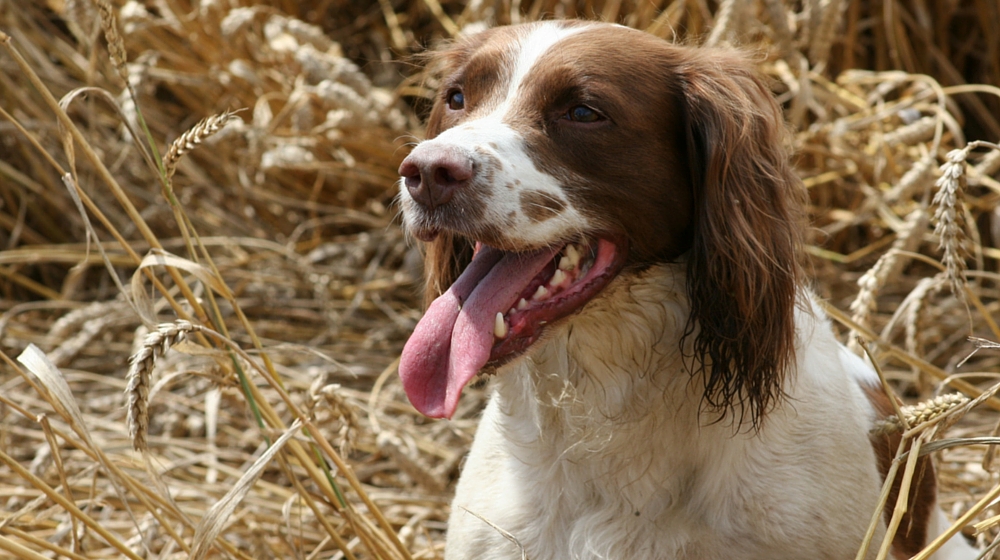 English Springer Spaniel Grooming
Both working and show-bred English Springer Spaniels require attention to grooming. Brushing at least twice a week will help keep the coat tangle free, and it's a good idea to practice this from the day your puppy arrives home.
Make grooming fun with lots of treats and praise. It's a great way to make the sessions go quickly, and it's a great bonding experience.
Your Springer may also need clipping every few months to prevent his furry legs and ears from becoming matted and tangled when he gets mucky.
English Springer Spaniel Size
They are symmetrical in their build and are compact and strong dogs. Of medium size, a full-grown Springers are 19–20 inches tall. Full-grown males weigh about 50 pounds, while females typically weigh closer to 40 pounds.
English Springer Spaniel Temperament
Most English Springer Spaniels are friendly and loving to their families, whether bred for show or work. However, outdoors their behavior may vary significantly. A show-bred dog will be more attentive to his companions and less distracted by what could be lurking in the undergrowth. As pets, Springers require a lot of mental and physical stimulation to prevent boredom and the destructiveness it can cause.
English Springer Spaniels are intelligent, highly trainable and love to please their people. However, there is some evidence that they have tendencies toward dominance and aggression. This seems to be more prevalent among Springers bred for work.
This may be due to these lines having been bred as kennelled dogs. Owners and breeders may have been unaware that they had an intolerance to strangers as they simply never met many. The breeding focus was on working well and mixing with humans was not a consideration.

For this reason, if you are buying a working-bred Springer, meeting the parents is essential to avoid this problem. It may take extra effort, but it will be worth it to avoid the stress of living with a dog who is afraid and has the potential to react aggressively.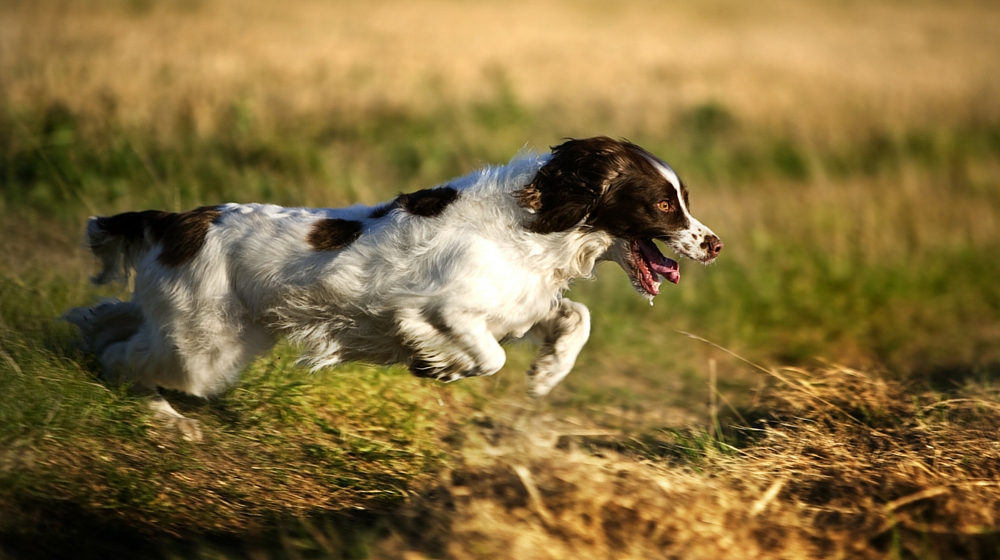 English Springer Spaniel Hunting
Although most modern Springer Spaniels are now taken home as family pets, their hunting instincts remain within them.
Working-bred Springers are intense, driven dogs. They are passionate about following scent, extremely agile and often strong-willed and independent. Some lines of working Springers border on obsessive when it comes to hunting and chasing wildlife, or anything that moves.
Because of his intense hunting desires, a working bred English Springer requires a good deal of supervision outdoors to keep him out of mischief.
The kind of dog that succeeds in a field trial, is not necessarily the kind of dog you want in your living room. Of course, there are plenty of Springers from good working stock that, given the right care, fit into family life quite well, but a significant proportion do not.
Extreme Prey Drives
While you may see some relatively placid working-line Springers, if you buy one as a pet, you may be shocked when you end up with a turbo-powered dog with little to no interest in you once he's outside.
Because of this sometimes-extreme prey drive, independence, toughness and high energy levels, a considerable number of working-line Springers find themselves in rescues each year.
Because of that, we recommend you think carefully before bringing a working strain Springer Spaniel into your life. If you want a quiet life and are not into training or sporting work, a show Springer is probably a better dog for you.
Show Springers will still be lively and have a high prey drive. However, they should have a less intense focus on wildlife and a greater tendency to attach to their families. They may also be less likely to be nervous around unfamiliar humans as they are bred for company rather than solitary working.
English Springer Spaniel Puppy Training
If you bring a Springer Spaniel puppy home, potty and crate training will be your first training priorities. We have guides to help you with these important first training steps.
Our puppy potty training guide includes a training schedule and other helpful tips and tricks for getting this important training taken care of as quickly and easily as possible. Learn about how you and your puppy could benefit from using a dog crate, our crate training guide has everything you need to know.
Another important step to get your new pup on the road to a happy and healthy life is socialization. All dogs need socialization from an early age to avoid lifelong fearfulness. This is particularly important for breeds like the Springer Spaniel that may have a tendency for dominance.
Exposing your Springer puppy to a wide variety of people and situations can help him feel safe and comfortable throughout his life.
Obedience Training for Springer Spaniels
Springers, usually from working lines, are widely used in the service of mankind and their efforts are not confined to the shooting field. They are popular drug detections dogs with their astounding sense of smell, enthusiasm and trainability make them great teammates for customs and border patrol units. And their intense chase drive makes it easy to train them using ball games as a reward.
What is often a problem for the pet owner, can be a bonus for the handler interested in creating a working teammate. Springers thrive with positive reinforcement training, and we advise learning all you can about these methods before bringing your puppy home.
English Springer Spaniel Activities
English Springers excel at activities that use their lively brains and bodies. Dogs from working lines enjoy agility and flyball and of course, their raison d'être, gundog fieldwork.
If you have an English Springer, especially one from working lines, consider getting involved in gundog style training. This specialized training helps harness and control all those urges and instincts that might otherwise lead your lovely Spaniel astray.
Show-bred English Springer Spaniels can also be trained in gundog work or used for other sporting activities but will probably not throw themselves into it with the speed and enthusiasm of their working cousins.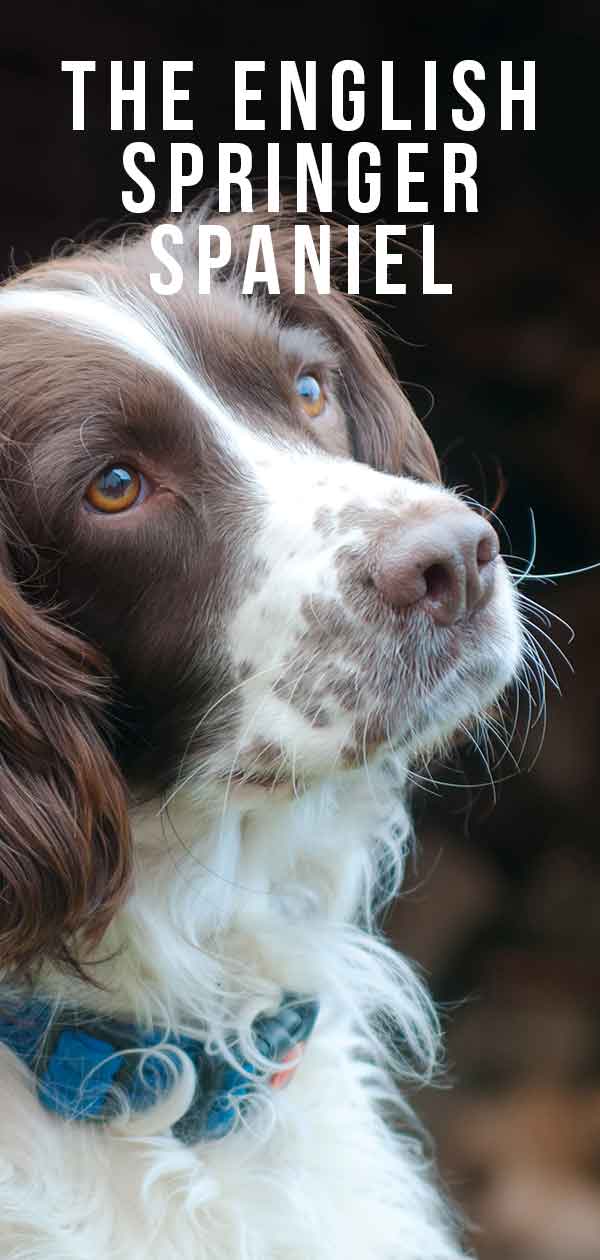 English Springer Spaniel Health and Care
In general, the English Springer Spaniel is a healthy, fit dog. Historically, it was bred for function rather than form, avoiding some of the pitfalls of other breeds.
However, as pedigree dogs, they are still prone to some genetic diseases that afflict many breeds with a closed gene pool.
Hip and elbow dysplasia are fairly common in Springer Spaniels. It is characterized by a malformation of the hip or elbow socket and can cause severe pain and lameness.
Dysplasia can be detected using an X-ray. To reduce the chance of your puppy having this affliction, make sure both parents have hip scores above the average for the breed, which was 14 for Springers in 2011, the most recent available.
Hips are scored on both sides of the body, and a balanced hip score is better than an uneven one. For example, you could have a score of 12 made up of 6:6 and that is better than a score of 12 made up of 2:10, in which one hip is considerably worse than the other.
Metabolic Diseases in English Springer Spaniels
There are inherited metabolic diseases to be aware of if you are considering English Springer Spaniel puppies.
Canine fucosidosis is a fatal disease that causes a dog's nervous system to break down. It is characterized by a loss of bodily control and changes in temperament.
Phosphofructokinase (PFK) disorder is another disease that you need to be aware of. It causes abnormalities in a dog's red blood cells and muscles. It causes fever, poor appetite, prolonged barking and excessive panting after exercise.
Fortunately, there are DNA tests available for fucosidosis and PFK. If a puppy's parents both test clear for these conditions, then the puppy will not suffer from these nasty conditions.
Ear Problems in English Springer Spaniels
English Springer Spaniels have long, floppy, furry ears. Although cute to look at, these characteristics create an environment that fosters ear problems.
If your Springer is rubbing his head on the floor or scratching at his ears, take him to the vet to have his ears checked. You can help his ears to stay healthy with regular cleanings.
Eye Problems in English Springer Spaniels
Progressive Retinal Atrophy (PRA) is a cause for concern in numerous breeds, and the English Springer Spaniel is no exception. PRA can result in blindness as it progresses. Fortunately, there is a test that allows breeders to only produce Springer Spaniel puppies without this inherited disease.
Another common eye problem in Springers is glaucoma, which causes sight problems due to fluid build-up behind the eye. It is inherited or the result of an infection.
Breeders can reduce the likelihood of English Springer Spaniel puppies suffering from the inherited version by testing their parents.
The test determines how predisposed the eye is to glaucoma.
Another eye issue for some Springers is entropion, in which an inverted eyelid causes irritation or damage to the eye. Choosing a pup from parents with good eye health reduces the chance of them suffering from this condition.
English Springer Spaniel Lifespan
Although some have lived as long as 19 years, the typical lifespan for a Springer Spaniel is 12-13 years. The majority of this breed enjoy between 10 and 15 years.
Do English Springer Spaniels Make Good Family Pets?
An English Springer Spaniel could be a perfect family pet, if he fits your family's lifestyle. Although Springers are generally good with children and other dogs, it is best to supervise their interactions. This is especially true if they are unfamiliar with each other.
Taking on an English Springer Spaniel is a big commitment. The right home for a working Springer is an active one. You will need time and patience to work at positive reinforcement training. It's important to be dedicated to getting it right from day one.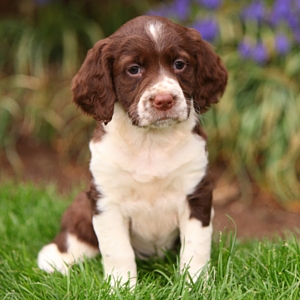 A working bred Springer is unlikely to make a good companion on a formal, predictable family walk. But he is loads of fun in gundog or agility training or flyball.
He will happily curl up with you on the sofa if you have had a busy day together and will cheerfully entertain you, making sure that there is never a dull moment.
Show-bred Springers are still lively, active dogs but they tend to be a little less driven by their prey drive and a little more focused on their owners. They are inclined to be a bit more relaxed at home.
If you think an English Springer Spaniel sounds like the right dog for you, deciding between working and show temperaments is your first big task. Whichever you choose, you are certain to have a lot of fun, laughs and love with this gorgeous dog.
Pros and Cons of Getting an English Springer Spaniel
It's important to know the pros and cons so that you can choose a dog that fits your lifestyle. Careful selection helps ensure you can create a lasting bond and have a cherished companion for years. Keep these things in mind as you consider whether an English Springer Spaniel is the right dog for you.
Cons
Very active and require regular exercise
Tendency toward dominance
Risk of hip dysplasia
Pros
Intelligent and highly trainable
Friendly and playful
Obedient and hardworking
Keep these factors in mind and look for the pros and cons of any other breeds you might be considering to make a fair comparison.
Once you decide on the right pup for you, the right products and accessories will help you prepare for your new pup's homecoming.
Rescuing an English Springer Spaniel
Purebred dogs are occasionally relinquished to shelters and rescues for a variety of reason, many of which have nothing to do with the dog. So, don't discount these sources when searching for an English Springer Spaniel.
However, a more likely source is a purebred rescue organization. We've included rescue links for some of the most popular ones later in this article.
A rescue dog is a great option if you prefer not to deal with the puppy stage. Although, puppies and young dogs are sometimes available as well.
Finding an English Springer Spaniel puppy
Anyone can breed their dog and sell the puppies. In most countries, there are no laws restricting or regulating dog breeding. That means that there are good dog breeders and there are bad dog breeders.
The worst breeders don't care about the animals other than how much money they can make. Those breeders often sell sickly puppies that may die young or grow up into aggressive dogs.
So, you need to pick your puppy supplier very carefully indeed. Use our guide to select a puppy for your best chance at avoiding a dog with serious health or behavioral issues.
When considering a breeder of English Springer Spaniel puppies, it is advisable to look for one who screens for PFK disorder, Cord1 PRA, hip and elbow dysplasia and eye problems. Breeders should be testing the parents before breeding, to ensure that they are free from these diseases.
English Springer Spaniel Puppy Price
As far as cost, prices for Springer Spaniel puppies range from $500 to $2,000. However, most are around $800 to $1,000.
Raising an English Springer Spaniel puppy
Caring for a vulnerable English Springer Spaniel puppy is a big responsibility.
We have some great guides to help you with all aspects of puppy care and training. The useful tips and tricks will start you on the right foot to raising a happy and healthy dog.
If you're not sure about a Springer, how about considering an English Springer Spaniel breed mix instead?
Popular English Springer Spaniel breed mixes
Here are some of the most popular Springer breed mixes for you to consider:
Spreagle – English Springer Spaniel and Beagle Mix
Spangold Retriever – English Springer Spaniel and Golden Retriever Mix
Of course, the possibilities are endless, and you may encounter other Springer breed mixes as well.
Similar Breeds
If you're interested in the English Springer Spaniel but still aren't sure if it's the perfect breed for you, perhaps consider a different type of spaniel. We have breed reviews for the Boykin Spaniel, American Cocker Spaniel, English Cocker Spaniel and Cavalier King Charles Spaniel. Or perhaps you'd be interested in a different type of working dog, such as the Wirehaired Pointing Griffon.
Like all breeds, there are pros and cons to owning an English Springer Spaniel.
English Springer Spaniel Breed Rescues
If you think a Springer is the right dog for you, please consider giving a home to a dog in need. Below is a list of breed rescues in the USA, the UK, Canada and Australia.
US
UK
Canada
Australia
If you know of a reputable rescue in your area not already listed, please share it in the comments.
Do you own an English Springer Spaniel? If so, tell us about your pup in the comments.
This article has been extensively revised and updated for 2019.
References and Resources
American Kennel Club
Gough A, Thomas A, O'Neill D. 2018. Breed Predispositions to Disease in Dogs and Cats, 3rd edition. Wiley Blackwell.
O'Neill, et al. 2013. Longevity and Mortality of Dogs Owned in England. The Veterinary Journal.
Schalamon, et al. 2006. Analysis of Dog Bites in Children Who Are Younger Than 17 Years. Pediatrics.
Duffy D, et al. 2008. Breed differences in canine aggression. Applied Animal Behavior Science.
Adams VJ, et al. 2010. Results of a Survey of UK Purebred Dogs. Journal of Small Animal Practice.