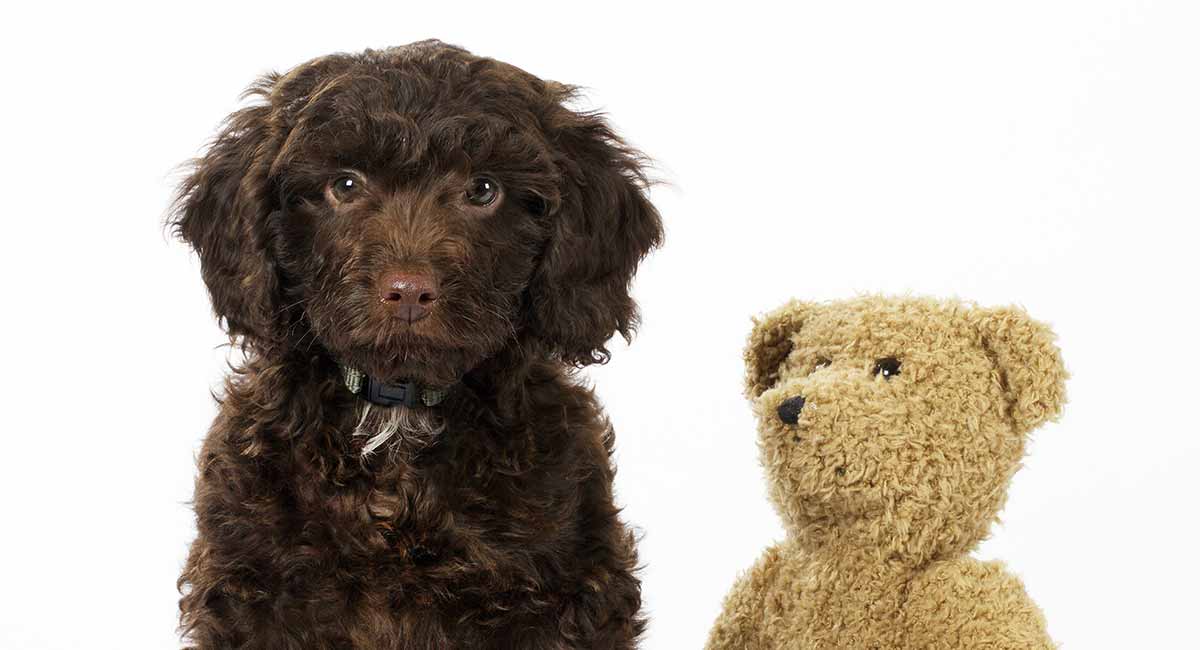 The Springer Spaniel Poodle mix, also known as Springerdoodle, is a cross between a purebred Springer Spaniel and a purebred Poodle.
Depending on the size of the parents, there are both Standard and Mini Springerdoodles.
These are strong, muscular dogs that enjoy being active and spending time with their family.
Make sure to ask for genetic testing to prevent getting a pup with some of the Spaniel's tendencies to have neurological conditions.
Let's take a closer look to see if this mix will suit you.
What's In This Guide
Springerdoodle FAQs
Our readers' most popular and frequently asked questions about the Springerdoodle.
Let's start with our quick roundup with the basics of this cute mixed pup.
Springerdoodle: Breed At A Glance
Popularity: Growing
Purpose: Companionship, family pet
Weight: Mini from 5 to 25 pounds, Standard from 25 to 45 pounds
Temperament: Loyal, active and lovable.
Here's everything you need to know about this fluffy crossbreed!
Springerdoodle Breed Review: Contents
Are you ready to learn everything about this cute puppy?
Is the Springer Spaniel Poodle mix a designer dog?
Yes, it is.
As the result of an intended crossing between two pure dogs from different breeds, it can be considered a "designer dog". On the other hand, it is also recognized by the International Designer Dog Association as such.
This crossbreed, as other mixes, is subject to a well-known controversy. We have touched on this on previous articles.
Proponents of crossbreeding state that mixing other breeds gives the original line a larger genetic pool, helping to "dilute" traits that have been reinforced by crossbreeding like certain diseases and health conditions.
Nevertheless, anti-crossbreed advocates have qualms about the scientific evidence of this so called "hybrid vigor".
The Debate
They state that with crossbreeds, it's very difficult to predict both temperament and appearance, while the possible health benefits are slim. Puppies could very well inherit dangerous health conditions from both parents.
Other advocates state that given the continuous rejection of mixes and crossbreeds, creating these new designer dogs just adds pups to the already overpopulated canine community.
Careless breeding also plays a role: with these unregistered breeds, many people find it can be quite easy to sell pups without a certification or proper health testing. This puts both puppies and parents in greater danger of mishandling, neglect and poor health.
Now that you know a bit of the backstory of this fluffy mix, it's time to get to know the Springerdoodle in depth!
History and original purpose of the Springerdoodle
The Springer Spaniel Poodle mix originated in the United States less than 15 years ago.
In 2009 the International Designer Canine Association began to register and recognize the Springerdoodle crossbreed.
Springerdoodle breeders created this specific designer dog to be an ideal family pet and companion.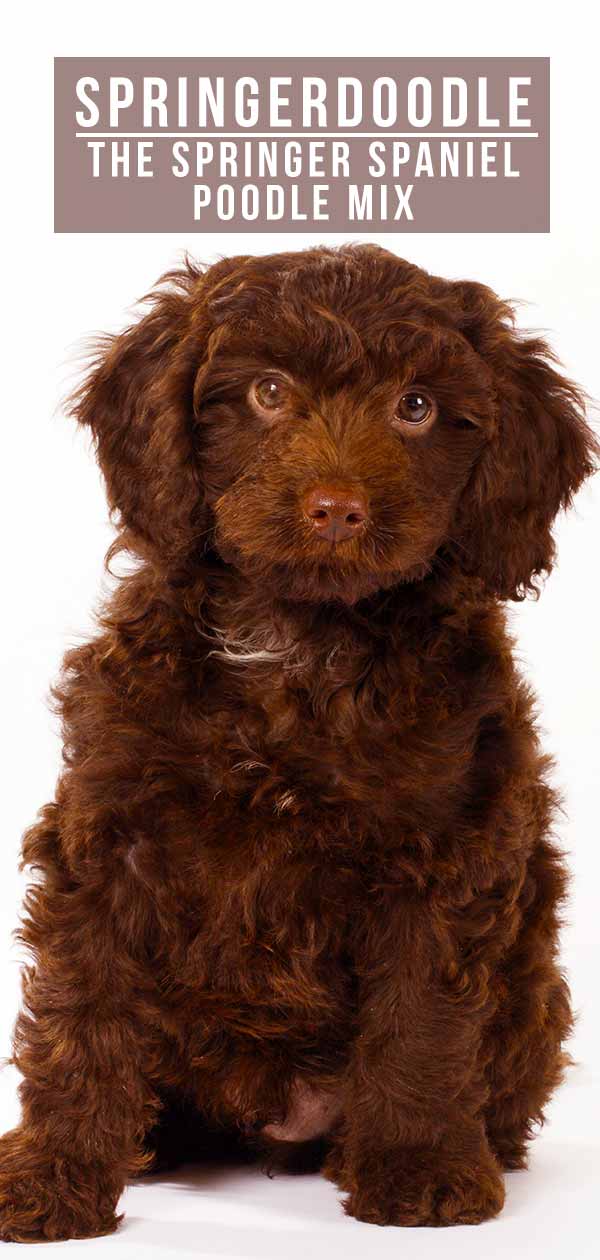 As a result of crossing a purebred Springer Spaniel and a Poodle, it's important to understand the stories of these two breeds.
History of the English Springer Spaniel
The English Springer Spaniel was first bred centuries ago in England.
Described as a sporting breed, these dogs derive from years of intentional breeding of British land spaniels.
The English Springer Spaniel assisted hunters by detecting game birds and driving them out from cover.
These dogs point out fallen birds and retrieve them for their human counterparts.
The English Kennel Club recognized the English Springer Spaniel as its own breed in 1902, with the American Kennel Club following in 1924.
When the breed became popular in North America, these dogs were well known as bird dogs with powerful noses and high trainability.
History of the Poodle
The Poodle's history begins in Germany over 400 years ago. The Standard Poodle started out as a duck hunting dog.
Because of this, Poodles make great retrievers. They were bred to be smart, easily trainable and have a distinct curly coat that kept them warm when swimming in near-frozen lakes.
The distinct lion cut of Poodles allowed for better movement and protection when they were working.
The leg joints, chest, and hips remained covered to keep joints warm even in the winter.
In early 20th century, Miniature and Toy Poodles were bred from the Standard. As of 2019, the three sizes of the poddle are officially recognized by Kennel associations around the world.
If the Springerdoodle's origins interested you, check out these curious facts about the breed!
Fun facts about Springerdoodle
Springerdoodles are still a bit of a rare mix.Nevertheless, many celebrities have adopted doodle mixes!
One of them was Gemma Atkins. The Hollyoaks star adopted Norman, a black springerdoodle pup who in February 2019 injured his cruciate ligament. Thankfully, nowadays Normas is a happy pup and can be seen playing in Gamma's insta stories!
But is this pup the dog for you? Do you have the space needed? Here's everything you need to know.
How big is a Springerdoodle?
Being a mix, the size of a Sproodle will depend on both of its parents. You will never be completely sure of its size until your Springer Poodle puppy has fully grown.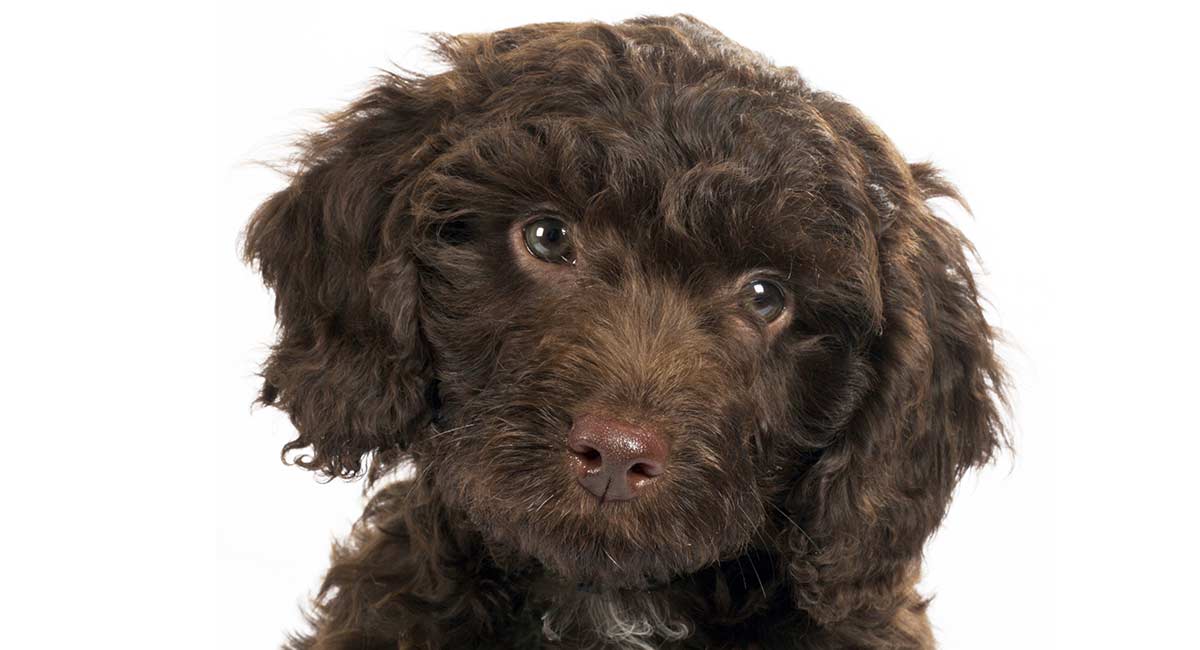 Once said that, an English Springer Spaniel is generally 19 to 20 inches in height. Thanks to its sturdy, muscular build, the medium-sized Springer Spaniel normally weighs between 40–50 pounds.
On the other hand, Poodles come in three distinct sizes. Standard Poodles are usually taller than 15 inches from the shoulder. Miniature varieties are between 10 to 15 inches and Toy varieties are less than 10 inches in height.
Of course, the weight and build of Poodles varies greatly depending on their height.
Miniatures will range between 10 and 15 pounds; female Standards are generally 40–50 pounds and male Standards 60–70 pounds. Toy Poodles can be as small as 5-7 pounds.
The Size Can Vary
The size of your Springerdoodle will largely depend on the size of its poodle parent.
Standard Springerdoodles result from crossing a Springer Spaniel and a Standard Poodle. These pups will be on the larger size, tending to weight between 35 and 45 pounds.
Most Springerdoodles are this size.
Nevertheless, there are also Mini springerdoodles available! These come from crossing with either a Toy or Miniature poodle.
More variable in size than the Standard type, Mini springerdoodles can weigh anything between 5 and 25 pounds.
Springerdoodle appearance
As a mix, the appearance of Springer Doodle puppies can be quite unexpected. You will never know which "side" they will lean towards, and even two pups from the same litter can look vastly different as grown dogs.
On the one hand, we have English Springer Spaniels. These pups have drooping ears and a proud, sturdy body. Although available in a variety of patterns and colors, the preferred one is white and dark brown. Spaniels have soft, elegant facial features that frame their dark round eyes.
On the other hand, Poodles also boast a strong, muscular body. The have a moderately rounded head with round, kind eyes. Poodle coat colors come in white, black, or apricot tone on the hallmarked curly fur.
Of course, Springerdoodle puppies could exhibit characteristics from either the English Springer Spaniel or the Poodle.
General Looks
In general, though, these pups have wavy to curly hair, in a variety of colors that can be solid or mixed. Their ears are usually floppy and medium sized with dark, round eyes and, as we have already mentioned, can come in either mini or standard sizes.
If you're already in love with the fluffy look of this mix, check out their personality!
Springerdoodle temperament
As with everything else, the temperament of Springerdoodle puppies is a mix between both of its parents.
Luckily, both English Springer Spaniels and Poodles bring energy, intelligence, and lovability to the table.
This means that, with proper training and socialization, your mixed pup will probably follow into its parents' steps.
Looking at the Parent Breeds
English Springer Spaniels are very active, friendly, and also obedient. They love to be with their people and are unhappy when spending large amounts of time alone.
On the other hand, Poodles are athletic, eager and companionable. They enjoy being part of the family and dislike being alone as well.
Both breeds tend to be patient towards children, especially when they are socialized at a young age.
Springerdoodles are popular for being great companions, family pets, and friendly towards other furry friends and people.
While Springerdoodle breeders cannot predict specific characteristics, the Springer Poodle mix will likely exhibit the same smart, friendly, energetic eagerness as the Springer Spaniel and Poodle.
Of course, the natural instinct of your pup need to be properly trained to ensure they are a companionable pal.
Training and exercising your Springerdoodle
Both the Springer Spaniel and the Poodle are highly trainable and active breeds.
They require regular exercise which can include long walks, fetching, and swimming.
Springer Doodles are intelligent, active, and often require daily outdoor activity.
Because of this, your Springer Spaniel Poodle mix will need ample space to run and play, preferably outside. Keeping plenty of toys for your dog to play with when they are inside is also ideal to avoid unwanted attention on household items.
On To Training
As for training, this mix will quickly learn new cues and tricks.
The English Springer Spaniel and Poodle are both intelligent, which makes them easily trainable, especially if started at a young age.
Both of these breeds respond better to positive reinforcement in training, and your Springerdoodle will as well.
Because they are smart, a little variety in your pup's training routine will keep them engaged and eager to learn.
Finally, as with all pups, the Springerdoodle needs proper socialization. This mix can become barkers if you don't provide consistent training from a young age.
Still interested in a cute pup? Here are some health issues you should keep in mind before making your choice.
Springerdoodle Health and Care
To understand the health profile of Springer Doodle puppies, it's important we go over their parent breeds.
Springer Spaniel Health
It was confirmed in 1996 that English Springer Spaniels were the first American-bred dogs to be diagnosed with fucosidosis, a fatal autosomal recessive neurological disease.
The breed should also be checked for phosphofructokinase deficiency, which can cause chronic anemia, an enlarged spleen, and acute hemolytic crises.
In addition, these other conditions could affect a Springer Spaniel: otitis externa, progressive retinal atrophy, and retinal dysplasia.
Before getting a pup, talk to the breeder and ask for genetic testing.
Poodle Health
Poodles of all sizes are prone to idiopathic epilepsy and sebaceous adenitits. The latter can be easily misdiagnosed as a Tyroid problem, so make sure to ask for tests and have a chat about health with your breeder.
Toy and Standard Poodles can get a clotting disorder known as Factor XII deficiency, which is an inherited bleeding disorder.
Standard Poodles should also be tested for Addison's disease and granulomatous sebaceous adenitis that affects the sweat skin glands resulting in hair loss.
Poodle owners must keep an eye out for orthopedic problems in Toy and Miniature varieties, as well as gastric dilatation and volvulus in Standard sized pups.
Springerdoodle Health
Because of its parents, Springer Doodle puppies are at a higher risk of hip dysplasia and disorders like epilepsy, which is a chronic neurological disease that is very common in dogs, according to a 2015 report.
The Spaniel's tendency to present neurological diseases makes testing and health checks especially important.
Talk to your breeder and check both parents have been tested. If possible, talk to the owners of other puppies from the same breeder. They will usually have first-hand experience on the health of their dogs.
Besides checking their health, you will also need to groom your new pup.
Grooming a Springerdoodle
Contrary to popular opinion, this crossbreed needs grooming and clipping to be healthy. Because of its parent breeds, Springerdoodles inherit the grooming requirements of both.
English Springer Spaniel grooming
English Springer Spaniels require occasional grooming to avoid mats in their wavy, long coat. Brushing the coat regularly helps with seasonal shedding.
Constant trimming is necessary to keep healthy nails.
It's important to check their ears for wax buildup. Their long ears heavily covered in fur can cause the ear canal to become moist, resulting in ear health issues.
Poodle grooming
A Poodle's ears require the same attention as a Spaniel's. It's best to keep the fur trimmed around the ears to help air flow: this will lessen the chance of moist ear canals.
Poodles with longer hair need daily brushing to avoid matting. If the coat is kept short, once or twice a week will suffice.
Springer Doodles will exhibit the same grooming and care requirements as either parent breed or a mix of both.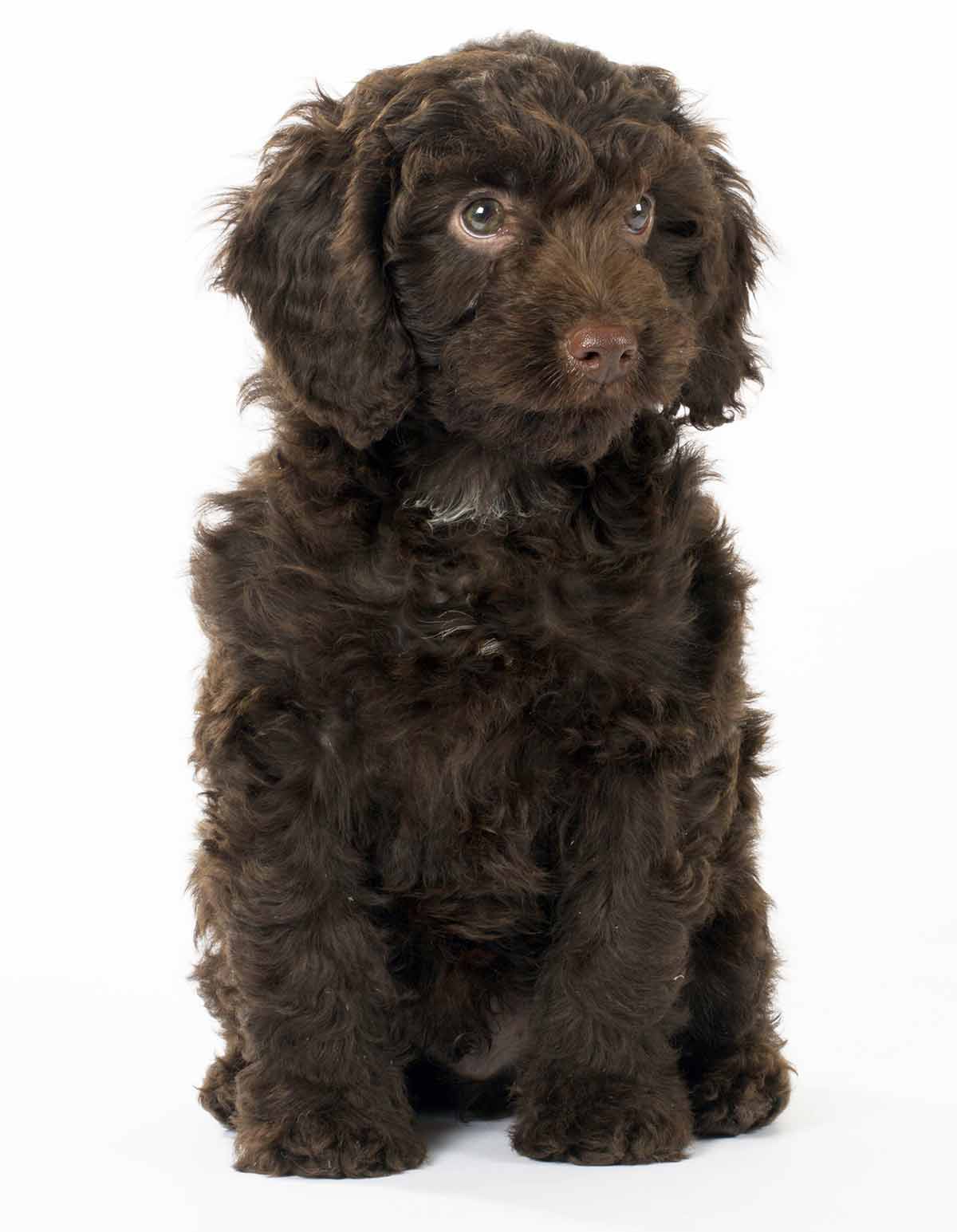 Is This a Hypoallergenic Breed?
Even though much has been said about Poodles being non-shedding dogs (making their mixes non-shedding as well) this is simply not true.
All dogs shed. Curly-haired dogs simply keep the shed hairs inside the curls, making brushing essential to avoid matting.
Expect grooming and shedding for a Springerdoodle to be a low requirement, though. Once or twice a week will do.
If your Springer Spaniel Poodle mix inherits long ears and heavy hair, keep an eye on excess earwax.
If you're happy to deal with the grooming of your new pup, it's time to decide if they belong with your pack.
Do Springerdoodles make good family pets
We've discussed that the Springer Spaniel and Poodle are both very active dogs, so the ideal home for the Springerdoodle will be one with the energy to keep up!
If you love being active, Springer Doodles make great companions for a single owner or a family with children and other pets.
This cross doesn't like being alone for long periods of time, so make sure you have the time to dedicate them before getting a lifelong commitment.
Springerdoodles usually get along with kids and other pets after being properly socialized.
They are loyal and enjoy family activities and pleasing their human companions. While these breeds are good family dogs, supervision is suggested when interacting with young children.
Are you sure this is the right pup for your pack? You should start thinking about rescuing a Springerdoodle.
Rescuing a Springerdoodle
Rescuing a Springerdoodle can be a very rewarding experience for everyone involved. On one hand, you will be offering a second chance to a pup, gaining a lifelong friend in the process.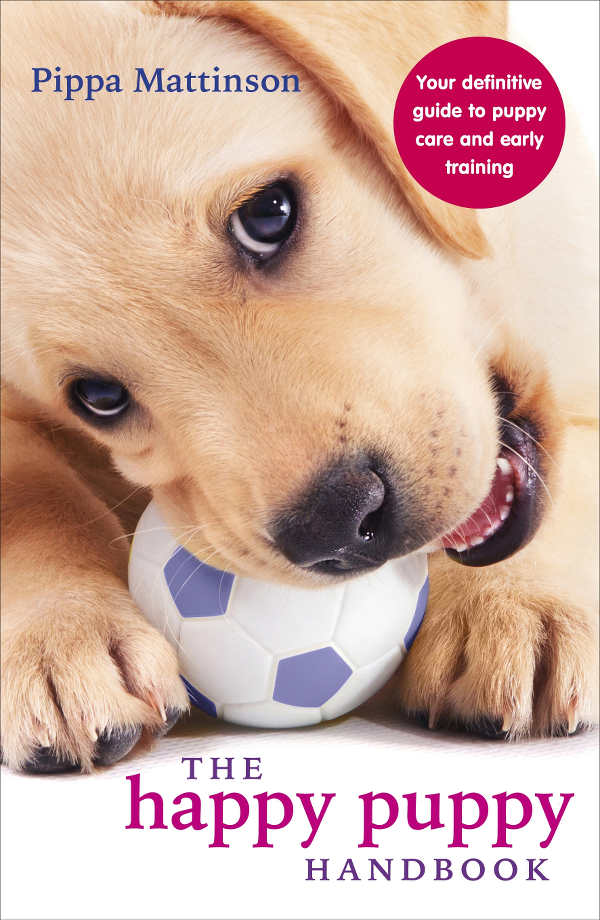 On the other, you avoid promoting careless breeding practices while still enjoying the crossbreed you wanted!
Of course, adoption has its drawbacks. You will usually get a pup or adult dog that has been abandoned and neglected at some point in their life.
This can cause certain scarring and traumas that you will need to address. Training and socialization is also vital: your rescue needs to understand that they are in a safe place and nobody will hurt them.
All of this can be a handful for first-time dog owners. It's recommended you talk to the people at your local rescue and let them offer their advice. Because they know their dogs the best, they will match you with pups that fit your home, abilities and expectations.
If you can't find a Springerdoodle at your local rescue, you might need to go to a breeder.
Finding a Springerdoodle puppy
The Springer Spaniel Poodle mix is a popular crossbreed, so finding Springerdoodle breeders online should be relatively easy.
Finding a breeder or previous owner that you trust is important, and it will be the most time consuming part of the process.
Once you have chosen a breeder, it's important to meet them. Watch the litter and the parents before making your choice. If the older dogs welcome the breeder with wagging tails, you know they have been taken care of.
Steer away from breeders who won't show you the parents, their medical histories and who just want to hand you the pup.
A responsible breeder will want to make sure you can provide a safe and healthy environment for your new puppy, so they will ask questions about you and your home.
Health Testing
Because this is a mix from two breeds with some serious health conditions, it's important to ask for genetic testing.
Recommended health tests for the English Springer Spaniel include hip, elbow, and an ophthalmologist evaluation as well as a PRA Optigen DNA test and a PFK disorder DNA test.
These tests are also recommended for Poodles, in addition to knee evaluations and a skin biopsy.
Springerdoodle puppies can inherit any aspect of either parent dog, which makes it essential for them to receive the same health tests as the parents!
Now that you have your puppy, it's time to raise them!
Raising a Springerdoodle puppy
Besides checking their health, make sure you have the time for play, exercise, and enough space to devote to your Springer Poodle!
Caring for a vulnerable Springerdoodle puppy is a big responsibility. There are some great guides to help you with all aspects of puppy care and training.
Our handy guides will walk you through socialization, leash training and even potty training!
Still haven't made up your mind? Here's our final roundup so you can see if this is the right crossbreed for your pack.
Pros And Cons of Getting A Springerdoodle
Cons
Very active cross that needs consistent exercise
They do shed and aren't hypoallergenic.
Grooming is important, and keeping their ears clean is vital.
Pros
Ideal for active families with children of all ages
Grooming needed only once a week.
Friendly, good natured dog that likes kids and other pets.
Are you attracted to the Springer Doodle but aren't sure this is the right choice? Here are some other options that might work for your family as well.
Similar Breeds
Other Poodle mixes you might want to consider:
Still interested in a Springerdoodle? Check out these springerdoodle rescues.
Springerdoodle Rescues
These pups are still a relatively rare and new mix. Because of this, there are no specific Springerdoodle rescues dedicated to caring for this breed.
Nevertheless, sometimes they will pop up in shelters. Check in your local shelter or humane association in case they know of one that might be ready for adoption.
You can also try your hand at rescues dedicated to other poodle mixes or spaniels:
US
UK
Australia
Do you have a Springerdoodle? Let us know in the comments below.
References And Resources
Gough A, Thomas A, O'Neill D. 2018 Breed Predispositions to Disease In Dogs and Cats. Wiley Blackwell
O'Neill et al. 2013. Longevity and Mortality of Owned Dogs In England. The Veterinary Journal
Adams VJ, et al. 2010. Results of a Survey of UK Purebred Dogs. Journal of Small Animal Practice.
Schalamon et al. 2006. Analysis of Dog Bites In Children Who Are Younger Than 17 Years. Pediatrics
Duffy D et al. Breed differences in canine aggression. Applied Animal Behavior Science 2008
Strain G. Deafness prevalence and pigmentation and gender associations in dog breeds at risk. The Veterinary Journal 2004
Packer et al. 2015. Impact of Facial Conformation On Canine Health. PlosOne
Beuchat, C,

The Myth of Hybrid Vigor in Dogs…Is a Myth

Mattinson, P, Purebred Vs Mutt – Common Objections to Mixed Breed Dogs
Dodds, JW,

Guide to Congenital and Heritable Disorders in Dogs

Humane Society Veterinary Medical Association, 2011
Larkin, M,

Neurology experts put heads together on epilepsy

, Journal of the American Veterinary Medical Association, 2015.
Smith, MO et al.

Fucosidosis in a family of American-bred English Springer Spaniels

, Journal of the American Veterinary Medical Association, 1996
Giger, U; Reilly, MP; Asakura, T; Baldwin, CJ; Harvey, JW,

Autosomal recessive inherited phosphofructokinase deficiency in English springer spaniel dogs

, Animal Genetics, 1986
Brooks, M,

A review of canine inherited bleeding disorders: biochemical and molecular strategies for disease characterization and carrier detection, Journal of Heredity

, Journal of Heredity, 1999
Mitchell, AL,

Autoimmune Addison disease: pathophysiology and genetic complexity

, Nature Reviews Endocrinology, 2012