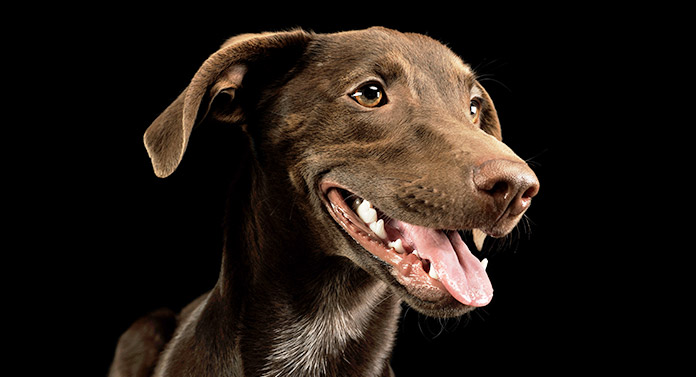 The Weimaraner Lab mix is also often known as the Weimador or Labmaraner! It's simply a hybrid puppy born from a Weimaraner and a Labrador Retriever. A Weimador will be intelligent, friendly, and eager to please. Which is a great combination for training! They will have a short coat that could come in any of the Labrador shades, or the silvery tones of the Weimaraner.
Contents
What Do They Look Like?
There is some speculation that the silver Labrador is in reality a Weimaraner Lab mix. The evidence doesn't back this theory up, but they do look similar to this mix.
Weimaraners come in three colors – blue, gray, and silver gray. Labs come in three colors – black, chocolate, and yellow. But, there is a rare color variation of Labradors called silver. Silver Labs are, in essence, chocolate Labs with a diluted color gene.
The Weimaranar Lab mix has a short, flat coat and floppy ears. Their muzzle is fairly long and slim, and they are pretty leggy too.
Labradors tend to be between 21.5-24.5 inches tall (male dogs fall on the taller side). They can weigh from 55-80 lbs. Weimaraners are just a bit taller and heavier. They can be as tall as 27 inches as an adult; females can be as small as 23 inches. Female Weimaraners weigh between 55-75 lbs, while males weigh between 70-90 lbs.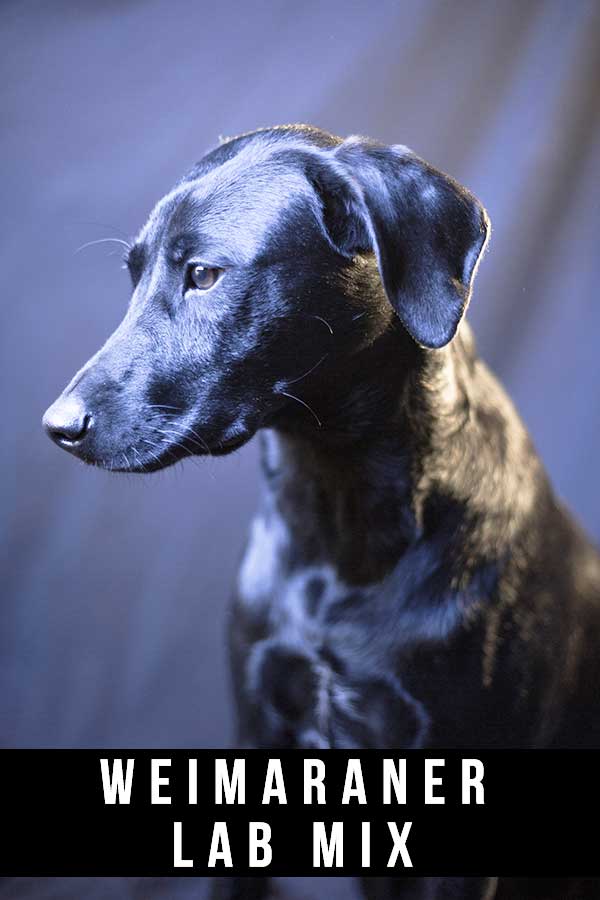 A Working Background
Labrador Retriever ancestors originally come from Newfoundland, where small water dogs pulled in nets and traps full of fish for their owners. Weimaraners they were bred as big-game dogs, but shifting hunting priorities turned the breed into a sought-after bird dog.
Although used for slightly different sporting roles, these dogs were both bred to be involved in retrieving game. To do that they needed to be intelligent, strongly bonded to their handlers and able to work cooperatively with them.
Weimaraner Labrador Mix Temperament
Temperament in mixed breeds is just like appearance – impossible to predict! But looking at the parent breeds can give us a better idea.
Both types of dog bark when necessary, so expect an occasional barker.
Also, both breeds are active and need exercise to get their energy out. They are easily trained, but must have some stimulation.
Fortunately, they're definitely eager to please, so your mixed breed dog will be easy to train, good with children, and good with dogs if they've been socialized well. It's best to supervise these interactions nonetheless.
Weimaraner Lab mix puppies could be high-spirited, like a Lab, or a great runner with plenty of stamina, like a Weimaraner. Most likely, a mix will be friendly and sweet.
Still, you should remember that your Weimaraner and Labrador mix can show traits of either parent.
Training and Exercise
A Lab Weim mix will respond best to positive reinforcement. Harsh, punishment-based methods can cause distrust and stubbornness when training. Training will offer much-needed mental stimulation, but also a little exercise. They are active, energetic dogs who need to run. Whether this is an energetic game of fetch, swimming, or hiking with you. They will be great candidates for dog sports like agility and rally.
Destructive behaviors will be reduced by staying fit and busy. Just be wary of over-exercising when they are young, as this can have a negative impact on the health of their joints when they are older.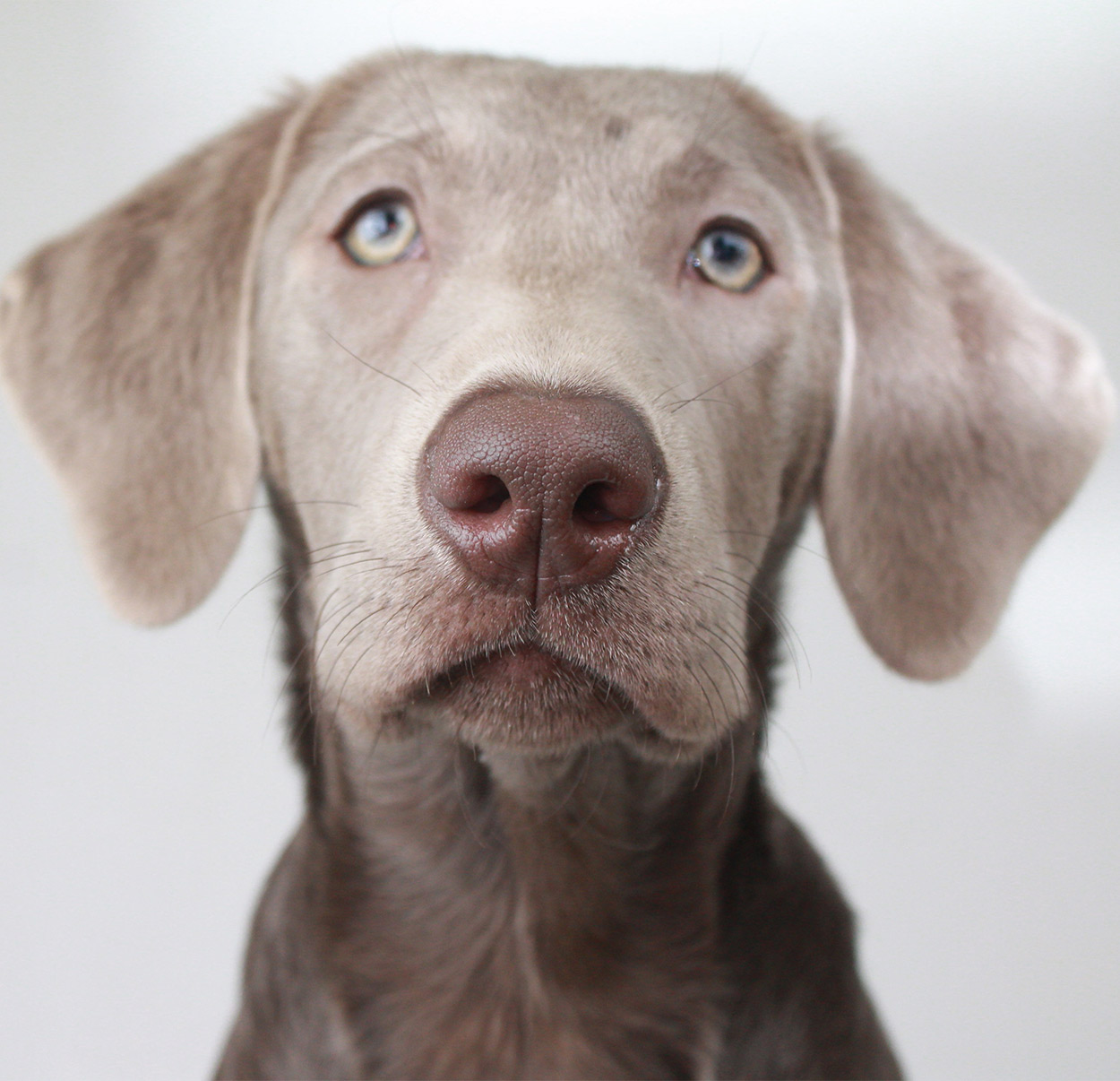 Weimaraner Lab Mix Health and Care
A Labmaraner dog may be a mix, but that doesn't necessarily mean it will avoid the health issues the parent breeds may experience.
Labs are generally a healthy breed. But they are genetically prone to obesity, vision problems, and certain types of cancers. They are also prone to hip and elbow dysplasia, which are developmental abnormalities in the joints. Large-breed dogs often suffer from these.
Weimaraners, too, are a generally healthy breed. But they are also genetically prone to certain conditions, hip and elbow dysplasia, cataracts, dermoids, corneal dystrophy, and distichiasis entropion.
If you are buying a puppy from a breeder, ask to see both parents good hip scores and clear eye tests.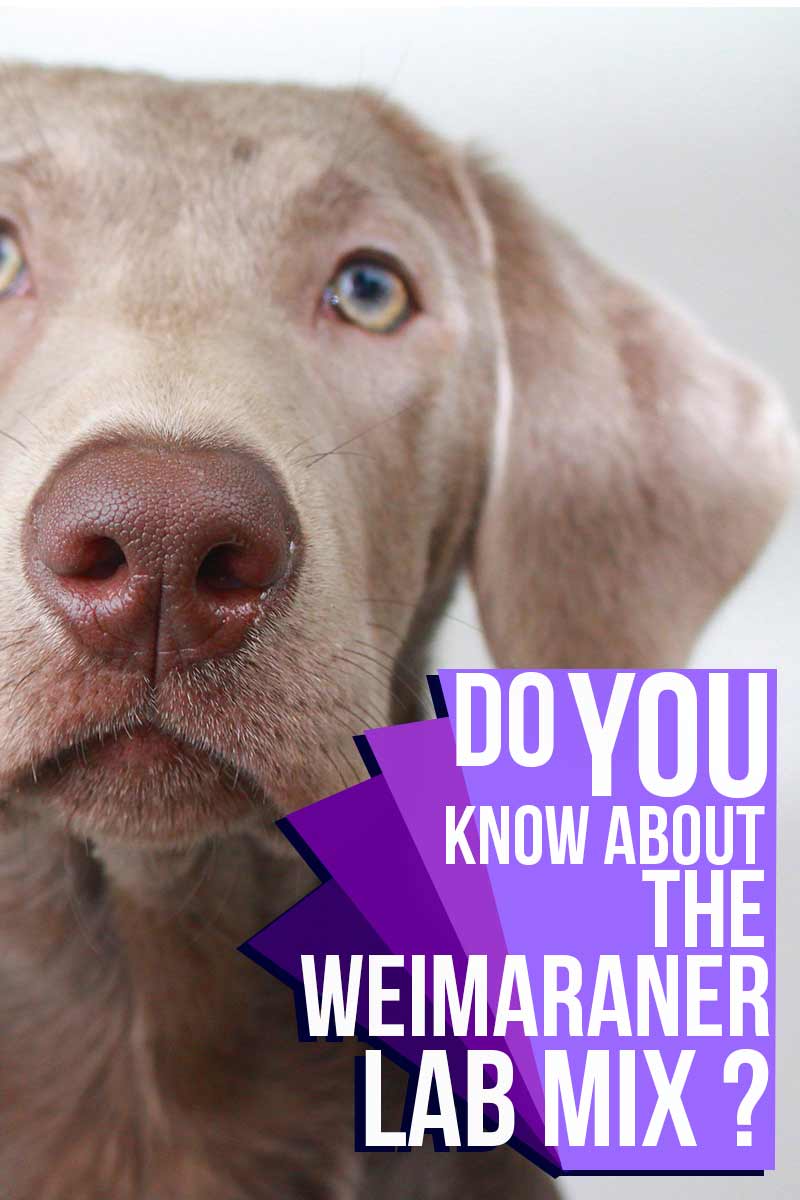 Weimaraner Lab Mix Puppies
Labmaraners are rarer than many hybrids, but you'll still be able to find them online. When you visit a breeder, take note of the conditions of the dogs. Meet the pup's parents, ask questions, and get physical proof of health screenings. Follow all the rules of meeting a breeder under any circumstances, and don't commit to a purchase until you are satisfied.
What About Rescue?
If you're happy to bring home a slightly older dog, you could consider getting a Labmaraner rescue. They are usually cheaper than puppies, and are past the awkward first training stages. But, this isn't a hugely common mixed breed. So, it could take you a while to find a Weimaraner Lab mix suitable for your home.
Make sure to ask plenty of questions to find a rescue dog that will suit your home perfectly. If you can, find out why they were taken to the shelter. Also ask questions about their temperament, including how well socialized they are different types of people, animals, and things.