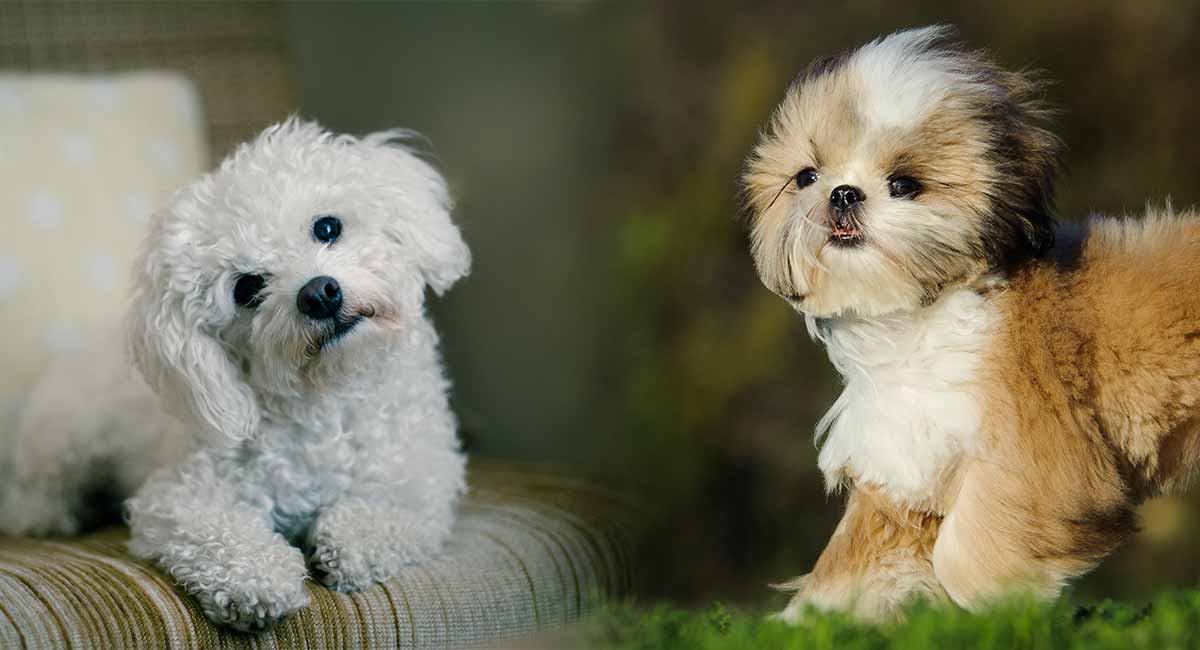 The Maltese Shih Tzu mix is a designer hybrid dog also known as a Malshi. They are affectionate, loyal, brave, bold and confident companions. They have a good lifespan of 10 – 14 years, stand around 9 inches tall and weigh about 10 lbs. Their small size makes them great lapdogs and apartment pets, but they are also surprisingly good watchdogs. Maltese Shih Tzu puppies do best when given lots of attention, time and training. They are low shedding but not necessarily hypoallergenic, and need plenty of grooming. Despite their toy dog status, they are best suited to adult only homes.
Contents
Maltese Shih Tzu personality can be a little quirky, with cheeky behaviors such as yapping, digging and chewing. But thanks to its miniature size and perky personality, many feel this pocket rocket cross breed would be the perfect little companion. Especially if they are short on time and/or space.
Maltese Shih Tzu Mix History
The Maltese x Shih Tzu, or Malshi, is a designer dog that has only been around since the 1990s. In contrast, the parent breeds of the Malshi both have very long histories. We can get to know our Maltese Shih Tzu mix a little better by delving into their parents' pasts.
The Shih Tzu can be traced back about 1000 years to Tibet. These lapdogs worked along with larger guard dogs to warn of approaching strangers. In the late 1920's, a pair of Shih Tzus were brought to England. From there, the dogs were introduced to Europe. From this point on, their popularity around the world started to grow.
The Maltese is widely recognized as one of the oldest dog breeds. They are widely thought to have originated from the island of Malta. Additionally, they were beloved pets of one of the Roman governors of Malta. It seems that Emperor Claudius was responsible for bringing the Maltese to Britain. Since then, the breed has been a favorite of royals and nobles for many centuries.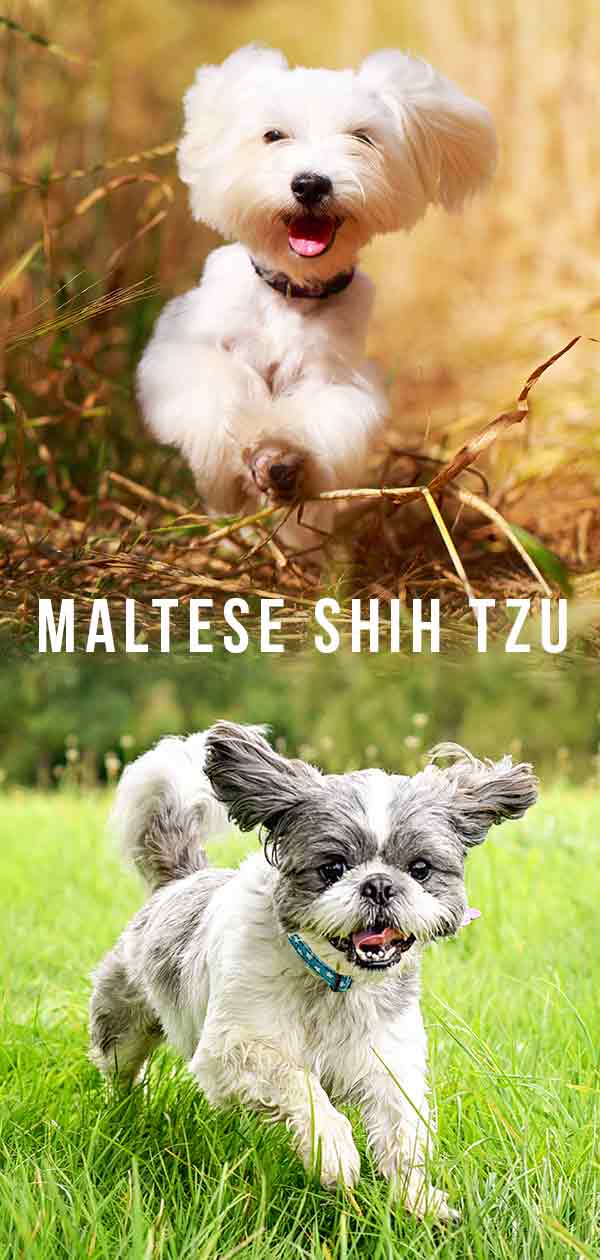 Maltese Shih Tzu Appearance
A Malshi will be small, and will have a long, luxurious coat. There is a chance they will have some of the colors and markings of the Shih Tzu, so they might not be a white dog. The longer nose of the Maltese may negate some of the breathing issues that a pure Shih Tzu will experience too.
As with any mix breed, a Malshi will inherit a combination of traits from both parents. This means that we can get a fair idea of how they may look by familiarizing ourselves with the parents.
The Maltese is compact and balanced, and its big dark eyes and black dot for a nose make up a sweet, well-balanced face. Shih Tzu are compact and solid, and carry themselves with an air of arrogance.
The Maltese stands between seven to nine inches, and weighs under seven pounds. The Shih Tzu is also small, standing from nine to ten and a half inches and weighing from nine to sixteen pounds. The Maltese Shih Tzu as an adult will fall somewhere between the two
Grooming and Coat Care
Maltese Shih Tzu mixes have silky hair which can be trimmed or left to grow long and flowing, depending on how much upkeep the owner is prepared for. They have a double coat, which grows long and luxurious when looked after properly.
Their coat comes in a few color variations and markings, ranging from black, to liver, to red, to silver and quite a few shades in between. Or they can be completely white like their Maltese parent
Maltese Shih Tzu Mix Temperament
Both the Maltese and the Shih Tzu are bred to be companion dogs. As such, a mix is likely to produce a dog that bears the qualities of companion dogs. They will probably be friendly, loyal and outgoing.
Neither of these dogs have the tendency to be aggressive. They are both known to be most interested in spending time with their human companion.
Both breeds are playful, so you will have to keep them occupied with appropriate toys and games. Otherwise you could find some (very small) holes in your backyard, or some puddles in the living room.
As they are so cute and playful, you may also need to keep an eye on children or other dogs during playtime. Being small, they stand the risk of getting injured if play gets rough.
Training
While both these dogs are eager to please their human family, the Shih Tzu is known to be a bit willful. So, while their size could lead you to believe training will be a breeze, you may need patience and persistence to train a Malshi.
As with any breed, it is important to train your dog using positive reinforcement. It is equally important that you socialize your dog as soon as possible. Socialization means exposing your dog to new people, dogs, environments, and situations, ideally from an early age.
When done is a safe and positive environment, your pup learns that new or unfamiliar situations are nothing to be afraid of and learns to enjoy them.
Are Designer Dogs Healthy?
As a designer dog, the Malshi is inadvertently embroiled in a debate that has been raging in the dog breeding world since designer dogs started becoming popular. Advocates of purebred dogs maintain that their lineage can be traced back for generations. Therefore, the size, temperament, and health of a purebred can be reliably predicted. In turn, this ensures the characteristics and abilities inherent in purebreds can be improved and preserved for generations to come.
Advocates of mixed breeds claim that the inbreeding of purebreds often results in serious health problems. Indeed, some scientific studies indicate that dogs with a genetically diverse background are healthier than purebreds.
Breathing Problems and Temperature Control
Because the Shih Tzu is brachycephalic, care will need to be taken with exercise and temperature control if your Malshi has inherited this trait.
Brachycephalic dogs cannot tolerate much exercise and take longer to recover after physical exertion. They also aren't strong swimmers and should never be left unattended near water.
They will also overheat quickly as their restricted airways mean they are not able to effectively cool their bodies down. These factors will need to be taken into consideration when considering the best way to train and exercise a Maltese Shih Tzu.
Maltese Shih Tzu Health
Aside from the problems associated with brachycephaly in the Shih Tzu as discussed above, they are a healthy and long-lived breed. The Maltese also experiences generally good health and does not have breathing issues as it is not brachycephalic.
Splitting the difference, you can expect that a Malshi will have a long life. Be prepared to spend a little bit of time or money grooming a Malshi, as their coat will grow long if left untrimmed.
There is always the chance of foreign objects getting stuck in the fur if it is left untrimmed, which can lead to discomfort or infections. Be careful not to let your Malshi grow too fat. Being companion dogs, they can become accustomed to being couch potatoes. Also, if your dog is brachycephalic, it is even more important that they do not become overweight, as this exacerbates the issue.
Lifespan
You can expect a Maltese to live from 12 to 15 years. A Shih Tzu will usually live from 10 to 18 years of age. Whichever parent your puppy takes after, they will hopefully have a fairly decent lifespan of over a decade.
Adoption
If you like these little dogs, you might consider rescuing one. There are plenty of places you can go to rescue a dog. Your local animal shelter or veterinary clinic is often a good place to start. Some breed clubs may also take mix breeds into their rescue programs.
Be prepared that while rescue dogs are eternally grateful for their forever homes, sometimes they will need a little extra TLC to overcome bad experiences they have had in the past. They may also require some extra medical attention if they are suffering with a condition.
Maltese Shih Tzu Mix Puppies
Malshi dogs have the potential to be bred by unscrupulous people that are looking to make a quick buck. Fortunately there are some great ways to make sure your puppy's breeder has the dog's best interests at heart.
Good breeders only use health tested adult dogs and are happy to show you the certificates. Their dogs will have a clear and strong bond with them, and an obvious purpose beyond producing puppies. They will be treasured pets that take part in activities and share the home with their human families, rather than living in kennels outdoors with several other breeds of dog.