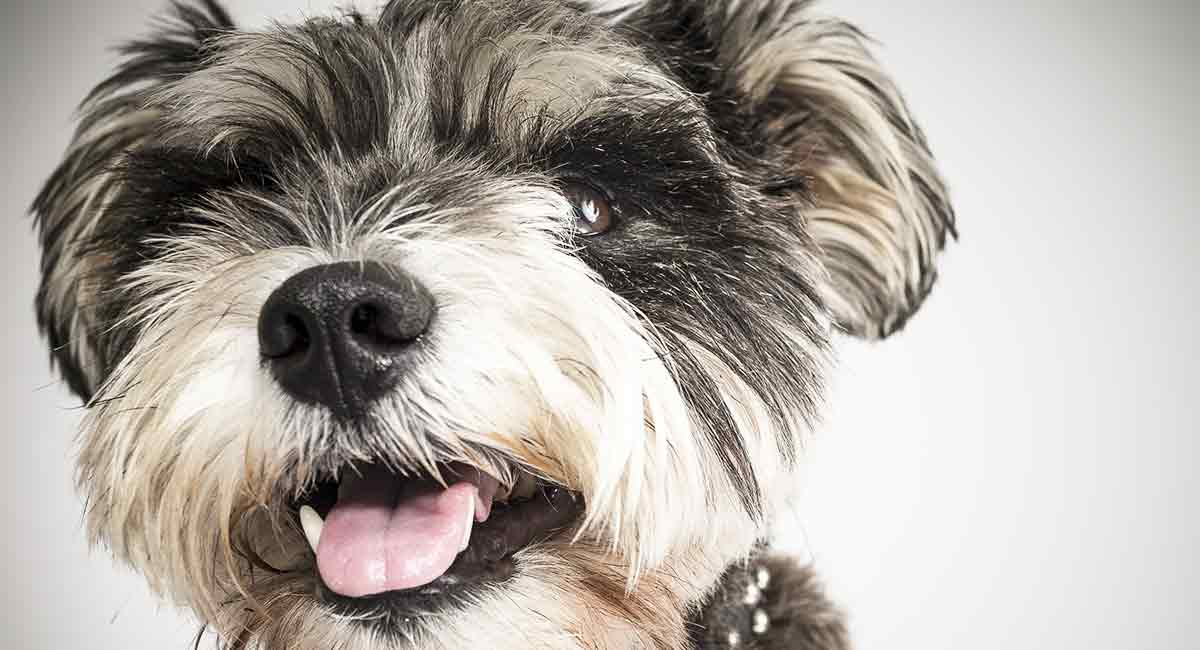 The Snorkie dog is a Miniature Schnauzer Yorkie mix. A hybrid designer dog breed with one purebred Miniature Schnauzer parent, and one purebred Yorkshire Terrier parent. Snorkies are friendly, affectionate, and playful. A small crossbreed, an adult Snorkie can weigh up to 25 lbs, growing to 7 – 14 inches tall. Snorkie puppies are active, energetic but can still make excellent apartment pets or lapdogs. They aren't always great with young kids, but are good with older more sensible children.
Contents
Small dog breeds are very popular because they are easy to keep with you, and need less space than their bigger cousins. The Snorkie combines two cute little breeds into one adorable little package.
Where Do Snorkies Come From?
As for the Snorkie itself, no one really knows the exact date that a Yorkie and Schnauzer first came together to create the designer breed. In fact, Schnauzer Yorkie cross litters probably cropped up for decades without mention before the catchy Snorkie moniker caught on. To get a better idea of where it comes from, we need to take a look at its parents.
You may assume that the Yorkshire Terrier was originally created for English women of Yorkshire who wished to have a cute lapdog to show off in photos.
While this may have eventually gained an element of truth, it's not the beginning of the cute breed's history. The Yorkie was actually created to be a hardy rat-catching dog, small enough to fit into the nooks and crannies of mills and coal mines.
As for the Miniature Schnauzer, it was bred from the Standard Schnauzer as a smaller version of the German farmhand. At first Miniature Schnauzers were destined to become rat catchers too, but like the Yorkshire Terrier they quickly gained popularity as companion dogs instead.
This meant breeders began to favor dogs with great pet personalities, and now the Miniature Schnauzer is known for being more obedient and less fiery than its Giant and Standard sized cousins.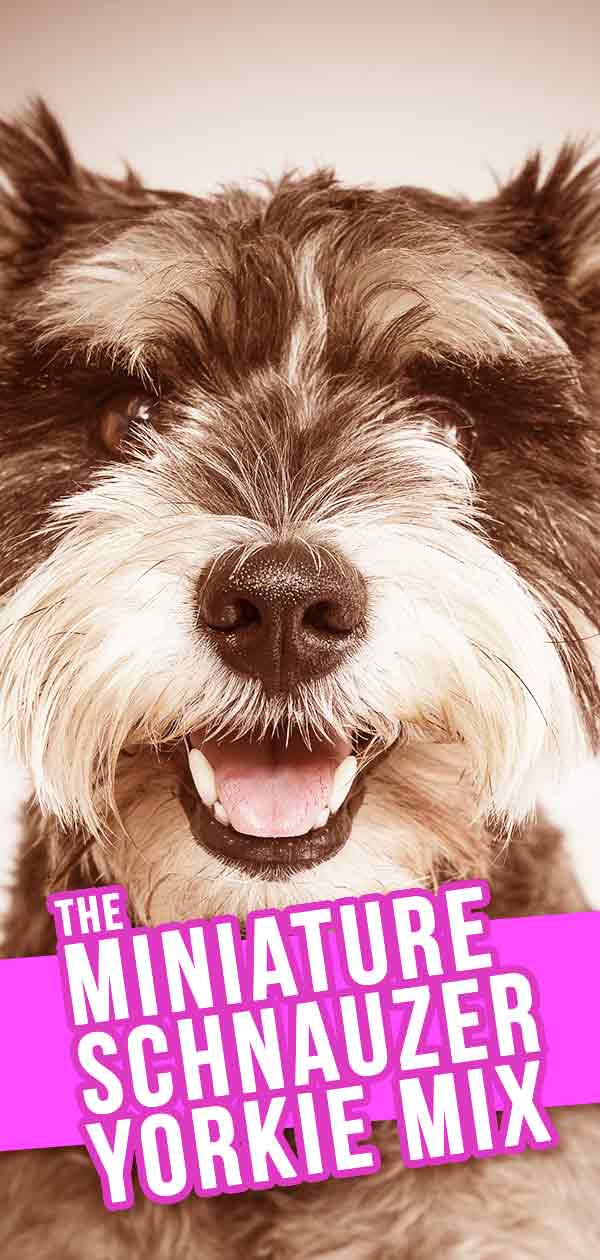 How Big Are Snorkie Dogs?
A Yorkshire Terrier generally weighs about 7 pounds and stands 7-8 inches tall at their shoulder blades. A Miniature Schnauzer is a bit bigger than the Yorkie with a weight range of 11-20 pounds. Miniature Schnauzers are a little less than twice as tall as Yorkies.
With this knowledge you can safely assume that a Snorkie will be somewhere in the range of their parents. Statistically, most Snorkies will end up at a weight halfway between their parents.
Some outliers could be very small like a Yorkie, or as big as a Miniature Schnauzer. There could even be a lot of variation among siblings in the same litter! But they will hardly ever reach 25lbs unless overfed.
Snorkie Coats and Colors
The Miniature Schnauzer muzzle is long and squarish. Their eyes also have a larger range in appearance, but can be much lighter than the Yorkie's. The Yorkie has a shorter muzzle and small V-shaped ears.
As far as coat appearances go, the Yorkie is often seen as the "feminine" side of the Snorkie and the Schnauzer the "masculine" side. The biggest difference between a Yorkie and a Schnauzer's appearance is the length of their coat.
The Yorkie has a long, silky coat that is parted down the middle. Their muzzle is short and their eyes very dark. The Mini Schnauzer coat is very different as it's rough, coarse, and much shorter than the Yorkie's.
As designer dogs are unpredictable in appearance, a Snorkie puppy can have with the color and texture of either parent, and even something in between. One thing Yorkshire Terrier and Miniature Schnauzer coats have in common is a high grooming requirement, and we'll come back to that in just a bit.
Grooming Your Snorkie
Both the Yorkie and the Miniature Schnauzer are high maintenance dogs due to their long coats. Neither dogs' coat sheds much, and nor will a Snorkies, but they will need brushed a few times a week to prevent matting.
If you are brushing, you may still find mats in their coat. Though the breed is hardy, you must still be gentle, and work it out slowly so as not to hurt the pup. You might also find that Snorkie grooming is easier if you get a groomer to clip their hair regularly, or do it yourself.
Snorkie owners tend to bathe their dog every month or two, but this depends on the dog and whether it inherits more traits from the father or mother. Yorkies may need weekly baths while the sturdy Schnauzer can go months without being affected.
Are Snorkies Hypoallergenic?
Both Yorkies and Miniature Schnauzers shed and produce doggy saliva that carries the proteins that cause allergies in sufferers. Your Snorkie might be low shedding, but they are unlikely to be truly hypoallergenic.
Snorkie Temperament
As small as it may be, the Yorkie makes a wonderful watchdog. They are courageous, spicy, and inherit the traits of many other terriers. They have big personalities and can come across as a bit bossy, but the right owner can use this to their strength with the right training.
The Mini Schnauzer is likened to the Yorkie in that it is brave and fierce when it feels that it, or his family members, are in danger. Though both breeds are brave and fiery, neither are aggressive, so Snorkies are usually friendly dogs who get on well with others.
Exercise
Both of the parent breeds for the Snorkie are friendly pups, but they also both require regular exercise. Yorkies are intelligent dogs with a hearty appetite for "work". They need physical and mental exercise everyday. Mini Schnauzers have similar energy levels as Yorkies and a strong prey drive. They do well with predatory games and love to chase their owner for fun.
Training your Snorkie
As far as training goes, the Snorkie can be rather unpredictable.
The Mini Schnauzer is very eager to please and easy to train – they are very responsive and always paying attention. However, the Yorkie can be rather stubborn and requires greater patience.
To get the best behavior from your Snorkie, you'll need to commit to ongoing training with positive reinforcement techniques.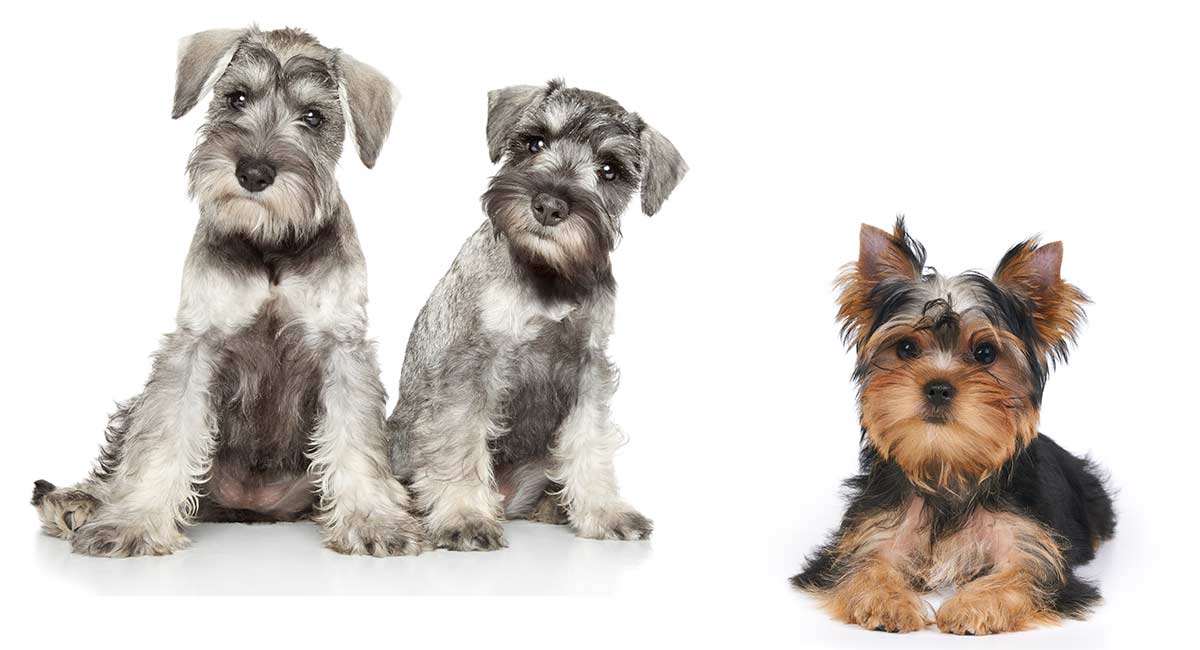 Obedience classes and advanced classes for Snorkie adults will help you with technique, and also give your dog a place to "work".
Snorkie Exercise
Because the Shorkie is one of the smaller mixed breeds out there, it isn't the most high maintenance for exercise.
It will need daily exercise. But this could come in the form of walks and short intense periods of play, like chasing a ball! Keeping a Shorkie fit will contribute to its overall happiness and health.
Are Designer Dogs Healthy?
When someone takes two purebred dogs and purposely breeds them together, it's sometimes known as a designer dog. This is where you find Pomskies, Labradoodles, and the Cockapoo as well.
There are many differences between designer dogs and purebreds, which start with the differences in purebreds and mutts. Pedigree breeders can be scathing of designer dogs, because they have invested many years breeding litters of puppies which consistently and reliably have the best features of their breed.
However, pedigrees aren't always perfect in every way. Many pedigree breeding programmes contain a limited number of individual dogs. If one of those dogs has an inheritable health problem, that problem can easily spread and become fixed in a large proportion of their descendants. Inbreeding is a bigger contributor to canine health problems than cross breeding.
That said, when comparing purebreds and mixed breeds, the mixed breeds are usually less predictable in every way. And that's because there's no way to predict what blend of qualities a mixed breed puppy will inherit from each parent.
Shorkie Health and Care
Yorkshire Terriers and Miniature Schnauzers are both pedigree dogs, which inevitably means that they are more than averagely predisposed to some inheritable illnesses. Some of these illnesses can also be passed on to Snorkie puppies.
These little dogs are prone to
pancreatic problems
heart issues
luxating patellas (slipping kneecaps)
Legge Perthes disease (sudden degeneration of the hip joint)
tracheal collapse (malformed cartilage supporting their windpipe)
portosystemic shunt (where the blood system doesn't serve the liver correctly)
and hypoglycaemia (low blood sugar).
Snorkie Puppies
Since designer breeds aren't recognized by the AKC, getting a Snorkie can be tricky. However, there are many kennels and breeders out there who want to find perfect homes for their pups!
Though appearance is something to consider when finding "your" Snorkie, remember to ask the breeder about any health conditions that the parents have had. This can tell you a lot about the health of their puppies.
It might not drive you away, but if you don't have the time or money to care for a dog who may have hereditary problems, that's understandable.
Dogs are meant to bring us joy, but it's our responsibility as owners to make sure they receive the care that they need!
Finally, bear in mind that sadly the trendy "Snorkie" label means that many puppy farms are currently willing to breed these little dogs in poor conditions to make a quick buck. Use our guide to finding a breeder to make sure you don't accidentally support this cruel industry.