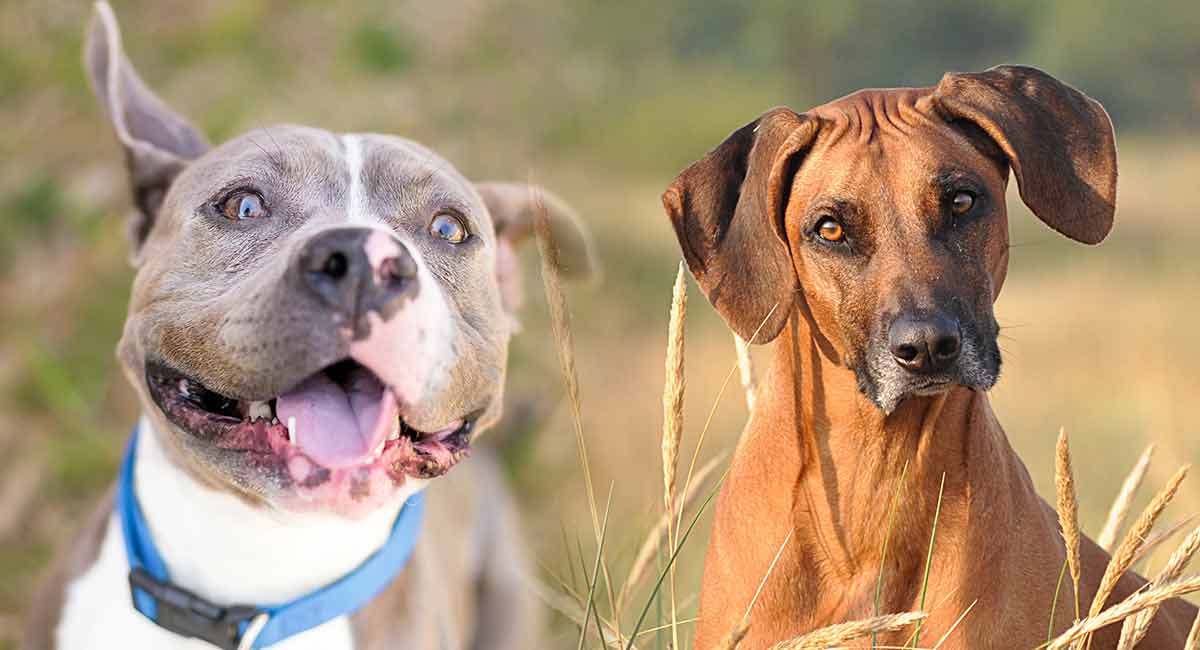 Mixed breed dogs are very popular among dog lovers. For those looking for a brave, powerful, and devoted canine companion, it's hard to imagine a better choice than the Rhodesian Ridgeback Pitbull mix.
Does this handsome mix make a good family pet? Do you have to be an experienced dog owner to handle one?
In this article, we'll look at the Rhodesian Ridgeback, the Pitbull, and the mix. We'll answer frequently asked questions about appearance, temperament and training, health, and how to find a puppy.
Let's start with the history of the two parent breeds.
Where Does the Rhodesian Ridgeback Pitbull Mix Come From?
The Rhodesian Ridgeback has a fascinating history as a courageous hunting and guardian dog from southern Africa.
Dogs brought to South Africa and Rhodesia (now Zimbabwe) by European settlers were crossed with a native dog called the Khoikhoi to create the breed we know today.
The breed gets its name from the distinctive ridge of backward growing hair that runs down the dog's back, a trait of the Khoikhoi.
The Pitbull is descended from strong muscular dogs used in the old blood sports of bull and bear baiting.
Most dog breed experts note that the word Pitbull more accurately describes a breed type, rather than an actual breed.
The American Staffordshire Terrier is the AKC-recognized breed that most closely resembles the Pitbull breed type.
The Pitbull Ridgeback mix is what's known as a designer mixed breed dog. Designer mixes have become popular pets over the past few decades.
Many owners believe that mutts and mixes are healthier than purebred dogs.
We'll look at health later, but it's important to keep in mind that the health of your individual mix depends on the health of its parents. This is why choosing a good breeder is so vital.
Fun Facts About the Rhodesian Ridgeback Pitbull Mix
The Rhodesian Ridgeback is also called the African Lion Dog. The breed was often used in the tracking and hunting of lions and other large game animals.
The movie star Errol Flynn was a fan of the breed, and he's thought to be the first Ridgeback breeder in the U.S.
The Pitbull has long been a favorite family pet in the U.S., famous for its loving devotion to its owners.
Famous Pitbulls include Petey from the Little Rascals series and Champion, the three-legged
Pitbull in Parks and Recreation.
Rhodesian Ridgeback Pitbull Mix Appearance
The Rhodesian Ridgeback is a medium to large sized athletic dog that's a member of the hound group.
Males stand 25 to 27 inches tall at the shoulder and weigh around 85 pounds. Females stand 24 to 26 inches tall and weigh around 70 pounds.
The coat is short and glossy, with a wheaten color that can range from buff to reddish gold. Most Ridgebacks are solid, but some may have some white markings.
The breed standard for the American Staffordshire Terrier calls for a strong muscular dog that stands 17 to 19 inches tall at the shoulder.
The breed standard doesn't list a weight range. However, a 60 to 80-pound range is common for the breed.
The coat is short and glossy and can come in a wide variety of colors and markings.
Expect your Rhodesian Ridgeback Pitbull mix to be a medium to large sized dog with a well-muscled and athletic appearance.
As with any mixed breed dog, height and weight can fall anywhere on the range between both parent breeds.
Your dog's coat will be short and glossy. Many Ridgeback Pitbull mixes will inherit the solid wheaten Ridgeback coloring, but other coat colors and patterns are certainly possible as well.
Rhodesian Ridgeback Pitbull Mix Temperament
Temperament is an important consideration when deciding on any dog, but especially a large powerful one like the Rhodesian Ridgeback Pitbull mix.
Breed experts describe the Rhodesian Ridgeback as an independent dog, loving and protective towards family but somewhat reserved with strangers.
Pitbulls bred by responsible breeders and raised as family pets are famously smart, calm, and devoted.
Unfortunately, some irresponsible owners and breeders did cultivate aggression in certain dogs used for fighting and protection.
How do Pitbulls compare to Ridgebacks when it comes to aggression, and what about the mix?
Dog breed temperament testing data compiled by the American Temperament Test Society shows that 84.2% of tested Ridgebacks passed, while a higher number–85.5%–of American Staffordshire Terriers passed their tests.
There's no biological reason for a Ridgeback Pitbull mix to be aggressive. Proper training and socialization are the key to good temperament in any breed of dog.
Training Your Rhodesian Ridgeback Pitbull Mix
What are the best methods for training a large, powerfully built dog like the Rhodesian Ridgeback Pitbull mix?
All breeds benefit from good training using positive reinforcement techniques (never punishment) and socialization with other dogs and people, beginning in early puppyhood and continuing into adulthood.
There are a few special training concerns for the Rhodesian Ridgeback Pitbull Mix.
The Ridgeback has a strong prey drive, which means that your mix may be prone to chasing small kids and animals. They can also be strong-willed and generally do best with firm and confident owners.
The Pitbull is known as a smart and eager to please dog, which can make training easier, but the breed's strength and tendency to chew and dig also require a confident owner with a firm but gentle hand.
What About Exercise?
Both parent breeds are active and athletic dogs that need plenty of exercise. Ridgebacks are especially fond of running and can make excellent companions for owners who enjoy hiking, jogging, and biking.
Pitbulls enjoy participating in play and exercise sessions with their owners. They do not do well left alone in the yard with no human interaction.
Expect your mix to be an energetic dog that enjoys regular play and exercise sessions. Active, involved owners are a great match for the Ridgeback Pitbull mix.
You can also enroll your dog in organized canine sports activities like agility and obedience trials.
Rhodesian Ridgeback Pitbull Mix Health
Will your Ridgeback Pitbull mix be healthy? Both parent breeds can suffer from some inherited health conditions.
Like other medium to large sized dogs, both can be prone to the joint conditions called hip and elbow dysplasia.
Dogs with Ridgeback ancestry can inherit a condition called dermoid sinus, which causes tunnels to form in the skin and connect to deeper tissues (including the spine in serious cases).
The AmStaff can be prone to a serious degenerative neurological disorder called cerebellar ataxia.
Since your mix can inherit some potentially serious health issues from both sides, it's
important to work with only responsible breeders who health test their dogs for genetic health disorders.
We'll talk more about how to do this a bit later.
Do Rhodesian Ridgeback Pitbull Mixes Make Good Family Dogs?
The Ridgeback Pitbull mix can make an excellent family pet for the right owners, but this mix is not for everyone.
Active adults and families with older children are a better match for this strong, large mix than seniors or families with small children.
Experience owning and training dogs with independent and strong-willed personalities is also a plus. The Ridgeback Pitbull mix may be more than a novice dog owner can handle.
Rescuing a Rhodesian Ridgeback Pitbull Mix
Can you rescue a Ridgeback Pitbull mix? It is possible to find an adoptable Ridgeback Pitbull mix, especially if you are interested in rehoming an adult dog.
Many potential owners will seek out puppies from breeders. Here are some tips on how to find a healthy puppy.
Finding a Rhodesian Ridgeback Pitbull Mix Puppy
Avoid getting your puppy from an online advertisement or a retail pet store. Many dogs from these sources come from for profit breeding operations known as puppy mills.
The best way to find a healthy puppy is to work with a responsible breeder who health tests all breeding stock for inherited health conditions.
Health testing can take the form of either DNA tests or physical exams performed by veterinary specialists.
All test results should be shared with clients and filed with a canine health registry like the Orthopedic Foundation for Animals.
Raising a Rhodesian Ridgeback Pitbull Mix Puppy
Your puppy will require good training and socialization to ensure that she grows up to be a well behaved full-sized Rhodesian Ridgeback Pitbull mix.
Consider taking your dog to formal puppy training classes, especially if you lack experience with larger dogs that can have an independent streak.
Routine care of your new puppy will also require feeding your dog a quality diet and getting her used to regular grooming, including baths, ear and tooth cleanings, and nail trimmings.
Rhodesian Ridgeback Pitbull Mix Products and Accessories
What should be on your shopping list when you get a new dog? Your checklist should include:
Food and water bowls
collar and leash
crate and carrier
dog bed
grooming supplies (shampoo, brush, nail trimmer, toothbrush).
Because Pitbulls can be prone to chewing, getting your Ridgeback Pitbull mix some quality chew toys is a must.
If your mix inherits the Rhodesian Ridgeback's love of running, it pays to invest in a good strong harness as well.
Pros and Cons of Getting a Rhodesian Ridgeback Pitbull Mix
The Rhodesian Ridgeback Pitbull mix can be a lot of dog for an inexperienced or timid owner.
But this dog can be a great choice for a confident, experienced owner who enjoys the challenge of caring for an energetic, intelligent, and strongly built dog.
Similar Rhodesian Ridgeback Pitbull Mixes and Breeds
Love the handsome looks of the Ridgeback Pitbull mix but feel a little intimidated at the thought of caring for a large, active, and muscular dog?
You can consider some Rhodesian Ridgeback "lookalikes" such as the Vizsla or Weimaraner.
Breeds similar to the Pitbull include the American Bulldog, Boxer, Keeshond and Bull Terrier.
Or you may want to consider other mixed breeds like the Bullmastiff Pitbull mix or the Pitbull Lab Mix.
Rhodesian Ridgeback Pitbull Mix Rescues
If you are interested in rescuing a Rhodesian Ridgeback Pitbull mix, check with your local shelters and rescue groups for dogs that they have identified as the mix.
Shelters and rescues do their best to identify the dogs in their care, but keep in mind that breed identification is not always accurate, especially without DNA testing.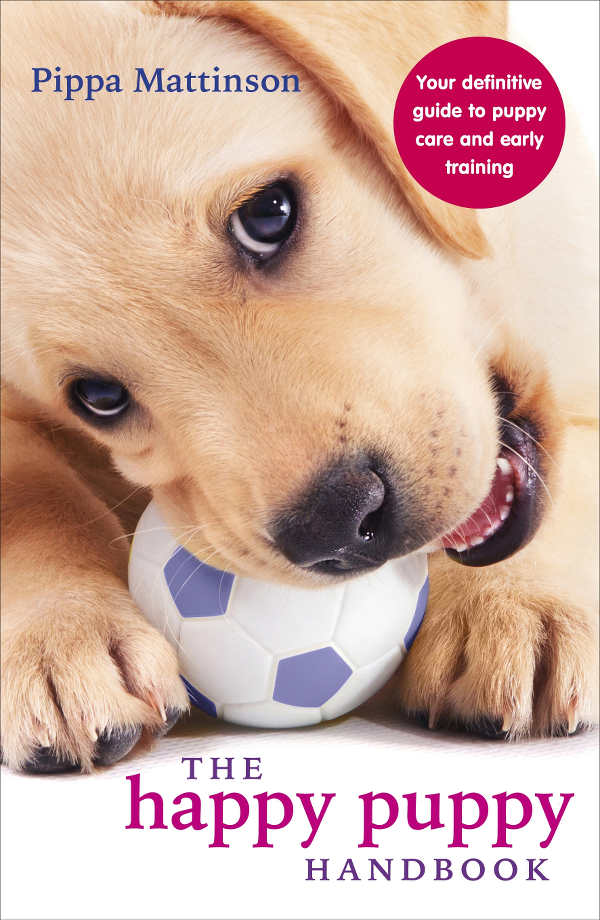 Contact breed-specific rescue organizations for both the AmStaff and the Ridgeback.
The Rhodesian Ridgeback Club of the U.S. lists several Ridgeback rescues on their website. There are many Pitbull rescue groups in the U.S. and it's easy to find one in your area.
Rhodesian Ridgeback Rescue lists available dogs in Canada on their website. As in the U.S., Canadians can find many Pitbull rescues in their geographic area.
In the U.K., you can check out the Rhodesian Ridgeback Welfare Trust for adoptable dogs. Australians can search the Facebook page of Rhodesian Ridgeback Rescue Australia.
The American style Pitbull is not as popular in the U.K. and Australia as it is in North America, but dog lovers in these countries can consider rescuing a Ridgeback crossed with a similar dog, such as the Staffordshire Bull Terrier.
Is a Rhodesian Ridgeback Pitbull Mix Right for Me?
The Rhodesian Ridgeback Pitbull mix is a large, powerful, and handsome dog. Is it the right choice for you?
If you do not have a very active lifestyle, you should look at other mixes.
The Ridgeback Pitbull mix thrives with active, involved owners who have the time and dedication needed to own this mix.
Proper training and socialization from puppyhood are essential. Be sure to monitor your dog around other pets and small children.
Choose a responsible breeder who health tests their dogs for inherited health conditions and avoid buying a dog sight unseen from an online ad.
Do you share your life with a Rhodesian Ridgeback Pitbull mix? Did you adopt your dog from a shelter or rescue group? Tell us about your experiences in the comments below!
References and Resources
Rhodesian Ridgeback: Illustrations of the Breed Standard as Elaborated. Rhodesian Ridgeback Club of the United States, 2003.
Official Standard of the American Staffordshire Terrier. American Kennel Club, 1936.
ATTS Breed Statistics as of December 2017. American Temperament Test Society, Inc.
Arakaki, M. Let Us Prey. Baxter Creek Veterinary Clinic.
Cachon, T. et al. Risk of Simultaneous Phenotypic Expression of Hip and Elbow Dysplasia in Dogs: A Study of 1,411 Radiographic Examinations Sent for Official Scoring. Veterinary and Comparative Orthopaedics and Traumatology, 2010.
Rhodesian Ridgeback Dermoid Sinus. Universities Federation for Animal Welfare, 2011.
Olby, N et al. Cerebellar Cortical Degeneration in Adult American Staffordshire Terriers. Journal of Veterinary Internal Medicine, 2004.