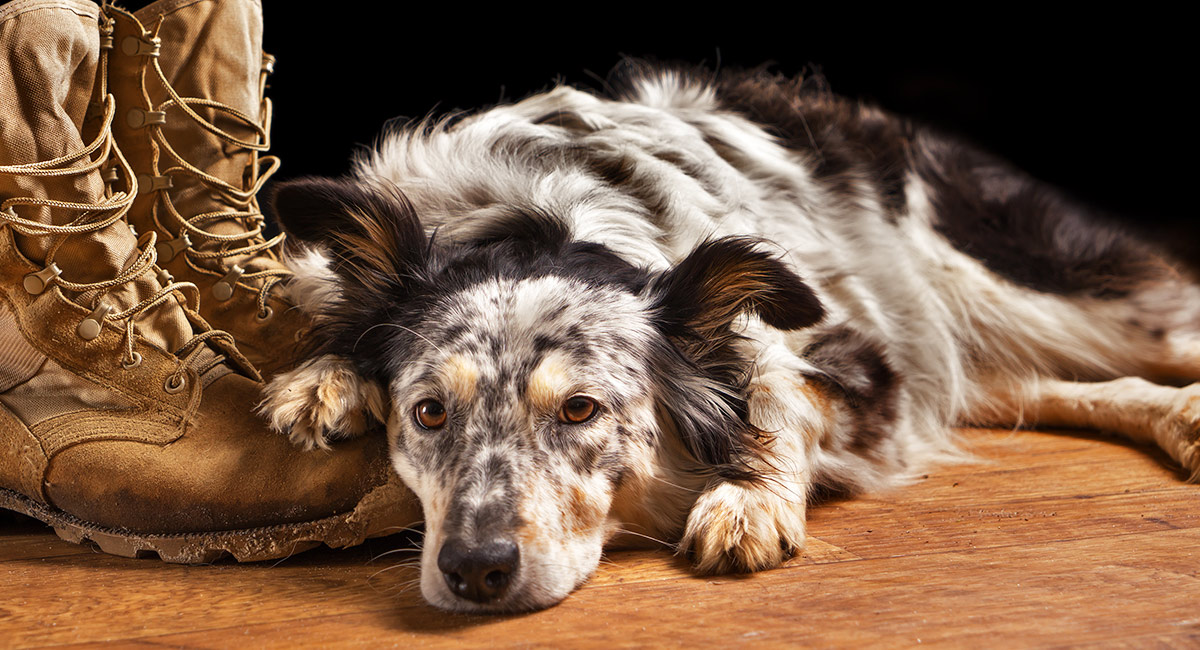 The Border Collie Australian Shepherd mix combines two intelligent, energetic and affectionate breeds into one fun, active package. Known as the Border Aussie, this clever cross is medium sized with a long, glossy coat and an expected lifespan of around 13 years. These responsive, cooperative dogs suit active families that love doggy sports like agility, tracking or herding.
Contents
This mix comes from two similar breeds, defined as members of the herding group. Individually, both breeds have a rich history as working out on farms and ranches. Helping their owners by, you guessed it, herding. The so-called "sheepdog" has historically been identified as the ideal dog to direct and protect flocks for farmers.
Despite the passage of years since their arrival as working dogs, both breeds still show behaviors clearly tied to their history.
Border Collie Australian Shepherd Mix Temperament
Both Australian Shepherds and Border Collies tend to be fairly similar in temperament. Their personalities are closely tied to their identities as "herding" dogs. Both breeds are characteristically smart and bursting with energy. As a result of this combo, both types are often described as "work oriented," even "workaholics"!
For both of these natural herder-types, one cannot speak about temperament without energy levels. Both breeds have the energy to work and play hard, and enjoy doing so. When not provided a sufficient outlet for their energy, a Border Collie Australian Shepherd mix will become bored and frustrated. This can be expressed in destructive behavior around the house.
Both Border Collies and Australian Shepherds thrive emotionally and mentally when their instinctual drives to herd and work are met. They also thrive in a home where there is someone around all day, who has time for regular interaction.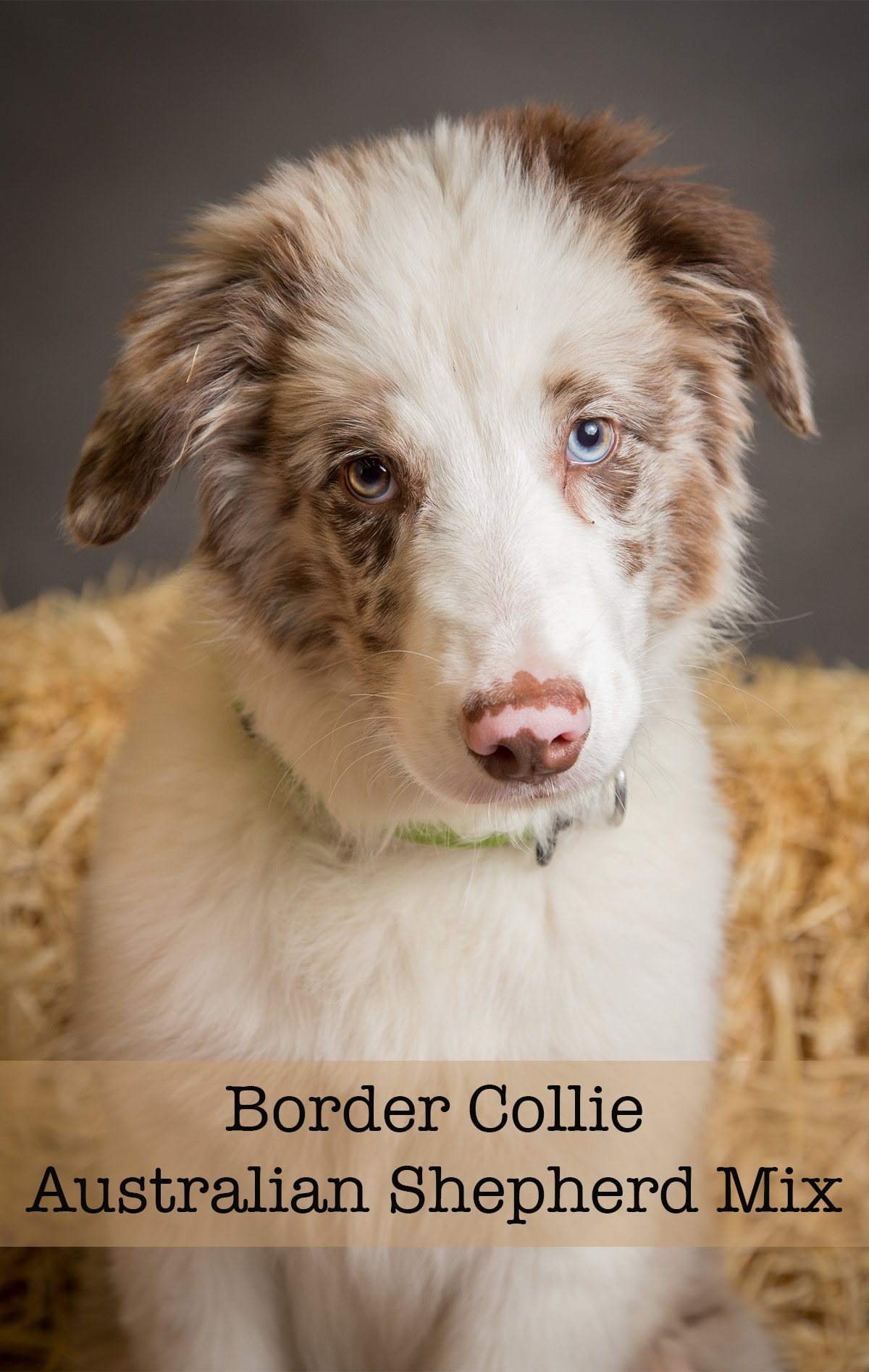 Border Collie Australian Shepherd Mix Exercise
Proper exercise for a Border Collie Australian Shepherd mix is arguably one of the most important considerations before adoption. As stated earlier, both parent breeds are defined by their high energy levels.
Border Collies and Australian Shepherds share a daily need for exercise beyond a walk in the park. These striking features lend themselves to the reality of a breed that requires a near tireless owner. One that can keep up with their canine companion.
This breed is not ideal for homes who are not interested in keeping active. It should be a deciding factor in pursuing a Border Collie Australian Shepherd mix.
They need to be given plenty of other stimulation both mental a physical. Agility, fetch, sporting dog training and flyball are great choices. When considering a Border Aussie mix, these ideas can be used as a jumping-off point for a healthy, happy lifestyle.
Australian Shepherd and Border Collie Mix Training
Obedience training is, generally speaking, a crucial part of owning a herding dog.
The idea itself may seem daunting, conjuring up images of frustration and anxiety on your part. However, both Border Collies and Australian Shepherds are eager to please.
When working with any new pup, training has a lasting impact of their future behavior. It is also vital to keeping your Border Collie Australian mix from getting bored.
Use only positive reinforcement training with these super clever dogs, and they will reward you with a strong bond and great companionship.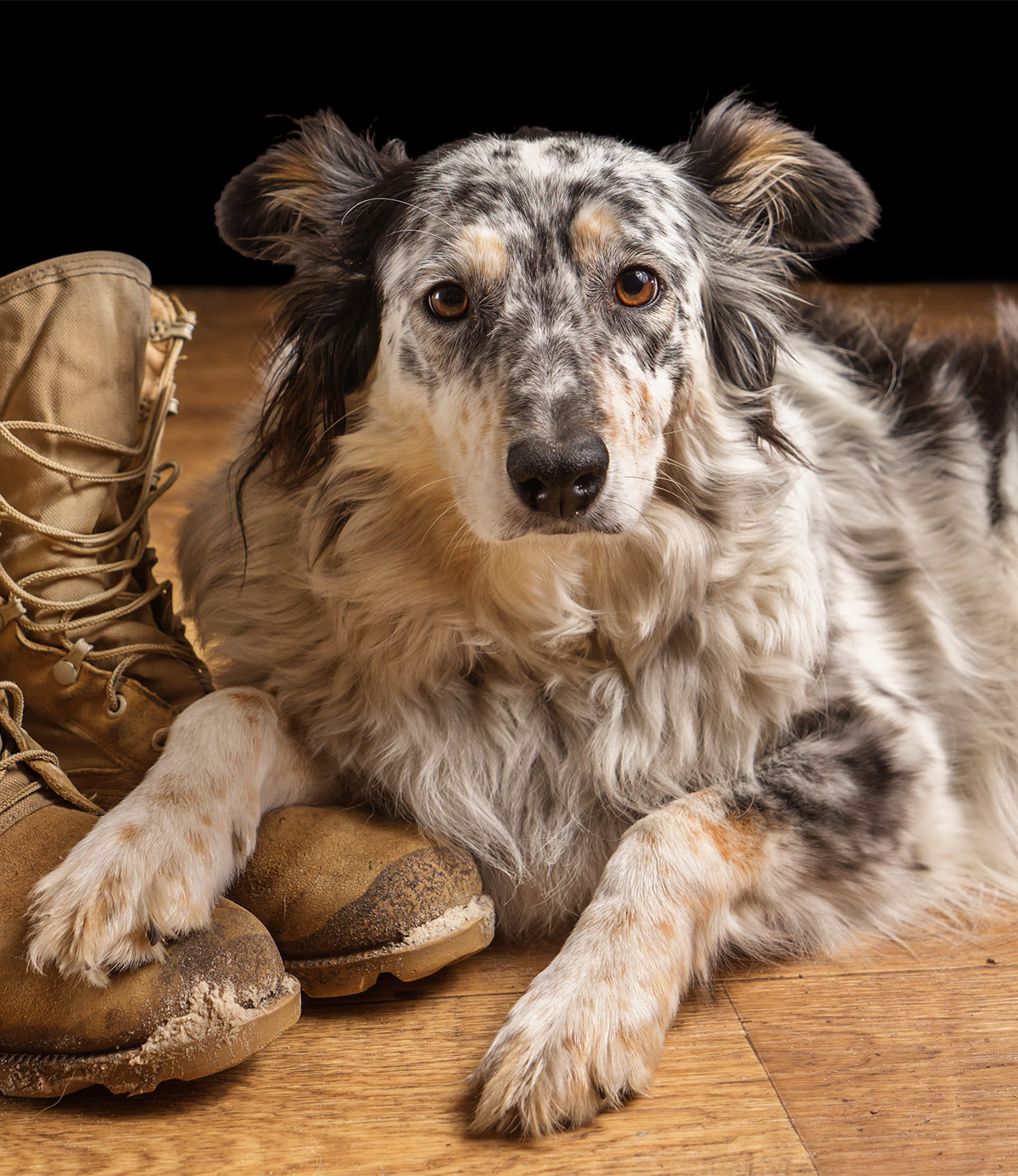 What Will They Look Like?
Border Collies typically run 19-22 inches for males and 18-21 inches for females. In terms of weight, males range 30-45 pounds, while females typically place within the 27-42 pound range.
Australian Shepherd males usually stand 20-23 inches tall, while females range 18-21 inches. In weight, males are generally within 55-70 pounds, while females range 35-55 pounds.
Border Collie Australian Shepherd Mix Coats
The Border Collie Australian Shepherd mix will have a fairly long coat, in a range of potential color combinations. Australian Shepherd coats are thick and medium length, in black, blue merle, red merle and red with or without white markings.
That might sound like a lot, but that's nothing compared to the variety of coats possible for Border Collies. They share some of the same color possibilities as Australian Shepherds, such as black, blue merle and red merle.
But also have a number of others, such as white and red, white and black, sable and others. Depending on length and thickness, different types of dig coats require different types of care.
Coat Care and Grooming
For the Australian Shepherd, a slicker brush to manage its thick, medium length coat. Border Collies may require a pin brush instead. Your Border Collie Australian Shepherd mix could be either.
One commonality between the breeds is that proper grooming is crucial in managing their active outdoors lifestyles. Australian Shepherds are recommended to have an "occasional" grooming schedule, while Border Collies should be groomed on a weekly basis.
Regardless, they both need proper care from a loving owner to make sure the great outdoors stays outdoors. Both breeds receive the general recommendations for dog care. Such as consistent nail trimming, checking ears to avoid infection, and brushing teeth regularly.
Such suggestions will certainly be a consideration for a mix-breed as well. Meeting the mixed-breed pup's parents may help eliminate some of this seeming chaos in coat appearance and consistency outcomes.
But this is arguably the area with the most differences between Border Collies and Australian Shepherds.
Border Collie and Australian Shepherd Health
When it comes to Australian Shepherds and Border Collies, there are several common diseases to watch out for. Australian Shepherds are prone to thyroid disease, cancers such as hemangiosarcoma and lymphoma, cataracts, elbow dysplasia, and epilepsy.
Border Collies are considered healthy in general, but there are several diseases to watch out for. Similar to the Aussie, they are prone to hip dysplasia and epilepsy. They can also be prone to deafness, especially those with the merle gene.
Additionally, both are susceptible to Collie Eye Anomaly, an eye disease attributed to other similar breeds. Proper testing of the parents should be done, to hopefully rule out any offspring's exposure to these common, serious diseases.
Both Border Collies and Australian Shepherds can carry the merle gene. Double merle puppies can be blind, death or even born with no eyes! For this reason breeders should never put two merle dogs together, even from different parent breeds.
Lifespan
The lifespan of Border Collies and Australian Shepherds tend to fall within a similar range. For the Australian Shepherd, the average life expectancy is 13 to 15 years. For the Border Collie, the norm is 13.5 years.
As the Border Collie Australian Shepherd mix is the offspring of these two breeds, you can expect the mix to fall within this general range.
Border Collie Australian Shepherd Mix Puppies
If you're considering a Border Aussie mix, a puppy may be the best way to go. You can have full oversight of training your Border Aussie, providing the best chance to thoroughly develop an affectionate, trusting relationship. And having fun with a pup likely to be a highly intelligent and eager learner.
Border Collie x Australian Shepherd Breeders
When considering a breeder for a Border Collie Australian Shepherd mix, make sure you are as thorough as possible when getting all the essentials about the mix's parents.
Both Border Collies and Australian Shepherds have shared possible disease susceptibilities.
Make sure your breeder provides proof of low hip and elbow scores, as well as a clear eye test carried out less than a year ago. This is as a minimum.
With the Border Aussie mix, you're likely to find a pup that shares the energy, affectionate, intelligence and trainability of the Border Collie and Australian Shepherd.