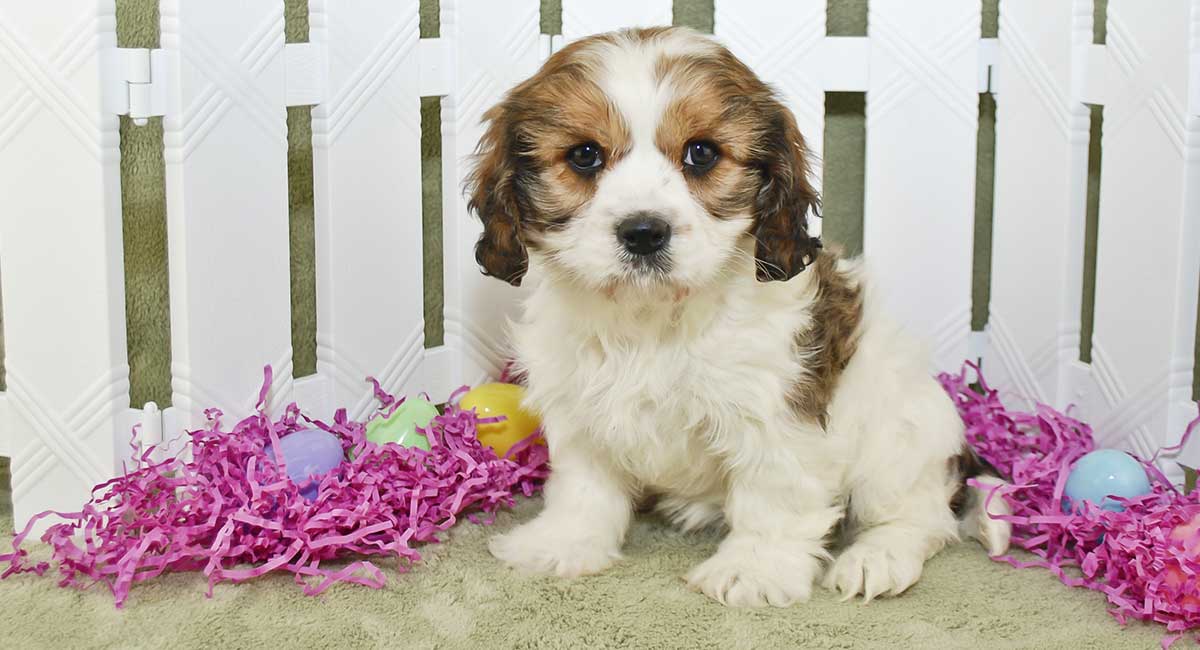 The Cavachon dog is a Cavalier Spaniel Bichon Frise mix breed. With two small parents, this little dog ranges between 15-20 pounds and stands about 12 inches tall.
Generally this breed is affectionate and intelligent. They often have a white coat with various markings.
Personality and exact appearance will differ depending on the dog, but this popular mix makes for a great lapdog and loyal companion. However, it does face some health issues.
What's In This Guide
Cavachon FAQs
Our readers' most popular and frequently asked questions about the Cavachon dog.
Cavachon: Breed At A Glance
Popularity: Cavalier Spaniels are number 18 and Bichon Frise number 46 on the AKC's list of the most popular dog breeds
Purpose: Companion animal
Weight: Up to 20 pounds
Cavachon Breed Review: Contents
History And Original Purpose Of The Cavachon
A Cavachon is a small and popular mixed-breed dog.
It's a cross between a Cavalier King Charles Spaniel and a Bichon Frise.
These are both popular breeds in their own right. So let's first take a look at the origins of the parent breeds.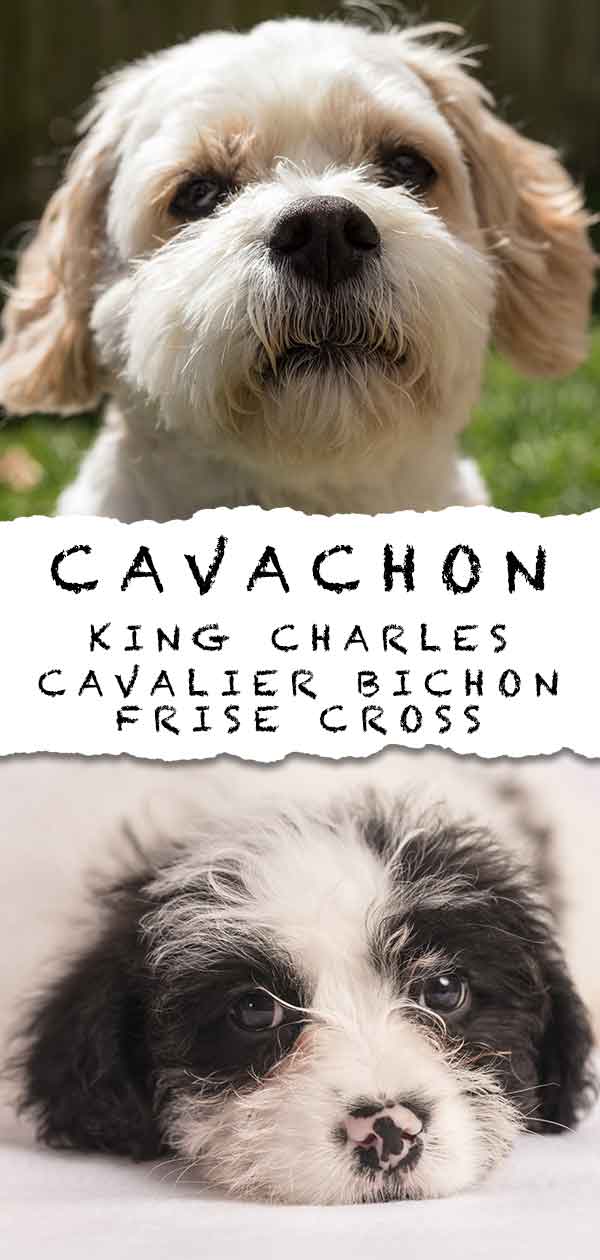 Cavalier King Charles Spaniel
The Cavie is a small pooch with a mid-level energy. It's hard to not use the word "pretty" when we talk about this affable yet active little dog. The breed hails from the United Kingdom, and has a long and storied history.
One of the most important factors, for the sake of your Cavalier Bichon mix, is that of certain breeding choices. In the latter part of the 1600s, flatter faces were introduced into the Cavie breed. And these, in turn, led to some serious health problems. We'll talk about those below. You can also read about them in our Cavalier pages.
The Kennel Club gave recognition to the breed known as the Cavalier King Charles Spaniel in 1945. It would take another decade before the breed was first recorded in America, and it was not recognized by the American Kennel Club until 1995.
In recent years, the Cavie's popularity has seen a steady increase around the globe. Cavalier King Charles are now the 18th most popular canine in the US, up from 25th in 2008.
They were also the 4th most popular breed in Australia in 2009, and the 6th most popular pooch in the UK in 2007.
Bichon Frise
You would be forgiven for thinking that the impossibly adorable Bichon Frise resembles a super-sized cotton puff! In French his name means "fluffy white dog"—an apt description if ever there was one. With his dark round eyes and button nose, this fellow makes a delightful first impression.
The Bichon Frise is descended from the Water Spaniel, and has roots in the Mediterranean. But its origin story is a bit hazy.
Both the Spaniards and the French took an instant liking to the mild-mannered little dog. He was introduced in France during the Renaissance and was featured in Francisco Goya's artwork.
The Bichon arrived on US shores in the mid-1950s, where the breed enjoyed immediate success. Roughly 25 years later, the Bichon was introduced in Australia.
This cheerful and agile little fellow has a zest for life and is happy to release his energy in measured spurts. Some owners compare the Bichon's energy bursts to the way a cat suddenly takes to zipping full-speed around the house!
Cavalier Bichon Mix
The first Cavachons are believed to have been bred in the US in the late 1990s. They're a popular teddy bear dog.
This mix was created with the intent of forming a small, friendly, sweet-natured dog with a hypoallergenic coat.
There are some characteristics that many Cavachons will tend to have in common.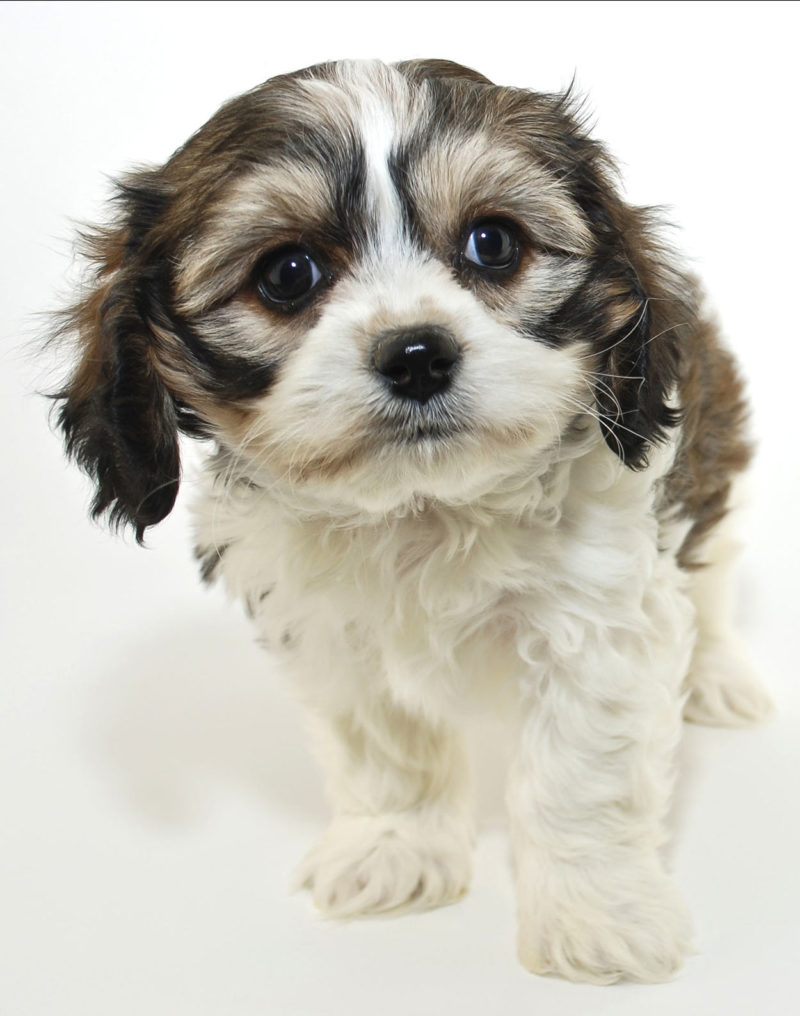 However, as with all mixed breeds, it's impossible to say for certain which parent the Cavalier Bichon mix will more closely resemble.
Fun facts About Cavachon Dogs
Cavachons are still on the rise in terms of popularity. But the parent breeds have been well known for quite some time!
Celebrity owners like Martha Stewart and Susan Sarandon have beloved Bichon Frise pups.
And historical celebrity owners who have had Cavalier King Charles Spaniels include such luminaries as Frank Sinatra and Ronald Reagan!
With mixed breed dogs becoming ever more popular, we're sure it's only a matter of time before this adorable Cavalier Bichon mix becomes a new trend.
Cavachon Appearance
Breeders cannot be sure what the exact appearance of any particular Cavachon will be like. At least, they can't predict this with any great degree of certainty.
Because this is a mixed breed, it's hard to know whether the puppies will be more like one parent or more like the other.
We know that Cavachons inherit some qualities from each parent. But will these qualities be the cream of the crop, from the bottom of the barrel, or a combination of both? No one knows beforehand!
But we can get an expected range by looking at the parent breeds.
Cavachon Size
One of the first questions a potential dog owner wants to know is, "How big will he get?" We can narrow down a Cavachon's full-size dimensions by taking a look at his parents.
The American Kennel Club places the Cavalier King Charles Spaniel in the Toy category due to its petite stature. On average, a Cavie weighs between 13 and 18 pounds.
These little dogs only reach about a foot in height, which makes them excellent lap dogs!
The Bichon Frise, meanwhile, ranges from 10 to 20 pounds of pure, fluffy white goodness. This little dog stands around 10 to 12 inches tall on average.
The size of a Cavachon will vary depending on which parent he favors, but a typical pooch will be a foot tall and weigh anywhere from 15 to 20 pounds.
Cavachon Coat
Cavies are blessed with a silky smooth coat that requires weekly brushing, but not an abundance of grooming, to keep her looking elegant and proper.
Bichon hair is low-shed (very nearly no-shed), but requires regular brushing to prevent mats.
Your Cavachon is likely to have a more tousled coat than their Cavalier parent. But texture may vary from one puppy to another. The same goes for the coat color.
Cavachon Color
The Cavalier's lustrous coat come in four colors:
Black and white with tan markings
Black with tan markings
Ruby
Blenheim, a white coat with chestnut markings.
The Bichon Frise is a white breed.
So, overall, the Cavachon's fur comes in mainly white. But it may have a variety of markings.
Cavachon Temperament
As with other features, it's impossible to say for absolutely certain how much a Cavachon will take after Cavalier temperament or Bichon temperament.
However, the two distinct breeds do have some things in common. It's fairly certain that the Cavachon will inherit these tendencies.
Cavalier Temperament
Loving and lovable, Cavalier King Charles Spaniels are gentle and cheerful dogs. They generally get along well with children as well as other dogs.
Despite their loving ways, some Cavies retain the desire to hunt and chase. But they can be trained early on to "live and let live," with the smaller animals they may meet.
When Cavie genes are combined with the genial Bichon Frise DNA, a friendly pet is likely. The Cavachon is not going to make a reliable guard dog!
Cavies are a reasonably intelligent breed, imbued with a canine's natural sense of curiosity, but would be quite content to be their human's lap dog.
Their obedient and sweet nature makes them devoted special needs canines.
Bichon Frise Temperament
The Bichon is known for its intellect. They love the attention that comes with "performing."
Early training is highly recommended to help the Bichon learn the difference between seeking negative vs positive attention!
But their desire to please their owners make them very amenable to training.
Cavachon Dog
Like its parents, the Cavachon is a playful and intelligent dog who, according to owners, does well with children and other dogs.
He will enjoy going on walks with you now and then, but will also be quite happy as a lapdog.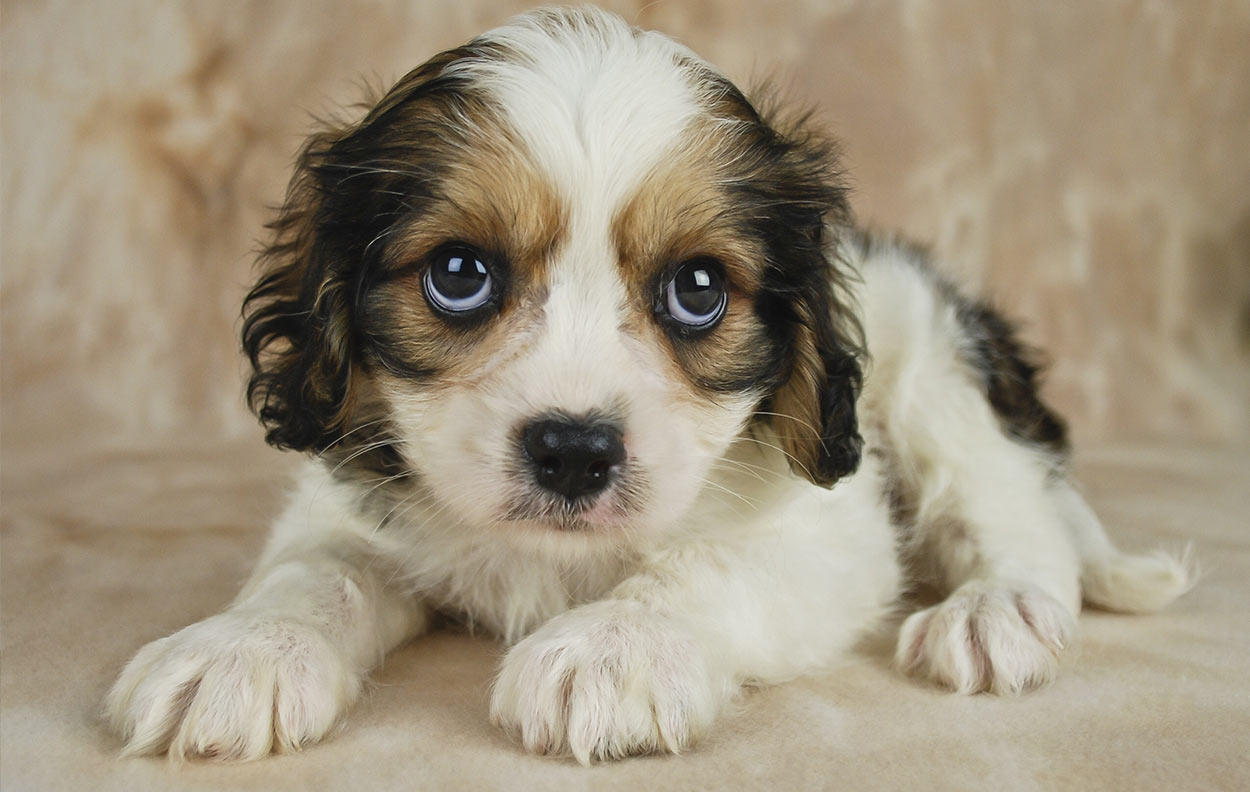 Also like the parent breeds, Cavachons have a reputation as people pleasers.
They are known for their ability to adjust to a variety of living situations (urban, rural, big family, etc.).
Training And Exercising Your Cavachon
A Cavachon pup should be trained and socialized early to get them used to contact with different people, animals and environments.
Cavachons are adaptable to various physical and exercise regimens, and will dutifully go on walks with his owner. But, being a couch potato also suits him just fine!
This pooch has a medium level of energy and does well with a daily walk alongside its human.
With early and positive training, the Cavachon dog should be an affectionate and gentle companion.
For more specific training guides, take a look at our articles on puppy potty training and crate training.
Cavachon Health And Care
Each breed of dog tends to be prone to certain health issues. And while mixed breed dogs may avoid some of the more definite problems that plague their purebred relatives, no dog is completely immune to the possibility of heritable health matters.
This means that there are certain things that you will want to watch for and health test for, even when it comes to your Cavalier Bichon mix.
Cavalier Health
Unfortunately, Cavalier King Charles Spaniels are prone to a couple of serious health problems, which in turn may affect Cavachon pups.
Syringomyelia is a grave condition in which the skull cavity is simply too small to adequately contain the brain. This leads to bulges (herniation) of the brain into the spinal cord, resulting in a blockage of spinal fluid. In turn, this results in increased pressure on the spinal cord.
It is a sad fact that Cavies are subject to syringomyelia precisely because they have been bred to have relatively small heads.
Symptoms of syringomyelia can appear as early as six months of age. These include scratching, biting and licking at paws, body shaking, and cries of distress due to major pain in the neck, head and shoulders.
Furthermore, the most common cause of death in Cavies is mitral valve disease. This heart condition is typified by heart murmurs and can result in eventual heart failure. Symptoms can appear early in life, and the majority of Cavies may develop the condition prior to age 5.
Inherited blood disorders, and hip and knee dysplasia, are other worrying and common medical conditions common to Cavies, and by extension Cavachons.
Bichon Frise Health
In addition to the health risks of the Cavie, the Cavachon may also inherit the medical profile of the Bichon Frise.
The Bichon is prone to cataracts and patellar luxation, as well as dental issues that require vigilance on the part of the owner.
Like the Cavie, Bichon ears also need regular checking and maintenance to prevent wax and debris build up that can lead to infection.
Cavalier Bichon Mix Health
For some of the larger health problems that face this mix due to heritable issues, health testing is available.
Attention must especially be paid to the risk of syringeomylia in Cavachons. The vast majority of Cavalier King Charles Spaniels have the skull abnormality that causes syringeomylia. MRIs can detect the condition in Cavies, and responsible breeders use genetic testing to inform their breeding decisions.
If your pup does develop syringomyelia, medication and surgery are treatment options. However, medication will only address the symptoms of the illness, and cannot stop the condition from advancing.
Surgery is an expensive and rare option as not all vets are practiced in the operation. Even with an improvement in symptoms post-surgery, there is no guarantee that your Cavachon will remain symptom-free over the long run.
Experts have recommended that Cavies be subject to testing for both syringeomylia and mitral valve disease, but this is only a recommended option.
Cavachon Lifespan
How can one realistically gauge Cavachon life expectancy?
With a mixed breed, we can hope for a reduced risk of some of the worst health problems of the parents. But it isn't always possible to avoid them altogether. Smaller dogs do tend to have a longer lifespan than much larger breeds, but these are generalizations.
Bichons enjoy an average lifespan of over 10 years, usually topping out at around 15 years. Cavalier King Charles Spaniels may reach about 14 years.
It's impossible to predict lifespan with any accuracy. But a healthy Cavachon should live for somewhere between 10-15 years.
Grooming
Your Cavachon will require at least weekly brushing to keep his coat in good shape.
Owners are advised to trim the medium-to-long length curls as they grow in. You may even need to have your Cavachon clipped by a dog groomer from time to time.
Chances are that your pup will shed, albeit minimally. Some dogs may be suitable for those with mild allergies, but there is no way to be sure.
Are Cavachon Dogs Hypoallergenic?
The Cavalier King Charles Spaniel is not a hypoallergenic breed. But the Bichon Frise is prized for its low-shed, hypoallergenic fur.
For this reason, the Cavachon dog is often described as being hypoallergenic.
In fact, the concept of "hypoallergenic" should be considered to be a trait that falls somewhere along a sliding scale. Some dogs, like Poodles, are considered to be very hypoallergenic because they provoke a relatively low allergic response rate.
However, no dog is 100% hypoallergenic. And you can find out more about hypoallergenic dogs and their suitability for people with allergies in this article.
Different animals will provoke different levels of allergic response, depending on the sensitivity of the owner.
Do Cavachons Make Good Family Pets?
Overall, most Cavachon parents report that their little bundles of joy are lively and affectionate, playful and good with children.
But it's also wise to keep in mind the potential health risks that accompany the Cavachon.
It's also important to remember that these dogs really do love their humans, which means that they should not be left completely alone for long periods of time.
So they are well suited to homes with family members who can and will take the time to play with them and spend time with them.
Rescuing A Cavachon
Pet adoption is a positive experience for both animals and owners. Who doesn't want to be a part of a feel-good story in which a needy pet is matched with a loving home?
One caveat with adopting or rescuing a Cavachon dog has to do with the serious medical conditions attached to these lovely and intelligent animals.
The Cavalier King Charles Spaniel has an undeniably serious medical history. Cavachon pups are prone to the same medical conditions, such as syringomyelia and heart problems.
A responsible breeder will have health certificates for her pups, but this isn't always the case for rescue animals.
However, if you are able to care for a dog regardless of what health issues may come up, then this mix is definitely worth looking for! You can start with this list of rescues here.
Finding A Cavachon Puppy
Ideally, a designer dog like the Cavachon is bred with the intention of combining the "best of both worlds." This means animal with both increased health as well as the most sought after traits of two separate breeds.
So-called designer dogs are crossbred for a plethora of reasons. Often for fun or to make money. Sometimes for both! But some breeders are only focused on the money aspect.
Avoid buying a puppy from a puppy mill or pet store. And be sure to review the health certificates of both of your pup's parents prior to making an informed decision to bring a sweet, small Cavachon into your home.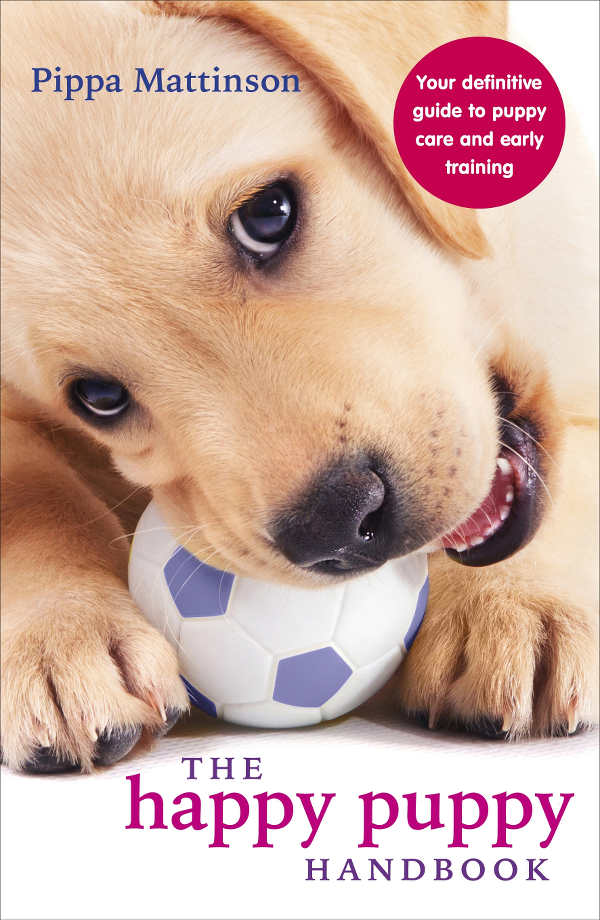 It is important to work with responsible breeders when you purchase a puppy, but the need is magnified when considering a Cavachon. And the truth is that it can be hard to find responsible breeders of designer dogs, simply because mixed breeding is frowned upon in many parts of the dog community.
So it's important that you do your homework and research carefully. You'll find lots of tips and advice in our Puppy Search series.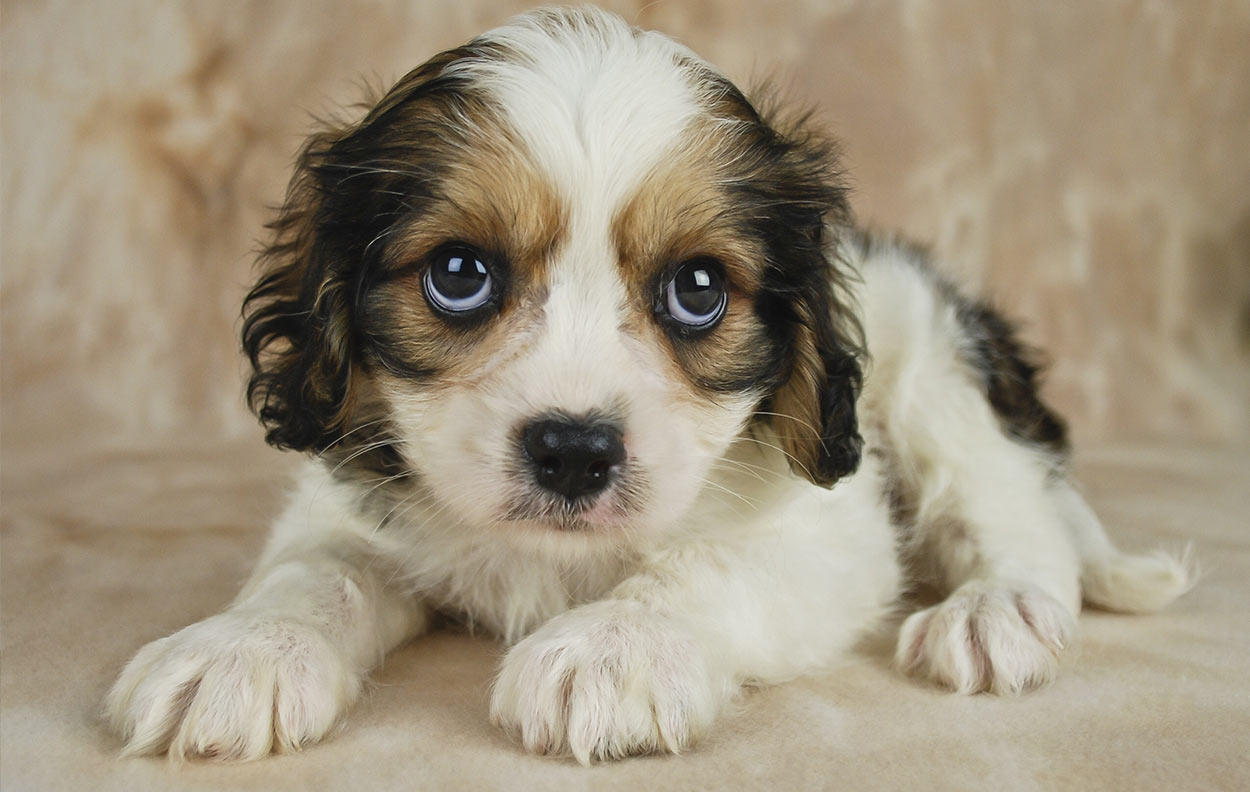 Cavachon Puppy Price
One interesting fact about crossbred puppies is that they sometimes demand a much higher price than either of their purebred parents.
Part of the reason is down to supply and demand. While some mixed breeds are relatively common, such as the Labradoodle, others are rarer and their price tag reflects this.
What is a typical Cavachon dog price?
It's not unusual to find Cavachon pups advertised in the $700–900 price range. But it is also common to see prices of $1,500–1,800 and above.
If you find Cavachon dogs advertised for considerably lower than the average price, these may very well be from disreputable breeders. That means that the lower price might reflect a lack of care for the health and well-being of the dogs.
Raising A Cavachon Puppy
Bringing any puppy home means the start of a great adventure that lasts for years, but it's also the start of a serious commitment!
Caring for a Cavachon puppy is a big responsibility. There are some great guides to help you with all aspects of puppy care and training.
You can find them here.
Cavachon Products And Accessories
Are you getting ready to bring home this dog?
Then you'll need to stock up on some supplies!
Here are some recommendations for products that will work well for your new pup.
Pros And Cons Of Getting A Cavachon
Cons:
May be quite expensive
Might be difficult to find Cavachon breeders
Prone to some serious health issues
Pros:
A gentle, loving temperament
Loves to play
Gets along well with children and other animals if socialized properly
Comparing The Cavachon With Other Breeds
It's hard to think of the Cavachon without also thinking of the Cavapoo, the Cavalier King Charles Spaniel and Poodle mix.
When mixed with a Toy or Miniature Poodle, this mix can be strikingly similar to the Cavachon.
However, by replacing the friendly Bichon with the slightly more aloof Poodle, the temperament of this mix can actually be drastically altered.
Similar Breeds
Mixes are ever increasing and ever changing.
So if you're not completely sold on this breed, or if you're unable to find one to bring home, here are some other similar mixes that might interest you.
Cavachon Rescues
At this point, there don't appear to be any dedicated Cavachon rescues. But if you come across any, please leave us a comment so we can add it to this list!
Here are some rescue organizations around the world that feature the parent breeds of the mix.
References And Resources
Gough A, Thomas A, O'Neill D. 2018 Breed Predispositions to Disease In Dogs and Cats. Wiley Blackwell
O'Neill et al. 2013. Longevity and Mortality of Owned Dogs In England. The Veterinary Journal
Adams VJ, et al. 2010. Results of a Survey of UK Purebred Dogs. Journal of Small Animal Practice.
Schalamon et al. 2006. Analysis of Dog Bites In Children Who Are Younger Than 17 Years. Pediatrics
Duffy D et al. Breed differences in canine aggression. Applied Animal Behavior Science 2008
Strain G. Deafness prevalence and pigmentation and gender associations in dog breeds at risk. The Veterinary Journal 2004
Packer et al. 2015. Impact of Facial Conformation On Canine Health. PlosOne
Gelatt, KN, Cataracts in the Bichon Frise, Veterinary Ophthalmology, 2003
Grieshaber, TL, Congenital alopecia in a Bichon Frise, Journal of the American Veterinary Medical Association, 1986
Rusbridge, C, et al., Syringohydromyelia in Cavalier King Charles spaniels, Journal of the American Animal Hospital Association, 2000
Rusbridge, C, Chiari-Like Malformation with Syringomyelia in the Cavalier King Charles Spaniel: Long-Term Outcome After Surgical Management, Veterinary Surgery, 2007
Swenson, L, et al., Relationship between parental cardiac status in Cavalier King Charles spaniels and prevalence and severity of chronic valvular disease in offspring, Journal of the American Veterinary Medical Association, 1996
Wallace, MR, et al., Inheritance of cataract in the Bichon Frise, Veterinary Ophthalmology, 2005
This article has been extensively revised and updated for 2019.