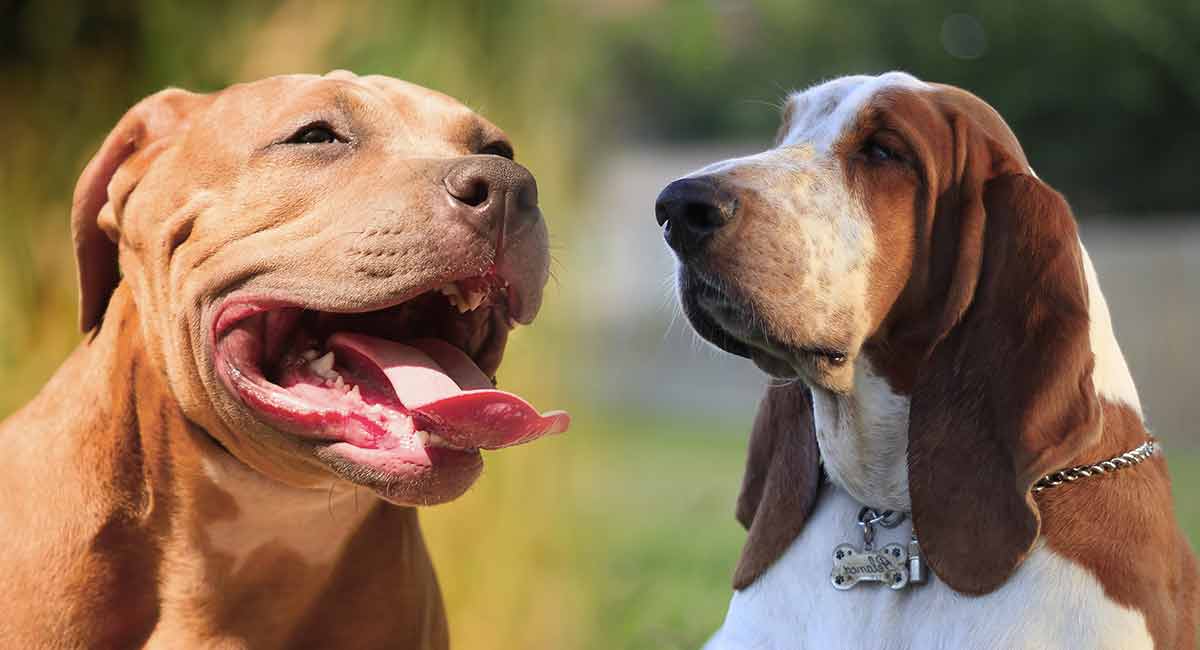 The Pitbull Basset Hound mix is a hybrid designer dog with a purebred Basset Hound parent and another parent from one of the Pitbull breeds. These are intelligent and alert dogs with strong working histories on both sides of the family. They are prone to some health issues primarily regarding their joints, eyes and folded skin, and despite a loyal and loving personality, can be wary of strangers too. This smart pup does best in an active home, around for most of the day and that is heavily involved in exercise or dog training hobbies like agility or scent work.
Contents
The Pitbull Basset Hound mix combines two very different breeds. When you see these two dogs side-by-side, it's apparent that there's very little physical similarity between them. But, appearance is only part of the equation. There's also temperament, trainability, exercise requirements, and health concerns to consider. So what happens when you cross the energetic American Pitbull Terrier with the low-key Basset Hound? Let's find out.
Where Does the Pitbull Basset Hound Mix come From?
Pitbull breeds originated in England for the purpose of fighting staked bulls or bears. When this blood sport was banned, they were used for killing rats in a pit. This is where their name is derived from. These dogs were bred from the Old English Bulldog and Terrier breeds.
In the mid-1800s they made their way to the U.S. where American breeders developed a larger version than the English dog.
This breed was named the American Pitbull Terrier by the United Kennel Club. However, they were renamed the American Staffordshire Terrier by the American Kennel Club. This was to distance them from their violent past, which unfortunately still haunts them today.
The Basset Hound originated in France and Belgium. It's believed they were developed by the friars of the Abbey of St. Hubert who wanted a new strain of scent hound similar to the Bloodhound.
These low-slung dogs were able to trudge across rough terrain and drive small prey from thick undercover into the open as hunters followed on foot. Their long, floppy ears helped to sweep the scent of quarry towards their nose.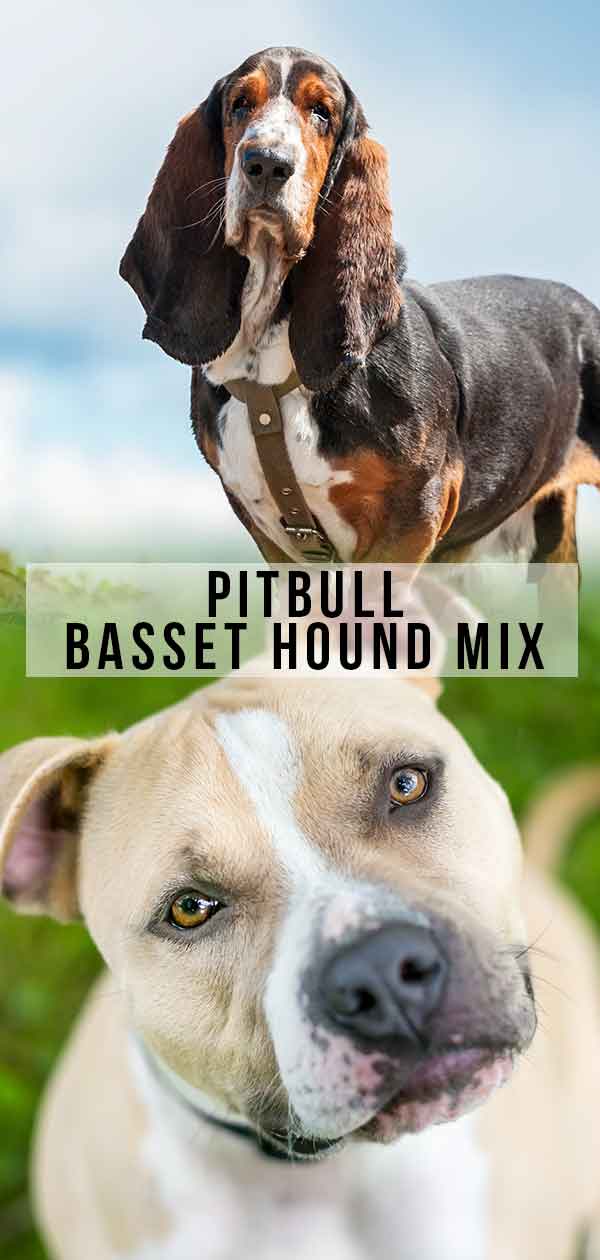 Pitbull Basset Hound Mix Appearance
Other than the fact that both dogs have a short coat and a compact body, the Pitbull and the Basset Hound look nothing alike.
With his muscular physique, the Pitbull's powerful strength is visible. However, this dog is also very agile and sports a bouncy gait. The head is large and wedge-shaped with a wide muzzle and strong jaw. While their coat is short, stiff, glossy, and comes in a multitude of colors and patterns.
The Pitbull stands from 17 to 19 inches and weighs from 40 to 70 pounds.
Although they stand no more than 15 inches, the heavy-boned Basset Hound weighs between 40 and 65 pounds. With their powerful, short legs and massive paws, this dog was built for strength and stamina rather than speed.
Without a doubt, the Basset Hound has one of dogdom's truly iconic faces. Their long, large head is framed by even longer ears that are velvety to the touch. But perhaps their most defining features are their soulful eyes and wrinkled brow, which give them a permanently mournful expression.
Grooming and Care
The Pitbull Basset Hound mix has a short coat that sheds moderately. Coats always have at least two colors but are often found in the classic tri-color mix of black, white, and tan. Although interestingly, Pitbulls can be tri colored too!
If your Pitbull Basset Hound mix takes after the Basset Hound they'll shed profusely. This means regular grooming sessions to remove dead hair. If they have long, droopy ears they'll need to be checked for infection.
Their diet should be appropriate for their age and weight. Since both dogs are prone to becoming overweight, avoid overfeeding, including treats.
Pitbull Basset Hound Mix Temperament
There's probably no dog that stirs more controversy than the Pitbull and it's mixes. They've been banned throughout England and Wales since 1991 and they almost always seem to top the lists of breeds involved in attacks. However, this study found them to be no more aggressive than many other breeds. When Pitbulls have been known to show aggression it's usually towards other dogs.
The truth is that many Pitbulls are raised by people who want a vicious guard or attack dog and encourage these tendencies in them. There are plenty of Pitbull owners who will tell you their dogs are good-natured, lovable, and extremely affectionate. The reality is that any dog can potentially become aggressive which is why early socialization is so important.
Patient, tolerant, gentle, friendly, calm, easygoing, and comical are ways to describe the Basset Hound. That is until they catch an interesting scent. When these highly attuned scent hounds are on the trail they can be tenacious and stubborn.
Despite having a prey drive, Basset Hounds are usually fine with other pets as long as they've been well-socialized and properly trained from an early age. Like the Pitbull, the Basset Hound is people-oriented. However, since they once hunted in packs, they also get along with other dogs.
Training Your Pitbull Basset Hound Mix
Training your Pitbull Basset Hound mix could be somewhat of a challenge. Although both parents are intelligent, they're also known for having a stubborn streak. The Basset Hound, in particular, can be independent. This is largely due to their history as a scent hound who was developed to hunt on their own without distraction.
For this reason, they may not be inclined to follow commands. Patience, consistency, and positive reinforcement training methods using treats will get you the best results.
Basset Hounds are also known to be hard to housebreak. Crate training may be the way to go since puppies naturally don't want to go to the bathroom where they sleep.
Early socialization is important for any breed, but when they are strong and have a history of aggression with other dogs, it's vital.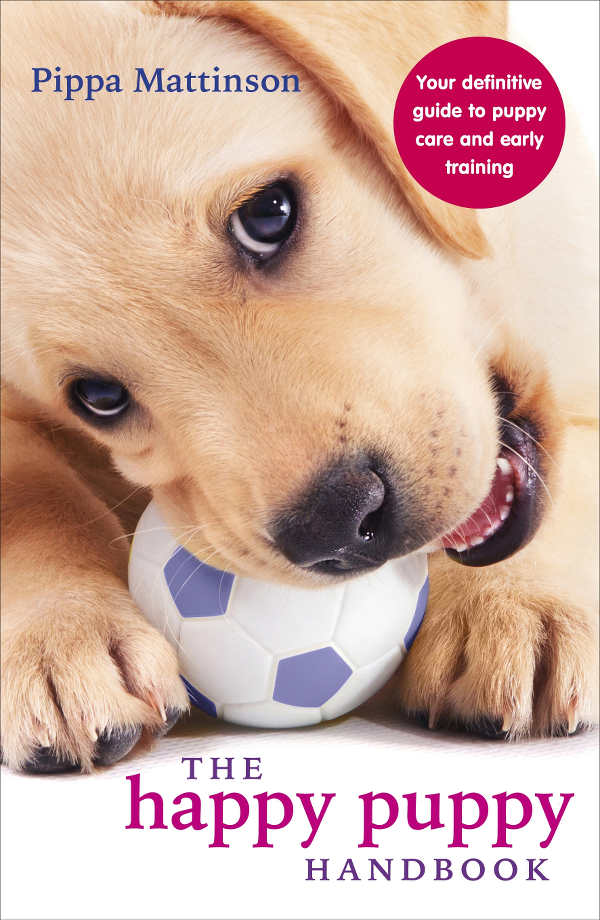 Exercise Needs Vary
The amount of exercise your Pitbull Basset Hound mix requires will depend upon the individual dog.
Basset Hounds are not very active and a daily walk at a moderate pace is usually all they need. On the other hand, the Pitbull is very energetic and requires an exhaustive workout to avoid destructive chewing.
Pitbull and Basset Hound Health
Pitbulls are generally healthy dogs, although they can be prone to hip dysplasia. an inherited condition where the hip socket is abnormally formed. Basset Hounds however really do have a lot of potential for health problems, primarily to do with their structure. And hip dysplasia is just the beginning.
Basset Hounds have long backs, short legs, droopy ears and floppy skin that exposes their eyes and creates pockets ripe for bacterial growth. They have a condition called osteochondrodysplasia, which causes the skeleton to develop abnormally and is why they have such shortened legs. This study found the Basset Hound to be one of the breeds most affected by their conformation. Bleeding disorders, glaucoma, and hypothyroidism are also regular problems.
For this reason, I recommend if you want a Pitbull mix puppy that you look at another variety, with less potential for health issues than those carried by the beautiful Basset Hound.