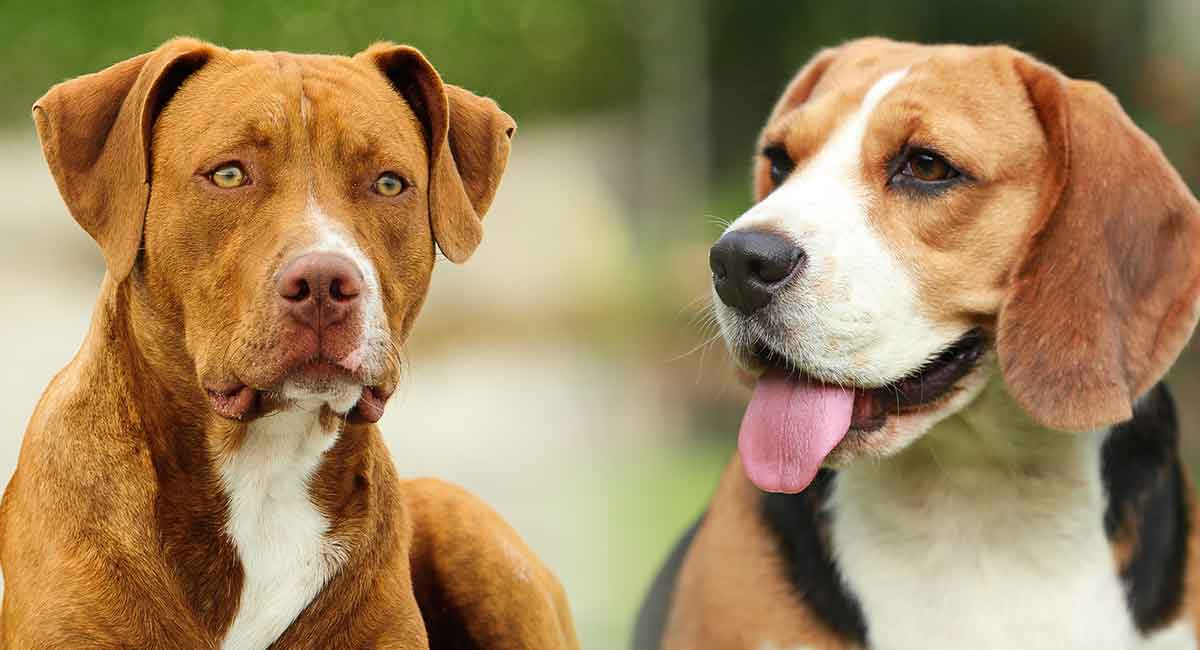 Take the confident Pitbull and combine with the merry Beagle for the Pitbull Beagle mix commonly known as a Beagle Bull. This medium-sized dog is quite uncommon and a relatively new mixed breed.
What can you expect from the Pitbull Beagle mix?
Will they be protective and courageous or sweet and friendly?
Both parent breeds are known for being loyal companions, but are there any issues with their temperament?
What health concerns do these dogs have?
Let's find out about the Pitbull Beagle mix.
Where Does the Pitbull Beagle Mix Come From?
Purposely crossbreeding two different purebred dogs is a relatively recent practice, and one that is not without controversy.
Purebred advocates will say that pedigree puppies keep the bloodlines pure so that the dogs are predictable in attributes like size, temperament, and appearance.
However, an ever-shrinking gene pool can increase the risk of genetic health problems. Proponents of mixed breeds will argue that their dogs are less likely to inherit genetic disorders due to a larger gene pool.
The problem is that whenever you combine two different dogs, the outcome is far from predictable.
To learn more about what to expect from the Pitbull Beagle mix let's take a look at the history of the parents.
Pitbull Origins
In 18th Century Great Britain, packs of dogs would be turned loose on staked bulls or bears while spectators bet on the outcome.
These dogs, who were descended from the Old English Bulldog and Terrier breeds, were used for ratting after bull baiting was banned.
More about Pitbulls:
Rats were put in a pit and the dogs were timed to see which one could kill the most in the shortest amount of time. This is where the "pit" in Pitbull is derived from.
By the mid-1800s the breed appeared in the U.S. and found work as farm and companion dogs.
American breeders developed a larger dog than the English version.
They were named the American Pitbull Terrier by the United Kennel Club in 1898.
However, the American Kennel Club renamed them the American Staffordshire Terrier in the 1930s to distance them from their violent origins.
It's unfortunate that the Pitbull's early history as a vicious fighter still continues to haunt them today.
Beagle Origins
The Beagle is an ancient breed whose exact origins are unknown.
Reports of small pack hounds who would hunt hare date back over 2,000 years. By the 1500s, English gentlemen employed small compact dogs to track hares.
These dogs were ancestors of the modern Beagle.
Unlike larger pack dogs, hunters could follow them on foot when tracking rabbits. This was important for hunters who couldn't afford to keep a horse.
Beagles arrived in the U.S. after the Civil War and became popular almost immediately.
Today they rank as the sixth most popular dog breed in America according to the American Kennel Club (AKC).
Fun Facts About the Pitbull Beagle Mix
Pitbull isn't a breed, but a term used to describe a number of different dogs. This includes the American Staffordshire Terrier, the American Bulldog, and the Staffordshire Bull Terrier.

An American Staffordshire Terrier named Stubby was the most decorated dog in World War I and earned the rank of Sergeant.
The most famous Beagle of all time undoubtably Snoopy, of the comic strip Peanuts by Charles M. Schulz.
Celebrity Beagle owners include: Lyndon B. Johnson, Meghan Markle, Miley Cyrus, and Barry Manilow.
The U.S. Department of Homeland Security has a Beagle Brigade that employs the excellent noses of Beagles for sniffing out contraband at airports.
Pitbull Beagle Mix Appearance
When it comes to appearance, a Pitbull Beagle mix can be variable, as these two dogs look quite dissimilar.
You can expect a medium-sized dog with a short coat that is often light brown in color.
To learn more about what this crossbreed's appearance could be, let's look at both parents.
Pitbull Appearance
Muscular, yet agile, the Pitbull displays a powerful strength.
A large, wedge-shaped head with slight wrinkling, a strong jaw, wide muzzle, and floppy ears are defining facial characteristics.
Their coat is short, stiff, and comes in all colors and patterns.
The Pitbull stands from 17 to 19 inches high and weighs between 40 and 70 pounds.
Beagle Appearance
In many ways, the Beagle resembles the English Foxhound, but with a broader head and shorter legs.
These solid, compact dogs have a short coat that comes in a range of colors, but is often tri-colored, with a mixture of black, white, and tan.
They have long, drop ears and wide-set eyes that show a gentle, pleading expression.
Beagles stand from 13 to 15 inches and weigh between 20 and 30 pounds.
Pitbull Beagle Mix Temperament
As with appearance, temperament is difficult to predict with a mixed breed.
The Pitbull and the Beagle are both smart, playful, and friendly dogs who love to be around people, but can be protective of their family and territory.
Expect a lively dog who will need to be kept active so as not to become destructive.
One way these two breeds do differ is in their reaction to other dogs.
While the Beagle will get along with other canines thanks to their history as a pack hound, the Pitbull has been known to become aggressive with other dogs.
Their wide jaws are able to deliver sustained, prolonged force during a bite
The reality is that any dog who feels threatened can potentially become aggressive.
This is why thorough socialization from a young age is so important.
If your puppy takes after the Beagle, there's also a chance they'll be very loud.
This hunting breed is known for the classic hound howl.
Their hunting history can also instill a strong prey drive in them.
Training Your Pitbull Beagle Mix
Early socialization is important for any breed, but considering the Beagle Bull is a strong and strong-willed dog, it's even more crucial.
Though intelligent, the Pitbull Beagle mix may have a tendency to be stubborn during training.
Consistency, patience, and positive reinforcement that involves treats will help motivate them.
Chewing and digging are behaviors found in both parents, and may prove difficult to resolve.
The Pitbull Beagle mix may also be prone to baying and barking.
Exercising Your Pitbull Beagle Mix
There's no question that a Pitbull Beagle mix is going to require a lot of exercise. Letting them out in the backyard won't cut it with this active, energetic dog.
Left to their own devices, they can become destructive.
If they take after the Beagle parent, you might even have an escape artist on your hands.
Daily walks on a leash and long play sessions are important to make them feel they're a part of the family.
Pitbull Beagle Mix Health
Hip dysplasia, a disease in which the hip joints are malformed, can lead to arthritis, is found in both Pitbulls and Beagles.
Unfortunately, both parent breeds are also prone to obesity and a dog who is overweight is even more at risk for the painful effects of hip dysplasia.
Cardiac disease is also affected by weight and is a problem for both parents.
Skin conditions like atopic dermatitis also affect both the Pitbull and the Beagle.
Cerebellar ataxia is a progressive brain disorder that the Pitbull parent should be genetically tested for.
Other health conditions which affect the Beagle include epilepsy, hyperthyroidism, eye diseases, and ear infections.
The lifespan for the Pitbull is from 12 to 16 years.
The Beagle lives an average of 10 to 15 years.
Pitbull Beagle Mix Grooming & Feeding
All dogs require a high-quality, age-appropriate dog food that provides proper nutrition.
Since a Pitbull Beagle mix is at risk for becoming overweight, calories should be monitored, and that includes treats during training.
Grooming should be fairly easy. The short, sleek coat of the Beagle Bull requires brushing only once a week.
However, since the Beagle sports a dense double-coat, your Pitbull Beagle mix puppy may shed moderately year-round, and more during shedding season.
Do Pitbull Beagle Mixes Make Good Family Dogs?
As long as they are properly socialized and trained from a young age, the Pitbull Beagle mix can make an excellent family dog.
This is provided you're able to spend a lot of time with them on a daily basis.
This is a dog breed which needs to get enough exercise and attention so as not to become destructive.
Both parent breeds tend to be good with children, although young kids should never be left unsupervised around any dog.
Rescuing a Pitbull Beagle Mix
Since this is a relatively new and rare mixed breed, finding a Pitbull Beagle mix at a rescue may take some looking.
You may need to look outside your local area.
Although it can be hard to find a puppy, adopting an older dog has many advantages. You'll know exactly what the dog looks like and most health and temperament issues will be visibly apparent.
Older dogs may already be trained and socialized as well.
Finding a Pitbull Beagle Mix Puppy
As mixed breeds become more popular there are more breeders, and some are less than respectable.
Avoid getting a puppy from pet stores, as the dogs are usually supplied by puppy mills.
These are commercial breeding facilities that are known for mistreating the animals.
As a result, these puppies are often unhealthy and prone to behavioral problems.
This article will help you find a good breeder with confidence.
Raising a Pitbull Beagle Mix Puppy
Raising a puppy to become a well-adjusted adult dog may seem like a daunting mission.
Our puppy guide page has a wealth of information on everything from understanding separation anxiety to avoiding food aggression in your dog.
Regular routines, consistency, and patience will make things easier. Having a sense of humor doesn't hurt either!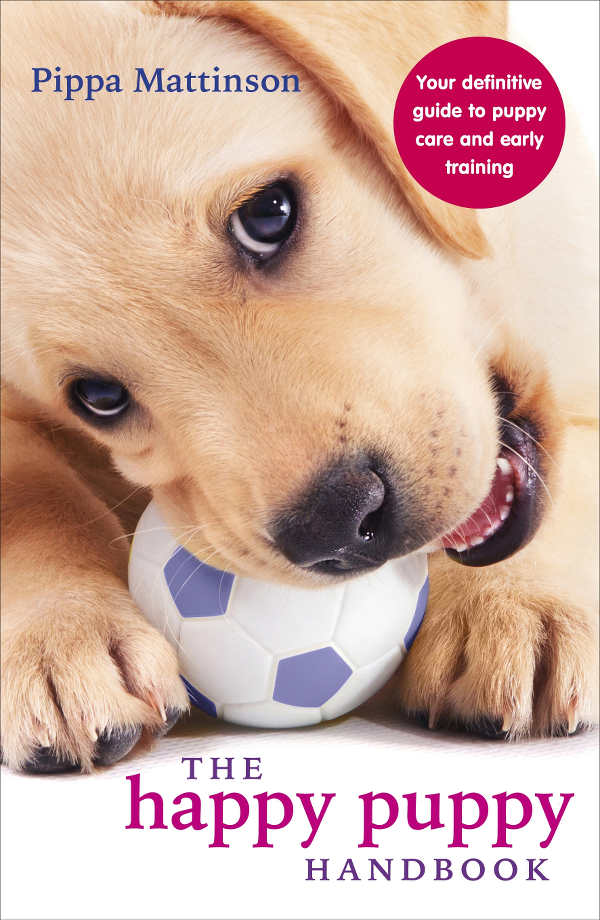 Pitbull Beagle Mix Products and Accessories
Toys for Pitbulls and Beagles need to be interactive and indestructible to keep a playful, energetic dog entertained.
A walking harness is an excellent choice for keeping a dog with a strong prey instinct from taking off during walks.
Check out these beds, which provide the perfect fit for a Pitbull Beagle mix pooch.
Pros and Cons of Getting a Pitbull Beagle Mix
Cons:
Requires lots of exercise and attention
Can be destructive if bored or left alone too much
Other pets in the home may be an issue due to aggression and a strong prey drive
Loud baying could be a problem with neighbors
Pros:
A loyal, friendly, and playful companion
Easy to groom
Good with children
Similar Pitbull Beagle Mixes and Breeds
If you're having trouble tracking down a Pitbull Beagle mix, you may want to consider some of these other Pitbull and Beagle mixes.
Pitbull Beagle Mix Rescues
Here are some rescues that are dedicated to Pitbulls and Beagles to help you with your search.
If you're aware of others, please let us know in the comments below.
Canada: Beagle Paws
U.K.: Beagle Welfare
Australia: Beagle Rescue & Rehoming
U.S.: Loveabull Rescue Society
U.S.: Pit Bull Rescue Central
Australia: Staffy and Bully Breed Rescue
Is a Pitbull Beagle Mix Right For Me?
Despite all the bad press they've received over the years, Pitbulls can make wonderful pets. However, the fact that they can be aggressive should not be dismissed.
Socialization and training are imperative. Possibly just as important is that this dog will need to be in a home where people are able to give him the amount of daily exercise and attention he requires.
Both the Pitbull and the Beagle are prone to destructiveness if left on their own.
They also share some serious health concerns that a breeder should be able to prove they've been health tested for.
If you want a constant companion who's loyal, playful, and good-natured, you may have found a perfect match in the Beagle Bull.
Related Articles
References and Resources
Duffy, DL, et al., "Breed differences in canine aggression," – Applied Animal Behavior Science, Volume 114, Issues 3–4, 2008
Saadi, R., et al., "Dog-Bite–Related Craniofacial Fractures among Pediatric Patients: A Case Series and Review of Literature," – Cranial Maxillofac Trauma Reconstruction, 2018
Richardson, DC, "The Role of Nutrition in Canine Hip Dysplasia," – Veterinary Clinics of North America: Small Animal Practice, Volume 22, Issue 3, 1992
Freeman, LM, et al., "Dietary Patterns of Dogs with Cardiac Disease," – The Journal of Nutrition, Volume 132, Issue 6, 2002
"Expression and distribution of canine antimicrobial peptides in the skin of healthy and atopic beagles," – Veterinary Immunology and Immunopathology, 2011
Tarpataki, N., et al., "Prevalence and features of canine atopic dermatitis in Hungary," – Acta Veterinaria Hungarica, 2006
Olby, N., et al., "Cerebellar Cortical Degeneration in Adult American Staffordshire Terriers," – Journal of Veterinary Internal Medicine, 2008
Gredal, H., et al., "Progressive myoclonus epilepsy in a beagle," – Journal of Small Animal Practice, 2006
Veske, A., et al., "Retinal Dystrophy of Swedish Briard/Briard–Beagle Dogs Is Due to a 4-bp Deletion inRPE65," – Genomics, 1999