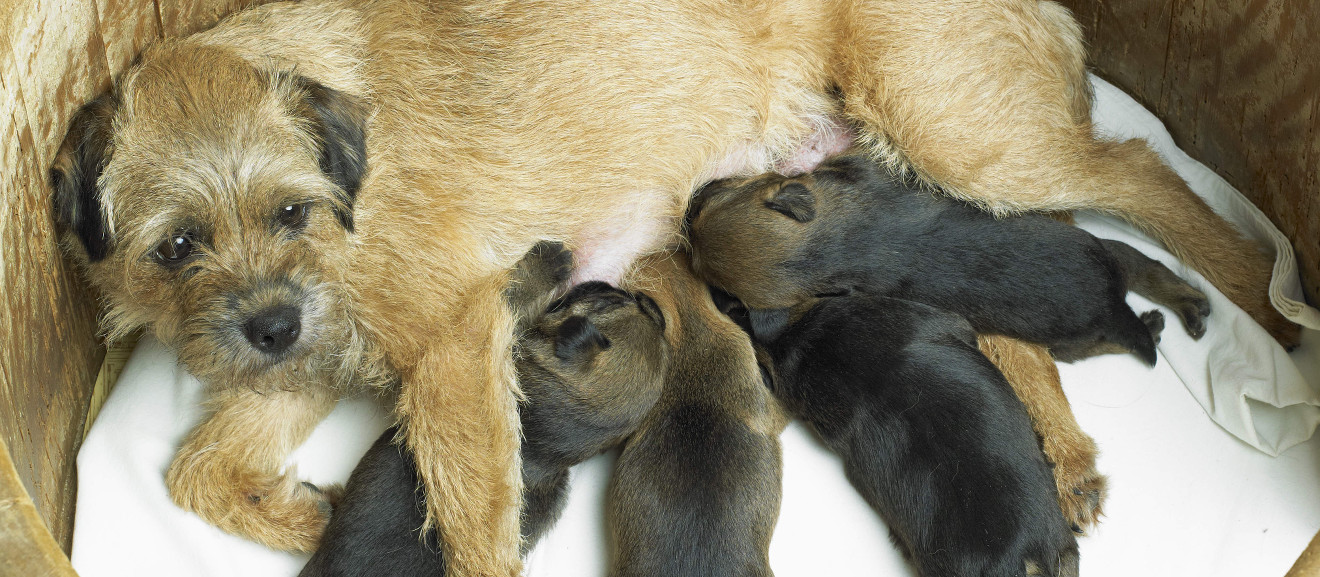 If you are looking for a puppy, you will have heard that 'puppy farms' and 'puppy farmers' are best avoided.
You might have a vague idea of them being long dark kennels, with lots of dogs having litters at the same time.
You probably imagine them as being cruel individuals, and the puppies being sad and unhealthy.
And in some cases, you would be right.
Not all puppy farms will have this obvious appearance. But it is still very important that you do not end up with a puppy that has come from one.
Puppy Farm Puppies
Your puppy farm puppy might grow up to be a healthy, functional member of society. But his chances of doing so are greatly reduced.
He will not have had any real socialisation before you take him home.
His mother will not have been properly integrated into a home, and so you will not know how well she would cope in busy social environments.
You will not have a good idea of her temperament, which is a key factor in the character he will grow up and develop.
Although a female dog who is kept for breeding may appear to be in good health, it is not to her benefit to be mated every time she comes into season.
A Limited Life
A female dog kept purely for breeding will also likely not be properly exercised each day, and will have the minimum required in terms of interaction and feeding.
Every time you buy a puppy farm puppy, you give the breeder reason to continue treating the dogs under his care in a sub-standard fashion. So even if your puppy is fine, you are not helping the other animals in his care now or who will be in the future.
So how do you make sure that your new dog is not coming from a puppy farm, when appearances can be deceptive?
When is a Farm not a Farm?
A part of the misunderstanding of puppy farms is in the name. Most if not all puppy farms, are not traditional style farms at all. They simply gain the name because the farming stock is dogs.
A puppy farm could be anything from a caravan in a field surrounded by kennels, to a luxury eight bedroom house with stables in the grounds.
Not having the look of a farm doesn't mean that it isn't a farm.
Ask Questions
When you go and visit your puppy, if the female dog is living indoors in a place she clearly stays every day, surrounded by family members who make a big fuss of her, then you probably haven't arrived at a puppy farm.
But if you have any doubt in your mind as you come through those gates, ask yourself the following questions:
How many breeds of dog are here?
Many breeders will have more than one breed of dog, especially if they are working bred dogs. But these will be of a clear type – for example, gundogs. If there is an odd mix of dogs, and a large quantity of them, this isn't a good sign.
Are there other litters of puppies here?
Again, it is possible that a reputable breeder will have two litters at the same time. If one is Labradors and the other is Cocker Spaniels for instance, and she lovingly tells you how she wants to have a pup from each of her prized working dogs to keep for herself, then this makes sense. If they have several litters of the same breed, or two breeds with no connection to them as a family, this should set alarm bells ringing.
Multiple litters from the same female dog
A breeder might have two or even three litters from a female dog in her lifetime. A puppy farmer will have one every time she comes into season, to maximise her use.
If a six year old female dog is on her fifth litter of puppies, you need to ask why the breeder is doing this.
Where do the dogs live?
Living in kennels is understandable for some working dogs, but these days even most of them are members of the family living in the home.
If your puppy is in a kennel it doesn't necessarily mean it's not a nice dog. And lots of working breeds still live this way. But most family pets come from family homes.
A puppy farmer may bring the puppies in to the house for you to meet them, but it will be clear that they do not live there all the time. He might even bring them in without the mother, saying that she is resting or having her lunch.
Do the puppies seem nervous?
Puppy farm pups will not have been handled much since birth. They may have also been kept indoors in a stable or kennel block most of the time, so they will seem to be squinting when they look around the in the bright light. They might also be reluctant to walk on grass or carpet.
Is the owner evasive?
Perhaps most importantly, when you speak with the owner do they seem reluctant to answer some of your questions. People with nothing to hide will openly address any concern, however small you or they might think it is.  They will have available copies of pedigrees if relevant, and details of both parents' health clearances for you to check.
If in doubt, walk away
I have been to see a couple of litters of puppies recently, and both times something felt wrong whilst I was there. But it wasn't until after I had walked away that I realised what the problem was.
In one case the father, who was present, was distant and uneasy in human company. In the other case, I realised as I pulled out of the drive that I had been to a puppy farm.
Given the amount of time I spend with dogs, and writing about them, I am amazed that I didn't spot the signs whilst I was there.
But it just goes to show. Just because the owner is friendly and the pups look healthy, doesn't mean that there isn't something afoot.
Take in your surroundings, look at what else is there and get a feel for the whole environment, not just the litter you have gone to view.
As a good rule, never visit the puppy for the first time on the day you go to pick her up. Always leave for at least a few hours, so that you can gather your thoughts and assess whether this really is the right dog for you.
Remember, your puppy will hopefully be with you for the next fifteen years. You need to make the right choice. So if in doubt, walk away.