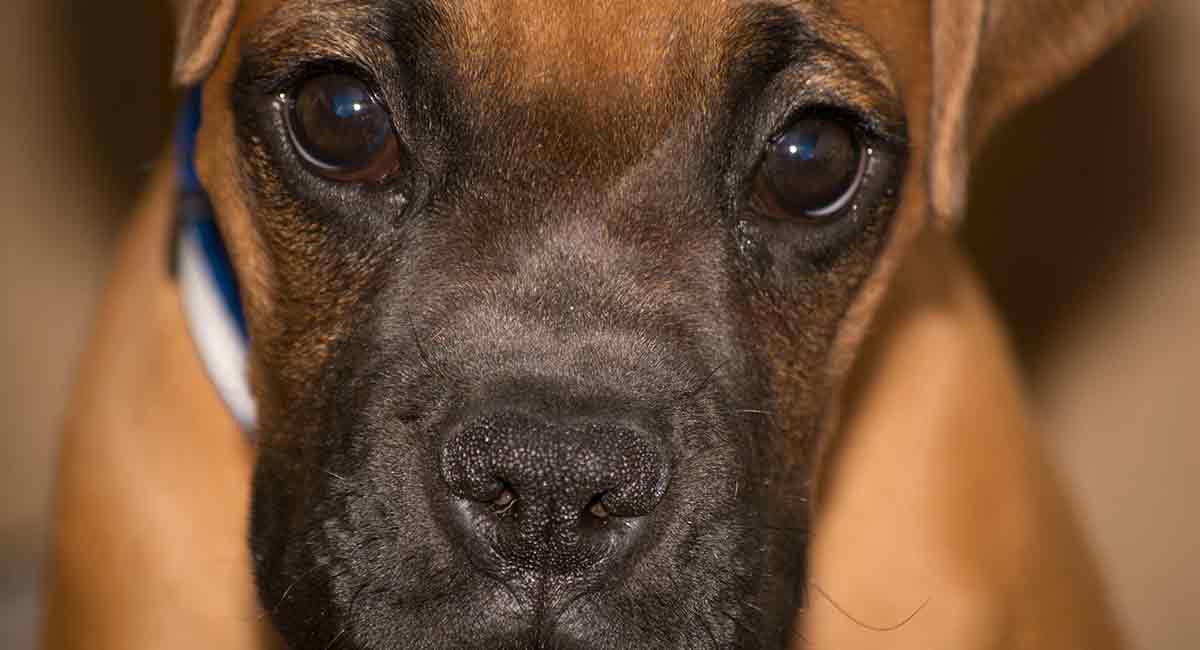 The Boxer Mastiff mix combines the iconic looks of the Boxer dog with the immense size of the Mastiff.
They are also known as Boxmas dogs.
Boxer Mastiff mix dogs are usually regarded as excellent and energetic family companions.
However, they are naturally reserved around unfamiliar dogs and people.
Origins of the Boxer Mastiff Mix
Boxer Dog History
The Boxer breed's history can be traced back to 2500 B.C. to the war dogs of the Assyrian empire.
The modern Boxer originated in Munich, Germany in the late 19th century. It descended from the Bullenbeisser, a popular big-game hunter.
Several breeding crosses throughout the 1800s resulted in the Boxer known today.
Boxers served as war dogs in both World Wars. They're also excellent athletes, cattle dogs, police dogs and guide dogs.
Mastiff History
The Mastiff breed's history can also be dated back to 2500 B.C., when they were hunters and war dogs throughout the mountains of Asia.
The modern Mastiff originated in 14th century Britain as guards to castles and estates, big game hunters, and war dogs.
Mastiffs served in both World Wars, but the breed barely survived WWII with only an estimated 14 Mastiffs remaining.
Breeders from Canada and the United States helped revitalize the breed.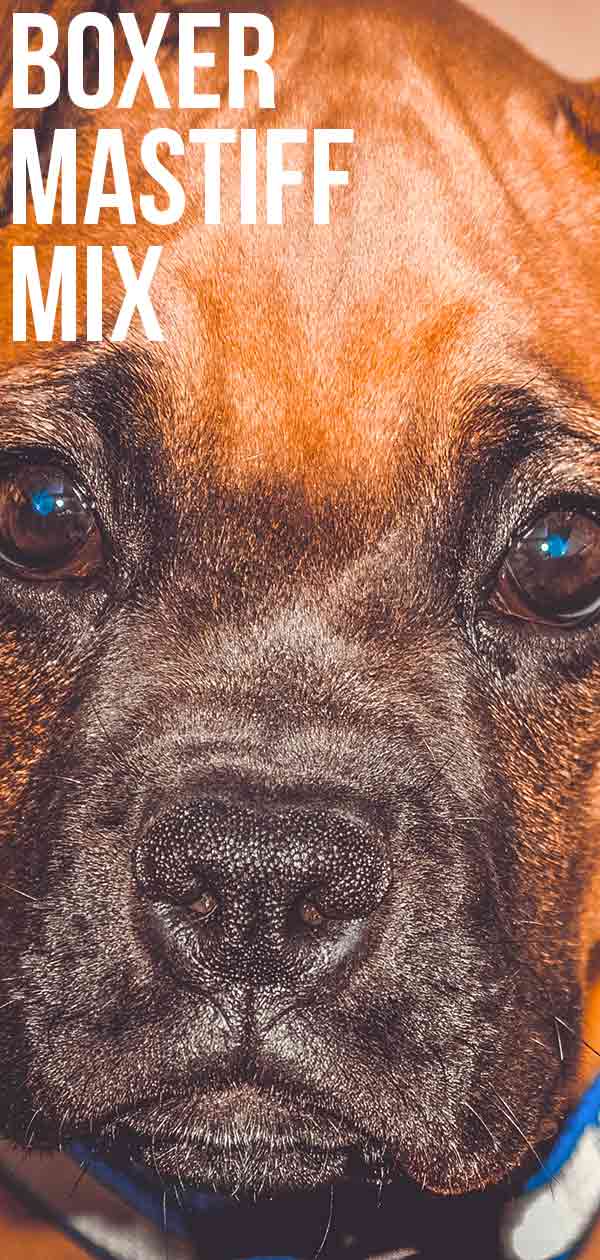 Boxer Mastiff Mix History
As with most modern mixed-breeds, the Boxmas' history is not well known. It's believed that the mix recently originated in Europe.
Purebred vs. Mutt Debate
As breed mixes continue to develop, there is a debate about their health versus those of purebred dogs.
Mixed breed dogs are assumed to be healthier.
Purebred dogs are thought of as "unhealthy" due to years of selective breeding and dwindling genetic pools.
However, a 2013 study from scientists at UC Davis examined genetic disorders in purebred and mixed dogs.
They found that this assumption is not always true.
When selecting a puppy, knowing the health history of both parents—purebred or mixed—informs you of potential health risks.
A thorough look at this debate can be found here.
Boxer Mastiff Mix Appearance
A Boxer Mastiff pup inherits physical features from both parents.
Boxer Appearance
Boxers are medium-sized, standing 21.5 to 25 inches tall and weighing 65 to 80 pounds.
A Boxer's body is sleek and muscular.
His jaw is broad and square with a slight underbite. The muzzle is blunt and wrinkly.
Forehead wrinkles appear when a Boxer's ears are perked up.
This combined with their large, dark brown eyes give Boxers a sense of expressiveness.
Boxer Coat and Coloration
A Boxer's coat is very short and smooth. Coat coloration may be brindle or fawn. Markings include:
white
brindle
fawn
black mask with white markings
black mask.
White Boxers are genetically possible but strongly discouraged because of the health risks associated with a white coat, including hearing and sight loss.
Mastiff Appearance
Mastiffs are extremely large dogs. The breed standard doesn't include an upper limit to their height.
Males weigh 160 to 230 pounds, and females are smaller at 120 to 170 pounds.
A Mastiff's body is muscular and stocky. His head is proportionately huge with a short, broad muzzle that is dark in coloration.
The lips hang down loosely, giving the appearance of jowls. Forehead wrinkles and dark eyes lend to their expressive face.
Mastiff Coat and Coloration
A Mastiff has a double coat. Both coat layers are short and dense.
It may be apricot, brindle or fawn in coloration. Markings include a black face mask.
Boxer Mastiff Appearance
The parent breeds differ greatly in size. A mix of the two breeds results in a dog larger than the Boxer itself.
A Boxmas might weigh between 65 and 160 pounds and stand up to 36 inches tall.
His eyes and nose is dark, like both parents.
The Boxer Mastiff's coat is short and straight.
A Boxmas' coloration varies but can take on any color of the parent breeds, with the exception of white and apricot.
It might have markings like the parents, but that is hard to predict.
Boxer Mastiff Mix Temperament
A Boxmas' temperament depends on his parents.
Responsible breeders are cautious not to breed dogs with undesirable temperaments.
Boxer Temperament
Boxers are energetic and playful. They're friendly and patient with children.
Because they were bred as guard dogs, Boxers are protective.
This can lead to aggression, but early socialization and training can prevent this issue.
Other dogs, especially of the same sex, can make a Boxer nervous.
Slow introductions and early socialization can help this issue.
Mastiff Temperament
Although their massive size can be intimidating, Mastiffs are good-natured dogs.
They're described as "courageous" and "dignified." They are also patient and gentle with children.
Similar to Boxers, Mastiffs are protective of their family and can be wary of strangers.
Early training and socialization are very important to this breed.
Boxmas Temperament
A Boxmas likely has the pleasant temperament of his parent breeds. He is active and fun-loving.
A Boxmas makes an excellent guard dog. Caution should be taken around new animals and strangers.
A Boxmas' large size may be intimidating, but it is playful.
You'll need to train it not to jump on strangers, and to be careful around smaller animals and children.
Early socialization and training are essential to ensure a good-natured Boxmas.
Training Your Boxer Mastiff Mix
Training is absolutely necessary for a Boxmas. His parent breeds are intelligent and learn quickly.
However, a Boxmas may get bored during training sessions like his parent breeds are known to.
Short, variable training sessions are beneficial to keep him interested.
A Boxmas is large and powerful. Training helps your massive pup learn to be gentle with others.
Our Dog Training Guides assist you in successfully training a Boxmas.
Guarding Nature for Boxer Mastiff Mix
A Boxmas instinctually wants to guard his family.
This may lead to wariness of strangers (humans and animals) and potentially aggression.
This is one reason why early socialization is so important for this mixed breed.
A Boxmas may be active and energetic, but his large size tires him out easily.
Walks and playtime in an open space use up some of that energy. A young Boxmas has a lot of energy.
Owners should not over-exercise puppies or youngsters, or allow them to jump from high places.
Their large size makes them susceptible to injury and strain on their growing joints.
Boxer Mastiff Mix Health
A mixed breed dog can inherit health issues from his parents, and a Boxmas is no exception.
His immense size can contribute to health risks as well.
Let's examine common health issues with each parent breed.
Boxer Dog Health Issues
While the breed is generally considered healthy, the gene pool has been reduced over the years. This is the case with many purebred dogs.
Boxer dogs are prone to the following health issues:
heart disease such as aortic stenosis or cardiomyopathy
cancers such as malignant skin lesions, brain, spleen, lymph system, etc.
degenerative myelopathy, which affects the spinal cord and nerves that coordinate the hind quarters
hip dysplasia
In addition, the Boxer's shortened muzzle may cause brachycephalic syndrome symptoms.
They are less at risk than breeds with even shorter muzzles.
However, you'll still want to be aware of any breathing, eye, dental or temperature control issues with the parent dogs.
Mastiff Health Issues
Mastiffs are predisposed to several health issues, some due to genetics and some due to their size.
Boxmas Health Concerns
A Boxer Mastiff mix is at risk from inheriting any of the disorders listed above.
Responsible breeders screen potential parents for inheritable disorders to protect the health of future generations.
The Canine Health Information Center and parent breed clubs recommend the following screening tests for potential parent dogs:
Boxer Health Testing Recommendations:
Hip dysplasia
Hyperthyroidism
AS/SAS Cardio
Aortic valve disease
ARVC
Cardiomyopathy
Degenerative myelopathy
Mastiff Health Testing Recommendations:
Hip dysplasia
Elbow dysplasia
Eye examination
Cardiac evaluation
Boxmas Life Span
A Boxmas' life expectancy is about 6 to 12 years.
Regular veterinary checkups, proper care, exercise and a loving home ensures your Boxmas lives a healthy life.
Grooming and Feeding Your Boxer Mastiff Mix
A quick brushing once or twice a week keeps a Boxmas' coat healthy and shiny.
A Boxmas likely needs a low-protein dog food with a proper calcium/phosphorous ratio because it inherits the Mastiff's immense size.
Check with a veterinarian to ensure you are providing the proper nutrient ratios.
You'll also want to avoid free feeding to monitor how much your Boxmas is eating.
Do Boxer Mastiff Mixes Make Good Family Dogs?
A Boxmas is be a great family dog, if you don't let his large size get in the way. He is active, playful and good with children.
The only exception is when their massive bodies bump into or jump up on smaller kids or frail adults.
A Boxmas is naturally protective of your family and make a good guard dog.
Training and socialization prevents this instinct from becoming aggressive.
Make sure your family is ready to commit to the training, socialization and care that a Boxmas needs.
Rescuing a Boxer Mastiff Mix
Rescuing a dog is a wonderful way to find a companion.
Many rescue dogs do not have a full health or behavioral history.
But the shelter or foster owner they're with should be able to give you a detailed insight into their health and personality now.
If you don't mind some unknowns, then rescuing is a great option.
There are not currently specific Boxmas rescue organizations, but you'll find them for each parent breed.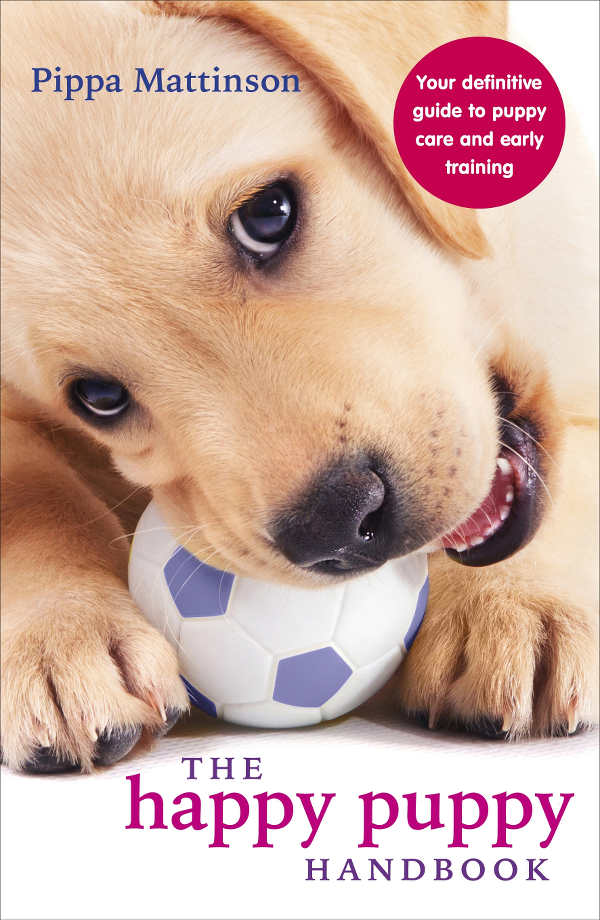 You might even find a mix at one of these organizations.
Finding a Boxer Mastiff Mix Puppy
An internet search brings up plenty of Boxmas breeders to select from.
Our Puppy Search Guide helps you select a responsible breeder and make sure your puppy is healthy.
We don't recommend purchasing a puppy from pet stores or puppy mills.
They have a history of improper health care and breeding practices, and puppies are not typically kept in sanitary conditions.
When considering a breeder, visit the premises and ask for health screening results.
Don't be afraid to ask questions to ensure you are getting a healthy and well-cared for puppy.
Raising a Boxer Mastiff Mix Puppy
Raising a puppy has adorable and frustrating moments.
Our Puppy Care Guides contain information to help you through this stage.
A Boxmas might experience a long puppyhood. A Mastiff doesn't mature until about 3 years of age.
You'll have a large puppy with a lot of energy. It is vital to start puppy training and socialization very early with a Boxmas.
Pros and Cons of Getting A Boxer Mastiff Mix
Cons:
Very large size
Extensive training and socialization
Vulnerable to health disorders
Pros:
Great with children
Loyal and protective
Smart and fun-loving
Similar Boxer Mastiff Mixes and Breeds
Here are some similar mixed breeds to consider:
Boxer Mastiff Mix Rescues
Here are some rescue organizations for Boxers and Mastiffs:
American Boxer Club – US Boxer Rescue Websites
The Kennel Club – Boxer Breed Rescue
Boxer Rescue Canada
Boxer Rescue Network Australia
Canadian Mastiff Club – Rescue Information
Please add your organization in the comment section below.
Is a Boxer Mastiff Mix Right for Me?
A Boxmas is a friendly, lovable and loyal companion. This very large dog requires extensive exercise, training and care.
If you have the time, energy and a large home to accommodate this mixed breed, then you should definitely consider it as a companion.
References and Further Reading:
Bellumori, T.P., et al., 2013, "Prevalence of Inherited Disorders Among Mixed-Breed and Purebred Dogs," Journal of the American Veterinary Medical Association
"Boxer," American Kennel Club
Duffy, D.L., et al., 2008, "Breed Differences in Canine Aggression," Applied Animal Behavior Science
Holloway, S., 2017, "The Boxer Dog Breed Information Center," The Happy Puppy Site
Jones, R., 2018, "Mastiff – A Complete Guide to the English Mastiff," The Happy Puppy Site