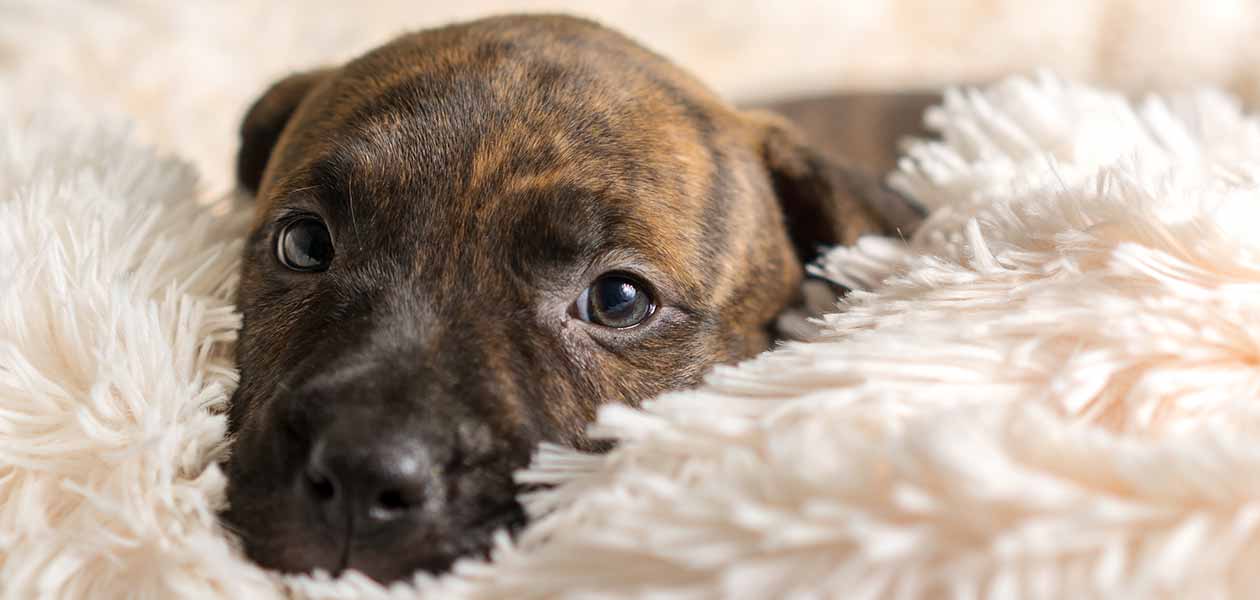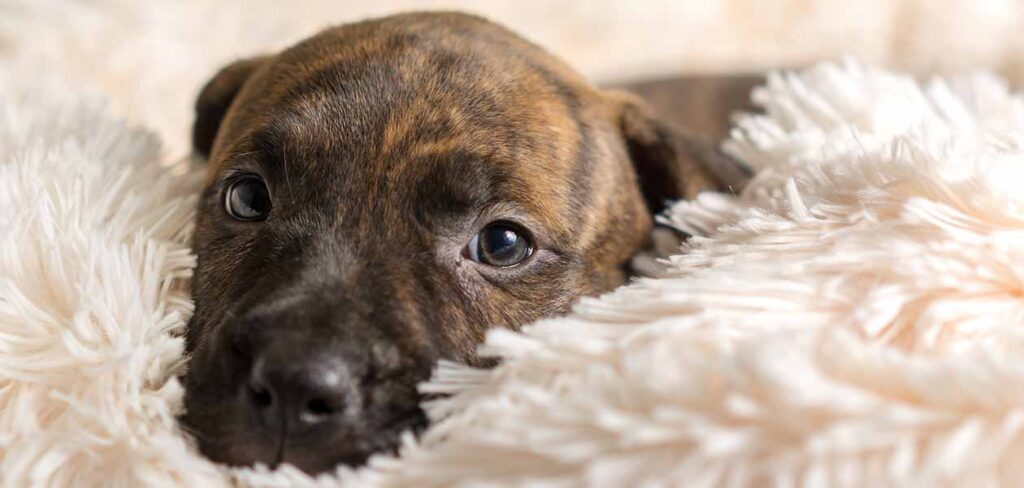 A brindle dog has brown fur with distinctive dark flecks. Brindle dogs are usually short haired, but you can get long haired brindle breeds too. The brindling pattern can be all over their bodies, or just on certain parts, such as their heads. Today we'll look at what causes brindle coat colors and whether there are any health issues associated with brindle dogs. We'll look at what the different brindle dog breeds are and help you to decide which is the best match for your family. Because although they share the same coat pattern, brindle dog breeds can have very different physical traits and temperaments.
Contents
The Brindle dog breeds all share the same coat pattern, but there can be other coat colors found within those breeds too. Brindle dog breeds' pattern is caused by the interaction of the Agouti gene with various other genes. Some dog breeds that can have brindle coats include Mastiffs, Dachshunds, and Bull Terriers. But, there are so many more!
What is a Brindle Dog?
The term 'brindle' refers to a coat pattern. It appears as darker irregular stripes or spots over the base color of your dog. Interestingly, this pattern can affect lots of different animals! Dogs, cattle, guinea pigs, and even horses! This pattern also goes by the name 'tiger striping'. But brindle is the most common name.
Although the top pattern is usually darker, the base color is generally not much lighter than the stripes. For example, brown stripes could appear on a lighter brown coat. So, it can be a subtle but interesting pattern.
Brindle Dog Genetics
Dog coat color is based on a number of different genes that control two pigments: pheomelanin (red-yellow) and eumelanin (black-brown).
Dog coat color genes don't just switch specific colors or patterns on and off individually. They also switch other pattern and color genes on and off too! So to be brindle requires a brindle gene, and a specific type of Agouti gene.
But, even with this combination present, the brindle will be switched off if another gene known as 'dominant black' is present!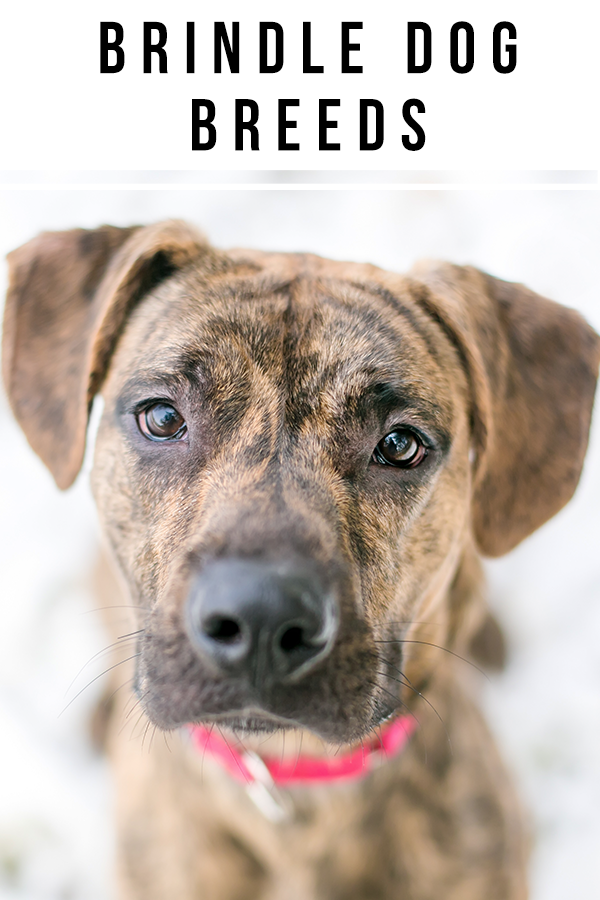 The Agouti Gene in Brindle Dog Breeds
The Agouti gene is one of the most important genes involved in coloration.
It switches on and off the red and black pigments in dogs. A particular combination of Agouti genes can even give rise to tricolor dogs! And different Agouti combinations determine how the brindle shows up in dogs.
Difference in Gene Expression
Genes can act differently in different dog breeds. So, it can be hard to predict what dogs with brindle coats will look like until they grow into their fur. There is still a lot of research to do. We don't yet know how to genetically test for the brindle coloring. And it's still unclear what controls the various aspects of brindle, such as stripe width.
We do know some things, though. Researchers have discovered which gene determines color intensity. Plus, we know that all brindle dogs can still have white markings on their coat. Sometimes called a trindle or tricolored coats.
To make matters even more complicated, not all dogs have a striped brindle coat. And not all brindle patterns appear in the same way in different dog breeds. So each one is unique!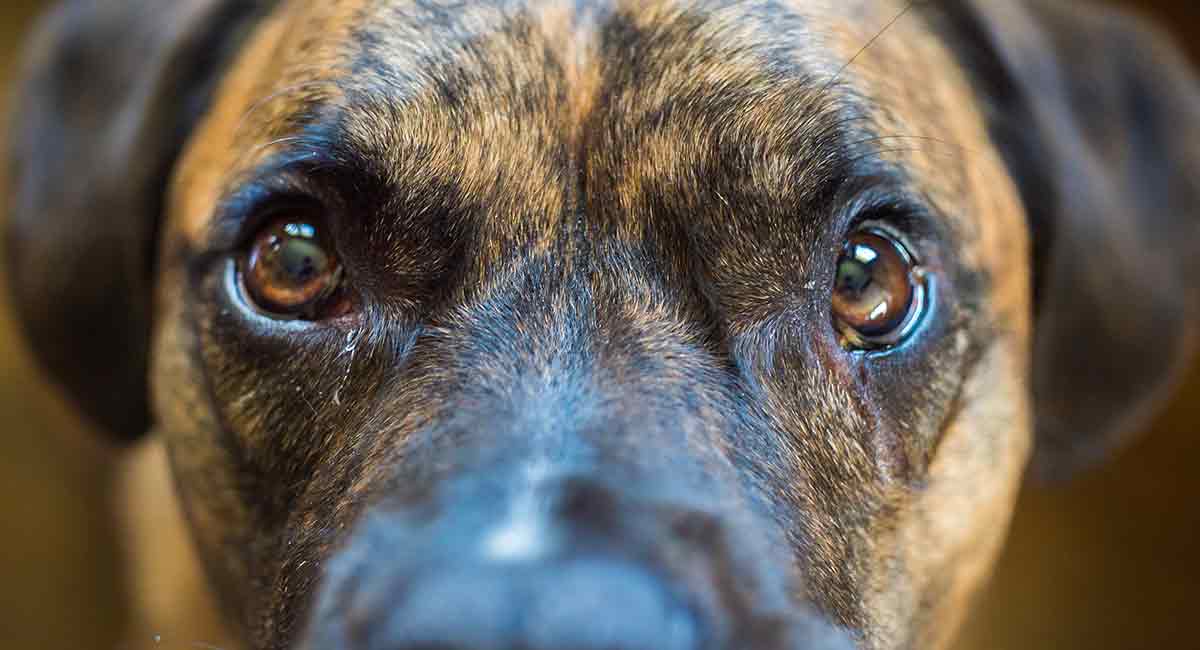 Brindle Dog Shade Variations
Not all brindle patterning is exactly the same. It can come in different shades and tones, and the pattern shapes vary. Some dogs are light brindle in color — mostly red with darker stripes.
Whereas others are heavy brindle. At a quick glance, these dogs appear black or dark brown. You may also use the term reverse brindle. This is the same as black brindle.
Reverse Brindle Dog Breeds
The terms 'reverse brindle' and 'black brindle' are used to describe a brindle dog coat with a high concentration of darker stripes. This causes the brindle to look reversed. With reverse brindle dogs, light stripes appear to sit on a dark background.
You sometimes see reverse brindling in Boxer dogs that look black. Since Boxers cannot be black, most dark-colored boxers actually have dark brindle fur. In some dog breeds, the brindle pattern is encouraged in purebred show dogs. In others, brindle coloration is less desirable.
Brindle patterning can also appear on different animals, such as horses, cats, rodents, and even lizards. This doesn't mean those animals have similar genetics, however. They are just visually similar.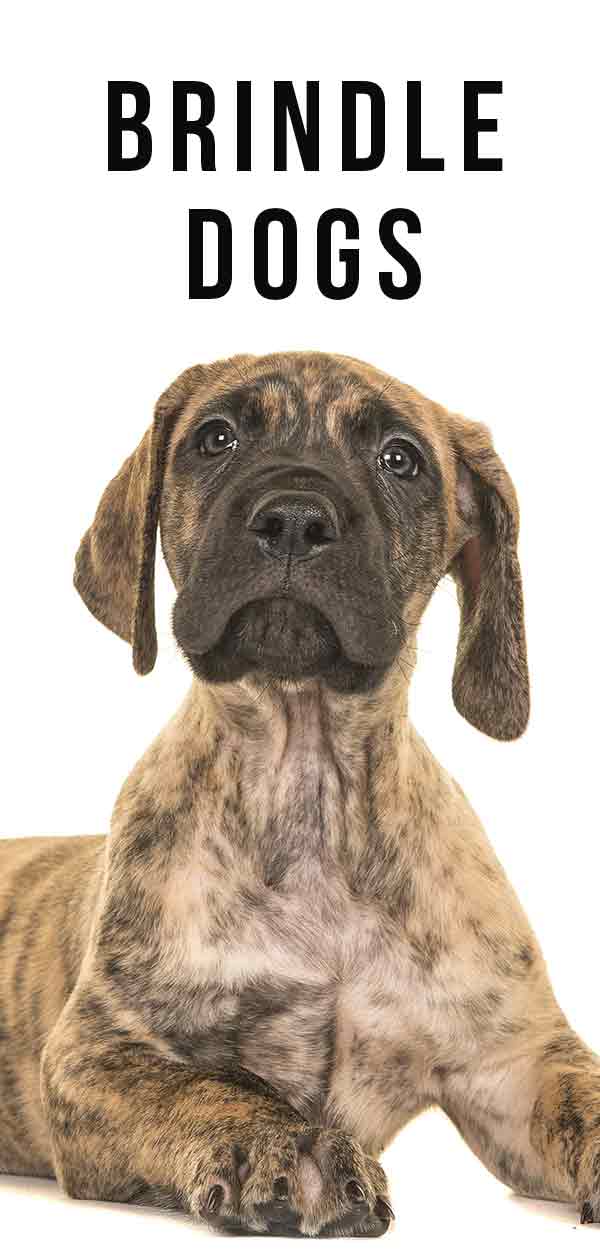 Brindle Dog Breed Health
Brindle coloring itself is not an issue in terms of your dog's health. But, it can be mixed with other color coat genes that do lead to health problems. For example, the merle gene is known to cause ear and eye problems in dogs.
Merle coloring mixed with brindle coloring often results in an interesting combination of dark stripes mixed with shorter stripes and spots. This is quite a subtle effect that can look pretty. But there are health implications for any dog breed with the merle and brindle genes. And the health of our dogs is more important than the way their fur looks.
Testing and Double Merles
Dogs suspected of having the merle gene should be tested for it, to prevent the merle gene from being passed to another generation.
Double merle dogs have two merle alleles, one from each parent. Unfortunately, these dogs often suffer from more severe problems. So, it's wise to pay attention to any genetic health issues brindle breeds might be susceptible to.
Brindle Dog Breeds
We've separated out the brindle dog breeds into four categories today. The large, small, hound and terrier types.
Akita
American Staffordshire Terrier
Boston Terrier
Boxer
Bulldog
Bull Terrier
Chihuahua
Corgi
Dachshund
Great Dane
Greyhound
Mastiff
Plott Hound
Whippet
Large Brindle Dog Breeds
Dogs with brindle coats can vary a lot. So, to make it easier for you to find one you love, we've split them into different categories. Let's start by taking a closer look at some of the more popular large breeds with beautiful, brindle coats!
1. Akita
The handsome, big-boned Akita is the largest of Japan's native breeds. It comes in many colors, including brindle.
Akitas are loyal, noble, and affectionate with their close family. This dog has a hunting past, so it is important to socialize and train the Akita well from a young age.
The Akita might not suit homes with small animals or very young children, due to their chase instinct. But, they will do very well in active homes with families who have plenty of time to dedicate to their dogs!
2. Boxer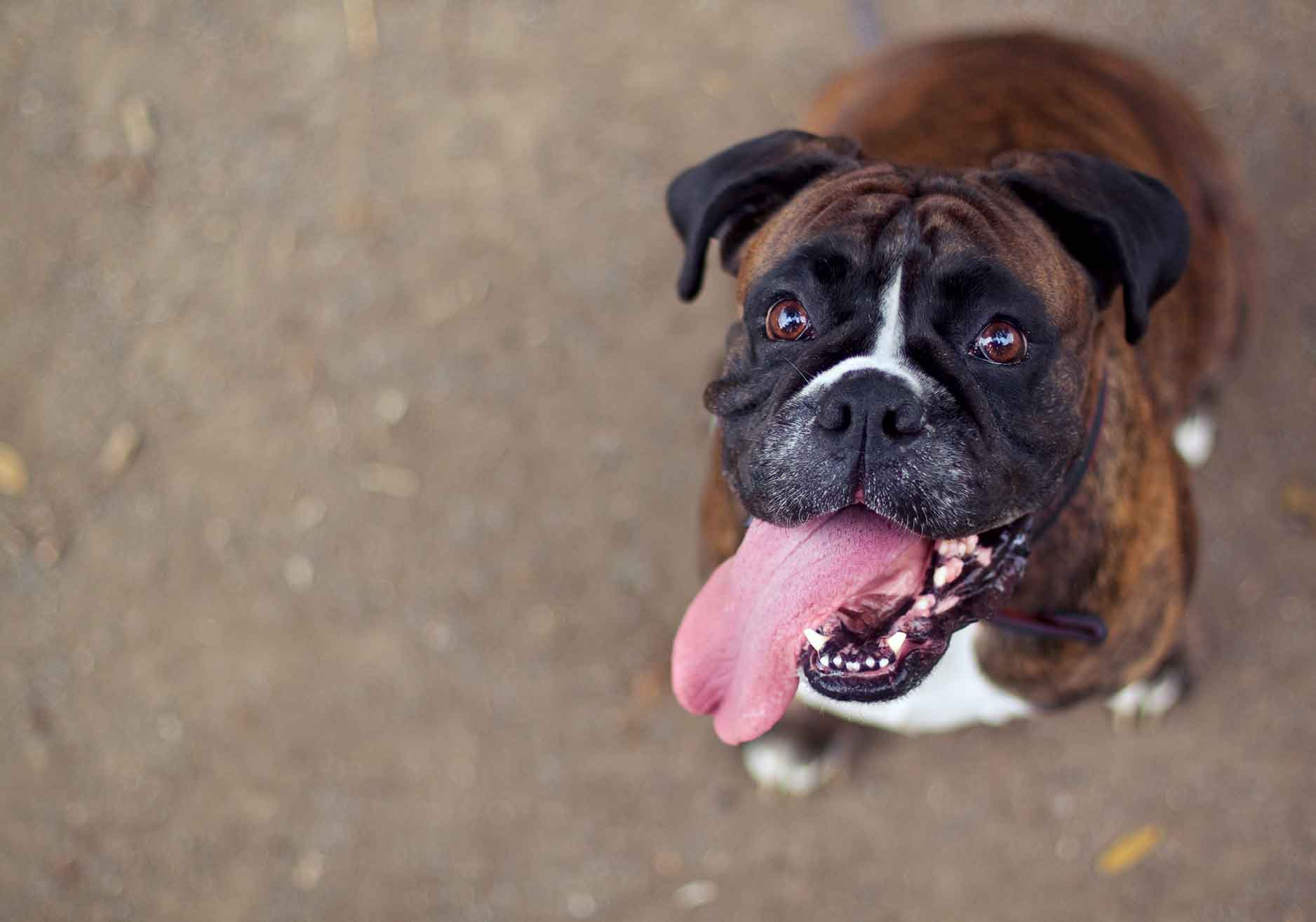 Boxers actually come in just one main coat color – fawn. But, this color comes in various shades. They can also be brindle with a fawn color base. The brindle pattern is extremely common on boxers. In fact, dark-colored Boxers most likely have dark—even black—stripes on a fawn coat. Reverse brindling makes them look black.
Boxers are loyal, devoted, and all-round enthusiastic dogs. They need plenty of exercise and consistent training and socialization as puppies. Thanks to their very high intelligence levels, Boxers need a busy, varied schedule to stay entertained and happy.
3. Mastiff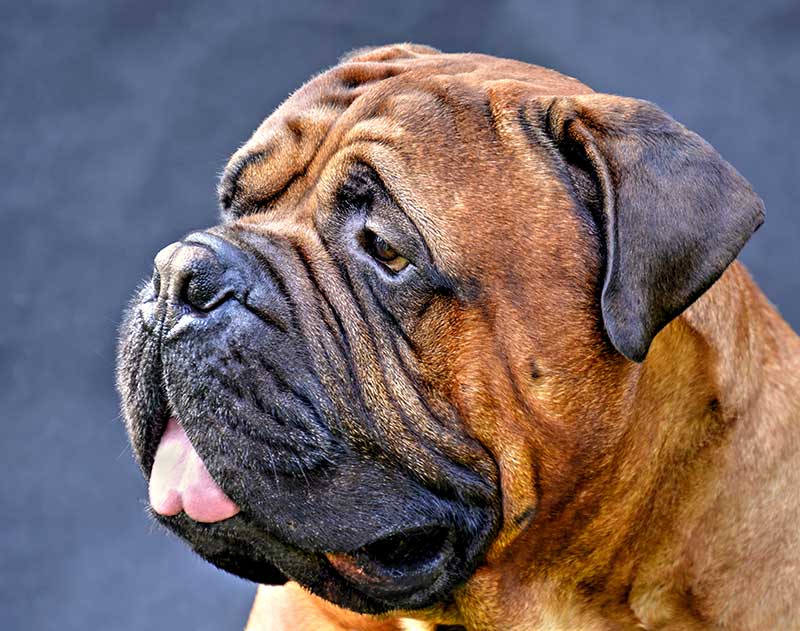 The main coat colors of the Mastiff are fawn, apricot, and brindle. Brindling on the Mastiff usually consists of a fawn or apricot color in the background and dark stripes on top. The muzzle, ears, and nose of the Mastiff are typically dark, as well.
Mastiffs are powerful, protective, and devoted. They can make wonderful loyal dogs, but this can be problematic if your dog is overprotective. Socialize and train Mastiffs well to ensure that they are safe around strangers who visit your home.
4. Great Dane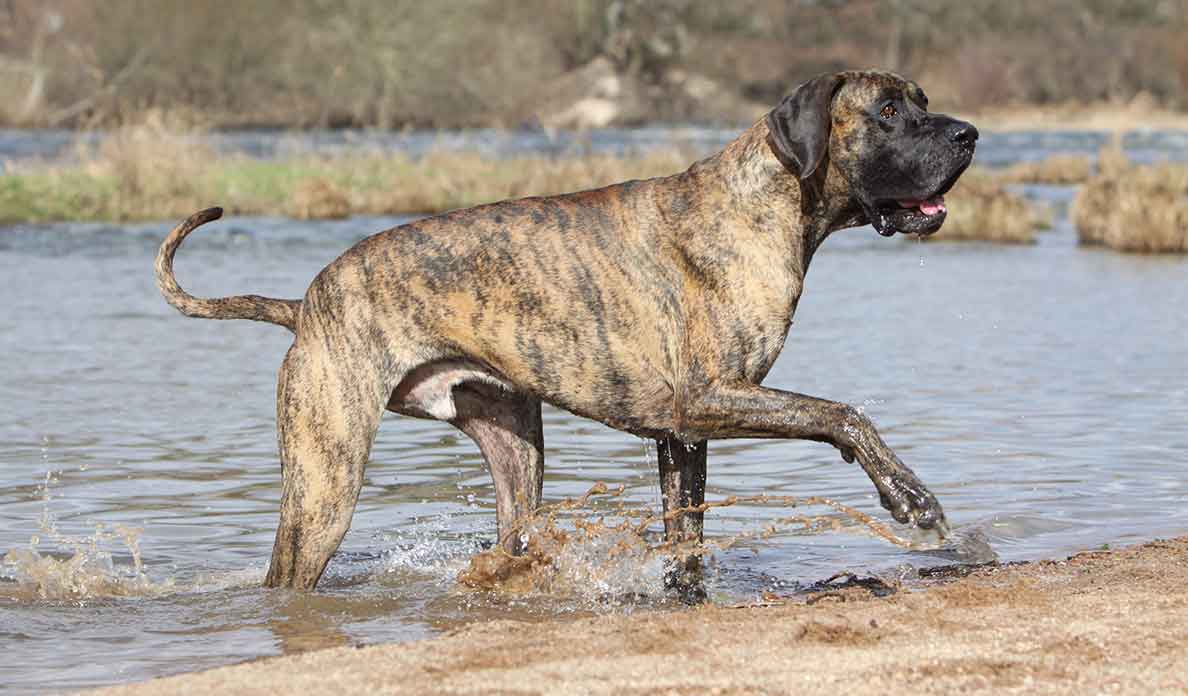 Brindle is acceptable in Great Danes. The base color for this breed should always be yellow gold with black cross stripes, in a chevron pattern.
In Great Danes, an intense base color and distinct, even brindle pattern is preferred. Variances like too little or too much brindle, large white areas, and "dirty" brindles are considered faults.
Great Danes are gentle, affectionate, and brave. They are known for being great with children and other animals, but will need plenty of training and socialization because they're so large.
Small Brindle Dog Breeds
If you have less space in your home, or simply prefer little dogs, you might want to learn about small brindle dog breeds!
Small brindle colored dog breeds are super cute! Here are some you'll love.
1. Cardigan Welsh Corgi
Cardigan Welsh Corgi lists all shades of red, sable, and brindle as allowable. They can also have brindle points. In Corgis, there is no color preference for purebreds and all listed colors and shades are desirable.
Corgis are intelligent, alert, and energetic. So, they will need exercise, and plenty of mental stimulation. As a herding breed, they may nip at children or other animals in an attempt to herd them.
They require moderate levels of training. But, they are prone to intervertebral disc disease because of their long backs and short legs. So, make sure to read up on this before considering this breed.
2. Dachshund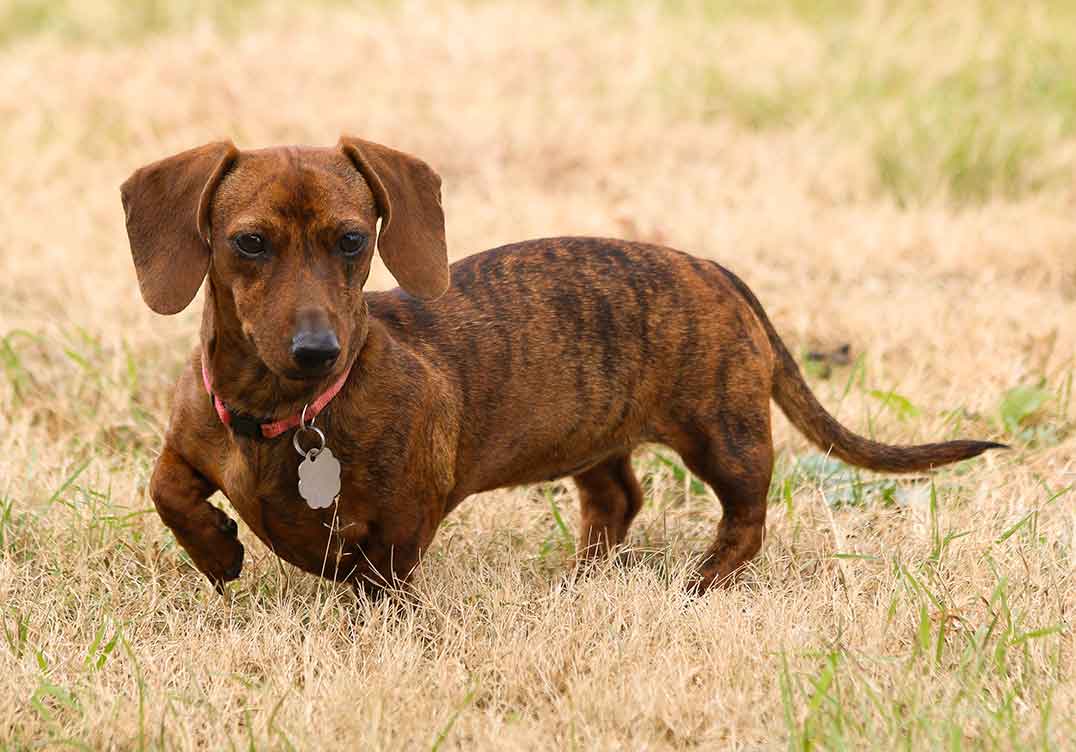 Dachshunds come in three different types of coat: long-haired, wire-haired, and smooth. Brindle is considered a standard pattern in smooth dachshunds.
These small dogs are loyal, protective, and vocal. It's possible that your Dachshund will have strong chase instincts. So, you will need to socialize and train this breed well.
Like Corgis, Dachshunds are also prone to plenty of back problems. Make sure you read up on these before committing to this breed.
3. Chihuahua
Chihuahuas come in a wide variety of colors and patterns! While brindle is not a particularly common coloration for this breed, brindle Chihuahuas do exist. The official breed standard states blue brindled fawn, chocolate brindled fawn, and fawn brindled black as possible coat colors.
Chihuahuas are loyal, affectionate, but also feisty. They are popular because they need less space and less exercise than larger breeds. But, they are intelligent, so need plenty of mental stimulation, and lots of time spent with family members.
4. Bulldog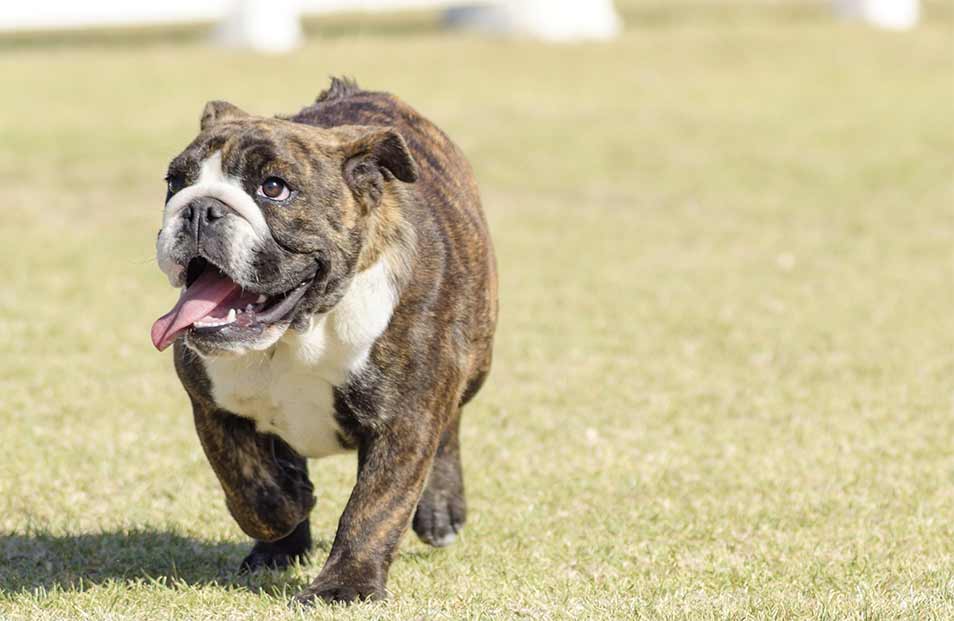 Brindle is a common pattern on the small but heavy-looking Bulldogs. Often you'll see fawn or red as a base color. Red brindle is often considered desirable in this breed.
Bulldogs are calm, brave, and friendly. However, this breed has flat faces, which can cause a huge variety of health problems.
Brindle Terrier Breeds
Another type of dog breed that can experience this wonderful fur pattern is terriers. These dogs come in all shapes and sizes, so there's something everyone will love. Here are some terrier breeds that can show the brindle gene.
1. American Staffordshire Terrier
The American Staffordshire Terrier can come in many different colors, including solid, parti, and patched colors. They should not be more than 80 percent white.
This terrier breed is loving, intelligent, and people-oriented. They need plenty of exercise and won't do well with families who spend lots of time away from their dogs.
As strong dogs, it's important to socialize and train Amstaffs well, especially around other animals and strangers. Luckily, grooming isn't a huge task with these dogs either, as they have short, firm coats.
2. Bull Terrier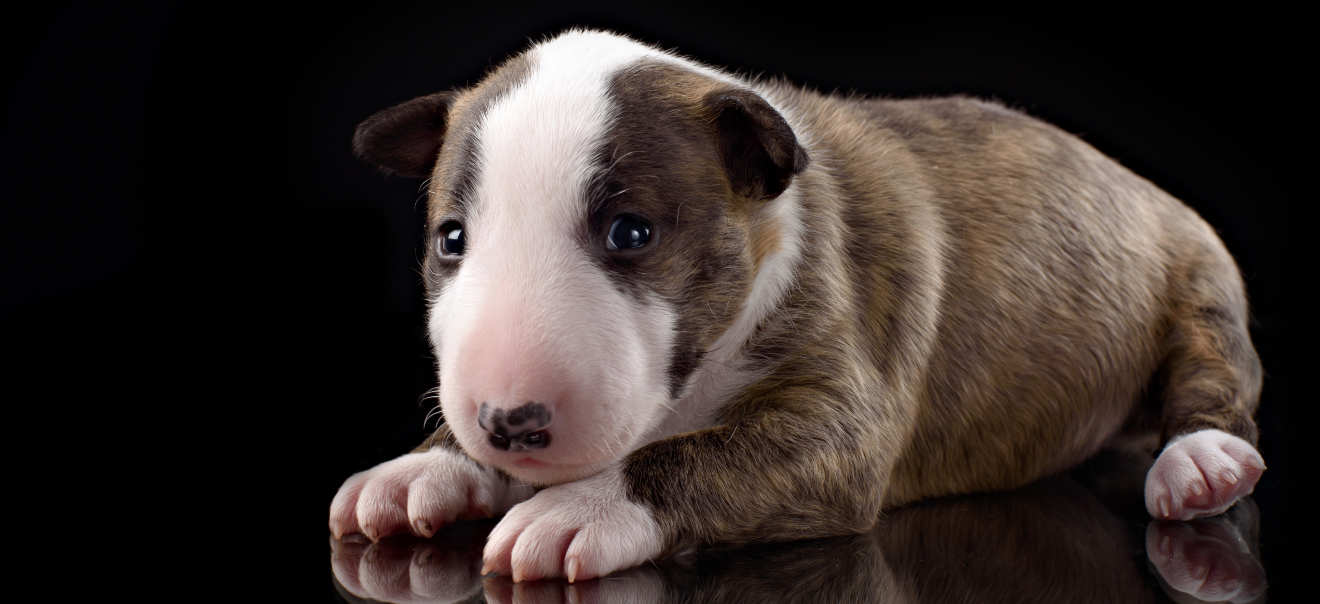 Bull Terriers come in white and colored varieties. White Bull Terriers may have some colored markings. Brindle is actually a preferred color for colored Bull terriers.
These dogs are known for being active, strong-willed, and intelligent. They were originally used as fighting dogs, so need plenty of training and socialization as puppies. There are also some concerns about the health of their egg-shaped head, which you should read up on before choosing this breed.
3. Boston Terrier
One of the cutest things about the Boston Terrier is their so-called tuxedo—a colored area accompanied by a white area. This tuxedo jacket can come in seal or black brindle. It's clearly visible on the colored area of a Boston Terrier's fur.
Boston Terriers are active, friendly, and social. They need plenty of social interaction every day, and don't need too much space to exercise in. However, this terrier breed can suffer from problems associated with brachycephaly. This means they can overheat easily, and experience dental, respiratory, and ocular issues.
Brindle Hound Breeds
It's not just the terrier breeds that can experience the beautiful brindle pattern! Hounds are another type of dog that can commonly appear as brindle. Here are a few brindle hound breeds.
1. Greyhound
These lanky dogs come in many different colors, including several shades of brindle. This includes black brindle, blue brindle, and red brindle. Any of these brindle patterns can be combined with white areas in different combinations.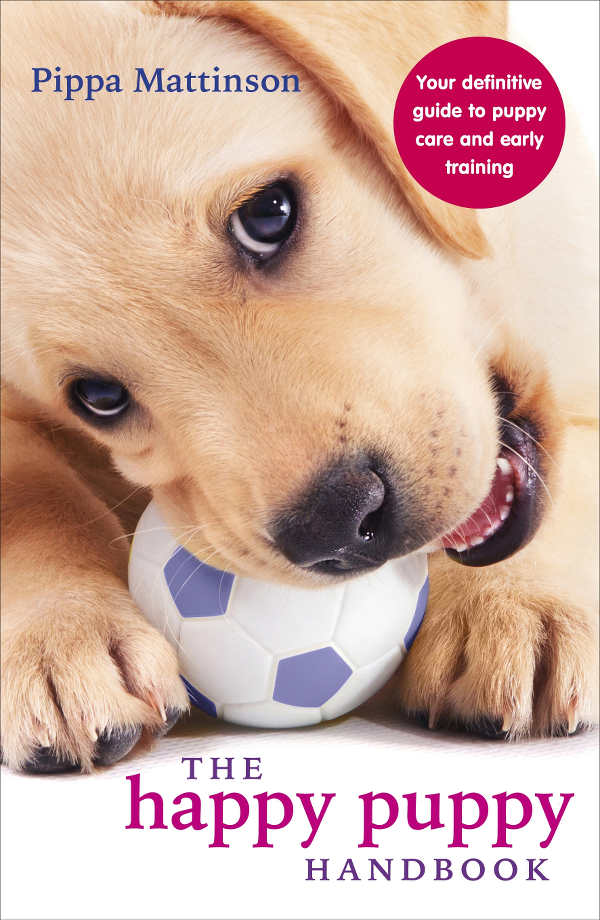 The red brindle pattern is preferred. Especially if the colors are fine and evenly distributed.
Greyhounds are sweet, inquisitive, and mischievous. They love lying on the couch with their owners just as much as they love chasing after things at full speed! Socialize them well and be wary of exercising them off-leash in open areas. Even Greyhounds with the best recall can get caught up in the thrill of the chase!
2. Whippet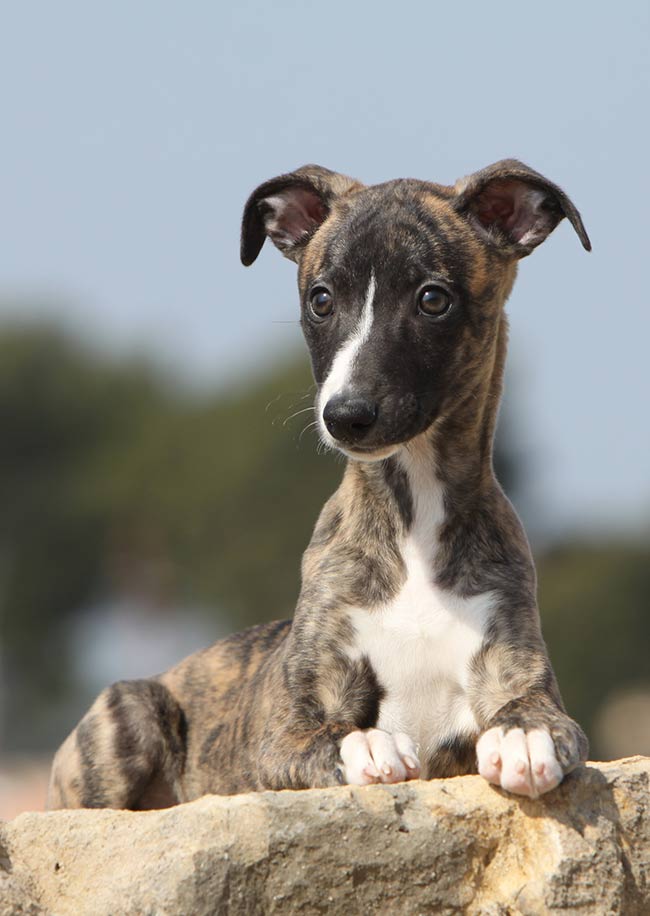 These lightning-fast sprinters are available in blue brindle, fawn brindle, and red brindle. But, these combinations can come with white markings as well. Whippets are friendly, lively, but can also be relaxed little dogs. They are a quiet breed, so you should have few problems with barking.
They have a strong chase instinct, so need to be socialized well, and should only be let off the leash in safe, enclosed areas. This breed does well in families that spend plenty of time together.
3. Plott Hound
The streamlined Plott Hound comes in black brindle, blue brindle, chocolate brindle, gray brindle, liver brindle, orange brindle, red brindle, tan brindle, and yellow brindle! You can even get buckskin, tan, malt, and dilute black factors in Plott brindle colors. In these dogs, the AKC breed standard says that any shade of brindle is preferred over solid.
Plott Hounds are intelligent, energetic, and independent. This breed was originally bred to hunt big game, so they need to be socialized well as puppies. They need families that can provide them with plenty of exercise and mental stimulation.
4. Treeing Tennessee Brindle
Yes, this dog breed has Brindle in the name! Standard colors for the Treeing Tennessee Brindle are black and brindle. They can also have a brindle trim as a marking. This coonhound breed is in the AKC Foundation Stock Service. So it's not yet a full registered member but under development.
The United Kennel Club does recognize it, though, and says that any color other than brindle or black with brindle is considered a serious fault. This breed is friendly, alert, and intelligent. They have strong hunting instincts, so will need to be socialized well as puppies.
Where Can I Find Dogs With Brindle Coats?
If you've set your heart on one of these breeds, you have two options for finding a dog: breeder or rescue center. It is possible that you might find specific rescue centers for brindle dog breeds. But, normally you will have to go to breed-specific rescues. It might take some time to find the exact sort of dog you are looking for.
But many rescue centers will work with you. And this is a great way to give a brindle dog a second chance at a loving home. Dogs from rescue centers often cost less than those from breeders. And, staff at rescue centers can often tell you a bit about a dog's personality before you choose one.
Brindle Dog Breeders
The alternative is going to a reputable breeder. When choosing a breeder, make sure you go with a list of questions to ensure the dogs are as healthy as possible. The most important thing here is to avoid puppy mills and pet stores. These places will only breed for a profit, often at the expense of your dog's health.
Brindle puppies from reputable breeders are likely to cost more than those from rescue centers. If you need more tips on how to find a puppy, take a look at our puppy search guide.
What Dog Breeds Have Brindle Coats?
There are quite a few options if you have your heart set on one of a brindle colored dog breeds. But remember, each of these breeds has very different needs in terms of health, exercise, and temperament.
Which will you choose? Let us know in the comments! And if you have a brindle dog at home, let us know what they're like!
Readers Also Liked
References and Resources