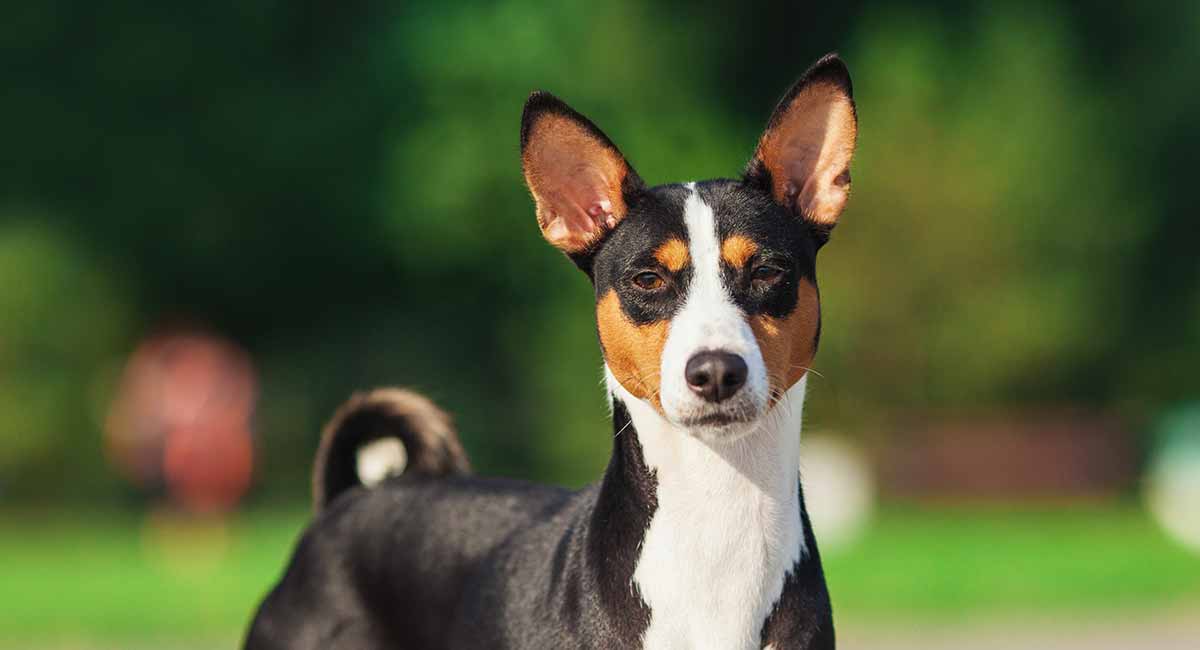 The Basenji is a small, energetic sighthound dog with a short glistening coat and a spritely curved tail. This breed is known for graceful movement, a clever mind, and uniquely — no barking (though they communicate with other vocalizations). They may be small in size, but what the Basenji lacks in size it more than makes up for in personality!
What's In This Guide
Basenji FAQs
Our readers' most popular and frequently asked questions about the Basenji:
Breed At A Glance
Popularity: Rare, ranks 88 of 194 breeds in US
Purpose: Hunting dog, companion
Weight: 22-24 lbs
Temperament: Independent, intelligent, energetic, Meticulous about self-grooming, strong chase instinct, great escape artist, loving towards family, can be aloof towards strangers
Basenji Breed Review: Contents
History and Original Purpose of the Basenji
Where did this barkless, energetic breed originate? It turns out, in Africa, where their short coat is a perfect fit for the heat and small size allows them to easily move through underbrush during hunts. Scientific evidence in the early 21st century has confirmed that the Basenji is closely related to the most ancient domesticated dogs.
Basenji dogs were already a well-known breed when they journeyed up the Nile through Africa to Egypt, where they were offered as gifts to Egyptian pharaohs. In fact, paleontologists have even found depictions of the Basenji breed in ancient Egyptian relics, as well as in ancient Babylonian and Mesopotamian artwork.
The Basenji survived the fall of the ancient Egyptian empire, persisting in the region as a wild dog of sorts.
Utilized by African tribesmen, the African Basenji proved to be talented and resourceful hunters. They were cherished for their incredible speed, sharp vision, and keen sense of smell. Basenji were often responsible for driving game into nets for the hunting party.
This unique dog breed was even known for their skill at vertical jumping, as they would leap through the African plains while hunting, entertaining anyone within eyesight!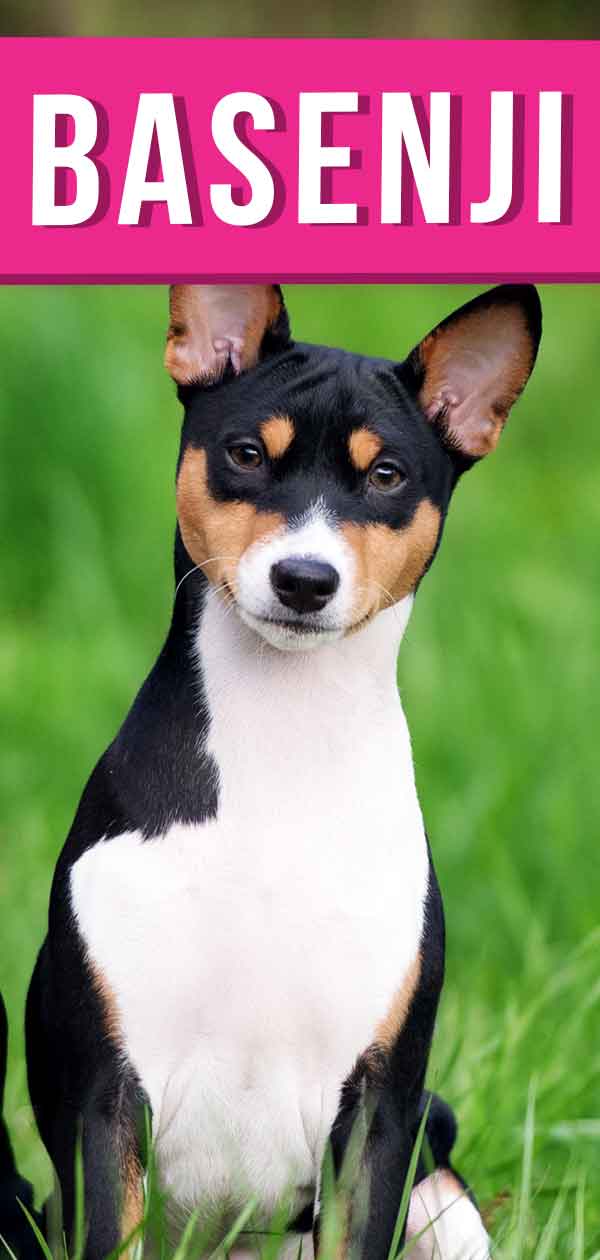 Moving to the West
Because of their isolation, these dogs remained relatively unchanged from the time they traveled the Nile to join other Egyptian dog breeds until they made their way to the West in the 1800s.
Despite a few early individuals, It took tragedy, hard work, and patience before the breed was finally established in England and the United States.
Many of the early dogs brought to England from the Congo died of distemper before they could reproduce. The first successful breeding in England occurred in 1936 and imports to the US followed quickly. Even after breeding became successful in the West, the small gene pool led to problems with inbreeding, so more dogs were eventually brought into the mix in the US directly from the Congo.

Here are a few fun facts about the Basenji to entertain your friends…
Fun Facts about Basenji
There are mummified Basenjis preserved in the Museum of Cairo — they were that important to the Ancient Egyptians!
The rumor is right, they really don't bark (they can't because of the shape of their larynx). They are fairly quiet but do speak occasionally with a range of other vocalizations, some similar to a yodel
A Basenji is the main character in the 1954 novel, "Good Bye, My Lady" by James H. Street, and the film that was made of the novel in 1956 by the same name.
In parts of Africa, Basenjis are used to lure lions out of their caves

Let's take a closer look at this one.
Basenji Appearance
Adult Basenjis generally reach 16 or 17 inches tall and weigh between 22 and 24 lbs.
This ancient breed is known for an expressive face, intelligent eyes, and compact body. And we can hardly forget those large erect ears and the famous curled tail!
The Bajenji has a short, sleek coat that comes in a variety of colors and patterns. Standard colorations (from the AKC breed standard) are
brindle and white
red and white
black and white
black, tan and white.
They can, less commonly, also come in
black brindle and white
blue cream and white "Blue Belton"
cream and white
mahogany and white
The Basenji's temperament fits well with his agile build.
Basenji Temperament
Somewhat of a rascal, the mischievous Basenji dog is said to be human-like in emotion. They bond strongly with their people and incite extreme loyalty and love from those who take on the job of caring for them.
Rather unique among dogs, and a bit more like a cat in ways, he can be aloof, independent, and meticulous about staying clean. These traits can work well in apartment living.
Despite the aloof attitude, he is very loving toward his family members and often enjoys cuddling.
Seeing as they were once pack hunters, the well-socialized Basenji should get on rather nicely with other household dogs, especially if raised with them!
Cats may be another story! It would be wise to be careful with bringing the adult Basenji together with cats that he has not been raised with, as there is a strong chase drive. It may be ok if he grows up in a household with the cat and sees it as a part of the family.
This is also not a dog to leave alone in the fenced yard, as he will most likely find a way to escape.
If not well-socialized at a young age, he may struggle to adapt to new and challenging environments as an adult.
A prospective owner may wish to consider starting obedience training early with this reportedly stubborn yet intelligent breed. It will not be an easy task but is do-able with patience and consistency.
Training and Exercising your Basenji
Of course, early socialization is important with all dogs, but with the Basenji puppies it is a must! If this opportunity is missed, a Basenji may become more cautious about human strangers and/or more aggressive towards other animals.
Due to his energetic nature, he may get up to mischief when left alone in the home for brief periods, Early crate training is therefore also recommended.
Challenges with Training
This is a dog that, while very clever, is sometimes described as difficult to train. Short, frequent training sessions that avoid your Basenji getting bored, are the way to go.
In fact, while this breed may be difficult to train, they are quite the learners and pick things up rather quickly when they want to. The key is helping them want to.
Luckily, owners who are able to utilize the treat-based reward system and who can make training a fun and enjoyable experience have had plenty of success!
Experts agree that the best plan of action when training Basenji puppies is to keep the sessions short — no longer than five or ten minutes at a time.
Exercise
When it comes to exercise, this is an active breed with tons of energy, especially in their youth.
Their curiosity and zest for adventure means they are going to need plenty of regular activity to keep from becoming bored and then destructive; — think at least an hour a day.
Experts recommend frequent periods of play and lots of outside time with your high-energy doggy friends.
They will enjoy running in a securely fenced backyard, and will love a brisk walk or jog or venture to the dog park.
If you're looking for a companion for your runs, they might be a great breed for you, but be aware that as puppies, they need to be allowed to develop endurance gradually, and never pushed once showing signs of fatigue.
As much as they love running, be warned that letting a Basenji run loose could lead to an unwanted game of chase, unless you have a strong recall established. Given their fast, galloping gait, you won't be the faster one! This can be a real danger near busy roads, or for nearby wildlife.
This is a breed with very strong hunting instincts. Mix that with their incredible speed, and you have a recipe for disaster if a bunny or squirrel catches their eye.
Basenji Health and Care
Generally, the Basenji is free of major structural problems that may cause pain for other dogs when active.
There have been a few genetic health conditions that can affect the breed, but they are diminishing with careful breeding.
This is considered a generally healthy breed. The two most common heritable health conditions which have plagued them have decreased a lot lately with careful breeding, but you should still be aware they are possible:
Progressive Retinal Atrophy (PRA)- Somewhat late in onset, but can slowly lead to blindness. There is a genetic test (PRA-BJ1) for this.
Fanconi Syndrome- Causes loss of nutrients, electrolytes, and water through the kidney. If caught early and the puppy is given proper oral supplementation, they can live a normal lifespan. When not caught early, it can lead to muscle wasting, low energy, and premature death. This is detectable by genetic testing.
If you go through a breeder to get your puppy, keep in mind that responsible breeders should be able to provide certificates proving their dogs have been health screened for the above issues.
If you have already taken on a pup from untested parents, you can ask your vet to arrange screening for them. They can test your puppy for any of the above heritable issues. Early health screening may help you prepare for or avoid certain health issues to which he may be predisposed.
Common Minor Issues in the Basenji
In addition, Basenjis may be affected by
Immunoproliferative small intestinal disease (IPSID)- Causes chronic diarrhea and progressive weight loss in affected dogs.
Hemolytic anemia due to genetic pyruvate kinase deficiency- Dogs become anemic (low in oxygen-carrying red blood cells) due to a defective enzyme in red blood cells that causes the red blood cells to be destroyed too soon. Symptoms of anemia include fatigue, and increased heart and breathing rates. This condition would require ongoing treatment. It is fully preventable though, by ensuring 2 carriers of the genes do not mate.
Hypothyroidism- As a result of autoimmune thyroiditis — occurs in about 5% of Basenjis
Hip dysplasia- Far less common than in most breeds, about 3% of Basenjis may be affected.
Lifespan
The Basenji lifespan is about 13-17 years. This is a few years longer than the average dog of similar size.
Grooming
Basenji grooming is easy. The short, sleek coat only needs to be brushed once a week.
Your dog will also need her nails trimmed regularly to avoid breakage or foot pain, especially since she is likely to be so active and playful.
We also recommend checking and cleaning your dog's ears to keep moisture and wax from building up and causing ear infections.
Feeding
The Basenji is a highly active, very intelligent breed with lots of energy! He will thrive on high-quality dog food with a large percentage of meat proteins (listed as the first few ingredients).
Whether you choose a specialty dog food, wet dog food, or dry dog food, remember that it is important to make sure your dog is eating food geared towards his age, weight, and activity level.
Experts recommend treats be given in moderation, especially if you are concerned with obesity, which would be especially harmful on the light frame of this breed.
That said, remember that treats play a wonderful role in training, especially with this willful breed.
While you may enjoy sharing your food with your pup, some foods can be toxic to dogs. It is wise to always research any foods you are unsure about before sharing them with your pup.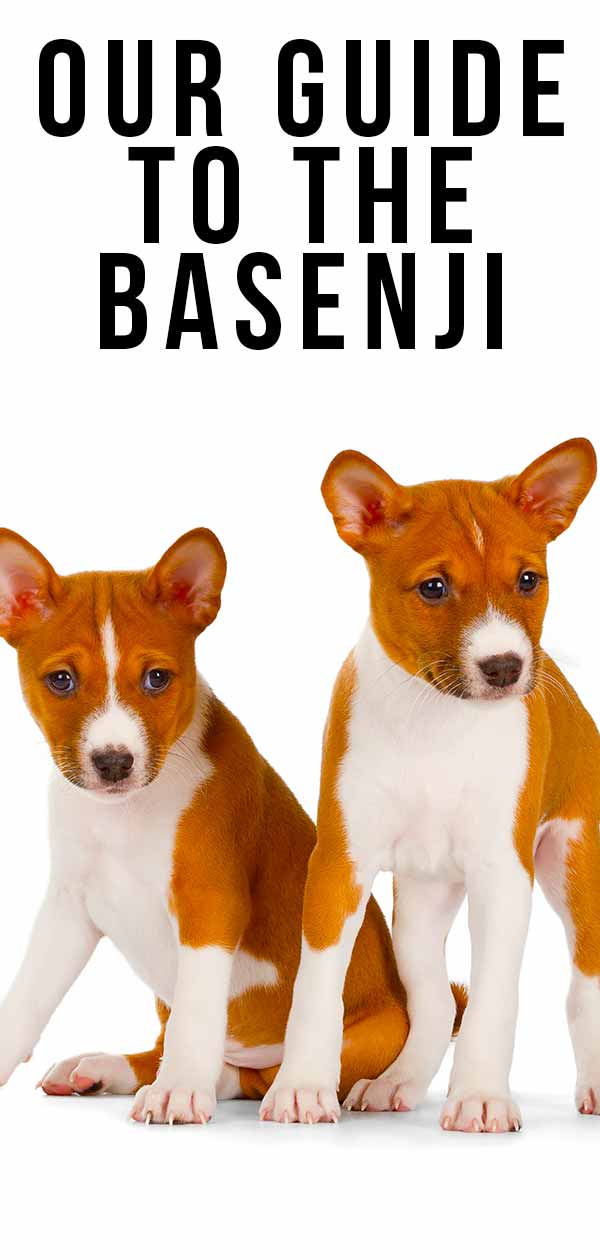 Are Basenjis Hypoallergenic?
So, is the Basenji hypoallergenic? Sort of. Here's the thing.
While they do shed lightly, their short hair and clean habits make it a great breed for those who suffer from dog allergies.
There really is no such thing as a 100% hypoallergenic dog. The protein that causes allergies is found in the dead skin cells of the dog, so there is really no getting around it completely.
That said, the Basenjis produce much less allergy-inducing dander than many other breeds and also shed less, to leave less lying around on the shed hairs.
So while the Basenji is not completely hypoallergenic, it would be among the better breeds for someone with a dog allergy.

This might be one great attribute if a member of your family suffers from allergies.
Do Basenjis Make Good Family Pets
This dog enjoys children and makes for a very friendly and playful family dog, especially with older children who can appreciate the high energy.
If you are able to meet this unique breed's exercise and training requirements, and if you are patient, loving, and have a home suitable for this speedy, energetic little breed, then the Basenji should make a wonderful pet!
While he gets along well with children and other dogs when properly socialized, he needs extensive training and will do best in homes with large, fenced-in yards where he can roam and run safely.
Those who own and love this brainy breed claim he is the cream of the crop and worth the trouble!

If you're thinking this all sounds good, though puppies usually involve a wait, at any given time, there are amazing Basenji dogs who need a new home.
Rescuing a Basenji
One of the benefits of going through a shelter or rescue organization is that the price is much less than you will pay for a Basenji puppy through a breeder. Adoption fees typically range from $50 to $100.
This is an especially good deal considering that rescues or shelters will often provide vaccinations, de-sexing, and breed-specific health screening.
Besides being a more economical option, rescuing a Basenji dog provides a home for a dog that has lost theirs and possibly saves their life.
Are Rescue Dogs Trouble?
Sometimes people assume that if a dog is a rescue it must have problems, but this is not necessarily true. There are many reasons that people may be unable to keep their amazing dog.
In addition, rescue organizations also often do temperament testing on the rescue animals so you will likely be aware of the dog's past and personality.
Finding a Basenji Puppy
Seeing as this is something of a rare breed, Basenji puppies may not be as easy to come by as others.
If you are on the hunt for a Basenji puppy, you may have the best luck going through a breeder. As with all puppies we recommend carefully checking the breeder and strictly avoiding all pet stores and puppy mills.
One of the good things about going through a breeder is that they typically health screen each puppy. They should be able to provide you with certificates proving the puppy is healthy and ready to go home with you.
If you have decided to go through a breeder for a puppy, rather than rescue a dog, you can expect to pay from $500 to over $4,500. The average cost for a Basenji puppy is $800. If the parents are of show quality, the price of your puppy will be on the higher end.
You may also want to look into a Basenji mix. These are becoming more popular, tend to live a bit longer and be even more robust in health.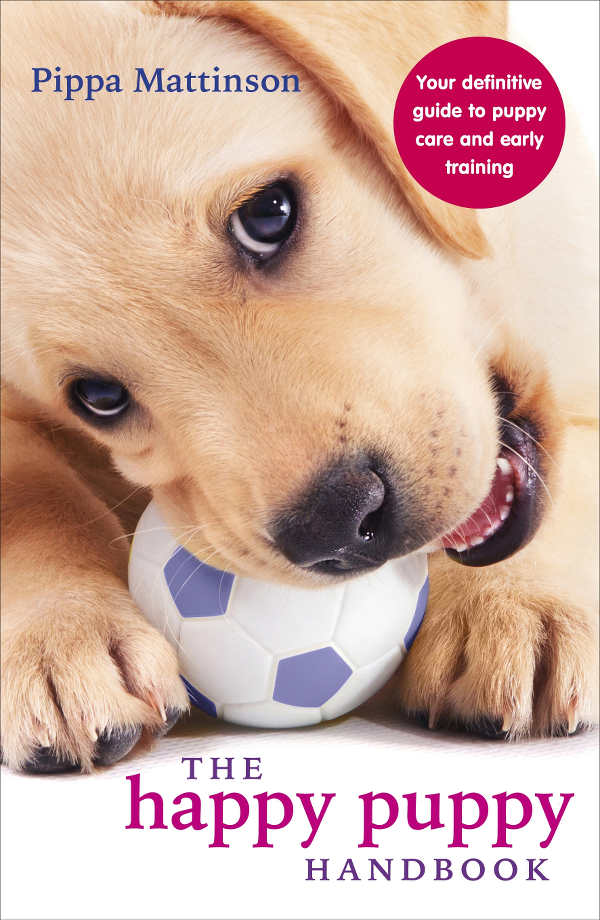 Next, let's look at some resources for raising a new puppy!
Popular Basenji Breed Mixes
There is a trend toward mixed breed dogs. Many Basenji mixes exist as well and can have the benefit of mix-breed robustness and a combination of amazing traits from both breeds.
Here are a few to check out:

Maybe the Basenji (or a mix) is sounding neat, but you're not quite sure they're right for you. We'll look at some similar breeds.
Comparing the Basenji with Other Breeds
The Basenji is truly a unique dog, but maybe you'd still like to compare him to a few others.
Basenji vs. Beagle — The beagle is also a small hound dog and has similar color variants as the Basenji. But the beagle is like the mischievous Basenji's happy-go-lucky little brother. They are also far more common and a bit smaller.
Basenji vs. American Foxhound — If the Beagle is the Basenji's younger brother, The American Foxhound is like the gentle older sister. Foxhounds share a strong prey drive and need for exercise, but are larger and a bit gentler.
Basenji vs. Afghan Hound — In stark contrast to the sleek coat of the Basenji, an Afghan Hound's long, flowing coat may give a very different impression. But both are very athletic dogs that bond well to family. If you live in a cold climate but are drawn to the Basenji, the Afghan may be worth considering.
Similar Breeds
Other breeds you might want to consider:

Every dog type has its pros and cons, let's look at those for the Basenji.
Pros And Cons of Getting A Basenji
Cons of getting a Basenji:
prone to escaping
strong chase instincts
become destructive without enough exercise.
Pros of getting a Basenji:
bond strongly with family
high energy and playful
intelligent
less allergenic than some other dog breeds.

Here are a few tools that may help care for your new dog.
Basenji Products and Accessories
Basenji Breed Rescues
USA-based Rescues:
UK-based Rescues:
Australia-based Rescues:
Canada-based Rescues:
Do you own a Basenji dog? Let us know in the comments!
This article has been extensively revised and updated for 2019
References And Resources
Adams VJ, et al., 2010. Results of a Survey of UK Purebred Dogs. Journal of Small Animal Practice.
Breitschwerdt, EB, et al., 1984. Clinical and laboratory characterization of Basenjis with immunoproliferative small intestinal disease
Freedman, Adam H., et al., 2014. Genome Sequencing Highlights the Dynamic Early History of Dogs. PLOS Genetics.
Goldstein, O, et al., 2013. A non-stop S-antigen gene mutation is associated with late onset hereditary retinal degeneration in dogs. Molecular Vision.
Gough A, Thomas A, O'Neill, 2018. Breed Predispositions to Disease In Dogs and Cats. Wiley Blackwell
Howell, Tiffani J., Tammie King, Pauleen C Bennett, 2015. Puppy Parties and Beyond: the role of early age socialization practices on adult dog behavior.
Ketz, Janet, 2017. Basenji Club of America Health Statement
Nunez, Eladio A., et al., 1972. A Fine Structural Study of the Highly Active Thyroid Follicular Cell of the African Basenji Dog. Developmental Dynamics
Pongracz, Peter, et al., 2005. The Pet Dogs Ability for Learning from a Human Demonstrator in a Detour Task is Independent From the Breed and Age. Applied Animal Behavior Science.
Serpell, James A., Deborah L. Duffy, 2014. Dog Breeds and their Behavior, Domestic Dog Cognition and Behavior.
Standerfer, Robert J., et al., 1975. Canine Erythrocyte Pyruvate Kinase ll. Properties of the Abnormal Enzyme Associated with Hemolytic Anemia in the Basenji Dog. Biochemical Genetics.
Sutter, Nathan and Elaine A Ostrander, 2004. Dog Star Rising: The Canine Genetic System, Nature Reviews Genetics.