The Basenji seems to be somewhat of an anomaly in the dog world, with his barkless reputation, catlike disposition, and knack for mischief.
This quirky breed is full of spunk and fun, but he is certainly not the dog for everybody. So, are you wondering if you and the Basenji dog would make the perfect pair?
If so, keep reading. Here is everything you should know about the Basenji before you bring him home!
What is A Basenji Dog?
Meet the Basenji, one of the world's miraculous "barkless dog" breeds!
Considered one of the oldest breeds in the world, this dog is renowned for his clever mind, dignified nature, and independent personality.
Somewhat of a rascal, the mischievous Basenji is said to be human-like in emotion, bonding strongly with his people and inciting extreme loyalty and love from those who take on the job of owning him.
One of these pups may be difficult to come by. He is a rare breed sought after by those who know of and are willing to contend with his unique needs as a pet.
So, is the Basenji right for you? And where did he come from?
Let's find out!
History of the Basenji
While unique and somewhat rare, this ancient hunting dog is likely a close descendant of the oldest of the domesticated dog breeds.
Remarkably, many experts believe that the Basenji actually bears the closest resemblance to the earliest versions of domesticated canines.
Basenji dogs were already a well-known breed when they journeyed up the Nile from Africa to Egypt, where they were offered as gifts to Egyptian pharaohs.
In fact, paleontologists have even found depictions of the Basenji breed in ancient Egyptian relics, as well as in ancient Babylonian and Mesopotamian artwork.
The Basenji survived the fall of the ancient Egyptian empire, persisting in the region as a wild dog of sorts, according to the AKC.
Utilized by African tribesmen, the African Basenji proved to be a talented and resourceful hunter, cherished for his incredible speed, sharp vision, and keen sense of smell.
This unique dog breed was even known for his skill at vertical jumping, as he would leap through the African plains while hunting, entertaining anyone within eyesight!
An historical breed
Because of their isolation, these dogs remained relatively unchanged from the time they traveled the Nile to join other Egyptian dog breeds until they made their way to the West in the 1800s.
However, it took tragedy, hard work, and patience before the breed was established in the United States.
Though breeders tried, many dogs brought over from the Congo died before they could be effectively bred. Eventually, a Boston breeder was able to successfully breed a pair in the US.
Still, the Basenji hound remains beloved but rare, ranking at number 88 out of 194 on the American Kennel Club's list of America's most popular dog breeds.
What is the Basenji Temperament?
Can Basenjis bark?
While it is true the Basenji bark is nonexistent, the Basenji yodel is definitely a thing.
A very strange thing to hear, the "yodel" sound is the best Basenji dog bark the breed can muster.
However, this bizarre, often funny Basenji noise is truly just one of many unique things about the breed.
You see, the personality is quite unlike the basic temperamental traits of other dog breeds.
For example, he is said to have tendencies that are rather cat-like, especially when it comes to preening.
Basenji Personality
They are intelligent but stubborn and bore easily of training sessions that run over ten minutes long.
Plus, this plucky breed has a knack for mischief and isn't afraid to let his wide range of human-like emotions known.
Of course, early socialization is important with all dogs, but it is a must with the breed.
While this dog is very loving and dotes on his family members, he can be aloof with strangers.
He may not get on well in adverse environments he is not used to if he is not properly socialized at a young age.
Still, this dog does enjoy children and makes for a very friendly and playful family dog.
And, seeing as he was once a pack hunter, the well-socialized Basenji should get on rather nicely with other household dogs, especially if he is raised with them!
A prospective owner may also wish to consider obedience training with this stubborn yet intelligent breed.
Basenji Defining Characteristics
The breed may be small in size, but don't be fooled by his miniature package. What the Basenji lacks in size he more than makes up for in personality!
On average, Basenji weight ranges from 22 to 24 pounds while Basenji height is around 16 to 17 inches.
This dog has a short, sleek coat that comes in a variety of colors and patterns.
Basenji colors include:
• Brindle
• Tan
• Black
• Tri-Color
• Blue Belton
This ancient breed is also known for his expressive face, intelligent eyes, and compact body. And let us not forget those erect ears and his famous curled tail!
Grooming and Caring for a Basenji Dog
Basenji grooming is easy, with his coat only needing to be brushed once a week.
And while Basenji shedding does occur occasionally, this breed is really a great choice for those who suffer from allergies.
So, is the Basenji hypoallergenic? Sort of. Here's the thing.
There really is no such thing as a 100% hypoallergenic dog.
However, the  breed produces much less allergy-inducing dander than many other breeds.
So while he is not completely hypoallergenic, by dog standards, you may consider him to be.
Your Basenji will also need his nails trimmed regularly to avoid breakage, especially since this is such an active and playful dog breed.
We also recommend checking and cleaning your Basenji's ears to keep moisture and wax from building up and causing ear infections.
How Do I Train A Basenji?
This is a dog that, while very clever, is difficult to train mostly because of his catlike disposition and aversion to prolonged training sessions he may simply decide he has no time for.
Luckily, owners who are able to utilize the treat-based reward system and who can make training a fun and enjoyable experience have had plenty of success!
In fact, while this breed may be difficult to train because of his stubbornness, he is quite the learner and picks things up rather quickly when he wants to.
Of course, early socialization and obedience training for this breed will help when it comes to getting him accustomed to picking up commands.
Still, experts agree that the best plan of action when training is to keep the sessions short, meaning don't let them go on longer than five or ten minutes at a time.
What About Exercise?
When it comes to exercise, this is an active breed with tons of energy, especially in his youth.
His curiosity and zest for adventure means he is going to need plenty of regular activity to keep him from becoming bored and even destructive.
Experts recommend extended periods of play and lots of outside time with you or doggy friends.
He will enjoy running in a securely fenced backyard, and he will love a brisk walk or jog.
However, be warned that letting a Basenji run loose could lead to an unwanted game of chase.
Remember, this is a breed with very strong hunting instincts. Mix that with his incredible speed, and you have a recipe for disaster if a bunny or squirrel catches his eye.
And if the Basenji takes off running, you can rest assured you will not catch him.
This could lead to danger, especially if there are busy roads nearby.
Basenji Health Concerns and Average Lifespan
The Basenji lifespan is about 13-14 years.
This is considered a generally healthy breed, but there are some inheritable health issues prospective Basenji owners should be aware of.
These include retinal atrophy, Fanconi Syndrome, hypothyroidism, immunoproliferative systemic intestinal disease, hemolytic anemia, and liver issues due to household and environmental chemical sensitivities.
If you go through a breeder to get your puppy, you should keep in mind that responsible breeders should be able to provide certificates proving their dogs have been health screened for any of the above issues.
Still, you can always do early health screening yourself, testing your Basenji for any of the above inheritable issues prone to this ancient breed.
Early health screening may help you prepare for or avoid certain health issues he is predisposed to.
Basic Dietary Requirements of a Basenji Breed
The Basenji is a highly active, very intelligent breed with lots of energy and spunk! He will thrive on high-quality dog food with meat proteins listed as the first few ingredients.
And whether you choose a specialty dog food, wet dog food, or dry dog food, remember that it is important to make sure your dog is eating food geared towards his age, weight, and activity level.
Experts recommend treats be given in moderation, especially if you are concerned with obesity
However, remember that treats play a wonderful role in training, especially with the stubborn and willful breed.
And of course, it is wise to always research any human foods you are unsure about that you wish to share with your pup.
Remember, not all human foods are safe for our furry best friends.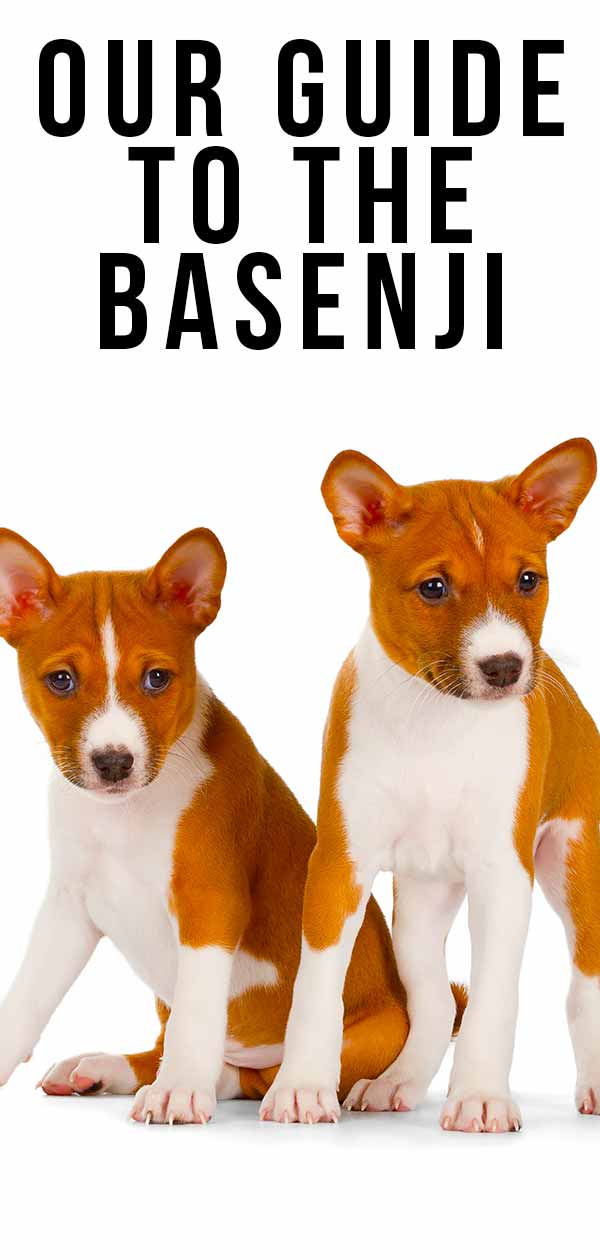 What is the Ideal Home Type for the Basenji?
While the Basenji gets along well with children and other dogs when properly socialized, he needs extensive training and will do best in homes with large, fenced-in yards where he can roam and run safely.
Remember, this is a unique breed with catlike behaviors and a talent for speed.
If you are able to meet this unique breed's exercise and training requirements, and if you are patient, loving, and have a home suitable for this speedy, energetic little breed, then the Basenji should make a wonderful pet!
Those who own and love this brainy breed claim he is the cream of the crop and worth the trouble!
How Do I Find A Basenji Puppy?
Seeing as this is something of a rare breed, Basenji puppies may not be as easy to come by as others.
If you are on the hunt for a baby Basenji, you may have the best luck going through a breeder.
One of the benefits of going through a shelter is that the price is much less than you will pay for a Basenji puppy through a breeder, with adoption fees running anywhere from $50 to $100.
Plus, shelters will often cover the initial vet fees.
However, if you have decided to go through a breeder, you can expect to pay anywhere from $500 to over $1000.
Of course, if parents are show quality, then the price of your Basenji puppy will be more.
One of the good things about going through a breeder is that they typically health screen their litters and will be able to provide you with certificates proving their puppies are healthy and ready to go home with you.
Do you own a Basenji dog? Let us know in the comments!
References
Robert J. Standerfer, Marvin B. Rittenberg, Ching J. Chern, Joe W. Templeton, John A. Black, Canine Erythrocyte Pyruvate Kinase ll. Properties of the Abnormal Enzyme Associated with Hemolytic Anemia in the Basenji Dog, Biochemical Genetics
Eladio A. Nunez, Bruce B. Belshaw, Michael D. Gershon, A Fine Structural Study of the Highly Active Thyroid Follicular Cell of the African Basenji Dog, Developmental Dynamics
James A. Serpell, Deborah L. Duffy, Dog Breeds and their Behavior, Domestic Dog Cognition and Behavior, Pages 31-57
Peter Pongracz, Adam Miklosi, Victoria Vida, Vilmos Csanyi, The Pet Dogs Ability for Learning from a Human Demonstrator in a Detour Task is Independent From the Breed and Age, Applied Animal Behavior Science,
Tiffani J Howell, Tammie King, Pauleen C Bennett, Puppy Parties and Beyond: the role of early age socialization practices on adult dog behavior, Volume 6, pages 143-153
Nathan B Sutter and Elaine A Ostrander, Dog Star Rising: The Canine Genetic System, Nature Reviews Genetics, Volume 5, pages 900-910