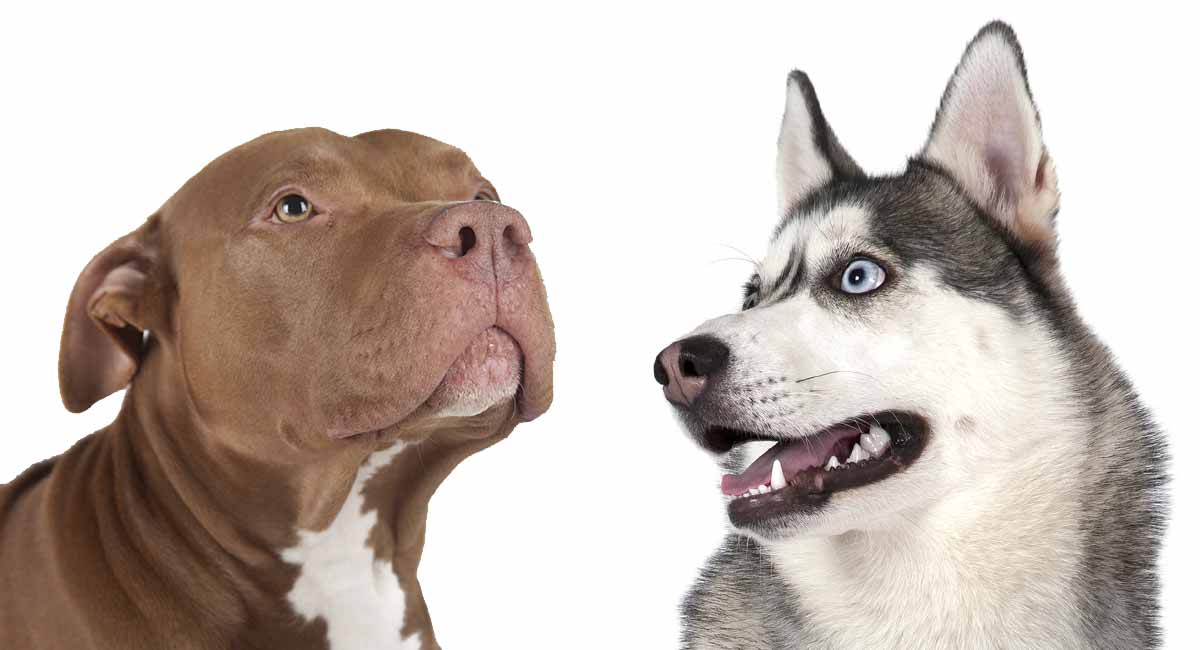 Pitbull Husky mix dogs are a cross between the protective, loyal Pitbull and active, energetic Siberian or Alaskan Husky. Pitbull Husky mixes are affectionate, medium sized dogs, weighing 35- 65 pounds as adults and living about 13 years. There are several Pitbull type breeds including the American Staffordshire Terrier, the Staffordshire Bull Terrier, Mini Staffordshire Bull Terrier and the English Bull Terrier. But the most common Pitbull Husky mix is from an American Pitbull Terrier parent. Today we'll look at the breed traits, characteristics and behaviors you can expect in a Pitbull Husky mix puppy. Helping you to decide whether they are a good fit for your lifestyle, kids and work life.
Also known as the Pitsky, Huskypit and Pithusky, this hybrid dog is intelligent, athletic, and loving. They often have Husky markings and a Pitbull build, but not always! Appearances, coats and colors very as they could inherit any mixture of genes from its parents. Including coat color, size, personality, and more! Let's find out what happens when you play the genetic lottery with two of the dog world's most high energy breeds.
Contents
What is a Pitsky?
The Pitbull and the Husky are two very different dogs with very different characteristics. A Pitsky may inherit the brave nature of its Pitbull parent or the friendly disposition of its Husky parent. The Pitbull Husky mix will be short-haired, long-haired, tall, stout, have blue eyes, brown eyes, or anything in-between!
Popularity: rising
Purpose: guarding, working, hunting, companion
Weight: 35 – 65 lbs
Temperament: intelligent, enthusiastic, energetic, loyal
Pitbull Husky Mix History
The history of the Pitbull Husky mix is quite vague. We don't know exactly when this breed was first created. But we can get a great idea about its history by looking at its parent breeds.
Siberian Huskies were originally bred as working dogs by the Chukchi people. Chukchis are nomadic hunter gatherers who needed dogs with great power and endurance. Pulling their sleds was an important job. But, Huskies also needed a gentle disposition. This was because they were trusted to live in close quarters with their families.
Pitbulls were created back in the 19th century by mixing English terriers and English bulldogs. Popular breeds of the time. The idea was to harness the enthusiasm of the terrier and the power of the bulldog. The results were strong and versatile dogs. These dogs are the ancestors for the modern day Pitbull.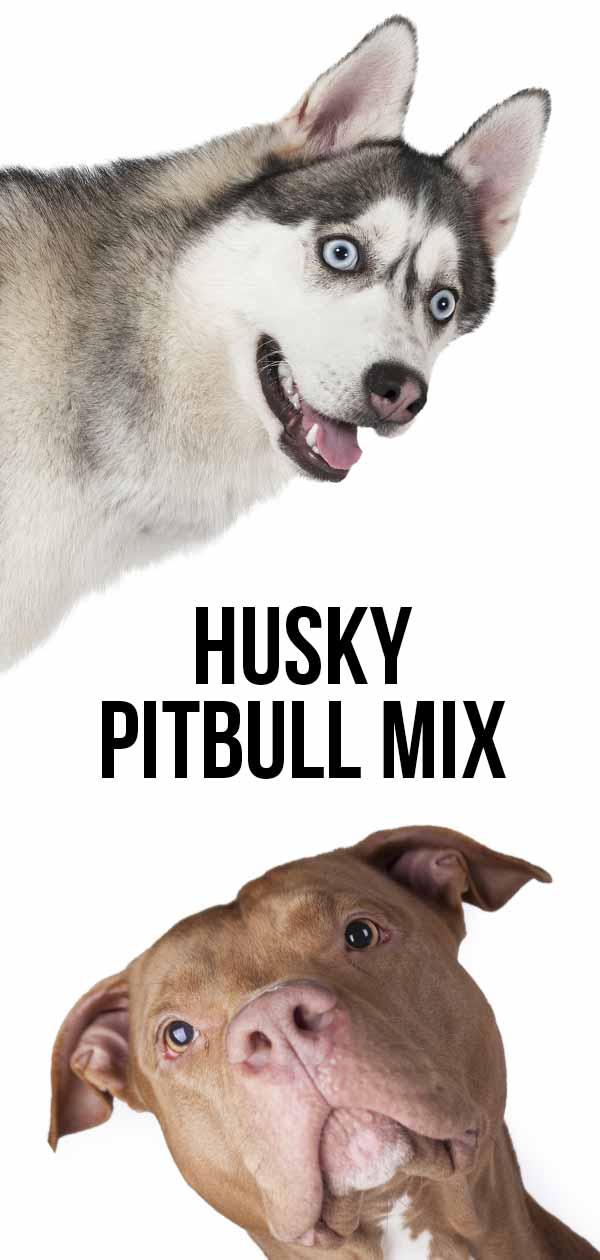 Dog Fighting
Unfortunately, people began to use these dogs to take part in illegal dog fights. Dogs which displayed high levels of aggression were bred purposefully. They were also mistreated to make them even more aggressive. Inevitably, they gained a reputation for being dangerous (which is exactly what the dangerous people who owned them wanted).
Following this, the American Kennel Club distanced themselves from Pitbulls. They refused to accept the breed onto it's registry. Eventually recognizing the American Staffordshire Terrier instead.
Pitbulls and American Staffordshire Terriers are very alike. So similar, in fact, that some people consider them to be the same breed. And, this article can be applied equally to Husky-Amstaff crossbreeds.
Pitbull Husky Mix Appearance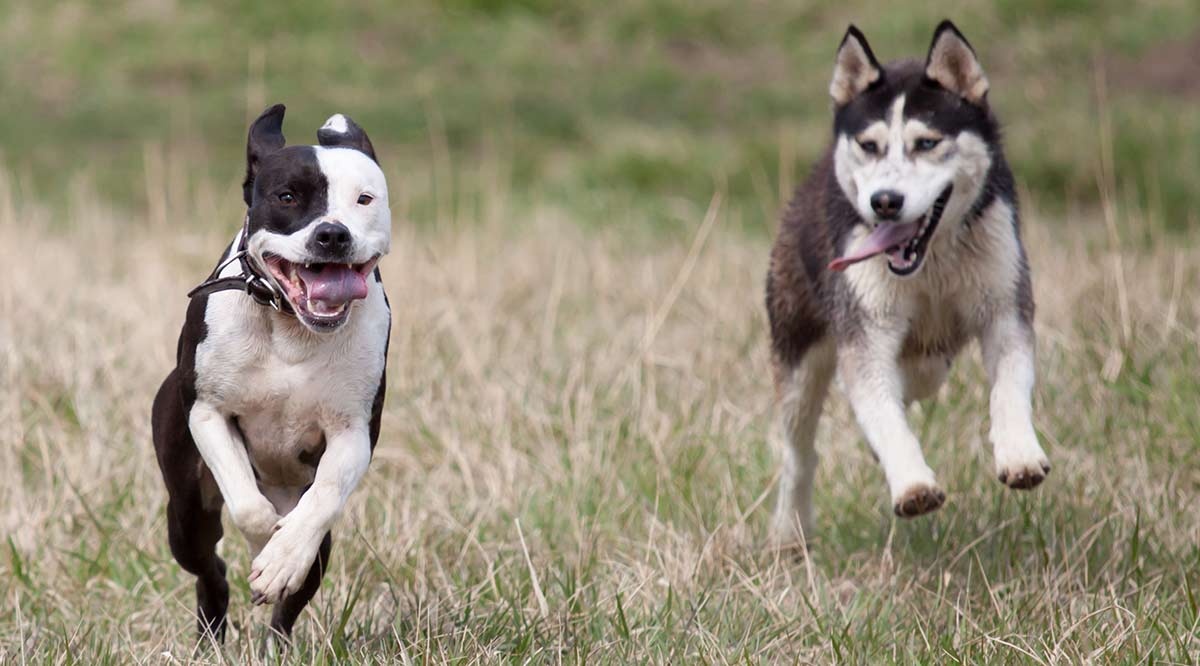 When a Pitbull and a Husky mate, there's no way to predict what appearance the puppies have until they're born. They could look very Husky-like, very Pitbull-like, or be any combination of the two.
Colors and Patterns
They may have the stocky build of a Pitbull, or the more graceful silhouette of the Husky. The Pitsky's fur might be fluffy and soft, or it might short and stiff. Their eyes may be blue or they may be brown. They might be both!
Pitbulls come in a variety of colors and patterns including, black, blue, bronze brown, fawn, sable, liver, red, white, brindle, fawn, seal, and sable. Huskies also come in a variety of colors including black, agouti, brown, red, white, gray, and sable. A Pitbull Husky mix may be any combination of these colors and patterns.
Grooming and Shedding
This, at least, is one area where the Pitbull Husky is slightly more low maintenance than average. Huskies are noted for their fastidious self-care, so much so they often completely lack that "doggy" smell. However, they do shed constantly outside of Siberian climates and "blow their coat" completely twice a year.
To keep on top of this they need regular brushing, and it's likely any puppies they have by a Pitbull will do too. But, that should be all it takes.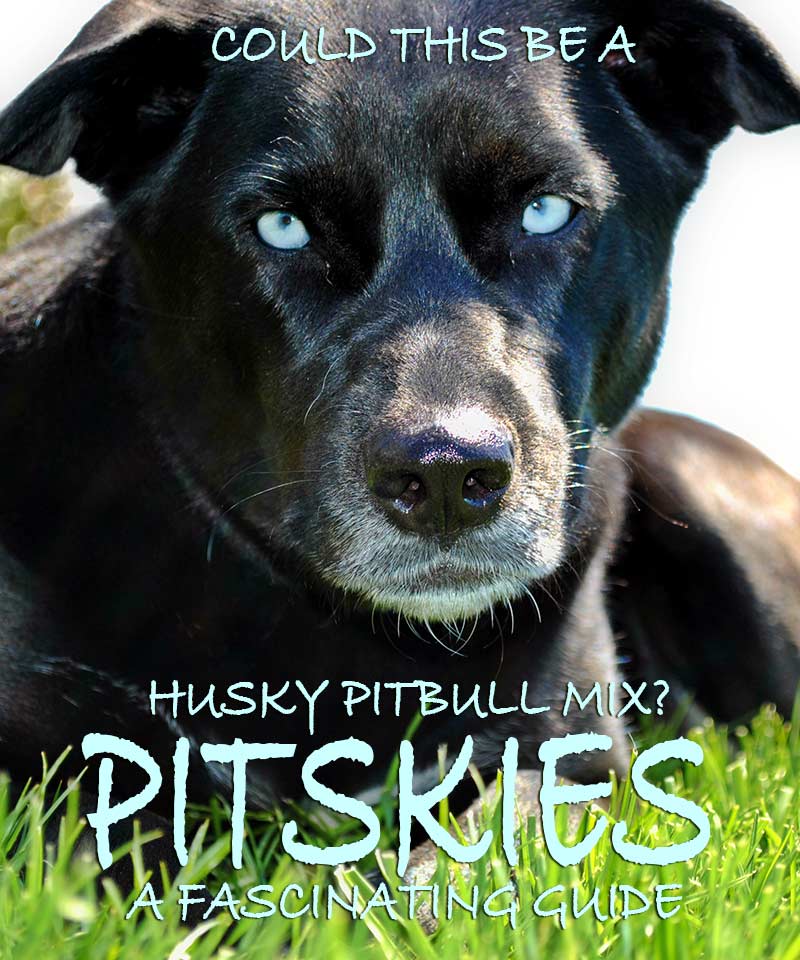 Pitbull Husky Mix Temperament
Pitbull Husky mix dogs are intelligent, energetic, athletic, loyal, affectionate, and brave. There are a lot of personality parallels between Huskies and Pitbulls. So putting them together is likely to have a more predictable outcome than mixing breeds with more disparate temperaments.
They are loving and friendly to their families, but wary of strangers unless well socialized. Pitbull Husky mixes want to be with their people and may become anxious or destructive if left alone too long.
Are Pitbull Husky Mix Dogs Aggressive?
Dog aggression is an area of significant public interest, so there are a number of studies we can use to inform us. In a special report, in Veterinary Medicine Today in 2000, 244 dog bite-related fatalities in the United States between 1979 and 1996 where the breed of the dog had been recorded were examined. 76 were caused by Pitbull-type dogs or Pitbull crossbreeds.
They were the type of dog responsible for the most deaths. Husky-type dogs, and their crossbreeds, were responsible for 21 deaths – the fourth most responsible breed overall.
Are Pitbull Husky Mixes Dangerous?
In 2014, an American Veterinary Medical Association literature review found that Pitbulls are not disproportionately aggressive towards humans. In fact, they found Collies, Spaniels and toy dogs are all more likely to bite humans. So, Pitbulls aren't as predisposed to biting people as their reputation suggests. In fact, all of the studies indicate that breed, alone, is a poor predictor of aggression.
But, the reality is that when Pitbulls do bite, the sheer power, and gripping style of their bite, means they are likely to cause much more harm than other breeds. And, it is accepted that Pitbulls for being more likely to display serious aggression towards unfamiliar dogs.
Training your Pitbull Husky Mix
These are confident, stubborn dogs. They do well with positive reinforcement training, where they are motivated rather than worked against.
The importance of socialization and obedience training for Pitsky puppies is necessary if you want raise a happy and well-adjusted dog.
Socialising puppies with other dogs and people is a crucial part of shaping their attitude and reactions towards unfamiliar encounters.
As your Pitsky grows, you'll need to be confident that you can control him in any environment, and recall him to your side from any situation. Unless you have a lot of experience training dogs, the best place to learn these skills, to the standard you'll need them, is at an obedience class.
Pitbull Husky Mix Exercise
Exercise is important to the health and mental well-being of any dog, but especially to your Pitsky. Huskies and Pitbulls are both athletic dogs bred for hard work and stamina. So when they breed, one outcome is for sure; a Husky mixed with Pitbull is going to have SO. MUCH. ENERGY.
How they want to channel that energy might vary a bit from individual to individual. Some Pitskys might feel the Husky's instinct to run for miles. Others might enjoy jumping or weight pulling games, drawing on their Pitbull skills. Be prepared to spend up to two hours a day exercising your Pitbull Husky mix so that he doesn't become bored and destructive.
Bear in mind, Pitbulls and Huskies are enthusiastic diggers, agile jumpers, and nimble climbers. So if you want your Pitsky to take some of his exercise in your yard, make sure your boundaries are high and deep! Having some toys, designed for heavy chewers, will help you to keep him happy at home after he's had his exercise.
Pitbull Husky Mix Health and Care
In order to determine the appropriate health care plan for your Pitsky, we must identify the problems that commonly affect the parent breeds.
Pitbulls and Huskys are both robust dogs bred for strength and stamina, but as with all breeds there are known diseases to be on the look-out for. Medical problems that commonly affect Pitbulls include: hip dysplasia, skin and coat allergies (Demodex canis mites), cardiac disease, and cerebellar ataxia (a degenerative muscle condition)
Huskys are relatively healthy dogs, but may suffer from follicular dysplasia (a skin condition) and juvenile cataracts. Your veterinarian will likely recommend a Hip Evaluation, Cardiac Exam, Thyroid Evaluation, NCL DNA Test, and Ophthalmologist Evaluation for your Pitsky.
How Long Do Pitbull Husky Mixes Live?
The expected lifespan for a Pitbull Husky mix is 12 – 15 years. But this isn't to say your Husky Pitbull mix is limited to 15 years! Do you know one that's older?
Do Pitskys Make Good Family Pets?
Active people who spend a lot of time outdoors make the best Pitsky owners. If that sounds like you, a Pitbull Husky mix might be suited to your lifestyle.
It's important that you are committed to finding a puppy from two friendly, health tested parents. And to raising them with lots of socialization, positive reinforcement training and regular exercise. They are best suited to families where at least one person is home during the day, or able to take the dog to work with them.
Are Pitbull Husky Mixes Good With Kids?
Families with young children and other pets may find the energetic Pitsky too much for the smaller family members to handle. For families with older children the Pitsky may be a great playmate and loyal protector. However, they do have guarding tendencies which could be a problem with visiting children if they are not well socialized.
Pros And Cons of Getting A Pitbull Husky Mix
Cons
Distrust from the public, may make other people uncomfortable.
High-energy, strenuous exercise needs.
Difficult to train, "bull-headed"
Pros
Loyal, affectionate, and protective of family members.
Minimal grooming needs.
Athletic, enthusiastic, and hard-working.
Rescuing a Pitbull Husky Mix
One way to ensure that your Pitsky has a personality that suits your lifestyle is to adopt an adult. This way you already have an idea of what a particular dog is like, what his character strengths and flaws are.
You will know exactly how big he is going to be and also what he will look like.
Sadly, Pitbull Husky mixes are too often surrendered or abandoned by people who were not prepared for and could not adequately provide for their Pitsky.
There are a number of wonderful rescue organizations who can help you find a Pitbull Husky mix that is right for you.
Finding a Pitbull Husky Mix Puppy
Many of the Pitbull's behavioral problems are caused by reckless and irresponsible breeders.
This means that you must be ultra careful when looking for a Pitbull Husky mix puppy.
Unlikely crossbreeds are enjoying a period of being very fashionable.
Designer mixes can fetch high prices. Therefore, there is a risk of Pitbulls, bred for aggression in the past, being used for pet breeding simply to make a quick profit.
It's therefore especially important that you know how to recognize a responsible breeder.
Pitbull Husky Mix Breeders
Insist, without exception or excuse, on meeting both parents. If the adult dogs are not delighted to meet you, with tails- a-waggin', walk away. And, if you think you would struggle to control either of them…walk away.
Ask your breeder for a full medical history for both parents, including hip scores and eye certificates. Not just for health reasons. But, because a breeder that cares about health is more likely to care about safety too.
Also, be prepared to answer lots of questions from your breeder. A responsible breeder will want to make sure their puppies are going to the right home with the right motive for buying them.
It's not hard to find Pitbull Husky mix puppies for sale online, but be extremely cautious of their background. Remember, you want a Pitbull parent that has been bred for show or for the pet market. Not for unsavory activities!
A puppy of two healthy parents with good temperaments shouldn't be cheap. Health tests are expensive. So is veterinary care and good nutrition for mother dogs and growing pups. Be wary of litters offered cheaply online. And, be prepared to pay a fair price to a breeder who has taken their responsibilities seriously.
Raising a Pitbull Husky Mix Puppy
Caring for a vulnerable Pitsky puppy is a big responsibility. There are some great guides to help you with all aspects of puppy care and training. You'll find them listed on our puppy page.
Pitsky Products and Accessories
There's a lot of choice when it comes to finding the best products for your new dog.
We've gathered a few of these in some handy guides. Check them out below!
Large Breed Dog Food
Best Dog Food For Pitbulls
What other essentials can you think of? Make sure you also check out our Husky name guide for some fun ideas!
Breed Comparisons
If you're wondering about other Husky and Pitbull mixes, we've got some great guides that can help you compare which is the best for you.
Check them out below.
Similar Breeds
Perhaps this isn't the breed for you. But that's okay!
There are plenty of other amazing breeds out there that might be perfect for you.
Take a look at some of those below!
Which is your favorite?
Pitbull Husky Mix Breed Rescues
If you're looking to rescue a Pitsky, take a look at some of these breed rescues.
USA Rescues
UK Rescues
Australian Rescues
Canadian Rescues
Know of a great rescue organization? Please share it in the comments section!
References And Resources
Gough A, Thomas A, O'Neill D. 2018 Breed Predispositions to Disease In Dogs and Cats. Wiley Blackwell
O'Neill et al. 2013. Longevity and Mortality of Owned Dogs In England. The Veterinary Journal
Adams VJ, et al. 2010. Results of a Survey of UK Purebred Dogs. Journal of Small Animal Practice.
Schalamon et al. 2006. Analysis of Dog Bites In Children Who Are Younger Than 17 Years. Pediatrics
Duffy D et al. Breed differences in canine aggression. Applied Animal Behavior Science 2008
Strain G. Deafness prevalence and pigmentation and gender associations in dog breeds at risk. The Veterinary Journal 2004
Packer et al. 2015. Impact of Facial Conformation On Canine Health. PlosOne