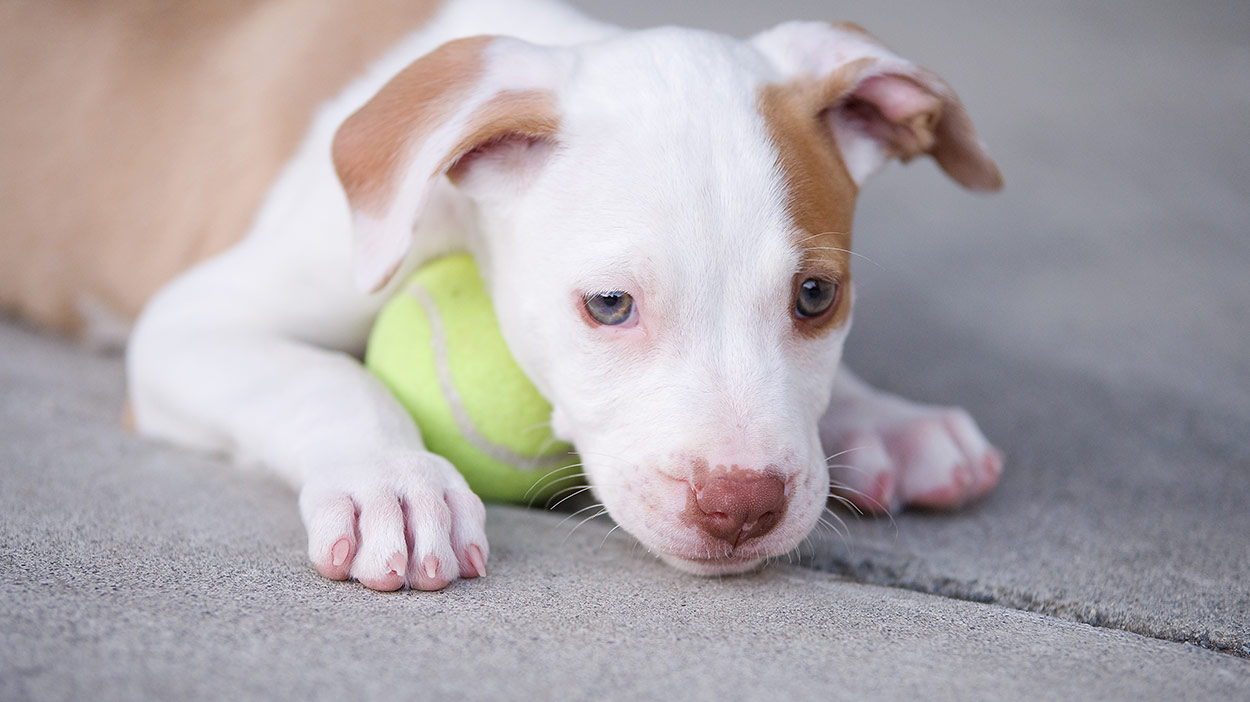 The best Pitbull toys are sturdy, durable and fun to play with.
They can stand up to their strong jaws and keen chewing.
As well as holding their interest.
The Best Toys For Pitbulls
Being a Pitbull owner today isn't always an easy road.
There are many myths circulating and much misinformation about these highly intelligent, driven, loyal and loving dogs!
In fact, many people don't even realize that the term "Pitbull" isn't an actual dog breed at all! But more on that in a minute.
It is true the Pitbull dog was bred to be tough. Breeders looked for genes that gave these dogs the determination, pain tolerance, strength and smarts to succeed in fights with (sadly) other dogs.
All of these products were carefully and independently selected by The Happy Puppy Site team. If you decide to make a purchase from one of the links marked by an asterisk, we may earn a small commission on that sale. This is at no extra cost to you.
Our Top 5 Toys for Pitbulls
First, let's look at what makes the best pitbull dog toys.
Toys for Pitbulls – Contents
Why Should I Get Toys for My Pitbull?
Toys are important for pretty much every dog breed.
However, there are things you should consider specifically for your pitbull brand.
The Pitbull is quite a unique dog.
If you are caring for your very first Pitbull you may not yet know that the dog we casually call the "Pitbull" or the "pittie" may be any number of different dog breeds!
Currently, the American Pit Bull Terrier is the only dog breed that is officially considered to be a true "pit bull."
But because of crossbreeding, often without any real intention of doing so (dogs will be dogs sometimes), there are many dogs today that have some amount of pit bull genes.
Consequently, a dog can look like a true American Pit Bull Terrier but not actually be one!
Breed specifics aside, the Pitbull dog breed is considered to have a high energy level.
This dog is not a couch potato!
Your bully will want to run, play, chew, tug, and perhaps even swim! The happiest Pitbull is an active Pitbull.
And for this, the best toys for Pitbulls are a must!
Choosing the Best Toys for Pitbulls
Pitbulls can be rambunctious with their toys. "Boy, that toy lasted for two years and my bully never put a dent in it," is something you will likely hear from no Pitbull owner, ever.
The best toys for Pitbulls last.
In this article, we aim to give you the lowdown on the best toys for Pitbulls – the Pitbull toys and accessories that have been field tested by real owners and real Pitbulls and pronounced to be "amazing pitbull toys!"
This carefully curated list will include the best dog toys for Pitbulls to chew, fetch and retrieve, tug on and play with.
So without further ado, read on to find the best Pitbull toys for YOUR bully!
Pitbulls and jaw strength
If there is one area where canine mythology abounds, it is in the delicate topic of Pitbull jaw strength!
You may have read a lot or a little on this popular topic.
At least one researcher states that all we really know is that the Pitbull has a strong jaw.
We think that part of jaw strength has to do with the sheer size of the jaw.
Here, a larger jaw theoretically equals a stronger bite.
But then again, as any Dachshund owner knows, determination can often make up for a lot (just try getting a delicious treat away from a Doxie who doesn't want to give it to you!).
The truth is, Pitbull jaw strength is very much in alignment with other large-breed dogs such as Rottweilers and Mastiffs.
The difference is that when they grab on, they don't let go.
What does this mean when picking out the best dog toys for Pitbulls? You should definitely opt for really, really strong ones like the ones we list here.
Pitbulls and Indestructible Dog Toys
So your Pitbull has never met a toy he couldn't dismantle. You are not alone!
These dogs engage with their toys the same way they engage with life – full-on!
Starting in the next section, you will find some awesome toys for Pitbulls that were built with your bully in mind.
If you are running and playing with a Pitbull puppy, avoid runs for more than one mile until your pup is at least 12 months old and her growth plates have closed and solidified.
Signs your Pitbull needs more playtime can include:
Chewing on things you don't want her to chew on
Increased whimpering or barking
Soiling in the house
High levels of anxiety or hyper-activity
In addition to dog toys for Pitbulls, these dogs are known to excel at sports.
Agility training, obedience training, canine lure coursing sports, therapy and service dog training, and show training are all popular.
Want a happy Pittie? Give your dog a job to do and practice on every day!
Let's take a look at the various types of toys available for your puppy!
Best Chew Toys for Pitbulls
When you are selecting chew toys for Pitbulls, you might be thinking about easing your Pitbull puppy's teething pains or giving your pittie something fun to play with.
You may not think right away that the Pitbull chew toys you pick out could end up being a choking hazard!
While this can be true of any toy once your Pittie has chewed on it for a while (which is why it is so important to regularly cull heavily-chewed toys).
Smaller chew toys could potentially be swallowed whole, creating a life-threatening obstruction.
The best chew toys for Pitbulls will be both sufficiently sizeable and durable, such as these great Pitbull toys.
Goughnuts Original Chew Ring
This brand makes a whole line of guaranteed indestructible Chew Rings* for power chewers such as Pitbulls.
In fact, the company guarantees that your dog won't penetrate the outer layer of the toy.
Ihe does, you get your money back! While it is hard to pick just one Goughnuts toy, these Pitbull chew toys are among the best.
West Paw Zogoflex Tux
When you want to give a treat-dispensing toy* to a pittie, you'd better prepared for it to get chewed on….a lot!
This toy is super tough and comes with a 100 percent manufacturer guarantee.
It is chew-safe and made from BPA-free, phthalate-free, dishwasher-safe, recyclable materials.
Unbreakoball Dog Toy
This bright orange robust ball* comes in two sizes: 6-inch and 10-inch (called the "Big Daddy").*
The ball features small round openings so your bully can get a tooth-hold to carry it around. It also floats!
Best Tug Toys for Pitbulls
A Pittie's enthusiastic chewing is one issue to tackle when choosing Pitbull toys. Your pup's equally enthusiastic tugging is quite another.
These Pitbull tug toys are sturdy and durable, made with high-quality materials in bright, intriguing colors your dog will love!
Jolly Pets 8-inch Romp-n-Roll Ball
This super-sturdy ball* is attached to an equally sturdy braided cord.
The entire toy is made so that chewing, puncturing, tugging and other playtime activities won't cause it to deflate or break apart.
It comes in three sizes and three colors.
West Paw Zogoflex Bumi
Bullies love a good game of tug-of-war, and this 100 percent guaranteed-tough toy* is designed for full-on power play!
This toy is totally safe and is free from BPA and phthalates. It is also dishwasher-safe (top rack only).
It comes in two sizes and three colors.
Mammoth TireBiter Chew Toy with Rope
This incredibly durable tire and rope toy* is made from all-natural rubber and double ply nylon for a truly long-lasting and fun pitty toy!
There are four sizes available.
Best Fetch Toys for Pitbulls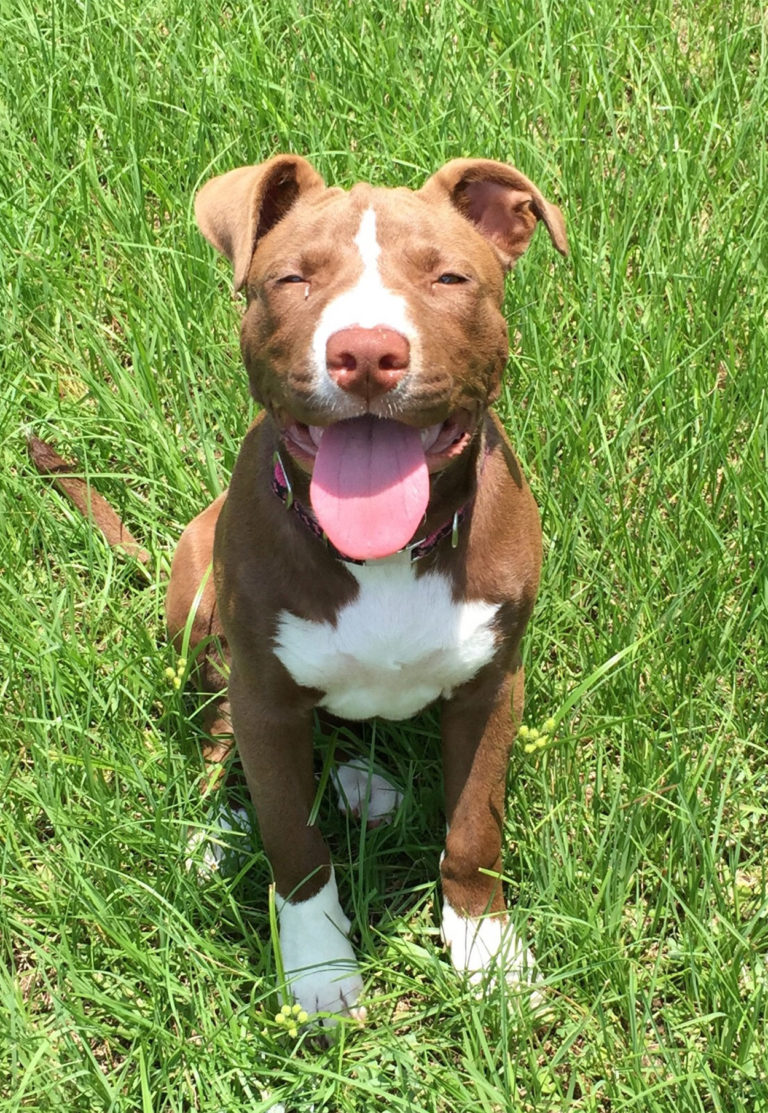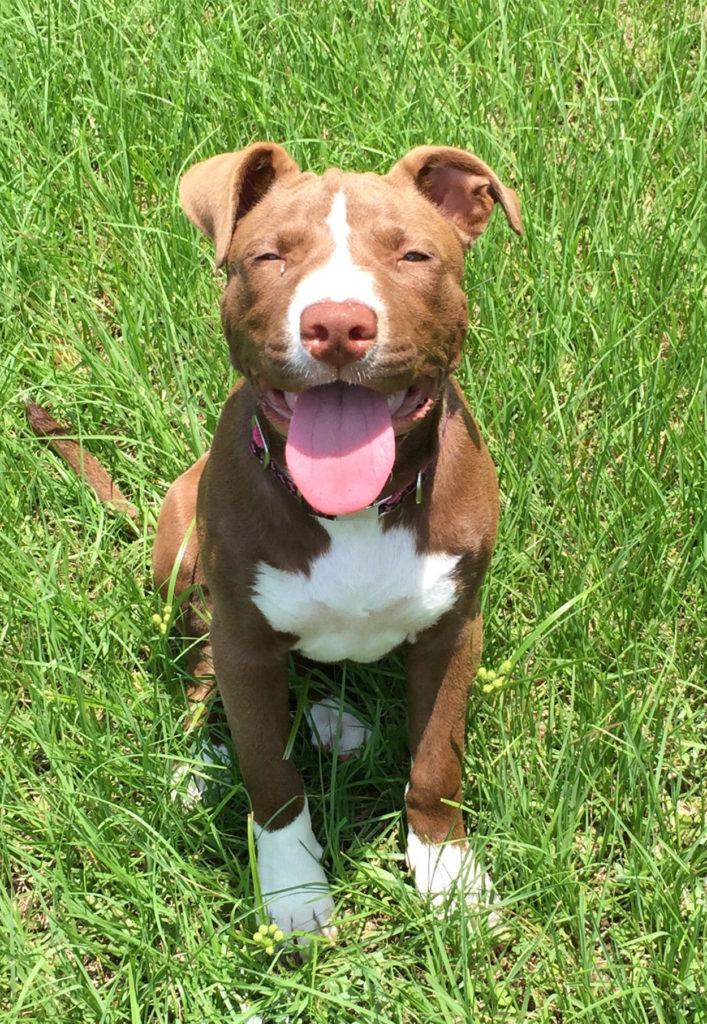 Pitbulls definitely love to chase toys and they really love to catch them.
If the toy is interesting enough, though, you might run into trouble with the "bringing it back" part!
Either way, these tough-as-nails dog toys for Pitbulls give your dog a multi-sensory experience, whether from treats, textures or colors.
Monster K9 Indestructible Dog Ball
This bright orange dog ball* comes with its own lifetime guarantee – that is a big promise when you are delivering the ball to a pittie!
The ball has been field tested with Mastiffs, GSDs, Pitbulls and similar breeds.
The baseball-sized ball width is 2.5 inches (7 cm) so it will be much harder for this toy to turn into a swallowing risk.
West Paw Zogoflex Zisc Tough Flying Disc Dog Play Toy
Every pup needs their own Frisbee, but this is no ordinary Frisbee!*
As one of the toughest dog toys for Pitbulls, this flying disc is great for fetching on land and in water and it won't succumb to your pup's chomp of joy when he fetches it.
It comes in five colors and two sizes.
Best Toys for Pitbull Puppies
Finding the best toys for Pitbull puppies can be an exercise in frustration, since many teething puppies seem to think everything is their chew toy.
Nylabone Dura Chew Textured Dog Chew
Rated for pups 50 pounds and larger, these super-durable Pitbull-proof dog toys* will keep your bully puppy chewing happily for hours.
These great Pitbull dog toys come in multiple flavors.
Mammoth Flossy Chews Cottonblend Color 3-Knot Rope Tug
You might want to buy the X-large 2-pack of these super-strong indestructible dog toys* for Pitbulls.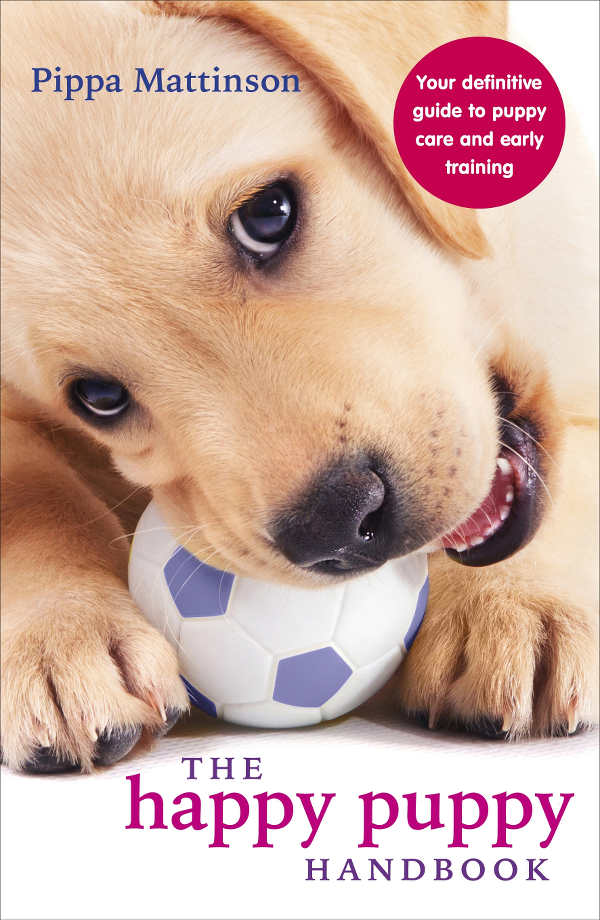 Pitbull owners say these are fab for their pitties and they last 3-4 weeks before needing to be replaced.
Benebone Real Flavor Wishbone Chew Toy
This super-strong chew toy* is recommended by Pitbull owners for pittie puppies.
There are three flavors and three sizes. This bone isn't meant to be ingested but just chewed on.
The flavor and scent comes from all-natural meat sources making it one of the best chew toys for Pitbulls to enjoy.
Best Indestructible Toys for Pitbulls
Once you bring home a Pitbull dog, you may find you have also ventured out onto a never-ending quest for Pitbull-proof toys.
Luckily, this is something certain toy brands have caught on to, and now you have plenty of choices.
These indestructible Pitbull toys are heartily endorsed by Pitbull owners as being tough enough to out-tough their pitties!
W Pet Company
As you are looking around for durable toys for Pitbulls, you can't help but be delighted with this one* – it is so robust and multi-purpose.
You can use it as an interactive treat ball, tug-of-war toy, fetch toy or teething toy for a Pittie puppy.
Goughnuts Indestructible Dog Toy Maxx
Looking for Pitbull proof toys?*
When the brand says "indestructible Pitbull toys" right on the label, you know the toy has got to be tough!
OneisAll Bone Chew Toy
Again and again this green bone toy* keeps being recommended as a Pitbull dog toy, and clearly for good reason!
Not only is it made of safe, non-toxic, bacon-flavored nylon materials, but it also helps to clean your dog's teeth and reduce tartar during chewing sessions!
There are three sizes.

Have You Found the Best Toys for Pitbulls?
As you can see, the list of manufacturers who have created brands tough enough to withstand Pitbull chewing and playing is not a long one.
But the good news is that these toys really are durable enough for your bully to chew on, play with and thoroughly enjoy safely!
Finally, you can enjoy Pitbull proof toys!
The bite strength of these dogs is incredible and you need a toy that can withstand all that pressure.
Does your Pitbull have a favorite toy? Please drop us a comment and let us know what your bully puppy or adult dog likes to play with!
References and Resources
Enos, S. "Pit Bull Myths – Debunked," American Pit Bull Foundation, 2017.
Torres, T. "Pit Bull Facts," Villalobos Rescue Center, 2018.
Coren, S. "Dog Bite Force: Myths, Misinterpretations and Realities," Psychology Today, 2010.
Affiliate link disclosure: Links in this article marked with an * are affiliate links, and we may receive a small commission if you purchase these products. However, we selected them for inclusion independently, and all of the views expressed in this article are our own.